---
Mukhriz Mahathir on 'WikiLeaks revelations', PAS new leadership and IPP's agreements
Posted: 07 Jun 2011 11:38 AM PDT
The highly-secret agreements between Tenaga Nasional Bhd (TNB) and independent power producers (IPPs) can be released to parliamentarians, said Deputy International Trade and Industry Minister Mukhriz Mahathir. Full story: malaysiakini.com The recent Wikileaks revelations of scathing observations about the New Economic Model (NEM) and the Malaysian civil service by top Malaysian officials to US diplomats are just "personal opinions" with no impact on policy, said Deputy International Trade and Industry Minister Mukhriz Mahathir. Full story: malaysiakini.com Camera: Hazlan Zakaria Editing: Arvind Raj

Time:

04:55

More in

News & Politics
Pemilihan PAS 2011 Adalah Kemenangan Arwah Fadzil Nor
Posted: 07 Jun 2011 12:14 PM PDT
NOTA EDITOR: Saya dah tau lama dah pasal pertembungan aliran Ustaz-Ulama orthodox (dikenali sebagai kumpulan "ulama") dgn pembaharuan yang mahu dibawa Arwah Ustaz Fadzil.
Tulang Besi ada pengalaman pribadi bagaimana kumpulan ulama di dalam PAS begitu memusuhi pembaharuan yang mahu dibawa oleh Arwah Ustaz Fadzil Nor.
Saya tahu secara pribadi, agenda "PAS untuk Semua" telah disabotaj golongan "Ulama"(UG) dan golongan ini menggantikan dengan "Dokumen Negara Islam" sebelum pilihanraya 2004.
Kesannya adalah PAS kalah tergolek pada 2004 dari 27 kerusi Parlimen turun kepada 6 kerusi. Juga, PAS hilang negeri Terengganu. Hilang habis segala harapan PAS untuk memerintah Malaysia selepas 2004. Segala harapan hanya tinggal abu.
Kekalahan teruk 2004 telah menyebabkan Timbalan Presiden PAS pada masa itu, ustaz Hasan Shukri diturunkan takhta serta diganti oleh Ustaz NAsa yang diharap dapat membawa perubahan arwah Ustaz Fadzil Nor.
Dan terbukti, agenda PAS UNTUK SEMUA serta Negara Berkebajikan dikedepankan pada pilihanraya 2008 berjaya membawa kejayaan gemilang kepada PAS.
Malangnya, agenda itu sekali lagi disabotaj oleh golongan ulama (orthodox) kerana mereka mengkedepankan agenda "KERAJAANG PERPADUANG".
Sungguh tidak disangka-sangka, golongan ulama dalam PAS telah belot kepada pejuangan PAS dan mahu membawa PAS duduk dalam satu kelambu dengan UMNO.
Maka keputusan 2011, perwakilan menolak golongan ulama dan menaikan mereka-mereka yang komited dengan perjuangan peninggalan Arwah Ustaz Fadzil Nor.
Semoga wasiat Ustaz Fadzil Nor ini dapat diterjemahkan dengan lebih baik dengan kepimpinan yang baru ini.
Ada kemungkinan kekalahan Ustaz Tuan Ibrahim adalah kerana ustaz Tuan tidak dilihat sebagai salah seorang yang membawa wasiat Arwah Ustaz Fadzil Nor.
Ustaz Tuan cuma dilihat lebih cenderung kepada golongan ulama yang anti kepada agenda Arwah Ustaz Fadzil Nor.
Kumpulan yang baru menang ini adalah mereka yang memikul amant Arwah Ustaz Fadzil Mohd Nor. Tidak lebih dan tidak kurang dari itu.
Wallahualam
ps pernah dengar dengan teliga Tulang Besi sendiri dari salah seorang ahli keluarga Arwah Ustaz Fadzil, bahawa beliau jelak dengan gaya dan cara golongan lulusan agama yang tiada jalan lain kecuali mengharamkan itu dan ini. Tidak ada jalan yang kreatif mahupun menarik bagi menarik umat kepada Islam. Hanya tahu haram,haram, haram.


Akhirnya impian Fadzil Noor tercapai – oleh Liew Chin Tong



7 June 2011



7 JUN – Selepas pimpinan PAS mengumumkan Dokumen Negara Islam pada 2003, setelah dicabar oleh Perdana Menteri pada masa itu Tun Dr Mahathir Mohamad, ia menjadi salah satu faktor utama parti itu tewas teruk dalam pilihan raya umum 2004.

Daripada 27 kerusi Parlimen yang dimenanginya dalam PRU 1999, PAS hanya mampu kekalkan 6 kerusi Parlimen. Banyak pihak mengatakan PAS kehilangan undi bukan sahaja dari kalangan bukan Islam tetapi juga dari orang Melayu yang dikatakan "resah" dengan konsep negara Islam parti itu.

Sebenarnya Dokumen Negara Islam 2003 adalah kosep yang berlawanan dengan cadangan asal yang dibawakan oleh Allahyarham Datuk Fadzil Noor selaku Presiden PAS, sejak 2001 dalam bentuk Memorandum PAS kepada Rakyat Malaysia – Pemerintahan Islam Dalam Abad ke-21.

Di antara Disember 2001 dan Mac 2002, draf empat muka surat telah dibincangkan oleh sabahat-sabahat PAS termasuk aktivis NGO yang kemudiannya dibawakan oleh Fadzil dalam muktamar PAS ke-48 di Kota Bharu, Kelantan pada Mei 2002.

Fadzil yakin memorandum itu yang masih dalam peringkat persediaan itu mampu mencari titik pertemuan pelbagai peradaban, kepercayaan dan pegangan politik rakyat. Baginya, sifat pemerintahan Islam perlu ada syura, pemilihan dan demokrasi kerana pembinaan negara mesti berpaksikan kepada akhlak dan sistem nilai yang tinggi bertunjangkan sistem kepercayaan yang benar.

Beliau turut menjelaskan bahawa pentadbiran yang dicita-citakan PAS ialah yang mendukung kedaulatan undang-undang serta menekankan aspek khidmat dan kebajikan sehingga melahirkan "Negara Berkebajikan" yang diharapkannya dapat memakmurkan negara dengan kebajikan serta mengelakkan kerosakan, pembaziran dan kemusnahan.



Tujuh perkara asas dalam Memorandum itu adalah:
● Masyarakat madani
● Hak saksama (al-musaawah)
● Kedaulatan undang-undang berasaskan syariah yang luas makna dan ruang lingkupnya
● Keadilan (al-'adalah)
● Meritokrasi (as-solahiyah)
● Negara berkebajikan
● Pentadbiran dinamik dan inovatif

Sayangnya, Fadzil meninggal dunia tidak lama selepas muktamar itu, pada 23 Jun 2002, yang mengakibatkan Memorandum itu tidak lagi menjadi keutamaan PAS.

Namun begitu, sebulan selepas perginya Fadzil, PAS menyusun semula Memorandum itu untuk dibincangkan bersama dengan rakan-rakan seperjuangan di luar parti di mana tujuh perkara asas dikekalkan dengan huraian yang lebih panjang.

Apa yang mengejutkan ialah satu dokumen yang berlainan sama sekali telah dikeluarkan pada November 2002 atas nama Dokumen Negara Islam yang direstui oleh Majlis Syura Ulama PAS.

Dokumen itu juga mempunyai tujuh prinsip, seperti mana Memorandum, tetapi ia berbeza dalam banyak segi.

Tujuh perkara asas Dokumen itu ialah:

● Negara undang-undang di mana dijelaskan bahawa hudud, qisasa dan takzir akan dikenakan kepada orang Islam sahaja tetapi yang bukan Islam boleh memilih sama ada menerima hukum itu atau common law

● Sistem khilafah di mana pemerintah mesti melaksanakan hukum Islam, jika tidak mereka dianggap pengkhianat amanah Allah

● Takwa

● Sistem syura (concensus) di mana ia akan membincangkan perkara-perkara yang boleh diijtihadkan sahaja, dan tidak boleh dalam hukum-hukum tetap Islam (qat'i)

● Keadilan dan kesamarataan (al-'adaalah wal musaawaah) yang dijelaskan tidak sama dengan persamaan (equality) dan sama bahagian (fairness)

● Kebebasan (al-hurriyyah) yang tidak boleh bercanggah dengan syara'

● Ketuanan mutlak (as-siyaadah wal haakimiyah) atau sovereignty yang mana hak ketuanan adalah milik Allah dan tidak boleh diganggu oleh mana-mana pihak.

Walau apa pun niat baik pimpinan PAS dalam menyediakan Dokumen ini, persepsi orang ramai terhadapnya telah menyebabkan parti itu ditolak dalam PRU 2004. Ia dlihat sebagai menakutkan orang bukan Islam dan orang Islam yang berpendirian sederhana.

Menjelang 2007 di mana pentadbiran Perdana Menteri Tun Abdullah Ahmad Badawi yang lemah telah membangkitkan rasa tidak puas hati rakyat, ramai pemimpin PAS terutamanya mereka yang bersikap sederhana telah menyertai gerakan-gerakan mobilisasi demokrasi seperti perhimpinan Bersih yang mendesak kerajaan Barisan Nasional supaya telus dan adil dalam pilihan raya.

Pada masa itu juga PAS mula kembali kepada idea asal Fadzil yang mahu parti itu menjadi lebih terbuka dan berarus perdana dalam menarik sokongan rakyat. Ia juga usaha sesetengah pemimpin PAS untuk membuktikan bahawa Islam bukan sempit ajarannya, Islam adalah untuk semua.

Kejayaan besar PAS bersama PKR dan DAP dalam PRU 2008 meyakinkan banyak pihak supaya parti itu berjuang bersama-sama dalam satu gabungan yang kemudiannya dinamakan Pakatan Rakyat.

Dengan adanya barisan baru PAS yang dipilih dalam muktamar PAS ke-57 di Kuala Lumpur hujung minggu lalu, hasrat Tuan Guru Abdul Hadi Awang untuk meluaskan usaha promosi Negara Berkebajikan dilihat akan membuahkan hasil.

Seperti yang dijelaskan oleh Hadi, Negara Berkebajikan adalah konsep yang berteraskan Islam dan boleh diterima oleh semua orang tanpa mengira agama dan kaum. Ini bermakna PAS tetap boleh memperjuangkan agenda Islam yang benar-benar memberi manfaat kepada semua manusia.

Memetik kata-kata Hadi, "Kita mulakan dengan pelaksanaan Negara Berkebajikan. Ia ada dalam Islam dan al-Quran. Dalam al-Quran tidak sebut Negara Islam, ia sebut Negara Berkebajikan", ia mengingatkan kita semua kepada apa yang diperjuangkan oleh Allahyrahm Ustaz Fadzil untuk membawa imej Islam yang lebih demokratik, inklusif, terbuka dan adil tanpa mengorbankan prinsip perjuangan PAS.

Sejak 2004, PAS telah melalui jalan yang sukar dan penuh berduri. Rasa kurang keyakinan diri di kalangan pemimpin tertentu PAS juga membuatkan mereka serba-salah dengan tawaran UMNO untuk bersatu padu demi perpaduan Melayu.

Sekarang ternyata impian Fadzil sudah menjadi kenyataan. PAS dilihat sudah bersedia untuk kembali dengan penuh komitmen terhadap Pakatan Rakyat, selaras dengan impian Fadzil yang mahu menawarkan alternatif terbaik kepada rakyat pelbagai kaum dan agama, untuk mengambil alih pentadbiran negara daripada UMNO dan BN. – Roketkini.com

Liew Chin Tong adalah Ahli Parlimen DAP Bukit Bendera
Mahendran: "Pemaju lebih besar kuasanya dari Menteri Besar Selangor?"
Posted: 07 Jun 2011 10:52 AM PDT
The Selangor state government has directed the Petaling Jaya City Council (MBPJ) to issue a stop-work order on the developer of a condominium in PJS 1, despite that order, developer Peter's Brickworks Sdn Bhd continued their demolition work with the support of the police team and made one disabled man homeless. Yesterday, the developer's team tried to fence the area but stopped by MBPJ and some residents but several police petrol car came few minutes later and arrested S Mahendran who was there objecting the idea to fence the area. Camera / Editing: Arvind Raj

Time:

04:27

More in

News & Politics
7 laporan polis terhadap PM, TPM dan Menteri Pengajian Tinggi
Posted: 07 Jun 2011 10:04 AM PDT
HRP Selangor chief and several key members made police report against Prime Minister Najib Tun Razak , Deputy Prime Minister Muhyiddin Yassin and Higher education Minister Mohamed Khaled Nordin on the manner study loans and scholarships are awarded to the students according to the quota system. Camera / Editing: Arvind Raj

Time:

01:23

More in

News & Politics
Briefing To Keadilan Members On Anwar Ibrahim's Case
Posted: 07 Jun 2011 08:42 AM PDT
By the Administrator
Lately, the Legal and Social Service Bureau of Keadilan Penang held a closed-door briefing session for its members on the trial of the Party's de facto Leader Dato' Seri Anwar Ibrahim.
YB Dato' Mansor Othman, Keadilan's Vice-President and its Penang State Chairman, narrated on the pain and suffering Dato' Seri Anwar had to go through during the first trial of his charge of sodomy. The First Deputy Chief Minister of Penang said that though Anwar finally won the case after the Federal Court over-turned the lower Court's decision, he had already served his jail sentence for 6 years as he was refused the Order for Stay of Execution Proceedings earlier.
YB Sivarasa, MP for Subang and the Party's Central Committee Member who also earlier served as Anwar's counsel in his second sodomy charge, pointed out succintly the many flaws in the prosecution witnesses evidence elluded, though it was eventually held by the Court that there was a prima facie case, for which Anwar Ibrahim ought to call for his defence.
Dato' Prabhakaran, a member of the team of counsels who defend Anwar Ibrahim, reminded the crowd that it was not the end of the case, but instead, the beginning of Anwar's chance to call his witnesses to raise doubt on the prosecution's case. "We are considering to call Najib, the Prime Minister, and his wife Rosmah, to testify, as they met and talked to Mohd Saifu, the complainent, before the latter lodged his police report against Anwar Ibrahim, so as to probe on the allegation of a political conspiracy," the senior counsel added.
Dato' Seri Najib, the Prime Minister, initially denied that he had ever talked to Mohd Saifu, the aide to Dato' Seri Anwar, but later made a u-turn by admitting that he had actually seen this university drop-out. Defence counsel Karpal Sigh regretted that the prosecution was delaying the process by still not calling the Prime Minister and his wife, being witnesses on the list awaiting to be called in Court, for the interview process.
Both Sivarasa and Dato' Prabha narrated the facts of the case as disclosed in the trial from the beginning until the end. It was to the surprise of many as the controlled media only selected certain parts of the case so as to paint a bias picture of Dato Seri Anwar Ibrahim. According to Sivarasa, Utusan Malaysia was cited for contempt but to no avail. "The similar experience we went through together during the first sodomy trial, years ago," he said.
Lim Boo Chang, the Legal Bureau Chairman, moderated the briefing which also saw many questions raised by those who were present. The crowd seemed to be contented with the replies given by the speakers.
Penang Senator Dato' Mustafa Kamal (Pak Muss), a party veteran, YB Haji Maktar, Keadilan state secretary, and Johari Kassim, the state publicity chief, among many others, were also present.
Posted: 07 Jun 2011 08:46 AM PDT
PAS deputy president Mat Sabu may be right when he thinks that
Pakatan may not gain victory
in Selangor again.
Don't get me wrong, in spite of their limitations, Pakatan has done a bit - brought prosperity to the state, high wages for teachers etc.
The problem is that UMNO has been forewarned of Pakatan's might and potential. Before March 8, 2008, UMNO thought that Pakatan Rakyat was a silly bit of joke. Heck, even the Pakatan Rakyat leadership didn't think they could sweep that many seats.
But they did. And now UMNO is wary. Every single dirty machinery that can be employed, WILL be employed.
The truth is that we do not have free and fair elections. We badly need reforms, but the ruling coalition, led by UMNO, has absolutely no intention of playing by the rules. They have resorted to stirring up racial sentiment, playing the religious card and nothing has materialised yet.
The real issues have been swept under the carpet, and the fabricated ones are growing old and/or fast becoming non-issues. Very few people believe that Anwar Ibrahim is guilty of sodomy or soliciting favours from prostitutes.
People's opinions are not going to change the election outcome. Nor are their votes, for the most part, if UMNO is allowed to play dirty.
Which is why the Bersih 2.0 rally scheduled for July 9, is so important. We collectively need to force the government to make elections fairer, cleaner and more transparent.
No Justice for Jailed Muslims?
Posted: 07 Jun 2011 07:48 AM PDT
Speaking of John Walker Lindh, the imprisoned "American Taliban" whose father's New York Times op-ed plea for his release (now that Osama bin Laden is dead) has prompted a new wave of debate over how suspected terrorists should be treated:
From the AP's story:
Born in Kansas, Al-Kidd is a former University of Idaho football star who now teaches English to college students in Saudi Arabia. He was headed to Saudi Arabia on a scholarship in 2003 when federal agents arrested him at Washington-Dulles International Airport.

The sworn statement the FBI submitted to justify the warrant had important errors and omissions. The $5,000 one-way, first-class seat that the agents said al-Kidd purchased was, in reality, a coach-class, round-trip ticket. The statement neglected to mention that al-Kidd had been cooperative or that he was a U.S. citizen with a wife and children who also were American.

After the arrest, he was held for 16 days, during which he was strip-searched repeatedly, left naked in a jail cell and shower for more than 90 minutes in view of men and women, routinely transported in handcuffs and leg irons, and kept with people who had been convicted of violent crimes.

Even after Tuesday's ruling, al-Kidd still has claims pending against the FBI agents who obtained the material witness warrant used to arrest him. Al-Kidd has separately reached settlements with Virginia, Oklahoma and Idaho jail officials over his treatment. A federal judge in Oklahoma ruled the strip searches al-Kidd endured at the federal jail in Oklahoma City "were objectively unreasonable and violated the Fourth Amendment."
Horrifying? Then again, I guess we could be Egypt:
Read more: http://blog.beliefnet.com/beliefbeat/#ixzz1ObNCVizz
Sri Mata Amritanandamayi Devi, aka Amma the Hugging Saint, kicked off her 25th North American tour with a six-plus hour hug-a-thon in a suburban Seattle hotel ballroom on May 27.
There's more to Amma's bliss than just a sandalwood-scented cuddle: her Embracing the World charity has raised millions for global disaster relief, sending funds, medical supplies, food and shelter to victims of the 2010 Haiti earthquake, Hurricane Katrina, the 2004 Indian Ocean tsunami and other calamities, particularly in her native India. In the aftermath of the Japanese earthquake/tsunami/nuclear disaster this year, her volunteers have focused on helping the hard-hit coastal city of Rikuzentakata. (Amma will visit Japan in late July, several months later than originally planned, to give the region more time to recover.)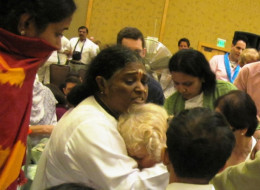 Speaking through a translator as she continued embracing dozens of devotees of all ages, ethnicities and creeds, Amma expressed her views on natural disasters and the suffering of the innocent.
Why do natural disasters happen?
It's mainly due to our own actions that negatively affect nature. Destroying forests, polluting rivers, cutting down trees. We have disturbed the balance of nature, disturbed the balance of the earth. Just like a building standing on pillars: if you demolish one pillar, that will create an imbalance in the whole structure. We are drilling oil wells, we are destroying mountains, polluting rivers, cutting down trees. So the only way is to have a compassionate approach. Look inwards, within you, and try to have a compassionate approach to nature. Our body is constituted with numerous cells. You can have some single cells that malfunction, and it creates an imbalance in the whole system.
But why do these bad things happen to good people?
It can only be attributed to karma. But for example, suppose there's a huge banyan tree filled with ripe leaves on it, and an eagle flies and sits on one of its branches, and all of a sudden, the leaves wither away. Maybe those leaves were about to be shed anyway, and it was just their time. So this entire universe has a rhythm to it. There's a harmony. There's a rhythm in every action that you can have, knowingly or unknowingly. Something that happens in one corner of the earth can have an impact on the other corner. So we are not isolated like islands. We are all part of the universal chain. If we expect others to change first, nothing will happen. Instead of expecting others to change first, we have to change first and then others will change automatically.
Do you mean karma from a past life, or something that disaster victims have done in this life?
Since we cannot find any reason in this birth, in this lifetime, we can only attribute it to the unknown past. But unless we take serious steps to stop this, holding discussions and dialogues about doing the right things, explosions like [the Japanese nuclear disaster] will keep happening.
Do you have any message for the Americans suffering from natural disasters, such as the recent tornados?
Amma is very sad about the victims. However, there's no other way than accept the situation we're in. There is a greater message that we should be more alert when dealing with nature, it should be like standing at gunpoint. However you should also know that this moment alone exists, just like any other decision, happiness is also a decision. Whether we laugh or cry, days will go by. So we should learn to laugh rather than lamenting about our past. Gather enough strength and courage and develop awareness.
Dayak "Tan Sri's..Unprecedented..??"
Posted: 07 Jun 2011 07:45 AM PDT
A political analyst pointed that it is true what the President of PRS James Masing said,"I am receiving PSM (which carries the 'Tan Sri' title) on behalf of the Dayak community. It's their unwavering support for BN which gives BN leaders the decision to give me the honour,"
Though its an honour for him,Mawan (President of SPDP) and Leonard Linggi Jugah ( former PBB SG ) to be honoured together its just Unprecented.No matter how or what your imagination maybe the there are many who will not take it as face value but  questions the political motive behind.
The analyst even said this was given by the Agong and it must have been strong recommendation from the Prime Minister himself. Is Najib putting a clear message to CM Taib he asked.? It will be debated for sometime yet and for now the Dayaks should be honoured as James Masing says and do not look beyond the political message.
A former aide to James Masing said,"He is sick of the games that is being played and knows that its way above PM Najib and some HIDDEN HANDS are behind all these. Its more than a checkmate if you know what I mean..!!" Thats for you to use your political knowledge and you will have a more concrete picture when the jigsaws come in place in the coming months.More will appear out of the cracks soon."
Let it unfold and see whether I am correct or not. For now he says," Am not buying such a move,ITS UNPRECEDENTED …. 
THIS COULD VERY WELL SIGNAL THE  START OF MANY MORE

POLITICAL GAMES….
LET IT BEGIN..
Wong Chun Wai Lauds Obama For Not Knowing How to Reduce Gas Prices (While Dissing DSAI)
Posted: 07 Jun 2011 12:12 AM PDT
WCW is not as all-knowing as he thinks he is/portrays.
Excerpt from The Star 5 June 2011:
Trim the excesses and wastage
On The Beat
By Wong Chun Wai

…

WHEN Barack Obama was asked what action he was going to take after gas pump prices had shot up continuously for 35 days, the US president openly declared he had no immediate solution. It was a simple yet honest answer despite the impact it would have on his popularity ratings.

…

If Datuk Seri Anwar Ibrahim can reduce the price of petrol as he claims, I am sure Obama would be quite keen to hear from him. The Opposition Leader must have a magic wand. He may be able to do it but the long-term effects would be disastrous and could well bleed the nation. To put it bluntly, it could bankrupt Malaysia.
Hey genius, know what? Barack Obama should know what action can be taken, because he is the direct cause of higher gas prices:
Confirmed. Obama's Monetary Policy Causes Massive Pain At The Pump

The Obama administration's monetary policies have added approximately 56.5 cents to the price of every gallon of gas you pump, according to a new congressional Joint Economic Committee report.

Estimates suggest that had the dollar maintained the value it had when Obama came into office, gasoline would cost approximately $3.40 per gallon instead of around $4 per gallon in many parts of the country.

…

The report attributes this increase to the Federal Reserve's policy of increasing the money supply through the purchasing trillions worth of bank notes, treasury notes and mortgage-backed securities, known as quantitative easing, which it says has fueled inflation.
As well as this:
With Gas at $4 Per Gallon… Democrats Reject GOP Bill to Expand Drilling

Because of current U.S. policy, U.S. companies are prohibited from developing oil fields that lie in Cuban waters and come within 50 miles of Florida. However, Cuba is exploring and developing these oil fields, estimated by the U.S. Geological Survey to possess more oil than the Alaska National Wildlife Refuge, and Cuba is partnering with China and other countries, such as Spain, France, and Canada.

The Castro Regime will begin drilling off the coast of Florida this year and will go deeper than the Deepwater Horizon rig that exploded in the Gulf of Mexico in April.

But, US companies are not so fortunate.

In December the Obama Administration issued a massive new ban on offshore oil drilling in the eastern Gulf of Mexico or off the Atlantic and Pacific coasts.

In April, Shell Oil announced that because of Obama's radical EPA, they will be forced to stop drilling off the coast of Alaska. A village of 250 people 70 miles away may be harmed by emissions.

Yesterday, with gas prices at $4 per gallon Senate Democrats rejected a GOP bill to expand drilling in the US.
And this:
"Boost" the Price of Gasoline to the Levels in Europe

In an interview with the Wall Street Journal in September of 2008, Steven Chu said that "gas taxes should slowly be increased over the next 15 years in order to force people to turn to alternative energy sources".

…

Obama's Energy Secretary Chu went on to say, "Somehow we have to figure out how to boost the price of gasoline to the levels in Europe". Which, by the way, are presently at $8 a gallon.


Obama Admits He Will Make Energy Costs "Skyrocket"

Under my plan of a cap and trade system, electricity rates would necessarily skyrocket.

It seems that Malaysian MSM types without fail support BN and Obama.

The former because BN component parties own their papers which in any case wouldn't have their Print Licenses renewed if they were critical of BN… The latter because they rely on the Obamaphilic American MSM for their American news input.



Bravo! PM show us creative ways of saving money!
Posted: 07 Jun 2011 04:54 AM PDT
Saving his money but at the expense of our money lah!






"It may no problem procedurally, if your boss (the PM) approves something no one is going to question.

"But it is morally wrong to use public funds to travel to your daughter's wedding. Najib has no class!" Dzulkefly told Malaysiakini.


Regardless of whatever reason Najib may concoct to justify coinciding his visit to Kazakhstan with his daughter Nooryana Najwa Najib's wedding, the PAS MP says the fact remains that the premier is misusing his station for personal reasons.

The parliamentarian clarified that it was not wrong for Najib to go to Kazakhstan for his daughter's wedding, but Najib should take leave and go there on his own time and expense, and not by spending public funds.

The MP was responding to reports that Nooryana, 22, is set to marry Daniyar Nazarbayev, the son of a top Kazakhstan official, was the main reason for the date of the PM current visit to that country.

Daniyar apparently met and fell in love with Nooryana when she was a student at Georgetown University.

Some quarters have questioned the purpose of the trip and the PM's entourage, as to whether there is any real official reason - or just a manufactured reason for Najib and his wife Rosmah Mansor to visit their soon-to-be in-laws.

Dzulkefly related the tale of Muslim leader Umar Abdul Aziz who had two candles by the side of his bed.

'Not the first time Najib has abused privileges'

If he were awakened at night for affairs of the people, he would light a candle paid for with state coffers. But if he was awakened by friends or family on a visit, he would use a candle he paid for himself.


"This is the highest level of transparency in administration that we should emulate, not abuses unchecked, like we see with Najib," Dzulkefly said.

This is not the first time that Najib has abused the privileges accorded to him as the prime minister, he said.

Recalling another time when the premier, Rosmah and his entourage travelled at public expense, he said this was to the United States when his daughter Nooryana graduated from Georgetown University in Washington on May 21.

Such abuses, if unchecked, would lead to other civil servants, who are supposed to serve the public, using their station for personal gains instead, Dzulkefly warned.

"If the top guy pees while running, what do you expect? District police chiefs and other officials may soon use their staff and government resources for their own ends," the PAS leader said, and expressed his fears that more public funds may be spent come the wedding proper.
Posted: 07 Jun 2011 04:26 AM PDT
I must be feeling a bit energetic as this is my fourth post for today wakakaka.

Reading Malaysiakini's
Penang CPO to politicians: Don't divide the people
which was penned by my matey, sweetie Susan Loone, I find it outrageous that Penang police chief Ayub Yaakob saw fit to comment on how politicians should treat their constituencies.

Bloke said pollies "must stop dividing the people in the delivery of community policing services, which should be open to all regardless of political affiliation."

He also said "certain quarters were trying to undermine community policing by preventing members of political parties, other than their own, from joining the teams."

While he was circumspect about the identity of the political party or politician, some readers have accused the Police of only daring to say so in a Pakatan governed state, while remaining diam when BN was in charge.

Now, as far as kaytee is concerned, it doesn't matter who or which political party the CPO is referring to, but he is f* way out of line, because as a police officer (essentially a civil servant), he has no right to make a political statement, which is exactly what it has been.

It is not within his police terms of reference to lecture politicians on how to represent their constituencies.

This is the problem of Malaysian civil servants today, who lack the propriety not to intrude into areas out of bounds for civil servants.

Recall that Penang SDO officer who attacked Lim GE at an UMNO forum, committing a double sin of a public servant criticising a people's representative and speaking (partisan politics) at a forum meant for members of a political party. He was unmitigatingly biadap.

Yet the Chief Secretary, instead of reprimanding the erring biadap bloke, himself behaved abysmally by defending the disgraceful SDO.

But then, as Wikileaks revealed, US diplomats had reported to the US State Department that the
Malaysian Civil Service is inept and pro UMNO
.

Inept! What an insulting word, and the MCS deserves every bit of it.

The Malaysian Insider reported that

"According to the cable, former Economic Planning Unit EPU deputy director general Datuk K Govindan said the civil service has a 'narrow worldview' and believed that affirmative action reforms will erode the Malay community's interests."



Poor Tan Sri Ghazali Shafie, a giant in worldviews, yet his successors are impossibly inept.


"Govindan sees Malaysia's huge and largely ethnic Malay civil service completely loyal to Umno but increasingly incompetent as PM Najib's largest obstacle."

"He commented that the civil service has a very narrow worldview and will oppose even refuse to implement reforms perceived as damaging ethnic Malay interests even if convinced of the long-run gains for Malaysia".

But one hand doesn't make a clap, because the ruling politicians have been equally responsible for the MCS ineptness, biadap-ness and insidious nature.

Recall the former IGP, the one before the last one. He was so mutinous that he threatened AAB's (UMNO) government of withdrawing police support of BN during the elections if AAB went ahead with the IPCMC, and even provided a special briefing for PAS to reinforce his threat to UMNO.

Was this man sacked immediately?

No, AAB gave way on the IPCMC, and the pits, to make it worse, even honoured the mutinous bastard when he left.

So how will a civil servant ever respect a f* UMNO PM/politician who surrendered his prime ministerial authority to the threats of a uniformed thug, and then honoured the @r$eh*le.
Used-car dealers against extra checks
Posted: 07 Jun 2011 01:28 AM PDT
About 100 used-car dealers held a demonstration in Kuala Lumpur today, to protest an amendment to the Hire Purchase Act 1967. From June 15, all used cars will have to be put through an additional 14-point inspection before being transferred to the new buyer. The dealers claimed that this that new rule by Domestic Trade, Cooperatives and Consumerism Ministry, will only benefit Puspakom, the private concessionaire that has a monopoly of computerised vehicle inspection services. Full story: www.malaysiakini.com

Time:

06:09

More in

News & Politics
English Proficiency: Malaysia Ranks 3rd In Southeast Asia, Says Survey.
Posted: 07 Jun 2011 01:53 AM PDT
When it comes to English proficiency, Malaysians are not at par with their neighbouring counterparts, with the country ranking third out of five countries in the English Language Assessment (ELA) test.
The analysis of the ELA results by online recruitment company JobStreet.com placed Singapore first for each employee category including non-executive and managerial.
Job seekers in the Philippines came in second for all levels except for higher management, in which the Filipinos were tops followed by Singaporeans and Malaysians, said JobStreet.com in a statement Tuesday.
Thailand and Indonesia came in fourth and fifth respectively.
The ELA test comprised 40 random questions to evaluate an individual's grasp of the English language.
Fresh graduates in Malaysia answered an average of 27 of the 40 questions correctly, while those in the Philippines and Singapore got 28 and 30 questions right respectively.
According to the statement, the difference in scores of Malaysians and Singaporeans revealed that local graduates lacked English proficiency.
"This is a worrying trend because the ability to communicate is among five main criteria that employers look at when considering job applicants. This means people with poor English will face difficulty in finding employment," said JobStreet.com Malaysia country manager Chook Yuh Yhg.
The ELA results showed that senior executives in Malaysia scored an average of 29/40 while the managers scored 31/40.
Malaysian workers who scored the highest in the test were those in journalism (33/40), medicine (32/40), higher management (31/40) while the lowest scores in English proficiency came from the general workers (24/40), industrial engineers (25/40) and clerks (26/40).
The ELA test launched in November 2009 has been used by over 1.5 million workers in South-East Asia to measure their level of English proficiency.
Courtesy of Bernama
Kampar-Born Hyflux Chief Wins Entrepreneur Award - By Yow Hong Chieh.
Posted: 07 Jun 2011 01:31 AM PDT
Olivia Lum, founder and chief executive of Singaporean water treatment firm Hyflux, has been named Ernst & Young World Entrepreneur of the Year 2011.
The Malaysian-born businesswoman was crowned two days ago in Monte Carlo after beating 48 other country finalists to become the first woman to win the top prize in the award's 11-year history.
YTL Group managing director Tan Sri Francis Yeoh, chairman of the judging panel, cited Lum's "entrepreneurial spirit" and said she was a role model to female entrepreneurs around the world.
Lum, who was adopted at birth and never knew her parents, was brought up in an illegally constructed tin shack with no utilities in Kampar, Perak where floods were common and food scarce.
She moved to Singapore at the age of 15 and supported her schooling through tutoring and sales jobs, eventually graduating with an Honours degree in chemistry from the National University of Singapore (NUS) in 1986.
After three years working for Glaxo Pharmaceuticals as a chemist, Lum quit her job and founded Hyflux in 1989 with S$20,000 (RM 48,832) that she raised by selling her car and condominium.
The company is now listed on the Singapore Exchange, employs 2,300 people across Asia, the Middle East and North Africa and boasts annual revenues of US$450 million.
Customers include Siemens, Hewlett Packard and the Singapore government — Hyflux runs several NEWater plants as well as the republic's largest desalination plant.
The once-penniless Lum has also been listed as one of Singapore's 40 wealthiest people by Forbes.
Courtesy of The Malaysian Insider

Prime Minister Najib Tun Razak Argues for Enlightenment and Balance in International Affairs
Posted: 06 Jun 2011 11:27 PM PDT
Keynote address by Najib at the
10th IISS Asia Security Summit
, The Shangri-La Dialogue in Singapore on Friday 03, June 2011.
--------------------------------------------------------------------------------------------------
This is what an influential American online news portal the New Ledger wrote about our prime minister:-

It is perhaps common for citizens of the Western world to look out in despair upon the panoply of Muslim-majority countries in the world for a ruling government whose understanding of history and world affairs is not warped and distorted by paranoia of Israel and the West. The average exposure the Western citizen has to a Muslim leader's understanding of world affairs is doubtless limited to the rantings of demagogues like Mahmoud Ahmadinejad of Iran and others. Many of these leaders publicly see the world through the prism of Holocaust denial, Jewish conspiracies, and plots by the Great Satan to oppress Muslims.
Some of these leaders come by these beliefs honestly; others doubtless espouse them in order to deflect their own citizens' discontent away from their government and onto a handy target. In either case, a common theme arises – while many majority-Muslim countries have governments that are very wealthy, their citizenry is often horribly poor and disconnected from any sort of meaningful and unbiased news source. And so men like Ahmadinejad grab Western headlines with their inflammatory headlines and here in the United States we are left to wonder: Are there no leaders of Muslim countries who have any understanding of how to guide their country into a prosperous partnership with the rest of the world?
To any who are thus concerned, Malaysian Prime Minister Najib Tun Razak's remarks at the 10th International Institute for Strategic Studies (IISS) Shangri-La Dialogue should provide a welcome antidote. Like many majority-Muslim countries, Malaysia is a multi-ethnic country. Although the majority of Malaysians are Malay Muslims, a non-trivial portion of Malaysia's population consists of Chinese expatriates (who are heavily Christian), along with countless other smaller minorities of various faiths. Many majority-Muslim countries in today's world respond to their minority populations with brutal oppression; Najib's government has eschewed this path in favor of peaceful cooperation with Malaysia's minorities, allowing them a meaningful voice in a truly functional democracy. It is perhaps not surprising that the result of this is that Malaysia has a modern economy that interacts peacefully with the world around it.
In his Keynote Address at the Shangri-La Dialogue, Najib demonstrated that this fact was no accident, but rather was the result of the leadership of a government with a keen understanding of its region and an ability to view the world through the prism of its trading partners, even favorably invoking Henry Kissinger's "long arc of history," an unthinkable prospect for many leaders of majority-Muslim countries.
The cynics thought that Asia and the West could never truly come together as a cohesive whole, that we had too little in common, that life in Surabaya was simply too far removed from life in San Diego. The last 10 years have proved them wrong. Yes, we come from many cultures and we speak many languages but, as US Defence Secretary Robert Gates – and I wish him well in his retirement – said in this room last year, the Pacific Ocean is not a barrier that divides us but a bridge that unites us.

…

Next month will see the 40th anniversary of Henry Kissinger's secret mission to China, ahead of President Nixon's historic visit in 1972. Coming in the midst of the Cold War, Nixon's visit shocked many in the United States. How could the fervently anti-communist leader of the Western world possibly sit down with his ideological adversary? The answer of course is that the United States saw in China the potential to become a counterweight to the Soviet bloc, but this new alliance went much further than that. Nixon's visit was not just about the United States opening itself up to China; it was about China opening itself up to the United States. It is a relationship that has benefited both countries ever since, but such productive dialogue can only take place if there is an openness to engagement on both sides.
It is likewise welcome to find a leader of a majority-Muslim country confronting the problem of extremism head-on and unsolicited:
In Islam, we have a concept wasatiyyah, which means moderation or justly balanced. It is this spirit of moderation that has made Malaysia the country it is today, and that I believe will now be the key to overcoming the challenges we face together as a region. That is why, at the United Nations last year, I called for a new global movement of the moderates that would see government, business and religious leaders around the world face down extremism wherever it is found. Just as you cannot make the world a better place by passing a law proclaiming that it will be better, you cannot rid the world of extreme views simply by making them illegal. I have no doubt we can best foster tolerance and understanding not by silencing the voice of hatred, but by making the voice of reason louder and louder.

…

As responsible leaders, we cannot and should not squander the opportunity before us to help build a new world order, where a just and equitable peace predicated on the rule of law is the norm, rather than the exception. We know that governments that do not practice good governance are existing on borrowed time. We must ensure peace and stability at all levels – national, regional and global.
Najib's speech as a whole displays the kind of regional leadership that has for too long been lacking among Muslim leaders. And the actions of his government bear it out – unlike many governments, Malaysia does not have a token democracy, but rather Najib's governing coalition faces a real threat from Anwar Ibrahim's coalition (which harbors within it the only true Muslim extremist party in Malaysia). And what this demonstrates to us is that when a Muslim leader must actually be responsive to his population and ensure their prosperity (or risk electoral defeat), then there is hope that perhaps things are not as bleak as we have supposed.
The Bilderberg criminals: A startling revelation by a Swiss banker
Posted: 06 Jun 2011 10:54 PM PDT
The Controllers of the World. Who are they? For the most part, they own the banks, the oil companies, the big corporations, the big pharmaceutical companies, the major food and beverage industries, the international news media, etc. They even control your local government which in turn will crank up policies and laws, under their orders, to control your life. Should you continue to think that bank interest rates, inflation, taxes and more taxes, privatization of national resources, wars, extreme climate phenomenon, world-wide economic turmoils, regional uprisings, step-by-step disappearance of personal liberties, your dumbed-down education, etc., are all above board and normal, you'd better think again. The Controllers of the World want you to be their slaves and in order to help them achieve their goal they have roped in the people you have voted into power to be part of their elitist group. Their belief  system is this: "once you control the head, you control the body." We, the common folks, are controlled and will be eternally fooked if we don't wake up. The people we vote into power are not there to do our bidding. They are there to do the bidding of the Controllers of the World. Read on and you'll get a better insight into how the world operates and who are pulling the strings.
The following are excerpts of an interview highlighted below.
"The Strauss-Kahn case … shows these people are corrupt, sick in their minds, so sick they are full of vices and those vices are kept under wraps on their orders. Some of them like Strauss-Kahn rape women, others are sado maso, or paedophile and many are into Satanism. When you go in some banks you see these satanistic symbols, like in the Rothschild Bank in Zurich."

"They have a new plan to censor the internet, because the internet is still free. They want to control it and use terrorism or whatever as a reason. They could even plan something horrible so that they have an excuse."
The following is the full interview with a Swiss banker by the Russian Weekly magazine 'NoviDen' in Mosсow on 30 May 2011 …
Startling revelations from a Swiss banking insider

 

Q: Can you tell us something about your involvement in the Swiss banking business?

A: I have worked for Swiss banks for many years. I was designated as one of the top directors of one of the biggest Swiss banks. During my work I was involved in the payment, in the direct payment in cash to a person who killed the president of a foreign country. I was in the meeting where it was decided to give this cash money to the killer. This gave me dramatic headaches and troubled my conscience. It was not the only case that was really bad but it was the worst. It was a payment instruction on order of a foreign secret service written by hand giving the order to pay a certain amount to a person who killed the top leader of a foreign country. And it was not the only case. We received several such hand written letters coming from foreign secret services giving the order to payout cash from secret accounts to fund revolutions or for the killing of people. I can confirm what John Perkins has written in his book "Confessions of an Economic Hit Man". There really exists just a system and Swiss banks are involved in such cases.

Q: Perkins book is also translated and available in Russian. Can you tell us which bank it is and who was responsible?

A: It was one of the top three Swiss banks at that time and it was the president of a country in the third world. But I don't want to give out to many details because they will find me very easily if I say the name of the president and the name of the bank. I will risk my life.

Q: You can't name any person in the bank either?

A: No I can't, but I can assure you this happened. We were several persons in the meeting room. The person in charge of the physical payment of the cash came to us and asked us if he is allowed to payout such a big amount in cash to that person and one of the directors explained the case and all others said ok you can do it.

Q: Did this happened often? Was this kind of a slush fund?

A: Yes. This was a special fund managed in a special place in the bank where all the coded letters came in from abroad. The most important letters were hand written. We had to decipher them and in them was the order to pay a certain amount of cash from accounts for the assassination of people, funding revolutions, funding strikes, funding all sorts of parties. I know that certain people who are Bilderbergers were involved in such orders. I mean they gave the orders to kill.

Q: Can you tell us in what year or decade this happened?

A: I prefer not to give you the precise year but it was in the 80′s.

Q: Did you have a problem with this work?

A: Yes, a very big problem. I could not sleep for many days and after a while I left the bank. If I give you too many details they will trace me. Several secret services from abroad, mostly English speaking, gave orders to fund illegal acts, even the killing of people thru Swiss banks. We had to pay on the instructions of foreign powers for the killing of persons who did not follow the orders of Bilderberg or the IMF or the World Bank for example.

Q: This is a very startling revelation that you are making. Why do you feel the urge to say this now?

A: Because Bilderberg is meeting in Switzerland. Because the world situation is getting worse and worse. And because the biggest banks in Switzerland are involved in unethical activities. Most of these operations are outside the balance sheet. It is a multiple of what is officially declared. Its not audited and happening without any taxes. The figures involved have a lot of zeros. It's huge amounts.

Q: So its billions?

A: Its much more, its trillions, completely unaudited, illegal and besides the tax system. Basically it's a robbery of everybody. I mean most normal people are paying taxes and abiding by the laws. What is happening here is complete against our Swiss values, like neutrality, honesty and good faith. In the meetings I was involved in, the discussions where completely against our democratic principles. You see, most of the directors of Swiss banks are not locals anymore, they are foreigners, mostly Anglo-Saxon, either American or British, they don't respect our neutrality, they don't respect our values, they are against our direct democracy, they just use the Swiss banks for their illegal means. They use huge amounts of money created out of nothing and they destroy our society and destroy the people world wide just for greed. They seek power and destroy whole countries, like Greece, Spain, Portugal or Ireland and Switzerland will be one of the last in line. And they use China as working slaves. And a person like Josef Ackermann, who is a Swiss citizen, is the top man at a German bank and he uses his power for greed and does not respect the common people. He has quite a few legal cases in Germany and also now in the States. He is a Bilderberger and does not care about Switzerland or any other country.

Q: Are you saying, some of these people that you mention will be at the up-coming Bilderberg meeting in June in St. Moritz?

A: Yes.

Q: So they are currently in a position of power?

A: Yes. They have huge amounts of money available and use it to destroy whole countries. They destroy our industry and build it up in China. On the other hand they opened up the gates in Europe for all Chinese products. The working population of Europe is earning less and less. The real aim is to destroy Europe.

Q: Do you think that the Bilderberg meeting in St. Moritz has symbolic value? Because in 2009 they where in Greece, 2010 in Spain and look what happened to them. Does this mean Switzerland can expect something bad?

A: Yes. Switzerland is one of the most important countries for them, because there is so much capital here. They are meeting there because apart from other things they want to destroy all values that Switzerland stands for. You see it's an obstacle for them, not being in the EU or Euro, not totally controlled by Brussels and so on. Regarding values I am not talking about the big Swiss banks, because they are not
Swiss anymore, most of them are lead by Americans. I am talking about the real Swiss spirit that the common people cherish and hold up. Sure it has symbolic value, as you said, regarding Greece and Spain. Their aim is to be a kind of exclusive elite club that has all the power and everybody else is impoverished and down.

Q: Do you think that the aim of Bilderberg is to create a kind of global dictatorship, controlled by the big global corporations, were there are no sovereign states anymore?

A: Yes and Switzerland is the only place left with direct democracy and its in their way. They use the blackmail of "too big to fail" as in the case of UBS to put our country in big debt, just like they did with many other countries. In the end maybe they want to do with Switzerland what they did with Iceland, with all the banks and the country bankrupt.

Q: And also bring it in to the EU?

A: Of course. The EU is under the iron grip of Bilderberg.

Q: What do you think could stop this plan?

A: Well that's the reason I speak to you. Its truth. Truth is the only way. Put a light on this situation, expose them. They don't like to be in the spotlight. We have to create transparency in the banking industry and in all levels of society.

Q: What you are saying is, there is a correct side to the Swiss banking business and there are a few big banks that are misusing the financial system for their illegal activities.

A: Yes. The big banks are training their staff with Anglo-Saxon values. They are training them to be greedy and ruthless. And greed is destroying Switzerland and everybody else. As a country we have a majority of the most correct operating banks in the world, if you look at the small and midsize banks. Its just the big ones who operate globally that are a problem. They are not Swiss anymore and don't consider themselves as such.

Q: Do you think it is a good thing that people are exposing Bilderberg and showing who they really are?

A: I think the Strauss-Kahn case is a good chance for us, because it shows these people are corrupt, sick in their minds, so sick they are full of vices and those vices are kept under wraps on their orders. Some of them like Strauss-Kahn rape women, others are sado maso, or paedophile and many are into Satanism. When you go in some banks you see these satanistic symbols, like in the Rothschild Bank in Zurich. These people are controlled by black-mail because of the weaknesses they have. They have to follow orders or they will be exposed, they will be destroyed or even killed. The reputation of Strauss-Kahn is not only killed in the mass media, he could
be killed also literally.

Q: Since Ackermann is in the steering committee of Bilderberg, do you think he is a big decision maker there?

A: Yes. But there are many others, like Lagarde, who will probably be the next IMF head, also a member of Bilderberg, then Sarkozy and Obama. They have a new plan to censor the internet, because the internet is still free. They want to control it and use terrorism or what ever as a reason. They could even plan something horrible so that they have an excuse.

Q: So that is your fear?

A: Its not only a fear, I am certain of it. As I said, they gave orders to kill, so they are capable of terrible things. If they have the feeling they are losing control, like the uprising now in Greece and Spain and maybe Italy will be next, then they can do another Gladio. I was close to the Gladio network. As you know they instigated terrorism paid by American money to control the political system in Italy and other European countries. Regarding the murder of Aldo Moro, the payment was done thru the same system as I told you about.

Q: Was Ackermann part of this payment system at a Swiss bank?

A: (Smile) … you are the journalist. Look at his career and how fast he made it to the top.

Q: What do you think can be done to hinder them?

A: Well there are many good books out there that explain the background and connect the dots, like the one I mentioned by Perkins. These people really have hit men that get paid to kill. Some of them get their money thru Swiss banks. But not only, they have a system set up all over the world. And to expose to the public these people that are prepared to do anything to keep control. And I mean anything.

Q: Thru exposure we could stop them?

A: Yes, telling the truth. We are confronted with really ruthless criminals, also big war criminals. Its worse then genocide. They are ready and able to kill millions of people just to stay in power and in control.

Q: Can you explain from your view, why the mass media in the west is more or less completely silent regarding Bilderberg?

A: Because there is an agreement between them and the owners of the media. You don't talk about it. They buy them. Also some of the top media figures are invited to the meetings but are told not to report anything they see and hear.

Q: In the structure of Bilderberg, is there an inner circle that knows the plans and then there is the majority who just follow orders?

A: Yes. You have the inner circle who are into Satanism and then there are the naive or less informed people. Some people even think they are doing something good, the outer circle.

Q: According to exposed documents and own statements, Bilderberg decided back in 1955 to create the EU and the Euro, so they made important and far reaching decisions.

A: Yes and you know that Bilderberg was founded by Prince Bernard, a former member of the SS and Nazi party and he also worked for IG Farben, who's subsidiary produced Cyclone B. The other guy was the head of Occidental Petroleum who had close relations to the communists in the Soviet Union. They worked both sides but really these people are fascists who want to control everything and everybody and who gets in their way is removed.

Q: Is the payment system you explained outside of normal operations,
compartmentalized and in secret?

A: In those Swiss banks the normal employees don't know this is happening. Its like an own secret department in the bank. As I said these operations are outside of the balance sheet, with no supervision. Some are situated in the same building, others are outside. They have their own security and special area where only authorized people can enter.

Q: How do they keep these transactions out of the international Swift system?

A: Well some of the Clearstream listings were true in the beginning. They just included fake names to make people believe the whole list is fake. You see they also make mistakes. The first list was true and you can trace a lot of things. You see, there are people around that discover irregularities and the truth and they tell it. Afterwards of course there are law suits and these people are forced to shut up. The best way to stop them is to tell the truth, put the spot light on them. If we don't stop them we will end up as their slaves.
Tagged:
bildergberg
,
confessions of an economic hit man
,
illuminati
,
IMF
,
World Bank
The Star: Singapore is Sooooo Oppressively Controlling With Its Media
Posted: 07 Jun 2011 02:20 AM PDT
Honestly, I don't know how Seah Chiang Nee can write these pieces oh-so-(un)subtly bashing Singapore every week with a straight face.
Just read the following excerpts from The Star 4 June 2011 first…
Print media at the crossroads
Insight Down South
By SEAH CHIANG NEE

Media monopoly and draconian laws continue in Singapore and carrying on in this way could mean an eventual demise of the print newspaper industry.

LOOKING back, it sounds a little silly but the Government once used to punish "misbehaving" newspapers by withholding their right to cover press conferences.

With modern thinking, it is only too easy now to sniff at this form of enforcing journalistic cooperation as self-defeating.

But in those bad old days, it was very real.

When it happened, the hapless journalists could merely shrug and ask each other: Who are they trying to punish – the punisher or the "punishee"?

That was in the 70s when Lee Kuan Yew saw himself besieged by enemies everywhere, real or imagined.

Newspapers which flouted his regulations could have their press cards withheld.

Without it, reporters could not, among other things, attend government press conferences.

I think the ban was eventually lifted when the authorities realised that press briefings were useful only if the press came – the more reporters the better.

Today it would be a public relations nightmare if any company or ministry were to send out invitations for a press conference and nobody came.

…
Oh, horror and grief! The draconian PAP doesn't invite press they don't like to their media conferences. Quick, someone call the UN Security Council to bomb Lee Hsien Loong's office, he is obviously a human rights abusing dictator! /sarc
(You know who else bans press that they don't like? And that's the least of it.)
Now, compare with Malaysia's Printing Presses and Publications Act:
The Act has been criticised for curtailing the freedom of speech in Malaysia, which is subject to any restriction Parliament may impose under Article 10 of the Constitution. In particular, it has been alleged that the Act "empowers the Minister to exercise virtually total control over the print media."[1] This criticism was intensified after a 1987 amendment to the Act established an ouster clause preventing actions of the Home Affairs Minister from being called into question by the courts.
And some history, Ops Lalang:
The operation saw the arrest of 106 persons under the Internal Security Act (ISA) and the revoking of the publishing licenses of two dailies, The Star and the Sin Chew Jit Poh and two weeklies, The Sunday Star and Watan.
And just recently:
The Home Ministry has asked three newspapers to show cause on why action should not be taken against them over their news coverage on a number of political issues.

Confirming this, the ministry's Publications Control and Al-Quran Texts Unit secretary Che Din Yusof told Malaysiakini today that the three papers were English daily The Sun, Chinese newspaper Sin Chew Daily and opposition PKR's party organ Suara Keadilan.

He said the ministry has issued the show-cause letters yesterday and the three papers had been given a week to reply.

According to him, The Sun was asked to show cause for allegedly "manipulating and playing up numerous sensitive issues".

Meanwhile, Sin Chew has been targeted for its recent reports on the racial slur controversy involving Umno division leader Ahmad Ismail.

If a public figure says something seditious, and a newspaper reports it, the government goes after….. the newspaper??
And also:
The Home Ministry has banned popular newspaper Makkal Osai after it gave frontpage coverage to the rally for PKR' advisor Datuk Seri Anwar Ibrahim recently.
Which is worse, honestly?
But then again, maybe this is actually his way of cunningly back-handing his own restrictions:
A large factor is public perception that the newspapers here are a government mouthpiece.

The Institute of Policy Studies recently published a survey which said half of Singaporeans believed "there is too much government control of newspapers and television".

Youths aged 21 to 39 seemed most cynical with six in 10 agreeing with the statement, compared with half of those aged over 60.

Analysts said it indicates a relation between the proportion of media cynics and opposition voters, both of which had risen in tandem in the past 15 years.

…

Carrying on this way could mean an eventual demise of the print newspaper industry.

Presently, newspaper circulations continue to stagnate and dip little by little.
Replace 'Singaporean' with 'Malaysian' and he just described the decline of the Malaysian MSM versus alternative media, for the same reasons.
Berkenaan Permintaan Pemuda untuk Menjadi 40% Calon PAS
Posted: 06 Jun 2011 10:22 PM PDT
NOTA EDITOR: Satu artikel yang cukup baik dari Zainulfaqar.
Cermin muka & buktikan Pemuda layak tanding 40 % kerusi di PRU13…

Respons | Ustaz Nasruddin Hassan at-Tantawi sempena muktamar pemuda baru-baru ini menuntut supaya 40 peratus calon di pilihhttp://www.blogger.com/img/blank.gifan raya umum ke-13 wajar dipilih dari kalangan pemuda.

Alasan paling utama Ketua Dewan Pemuda PAS Pusat antaranya pengundi paling ramai pada pilihan raya yang dijangka paling awal November tahun ini adalah muda.

Dalam reaksi spontan, Datuk Husam Musa selaku Naib Presiden yang baru meminta pemuda terlebih dahulu memperkemas daftar pengundi muda yang ketika ini pada tahap tiada persediaan.

Nak jadi calon muda di pilihan raya umum bukan macam tanding menjadi ketua kelas yang tidak memerlukan rancangan masa depan yang dinamik lagi koprehensif.

Cuba bertanya pada Nasruddin – apakah wawasannya serta manifesto untuk anak muda (baca: bukan untuk pemuda PAS sahaja).

Kalau idea "negara syariat" yang nak dibawa, percayalah bahawa idea itu sendiri hari ini ditolak oleh Presiden PAS Datuk Seri Abdul Hadi Awang sendiri.

"Apa yang penting adalah pelaksanaan. Kalau letak jenama saja tak laksana tak ada faedah. Kita mulakan dengan pelaksanaan negara berkebajikan, itu ada dalam Al-Quran, Dia tak sebut negara Islam, Dia sebut negara berkebajikan," tegas Abdul Hadi.

Sudah lama, saya memperkatakan mengenai kaedah usul berbunyi "al-hukmu yaduru ma 'ala musamma la 'ala ismi" yang bermaksud, "hukum itu berlegar pada perkara/inti yang diberikan nama, bukan jenama", tetapi beliau sebelum ini masih dengan idea-idea mandul seperti tersebut.

Nah! Percayalah, hari ini pemuda PAS akan tetap menerima idea baru ini kerana mereka tidak mempunyai wawasan Islam tersendiri yang dinamik lagi tersendiri.
Percayalah, mereka akan terus mengekor faham Abdul Hadi kerana di kalangan mereka seakan tidak ada wacana fiqh tersendiri yang dinamik.

Jangan kata tidak ada, kerana inti mesyuarat berkala yang sampai pada Nota Merah menggambarkan kebanyakan keputusan diambil tidak atas dasar wacana ilmu dan rasional.

Pemuda wajar mempunyai faham fiqh yang baru. Kalau kepemimpinan pemuda ala-ala Taliban ini bertanding di kawasan Nota Merah – Parlimen permatang pauh & Dun Pemtang Pasir – Nota Merah akan berkempen menolak kepemimpinan mereka supaya Islam serta golongan Ustaz atau Ulama hatta PAS tidak difitnah kelak disebabkan prilaku dan cara berfikir mereka yang tidak dinamik.

Anggap ini satu cabaran jika berasa diri layak tanding 40 peratus kerusi di PRU13.

Setuju?

Zainulfaqar Yaacob
Bukit Mertajam | 9.30 malam
Posted: 06 Jun 2011 09:24 PM PDT
I was brought up in a family where girl and boys were treated the same. I had a brother and a sister, myself being the youngest of the three siblings. My sister was treated in fact more special than the 2 boys; she was the only one who was sent for piano lessons perhaps because my dad could only afford one kid learning piano.
In all other aspects, my sister was treated no differently. She went to MU , graduated with a first class honours in Maths, and obtained a scholarship to do master in the renowned East West center in Hawaii. She went on to become an actuarist and worked in both private and public sectors in Singapore, and now retiring in Singapore because her children are all Singaporeans.
In those days, the 60s, some families did not send their girls to universities even when the girls had good results. One example was a cousin of mine. She had been accepted by a unversity but her father had refused to send her there. i remember my father made a special trip to Teluk Intan ( I tagged alone and that was my only visit to that town with the leaning tower) and tried to persuade his cousin to allow the daughter to go to university. In the end, after 3 days of talks, the father finally agreed to let the daughter go to MTC (Malaysian Teachers' College) as a compromise. Her brother was more fortunate; being the son he was sent to Nanyang University to study and is a prominent businessman now.
In the old days, even in government service, men were paid more than women for similar  positions held and for similar jobs done. It was  in the 60s that finally, women were given the same pay and leave as their male counterparts, after many women leaders fought hard to get the same recognition.
Women today are recognised as equal to men, although each may have different roles to play,  thanks to the efforts of some of their pioneers in fighting for their rights.  As more and more people are educated overseas, where women emancipation movement has long taken roots, we are seeing equal status for women in more and more fields.
I myself treated my children equally regardless of their sex, like thousands of other Malaysians.
Emancipation of women is here to stay.
Alas, wait a minute! In Malaysia, even though I know that anything is possible, I have never envisaged that an "Obedient wives Club'  would be set up by certain women themselves.
In this age and time, wives are equal to husbands and how some  women can come out with this idea just baffles me. The aim of this club apparently wants to make wives more obedient/subservient, and it also plans to teach women be more sexually attractive so that husbands do not stray to the arms of the whores… As a husband, I wish to register my strongest protest here; the actions of these women is not only  demeaning to wives, but to most husbands as well!
These women have also missed an important point.
In matrimony, sexual prowess is not what holds a marriage together. It is mutual trust, respect, understanding and love that are the keys to a lasting marriage, not by asking either the wife or the husband to be obedient or subservient, or train them to be good in bed..
I just don't know how obedient or subservient  these founder-members are , but one thing i know, they have already make Malaysia the laughing stock of the world again.
Malaysia Boleh!
Pakatan must not avoid the unavoidable
Posted: 07 Jun 2011 06:52 AM PDT
In my post
If Pakatan wins 2013 to rule, who'll be PM?
I wasn't surprised to see/read comments lambasting Zaid Ibrahim.

Zaid committed 3 sins in the eyes of PKR anwaristas:

(1) He didn't show reverence for Anwar Ibrahim, calling a spade a spade. Anwar has attained such a cult status that to criticize him is not unlike committing blasphemy. There's no reasoning with his devotees as they are no longer logical or rational, and cannot see anything wrong with him, whether it's Anwar's anti-reformasi shame of 916 or the greater humiliating shame of chasing potential tadpoles all the way to Taiwan.

That same fanatical blind adoration would place only his family members, Dr Wan Azizah or Nurul Izzah, as acceptable substitutes to the Greatest Man on Earth since Moses, who would deliver them out of the BN-created wilderness, regardless of whether Dr Wan or Nurul, sweet as mother and daughter are, are really qualified. Isn't this BN-type nepotism?

(2) He dared to challenge Anwar's Anointed One, first by attempting to get Nurul, then Khalid Ibrahim to stand against AI's blue-eyed boy, and finally putting himself on the firing line, only to be frustrated in like fashion as was Chegubard, Jenapala, Gobala, etc, which in turn raised outrage voices of people like Haris Ibrahim and Jonson Chong (but alas, to a deaf Dr Wan Azizah and an equally deaf what's-the-name-of that-deer-caught-in-a car-headlights?).

(3) He dared to leave the Greatest Party in the World, and then to strip layer by layer of mythological camouflage off the Greatest Man on Earth since Moses, and worse, in a mature, logical and evidential manner.

But far more worrying or sad than the above has been comments like

"PR should win the election first before deciding who should head its new government".



This is nonsense, and an evasion of responsible commitment. PR has to, must decide who's to be leader should Anwar Ibrahim not be available. This is basic contingency planning, to prevent chaos in a worst case scenario. A political orgnaization without contingency leadership planning does not deserve to be elected.

Whether the PR leader is to be Pak Haji Hadi Awang, Mat Sabu, Karpal Singh, Lim Snr/Jnr, Azmin Ali wakakaka, sweetie Nurul, Dr Rama, or even (okay, bizarre as it may be) Ku Li of UMNO, the commitment/decision has to be made NOW!

Waiting for the election to be won before nominating a PR leader is just like avoiding the difficult but necessary establishment of the shadow cabinet, which will only foster the subsequent and inevitable disintegration of PR (when the election has been won and the appointments have to be made).

Worse, it's not only a gross evasion of responsible commitment but smacks of some having an ulterior agenda up his/her/their sleeves!

Related: Free Malaysia Today -
Zaid wants to take the spin out of politics
by Mariam Mokhtar