---
MACC Academy provide training courses to developing countries
Posted: 03 Jun 2011 04:21 AM PDT
Kuala Lumpur June 3, 2011: MACC chief commissioner Abu Kassim Mohamed was at a press conference held at the closing ceremony of a basic training course given to Bhutan anti-corruption officers at the Malaysia Anti-Corruption Academy. The South Asia country had sent 14 of its 16 anti-corruption officers to attend a three-week training programme at the academy operated by MACC. The Bhutan officers, a few of them clad in their traditional costume, also sang a Bhutan song to commemorate the end of their three-week training programme. Camera/Editing: Tan Jiun Wuu

Time:

02:20

More in

News & Politics
Probe on Taib is on, says MACC chief
Posted: 03 Jun 2011 03:52 AM PDT
The Malaysian Anti-Corruption Commission (MACC) has refused to divulge any information about the investigation it has started on Sarawak Chief Minister Abdul Taib Mahmud. All the MACC would say today was to confirm that the probe was still going on. "As we mentioned again and again, we have started the investigation. That's all. "I cannot give you any details," said MACC chief commissioner Abu Kassim Mohamed told a press conference in Kuala Lumpur. "The investigation is on." Full story: www.malaysiakini.com

Time:

02:40

More in

News & Politics
Stopping an Australian Mining company to dump toxic waste in Malaysia near populated coastal region
Posted: 03 Jun 2011 10:27 AM PDT
Sydney-based Lynas Corporation is constructing a huge rare earth refinery near the city of Kuantan in Malaysia. It is scheduled to bring rare earth ore from its WA mine in Mt Weld to the refinery in Kuantan, Malaysia.
Every year it will dump 230,000 tonnes of solid waste containing radioactive thorium and a rang of heavy metals and toxic substances. Every hour, 500 tonnes of waste water will be discharged into a natural river which flows into the sea. Every hour, 90,000 cubic meter of gaseous participles are released into the atmosphere. The refinery is within 2 km of densely populated coastal fishing villages and tourism hot spots. No detail of the waste management plan is made available to the public to date. Local people have been protesting to stop the refinery since March, to little avail. The corrupt Government instead sent in paid thugs to rough up the peaceful protestors consisting to grand parents, fathers and mothers with children. They are pleading for help for caring Australians to stop this company from proceeding with the refinery project.
by Lee Tan in Environment
Posted: 03 Jun 2011 10:23 AM PDT
11HB JUN 2011
4.00 PTG HI- TEA DGN PENDUDUK TANJONG TOK KONG LOKASI LOKASI KPG TANJONG TOK
KONG
TETAMU JEMPUTAN YB DATO' SERI ANWAR IBRAHIM / YB DATO' MANSOR /
BARISAN EXCO/ MP /ADUN PULAU PINANG
12HB JUN 2011
7.00 PG BERSAMA PIMPINAN PELAJAR PULAU PINANG LOKASI REGENCY HOTEL
GUNUNG JERAI
TETAMU YB DATO' SERI ANWAR IBRAHIM / YB DATO' MANSOR
9.00 PG TO' KUN CHARITY RUN LOKASI PDG BOLA JLN KOLAM PELEPASAN OLEH
DATO' SERI ANWAR IBRAHIM
10′00 PG ZIARAH KELUARGA TO' KUN
12.00 TGH KENDURI KAHWIN LOKASI RUMAH SDR MAN BAGAN TANAH LIAT
1.00TGH KENDURI KAHWIN LOKASI RUMAH SDR MAN TOK NOH KG GUAR PERAHU
2.00 PTG REHAT YAYASAN AMAN
4.00 PTG PERASMIAN BENGKEL PILIHAN RAYA ZON 1 DI YAYASAN AMAN PERASMIAN
OLEH DATO' SERI ANWAR IBRAHIM
5.30 PTG HI- TEA LOKASI DWN PANORAMA TELUK AIR TAWAR BERSAMA DATO' SERI
ANWAR IBRAHIM / TIMBALAN KETUA MENTERI 1
7.00 MLM SOLAT MAGHRIB / TAZKIRAH LOKASI ( TASEK GELUGOR )
9.30 MLM CERAMAH UBAH SEKARANG SELAMATKAN MALAYSIA LOKASI KG PERMATANG
KUANG KEPALA BATAS
PENCERAMAH YB DATO' SERI ANWAR IBRAHIM / YB DATO' MANSOR /
LAWYER RASHIDI
10.00 MLM CERAMAH UBAH SEKARANG SELAMATKAN MALAYSIA LOKASI DEWAN
SIMPANG 3 SERI AMPANGAN SG ACEH NIBONG TEBAL
PENCERAMAH YB DATO' SERI ANWAR IBRAHIM / YB DATO' MANSOR / CIKGU
BARD
Yours truly in Front Page Magazine
Posted: 03 Jun 2011 09:48 AM PDT
I've finally gotten my first article published in Front Page Magazine --
Why Muslim cultures lag behind.
My sincere thanks to FrontPageMag's managing editor Jamie Glazov.
If you're coming to Pedestrian Infidel from Front Page Magazine, welcome.  Have a look at a website that Muslims, in particular the Malaysian government, really do not want you to see -- this site has been blocked by the the Malaysian government since November 2010, possibly by the direct order of Prime Minister Najib himself.  (we're duly honoured of course).
Anyways, we hope you have the time to stay awhile and perhaps peruse our archives that go back to 2005.  We're sure you'll like what you find.
Tyranny and Totalitarianism on hold (for now) -- Malaysian Islamic Party maneuvers ahead of upcoming election
Posted: 03 Jun 2011 09:12 AM PDT
Malaysia's pious PAS party -- the party that wants shariah and an Islamic state in Malaysia -- has decided to put these demands on the proverbial back burner.
PAS eases up on Islamic state ahead of yet-to-be-called general election
By SIRA HABIBU

KUALA LUMPUR: PAS is not harping on Islamic state anymore as it gears up for the 13th general election. ... PAS president Abdul Hadi Awang said it was not time yet to  implement an Islamic state.

Why the switch to taqiyya mode?  Well, it turns out that Malaysia is likely to have a general election in the next six to twelve months. So it's time to put the knives away, turn on the smiles and lie like there's no tomorrow.  I know all politicians lie to some extent, but Islamic theocrats, from PAS or anywhere else, take this dishonesty to a whole new level.  This is standard procedure for PAS in the run up to general elections.
Tell me, Mr. Abdul Hadi. Since shariah is such an enlightened legal system, according to you and its many other backers, and Islam is supposed to be the perfect way of life, then why would you say it's 'not yet time' for your theocratic state? Why downplay what are supposed to be your greatest strengths?
Also, in the Quran there was no mention about an Islamic state, but there was a mention of welfare state, he told a press conference ...

"Under the welfare state concept we have to be kind to all - humans, animals, and the environment. ... Some governments offer free healthcare and education. That should be the way.

Pure distilled taqiyya. Could someone point out the Quranic verses that state that non Muslims are to be treated as equals of Muslims?  And the use of 'welfare' as a buzzword is particularly disingenuous. Government-operated welfare systems the world over are facing bankruptcy. So the word 'welfare' probably means maintaining the Jizya system in Malaysia, where non Muslims are taxed at much higher rates than Muslims, with the resulting funds being ahnded over to Muslims. PAS confirms this extortionary system will continue when they're in charge:
PAS would also continue supporting the special privilege of the Malays [i.e Muslims] and the bumiputra, the bulk of whom were poor, he said.

[He added that] PAS would focus on propagating good governance according to the Islamic principles.

'Good governance', eh?  Well good luck with that. 'Good governance' is something that no Muslim-run party, government, or country has ever managed to accomplish. Muslim-run governments the world over are a veritable horror show of self-inflicted if not pathological self-destruction.
Hadi said PAS would continue garnering non-Muslim support ...

Well this should make it clear why PAS is backtracking from its position favoring shariah and a Islamic (i.e. totalitarian) state. After the elections are over, you can bet your bottom ringgit that they'll quickly resume their agitations for the implementation of complete and savage Shariah law.
Another 'Malaysia Boleh' Moment
Posted: 03 Jun 2011 09:17 AM PDT
Malaysian women launch 'The Obedient Wife Club'
KUALA LUMPUR — A group of Malaysian Muslim women say they will fight divorce, domestic violence and other problems -- by appealing to wives to be more obedient, according to one of the organisers.
Maznah Taufik said "The Obedient Wife Club" being launched Saturday is aimed at drawing women who will be taught how to please their husbands better to prevent them from straying or misbehaving.
"We just want to ask all the wives to be obedient wives so that there will be fewer problems in our society," such as infidelity, divorce and domestic violence, she told AFP.
The untold story of TNB and Tariff Increase.
Posted: 03 Jun 2011 08:30 AM PDT
Some one point this out to me recently!
Do some calculation here! 0.59 x 89Million shares is 52.5million! Someone made a killing profit of 52.5million in 1 freaking day!! An analysis said the shareholders may eventually gain over 100million ringgit! So who is the largest shareholder of TNB?
So how much money do they save with this increase in Tariff?
Oh and while I am at this I hope the Malaysian people don't fall for the crap that the government is increasing sugar to help us consume less sugar! Does the idiot ministers and mass media think the people of Malaysia are stupid???
Read here
and
here
for the real reason for the increase in sugar!
This posting includes an audio/video/photo media file: Download Now
IPP Owners Need Not Defend Their Contracts. The Government Is Doing All The Talking. Ever Wonder Why?
Posted: 03 Jun 2011 08:37 AM PDT
Ex-Government Appointees coming out of the woodwork? This Ani Arope would know what he is talking about, wouldn't he? The IPPs are basically Mahathir's babies and legacy. I am sure he will not let this go unanswered; the question is, what will he say. What can he say? We wonder why the IPP owners are not defending themselves but it's the government doing all the fire-fighting. Ani Arope's term "Economic Plundering Unit" will stick and one wonders who the EPU plunders for. This is in the Malaysian Insider:
Ani Arope blames high power tariffs on 'Economic Plundering Unit'
KUALA LUMPUR, June 3 — Former Tenaga Nasional Berhad (TNB) chief executive Tan Sri Ani Arope is blaming the Economic Planning Unit (EPU) for rising electricity tariffs, saying the powerful agency forced the national power company to sign lopsided purchase deals nearly 20 years ago.
Ani said EPU, which he sarcastically dubbed "Economic Plundering Unit", forced Tenaga to buy electricity from an independent power producer (IPP), believed to be Genting Sanyen, at 14 sen per kilowatt hour (kWh) despite an existing offer of 12 sen/kWh then; other IPPs then were charging 16 sen/kWh.
Genting Sanyen became the first IPP to transfer 15 million watts (MW) in electricity to TNB's national grid on April 15 and is scheduled to complete a RM1.8 billion upgrade on its existing gas-fired plant with a capacity for 720 MW by June next year.
"You don't need to go to a fanciful business school to figure out why we need a tariff hike — just revisit the terms given to some IPPs," Ani, who helmed the utility company between 1990 and 1996, said in his last Facebook posting three days ago.
"With the take-or-pay clause and with the 40 per cent excess reserve that we have today, one only has to produce half of one's capacity and be paid 80 per cent of the agreed capacity. Well done the then-EPU — Economic Plundering Unit," he added, mocking the economic unit under the Prime Minister's Department.
Ani called for a review of the original terms with the IPPs as the storm over energy price deals continues to build up.
DAP 

public

ity chief Tony Pua cited today Ani's 2006 interview with English daily, The Star, to increase pressure on the federal government to declassify the power purchase agreements (PPAs) inked between TNB and the IPPs.
Ani caused a stir 15 years ago when he chose to resign from his executive chairman post rather than sign the imbalanced deals, which saw the first generation of IPPs created, such as YTL Power Services, Powertek and Malakoff during the Mahathir administration.
"TNB is the whipping boy. TNB has no control of the price it has to pay to the IPPs. Get to the source of the problem," said the Penang-born who turned 79 on May 17.
The Najib administration has been savaged for allegedly protecting the interests of IPPs rather than the public.
Putrajaya announced the 7.12 per cent hike in electricity rates in an effort to trim a subsidy bill that would otherwise double to RM21 billion this year and promised the hike will not affect 75 per cent of domestic consumers.
But power prices will now rise by as much as 2.3 sen per kWh in areas taking TNB's electricity supply, a potential source of public anger just ahead of a general election expected within the year.
The Star daily reported today the government was close to inking a deal for a 1,000 MW coal-fired plant in Manjung which will charge 25 sen/kWh.
Posted: 03 Jun 2011 07:52 AM PDT
Found these two articles on the Net. Chemotherapy is just another colossal con-job! The statistics itself speak. The following are excerpts:
****************************************************
Improving Health of Cancer Patients - July 16, 2010
Richard Loyd, Ph.D.
It is my opinion that in general, cancer is not a medical emergency that requires immediate invasive and toxic interventions. It is a degenerative condition that requires improving of health. There are medical emergencies that require the best medical help you can find. Car accidents with catastrophic injuries or life-threatening burns are examples. In those cases, you need the best emergency room you can find. Cancer can become a medical emergency. If the digestive tract is completely blocked by a tumor so that passage of material is impossible, emergency surgery may be needed. If breathing is becoming impossible due to a tumor blocking the respiratory tract, emergency intervention is appropriate. If a tumor in the brain has grown to the point where there is pressure that is causing damage, surgery may be advisable. It also possible that medical treatment for cancer will cause enough damage that more medical treatment will be required. But in general, cancer is not a condition that requires treatments that actually worsen health.
Many people are trying to recover from cancer with non-toxic therapies. This is an attainable goal and it is often achieved. Patients often spend a lot more money than necessary and take huge numbers of pills, many of which do not have a direct bearing on their problem and may even block progress. More may not be better!
People sometimes tell me that they were perfectly healthy until the cancer suddenly appeared. I point out that they were not really healthy. They had viral infections, toxic metals, parasites, infections in tooth sockets, radiation stress, bowel toxicity, chemical toxicity and probably mold toxicity. There may have been a metabolic imbalance. In other words, the things that cause cancer. The things that have to go away so they can get well.
Anyone with a condition that normally requires the services of a physician is urged to consult one. Ask your physician if this program can be used along side whatever medical treatment you decide on. This is not a "cure" for cancer. It is a method of becoming healthy. If you are considering chemotherapy or radiation, ask your oncologist if the suggested therapy ever cures your kind of cancer. If the answer is "no", then THINK ABOUT THIS!
Of those who depend on chemotherapy for survival (in other words, the surgeon "did not get it all"), the five year survival rate is only 2.1%. For some cancers the rate is better, but for some types of cancer, it is 0%.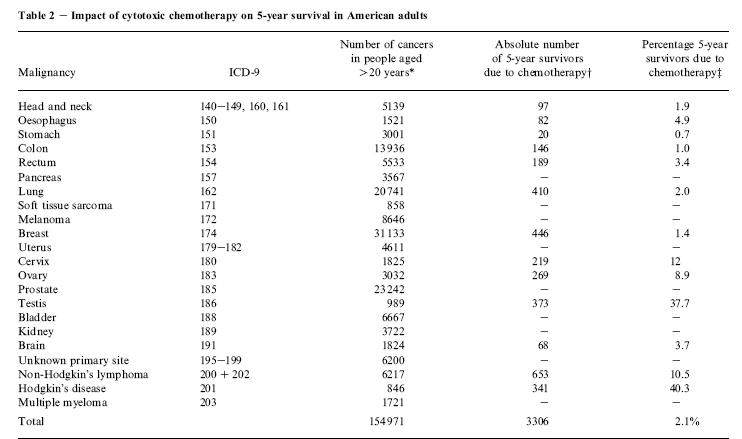 Does this make you feel like chemotherapy is a cruel fraud in most cases? If you do not get that impression yet, please study the chart some more!
****************************************************
How Much Is Life Worth: Cetuximab, Non–Small Cell Lung Cancer, and the $440 Billion Question
By 
Tito Fojo, Christine Grady
Affiliations of authors:
Medical Oncology Branch, Center for Cancer Research, National Cancer Institute (TF), and Department of Bioethics, The Clinical Center (CG), National Institutes of Health, Bethesda, MD .
Correspondence to:
Tito Fojo, MD, PhD, Medical Oncology Branch, Center for Cancer Research, National Cancer Institute, National Institutes of Health, Bldg 10, Rm 12 N226, 9000 Rockville Pike, Bethesda, MD 20892 (e-mail: tfojo@helix.nih.gov ).
See
"Notes" following "References."
DOI:
10.1093/jnci/djp177 Published by Oxford University Press 2009.
The spiraling cost of cancer care, in particular the cost of cancer therapeutics that achieve only marginal benefits, is under increasing scrutiny. Although health-care professionals avoid putting a value on a life, our limited resources require that society address what counts as a benefit, the extent to which cost should factor in deliberations, and who should be involved in these decisions. Professional societies, such as the American Society of Clinical Oncology, government agencies, including the Food and Drug Administration, and insurance companies should be involved. However, no segment of society is better qualified to address these issues than the oncology community. Oncologists must offer clear guidance for the conduct of research, interpretation of results, and prescription of chemotherapies. We review recent drug approvals and clinical trials and comment on their relevance to the issue of the spiraling cost of oncology therapeutics. We suggest some standards that would serve as a starting point for addressing these issues.
The year 2008 was one with few major breakthroughs in cancer treatment. A highlight of the war on cancer at the annual meeting in 2008 of the American Society of Clinical Oncology (ASCO) was the reporting of the results of a multi-institutional European trial in which cetuximab was added to cisplatin and vinorelbine to treat patients with non–small cell lung cancer (NSCLC). The overall survival (OS) advantage from adding cetuximab was 1.2 months (hazard ratio [HR] = 0.871, P = .04). This extra time was accompanied by a substantially higher rate of febrile neutropenia in those receiving cetuximab, along with higher frequencies of acne-like rash, diarrhea, and infusion-related reactions. Unfortunately, there were no systematic quality-of-life assessments reported to objectively determine the tolerability of the agent compared with conventional treatment.
Did the results of this trial constitute a breakthrough? According to the researchers, "Cetuximab added to a platinum-based chemotherapy sets a new standard for the first-line treatment of patients with non–small cell lung cancer". And the ASCO press briefing asserted, "these findings are likely to have a significant impact on the care of patients with these types of cancer". But the only reasonable conclusion is that a magic anticancer bullet aimed at an important target missed by a wide margin. Nevertheless, the presentation raised once again an even more pressing and important set of issues: What counts as a benefit in cancer treatment? How much should cost factor into deliberations? Who should decide? As oncologists, we cannot go on without answering these questions. The moral character of our specialty depends on the answers.
Drug (brand name)

Regimen

Cost per milligram or cost per tablet

Cetuximab (Erbitux)

Loading: 400 mg/m

2

; maintain: 250 mg/m

2

/wk

Loading: 600 mg; maintain: 375 mg

6975 mg

$11.52/mg

$80 352

1.2 months

Bevacizumab (Avastin)

10 mg/kg every 14 d

600 mg every 14 d

13 200 mg

$6.88/mg

$90 816

Erlotinib (Tarceva)

150 mg daily

150 mg/d; 1 tablet per day

112 tablets

$140.64 per tablet

$15752

10 days

Sorafenib (Nexavar)

400 mg twice a day

800 mg/d; 4 tablets per day

692 tablets

$49.67 per tablet

$34373

2.7 months
* Costs from Red Book 2008 (Drug Topics Red Book) by Harold Cohen. PFS = progression-free survival. OS = Overall Survival
† Calculated for a 60 kg/1.5 m 2 patient.
‡ For the regimen cited, administered as in the study cited, until the time of median disease progression as reported in the published study.
§ Not statistically significant.
Read more
here
****************************************************
You be the judge...ask an oncologist to undergo chemo when has cancer.
KITA - the example of Zaid Ibrahim
Posted: 03 Jun 2011 06:41 AM PDT
Zaid Ibrahim is a much maligned man, both personally and as a politician.

When he stood as the PKR candidate in Hulu Selangor, UMNO groped into its bag of dirty tricks and found enough to portray him as a brandy swilling kuda kaki, so much so that PKR's ally, PAS, was embarrassed in supporting him in the by-election campaign. The only label UMNO didn't/couldn't stick onto him was womanizing or buggery wakakaka.

Incidentally, while on Hulu Selangor, Zaid was reported recently in
Free Malaysia Today
for calling Anwar Ibrahim a liar. Zaid was riled by Anwar's claim that he (Zaid) had pleaded with him (Anwar) for the opportunity to stand in the by-election for that federal constituency.

Zaid said in fact it was Anwar who selected him to contest. At that time Anwar Ibrahim was at his political nadir following the desertion of seven PKR MPs especially after the cataclysmic failure of his bullsh*t 916, the most shameful un-reformasi folly of Anwar in his power-crazy but failed attempt on 16 Sept 2008.

Zaid suspected that the so-called de facto boss of PKR nominated him because he desperately wanted to make use of Zaid's high profile personality (my words, not Zaid's) to regain lost momentum through winning Hulu Selangor for PKR.

Zaid told Free Malaysia Today:

"Anwar is a liar and this is how he makes his living in politics. He thought I could pull it off. He did not spend a single sen on me

[in the by-election].

I paid the deposit with my money. The party did not do anything to help me. His remarks are a joke. It's not true."



Zaid isn't the only person to say thus of Anwar – in Malaysia-Today there is an article written by
Christopher Badeaux
which accused Anwar of being two-face, with one message for Muslim audience but a completely different one for western audience. Badeaux condemned Anwar as follows:
"... he has played the nasty demagogue at home, then played the good democrat in the West ..."

There's no doubt that Badeaux doesn't like Anwar as he took pains to explain to his western readers that Anwar is on trial for forced sodomy and not, as mistakenly described by some more sympathetic western reporters, consensual sodomy.

Though the distinction makes no difference to Anwar's case insofar as Malaysian laws are concerned, it does to western readers as consensual sex between adults of the same gender is not a crime, and in fact, in the general case, accepted by society. Obviously Badeaux has plunged the knife into Anwar's heart or, rather, image in the West, by alluding to Sodomy II as a trial for rape.

Back to Zaid - To demonstrate that he had not pleaded to stand in Hulu Selangor, when in the first instance he was already doubtful of his chances in that UMNO stronghold (the 2008 GE result for HS being more of a fluke), Zaid referred to DAP's Lim Kit Siang and PAS' Mustapha Ali as his witnesses, that he had asked the two Pakatan leaders for advice.

According to Zaid, Lim and Mustapha told him that

"it would not be good for me, as a party member, to decline the offer, because it would seem that I did not want to help the party,"

presumably even in the face of his mentioning he wanted to decline because the election odds in HS were against him.

Thus he accepted the candidacy because he had believed Anwar's offer was made in good faith. He tossed another couple of names as his referees, namely Dr Mahathir and AAB, as to his characteristics/style of never pleading for any opportunities.

I am not surprised by Zaid readily referring to personalities from both sides of Malaysian politics - Dr Mahathir and AAB from UMNO, and Lim KS and Mustapha Ali from Pakatan - as his character referees or witnesses to what he alleged as Anwar's blatant lie of him (Zaid) pleading to stand in Hulu Selangor.

And that's because Zaid has been consistently mature in his political stance, unlike the feral examples introduced by the UMNO faction of Anwar Ibrahim, a vicious herd mentality that now prevails mainly among the PKR anwaristas and some UMNO people.

While in Pakatan, Zaid has repetitively and more importantly, OPENLY, demonstrated his willingness to talk with BN or even be interviewed by UMNO's mainstream media mouths, such as Utusan and Berita Harian, etc. He had also not hesitated in praising good policies by BN.

I stress on the word OPENLY because there's a certain someone who talked to UMNO secretly; I have often accused him of wanting to return to that cesspool in which he had once thrived. 'Tis only the sheer greed of UMNO's current crop of leaders who saw no room for him in the party that they have spurned his overtures.

Of course it is this very OPEN-minded mentality, befitting that of a mature politician (like Ku Li wishing Lim KS a happy 70th birthday, and the DAP leader in turn wishing an UMNO leader who was hospitalised a speedy recovery) that saw Zaid Ibrahim being vilified by anwaristas.

Their extreme dictate has always been

"Thou shall not breathe the same air as the enemy ....."

with of course the exception of you-know-who wakakaka.

But they remained dumb, mute and blind when Zaid became the alleged victim of a PKR polling process which has been questioned by several people, including courageous Jonson Chong and neutral but fair-minded Haris Ibrahim.

Other alleged victims of that party poll have been Chegubard, Jenapala (who was mysteriously struck by a phantom 'resignation'), Gobala and in the past, Nallakaruppan (told to stand aside for Anwar's blue-eyed boy), etc. Those rabid dogs* suddenly became diam saja when even the tikus2 were more vocal.

* note it's not only UMNO dogs that are rabid

Now, if Lim KS or Mustapha Ali were to dare come out and confirm Zaid's reference of them as witness to Anwar's lies, I bet you those anwaristas will be calling them all sorts of names as they did to RPK, Haris Ibrahim, etc.

Personality cultism, black & white no-quarters-given politics, 'either you're with or against us' primitive Bush-ism! That's the politics of anwaristas. And it has spread across to UMNO (from where it originated).

2-party politics? How man, with such immature mentality?

Yup, the sort of mentality that rejoiced in petty pathetic puerile lil' insignificant things like ousting Rosmah Mansor from her post as Chancellor of Unisel.

I wrote despairingly of Azmin Ali's pathetic twitter of his paltry 'victory' in my February 2010 post (long before RPK clarified his statements in his Stat Dec about allegation of Rosmah being at the scene of Altantuyaa's demise)
Mean-spirited Malaysians
:


This is really pathetic, shamelessly partisan and totally mean-spirited.

She was invited by the previous Selangor government so why not let her term as Chancellor finish off without re-inviting her?

Why make such a spiteful announcement? It's pathetic, pitiful, petty and utterly childish. Don't Azmin Ali and other PKR leaders have more important things to do, like running Selangor State, than to dabble around with such masturbatory indulgences?

The argument that she should go because she is surrounded by controversies is not only too partisan but unsubstantiated.

We only have RPK's word that she was allegedly at the scene of Altantuyaa Shariibuu's last moments to personally 'supervise' the demolition of the late model's corpse – which without any shred of evidence other than RPK's 'I have been reliably informed ...' has been, in my opinion, an incredulous preposterous allegation.

There was also an argument that her Masters degree wasn't good enough – really, this is such a pathetic shabby argument.

OK, I know PKR is deliberately being vocal about Rosmah as part of their tactic to mitigate the Sodomy II fallout, by ratcheting up the anti-Najib campaign, but PKR should have remained on high moral grounds rather than ….. sorry, I keep forgetting they and UMNO are from the same stock … where spiteful pettiness and mean-spiritedness are their stock-in-trade.

I hope DAP will never descend to such petty bickering.

I also lamented that in the face of such rabid fanatical mindless mean-spirited mentality:

(a) we aren't quite ready for a two-party political system,

(b) some politicians don't consider all citizens of this country (including their own supporters and political opponents) as fellow Malaysians, and

(c) political attacks are often ad hominem rather than directed at the policies, governance and conduct of the other side.

Thank goodness Zaid Ibrahim, Lim Kit Siang and Haris Ibrahim are showing the way to mature Malaysian politics.
UMNO ALL OUT TO REGISTER ILLEGALS AS BN VOTERS
Posted: 03 Jun 2011 06:03 AM PDT
Project IC whistleblower says Pakatan states at risk
.
A key figure in the 'Project IC' exposé warns that attempts to register illegal immigrants as citizens to pad up the electoral roll, a practice allegedly rampant in Sabah, will likely spread to Peninsula Malaysia.


Dr Chong Eng Leong, a former

Parti Bersatu Sabah

leader, said that his 15 years of research chronicled in his book

Lest We Forget

estimates that about 600,000 illegal immigrants were given citizenship under the 'Project IC' scheme.


Chong, now a PKR member, warned that likely targets for an expansion of this scheme are Pakatan-ruled states such as Selangor, Penang, Kedah and Kelantan.

"This problem does not only affect the national security but also affects land issue in Sabah... I would not be surprised if they used this

modus operandi

in Selangor or other Pakatan held states," he said during a press conference at the party headquarters today.


In his book, published in 2009, Chong claimed that in 1986, then Deputy

Home Minister

Megat Junid Megat Ayob and former chief secretary of the government Ahmad Sarji

Abdul Hamid

, had spearheaded 'Project IC'.

"In 1991, when Umno came to Sabah, there was a Sabah Umno task force where its directors were Musa Aman (present

chief minister

), Yahya Hussin and secretary Jabar Khan.

"The job of this task force was to look for foreigners in Sabah and issued them Malaysian ICs and then registered as Umno members and be included into the Sabah electoral rolls," he said.

All out defence of Putrajaya?


Chong pointed out that some of the Sabah Umno members including Jabar was held under

Internal Security Act

for their role in the issuance of Project IC to foreigners in Sabah, which has also been called '

Project M

'. PKR central committee member Khalid Jaafar said that if the matter was curbed, it would become another obstacle for Pakatan's bid for Putrajaya.

"(

Prime minister

) Najib

Abdul Razak

, had said he would defend Putrajaya

at all costs

. Is this one of the ways to be used?" he asked.

"This method of retaining the government by registering illegal immigrants as citizens and registering them as voters in order to maintain their political control. It not only affects the security of the country but is also treason."
Last week, PKR had alleged that a

document

, purportedly written by

Hulu Selangor

Umno division, shows proof that there were attempts to register a scheme similar to 'Project IC' was underway in Selangor.
Antara Sultan dan Khalifah ~ Yang mana satu penyelamat ummah?
Posted: 02 Jun 2011 11:57 PM PDT
Assalamualaikum Warahmatullahi Wabarakatuh.
Soalan cepumas buat umat Islam di Malaysia. Antara Sultan dan Khalifah ~ Yang mana satu penyelamat ummah?
Ada yang berani menjawab?
Ini bukannya kuiz 'Who Wants To Be A Millionaire?' atau 'Ganda Wang Anda' yang popular pada suatu kala dahulu.
Soalan saya ini berdasarkan realiti semasa.
Kita semua maklum dan mengaku sedang hidup di Akhirul Zaman. Keadaan umat Islam didalam negara mahupun diluar sana tidak begitu memberangsangkan.
Ada sahaja musibah dan masaalah yang menimpa kita dan umat Islam ini kelihatan bagaikan tidak mempunyai juara atau jaguh yang bersemangat jantan berani membela nasib kita tidak seperti di zaman dahulu semasa kita dibawah perintah Rasulullah Sallalahu Alaihi Wassallam dan kemudiannya dibawah pimpinan Khulafa Ar Rashidin.
Ya, memang itu hakikatnya.
Walau Rasul Sallalahu Alaihi Wassallam dan para sahabat baginda hidup dizaman tidak ada kemajuan sains dan teknologi, peralatan perang yang canggih dan kelengkapan ketenteraan serba dahsyat seperti yang ada sekarang, umat Islam ketika itu hidup dengan penuh maruah dan tidak ada mana mana pihak yang berani memperlekehkan mereka kerana mereka hidup dibawah pimpinan insan insan terpilih yang hanya takutkan Allah Subhanahu Wa Ta'ala dan tidak kepada mana mana makhluk apatah lagi terhadap kaum kaffirin dan munafik laknatullah!
Zaman ini, kita hidup dibawah perintah para sultan sultan dan raja Melayu tetapi suasana penghinaan dan caci maki kaum kaffirin dan munafiqun laknatullah al harami terhadap agama kita dan ummat kita berada ditahap yang paling terlampau didalam sejarah peradaban manusia segala zaman.
Ini realiti keadaan semasa didalam Mamluk al Malaisie ini dan setiap manusia yang masih waras dan tahu serta faham akan apa yang sedang saya perkatakan disini tahu bahawa ianya benar dan benar belaka tanpa sebarang keraguan atau salah tafsir.
Saya rindukan keadaan lampau dizaman kegemilangan pemerintahan para Khalifah Ar Rasyidin. Setakat membaca buku buku dan kisah kisah sejarah lampau sahaja tidak memuaskan hati saya ini.
Saya pernah membaca akan kisah kehebatan pemerintahan Sultan Alaudin Ri'ayat Shah, salah seorang Sultan Melaka dahulu.
Almarhum Baginda dikatakan begitu patuh terhadap suruhan Allahu Ta'ala dan baginda sendiri pernah beberapa kali menjalankan misi anti jenayah di waktu malam di Melaka bersama sama pasukan keselamatan baginda, menangkap para pencuri dan penyamun yang menghuru-harakan Melaka pada ketika itu.
Musuh musuh Islam gerun akan umat Islam ketika itu kerana mereka yang terdahulu dari kita bersatu sebagai satu gagasan Muslimin dibawah Khilafah yang tegas dan berani bukan bercempera seperti sekarang ini.
Mungkinkah kita melihat mana mana Sultan dan Raja Melayu sekarang berpeluang menegakkan kembali zaman kegemilangan Sultan Melaka seperti dizaman Sultan Alaudin Ri'ayat Shah yang menyerupai zaman pemerintahan Khulafa Ar Rashidin?
Posted: 02 Jun 2011 08:38 PM PDT
Do you know why the Malaysian government loves the defence and aerospace sector?
It's certainly not because of the desire to progress or upgrade one's technology. One must be truly gullible to believe that.
It's all about doing dealings that are classified information. This way, under the Official Secrets Act, the public has no privy to the underhanded dealings and corruption of the government.
This was precisely how the Malaysian Government signed an agreement with French DCNS and Spainish Navantia for the procurement of two Scorpene class submarines.
The procurement contract was through direct negotiation with the manufacturing companies, said to be with the service of Perimekar Sdn Bhd.
SUARAM is pursuing the government
by linking up with leading human rights lawyers in France, to file a complaint with the French judicial system.
A preliminary investigation was initiated to enable access to information, to the government contracts signed with Perimekar and other information classified as government secrets in Malaysia.
The French courts accepted the request to investigate the claim of corruption for a payment amounting to Euro 114 million made as commissions from DCNS to Perimekar.
It's good news so far. But SUARAM need help, so go to their website to see how you can be of use.
Bangkai gajah masakan boleh ditutup dengan nyiru!
Posted: 02 Jun 2011 08:51 PM PDT
Jika kita melaksanakan tanggungjawab dengan tidak berlandaskan moral akhirnya akan disebut oleh rakyat juga. Apa pun yang kita lakukan, kita wajar melakukannya dengan penuh tanggungjawab dan bermoral. Jika kerajaan selalu mengungkit-ngungkit apa yang dibekalkan kepada rakyat serta mengumpat rakyat kononnya tidak berterima kasih setelah mereka dibekalkan denga jalanraya bertar, api, air gigi palsu percuma rakyat juga akan mengungkit tindakan salah kita.
Apabila tindakan itu memberikan keuntungan besar peniaga dengan keterlaluan yang berlipat kali ganda 'on the expense of the rakyat', ianya akan menjadi isu yang panas dan boleh sahaja menukar persepsi ramai terhadap kepimpinan walaupun beliau telah bersara dengan gelaran 'negarawan' dan segala pujian dan sanjungan rakyat.
Bak kata perbilangan, 'bangkai gajah masakan boleh ditutupi dengan nyiru'. Dalam isu pembekalan kuasa tenaga oleh IPP ini sebenarnya sudah lama diketahui oleh sebilangan rakyat. 'Bangkai Gajah' ini telah ramai yang nampak tetapi mungkin baunya belum di hidu oleh ramai orang. Sekarang semua orang telah terhidu busuknya maka cerita lama kembali muncul di depan mata rakyat yang sedang merasakan keperitan kerana tindakan kita memihak kepada peniaga 'lintah darat' yang menggunakan pemimpin agong yang mahu pula dipergunakan oleh 'lintah darat' yang menghisap darah rakyat selama ini.
Segala kesalahan lampau seperti isu TNB membeli kuasa dari IPP secara 'paksa' oleh pihak EPU kembali menjadi isu hangat. Saya secara peribadi telah menulis dan mengkritik tindakan 'zalim' pihak EPU yang secara 'remote' dari pemimpin sokongan rakyat untuk mempastikan TNB membeli kuasa tenaga dari syarikat IPP yang menjadi kawan rapat Perdana Menteri semasa itu.
Jabatan Economic Planning Unit (EPU) Jabatan Perdana Menteri (JPM) telah memaksa TNB untuk menerima sahaja kandungan penting di dalam PPA (Power Purchase Agreement) di antara TNB dan syarikat IPP yang dimasudkan ini (YTL). TNB telah dipaksa membeli tanaga dari YTL Power dengan harga .23 sen per kWh dari syarikat ini dengan jumlah yang ditentukan tidak kira samada jumlah itu digunakan atau pun tdak. TNB juga dipaksa untuk membelinya selama waktu yang ditentukan dan ini tidak dapat dikategorikan sebagai peniagaan atau rompakan kolar putih yang tidak ada tolok banding dahsyatnya.
Di waktu yang sama ketika itu ada pihak lain yang mampu membekalkan Tenaga dengan .12 sen bagi 1kWh tetapi EPU tetap memaksa TNB untuk membeli .23 sen per kWh dari syarikat 'istimewa' yang rapat dengan pucuk pimpinan. Inilah yang menjadikan Tan Sri Ani Arope, pengerusi TNB tatkala itu terpaksa berpecah arang dengan pucuk pimpinan kerana beliau menentang cara EPU memaksa TNB menerima sahaja tekanan dari EPU yang digunakan oleh seorang pemimpin itu untuk melakukan niat yang berunsurkan rasuah dan salah guna kuasa itu.
Dalam lain perkataan syarikat IPP yang istimewa ini menjadi agen untuk mengaut keuntungan yang tidak berpatutan dengan membelanjakan wang rakyat yang pembayar cukai kepada kerajaan yang di amanahkan. Ini adalah tindakan tidak bermoral dan hina di sisi masyarakat dan perkara ini akhirnya mula disebut kembali oleh orang ramai di mana-mana.
Ramai juga telah menghantar e-mail kepada saya yang menyatakan sokongan mereka terhadap Khairy Jamaludin yang telah menegur dan meminta supaya perjanjian di antara IPP yang istimewa itu dengan TNB diberikan pengetahuan kepada rakyat. Mereka beranggapan Khairy telah melakukan apa yang sepatutnya dilakukan sebagai pemimpin yang mewakili rakyat yang sedang memerlukan pembelaan. Isu ini adalah isu yang berkaitan dengan orang ramai dan mereka berharap Khairy akan terus merasakan apa yang rakyat ramai ini merasakan.
Saranan Khairy ini telah disambut oleh Peter Chin, Menteri yang bertanggungjawab terhadap tenaga kuasa ini dengan menyatakan yang perjanjian itu adalah perjanjian di antara dua badan bukan kerajaan dan 'private agreement'. Soi Lek pula seolah-olah bersetuju dengan Khairy tetapi agak keberatan untuk mengaku dan terus sahaja beliau meminta supaya dikaji kembali perjanjian itu apabila sampai tempohnya.
Jika ada kemahuan di situ ada jalan. Bagi orang ramai mereka ingin tahu perjanjian itu tidak 'lopsided' yang hanya membiarkan peniaga korporat yang istimewa ini seolah-olah mengaut wang rakyat melalui TNB dan TNB disebaliknya meletakan tanggungjawab membayar balik segala wang yang diberikan kepada syarikat IPP itu kepada rakyat seperti kita ini.
Jika kita sibuk hendak membuka dan menghebahkan kegiatan seks seorang pemimpin pembangkang kenapa pula kita tidak boleh mendesak pihak yang berkuasa untuk membuka segala perjanjian di antara IPP dengan TNB itu untuk pengetahuan rakyat? Kenapa dalam kes ini Peter Chin memberi alasan yang perjanjian itu sebagai barang rahsia.
Pandangan Ketua Pemuda itu seharusnya mendapat perhatian kerana pandangan beliau itu adalah bersama pandangan rakyat yang beliau adalah salah seorang jemaah pimpinan yang sepatutnya menyebelahi rakyat dalam isu ini.
Saya cadangkan kepada mana-mana pihak untuk mengadakan forum khas tentang isu YTL dengan TNB ini dan dipanggil kembali Tan Sri Ani Arope untuk menjadi panel kepada forum tersebut. Perkara ini harus dibongkar dan diselongkar. Kita mahukan kepastian tentang permainan pimpinan politik yang menggunakan perlaksana untuk kepentingan peribadi setengah pihak sahaja.
Kalau kita sibuk dengan usaha membongkar kegiatan seks pemimpin pembangkang kita juga mesti berusaha untuk membongkar segala cerita di sebalik isu YTL dan TNB ini. Saya telah banyak diberikan cerita-cerita yang menyakitkan hati dan telinga rakyat mendengarnya yang dilakukan oleh pemimpin-pemimpin yang tidak bertanggungjawab. Asalkan sahaja matlamat dan tujuan kita itu untuk menyebelahi kepentingan rakyat, ayuh kita lakukan pembongkaran-pembongkaran ini satu persatu.
Isu-isu ini tidak kurang hinanya.
Kickdefella Tak Bawa Apa-Apa Bukti Beliau Terima Duit dari Husam
Posted: 02 Jun 2011 08:05 PM PDT
Setakat yang kita nampak dari sidang akhbar Kickdefella, hanya beliau membuat tuduhan semata-mata. Tiada satu bukti yang jelas bahawa Husam Musa memberi beliau wang.
Sebagaimana beliau juga pernah menuduh Tok Guru Nik Aziz makan rasuah dulu, yang kemudiannya dibuktikan SPRM tidak benar, itulah juga bentuk tuduhan yang kita lihat sekarang ini.
Kita menunggu masa Husam Musa menyaman Kickdefella dan kita lihat bagaimana Kickdefella masa itu.
Inshaalah
Tulang Besi
ps Ingat Suyuti MSO pun pernah disaman Husam Musa
Tahniah Muslimat PAS. Bersihkan Musimat PAS Pusat dari Unsur "PERPADUANG"
Posted: 02 Jun 2011 07:38 PM PDT
Syukur Alhamdulillah. Saya tengok line-up Muslimat yang baru ini dari Ketua sampai ke AJK boleh dikatakan tiada yang pro PERPADUANG. Semuanya dari kalangan yang anti PERPADUANG ataupun BUKAN PERPADUANG.
Cuma yang sedihnya Pemuda PAS. Habis Pemuda PAS dikuasai GENG PERPADUANG. Alamatnya, 2 tahun ni Pemuda PAS hanya akan terus mandum dan reput macam sebelum ni.
Line up hampir kesemuanya Ustaz. Kuat berceramah je la. Alamat lepas ni tiada sapa yang nak pegang lujnah, buat kerja di lujnah dsbnya.
Pemuda PAS jadi Dewan Ulama yang kedua lah nampaknya
Tulang Besi
Anwar applies for a new trial on sodomy charge
Posted: 02 Jun 2011 02:32 AM PDT
Just four days before Anwar Ibrahim begins his defence against the sodomy charge, he has applied to replace the current Justice Mohamad Zabidin Mohd Diah with a new judge to rehear his trial. Anwar claimed that Zabidin had prejudged and demonstrated bias in ruling that the prosecution had made a prima facie case against him. This ruling denied him of a fair trial, which is guaranteed by article 5(1) of the federal constitution, said the opposition leader in his application filed at the Kuala Lumpur High Court today. Full story: www.malaysiakini.com

Time:

07:02

More in

News & Politics
Reveal PPAs or face court action, gov't told
Posted: 02 Jun 2011 01:23 AM PDT
PKR today demanded that the government publicly disclose the power purchase agreements (PPA) inked with independent power producers (IPPs) within one week. Failure to do so, said the party treasurer William Leong, will result in the government having to face a legal suit to force it into making the agreements public. Leong said the government is duty-bound to reveal the PPAs and the long-term gas supply agreements between national oil firm Petronas and the IPPs, as it is the government's job to protect the interests of the people when these are threatened by private companies. Full story: www.malaysiakini.com

Time:

04:14

More in

News & Politics
Scorpene scandal: 'Show us your passport, Najib'
Posted: 02 Jun 2011 12:52 AM PDT
PKR today called on Prime Minister Najib Abdul Razak to "come clean" on his travels in 2002, following claims of a "mysterious third person" jet-setting with at least one of his known associates in connection with the controversial Scorpene submarine deal. Party secretary-general Saifuddin Nasution said the onus was on Najib to prove he did not have a hand in the negotiations, since as mounting evidence being revealed in the French courts narrows the focus down to the premier himself. Full story: www.malaysiakini.com

Time:

06:05

More in

News & Politics