---
Posted: 07 May 2011 07:22 AM PDT
Casual Interview with Raja Petra Kamarudin when he was in Bangkok on the 24th April 2011, one day after the Malaysian police summoned him to present himself at the Malaysian Embassy in Bangkok. Related stories : www.malaysiakini.com www.malaysiakini.com www.malaysiakini.com www.malaysiakini.com

Time:

21:57

More in

News & Politics
Pembela forum: Islam Under Siege. What Can We Do?
Posted: 07 May 2011 06:35 AM PDT
Extracts of Pembela forum on the 'threat' to Islam's dominant position in the country.

Time:

17:39

More in

News & Politics
PERKASA buat laporan polis di seluruh negara
Posted: 07 May 2011 06:04 AM PDT
Pertubuhan Pribumi Perkasa Malaysia (PERKASA) Wilayah Persekutuan hari ini membuat laporan polis berhubung laporan Utusan Malaysia yang memetik tulisan di dua blog pro-Umno yang mendakwa terdapat paderi yang mahu menjadikan Kristian sebagai agama rasmi negara. Tulisan di dua blog pro-Umno juga mendakwa paderi tersebut berusaha mahukan perdana menteri dilantik dari penganut Kristian. Laporan polis itu dibuat di ibu pejabat polis daerah Dang Wangi kira-kira jam 3.20 petang ini. Bercakap kepada pemberita selepas laporan polis dibuat, yang dipertua PERKASA Wilayah Persekutuan Sharifuddin Abdul Hamid berkata dakwaan yang timbul itu adalah satu hasutan.

Time:

02:59

More in

News & Politics
Pembela: Christianity biggest 'threat' to Islam
Posted: 07 May 2011 05:00 AM PDT
The NGO Muslim Organisation in Defence of Islam (Pembela) has blamed Christianity as one of the biggest contributing factor to their alleged decline of Islam in Malaysia. "It is clear for all to see, of the aggressiveness and confrontational ways of Christians in bringing cases to court, their police reports all over the country and their press statements whether on the Allah or Al-Kitab issue. "They all have something to do with their movement in spreading Christianity amongst the people," said Pembela president Yusri Mohamad.

Time:

15:19

More in

News & Politics
One-on-One with Imam Muda Mujahid Suhaimi
Posted: 06 May 2011 05:42 PM PDT
One of two foreign participant, Mujahid Suhaimi, 20 tahun, hails from Singapore ...

Time:

03:21

More in

News & Politics
MUST RESIGN NOW! FAILING TO SAVE ISLAM? WHAT WAS HOME MINISTER HISHAMMUDDIN HUSSEIN DOING FOR LAST THREE YEARS
Posted: 07 May 2011 02:06 PM PDT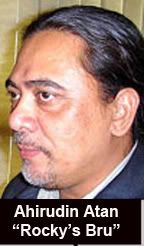 Ahiruddin Attan, owner of Rocky's Bru blog, appointed asEditor -in-Chief of Malay Mail in June 2009, and former President of the National Press Club until 2007, as well asformer President of the National Bloggers Alliance, put up a spin on Zakhir Mohamed's allegations in his Rocky's Bru blog:
"…there's now talk about his opponent from PAS and a missing RM600,000 in election funds.The post Calon Pas N11 gelapkan RM60,000?belongs to pro-Umno blogger Zakhir Mohamad but the accusations against Mohd Salleh Man were made by his seniors in PAS, or so we're made to believe…"
GOOD BUDDIES-
THEY REINFORCE EACH OTHER, DON'T THEY?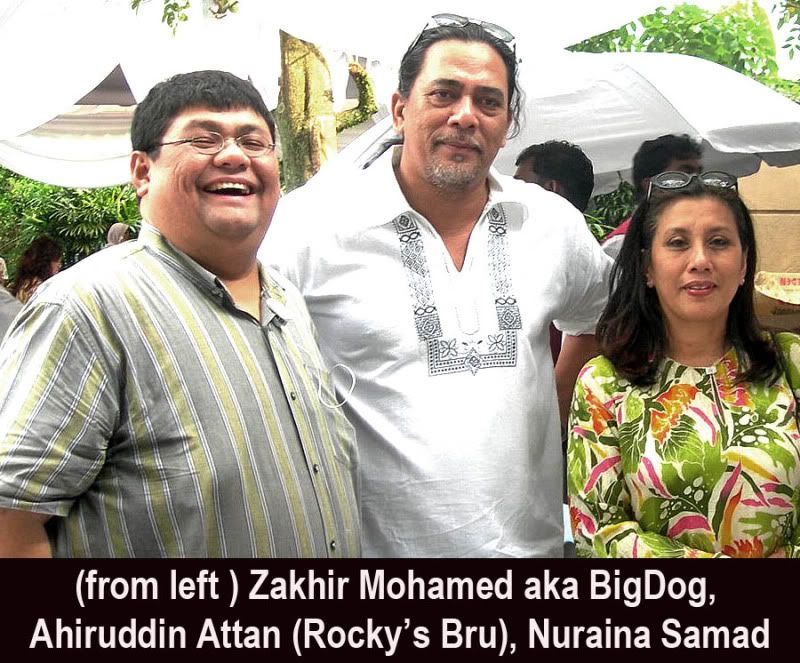 THE RISE OF THE PRO-MAHATHIR CAMP IN UMNO
In the Mainstream Media (NST Group)
after the Forced Resignation of former Prime Minister Tun Abdullah Badawi 
EXTENDED FAMILY GROUP PHOTO

NOTE: Malaysian Insider reported (20 May 2009): "…Regime change in Malaysia often means regime change in Umno-owned media companies. Datuk Ahmad Talib, who was squeezed out of NSTP in 2005, returned to the group as Media Prima's Executive Director. "
Ahiruddin Attan (Rocky's Bru) after a brief spell as a blogger during Abdullah Badawi's tenureship returned to NST group as Editor-in-Chief of Malay Mail in June 2009.
Nuraina Samad rejoined NST in July 2009 after leaving NST in 2006.
(Not in the group picture above with Dr Mahathir,) is Zainul Ariffin Isa, who returned to head the three newspapers under the NSTP, namely New Straits Times/Business Times, Berita Harian and Harian Metro.
He replaced NSTP group editor-in-chief Hishammudin Aun. Zainul was removed as Business Times editor during Abdullah Badawi's tenureship.
Zainul Ariffin wrote a racially provocative piece in Berita Harian regarding the death of Teoh Beng Hock (read here)

"My family and Tan Sri Muhyiddin's go a long way back. We both hail from Muo."- Zakhir Mohamed(Read here)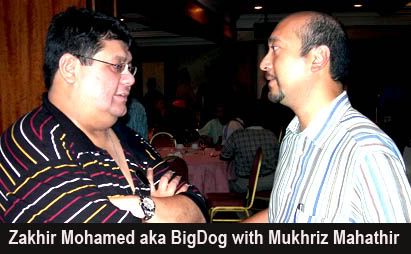 READMORE CLICK BELOW


If you are trying to make some sense of the phenomenon of radicalization, musician Daniyal Noorani has a simple song and video for you. But look deeper, and you'll find a much more complex story. Noorani's art seeks to understand the process of radicalization from all angles – political, cultural, spiritual, and social – in a way that doesn't judge so much as illuminate. Written and sung in English, "Find Heaven" is being translated into Urdu for an audience in Noorani's native Pakistan, which has been wracked with extremism for many years.
" I wrote 'Find Heaven' at a time when I felt there was no clear public consensus on suicide bombings,"explains Noorani. "At that point, the urban centres of Pakistan had not been as hard hit as they are today and I felt that the country didn't know how they felt about these activities, whether they were sympathetic or condemning of it."
Home Minister Hishammuddin Hussein has described as serious a purported meeting of pastors in Penang allegedly to discuss making Christianity the official religion of the federation.
Failing to Save Islam? What was Home Minister Hishammuddin Hussein  doing for last three years Must Resign Now
Dato' Seri Hishammuddin bin Tun Hussein (born 5 August, 1961) is a Malaysian politician and member of United Malays National Organisation (UMNO). He is the current Malaysian Minister of Home Affairs. He was the previous Malaysian Minister of Education, having served since 30 March, 2004.Hishammuddin is the son of Tun Hussein Onn, the third Prime Minister of Malaysia and the grandson of Dato' Onn Jaafar, the founder of UMNO and a Malayan freedom fighter. He is also the cousin of the current Prime Minister of Malaysia, Datuk Seri Najib Tun Razak.
He was attending Malay College Kuala Kangsar before his father became Deputy Prime Minister in 1973. Upon his father's appointment to the post, he attended the Alice Smith School in Kuala Lumpur before he transferred to a famous english public school, Cheltenham College, Cheltenham , Gloucestershire . Next, he attended theUniversity of Wales, Aberystwyth where he graduated with a Bachelor of Laws (LL.B) in 1984. He also attended London School of Economics and received a Master of Laws (LL.M) in Commercial and Corporate Law in 1988.
Prior to his commencing his political career, Hishammuddin was formerly a lawyer with the large Malaysian firm then known as Skrine & Co. (now known as Skrine) and later, a firm then known as Lee Hishammuddin (now known as Lee Hishammuddin Allen & Gledhill).
His wife, Yang Mulia Datin Seri Tengku Marsilla Tengku Abdullah, is a princess from the state of Pahang, Malaysia.
  Many scholars are pessimistic that Tunisia's Jasmine Revolution and the political transition in Egypt will successfully bring about democracy in these countries, and worry that there is a significant risk of Islamic political groups, some with radical interpretations of shari'a (Islamic principles of jurisprudence), taking on an inordinately influential role during the political transition.
Is there any truth to the argument that Islam is incompatible with democracy?
The Indonesian example suggests otherwise.
Indonesia underwent a major political transition that started with the toppling of a 32-year-old authoritarian regime during the Reform movement of 1998, similar to the situation in Tunisia and Egypt today.
The Indonesian transition to democracy indicates that Islam, as a religion and culture, is indeed compatible with democracy. The support for the concepts of democracy and the nation-state by Muslims in Indonesia contradicts the notions of those scholars who believe that Islam and democracy are incompatible and therefore Muslim-majority countries are doomed to autocratic rule.
Although some Muslim-majority countries have been troubled by radical Islamic political groups, Indonesia has experienced a peaceful political consolidation, which has included groups with diverse political platforms. In the parliament, the Prosperous Justice Party (PKS), which is considered to be the largest post-reform Islamic political party, tackles various national agendas together in collaboration with secular parties.
Indonesia does face demands by some groups to implement strict interpretations of Islamic law in various regions, most notably in Aceh, where women are obliged to wear a headscarf (locally called the jilbab) under a by-law on Islamic dress. Such actions have become rallying points for other Islamic political groups to do the same elsewhere. However, the majority of Indonesian Muslims hold dearly to the religious rights of all groups as protected under the constitution and have not endorsed the formal implementation of a conservative type of Islamic law.
While this proves that Islam and democracy can coexist in Indonesia, does it necessarily lead to a similar conclusion in the Middle East and North Africa?
Robert W. Hefner, an anthropologist from Boston University, credits large Indonesian Islamic organisations such as Nahdlatul Ulama (NU) and Muhammadiyah (with approximately 80 million and 14 million members respectively) with making a difference in Indonesia. Their social activities, such as establishing schools, hospitals, orphanages and other social institutions, have set examples for how to balance Islamic principles, democracy and nation-building. Their activists also have been engaged in activities such as an anti-corruption movement, creating good governance, and helping develop public policy and budgeting in local governments.
Some scholars credit the Indonesian cultural tendencies of conflict avoidance. For example, Indonesian scholar Taufik Abdullah says that the large sizes of Islamic organisations in Indonesia, as opposed to being splintered into smaller organisations, have made Indonesian Muslims appear more unified, adopting popular, inclusive religious interpretations as they avoid religious-based controversies or conflict.
An Islamic scholar from Indonesia, Azyumardi Azra, says that Muslims in Indonesia emphasise the accommodative nature of Islam, which is why they easily accepted democracy, human rights and other relatively new ideas.
The Indonesian experience offers two insights for emerging democracies in the Middle East and North Africa: one, Islamic civil society organisations can play an active role in strengthening democratic states; and two, the diversity within Islam can be a strength which can encourage the acceptance of change and societal differences, and inspire not only individual piety and political ideals, but also the type of humanitarian initiatives necessary for nation-building.


By Abdul Hafiz Lakhani
Ahmedabad: The murky tussle between Gujarat CM Narendra Modi and Gujarat IPS officer Sanjiv Bhatt is getting more and more attention in the media.Dismissing allegations levelled against him by senior IPS officer Sanjiv Bhatt over the Gujarat riots, chief minister Narendra Modi blamed opponents for trying to defame him.
Speaking at the culmination of Gujarat's golden jubilee celebrations in Ahmedabad, Mr Modi, in a veiled reference to the Opposition, said that he would not bow down to forces which were trying to malign him.
"Every constitutional authority in this country is being misused to carry out opression on me…let them try to do that. I would budge and not bow down to these forces…You try and target Modi but you have been doing this during the state's golden jubilee celebrations….in this celebration year, these forces rather than contributing to the development of the state have been working against it." Mr Modi said.
It's quite amazing and disturbing that till now there were allegations of all sorts on Modi but now even the SIT is under the scanner. It's difficult to understand, how we can allege someone like Modi, we can mistrust an independent agency of the stature of SIT and give so much weightage to people like Sanjiv Bhatt
Sanjiv Bhatt's character too is unfolding gradually. There are reports that his career and conduct have been questionable since years. There have been many departmental inquiries against him and even a criminal case for beating someone to death!!! And for the so called intelligentsia, many inquiries are before 2002.
Too much is being read in to the affidavit and media hype of Sanjiv Bhatt, who has been sleeping all through the last nine years of the incidents of riots. Neither he opted to file any affidavit before the Justice Nanvati Inquiry Commission, nor he provided any such information as being allegedly disclosed now to his superior Officer namely RB Shreekumar Adl. DGP in charge of Intelligence, when he filed affidavit before the Nanvati Inquiry Commission.
Yet, the controversial officer has now come out with a theory that he had attended the meeting on 27-02-2002 when alleged illegal instructions were given by the Chief Minister. He has cited the support of a driver, who allegedly took him to the CM's residence where the meeting took place. In fact the driver had been dismissed from the service long back for serious misconduct of forgery of certificates to obtain the driver's job. It is strange that the statement of the disgruntled officer and the dismissed driver are being given such hype while ignoring the statements of other most senior Police and IAS officers who remained present during the meeting on 27th February 2002.
Besides, it is also quite unfortunate that the so called intelligent people, who try to allege the Gujarat government for not divulging records, in their blogs & panel discussion on TV channels, have missed one thing that when a junior officer attends any such high level meeting, as per procedure he is supposed to put up the proceedings/ notes before the superior officer about the deliberations.
The Intelligence Manual requires that such things are brought to the notice of senior officer in writing. It is difficult to imagine why Sanjiv Bhatt did not do so at the relevant time. In fact, he was posted as DCI (Security) who is supposed to look after intelligence on VIP security and security to vital installations etc. only. Another DCI was there to look after law& order and communal matters.
Sanjiv Bhatt had never been provided "y" category security by the government. There is a procedure to assess threat perception of a person where a committee consisting of the Home Secretary, Additional DGP (Intelligence) and the Joint Director of the Central IB consider the category of the security cover required for a person and on this recommendation such security is provided by the government.
No such recommendation has ever been made for Sanjiv Bhatt. Further, on the reference of the SIT appointed by the Supreme Court, the Home Secretary wrote to the DGP to look in to the security cover for Sanjiv Bhatt.
The DGP provided appropriate security to him.The allegation that the government has withdrawn his security is false and baseless.Sanjiv Bhatt is trying to create false impression deliberately to cover up his misconduct of keeping personnel from Juanagadh at his residence at Ahmedabad.
It may be mentioned that Sanjiv Bhatt has been in the habit of keeping more personnel at his residence in excess of the orderlies entitled. There had been such instances when he was posted at Banaskantha and at Rajkot earlier. Show cause notices were also issued at the relevant time.
At present he has been posted at Junagadh SRP training School where he has joined and went on leave. Currently he is on sick leave on account of his mother's alleged ill health. Yet he has been keeping the personnel from Junagadh and the vehicle allotted to him at Ahmedabad on the pretext that the SIT would call him anytime for deposition.
Though the SIT has already recorded his statement yet he is claiming this privilege. Besides, an officer can appear in any forum from his place of posting for which one need not to remain present at the location where he chooses to place himself.
It may be mentioned that Sanjeev Bhatt is an IPS officer of 1988 batch belonging to Gujarat cadre, whose career since the beginning of his service has remained controversial. He is facing several departmental proceedings and criminal cases of serious nature. Often he has been taking undue advantage of the government citing different arguments of his actions of omission and commission as part of his duty.
However, many departmental inquiries could not be settled and the criminal cases against him are still pending for which he ahs been trying to get favour from the government. Even he has not been promoted as IGP though his batch mates have been promoted long back.
He was posted in as ASP Jamnagar district when there was an agitation at Khamabliya. It was reported that he committed excessive use of power and clamping of draconian provisions of TADA on some of the protestors.
Police (ASP) in Jamnagar district was marked with an incident of misuse of power resulting to death of a person. There was a private criminal complaint filed at Jamjodhpur Police station against him on 18-11-1990 by one Shri Amrutlal Madhavji Vaishnani. This case is still pending at Sessions Court at Kahambalia.
A criminal complaint was filed in 1996 by one Sumer Singh Rajpurohit, an Advocate practicing at Pali, Rajasthan against Sanjiv Bhatt, the then SP, Banaskantha District. A criminal case was registered against Sanjiv Bhatt & others vide FIR No. 403/96 dtd. 18-11-1996 u/s 120B, 195, 196, 342, 347, 357, 365, 388, 458, 482 IPC and Sec. 58 (1) & 58 (2) of NDPS Act. After the investigation, a chargesheet was filed against Sanjiv Bhatt & others u/s 114, 120B, 323, 342, 348, 357, 365, 368, 388, 452, 201 & 482 IPC and Sec. 9, 17, 18, 29, 58 (1) & 58 (2) r/w Sec. 37 of NDPS Act in the Court of Special Judge, NDPS Act, Jodhpur, Rajasthan.
It is mentioned that Sumer Singh Rajput was a tenant of sister of R.R. Jain, a sitting Judge of Gujarat High Court. To get the tenant evacuated for the rented premises, Sanjiv Bhatt, the then SP of Banaskanthe and his subordinate police officers planted more than 1kg of Narcotic drug in one room in a hotel at Palanpur, Gujarat, which was shown that the complainant was occupying the same while the complainant was at Pali, Rajasthan.
The said complainant Advocate was abducted at midnight from Pali on the instructions of Sanjiv Bhatt by his subordinate police staff and brought him to Palanpur, anaskantha in Gujarat.
The said advocate was pressurized by Sanjiv Bhatt and his subordinate police officers to vacate the said rented premises by threatening arrest under offence under NDPSAct. The advocate under pressure vacated the property.
Physical possession of the property was immediately handed over to sister of R.R. Jain, Judge of Gujarat High Court. Sanjiv Bhatt asked released Sumersingh Rajpurohit on 08-05-1996, after filing a report u/s 169 Cr.P.C., in which it was stated that Sumer Singh could not be identified in the Test Identification Parade.
Applications were filed for quashing the criminal complaint filed in Pali at Gujarat and Rajasthan High Court. But the petitions have been dismissed and the criminal case is still pending. Also, the Gujarat Vigilance Commission had recommended twice on 15-07-2002 and 19-10-2006for suspension of Sanjiv Bhatt for his professional misconducts.
His stint as Assistant Superintendent of The Secretary, Bar Association, Pali (Rajasthan) made a complaint before the National Human Rights Commission. The Commission considering the serious human right violation by its order dated 15-09-2010 directed the State Govt. of Gujarat to pay a sum of Rs. One lakh as monetary relief to Sumer Singh, advocate, Pali. The Gujarat government issued order dated 23-12-2010 as per the direction of the NHRC to pay the amount. A cheque was issued on 25-01-2011 in favour of S.C. Rajpurohit.
Since the criminal proceeding is pending against him and as one charge sheet has been issued to him, he has grievances against the state government. He has been trying to get these issues settled and get his overdue promotion as IGP.
It would be amply clear from the above details that the entire service career of Sanjiv Bhatt has remained controversial and wherever he has been posted, controversies have followed him.
He has many issues which are to be settled with government like the pending departmental inquiry, criminal cases and the current posting where he has joined and currently on unsanctioned sick leave to settle. The ulterior motive behind his recent demeanor becomes quite clear with these details.
Hisham and Rais must act fast!
Posted: 07 May 2011 08:56 AM PDT
I think Home Minister Hishammuddin Hussein and Info Minister Rais Yatim should work alongside to establish evidence as to whether what was written by my fellow-bloggers BigDog and Marahku (
here
and
here
)about 'turning Christian as the country's official religion' was based on real fact or hearsay.
However, knowing both of them well enough - people with a distinguish character - I tend to believe that some parties had lied to cover up some facts, which I personally have not seen.
What they wrote was a serious allegation and could lead to Muslims' backlash in the country. Should they have committed any cyber crime, then the MCMC under Rais should act fast before it goes haywire. And if they are found to be committing a crime under 'Akta Hasutan', Hisham should take the due course of appropriate action.
As far as the reports are concerned, Bukit Aman has started investigation (read
here
).
Similarly, Hisham must also act on DAP's Jeff Ooi, the Jelutong MP accused by both bloggers as inciting racial sentiment. Although he has denied allegations about his involvement, his testimonial is needed.
And to few reporters (non-Bahasa publications) who asked me why action is not taken against Utusan Malaysia newspaper for publicising such allegations (
here
), let me tell you that Utusan was just doing a 'straight reporting' about it and such allegations did not come from them.
Unless if your newspapers can come up with rebuttal stories, then the case would be between yours and Utusan Malaysia. What a stupid question you people asked me! And let me ask you, who is actually riding on the issue?
So, Hisham and Rais - just attend to it fast before it explodes before us!
Replying to Nik Nazmi Nik Ahmad's reply
Posted: 07 May 2011 07:13 AM PDT
Dear Nik,

Thanks for dropping in to leave a comment on my post
A letter to PKR
. Allow me to address an incorrect assertion in your first sentence?

I am not, as you alleged, anti-Keadilan per se, but just anti-bullshit. In fact, I have even defended your 'Great Leader' on a number of occasions though admittedly I bashed him more, wakakaka.

You might have mistakenly sensed that I am anti-PKR because I have hammered your leaders more frequently than others, but the fact is I haven't spared any political leaders, including DAP's, with probably PSM's as the sole exception. But in my more generous allocation of criticisms for PKR leaders wakakaka, you may wish to be self-critical and ask yourself why!

By the way, do you recall KJ gibing at Anwar for dancing with the daughter of the late (Genting Highlands') Lim Goh Tong? Well, 'twas kaytee who wrote in to Malaysiakini to defend Anwar. Surely this calls for a wakakaka as you would also see in the title of my related post.

I posted that letter to MIKINI on my blog as
Defending Anwar Ibrahim - wakakaka
.

Then, I had also defended Eli Wong during the period of her most trying times and joined in the call for Nathaniel Tan to be released from police custody.

So, as can be perused in black & white on my blog, I'm not anti-PKR per se, but most certainly I detest bullshit like the 916 perversion, a shameful attempt to subvert the supremacy of the ballot box a la the Sabah State Elections of 1994, or PKR's shameless pursuit of potential BN frogs all the way to Taiwan. Reformasi?

Perhaps now you can see why I've been so unforgiving of your leader for having the brazen cheek to proclaim that KeADILan and then PKR as the party leading the political reformasi movement. What utter bull!

And don't think I've only been targeting PKR because on 22 June 2008 I hentam Lim Kit Siang for showing signs of frog hunting inclination as well in
Has the DAP lost its way?


Yes, my anti-bull blogging extends to the party I currently favour, the DAP. I have criticized even my hero Karpal Singh for demanding the death sentence for a demented sexual pervert, a school bus driver, and also for his childish reference to Zaid Ibrahim as someone who couldn't be trusted just by 'looking at his (Zaid's) face'. What rubbish he was sprouting then! And I posted too that I don't think very highly of the Perak DAP mob for childishly walking over the poster pictures of the 3 frogs.

Additionally, there was also my post
Lim GE is wrong on nuclear plant
. No one is immune from my criticism, a blogger's privilege. My only regret is the limitations of time and opportunity where I am forced to cherry pick the ones which annoyed me immensely.

In short, my dear Nik, I'm not a fanatical acolyte of any politician, blind to his or her impropriety or undemocratic conduct, unlike some in PKR like my matey Antares, who no doubt on reading of kaytee describing him as my 'matey', will be raging and pulling at his hair in exasperation, wakakaka.

Back to PKR bull ;-), I know that on the governance of your recent party polls, a party which has the unmitigated nerve to proclaim reformasi as its core value, a lot had already been written by Haris Ibrahim, RPK and your own PKR members (some still members, while others have left and may be leaving) without the need for me to add on to the scandal.

OK, let's now switch to Bahasa proficiency. If you were referring to Sarawak DAP leaders, I do agree with you that this is somewhat lacking, but it's a deficiency not uncommon in Sarawak or just unique to DAP politicians. I've actually blogged on this lack of Bahasa competency in general terms some years ago, 2005 to be precise, in a post at BolehTalk titled
Tar'da Bolay Lar, Tar'da Bolay Carkap Marlar-yoo Lar!


Unfortunately, lack of Bahasa oral proficiency among non-Malay Sarawakians has been an outcome of the political history of Sarawak in Malaysia as well as the neglect of our Education Ministry for the two States in the East.

But then, their command of Bahasa is no more worse than that of the MP for Kelana Jaya wakakaka - see an earlier post on Loh's command of Bahasa titled Bahasa Mělayu - a letter to Yang Běrhormat.

Just a reminder, Loh Gwo Burne was a last minute personal nominee of Anwar in the 2008 GE. His perceived unsuitability as a federal MP led Haris Ibrahim to demand an explanation from Anwar Ibrahim for his (Anwar's) choice, which as with all such challenging queries to PKR, remained unanswered.

As for what you alleged as Wong Ho Leng's impertinent statements against your leaders, specifically Azmin Ali, I support Wong in telling Azmin to butt out of his intrusive attempt to control and micro-manage state PR inter-party issues.

Regrettably Azmin has a lamentable history in obsessive proclivity to control everything in PKR or even PR. Sadly by this, PKR top (KL-based) leaders indicate they do not condone nor would allow decentralised leadership and decision-making at regional levels. As Wong succinctly asserted, PKR has shown its refusal to 'grant autonomy to its state chapter when handling party affairs in Sarawak'.

We know that recent consensus has accused KL-based political leaders of all denominations for being too patronising to their Sarawakian and Sabahan colleagues by failing, time and time again, to recognize and respect that the regional leaders and their supporters prefer to manage their own state politics.

While PR has agreed to and recognized Anwar Ibrahim as the designated leader of the coalition, the same should not be assumed for Azmin Ali. I fear Azmin might have been entertaining unrealistic grandoise ideas about his personal standing in PR. To PAS and DAP he is no more than just a deputy president of a component party, thus Azmin should not automatically assume he has inherited the leadership authority assigned by PR to Anwar. Azmin cannot dictate his will on other PR members, least of all a leader of the Sarawak DAP.

And he has disgracefully resorted to ethnocentric ploy to have his way by a most un-reformasi call for Dayak dominance in the Sarawak PR shadow cabinet. Yes, my dear Nik, as the PKR Comms Boss, you have brilliantly spun away Azmin's ethnocentric bluff as a need for 'diversity' (that's your job and congratulations, you're doing it well) but his bigoted utterance has been no better than those of Utusan or Perkasa.

As for someone in Keadilan showing disrespect to Lim Kit Siang, Lim Guan Eng or DAP, do you remember Zulkifli Nordin the Kulim Wonder (when he was in PKR) and the consistent reluctance of Anwar Ibrahim to admonish him for his bad manners and anti-Pakatan conduct? And there were a few such others as well in Penang like Zahrain Hashim and Tan Tee Beng. Tian Chua of course had on several occasion treaded on the very edge of civility vis-a-vis PKR-DAP relationship.

PKR under Azmin Ali (and let's not mince words here, he IS in charge of your party) has shown an amazing talent and consistent inclination to offend the very people that PKR/PR should in fact be seeking support from. While I have criticised Anwar I recognize some good he has and can continue to do for PR, to make it a cohesive alternative party to the BN for Malaysians to choose as their government, but I fear Azmin Ali and his obsessive need to control, dominate and dictate terms all the time to PR and indeed PKR leaders will inevitably pull Anwar down and disintegrate PR.

Ask yourself why people who were once closed to Anwar like Ezam, Nallakaruppan, Johari Jasin, Abdul Rahman (membership No 3), and most of all Gobala wakakaka have all left PKR with animosity. One word - Azmin! Zaid Ibrahim left for the very same reason.

Yes, some of them joined UMNO or became BN-friendly but when one is not as rich as Zaid Ibrahim, one can't form one's own party to rail at Anwar or Azmin; one has to make use of the most available political platform (BN-UMNO) to do so, for hell hath no fury like a friend betrayed.

Soon more will leave for the same reason.

Nik, what worries me more are the PKR members who were not part of Anwar's UMNO faction, good people from PRM or those who inspired by the pseudo-reformasi call had joined directly from the streets, but alas, who, with a few exceptions like those who left (not inclusive of frogs) or Chegubard and Jonson Chong, have remained silent, as if in a state of comatose, to what have been perceived by many as un-reformasi shenanigans in your party. I say to these people that silence is consent.

Unless they wake up to rescue Anwar, I'm sorry to say that your de facto leader will eventually be rejected ignobly like Emperor Zhou, the last ruler of the Shang Dynasty, who betrayed his wife, sons, relatives, loyal ministers, faithful officials and people, and finally brought an end to his family's 600-year old rule of China, because he pampered and indulged his favourite concubine by listening blindly to every of her words against them.

Best regards,

kaytee
After Najib Is the two party system
Posted: 07 May 2011 09:03 AM PDT
The way of Prime Minister, Najib Tun Abdul Razak, forked following the grand slam of his nemesis, Anwar Ibrahim, in the forefront of Paradise Lost of Sarawak.
Only the DAP struck gold in the April 16 state–election, winning 12 from 15 seats the party contested. The Pas came home empty handed and the PKR won three from 49 contested.
But after Najib had chosen to invest in a bolder-than-stupid sex-video showing a make-belief Anwar whoop-whapping a Chinese belle in the bed of a cheap room of a spa, Najib's forked path had nowhere to take him other than into a steep fall.
The resentment is overwhelming. He is unlikely to survive.
The stunning sex-show of a man who was cosmetically a close resemblance of Anwar and apparently event-managed and paid for by Datuk Shazryl Eskay Abdullah (Eskay) now wraps Najib in a gossamer that is bursting into a fury of the Malay and Malaysian traditional values like it happened in 1998-1999.
That extended event surrounded Dr M, the Jekyll with the special Hyde, after he saddled the society with an assortment of Anwar images on videos as a sodomite and in a dozen sexual embraces with women.
For that lunge into the bucket and his own display of hysterical comedy against Anwar he wanted the people to hate, Dr Mahathir and the Barisan Nasional (BN) lost 70percent of the Malay votes in the 1999 general elections.
Najib is repeating the 1998-1999 phenomena, only this time about 80 percent of the Chinese and 50 percent of the Indians are also certain to reject the BN for reasons of their own.
That will bring the BN to heel in a slosh of the hyper-privileged elite's mega corruption the Malaysian Anti-Corruption Commission (MACC) cannot otherwise reach, a case in point would well surround the One Malaysia [Free?] Email Najib suddenly rushed into the rump of the ETP or another of his alphabetical contrivances.
It's about yet another crony company's sumptuous dinner, people say.
As for Eskay, the physiotherapist, he could have a clutch of federal and state ministers compromised in bed as he had claimed he had led Anwar into. It could be a twist in the turnings of an extortionist the police should have investigated first.
But this Anwar sex-video he showed at the expensive Carcosa and which was finally scooped into a four-part triumphant display on YouTube, was of a male that nobody this writer knows or read has believed was Anwar Ibrahim.
The exceptions are a handful of Umno propagandists writing in a couple of mainstream "newspapers" and the dirty dozen of Umno bloggers whose job it is to convince their readers the fellow in the video, which was said to have been first shown in 1998, was, indeed, the foxy Anwar.
To make matters worse, some members of the police force have been reported to have publicly confirmed the dumb and naked figure of sexual transparency in the video is Anwar.
How come?
How can the pot-bellied fellow with the sloppy chest of a couch-potato pass as Anwar?
Anwar was in 1998 the Deputy Prime Minister Mahathir did not want. Now he is the Opposition leader Najib and his wife, Rosmah, want undone.
He has been in the news for ages and people know him by his images. The man in the sex-video is not Anwar, they insist.
People say not even after a cosmetic surgery probably done on his face for fiteen tousand Malaysian dolaars at a downtown surgery in Bangkok can that man be Anwar Ibrahim.

Miiister, you want to remove bellicosity of fats round stomach and puppet booosum, can be done. Plus solders and fats over the ribs only fitty tousand Malaysian dolaars and discount five percent, also can.
That chap who contracted the job (Eskay?) did not spend the extra Malaysian
dolaars
and hence the "bellicosity of fats" (adipose fats) was clearly shown on YouTube - cuts of middle-aging beef that can hardly belong to the slim body of the fox whose stomach is too flat for him to tuck in without laboring his breathing.
The result is patently clear. It's the return of the 1998-1999 phenomena Dr M has consistently denied as having been caused by him.
He repeatedly said the 70 percent skid of the Malay votes in 1999 had been caused by the
Black Eye
, meaning the terrible beating Anwar had endured in police custody in 1998, leaving a blackened eye that stayed on him until he was produced in court weeks later.
That was done by the former Inspector-General of Police (IGP) Tan Sri Rahim Noor, an abuse at the very height of the custodians of the law and of security, the event a chilling memory sending thousands to the streets to demand civil liberties in Malaysia, which is an early fragrance of Jasmine.
The Black Eye added to the total Opposition votes in 1999 but the bulk of the Malay votes that the Umno and BN lost in that election had been caused by the failed attempt to discredit and to humiliate Anwar, by Mahathir.
Jumanji
Now it is
Jumanji
, the supernatural game of the jungle that would bring to appear wild imaginations with every move you make.
With Najib at the helm and him failing to control the price rise of food and essential items while he dumps upon society a One Malaysia and a New Economic Model that have gone out of control like badly plotted novels, the way forward is forked and leading to his fall, making a repeat of the 1998-1999 reactions the only referent for social behavior of the sort in Malaysia.
Does that mean Umno and the BN will probably lose when Najib rings in the 13th general elections?
The answer is simple and it is positive.
No matter the fact the Pakatan is new and fumbling, the fact Najib, Rosmah, Hishamuddin, Mahathir and the Police are now incredible, and resented, will repeat the 1999 elections syndrome, this time causing the BN to finally lose.
Unless the members of the Pakatan were to spoil the progress of historical forces by sudden seizures to betray their friends and betray society as well for a handsome consideration or by sheer madness, the conclusion above is the only one to make.
However, BN fixed deposits in Sabah, Sarawak and some West Malaysian constituencies still remain, meaning the margin will be hairline.
As for the fear of the Chinese overwhelming the Malays because of the ethnic solidarity, them cannot gain a simple majority by themselves even if every Chinese majority were to fall to the DAP.
Nor can they gain a two-third majority in Parliament to change the constitution.
In other words, Malaysia is now poised to follow through the making of a two-party system, a chance nobody should miss. That is an essential part of needed progress. --- a. ghani ismail, 7 May, 2011.
MUHYIDDIN YASSIN SAYS NAJIB HAS HIRED NIAT CHAIRMAN THASLEEM MOHAMED IBRAHIM AL-HA TO DISCREDIT HIM AND FORCE HIM TO RESIGN AS THE EDUCATION MINISTER
Posted: 07 May 2011 03:18 AM PDT


Barisan Nasional politicians are keeping the controversial Interlok novel issue at an arms' length, according to National Interlok Action Team (NIAT).
"We know that a lot of (people) within Umno and many ministers aren't happy (with Interlok)."
"(But) BN hasn't come out with anything. Why are MCA leaders keeping quiet? Why are MIC leaders keeping quiet?" asked Niat chairman Thasleem Mohamed Ibrahim Al-Haj.
Expressing dismay to newsmen today, he said neither he nor NIAT were pro-opposition as insinuated by BN leaders.
Having power and control over your environment, or at the very least perceiving that you have that power and control, is important. Those who feel as though they have little control over their status, aspirations and wealth are prone to depression. On the other hand, those who feel that they have too much control are … 
Read more
He said the group was willing to speak to parties from both sides of the political divide on the matter.
"For goodness sake, if I am a supporter of Opposition, why am I supporting 1Malaysia?"  he asked.
Thasleem is particularly disappointed with the BN Back-Bencher's Club (BNBBC) in parliament, which appeared to postpone meetings to unusable dates.

'Islamic values sidestepped'
A letter by BNBBC secretary Ismail Haji Abdul Muttalib to Thalseem revealed that an initial March 30 meeting this year had been postponed to April 6,  which was  the Sarawak election nomination date.
In his letter to Thasleem, Ismail wrote that the meeting had to be postponed to an unmentioned future date, as many BN MPs had left for East Malaysia at the time.
Thasleem, in his revert to Ismail,  expressed his unhappiness with the ambiguity of the later's letter.
"You yourself said that many Peninsular MPs would be present (at the meeting). As a Muslim, I feel sad that Islamic values have been sidestepped to gain political advantage," Thasleem wrote.
NIAT later revealed that a request to meet with Umno Youth over the issue had been turned down as it was "Interlok-related".
Taking a swipe at Umno Youth Chief Khairy Jamaluddin, Thasleem said :  "He's an Oxford graduate… but has no guts to raise this issue."
Thasleem also questioned why only the Deputy Prime Minister-cum Education Minister Muhyiddin Yassin had an opinion on the matter.
The Education Minister's defence of the Interlok novel was not honest at all, says NIAT
KUALA LUMPUR: Education Minister Muhyiddin Yassin, when he came out in defence of  the controversial novel Interlok was not telling the truth, the National Interlok Action Team (NIAT) said.
Its chairman Thasleem Mohamed Ibrahim Al-Haj said that he was fed up with the deputy prime minister's broken promises and swipes at NIAT.
"(Muhyiddin Yassin) is a liar with a malicious agenda," he told reporters at the Selangor Chinese Assembly Hall this morning.
Representatives from the Chinese assembly hall, NIAT and the LLG (Lim Lian Geok) Cultural Development centre were also present at the press conference.
The NIAT chairman also demanded  Muhyiddin  step down as Education Minister immediately over his alleged interference with an independent panel's revision of the book.
He said that NIAT, along with other NGOs across the country were going to lodge reports with the police and the Malaysian Anti-Corruption Commission against Muhyiddin.
In mid-March this year, three Indian representatives walked out of the Interlok panel after the DPM advised them to compromise over the word "pariah".
Muhyiddin was also claimed to have said he wanted less amendments than was intended for the book.
1Malaysia undermined
This led to the NIAT chairman alleging that Muhyiddin's actions were an abuse of power .
Thasleem then claimed that "unofficial sources" in the Education Ministry told NIAT about their unwillingness to use  Interlok as a literature textbook for Form Five Bahasa Malaysia students.
However, Thasleem said that Muhyiddin did not take into account these sentiments .
"The whole concept of 1Malaysia is undermined, and the DPM has the guts and the courage to call us a threat to national security" he said.
Thasleem also asked why Muhyiddin was so eager to carry on with Interlok book when the matter would have been settled differently in other countries.
Citing foreign educationists and politicians, he said that any book mired in controversy would be immediately withdrawn.
"So for anybody to say that it was too late (to pull the book out of the system), it is a big lie," Thasleem said.
The NIAT chairman also said that Muhyiddin's actions were his way of remaining in political power.
"That's the only way he can be in power. I don't want to be political, but now that he has said some things politically, that's the only way Umno can be in power," Thasleem said.
NIAT: DPM, who is a threat to national security?
Posted: 07 May 2011 01:30 AM PDT
Kejar bayang-bayang pun dah gaduh ...
Posted: 07 May 2011 02:02 AM PDT
HOLIER THAN THOU? UTUSANDOG EAT BIGDOGDOTCOM SHIT PEMBELADOG IS LOOKING FOR SHIT
Posted: 07 May 2011 01:15 AM PDT
I first got a sense of the meaning of interfaith dialogue as a 26-year-old student on a Fulbright fellowship in Rome. I was a newly ordained rabbi representing the Reform Jewish movement in a meeting with Pope John XXIII to discuss hunger issues. With the impetuousness of youth, I asked the pontiff about the Church's role in the destruction of European Jewry. I'd been a refugee at age 6, but lucky — we'd fled Italy just before the war. The pontiff's response was that he planned to do something about it.
That meeting, some 50 years ago, was one of the transformative experiences of my life because Pope John XXIII impressed me as a truly saintly individual who was dedicated to doing great things. Even though I am a Jew, I've returned to the Vatican, seat of Roman Catholicism, many times because I've experienced firsthand there the power of interfaith dialogue in the hands of great leaders. Under Pope John Paul II, the "Prague Accord," which asked for forgiveness of past acts of anti-Judaism, was adopted; diplomatic relations between the Vatican and Israel were established; we saw the first pope to enter the synagogue in Rome, as well as that profound sight of John Paul, in his frail years, putting a prayer of reconciliation in the Western Wall. On this day of his beatification, it is only appropriate that we celebrate this leader who made a revolutionary impact in Catholic-Jewish relations within our lifetime, and that we of all faiths continue to learn from him. I had the privilege of meeting with Pope John Paul II on numerous occasions and I remember a vibrant, intense, egoless personality who was concerned with Justice and Mercy and Truth, and how to bring those ideals to life in the modern world. Perhaps the first impression one had in meeting him was his gravitas — a presence that immediately made you feel that something important is at stake. At the same time, his profound humanity and love shown through at every meeting, and you felt he was interested in you and what you were doing and the topic at hand. Always he looked to how the faiths could come together. In one meeting in Denver, he expressed strong concern that religions work together to offer an objective and universal ethic that could help deal with the pressing problems we face: war, poverty, inequality, the lack of education in so many parts of the world. In another meeting at the Vatican, he was much more theoretical and theological, relating to work our interfaith center had done in educating the interreligious community on the new catechism, and how best to conduct theological dialogue between Christians and Jews. He firmly believed that we who have received — all people of faith — are incumbent to do something about the ills of the world. After establishing the indissoluble connection for Christians of Judaism with Christianity, the pope officially asked Christians to strive to acquire a better knowledge of the basic components of Judaism's religious tradition. The pope emphasized that it was essential for Christians to understand how Jews define themselves. "They [Christians] must strive to learn by what essential traits the Jews define themselves in the light of their own religious experience." The pope also clearly understood that the attempt to understand must also be mutual, if real dialogue is to take place. So when the pope first met with members of the Jewish community, he said, "You are here, I believe, to help us in our reflection on Judaism and I'm sure that we find in you and in the communities you represent, a real and deep disposition to understand Christianity and the Catholic church in it's proper identity today, so that we may work from both sides toward our common aim of overcoming every kind of prejudice and discrimination." This very important statement says it's not enough for Christians to understand Jews and view them the way they view themselves, it's equally necessary for Jews to understand Christians and the way we view ourselves. I believe this essential element, so clearly articulated by the late pope, remains lacking in Christian-Jewish dialogue. Pope John Paul understood that the destruction of European Jewry prompted many Christians to discover the true spiritual patrimony that we share. The experience of having survived millennia, from the Jewish point of view, is of extreme theological significance and has much to do with dialogue. Our relationship with God and with oppression is linked at our very core. Jewish thinking, religious structures, self-understanding — all that serves our spiritual self-preservation — evolved in part to control, circumvent or contend with a hostile environment. Judaism became what it needed to be in order to survive. Therefore, the devastating destruction of 6 million Jews made it necessary first, to acknowledge the role that Christian teachings may have had in regard to that horror. The "We Remember" document, The European Bishops' statements, the Papal visit to Israel and the "Fundamental Accord" have significantly dealt with that. I think this was a necessary early step, though here I have to say many Christians still have no sense of the Jewish experience with respect to the precariousness and vulnerability of being a Jew — this feeling that Jewish identity hangs in the balance and each generation doesn't know whether it will be the last, something John Paul understood well. In turn, for many Jews the challenge of dialogue, of reconciliation, the challenge of love, is terrifying because it can appear to threaten everything that helped keep Jews, Jews. We as Jews are challenged to dismantle emotional and political defenses that have bolstered us, preserved us and to a great extent, have become us. Dialogue and reconciliation challenge us to breathe new life into a stale, dusty habit, born of oppression; to open the ghetto which still exists in the world, if not in our minds and hearts. In all these years there have been no official statements coming from the Jewish side to clarify Jewish attitudes with respect to Christianity. What has occurred thus far is significant on both sides, but I think remains preliminary to deriving the full benefits and essence of dialogue. What one was left with after meeting with Pope John Paul was his complete dedication to the next step in dialogue wherein one must be true to one's own faith without being false to the faith of the other — and how serious and difficult this task is. I believe that is the fundamental question and the fundamental issue of dialogue and should influence every single discussion on every level. "How can I be true to my own faith without being false to yours?" It's not enough for me to say, "Here's what Judaism believes, now you tell me what Christianity believes." It's important for me to say, "I can have a sense of myself without diminishing you in any way. I can affirm my beliefs without restricting, denigrating or distorting yours." When we attempt to discuss the deepest convictions by which individuals define their very essence and beliefs, upon which one's whole existence is at stake, it requires a special sensitivity and understanding which simply does not apply in other areas of discussion. This is not dialogue between science and religion nor is it the same as the discussion between religion and secularism. Interreligious dialogue has a place of its own. There is an intrinsic humility that must show itself in the presence of discussions dealing with the Divine. I believe Pope John Paul would agree that our interrelationships have yet to be fully explored in an authentic and honest manner in order to discover the truth that each can offer the other. He understood it was of the utmost importance for us to recognize that we have much to learn from one another, and accomplish together. Ultimately, what is at stake in all interreligious dialogue is the trusteeship that human beings have in the created order.There are many stories that contemporary Imams rarely tell their congregations. The story of Mukhayriq, a Rabbi from Medina is one such story. I have heard the stories about the battle of Uhud, one of prophet Muhammad's major battles with his Meccan enemies, from Imams and Muslim preachers hundreds of times, but not once have I heard the story of Rabbi Mukhayriq who died fighting in that battle against the enemies of Islam.
So, I will tell the story of Rabbi Mukhayriq – the first Jewish martyr of Islam. It is quite apropos as the season of spiritual holidays is here.
Mukhayriq was a wealthy and learned leader of the tribe ofTha'labah. He fought with Prophet Muhammed in the battle of Uhud on March 19, 625 AD and was martyred in it. That day was a Saturday. Rabbi Mukhayriq addressed his people and asked them to go with him to help Muhammed. His tribe's men declined saying that it was the day of Sabbath. Mukhayriq chastised them for not understanding the deeper meaning of Sabath and announced to his people that if he died in the battle his entire wealth should go to Muhammed.
Mukhayriq died in battle against the Meccans. And when Muhammed, who was seriously injured in that battle, was informed about the death of Mukhayriq, Muhammed said, "He was the best of Jews."
Muhammed inherited seven gardens and other forms of wealth from Mukhayriq. Muhammed used this wealth to establish the firstwaqf – a charitable endowment – of Islam. It was from this endowment that the Prophet of Islam helped many poor people in Medina.
When Muhammed migrated form Mecca to Medina in 622 he signed a treaty with the various tribes that lived in and around Medina. Many of these tribes had embraced Islam, some were pagan and others were Jewish. All of them signed the treaty with Muhammed that is referred to by historians as theConstitution of Medina. The first Islamic state, a multi-tribal and multi-religious state, established by Muhammed in Medina was based on this social contract.
According to Article 2 of the Constitution, all tribes who were signatory to the treaty constituted one nation (ummah). Mukhayriq's people too were signatories to this treaty and were obliged to fight with Muhammed in accordance to Article 37 of the Constitution, which says:
The Jews must bear their expenses and the Muslims their expenses. Each must help the other against anyone who attacks the people of this document. They must seek mutual advice and consultation, and loyalty is a protection against treachery. A man is not liable for his ally's misdeeds. The wronged must be helped.
In a way Rabbi Mukhayriq, who was also a well-respected scholar of Jews in Medina, was merely being a good citizen and was fulfilling a social contract. But his story is fantastic, especially for our times when we are struggling to build bridges between various religious communities. Mukhayriq's loyalty, his bravery, his sacrifice and his generosity are inspirational.
Perhaps it is about people like Mukhayriq that the Quran says:
And there are, certainly, among Jews and Christians, those who believe in God, in the revelation to you, and in the revelation to them, bowing in humility to God. They will not sell the Signs of God for a miserable gain! For them is a reward with their Lord (3:199).
Mukhayriq's story is a story of an individual's ability to transcend communal divides and to fight for a more inclusive idea of community. He was a true citizen of the state of Medina and he gave his life in its defense. He was a Jew and he was an Islamic hero and his story must never be forgotten and must be told and retold. When Muslims forget to remember his, and other stories that epitomize interfaith relations they diminish the legacy of Islam and betray the cause of peace.
If Muslim Imams told his story in their congregations in America and elsewhere, I am confident that it will contribute to manifestations of increased tolerance by Muslims towards others. There are many such wonderful examples of brotherhood, tolerance, sacrifice and good citizenship in Islamic traditions that undergird the backbone of Islamic ethics. I wish we told them more often.
Muqtedar Khan is Director of Islamic Studies at the University of Delaware and a fellow of the Institute for Social Policy and Understanding
There are a number of Latin phrases that have survived millennia, because they contain immortal pearls of wisdom. In a world that is increasingly using Twitter and short SMS text messages to communicate, these Latin phrases may experience a renaissance, because they are often concise and profound. One of my favorite Latin phrases is "barba non facit philosophum", which roughly translates to "a beard does not make a philosopher". It means that it takes much more than a beard to become a philosopher and thus highlights how important it is to distinguish between the outward appearance of a person and their actual knowledge, intellect or other abilities.This tweetable phrase is not just applicable to philosophers and beards, but can be broadly applied to people of all ages, backgrounds, professions, cultures and gender. It reminds us of how we often overemphasize the outward appearance and this adage rings just as true today as it did when it was first used. It also lends itself to be adapted to contemporary issues.
The adaptation that I like to use is "barba non facit muslimum", which is supposed to mean "a beard does not make a Muslim", even though I realize that "muslimum" is not a Latin word. Many Muslim scholars feel that the Islamic tradition encourages Muslim men to have beards. While the Quran itself does not directly link piety with having a beard, over time, many Muslim communities have developed a vague expectation that pious or devout Muslim men ought to have beards.
I have also on occasion heard comments about Muslim politicians or public figures who are involved in corruption or fraudulent activities that they behaved dishonestly, "in spite of having a long beard". Even though these comments are said jokingly, they do underscore the implicit link between the character of a person and their outward appearance. When asked specifically about the importance of a beard relative to other aspects of the Muslim faith, most Muslims will likely answer that the compassion and charitable behavior of the individual are far more important than whether or not he has a beard. However, such "inward" characteristics are difficult to ascertain during passing encounters, while the presence or absence of a beard is much easier to determine.
The "barba non facit muslimum" phrase can also be interpreted in an expanded manner, and refer to the outward appearance of Muslims in general. The wearing of a head-scarf (hijab) by Muslim women is encouraged by a number of Muslim scholars. As with the beards of Muslim men, members of the Muslim community sometimes consciously or subconsciously perceive the presence of a head-scarf as a sign of piety of the individual. On the flip-side, there may be an implicit assumption that the absence of a hijab may indicate less piety.
Most religions including Islam discourage humans from judging each other's piety. Piety is a diffuse and not definable concept and if there is any judgment to be passed, it is generally thought to fall in God's domain. However, we humans seem to indulge in passing judgments on each other. The outward appearance is much easier to evaluate than "inward" characteristics such as compassion or humility, which lie at the core of most faiths. Therefore, the combination of our desire to judge each other with our intellectual laziness may have resulted in an over-emphasis of the outward appearance.
The over-emphasis of the outward appearance in matters of faith comes at a certain cost, because it diverts time and resources from more pressing issues. One such example is the question of universal healthcare in the USA. Caring for the sick and elderly is a central tenet not only of Islam, but also of most faiths and humanist belief systems. As a strong supporter of universal healthcare and as a Muslim, I would have wished a much stronger involvement of American Muslims in the discussion about universal healthcare proposed by the Obama administration. I participated in two events organized by Muslim organizations in the Chicago area to discuss the issue of universal healthcare. Unfortunately, the interest in this topic was rather limited and the turnout quite low. On the other hand, lectures or discussions about "modest Islamic dress" are often packed with members of the community.
Another example is the recent ban of face veils (niqab) in France. This enforcement of the ban by the French government has resulted in a barrage of op-eds, articles, talks and blogs by Muslims in America. Some see the ban in France as an infringement of civil rights, while others argue that the ban will help the integration of Muslims in France. All in all, it is surprising that this ban that affects perhaps only 2000 women in France has evoked such passionate responses here in the USA, while the activism for issues such as healthcare and education, which affect millions of Americans, has been comparatively muted.
Choosing an outward appearance that is compatible with one's faith is a personal decision. However, we have to constantly re-evaluate our priorities and make sure that the time, efforts and resources devoted to the outward appearance should be in some measure of proportion to its actual importance within the faith.
Jalees Rehman is a German Muslim scientist currently on faculty at the University Chicago as an Assistant Professor of Medicine working both as a stem cell biologist as well as a cardiologist. In addition to his work in the biomedical sciences, he has also studied the boundaries between religion and science and is currently trying to understand the clash between modernity and postmodernity.
Posted: 07 May 2011 01:05 AM PDT
My friend Tim, who lives in Australia shared this interesting link on Facebook:
Nervous times for rulers as Singapore considers change
An excerpt:
The electoral threats to the ruling People's Action Party are embodied in voters' perceptions and grievances - including rising prices, hubris of the ruling party, million-dollar ministerial salaries, overpopulation and better treatment for foreigners - and credible opposition challenges.
Do go and read the whole article for yourself.
It was interesting because a lot of Malaysians think that Singapore is the utopia - the ideal way to run a country.
The realities, however, are far from it. Sure - their economy is reasonably well-managed and they have a solid reputation internationally.
I have been to many countries that had never heard of Malaysia (in spite of our glorious twin towers and our s0d0my trials) but they had almost always heard of Singapore before, even if they couldn't exactly pin its location on a map.
It's no secret that I despair over the future of Malaysia and the apathy of the average Malaysian, but I think Singaporeans are in far worse shape.
A former journalist, Richard Seah, speaks about the way young Singaporeans today think in his piece,
Why I vote opposition
:
But my primary reason for voting against PAP goes deeper. I articulated it recently during a whatsapp (similar to sms) chat with one of my younger friends, who is about 25 years younger than me. It began quite innocently …

"I dun care about the elections, hahaha," my young friend messaged. We had, as usual, been joking and engaging in casual chat. I decided to get serious.

"You dun care because you dun have friends who were imprisoned without trial for doing social work and helping the poor," I replied. "You dun have friends who cannot come home to Singapore, you dun have friends who were made bankrupt and had their lives destroyed by the PAP government."

"Wah! So serious arh?" my young friend replied. She then went on to say … "But if you vote opposition you won't get upgrading … Ya I know the PAP is unfair … But I am the logic (pragmatic) type."

Haiz! I gave up and resumed the nonsense talk. But my heart won't give up. I have to speak out what I feel deep inside.
While Malaysia puts dissenters away behind bars, Singapore assassinates the character of its critics and bankrupts them.
Opposition politician from SDP: Dr Chee Soon Juan
Richard Seah elaborates, "As the years went by, I began to see more and more cases of people either made bankrupt, forced to flee the country or otherwise portrayed as crooks and liars simply because they opposed the PAP. The late J B Jeyaretnam, Tang Liang Hong, Francis Seow … all had their characters assassinated."
No one said much, because the economy was good and everyone was busy making money and trying to keep up with the Joneses.
Apathy is the wild card of all nefarious governments.
Tolong Melayu Dengan Gadai Tanah Melayu......
Posted: 07 May 2011 12:45 AM PDT
Pakatan Rakyat terutama PAS sering dituduh UMNO menjual hak Melayu kerana baik dengan DAP.
Malangnya, bukti di bawah menunjukkan sebaliknya. Sebidang tanah rezab Melayu di atas nama
UMNO Bahagian Puchong
telah cuba digadai/dijual kepada sebuah syarikat milik bukan Bumiputra.
Mujur kerajaan Selangor diperintah Pakatan Rakyat menjadikan percubaan UMNO Puchong ini digagalkan. Terselematlah sebidang tanah rezab Melayu walaupun ianya di bawah nama UMNO Bahagian Puchong.
Klik di atas imej dibawah untuk melihat imej dibawah dengan lebih jelas.
UMNO Puchong pula dipimpin oleh Dato Satim Diman, yang sekarang ini adalah Ketua Pembangkang di Dewan Undangan Negeri Selangor.
Tak sangka. Ku ingat panas sampai ke petang, rupanya hujan di tengah hari.
Bayangkan. Ni dalam keadaan UMNO tidak memerintah Selangor. Kalau ditakdirkan mereka masih memerintah, habislah tanah rezab Melayu di Selangor ni tergadai demi mengkayakan kroni dan UMNOPUTRA.
Posted: 06 May 2011 10:54 PM PDT
FIVE ARTS CENTRE and POCKETSIZE PRODUCTIONS
present
I was 13 at the time. On the day it happened...
A Workshop Presentation of Stories of 13 May 1969
directed by Chee Sek Thim
text curated by Jacqueline Ann Surin
performed by Foo May Lyn, Lucille Dass and Shah Zainal
11, 12 & 13 May 2011
8.30pm
at Socio-Economic & Environmental Research Institute (SERI)
10 Brown Road, Penang
Admission by donation of RM10
Call 0124828619
14 May 2011
5pm at Leonardo's Wine Loft, 61-2 Jalan Bangkung, Bukit Bandaraya, Bangsar, Kuala Lumpur
9pm at Five Arts Centre, 27 Lorong Datuk Sulaiman 7, Taman Tun Dr Ismail, Kuala Lumpur
Admission by donation of RM10
Call 0125162891
This event will present a reading of different stories of 13 May 1969 told by Malaysians as they remember it. The stories will be juxtaposed with the official rhetoric of government, political parties, politicians, academics and the media regarding the racial clashes of 13 May.
The purpose of this workshop presentation is to reclaim what 13 May means to Malaysians by allowing other stories of the incident, apart from the official rhetoric, to be told and/or retold through performance in a public space. The hope is that by doing so, the official history of 13 May can be contested, and a space or spaces for more nuanced and compassionate memories of the incident can be created.
For more information email fivearts@tm.net.my or pocketsize.productions@gmail.com
Mystery fire strikes Bukit Jalil estate
Posted: 06 May 2011 02:23 PM PDT
A wooden house at the demolition-bound Bukit Jalil Estate was ablaze yesterday; half the building was destroyed and losses were estimated at RM5,000. More stories: komunitikini.com

Time:

05:11

More in

News & Politics
Posted: 06 May 2011 09:43 AM PDT
Video: The people's voice The usage of video in grassroots journalism -- In just two years since Nov 2008, hundreds of ordinary Malaysian citizens from all walks of life have produced over 1000 videos highlighting events and issues concerns their lives. This project explores what has encouraged these ordinary men and women to pick up a camera and tell their stories. The main highlight of the study is the rise of participatory video and new media as an advocacy tool by ordinary citizens, and the changes it has brought into the political and social climate in Malaysia. A three years old citizen journalism programme in Malaysia has been harnessing the power of video to encourage people to share their stories and make their voice heard. If you are interested in joining Citizen Journalism Program (CJMY), please email us for more information at maran@malaysiakini.com or call us at 03 2284 3367 ext: 116. Produced by Indrani Kopal

Time:

16:12

More in

News & Politics
Fitnah video seks: NGO gesa k'jaan ambil tindakan
Posted: 06 May 2011 08:22 AM PDT
Sekumpulan wakil NGO mengancam untuk mengadakan perhimpunan lebih besar sekiranya pihak berkuasa tidak mengambil tindakan segera ke atas individu yang didakwa bertanggungjawab menyebarkan fitnah berhubung rakaman video seks. Selain itu, sekumpulan 30 orang yang berhimpun di Masjid Negara hari ini turut menggesa Jabatan Agama Islam Wilayah Persekutuan (JAWI) melaksanakan peruntukan undang-undang Islam berhubung tuduhan zina dan liwat ke atas ketua pembangkang Datuk Seri Anwar Ibrahim.

Time:

03:35

More in

News & Politics
Condi Rice Nails It On Saddam vs. Gaddafi, WMD or Not
Posted: 06 May 2011 08:10 PM PDT
Via AoSHQ via Red State, from Newsbusters:
RICE: …And it's simply ill-informed and ahistorical to suggest that a dictator as brutal as Saddam Hussein would have allowed an Arab uprising in his country.

You're looking at a dictator in Syria put down an uprising. You're looking at a dictator in Libya who has tried to put down an uprising. If you want to talk about a humanitarian disaster, why did we go into Libya? Because he was about to mow down his own people. He was going to eliminate his own people.

He was going to commit genocide against his own people. Saddam Hussein committed chemical warfare against his own people. And I'd really like to have an answer from those who say it was a good thing to intervene humanitarian way in Libya, because Gadhafi was killing massive numbers of civilians.

Saddam Hussein put 400,000 people in mass graves. He used chemical weapons against Kurds and Shia. If that wasn't a humanitarian reason to intervene, quite apart from the security reasons, I really think people have a lot of explaining to do.
Exxactly!
See also related: