---
My first post is up at Jihad Watch
Posted: 28 May 2011 07:21 AM PDT
I'm honoured that renowned counterjihad Robert Spencer has accepted my first piece I have written for his site,
Jihad Watch
. The piece, entitled "A Malaysian journey from darkness", can be found
here
.
And to everyone visiting here from Mr. Spencer's site or elsewhere, thanks for stopping by!  Feel free to stay and look around.  We hope you like what you'll find.
Bin Laden's couriers also in charge of procuring bin Laden's porn some herbal Viagra and some Sheik condoms.
Posted: 28 May 2011 06:26 AM PDT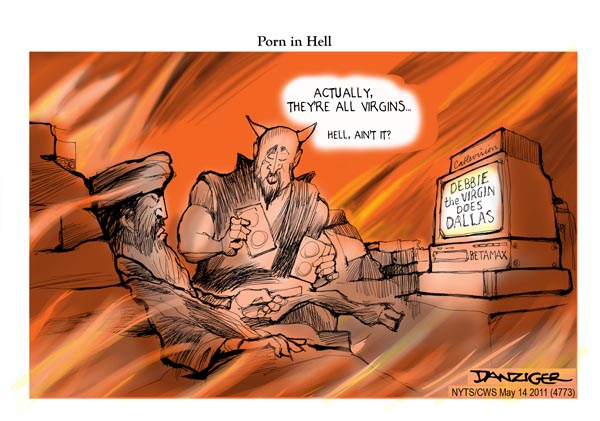 So many questions here. Bin Laden's compound wasn't hooked up to the internet and he apparently communicated with the outside world by saving files onto thumb drives and having couriers send e-mails and download new messages for him from a distant Internet cafe. Were those couriers also in charge of procuring bin Laden's porn? Awkward. -
COURIER: Uh, I'd like to buy some porn.
PETE: Well, you've come to the right place. Here at Pete's Porno Emporium we've got every type of porn known to man, woman, and those in-between. What are you into — chicks, dicks, chicks with dicks? We don't discriminate like those nasty fundamentalists do.
COURIER: Uh, it's not for me. It's for a, uh, friend.
PETE: Sure, we get loads of requests like that — emphasis on the "loads." Tell me, is this "friend" of yours married?
COURIER: He has three wives, but you know how it is….
PETE: Yeah, all burqas look the same after midnight. Marital boredom is inevitable no matter how many wives you have. Where does this "friend" of yours live?
COURIER: In a large, walled-off compound in the suburbs of Abbottabad. It's kind of like the Playboy mansion — minus the Bunnies, of course.
PETE: That would make your "friend" Hugh Hefner. What is he into — gals, guys, bi's, tri's?
COURIER: Uh, he has very specialized tastes.
PETE: Kinky, huh? Don't worry, we've got it all — S&M, B&D, C&BT. Golden showers, brown showers, double rainbow showers…
COURIER: No, nothing like that. He likes pork.
PETE: As in "porking" or as in farm animals? Either way, we've got you covered. We've got a video called Makin' Bacon: Beauty and the Bestiality that you've gotta see to believe.
read more see more pictures 
read more see more pictures
PSD scholarships: Perkasa wants 67% for bumis
Posted: 27 May 2011 05:49 AM PDT
The Public Services Department (PSD) scholarships should be given out on a 67:33 ratio between bumiputera and non-bumiputera students, said Perkasa. The right wing pro-Malay group said this would be a fair ratio as it would be based directly on the country's current racial breakdown. "Since the BN rules this country based on majority support from the Malays and bumiputeras from Sabah and Sarawak, they must get priority for all allocations, including PSD scholarships," he said at a press conference after meeting senior PSD officers today. Full story: www.malaysiakini.com

Time:

05:57

More in

News & Politics
It's Anwar who's untouchable, claims Ibrahim
Posted: 27 May 2011 04:19 AM PDT
Perkasa president Ibrahim Ali today shot down claims he is above the law, saying instead that PKR de facto chief Anwar Ibrahim is "untouchable" despite clearly defying the courts. The Pasir Mas MP remained unapologetic for his alleged call to wage a 'perang salib' or holy war against Christians, saying he had done no wrong in making the remark. Full Story: www.malaysiakini.com

Time:

02:58

More in

News & Politics
Sex tape received in Chinese community
Posted: 26 May 2011 11:16 PM PDT
Copies of a video clip depicting a man resembling Anwar Ibrahim have been sent to a large number of Chinese new village and kampung heads throughout Selangor. Selangor exco member Ean Yong Hian Wah (right) said that at least 15 such leaders in Ulu Langat and about eight more in Kuala Selangor have confirmed receiving CDs containing the clip in their Full story: www.malaysiakini.com

Time:

03:04

More in

News & Politics
THE LEGACY OF PAKATAN WILL HAVE TO BRAINSTORM CAREFULLY
Posted: 28 May 2011 05:36 AM PDT
In recent decades, our political discourse has often been dominated by the claim that federal government cannot properly or effectively create public programs regulating individual behavior to pursue a more just and flourishing American society. The presidency of Ronald Reagan gave voice to that belief and the centennial of his birth earlier this year provided an occasion for Reaganites to celebrate this doctrine and its most prominent proponent.
Penang Chief Minister Lim Guan Eng has suggested that elections in the Pakatan Rakyat states of Penang, Kedah, Kelantan and Selangor need not be held at the same time as the 13th General Election if snap polls are called this year.
Guan Eng has his reasons for saying so, but this matter has yet to be fully confirmed by the top Pakatan leadership. For PKR, it is fine because this was what the party had already suggested last year.
But at PAS, which has governed Kelantan for the past two decades, there is some hesitation although it will support the PKR and DAP decisions for Selangor and Penang.
Najib needs to get the GE out of the way so he can raise prices
One of the reasons that Guan Eng gave for the latest announcement was ostensibly to give more time to the Pakatan administrations to fulfill their 2008 election pledges and launch more programmes for the well-being of voters before seeking a renewal of their mandate.
But it is also an election strategy for ensuring the best majority. However due to differing situations, different tactics must be applied for different states.
Going by Prime Minister Najib Razak's decision to postpone price hikes on an array of items including petrol, the GE-13 looks more and more likely to be held in July, or at the latest in October.
"It is possible that BN wants a 'quick kill' in July or even August where there is a stretch of holidays for Hari Raya and Merdeka. BN says the subsidy has doubled from RM10 to 20 billion for this year. So if Najib waits for October, he won't be able to increase fuel and electricity prices fast enough to cover the deficit caused rising global oil prices," PKR strategy director Rafizi Ramli told Malaysia Chronicle.
"Najib can only delay if world oil retreats or alternatively, if the Malaysian public doesn't bother that much about his proposal to raise RON95 and electricity prices. I believe the PM is tasting the wind to get a sense of the public reaction. If there is uproar, he won't increase but we will have elections very soon and after that you can be sure BN will straightaway raise prices."
Different states, different situations
Meanwhile, other Pakatan leaders caution that while separate polls may give Pakatan more time to implement their programmes, it would also give BN more time to create trouble for them.
"If BN wins the Federal Government in the coming polls, they can overwhelm all the 4 Pakatan states with greater abuse of government machinery because they would be able to focus their attention then. They would also be willing to spend billions to get back the Pakatan states because they would then have won another 5 years' mandate for the federal government," PAS vice president Salahuddin Ayub told Malaysia Chronicle.
"But whatever it is, the top lPakatan eaders will meet soon and the decision they make will be agreed to by all, so there is no question of dispute. We either delay all or have it all at the same time or we will assess each state differently. The important thing is, we want the best chances."
Testing the waters
Other Pakatan supporters were of the opinion that Guan Eng was also testing the waters and sniffing out Najib's response. The power to dissolve Parliament lies solely in the PM's hand.
"Maybe Guan Eng is trying to tempt Najib into early polls. He is quite sure of Penang, so no matter whether Najib comes at Pakatan full force, the chances are very high Penangites will still vote Pakatan. In fact, no one sees Pakatan losing Penang at all. But in other states like Kedah and Selangor, PAS and PKR have to evaluate more carefully, especially Selangor even though it has a rock-soild majority there," PKR veteran Eddie Wong toldMalaysia Chronicle.
"What is scary is that a lot of money has been poured into Selangor by UMNO to regain the state government. You have citizenships being offered for votes, phantom voters, outright vote-buying, it is tremendous. Mentri Besar Khalid Ibrahim must scour for intelligence on what is happening on the Umno side. He must have an idea what they are up to. Then only can PKR decide if it is easier to defend Selangor concurrently with the BN, or to have it separately like Penang."
It looks the same goes for Kedah and Kelantan. Both are run by PAS, which traditionally holds elections concurrently with the BN. While the Islamist party will assess Guan Eng's proposal, chances are it will opt for same-time polls with the BN.
Fortunately this basic tenet of conservative thought has not always been popular. If it was, we'd live in a much less appealing nation. The crowning accomplishment of the public service of Hubert H. Humphrey refutes this precept of Reaganism, and the 100th anniversary of Humphrey's own birth, which occurred May 27, 1911, serves as an appropriate time to give Humphrey, and the liberalism he championed, its due.
Humphrey was the architect of many innovative programs of the Kennedy and Johnson administrations, initiatives including the Peace Corps, Food for Peace, Medicare, anti-poverty measures, the Occupational Safety and Health Act, and mutual reduction of nuclear weapons. These measures, and many others which bore Humphrey's mark, were controversial when he proposed them but ultimately became part of America's public policy consensus.
Yet Humphrey's greatest legacy was the Civil Rights Act of 1964. Nearly one-half century later, it is hard to believe that anyone would oppose this seminal law which prohibited businesses from refusing to serve or hire African-Americans or other minorities based on their race. In fact, many resisted it. Opponents argued that the law mandating that private businesses not exclude potential customers or workers based on race was an unconstitutional intrusion on liberty and property rights. Moreover, they claimed that federal government had no business imposing a national standard on behavior which they insisted should be left to individuals and regulated, if at all, by states or markets.
The opposition to (and support of) the Civil Rights Act was bipartisan. Every southern Democratic senator opposed it. Senator Barry M. Goldwater, soon to be the Republican presidential nominee, was one of only six Senate Republicans to vote against the measure. Another critic of the measure was Humphrey's fellow child of 1911, Reagan, who that summer made his national political debut as an articulate spokesman for Goldwater conservatism.
The Senate presented the main hurdle for the legislation. Southerners inevitably filibustered civil rights measures and a two-thirds vote was then required to stop debate. Since 18 of the 59 Democrats were southerners committed to defeat the measure, success depended on obtaining sufficient Republican support to achieve passage.
The story of Humphrey's skillful legislative management requires more words than this space allows and has been told elsewhere. For present purposes, it suffices to say that he carefully organized civil rights forces to combat the filibuster, he patiently built a growing coalition, and he eloquently articulated the constitutional, policy and moral arguments in support of the measure. Most significantly, he successfully courted the Republican minority leader, Senator Everett Dirksen, the key to the additional votes needed. Humphrey struck compromises to win Dirksen's support while preserving the crucial features. When the bill passed, he let Dirksen receive the public accolades. Yet Humphrey's leadership was also essential to the passage of the measure in a robust form.
Humphrey's stewardship of this legislation demonstrated important aspects of his public service. He believed government had an important role in addressing public problems to achieve just solutions. He approached the civil rights issue with a moral clarity which would not be diverted by the shibboleths of Goldwater, Reagan and others who complained about the federal government intervening in "personal" matters. Humphrey was committed to shaping workable public policy, not simply posturing to curry favor with constituents. And he understood that politics, skillfully performed, was the means to achieve progress.
Some never forgave Humphrey for becoming a public cheerleader for Lyndon Johnson's Vietnam policies while vice president. Humphrey had vigorously opposed escalating the war during his early days in that office, counsel which outraged Johnson who proceeded to humiliate him as only Johnson could. Humphrey's subsequent defense of the war was unfortunate. Yet his role regarding Vietnam was simply as a spokesman, not as a policy-maker.
When it came to civil rights, he was, however, a policy-maker and an effective and creative one at that. The law he helped pass in the summer of 1964 played an important role in diluting the ugliest stain on American history.
Humphrey deserves to be remembered, on his centennial and always, for demonstrating that effective political action can forge national policy regulating individual behavior to make America a better and more just society. The liberal politics he practiced helped bring America closer to its highest ideals notwithstanding the opposition efforts of the most effective voices of the conservative conscience. That lesson is worth remembering and repeating in contemporary political discourse.
here is nothing political about this post. These are strictly the observations of a fence-sitter, who is exactly one year and eleven months older than the erstwhile Left government of Bengal and is in Calcutta now, among other things, to taste the season's first mangoes and watch the downfall of an arrogant Communist government that has outlived the Berlin wall by 7 years, but only after leaving a 2 lakh crore debt burden for the state to reel under.
Here are a few entries from her chronicle:
12th May, Thursday: The aeroplane hovered over the northern suburbs of the old city for sometime for the landing corridor and then a slight turbulent ride later landed us on home turf. I was home, with the little daughter in tow, home for the summer. As I walked out of the comfort of the air-conditioning, a sultry, clawing humid blast hugged me like a long lost sister. A sea of gray heads waited for their wards and kinfolk alongside my handsome, graying father. My R observed, 'Ma, isn't Calcutta much greener than Bombay?'
She knew what she was talking about. She had pointed out at the sea of palm trees clustering around the neat rows of houses beyond the Calcutta airport boundary wall, a picture very different from the blue and gray sea of slums that meets the eye while descending upon  Maximum City. The election results were far from my mind.
13th May, Friday: "8.30 AM: the Left leads in 3 seats in Bengal. This is when you need a Duckworth-Lewis rule in elections" – an eminent Translator and online professional, on Twitter.
The better part of the morning I kept flitting between Facebook, Twitter and various news channels on television, blaring in the dining room. I was suddenly interested to know whether the end was near or not, for the Leftist regime. I had lived life under this regime for far too long to even believe that a 'change' was even possible. Growing up in Marx's Calcutta, I had been witness to a mass exodus, of fine young people, cousins, friends et al, the young and the restless who had one by one deserted the mother ship in search of better clime, education and jobs. And eventually, I had left, too. But the other occupants in the room, who, unlike me, had participated in the electoral process, begged to differ with my scepticism. I was watching something altogether new in this otherwise old, familiar dining room. I was looking Hope in the eye and that surprised me. They had suddenly started to believe otherwise, they had started to believe that 'change' was here and was here to stay.
"Friday the 13th, is green" – a much known fire brand TV journalist, live from Calcutta, on NDTV.
By noon, Didi, aka Mamata Banerjee, was leading in the ballot counts. There was unbridled joy even in the Star Ananda young journalist's voice that he didn't want to hide any more. Heads had started to roll and now there was no stopping the landslide. The eminent party panelists returned one after the other, initially to boast, later to point fingers and then to put their feet firmly into their mouth.
"CM Buddhadeb Bhattacharjee, finance minister Ashim Dasgupta, Industries minister Nirupam Sen, all set to lose. Top knocked off. With Buddha's resignation, curtains come down on world's longest serving democratically elected Communist Government." – An eminent journalist and political analyst, live tweeting from Kolkata.
By late afternoon on Friday, the 13th of May, 2011 green abir had coloured faces, had carpeted the streets, microphones at street corners had suddenly started to crackle into life to add Rabindrasangeet to the chaos.
'This is the right time to get a feel of the streets,' observed my father and I had no reason to say no.
'Kalighat?' our driver sounded a little sceptical, perhaps a little scared. 'Aaj odike ektu gondogol hobar chance achhe.' (There are chances of some disturbance in that part of the city)
Thus we drove through deserted streets of the boi para, on to one of the oldest arteries of the city that leads to the old, trading district of the city, Burrabazar. Shops were mostly closed, only some people reluctantly sold their ware, the summer heat was the easiest excuse for people to huddle under shades and watch strategically placed televisions giving the minute by minute election results. It was 3 in the afternoon. We drove over the Hooghly, took a 'U' turn into Brabourn Road, down more deserted roads, past the Lalbazar crossing, Cannng Street. Only the TMC tricolours, tied to the railings running down the middle of every road fluttered as we drove past. The otherwise brave Shantuda had safely brought us home, cutting the adventurous father-daughter's expedition really short. 
An impromptu adda in my father's drawing room this evening ended in a feast. They, my aging uncles and aunts, had all converged to apparently meet me and the daughter. The conversation had very soon turned to Mamata, Bengal, Leftists and Change. There was much hope floating and I wanted to believe.
14th May: "Didi Blasts Front Door" – TOI, Calutta edition
I was out in the morning, walking through my favourite streets. Today the deserted boi para was back to business as usual. The muriwallah was laying out his battered tin cans on his meager plank, the book shops round the bend that specialise in Made Easy books were busy stacking up books on Medicine, music, Geography, Shakespeare, Botany, Russian Revolution – all made easy. I walked through the haze of burning camphor and a sudden burst of agarbati fragrance rising from a publisher's office. I didn't notice any visible difference or any effect of the change that had already taken place. But did I catch a smile on an old face? Did the man in a gray bush shirt have a spring in his middle aged cautious steps? The girl under the floral umbrella seemed to have her chin up, didn't she?
I overheard: "Pranabda aschhe aaj ke" (Pranab da, Pranab Mukherjee, is coming today); "Kaal paraye ja shankh bajlo na!" (So many shankhs were being blown in our neighbourhood, yesterday)
As I walked out of one alley into another, most splattered with the last afternoon's green abir, microphones still blared Rabindrasangeet.  Dailies announced the "Change"; "Baam Bidaye"; "Bangla Mamata'r"; "Historic Thunder" …
15th May: Almost 3 days have passed since the red fort fell in Calcutta and the dust seems to be settling. I have happily feasted on some Himsagor mangoes and a variety called Gobindo Bhog awaits dinner time.
I have just received one phone call today. From my eldest aunt. She has lost two of her sons to the exodus. One lives in Chandigarh and the other in Osaka, Japan. I had a long conversation with her, about a lot of things. I heard the sound of hope in her voice. She sounded so happy when she shared that my cousin from Japan has finally decided to shift to Delhi from Japan. As if I heard her say, 'Some day, perhaps …'
Kalau ada 'fulus' apa pun boleh lulus.
Posted: 28 May 2011 07:41 AM PDT
Ramai juga yang tidak selesa dengan komen saya dalam banyak isu yang berkaitan dengan 'intution' saya yang tidak begitu sedap dalam menghadapi pilihanraya yang akan datang. Kadangkala saya berfikir juga kenapa saya perlu sibuk untuk menulis tentang isu-isu itu kerana ianya hanya memungkinkan saya di rembat dengan hebatnya oleh pihak yang tidak gemar dengan pandangan saya.
Kadangkala ada juga penyesalan kerana saya terlibat mengambil tahu tentang politik ini. Walaupun tidak bergiat secara fisikal lagi benak saya tetap berfikir tentang politik ini.. Saya tetap juga memberikan pandangan secara terbuka kerana saya tidak pernah berusaha untuk menaiki tangga kejayaan politik dan saya tidak pernah menyesal dengan keadaan itu.
Oleh itu saya tetap dengan pendirian untuk bercakap dan menulis ketika ada ruang untuk berbuat demikian kerana saya tidak dapat mengelak dari melihat dan mendengar apa yang berlaku di sekeliling saya. Saya bukan seorang 'social climber' dan apa yang saya perkatakan itu adalah pemikiran yang sejati tanpa dikotori oleh kepentingan peribadi. Justru saya tidak ada perasaan gentar dan takut untuk memberikan buah fikiran dan pandangan saya secara terbuka.
Mungkin apa yang saya perkatakan tidak keseluruhannya benar, tetapi terpulang kepada sesiapa yang terbaca untuk menilainya dan membuat komen yang berpatutan tanpa menggunakan bahasa yang kesat dan mengkritik saya secara peribadi. Saya mengalu-alukan jika pandangan serta komen yang di berikan itu hanya dalam 'parameter' isu dan tajuk yang saya perkatakan sahaja dan tidak menyimpang darinya.
Yang terbaik sekali komen itu biarlah menggunakan bahasa yang baik dan tidak menggunakan bahasa yang kotor kerana bahasa itu melambangkan bangsa. Menggunakan bahasa yang baik juga akan membawa maksud yang sama untuk menyatakan perbezaan dengan pandangan saya. Tetapi ianya memberikan perbezaan yang amat ketara untuk memberikan penilaian dan membezakan tahap budi dan keperibadian seseorang pengomen itu.
Saya tidak segan dan silu untuk menzahirkan perasaan kurang keyakinan terhadap 'jargon-jargon' besar yang diwar-warkan kerana masa yang begitu lama terlibat dan bergiat secara kecilan dalam politik memberikan persepsi yang segala-galanya adalah retorik politik kosong yang akhirnya akan kita sama-sama melihat kegagalannya.
Bermula dengan retorik slogan bersih, cekap dan amanah dahulu. Akhirnya bersihnya berkurangan , cekapnya tiada dan jauh sekali beramanah. Zaman slogan ini lah pelacuran terhadap semua institusi demokrasi berleluasa dan di zaman ini jugalah korupsi dan sifat tidak amanah itu mula hidup subur. Akhirnya zaman slogan ini berkumandang inilah segala budaya negatif dalam politik dan kerajaan menjadi masalah kepada negara dan kita sekarang sedang berperang mulut di atas isu-isu ini.
Sejak dari saat itu semuanya telah hilang dari kawalan seolah-olah kereta dipandu hilang kawalan sehinggakan terjunam ke dalam gaung yang dalam dan tidak tahu bila boleh keluar dari kejatuhan yang begitu dalam itu.
Apabila seorang lagi pemimpin datang dia minta pula semua orang bekerja bersama beliau dan jangan bekerja untuk beliau. Akhirnya kerja pun tak ada untuk kita bekerja dengannya sampailah beliau meletakan jawatan.
Datang pula seorang pemimpin yang lain dengan slogan 1Malaysia. Entah mana letaknya 1Malaysia itu kita pun tak tahu. Satu Malaysia tak faham sehinggakan Dr Mahathir sendiri mengaku tidak faham. Slogan hanya tinggal slogan. Masih lagi sekolah Cina naik macam cendawan tumbuh. Setahu saya jika benar untuk menjayakan 1Malaysia ianya mesti bermula dari sekolah dengan hanya mengadakan satu jenis sekolah sahaja seperti di Indonesia dan Thailand misalnya. Saya tidak menerima slogan ini kerana saya bersetuju dengan adanya sekolah yang berbagai di dalam negara ini.
Lain yang dislogankan lain pula yang dibuatnya. Ini semua membuatkan orang tertanya-tanya, mana dia 1Malaysia itu. Maka ini satu slogan yang lain. Kita akan menyanyikan slogan yang berlainan mengikut siapa yang memimpin. Tidak ada dasar yang kekal untuk rakyat melaksanakannya. Dulu tidak ada slogan-slogan canggih tetapi tidak pula ada banyak masalah yang membebankan rakyat. Seingat saya hanya satu slogan yang amat berjaya di dalam sejarah negara, iaitu slogan Muhibbah. Tetapi slogan itu telah dibiarkan begitu sahaja kerana tidak secucuk dengan pimpinan Dr Mahathir itu.
Lepas pimpinan Najib ini tidak tahu slogan apa pula yang akan dinyanyikan media letronik kerajaan. Akhirnya kita kenyang dengan slogan. Dalam pada itu sahajalah rakyat dikelirukan semata-mata kerana hendak meletakan jenama kepada kepimpinan yang memimpin waktu itu. Sekarang kita boleh mengagak mana pemimpin yang akan berjaya atau mana pemimpin yang akan gagal semasa awal-awal pemerintahannya. Jika pemimpin itu bermula dengan slogan yang canggih-canggih, kita boleh membuat penialaian awal yang 'conclusive'. Pemimpin itu akan gagal dan dia akan terus-terusan beretorik kosong.
Slogan-slogan sekarang ini ibarat lagu pop yang hanya popular sementara sahaja. 1Malaysia kata orang 1Malaysia kata kita. Hasilnya entah di mana. Yang sesuai dengan kehendak negara masih lagi slogan Muhibbah sebenarnya. Slogan ini amat penting kerana rakyat tidak lagi hidup dalam muhibbah samada intra kaum mahu pun inter kaum.
Dalam perpecahan rakyat yang mendapat keuntungan dan labanya ialah pemimpin yang lemah yang disaluti dengan imej rasuah dan imej-imej yang tidak keruan. Ramai orang yang menyampah kerana saya tidak berhenti bercakap tentang rasuah. Mereka kata mereka sudah jemu dengan isu itu.
Kepada mereka yang memberikan pendapat itu, saya ada jawapannya. Perasaan jemu saudara itu merupakan perasaan yang 'mutual' dengan perasaan saya sendiri. Mereka jemu kerana saya tidak berhenti menulis tentang isu rasuah, saya pula jemu kerana ramai pemimpin yang tidak berhenti melakukan rasuah itu.
Isu yang terkini, iaitu isu tanah lapangan terbang tentera udara Sg Besi merupakan satu lagi yang akan menimbulkan kemarahan rakyat ramai. Semua orang tahu apa yang sedang berlaku di dalam kes ini dan siapa yang mendapat laba besar dengan pemindahan lapangan terbang ini ke Sendayan Negri Sembilan. Segala khabar angin tentangnya dahulu sudah menjadi kenyataan.
Satu lagi khabar angin yang akan menjadi kenyataan ialah tentang harga tanah yang bakal dibayar oleh 1Malaysia Development kepada kerajaan. Blog ini tidak payah bersusah payah memberitahu apa-apa lagi. Semuanya akan terbongkar dan menjadi pengetahuan umum.
Apa pula alasan yang akan diberikan oleh penyokong membuta tuli terhadap pimpinan yang hangat dipersoalkan rakyat ini. Yang rakyat persoalkan ialah moral yang menyelubungi projek pembangunan yang akan dilakukan oleh 1Malaysia Development ini.
Kita diminta menyokong segala kerja yang tidak mempunyai moral ini. Kita tidak faham kenapa ada setengah orang yang tidak boleh nampak tanah rakyat yang kosong. Apabila nampak sahaja tanah kosong mereka akan menjadi seperti anjing nampak tulang..air liornya melelih tidak dapat dikawal.
Nasib baik mereka ini tidak jadi pemimpin Saudi Arabia. Kalau mereka menjadi pemimpin Saudi Arabia tidak terkejut kalau Ka'abah pun dialihnya. Kerana apa? Kerana 'fulus'. Ada 'fulus' semua boleh lulus.
Terima Kasih.
ANWAR: WHY WE SHOULD PREPARE FOR THE UMNO HILANG DARI MUKA BUMI
Posted: 28 May 2011 04:30 AM PDT
VACCHAGOTTA — VACCHA FOR SHORT — WAS ONE OF THE MANY RELIGIOUS WANDERERS WHOSE SPIRITUAL DIALOGUE WITH GAUTAMA THE BUDDHA IS RECORDED IN BUDDHIST SCRIPTURE (THE AGGI-VACCHAGOTTA SUTTA). VACCHA WAS FULL OF QUESTIONS, PARTICULARLY ABOUT THE SOUL. THE SOUL — OR ATMAN IN THE LANGUAGE OF ANCIENT INDIA — WAS THOUGHT AT THE TIME TO BE THE ETERNAL ASPECT OF THE HUMAN PERSONALITY, ONE THAT WOULD TRANSMIGRATE AND BE REINCARNATED LIFETIME AFTER LIFETIME.
Vaccha had other metaphysical questions, too. He wanted to know whether the universe was finite or infinite, whether it was eternal or not eternal, whether an enlightened person like the Buddha would be reborn or not, and especially whether the soul existed or did not exist. To each of Vaccha's questions the Buddha would not give a definitive answer. Whatever Vaccha asked, the Buddha would reply, "No," or "That does not fit the case, Vaccha." As the dialogue proceeded, Vaccha became more and more irritated, finally asking, "Well, has the Venerable Gautama any opinion on anything?"
To this the Buddha replied, "The term 'opinion,' Vaccha, has been discarded by [me]." He went on to explain that he understood the soul, or atman, not through logic or opinion, but through his direct experience of meditation. From this experience he concluded that the seemingly singular, permanent self or soul was actually composed of five ever-changing components, which he called 
skandhas
, or "heaps." These five aggregations are form (the material world of the senses), feelings, perceptions, emotions and consciousness. Together, these five create the illusion of a fixed identity and continuous self. It is our clinging to this fixed self that creates all our unnecessary suffering this world. That is what the Buddha taught.
This is basic Buddhist doctrine, explained in detail in many Buddhist textbooks, such as
Walpola Rahula's
 "
What The Buddha Taught
," or the more contemporary "
A Path With Heart
" by 
Jack Kornfield
. But the full complexity and subtlety of 
how
 the Buddha taught is not so easily understood. In some sermons, the Buddha seems to acknowledge the existence of a soul. In others, he seems to deny the soul. And still others (as here in his replies to Vaccha), he declines to say one way or the other. In reading through all the many sermons of the Buddha, it seems that he adjusted his teachings to the needs and capacities of his listeners.
The translation of the 
Aggi-Vacchagotta Sutta
 which I am using here is from "
The Buddha: His Life Retold
" by 
Robert Allen Mitchell
 – a book with its own compelling story. Mitchell (1917-1964) studied graduate astronomy at Harvard, but due to the early death of his father he could not pursue a career as a scientist. Later on he became fascinated with the teaching of the Buddha, taught himself Pali (the language spoken in the Buddha's lifetime) and set about translating Buddhist texts — a solitary avocation that he practiced for the rest of his life. The manuscript of "The Buddha: His Life Retold" was found in his attic after his death and published in 1989; it is one of the best summations of the Buddha's basic teachings that I know. It is now technically out of print, but not too hard to find.
The dialogue between Buddha and Vaccha continues on the subject of the soul and its purported rebirth:
Vaccha asks, "But Reverend Gautama, where is the person … reborn?"

"To say that he is reborn¸Vaccha, does not fit the case," replied the Buddha.

"Then he is not reborn?"

"To say that he is not reborn does not fit the case."

"Then he is neither reborn or not reborn?"

"To say that, Vacchagotta, does not fit the case."
In the same way the Buddha continues to reply "that does not fit the case" to each of Vaccha's queries.
Finally, in complete exasperation, Vaccha said, "Venerable Gautama, have you nothing to say about the existence of the soul? Does the soul exist?"
At these words Gautama was silent.
"How is it, Venerable Gautama? Is there no such thing as the soul?"
Gautama was again silent.
What are we to make of this teaching? Why won't the Buddha say one way or the other? How can we trust a religious teacher who won't answer our questions, who remains silent when we implore him to respond? Do we, like Vaccha, walk away in confusion and bewilderment?
As Vaccha turns to go, the Buddha calls out to him, "Vaccha, this teaching … is profound, subtle, hard to see, hard to comprehend, beyond the sphere of mere logic, to be understood only by the wise."
Indeed. This sermon about Vacchagotta is the precursor of many later strains of Buddhist teaching, including the Middle Way school of Nagarjuna (a key component and source of Tibetan Buddhist philosophy), as well as Zen.
Throughout Buddhist history, there are many recorded dialogues like the one between Buddha and Vaccha. Students of Zen will be familiar with the story ("
Blue Cliff Record
" Case 55) of Master Tao Wu and his disciple Chien Yuan. Master and student were paying a condolence call to the family of a recently deceased person when Chien Yuan suddenly rapped on the coffin and exclaimed, "Alive or dead?"
The master calmly replied, just as the Buddha did to Vaccha, "I won't say."
All the way home Chien Yuan kept after his teacher. "Alive or dead?" he kept repeating.
The teacher's answer was always the same: "I won't say."
Those not familiar with the Buddhist world-view may find this story, like the previous one about Vaccha, confusing and frustrating. They may think, "Why won't the teacher say? The corpse is obviously dead. He should just say so!"
But the whole truth is not so simple. At the heart of the Buddha's teaching is something not graspable by intellect alone, not expressible in words alone, not comprehensible by logic alone. This "something" Buddhists called 
prajna
, or "transcendent wisdom," and it is the beating heart of the Buddhist Path — the inner source of compassion and the Buddha's message of liberation from suffering.
And why should it be otherwise? Many of the most important aspects of our life cannot be grasped by the intellect or put into words. Consider love. We can say "I love you," but those are mere placeholder words for something we can't really describe or explain. And yet our love for spouse, partner or children may be our greatest treasure. We don't know love through books or words, or by asking people to define what love is. As 
Forrest Gump
says, "I may not be a smart man, but I know what love is." We apprehend love directly. When we love, we just know.
And so it is with Buddhist wisdom teachings. When Buddha said to Vaccha, "That does not fit the case," or when Tao Wu said to Chien Yuan, "I won't say," these answers are not actually designed to obfuscate, confuse or conceal. They are just honest responses pointing to a deep truth that — like love — lies deep in the inexpressible core of the human heart.
UMNO KINI TIDAK MAMPU MENGEKALKAN PRINSIP-PRINSIP MELAYU SEPERTI YANG DITONJOLKAN PADA ERA TUN SRI LANANG DAN JUGA ZAINAL ABIDIN AHMAD ATAU LEBIH DIKENALI DENGAN NAMA PENDETA ZA'BA, KATA KETUA UMUM PKR, DATUK SERI ANWAR IBRAHIM.
Menurutnya perjuangan pemimpin-pemimpin Melayu dahulu tidak korup seperti pemimpin Umno hari ini yang hanya bersandarkan kepada amalan politik jijik yang menjengkelkan sehingga sanggup menjatuhkan martabat sesama umatnya. 
"Pejuang-pejuang asal seperti Tun Sri Lanang yang hebat, apa hebatnya? Hebatnya kerana ilmu, prinsip, hebatnya kerana Melayunya tebal mengikut syarak maknanya ikut hukum, jangan rasuah, jangan rompak, jangan hina, jangan aib kaum sendiri, itu dia Tun Sri Lanang.
"Za'ba, pendeta Za'ba, pemikir Melayu, sasterawan ahli bahasa ulung, apa pandangan dia? Bila bicara soal Melayu, miskin apa Melayu?
"Miskin harta benda tapi dia bimbang yang miskin akhlak, miskin budi pekerti, miskin semangat tewas tak sanggup berjuang menolak sistem penjajah Inggeris," kata Anwar pada ceramah umum Pakatan Rakyat di Parit Pecah, Muar Johor malam semalam.
CIRCLES OF TRUST MELAYU ISLAM JENIS BINATANG APA SI DATUK CHE MAT CHE ALI? PENGARAH JABATAN AGAMA ISLAM
Posted: 28 May 2011 02:50 AM PDT
CIRCLES OF TRUSTMELAYU ISLAM JENIS BINATANG APA SI DATUK CHE MAT CHE ALI? PENGARAH JABATAN AGAMA ISLAM

PENGARAH JABATAN AGAMA ISLAM WILAYAH PERSEKUTUAN (JAWI) DATUK CHE MAT CHE ALI MASIH MEMBISU BERHUBUNG KEHADIRAN BELIAU DI MASJID AMRU AL-AS DI SENTUL PADA HARI DATUK SHAZRYL ESKAY ABDULLAH BERSUMPAH LAKNAT.
---
Possibly related posts: (automatically generated)
SUPP "Najib Will Wait Don't worry..!!"
Posted: 28 May 2011 02:18 AM PDT
It seems that the GE13 will not be called anytime soon. One of the indicators will be SUPP which will only have its TDC in December 2011. If they are to be held anytime soon BN will be looking at close to 7 seats losts if the State election results are to be studied indepth. No need to say where the seats will be as its clearly marked,"SUPP AREAS/CONSTITUENCIES" Even at a recent BN Supreme council meeting the SUPP seats were already marked as dangerous seats.
Isn't the message crystal clear and sources have even put it as Sabah will break from the norm to have State elections in November to gauge the BN winning edge and also secure Sabah first like Sarawak as BN states. If Sabah is in November fingers are pointing to GE in March 2012 where the 'prophets of doom' and also "practitioners of chinese metaphysics" has indicated Najibs chances are so much brighter after February 2012. Najib holds the trump card and he will not want to go into battle knowing he doesnt have upper hand.
Even Koh Tsu Koon (Gerakan president )has said that the  media probably the ones who indulged in the speculation. He added,"we will let you know when the time comes.Sometimes when you talk too much (about it), it will not come. When you stop talking (about it), it happens,"
" YOUR PICK ON THE DATES….??"
SUPPs date with destiny:- The article from an internet portal
Sarawak United People's Party (SUPP), badly bruised in the recent state elections, is to make sweeping changes at all levels, party president Dr George Chan announced after the central working committee meeting yesterday.
The move will see the top five leaders giving up their posts at the triennial delegates conference (TDC) scheduled for the end of the year.
They are Dr Chan (left), deputy president Lau Hieng Ding, secretary-general Sim Kheng Hui, deputy secretary-general Wong Soon Koh and treasurer-general David Teng Lung Chi.
"Other party leaders have also indicated to me that they are not going to seek re-election to their party posts," Dr Chan said.
Among them is vice-president and Deputy Works Minister Yong Khoon Seng, who had also indicated that he would not be defending his Stampin parliamentary seat in the coming general elections.
Dr Chan said most branch chairmen will be asked to bow out in favour of new faces and more from that group will be tapped for the Women and Youth wings executive committees.
Old age obstacle to change

"The sweeping changes are to create a new image for the party, especially among the young generation," Dr Chan told reporters.
"You cannot make the changes if I am still around,' he said.
Dr Chan and Sim had offered to resign down immediately after the polls to take responsibility for the party's worst ever performance in such an outing.
However, the CWC, which met after polling day, had asked them to stay on until the TDC.
Wong, who is also the State Minister of Public Health and Environment, had recently offered to quit his party post during the TDC.
He also indicated that he will not be defending his Bawang Assan seat in the next state elections.
Lau, former federal minister of science, technology and environment, has long wanted to step down as deputy president due to poor health.
Dr Chan and Teng failed to retain their respective seats in April while Sim lost his in Pending in the 2006 election.
In that elections, SUPP lost in 13 seats to the Opposition, out of 19 contested.
Dr Chan said that party leaders will be going to the ground, starting in August, to explain the proposed changes to the members.
"There are about 110,000 of them who want to hear from us about the changes," he said, adding that as such the annual central committee meeting scheduled to be held before the TDC will be scrapped.
On Wong's (left) and Lee Khim Sin's positions in the state cabinet, Dr Chan said the CWC had decided unanimously that they should remain.
A flip and a flop
At the previous meeting, the CWC wanted them not accept any state cabinet position in response to the poor support from the Chinese community.
The CWC, however, recommended that the four Dayak state assemblypersons replace them in the state cabinet.
At yesterday's meeting, however, the CWC decided that Wong and Lee be allowed accept cabinet positions.
Dr Chan explained that the two will act as links between the party and the government.
"Moreover, we have accepted the advice of Prime Minister Najib Razak and Chief Minister Taib Mahmud for SUPP to remain part and parcel of the government.
"We have a lot to lose if we are not in the government," he said.
MURSYIDUL AM PAS, EGYPT OPENS RAFAH BORDER WITH GAZA WHEN IS UMNO GOING TO OPEN ITS BLACK HEART TO TO ANWAR AGAR TAMPIL MEMOHON MAAF
Posted: 28 May 2011 01:34 AM PDT
Egypt permanently opens the Rafah border crossing for Palestinians, easing a four year blockade on Gaza [REUTERS]
Egypt has reopened its Rafah border crossing with the Gaza Strip, allowing people to cross freely for the first time in four years - a sharp departure from the 
policies of former president Hosni Mubarak
.
The opening on Saturday morning 
provided long-awaited relief
 for Palestinians – a move ushered in by Egypt's new government in a bid to ease the suffering of Gaza residents.
Al Jazeera's Nicole Johnston, reporting from the Hamas-ruled Gaza Strip, said there will still be restrictions in place, preventing men younger than 40 from leaving the coastal territory.
"It will allow basically all women to leave Gaza, also children under the age of 18 years will be allowed to leave, as well as men over the age of 40 years. However, those between the ages of 18 and 40 years will require an Egyptian visa," she said.
"Visas would have to come from Ramallah. Sources in Hamas say they have been told by the Egyptian authorities over the last few weeks that they [Egyptians] do intend to open some sort of representative office inside Gaza, so that people can get the visa from there."
Among the first to cross the reopened border post were two ambulances ferrying patients from the hitherto-blockaded Gaza Strip for treatment in Egypt as well as a minibus carrying a dozen visitors. About 400 Gazans were reported to be waiting at the crossing.
Israeli siege
The crossing is seen as the main gateway for the 1.5 million Palestinians living in the Gaza Strip. Among the other border posts, it is the only crossing not controlled by Israel.
Rafah has been mostly closed since 2007
 when Israel imposed a siege on Gaza after Hamas took over the Strip.
Our correspondent said that Hamas used to have a list of people who needed to go through the border crossing, and that list currently has 12,000 names on it.
"That list used to be sent through to the Egyptians who then vetted it and allowed around 300 people a day through it – but it was very limited and now it will be free and open for most people," she said.
The crossing is to open to people for eight hours a day from 9:00am, apart from holidays and Fridays, giving Gazans a gateway to the world as Rafah is the only crossing that does not pass through Israel.
Commercial traffic will continue to have to pass through border points with Israel to enter the impoverished Palestinian enclave.
"In the future, Hamas says that it would like this to become a terminal for goods," our correspondent said.
"But a lot of people in Gaza say that if the Rafah border crossing becomes a commercial goods terminal, then Israel could place all responsibility for Gaza on the Egyptians, which people do not want because Gaza is still occupied by Israel."
The United Nations has called the Gaza 
blockade illegal and repeatedly demanded it be lifted
.
Mursyidul Am PAS, Datuk Nik Abdul Aziz Nik Mat menyarankan pihak yang menabur fitnah kepada Datuk Seri Anwar Ibrahim agar tampil memohon maaf.
TV Selangor
memetik beliau berkata, ini kerana maruah dan harga diri seseorang individu adalah tunjang sifat kemanusiaan secara jelas tidak boleh diaibkan sewenang-wenangnya demi kepentingan politik semata. 
Justeru, Nik Aziz tidak menolak kredibiliti Anwar sebagai pemimpin berlandaskan syiar Islam adalah faktor kemaraan politiknya disekat oleh kepimpinan Umno-BN yang khuatir akan kehilangan kuasanya.
"Mereka tahu Anwar pandai. Mereka bimbang Anwar jadi Perdana Menteri, sebab itu mereka fitnah. Anwar bukan batang kayu tapi orang. Orang ini ada malu," katanya.
Sehingga kini polis telah menerima lebih daripada 10 laporan berhubung pengedaran cakera padat (CD) rakaman video seks lucah yang cuba dikaitkan dengan ahli parlimen Permatang Pauh itu di seluruh negara juga kepada ketua-ketua kampung di sekitar Selangor.
Aktiviti pengedaran cakera padat itu juga didakwa didalangi oleh ahli Umno-BN.
---
Possibly related posts: (automatically generated)
KITA UMNO RUNNINGDOG TO GO FOR POLLS WITH 'REALISTIC' MANIFESTO KITA MAHU ANIAYA ANWAR
Posted: 27 May 2011 10:27 PM PDT

A vote against BN is a a vote to get rid of UMNOBIGDOGS and the other two lapdogs(MCA MIC)
Vote against UMNOBIGDOGS is to
FREE THE MALAYS FROM STOOPID MOOFTIS AND LEADERS who force them to SUBMIT TO THEIR WILL instead of Allah's will.
FREE THE MALAYS TO COME AS ONE NATION AND SEE EACH OTHER LIKE A SINGLE CITIZEN FOR MOTHER MALAYSIA
FREE THE MALAYS FROM BEING SLAVES to their Mooftis and political leaders FOREVER
Free Malay women and children from making them second class citizens being dumped after use.
Free Malay women from keeping quiet and taking all the beating and suffering in silence.
Free all Malay children from having irresponsible fathers who fck and fck around and dump the mothers.
Free Malay children from seeing other children as different
Free the Malays from seeing others as dhimmits and kafirs
Free the Malays to do research about their prophet and what is really taught instead of a controlled media of what is not true about the prophet and his sayings Islam and other religion
Free the Malays from being treated like dogs..fed only when they follow the UMNOBIGDOGS
Free the Malays from the feeling that they cannot stand on their own feet and compete like others and the constant feeling of being inferior.that they have to shout..Ketuanan melayu
Free the Malays from a siege Mentality
Free the Malays from Denial Syndrome that their leaders are good and that Islam is superior to other religions
Free the Malays that killing and promoting violence is Allah approved against the so called kafirs.
Free the Malays to think of ways to solve their children who are drug addicts and mat rempits and baby dumpers
Free the Malay mind that this world should be Islamised even when the whole Islamic world is in turmoil and muslim brother is killing another brother
Free the Malays from the syariah which is lopsided where it punishes the poor Malay and the woman on the streets and closes its eyes to those in power
Free the Malays to choose who to worship…and let then be answerable for their own conscience.
Free them UMNOBIGDOGS>>>>FREE THEM>>>>free them so that they do not become racists..but love all others as Allah has taught …all his children….as he is the maker..so he is the father..
Kita UMNO runningDOG to go for polls with 'realistic' manifesto
KITA UMNO RUNNINGDOG TO GO FOR POLLS WITH 'REALISTIC' MANIFESTO KITA MAHU ANIAYA ANWAR
Posted: 27 May 2011 10:25 PM PDT

A vote against BN is a a vote to get rid of UMNOBIGDOGS and the other two lapdogs(MCA MIC)
Vote against UMNOBIGDOGS is to
FREE THE MALAYS FROM STOOPID MOOFTIS AND LEADERS who force them to SUBMIT TO THEIR WILL instead of Allah's will.
FREE THE MALAYS TO COME AS ONE NATION AND SEE EACH OTHER LIKE A SINGLE CITIZEN FOR MOTHER MALAYSIA
FREE THE MALAYS FROM BEING SLAVES to their Mooftis and political leaders FOREVER
Free Malay women and children from making them second class citizens being dumped after use.
Free Malay women from keeping quiet and taking all the beating and suffering in silence.
Free all Malay children from having irresponsible fathers who fck and fck around and dump the mothers.
Free Malay children from seeing other children as different
Free the Malays from seeing others as dhimmits and kafirs
Free the Malays to do research about their prophet and what is really taught instead of a controlled media of what is not true about the prophet and his sayings Islam and other religion
Free the Malays from being treated like dogs..fed only when they follow the UMNOBIGDOGS
Free the Malays from the feeling that they cannot stand on their own feet and compete like others and the constant feeling of being inferior.that they have to shout..Ketuanan melayu
Free the Malays from a siege Mentality
Free the Malays from Denial Syndrome that their leaders are good and that Islam is superior to other religions
Free the Malays that killing and promoting violence is Allah approved against the so called kafirs.
Free the Malays to think of ways to solve their children who are drug addicts and mat rempits and baby dumpers
Free the Malay mind that this world should be Islamised even when the whole Islamic world is in turmoil and muslim brother is killing another brother
Free the Malays from the syariah which is lopsided where it punishes the poor Malay and the woman on the streets and closes its eyes to those in power
Free the Malays to choose who to worship…and let then be answerable for their own conscience.
Free them UMNOBIGDOGS>>>>FREE THEM>>>>free them so that they do not become racists..but love all others as Allah has taught …all his children….as he is the maker..so he is the father..
Kita UMNO runningDOG to go for polls with 'realistic' manifesto
THIS BLOG POST IS TITLED: "MAKCIK HAJJAH SITT AL-WUZARA SEX LIFE WITH ESKAY".
Posted: 27 May 2011 08:27 PM PDT
 
So this blog post is titled: ""Makcik Hajjah Sitt Al-Wuzara Sex Life with Eskay". Because I am getting a LOT of action from them.
I went through JFK this past week. As usual, I request not to go through the backscatter machines. And as usual, they tell me that SINCE I mentioned it at all, they have to give me a "pat-down." Well, without flowers or candlelight or even a nice dinner, I am led into a highly visible corner, after quite a wait for a "female officer". They did ask if I wanted to go somewhere private but I would have felt even MORE
uncomfortable NOT in a public setting. A very attractive African-American woman in her mid-twenties was tasked with searching me. So of course, a skanky male traveler — white, mid-forties, affluent –
decides to stand around and watch. As this nice young woman goes through the whole procedure, I asked her — as I always ask TSA officials — if their training had explained to them WHY this process was necessary or what purpose it serve


d. She said, "No," and her female colleague standing nearby also said "No." Interestingly, the procedure is quite highly eroticized. She kept saying "Now I am going to touch your sensitive area." Which made me think that at least a generation of young women are going to learn where their clitorises are through our US tax dollar, which certainly has a social benefit. But as she was engaged in quite thoroughly going through this process, the skanky white affluent male traveler, who was now done with his own security process, was HANGING OVER THE EDGE of the low barrier, perfectly relaxed, enjoying the scenario! And commenting: "Hey, can I have you pat me down?" "Hey, its always big hairy men with hair on their knuckles patting me down… I want you to pat me down… can I participate? I'll sign a waiver!" Swear to God. So this poor woman — shades of the DSK cleaner, but harassed this time by the State — is being sexually degraded by the process she has to go through; sexually degraded by a passenger; and I feel rather sexually degraded too, by the process put in place by the State. Finally I say sharply to him, "That's enough!" and the two women look at me in surprise. "We thought he was with you!" they say. "Never seen him before," I comment. And we all have a moment of bonding, being women in a state of complete skanked-at-ness. Brought to you by the United States Government.

Now today at 11.00pm one of my room partner was talking about the blue film they had last seen ! Then it was my turn to think that it was nearly a year I had actually seen a good blue film !
ONE DAY IT WILL BE OUR CHILDREN'S TURN TO LOOK AFTER US
Posted: 27 May 2011 08:23 PM PDT
Source: Straits Times 28 May 2011
In the picture above, students learn to bond with the elderly in
Project Heartstrings
, a 2-day event organized by Hwa Chong Institution (HCI) and the People's Association Youth Movement.  The event brought together 100 students and 100 senior citizens from Lions Befrienders, Singapore. The aim was to raise awareness of social isolation among the elderly.
We often think of the generation gap as one between parents and their teenage children. What is often overlooked is the more serious and wider gap between adult children of the baby boomer generation and their elderly parents.
Baby boomers represent the post-war generation. They were brought up in an era of plenty, when education was a right. Their parents, on the other hand, lived through the war years of scarcity, when education was a privilege. Hence, the huge difference in mindset and lifestyle. The result - constant friction and bickering over trivial matters, with both sides experiencing unnecessary emotional pain and remorse.
Most intergenerational bonding projects are targeted at bringing together the elderly and the young. The omission of the sandwich generation speaks volumes about the need to foster better understanding between the elderly and their adult children.
Attempts to organize events to encourage bonding between the older generations have not been very successful. They fail to draw participation from adult children. There are also no counselling services to help adult children cope with their filial responsibilities. Not surprising that Singapore, for example, has to resort to passing a law that makes it mandatory for adult children to support their aged parents.
We need to constantly remind ourselves that our parents took care of us when we were children, and now it's our turn to care for them in their old age. And as the years pass, it will be our children who will take over the role of caregiver. How we treat our aged parents now will determine how our adult children will treat us when we are no longer able to care for ourselves. What kind of role model are we giving them?
IF ONLY THEY BOTH GOT NAKED TOGETHER THEY WILL KNOW I GOOD IN BED
Posted: 27 May 2011 06:31 PM PDT
 We tell you ways to know what your man will be like in the sack (without even going there!)

SO YOU THINK YOU'VE FOUND THE MAN OF YOUR DREAMS? HE'S TALL, DARK AND HANDSOME, FRETS OVER YOU, GETS YOU FLOWERS EVERY NOW AND THEN AND IS LOTS OF FUN TO BE WITH. THOUGH MOST WOMEN WON'T ADMIT IT BUT AS MUCH AS THEY LOVE BEING WITH THE 'PERFECT' GUY THEY CAN'T HELP BUT WONDERING IF HE'S EQUALLY GOOD IN BED. BEFORE TAKING THAT NEXT STEP, YOU DO WANT TO BE SURE THAT HE'S THE GUY FOR YOU. EXPERTS SAY THAT YOU DON'T NEED TO KEEP WONDERING ABOUT HOW YOUR MAN WILL PERFORM BETWEEN THE SHEETS. HIS EVERYDAY BEHAVIOUR ITSELF WILL GIVE YOU AN INDICATION OF WHAT HE'S LIKE.
THIS PROBABLY COMES AS NO SURPRISE TO ALL THE WOMEN OUT THERE, BUT MEN THINK THEY SATISFY THEIR PARTNERS MORE OFTEN THAN THEY ACTUALLY DO, ACCORDING TO A US SURVEY.
85 PER CENT OF MEN SAID THE LAST PERSON THEY SLEPT WITH HAD AN ORGASM, WHILE JUST 64 PER CENT WOMEN AGREED, REVEALED A NATIONAL SURVEY OF SEXUAL HEALTH AND BEHAVIOUR .
THE STUDY FOUND THAT MEN ARE MORE LIKELY TO ORGASM WHEN SEX INCLUDES VAGINAL INTERCOURSE, WHILST WOMEN ARE MORE LIKELY TO ORGASM WHEN THEY ENGAGE IN A VARIETY OF SEX ACTS.
"OUR MAIN POINT IS THAT SEX IS MORE THAN JUST VAGINAL INTERCOURSE," THE DAILY MAIL QUOTED MICHAEL REECE, DIRECTOR OF INDIANA UNIVERSITY'S CENTRE FOR SEXUAL HEALTH PROMOTION, AS SAYING.
"WHILE IT DOES APPEAR TO BE THE MOST COMMON BEHAVIOUR… MANY PEOPLE ARE BEING DIVERSE IN THEIR SEXUAL LIVES," HE ADDED.

AROUND 7 PER CENT OF WOMEN AND 8 PER CENT OF MEN SAID THEY ARE GAY, LESBIAN OR BISEXUAL AND SOME 41 DIFFERENT 'COMBINATIONS OF SEXUAL ACTS' WERE IDENTIFIED.
SOME 80 PER CENT OF 14-17-YEAR-OLDS – 80PER CENT OF GIRLS AND 69 PER CENT OF BOYS – SAID THEY WORE A CONDOM DURING SEX, COMPARED WITH UNDER HALF OF ADULTS WHO ENJOYED CASUAL LIAISONS
PHONE ADDICT - IS YOUR MAN CONSTANTLY ON HIS CELL PHONE? WHILE IT'S GREAT THAT HE'S QUICK ON THE PHONE, IF HE'S SPENDING MORE TIME WITH HIS GADGETS THAN WITH YOU, IT CAN'T BE A GOOD SIGN. OCCASIONAL TEXTING AND UPDATING OF SOCIAL NETWORKING SITES IS ALL RIGHT, BUT IF YOUR MAN IS ALWAYS ON HIS PHONE, IT MEANS HE HAS LESS OF A CONNECTION TO YOU. THIS IS A SURE-FIRE SIGN THAT HE'S GOING TO BE EASILY DISTRACTED IN BED AND THE SEX WILL BE LESS SATISFYING.
GROOMING FANATIC - ALL WOMEN LOVE THEIR MAN TO BE WELL-GROOMED. SOFT HAIR, A STUBBLE THAT'S IN CONTROL AND CLEAN SHORT NAILS ALL GO A LONG WAY IN MAKING HIM ALL THAT MORE DESIRABLE. BUT IF YOUR MAN HAS TAKEN THE METROSEXUAL FAD A BIT TOO FAR AND USES MORE HAIR GEL, CREAM, BODY PRODUCTS OR COSMETICS THAN YOU DO, THEN YOU'RE DATING MR VAIN. AND HIS OBSESSION WILL EXTEND RIGHT TILL THEBEDROOM. A MAN WHO IS OVERLY CONSCIOUS ABOUT HIS LOOKS, WILL BE SELF-ABSORBED SEXUALLY. YOU CAN BET THAT HE'LL ONLY BE THINKING OF HIS WANTS RATHER THAN YOURS.
FOOD MATTERS - DINNER OR MEAL-TIME WITH YOUR LOVER SHOULD BE FUN WITH BOTH OF YOU SHARING YOUR DISHES. HOWEVER, IF YOU NOTICE YOUR MAN REFUSES TO SHARE HIS APPETISER AND THINKS YOU SHOULD'VE ORDERED YOUR OWN PLATE OF FRIES, HE MAY BE UNGIVING IN OTHER WAYS TOO. MEN WHO REFUSE TO SHARE ARE MORE LIKELY TO BE STUBBORN IN BED. YOU'D WANT TO THINK TWICE BEFORE CONTINUING DATING HIM.
DATING A MISER - YES, ALL OF US HAVE DIFFERENT VIEWS WHEN IT COMES TO OUR MONEY AND HOW WE WANT TO SPEND IT. IF YOUR SIGNIFICANT OTHER IS THE TYPE WHO HARDLY EVER TIPS AT A RESTAURANT OR DOESN'T BELIEVE IN EVER PICKING UP THE TAB, DON'T EXPECT MUCH AT HOME. SOMEONE WHO IS STINGY OUTSIDE, WILL BE EQUALLY STINGY IN BED. SO DON'T EXPECT HIM TO SHOWER YOU WITH KISSES AND MORE. ALSO IF HE'S A CARELESS SPENDER, HE MAY BE SOMEONE WHO'S IRRESPONSIBLE IN THE SACK. SO WATCH OUT!
NOT FOND OF PDA – WHILE EVERYONE MAY NOT BE COMFORTABLE WITH PUBLIC DISPLAYS OF AFFECTION, HOLDING HANDS AND PUTTING YOUR ARM AROUND THE OTHER PERSON'S WAIST NEVER HURT ANYONE. MEN WHO GET EASILY EMBARRASSED OR STIFF WHEN THEIR GIRLFRIEND'S SHOW SOME AFFECTION, MAY HAVE SOME SERIOUS ISSUES WHEN IT COMES TO SEX. IT COULD BE AN INDICATION THAT HE IS NOT VERY COMFORTABLE WITH HIS BODY OR YOURS AND MAY HAVE TROUBLE CONNECTING PHYSICALLY. YOU CAN BET HE WON'T BE A VERY SENSUAL LOVER