---
FINAS ~ Bob Lokman berkata benar dalam video ini! Perbetulkan lah industri seni!
Posted: 29 May 2011 10:51 AM PDT
Assalamualaikum Warahmatullahi Wabarakatuh.
Tuan tuan dan puan puan, saudara seIslam sekelian. 
Didalam dunia hiburan dan seni negara kita Malaysia ini, memang wujud keadaan yang diceriterakan saudara Bob Lokman, seorang pelakon, pelawak dan pencipta lagu yang kini berhijrah kedunia politik tanahair bersama parti PAS.
Apa yang disampaikan Bob Lokman didalam ceramahnya didalam video diatas sememangnya wujud dan saya sendiri pernah menyaksikan keadaan yang dikatakan Bob tentang cara krew krew perfileman dan yang berkaitan menjalani kehidupan mereka dengan mengabaikan seruan Ilahi semasa mereka ber'karya'.
Apa yang berlaku didepan kamera dan realiti yang berlangsung dibelakang kamera adalah dua keadaan berbeza.
Didalam hal ini saya menyokong Bob Lokman 100%! 
Kita perlu berani berhadapan dengan keadaan semasa. Setiap kemungkaran dan maksiat yang berlangsung dihadapan kita, samada kita setuju atau tidak, jatuh tanggungjawab keatas kita untuk membanterasnya menggunakan tangan kita @ kuasa yang ada pada kita.
Seandainya kita tak mampu melakukan itu ~ mencegah atau menghentikannya, maka hendaklah kita menggunakan lisan kita ~ apa yang sedang Bob Lokman lakukan - atau sebagai seorang Blogger Muslim - menulis tentang nya dengan niat supaya pihak berwajib akan melakukan sesuatu menurut lunas lunas kuasa dan hak yang ada pada mereka untuk menghentikannya atau mencegah perkara itu menggunakan undang undang.
Jika bab itu pun kita tak mampu, maka hendaklah kita membenci akan perkara maksiat atau kebatilan itu didalam hati kita. Yang ini dah masuk peringkat iman paling lemah ~ koman spanar! Tak leh pakai beb ~ dah masuk keadaan menghampiri kekufuran. Na'uzubillahiminzalik!
Makanya apa yang 'U'start' Bob Lokman kabarkan ini kita kena terima. Ini hakikat keadaan semasa maksiat dan salahlaku yang sedang berlaku didalam dunia hiburan tanahair.
Saya tak nampak bagaimana pihak FINAS akan perbetulkan keadaan ini sebab segala galanya perlu bermula dari peringkat Kementerian sendiri. 
Macamanalah pegawai pegawai FINAS nak berani mengubah keadaan semasa sekiranya Pak Menteri sendiri tak tegor bab ini?
The fish rots from the head down!
Syabas Bob! Didalam hal ini, watashi support sama lu bro!
Teruskan!
Mufti Perak digelar 'Haramsani' oleh Nor Azli Musa dari PAS!!! Parti Islam???
Posted: 29 May 2011 10:11 AM PDT
Sekian lama kita melihat, membaca dan mendengar ucapan penuh maki hamun, kata kata penuh penghinaan dan perkataan perkataan celupar, biadap serta kurang ajar dari mereka yang mengaku ahli Parti Islam SeMalaysia, siap berserban, berjubah dan berjanggut tetapi mulut bagaikan longkang Pasar Chow Kit yang busuk, hanyir dan meloya macam bangkai!
Sungguh biadap dan kurang ajar sekali cara Nor Azli Musa ini memaki hamun Sahibus Samahah Al Fadhil Mufti Perak Tan Sri Harussani Zakaria dengan menggelarkan beliau sebagai '

Haramsani

' sepertimana dibuktikan didalam rakaman video diatas!
Parti Islam macamanakah ini yang boleh membiarkan para penceramahnya mengeluarkan perkataan perkataan yang tak sepatutnya diucapkan terhadap seorang mufti yang dibawahnya bertugas sekian ramai pegawai pegawai Jabatan Agama Islam Perak Darul Ridzuan?
Manakah perginya adab sopan santun yang seharusnya ada pada seseorang penceramah yang mewakili sebuah parti yang berlabelkan Islam?
Saya tak sanggup percaya bahawa inilah cara yang diajar oleh Dewan Ulama PAS kepada ahli ahlinya bila berceramah pada umum!
Islam jenis apakah yang dibawa oleh seorang yang mencaci cerca saudara seagamanya dikhalayak ramai begini?
Saya amat kecewa sekali melihat keceluparan yang dilakukan oleh Nor Azli Musa yang selama ini sering saya lihat berada didalam protes protes begitu begini oleh PAS dan juga keterlibatan dirinya didalam usaha menyampaikan bantuan kemanusiaan kepada penduduk Arab Palestin diGaza.
Sayang seribu kali sayang! Inilah yang terjadi bilamana nafsu amarah menguasai diri seseorang sehingga segala usaha murni dirinya untuk agama dan kebajikan manusia tercemar dengan perlakuan celupar dan teramat biadap sepertimana ditunjukkan didalam video diatas.
Apa ke halnya bermusuh dengan Mufti Perak sampai begitu sekali? Tan Sri Harussani ada buat sesuatu ke terhadap peribadi Nor Azli Musa sampai begini biadap sekali kelakuannya terhadap Mufti Kerajaan Negeri Perak ini?
Hello! Permusuhan politik apekejadahnya ini sampai lupa akan serban yang ada kat kepala? 
Imej alim dan warak Nor Azli Musa hancur musnah dengan caci maki yang keluar dari mulut yang sekian lama ini tak putus dengan takbir dan tahmid memuji dan memuja akan kebesaran Allahu Rabbi sembahan kita semua dan juga Tan Sri Mufti Perak!
Ini tak betul! Saya sungguh sedih melihat perkara ini berlaku. 
Harapan saya agar saudara Nor Azli berastaghfar banyak banyak dan berusaha membetulkan kesilapan ini dengan mengambil pendekatan Dakwah al Islamiyyah dan bermuzakarah dengan Mufti Perak sebagai aktivis Islam yang penuh hemah dan beradab dari lupa akan sifat dan sikap yang sepatutnya ada pada seorang yang berjuang untuk kesyumulan Islam sekian lama ini.
Cara memaki hamun dan menghina sesama Islam ini tak kena dengan cara dan tertib perjuangan mana mana aktivis Islam yang sebenar.
Mudah2an seluruh aktivis dan pejuang Islam seMalaysia tak kira dari parti politik mana sekalipun tidak mudah jatuh keperangkap durjana Iblis dan Syaitan Laknatullah menghancurleburkan segala kebaikan yang mereka lakukan sekian lama ini dengan berlaku seperti apa yang Nor Azli Musa dah lakukan!
Ikutilah tertib dan cara Tuan Guru Prof Dato Dr Harun Din lakukan didalam perjuangan beliau menegakkan syiar Islam selama ini. 
Mudah2an diterima semua!
Ya Allah! Bimbingilah kami ke jalan Mu Ya Rabb dengan memberikan kami Taufik dan HidayahMu Ya Rahman dan jauhi lah kami bermusuh2an sesama kami Ya Malikul Mulk Dzul Jalali Wal Ikram!
Amin Ya Rabbal Alamin.
Nga Kor Ming masuk rumah Melayu tak reti buka kasut~ Memang Buta Adab!!!
Posted: 29 May 2011 08:51 AM PDT
Diantara adat resam dan adab orang orang Timur memasuki rumah sesiapapun disini adalah membuka kasut bila dipersilakan masuk oleh tuan rumah.
Ahli Parlimen Taiping/Adun Pantai Remis DAP Nga Kor Ming ternyata masih belum habis ditarbiyyah Parti Islam SeMalaysia kerna terbukti

buta adab

dengan memasuki rumah orang Melayu Islam dengan berkasut sepertimana terpapar bukti gambar2foto diatas.
Secara kebetulan, saya melayari blog blog tempatan dan mendapati laporan blogger taipingmali yang mendedahkan kebiadapan Adun DAP ini yang dahulunya heboh dikutuk dan dicerca kerana menyalahgunakan ayat ayat suci Al Quran demi untuk kempen politiknya!
Salah guna sebab dia sebenarnya tidak beriman dengan Allah Subhanahu Wa Ta'ala tetapi mahu pula menyalahguna ayat ayat suci Al Quran demi untuk mendapatkan sokongan dan 'political mileage' dari ahli ahli parti pembangkang seperti PAS dan PKR! 
Mursyidul Am PAS boleh pula merestui penyalahgunaan ayat ayat suci Al Quran oleh Nga Kor Ming dan dua tiga yakpursalam yang lain! Alasannya bahawa DAP sudah mula terima Islam!!! Iyolah tu!
Karpal Singh tak pernah berganjak dari keputusannya mencabar barangsiapa yang hendak menegakkan negara Islam di Malaysia supaya melangkah mayatnya dahulu!
Kadang kadang mulut manusia kaffir begini memang terlalu celupar dan ada kebarangkalian cita citanya akan termakbul! Sebagai manusia kita hanya boleh merancang! Allah menentukan!
Pada si Nga Kor Ming, nasihat saya adalah supaya ia belajar akan tatacara dan adab orang orang Timur sebelum beriya sangat menonjolkan kejahilannya tentang cara cara berkunjung kerumah orang terutamanya orang orang Melayu, India, Sikh dan sesetengah Cina.
Bayangkanlah betapa malunya ia sekiranya pihak tuan rumah menegurnya dihadapan semua orang dengan bertanya 'Tak reti bahasa ke kamu ni? Naik atau masuk rumah orang dengan berkasut???'
Nak letak muka kat mana nanti brader bila kena 'sound direct' macam tu?
Nampak sangat tarbiyyah pihak PAS belum sampai ketahap mana pun bila melayan puak puak DAP seperti Nga Kor Ming ini! 
Niat nak membantu memang bagus tetapi buta adab memasuki rumah orang dengan berkasut tu saya harap jangan berulang lagi! Kor Ming kena tahu bahawa rumah rumah orang Islam ada tatacaranya jika nak masuk! 
Tak boleh main terjah sahaja! Ngeh dan yang lain lain dah buka kasut mereka, macam mana si Kor Ming boleh terlupa? Takkan mereka tak perasan?
Kor Ming kena belajar terima hakikat bahawa ia terlepas pandang dan minta maaf bukannya menuduh orang UMNO membelasahnya tanpa alasan!
Gi belajar lah brader! Ada laman web tentang adab orang orang Malaysia kat

sini

. Tak susah tara mana pun. Tinggal mahu tak mahu saja. :)
*

Gambarfoto dari blog ngakorming.com

:)
This posting includes an audio/video/photo media file: Download Now
KimQ's Voice -- Strong and Focused
Posted: 29 May 2011 08:50 AM PDT

No political party is entitled to defend Putrajaya
By
Kim Quek
There is something disturbing in Premier Najib Razak's repeated and frantic calls to defend Putrajaya. The latest, when he was addressing youth at the World Youth day gathering in Putrajaya on May 28.
After asking the youth "Will you defend Putrajaya with me?", and getting a positive answer, he then shouted: "Defend Putrajaya! Defend Putrajaya! Defend Putrajaya!"
His equally paranoid call on an earlier occasion was during the recent 61st Umno general assembly when he shrieked: "Even if our bodies are crushed and our lives lost, brothers and sisters, whatever happens, we must defend Putrajaya".
Any novice to this country must have imagined that Malaysia must be facing an imminent foreign invasion, otherwise, why should its prime minister be exhorting so earnestly for the defence of its administrative capital?
But we Malaysians know that this is not a case of foreign invasion, but a reflection of the sick mentality of the incumbent political power which has ruled this country without interruption for more than half a century.
Umno has held on to its hegemony for so long that it cannot differentiate between what belongs to the party and what belongs to the people.
Putrajaya is no private property of any political party, but a public asset that belongs to all Malaysians. So no one is entitled to talk about defending Putrajaya, unless the country is facing an invasion by a foreign power.
In fact, Umno is only a guest tenant to Putrajaya, invited by the people to administer the country for a stipulated period. Upon termination of that term of office, the landlord, who is the people, will invite bidders, who are the political parties, to tender their bids for the next term of office. The successful bidder will then be invited to take tenancy in Putrajaya and run the federal government for the next term.
Hence, there is nothing for Umno to defend, except the transient power which ends upon expiration or termination of the term.
It is totally out of order for Najib to talk about defending Putrajaya, least of all its defence with blood and dead bodies.
How would Americans think, if President Obama calls for the defence of Washington DC when facing his adversary in the next presidential election? Surely they would be thinking their President has gone mad! And if he goes on to talk about shedding lives, l bet many will begin to faint.
The concept of lordship over the administrative capital as exclusive private domain by any political power is so alien to the principles of democracy that none would even dream that it could ever be uttered by a contestant for political power.
But in Malaysia, Najib seems to be mighty proud for staking that claim over Putrajaya and for being roundly applauded for doing that.
This is how far Najib and Umno have strayed from the original democratic ideals with which our fore fathers had founded the nation!
Not only is Umno obsessed with clinging on to political power as an exclusive right and a personal death-or-live battle, but even the people's mindset have been so conditioned by Umno's lengthy hegemony that, many fail to see Najib's political posture as an appalling affront against the fundamental tenets of our constitution – that the people are the masters, not the ruling power.
Worse than his claim over Putrajaya, is Najib's inherent threat to resort to extra constitutional means - violence and bloodshed as intimated by Najib – to retain power when facing electoral defeat or potential defeat. Such act, if transpired, is clearly treason to our people and our Constitution. And the latter is the binding contract among the various communities upon which they had jointly achieved the country's Independence.
Malaysians must therefore ponder deeply whether they can entrust their fate to a political power that does not hesitate to tear up the Constitution and defy the people's choice, when facing an unfavourable electoral outcome.
On a separate note, we must strongly condemn BN's exploitation of the youth gathering event in Putrajaya to launch its political propaganda. This festival, organized at great public expenses, is supposed to be a celebration of youth, and therefore a non-political event. But BN has turned it into a BN political platform where it volleyed vicious attacks against its political opponents. This is but another one of many instances of BN's rampant abuse of authority and public funds to advance its parochial political interests, and therefore another important consideration for the people to ponder when weighing the comparative trustworthiness of the existing contestants for political power.
Kim Quek
29.05.2011
THE PURITANISM OF UMNOISM IS INTRIGUING THE STUPDITY OF NAJIB IS SEXUALLY STIMULATING
Posted: 29 May 2011 07:00 AM PDT
It is remarkable that confronted by an electoral uprising against 34 years of uninterrupted rule in West Bengal, the Communists have reacted with the same self-righteous indignation as Puritans faced with the frivolity of reprobates. Politburo member Brinda Karat has reminded those writing the CPM's obituary that the party was born out of the 'class struggle' in West Bengal. She avers the party will draw the lessons from a defeat in the electoral arena—always a sideshow in the Communist scheme of things—but it won't be the same one the revisionists, the faint-hearted and other class traitors are anxious to impart. Ms Karat has implicitly reaffirmed her unbending faith in revolutionary intransigence. In time, other Comrades will complement her logic with copious quotations from Marx or Lenin 'himself'.
It is intriguing why Communists invariably suffix the names of their gods with the term 'himself'. It's never 'Marx said' but always 'Marx himself said'. 'Himself' is perhaps the force multiplier that theologians need. The idea is not to impress non-believers but to baffle possible heretics and potential revisionists.
It is, in fact, quite inexplicable why a movement that flaunts its 'scientific' credentials is so fearful of revisionism. Since 'scientific socialism' has deemed that the victory of socialism is not merely desirable but also inevitable, today's Communists should be as smug as the nut next door who claims to have calculated the precise date on which the world will end. If "history" is indeed "on our side", as the flamboyant Fidel Castro once said, why should Commies be obsessive about textual citations from the Collected Works?
In ordinary parlance, 'revisionism' involves the ability to think, re-think, fine-tune, question and even challenge existing beliefs and assumptions. It's because Galileo was a revisionist that the Flat Earth Society is close to extinction. Yet, 500 years ago, the fear of falling off the edge of the earth haunted explorers and even became a deterrent to commerce in some societies.
To Communists, however, revisionism is about as abhorrent as 'popery' was to Anglicans in 17th century England. The analogy with the abstruse sectarianism that gripped Christian Europe after the Reformation is appropriate. For the fiercely God-fearing Puritans the good life meant rediscovering Biblical fundamentals.
More than a century ago, Lenin 'himself' wrote an article whose contents are no longer worth recalling. But it had a very catchy heading that summed up his sectarian conceit: "Better fewer, but better." Whereas most 'bourgeois' parties engaged in the thankless task of contesting elections and satisfying individual ambition, the Leninist party aspired to be a version of the old ICS—an elite group of the highly motivated with the moral backbone to carry an entire Empire, preferably on its sola topi but if need be, on a majestic Red Flag and to the robust notes of Internationale. Just as the ICS sahibs were presumed to know what was good for the 'real India', the 'vanguard' Leninist party was meant to epitomize the most advanced sections of the 'struggling masses'. The people were mute; the party spoke for them.
Not unnaturally, the people occasionally got a little excitable, demanding the impossible. These resulted, as Bertolt Brecht once rued, in the party having to abolish the people ('counter-revolutionaries') and having to elect a new one. In November 1989, the collapse of the Berlin Wall triggered a chain of events that culminated in the collapse of the Soviet Union. Throughout Eastern Europe, popular fury was directed at a self-serving party bureaucracy that combined tyranny with monumental socialist inefficiency. The grim inheritance of Lenin and Stalin were brushed aside as people chose personal freedom over regimentation and shortages.
What is interesting is the different ways in which Communists reacted to the Soviet collapse. In Europe, it resulted in Communist parties either going into voluntary liquidation or becoming virtually indistinguishable from the Left-wing of social democratic parties. As a political movement, Communism in Europe died with the 20th century. In India, however, the rejection of the Red Flag in Moscow and the erstwhile 'socialist bloc' was interpreted with dogmatic eccentricity.
The socialist experiment faltered, it was argued, because the party was injected with revisionism and had had deviated from Communist principles. For many who learnt their Marxism in parties like the CPM, the key to the future doesn't lie in less Leninism (as the Europeans imagined) but even more of it. For the CPM, the God didn't fail – the people were unworthy and the Comrades didn't pray hard enough. On such profound certitudes are politics in India based.
UMNO's problems. Some people assigned to themselves the right to determine who should or shouldn't be in UMNO. They then judge others in terms of their thinking and criteria. Pak Lah or any others can't measure up to Mahathir in many aspects. But they are not necessarily inferior to Mahathir. They are different. They must be judged on objective terms, not the subjective standards of one Mahathir.
Najib doesn't seem to do things anything right according to Mahathir. The old man is so stressed up and suffers physical debilitations.
The problem worsens to become person-centric. One person determines and defines UMNO. Inevitably, the right to be in or out of UMNO depends on loyalty to individuals and not on the political ideals, ideas, shared vision and so forth.
The problems become multiplied many fold, when UMNO 'farms' out the responsibility of sieving and determining leadership material to hired hands outside the party. These are the intellectual hacks and overrated audio visual and print media practitioners who arrogate to themselves the ultimate discretion of how should UMNO behave.
Hence there are people who think UMNO is the personal kingdom of some people and that the issues of these individuals exist to inherit the kingdom of UMNO.
What has UMNO become then? It becomes an organization feudal in nature where its leadership depends on being from the right loins. The leadership in UMNO is therefore no different from the method of ascribing extraordinary abilities by being conceived from a buloh betong, materializing from a cow's vomit or suddenly beamed from across the terrestrial highs to bukit si guntang Mahameru.
From thereon, the majority of UMNO suckers pledged eternal loyalty to the blue blood.
There is something disturbing in Premier Najib Razak's repeated and frantic calls to defend Putrajaya. The latest, when he was addressing youth at the World Youth day gathering in Putrajaya on May 28.
After asking the youth "Will you defend Putrajaya with me?", and getting a positive answer, he then shouted: "Defend Putrajaya! Defend Putrajaya! Defend Putrajaya!"
His equally paranoid call on an earlier occasion was during the recent 61st Umno general assembly when he shrieked: "Even if our bodies are crushed and our lives lost, brothers and sisters, whatever happens, we must defend Putrajaya".
Any novice to this country must have imagined that Malaysia must be facing an imminent foreign invasion, otherwise, why should its prime minister be exhorting so earnestly for the defence of its administrative capital?
readmore
Posted: 29 May 2011 03:50 AM PDT
The Malaysian Insider's article on
SPAD inherits messy legacy from CVLB: Should we be surprised?
was written by Moaz Yusuf Ahmad, a member of Transit, Malaysia's public transport forum, .....

..... and the answer to his rhetorical question is of course:
No, we aren't in the least!

The article reveals the horror story that has been CVLB, but it's a story that we have become familiar with about several Malaysian public and government backed organizations/departments over the past 25 over years.

Banks, GLC, universities, the Malaysian Civil Service, Police, MACC and what else have you.

Once Malaya and then Malaysia was the hallmark of excellence in how a democratically elected government operated.

What happened?

Surely it's not just about stuffing up the organizations by staffing them up with incompetent people, though there is that too.

It seems as if at some stage there was a humongous avalanche, where Malaya/Malaysia's old excellence in governance was hurled down the slippery slovenly shameful slope, a slope which is now bereft of good management, discipline, merit, respectability and credibility.

Our institutions have gone to the dogs, with even some, like banks, universities and the police, in repetitive fashion.

Someone or some people has/have a lot to answer for the regrettable plunge towards zero.
Wait a minute Muslims, you can't drink that!
Posted: 29 May 2011 03:17 AM PDT
by the Anti Jihadist
The watchful folks in the Malaysian Government are hot on the case of a '
halal beer
' that's surfaced here in Malaysia.
An unnamed minister from the Prime Minister's department--near the very top of the Malaysian power structure--has stated that this so-called halal beer, marketed as having only .01 percent alcohol, had been tested by Malaysia's Religious Police and found to have .5 percent alcohol. This goes way over the line; Allah have mercy! Naturally, in the interests of protecting Muslims and Islam, such a beverage will be immediately banned and removed from shops. Arrests of the producers, distributors and/or sellers of said forbidden beverage are likely to follow.
The fact that the Religious Police ('JAKIM', or 'Islamic Affairs Department' in English) in Malaysia routinely conduct such investigations into such minutiae, with sweeping powers of investigation, arrest, and imprisonment, will raise no eyebrows in Malaysia. But for those outside of this country, such a state of affairs should aptly illustrate the totalitarian nature of Islam. JAKIM enforcers are a common sight in Malaysian hotels, nightclubs and other 'sinful' spots, as these thuggish figures struggle to keep Malaysia's Muslims 'safe from vice'. And woe betides anyone who happens to be in their way.
In fact, to be a Muslim here, or anywhere else for that matter, is exactly like being treated as a child. You are permanently rendered as incapable of exercising judgment or having any appreciable freedom in your life, beholden to an never-ending list of 'do's' ('halal') and 'don'ts' ('haram') that govern every conceivable facet of your public and private existence. When Muslims aren't busy persecuting insufficiently devout Muslims or followers of competing belief systems, they endlessly argue about what's 'haram' or 'halal' in our fast-changing modern world, according to 1400-year-old religious teachings from the deserts of Arabia.
So, if you consciously decide to become a Muslim, you might as well turn your brain off--you won't need that where you're headed!
DATUK SERI ANWAR IBRAHIM.NAJIB'S ILLUSIONS OF UMNO DEMOCRACY
Posted: 29 May 2011 02:39 AM PDT

The internet is an extraordinarily powerful tool. It has changed how we do business, how we do politics, and even how we change our leaders – at least some of the time.
But the ease with which we now communicate – the efficiencies we take for granted – can give us a false sense of how easy it is to follow through on some of these changes. Despite the importance of social media in fomenting revolution, and even in deposing deeply unpopular leaders, governing in the real world is not as easy as governing online.
This struck me last week when I listened to one of Egypt's new online generation talking enthusiastically about the future. His thesis was that once people have tasted freedom, once the oppressive leader is gone, they will naturally live as free people and build a new, democratic society without much central oversight. I wish I could believe that it will all be as easy for Egyptians as running a Facebook group was.
Generally, the internet is a tool for people whose basic needs are already being met. Members of the upper middle class in any country, including Egypt, often seem to forget that for most people, the value created on the internet cannot feed, clothe or house their families.
In centuries past, revolutionaries were farmers or blacksmiths or merchants; now they are Google executives and Facebook friends. The internet joins together the elite of the world. But it also cuts people off from the past and a sense of history. The exciting things that happen online are not the same as what happened offline in countries such as Romania and Kyrgyzstan, let alone in Libya.
In fact, habits are often stronger and more persistent than either insights or presidents. People may want a world free of corruption, but it's hard to understand how such a world works. When you are starting a new company and you need to get it registered quickly, how can you get the bureaucrat to do his job and move your paperwork along?
In many countries the answer is obvious. And, from the bureaucrat's point of view, his or her salary might be pathetic, but it comes with a steady stream of facilitation payments. That bureaucrat does not feel corrupt; he plays by the rules he signed on for when he got his job, and he does not want them changed mid-game.
There are many people in this or a similar position, and they all depend on one another to make a corrupt system work. It is difficult for them to understand how it could be any other way. Of course, they know from the media – indeed, from the internet – about transparency and freedom, but without quite understanding how it works.
I am often reminded of the Russian tech entrepreneur I talked to many years ago, back when the Soviet Union was falling apart. "It's great!" he said. "Our government is going to set free-market prices just like yours."
I don't want to be gloomy. People in the Middle East and other emerging democracies have definitely changed from their recent experiences, and their expectations have been raised. But they need to understand the challenges they face in building a new society.
The internet may have made this transition seem too easy. In online communities, it's fairly easy to build consensus. Membership is voluntary, and people who don't like the rules can leave. Or they can be kicked out: there is no requirement for due process.
Moreover, many resources are infinite on the internet. People aren't fighting over scarce housing or lucrative jobs. They are befriending one another, sharing information, and accumulating status, points, and experiences.
But in the real world, even online, things aren't so easy. Consider eBay, a wonderful and mostly successful melding of the online and offline worlds. It has a huge budget devoted to deterring and detecting fraud, and it can simply ban fraudsters. The company's success makes governance look easy, but that success is misleading. Unlike eBay, a country needs to put its criminals in jail and keep them there; it can't simply cancel their accounts.
Every society has its bad actors, and it needs an established (and accountable) authority to deal with them. Otherwise, the bad guys will take advantage of the good ones.
What that means is that the newly freed people of the Middle East must toughen their idealism with hard realism. They need to figure out how to negotiate and work with existing power structures – such as the army and the Muslim Brotherhood in Egypt. Like it or not, they cannot do that as a brigade of flower children; they need to pick leaders who can speak for them and negotiate for them. The modernisers need to form a coherent force – and most likely a political party – rather than simply relying on the wisdom (and good behaviour) of the crowd to govern the country.
That does not mean that activists should abandon the cause for which they are fighting. But it does mean understanding that even democracy has many rules – ideally rules that a majority has chosen.  But they are mostly not chosen directly; those rules generally reflect compromises among elected representatives who can argue and negotiate in person, reflecting the overall preferences of those who elected them.
That may sound a little too much like the old system, but it doesn't have to be. Online, if you don't like the rules, you can simply leave and form a new community. Offline, you need to stay and help to change the rules for everyone. 
Tindakan Datuk Seri Najib Razak menghimpunan belia-belia di Putrajaya dan merayu undi mereka memperlihatkan rasa gusar perdana menteri terhadap kebangkitan golongan itu yang kini menuntut perubahan, kata Ketua Pembangkang Datuk Seri Anwar Ibrahim.
Najib semalam mendakwa sejuta belia yang hadir di Putrajaya untuk sambutan Hari Belia Negara selama tiga hari, kononnya untuk "mempertahankan" pusat pentadbiran negara dari diambil alih oleh Pakatan Rakyat.
TV Selangormemetik Anwar berkata, hakikatnya ialah persatuan-persatuan belia itu dibawa untuk mengisi pelbagai program riadah yang dianjurkan bersama oleh agensi-agensi persekutuan dan badan-badan koperat sempena Hari Belia Negara.READMORE  http://themalay-chronicle.blogspot.com/2011/05/datuk-seri-anwar-ibrahimnajibs.html
KEHILANGAN UMNO DAN UTUSAN DI MUKA BUMI BUKAN ERTI MELAYU HILANG
Posted: 29 May 2011 01:56 AM PDT
As the days go by, I get more apprehensive at the news that greets me daily. Shaking my head in disbelief, at some of the nonsensical antics disguised as news, I sometimes ask myself "What has become of this nation." Not a day goes by, without someone coming up with a ridiculous claim that shatters the Malaysian dream.
There seems to be a lot of hate mongering, from certain segments of society directed at the non-Muslims in this country. The Government has stepped aside, refusing to intervene. Their excuse – Free Speech – is the new stand announced by Law Minister Nazri Aziz.
Many Ibrahim Ali wannabes have emerged echoing the same anti-Chinese and anti-Indian messages. Using Religion as the rallying force they are now branding other citizens as non-Muslims, out to subvert the political power of the Muslims in this country. Nakhaie Ahmad and Kazim Elias are some of those who have made their stand lately. Muslim Convert Ridhuan Tee is also part of this pack, which has made sweeping statements reprimanding non-Muslims and reminding them not to go overboard in their demands.
Religious war delared on the Chinese and Indians
The rallying cry these days seems to be to call on Muslims to be alert for a possible threat to their faith and their way of life. It may be the tip of an iceberg, but reports are surfacing that religious Clerics are being roped in to echo this sinister message of Hate in many parts of the country.
If there is any truth in their allegations, even I as a Muslim will take necessary action to defend against any invaders of Islam. However, this ridiculous message seems to smell like a poorly hatched plot by desperados out to defend their power. Anyone with any sense can see through these ludicrous claims, and I am saddened that there are Muslims out there who are still willing to use the religious card to rouse and trick the Muslims into believing such a tall tale.
The real enemy of the Muslims is the unabated corruption in this country committed in the name of Religion. It is the unfair policies that divide the races, the monopoly of power held by the government which they abuse to rule without rules, and the injustice committed against the citizenry.
Many Muslims are blind to the devious machinations of the ruling elite who continue to deceive, while pretending to be religiously pious. Completely ignoring the Constitutional Rights of the non-Malays, they go about trying to convince the Malays with their gross untruths, and begging them to help defend the nation from going to the dogs. But the moderate Malays find such injustice hard to swallow.
Non-Muslims and non-Malays praise moderate PAS
PAS, a political party in the Pakatan Rakyat coalition, is a shining example of moderate Islam.
PAS leaders continue to espouse their struggle to uphold the sanctity of Islam, as well as to protect Malaysians of all races regardless of their faiths. Refusing to be racially biased, which is wrong in Islam, PAS is regarded by many Malays with respect.
This poses a big headache for UMNO as PAS seems to be the opposite of what UMNO represents. PAS continues to fend off the unfair abuses hurled at the non-Muslims and non-Malays by UMNO, while holding on to their struggle for a just and caring Islamic state that does not discriminate against other religions.
PAS' extremist and fundamentalist tag so unfairly pinned on it by UMNO no longers frightens the nation. Instead, the non-Muslims and non-Malays see in PAS an umbrella, a champion for justice against the cruel oppression of UMNO. Today, PAS is the biggest stumbling block to UMNO's future plans, which are about to disintegrate.
Together with DAP and PKR, PAS will be a blessing for this country. If the Pakatan coalition goes on to rule this nation, PAS can count on its partners for support and advice and together they can govern Malaysia with wisdom and integrity.
Sadly, the Barisan Nasional has not learnt its lesson after its trouncing in the last GE. It has not acknowledged its mistakes, nor has it repented. It is still a big bully, stubborn and deaf to the wishes of the people and it is still taking the people for granted. It is time to call their bluff.
After all, if Pakatan Rakyat misbehaves, Malaysians can still return the mandate to the BN in five years' time. Looking back to the last GE in 2008, BN managed to scrape through because of the non-Malay vote.
It will be interesting to see if Sabah and Sarawak will continue to support BN this time around. Unable to regain support from the non-Malay electorate, it will be up to the Bumiputras in East Malaysia to decide the BN's fate. A sad indictment on Prime Minister Najib Razak, who is also president of UMNO.
 Kerajaan tidak memiliki kesungguhan untuk membela nasib rakyat apabila membuat keputusan menaikkan tarif elektrik yang akan diumum Isnin ini, kata Ahli Parlimen Selayang, William Leong.
Ini kerana katanya, kerajaan lebih berminat menanggung subsidi kepada sektor korporat seperti Syarikat Pengeluar Tenaga Bebas (IPP), bernilai RM19 bilion hingga RM22 bilion setiap tahun, berbanding menjaga kebajikan rakyat.
"BN tidak prihatin kepada rakyat walaupun menggunakan slogan rakyat didahulukan. Buktinya subsidi kepada IPP tidak ditarikbalik sedangkan mereka menikmati subsidi yang tinggi.
"Tetapi rakyat terpaksa bayar harga elektrik dengan kadar yang mahal," katanya dihubungi Keadilandaily.com.
Menurutnya, ketika banyak banyak negara mengeluarkan subsidi untuk menampung keperluan rakyatnya, Malaysia pula mengambil langkah mundur untuk membantu syarikat kroni besar.
"Ketika harga makanan dan barangan semakin naik, negara seperti Taiwan dan Korea memberikan subsidi yang besar kepada rakyatnya supaya tidak merasa terbeban dengan kenaikan tersebut.
"Negara kita pula, yang mengeluarkan minyak dan mampu menjana tenaga elektrik, menaikkan tarif elektrik," katanya yang juga Bendahari Agung KEADILAN.
Katanya, keputusan itu lebih menguntungkan syarikat konsesi IPP yang besar sedangkan fungsi membekalkan tenaga itu sepatutnya diambil alih TNB sendiri.
Kuasa yang dijana IPP katanya, memenuhi 60 peratus daripada keperluan tenaga negara berbanding TNB yang hanya membekalkan 40 peratus.
Methodists To Open Private Schools As Public Standards Fall - By Shazwan Mustafa Kamal.
Posted: 29 May 2011 12:03 AM PDT
The Methodist Church in Malaysia believes private schools are a solution to the declining academic standards in public schools, and have begun building them in areas where there is an absence of government schools.
The Methodist Church, together with other Christian denominations, has been involved in education since the 1800s when the British first came to the Malay Peninsula. The Church has 26 secondary and 42 primary schools assisted by the government, six private schools and a private college.
Bishop Dr Hwa Yung said the Methodist Church's mission now was to build a "string of private schools" so that Malaysian youth would have the best possible education.
"We have now also begun building private schools which seek to contribute towards raising academic standards in this country, something which unfortunately seems to have gone into freefall in the last few decades," Yung said in his foreword of the Methodist Boys' School Penang's 120th anniversary souvenir programme.
The Penang school celebrated its anniversary yesterday in a dinner attended by Penang Chief Minister Lim Guan Eng.
Hwa Yung lamented the fact that most mission schools were now under government control and run according to policies which were not too "sympathetic" to this category of schools.
However, he said the Methodist Church had begun setting up schools for rural folks who have no access to government schools, and that one of these "private schools" has been recognised by the local education department and its students have been allowed to sit for year six and form three exams.
"We are seeking more human and financial resources to begin work in other areas of special needs, whether they be poverty, physical or developmental disabilities," the bishop added.
According to the Church, its sixth-form college, the Methodist College here, is aspiring to reach university college status by the next decade.
Courtesy of The Malaysian Insider

Program angkasa lepas Pakatan meneroka Marikh
Posted: 29 May 2011 12:02 AM PDT
Kononnya Pakatan Rakyat mencapai hasrat untuk memerintah negara.
Buat sementara menunggu Anwar menghabiskan tempoh masa hukuman minima di Sungai Buloh Resort untuk peliwat dan penzina, Haji Hadi menjadi Perdana Menteri.
Lim Kit Siang Timbalan Perdana Menteri dan banyaklah pemimpin DAP pegang jawatan Menteri. Tony Pua jadi Menteri Kewangan Ronnie Liu jadi Menteri Dalam Negeri. THeresa Kok manjadi Menteri Pertahanan. Lim Keng Yaik masuk DAP dan jadi Menteri Penerangan.
Mat Sabu pegang Menteri MOSTI. Dia terfikir nak meniru macam BN untuk hantar angkasawan.
Hadi setuju dan dia mahu buat program lagi hebat dari itu. Hadi arahkan MOSTI kaji kemungkinan untuk program hantar ke Marikh.
Dia bercadang untuk memanggil beberapa pemimpin Pakatan Rakyat untuk jadi angkasawan. Ada sedikit risiko. Perjalanan ini makan masa beberapa tahun, maka ada kemungkinan mereka tidak akan kembali.
Calon pertama ia-lah Nizar Jamaluddin. Dia seorang engineer dan satu calun yang sangat sesuai.
Selepas dipujuk-pujuk, Nizar agak setuju. Semasa itu, Nizar tak ada kerja nak buat. Kerjaya politikny adah berakhir. Dia kalah di kawasan ADUNnya. DAP memrintah Perak tapi mereka letak Melayu DAP sebagai Menteri Besar.
Hadi tanya Nizar, berapa dia mahu.
"Sejuta" jawapnye.
"Kenapa banyak tu?"
"Saya nak sumbangkan untuk anak-anak yatim. Untuk keluarga , saya dah sapu masa 8 bulan jadi MB. Ini nak tebus dosa."
Calon seterusnya adalah Dr Hatta Ramli. Dia pun sesuai. Seorang doktor dan belajar sama dengan Anwar di MCKK. Nik Aziz masih terus memegang Kelantan selepas PRU tapi Hatta kalah di Kuala Krai.
Hadi tanya soalan yg serupa.
Mengenangkan Anwar lama lagi baru nak keluar, Hatta rasa baik dia ke Marikh. Dalam fikirannya, dia yakin dapat kembali dan akan kembali sebagai hero negara. Boleh naikkan populariti untuk cuba balik kerusi Kual Krai.
Dr Hatta jawap, "2 juta ringgit.
"Sejuta saya nak bagi kat family saya. Yang sejuta lagi saya nak derma untuk kawasan dan diurus oleh keluarga saya. Ini jasa yang saya mahu diingati."
Dah panggil Jurutera dan Doktor, Hadi nak panggil pulak seorang peguam. Lalu Hadi panggil Dr Aziz Bari. Dulu masa kerajaan BN, dia berguna sebagai kaki bising. Pakatan naik, dia masih bising lagi macam-macam.
Lepas Hadi terangkan dan bertanya pandangannya. Hadi bocorkan kepada Dr Aziz bahwa dia akan pilih salah seorang antara Nizar, Dr Hatta Ramli dan Dr Aziz. Semua sanggup dan nyatakan berapa mereka mahu.
Lalu Hadi tanya, berapa pula dia mahu. Dr Aziz diam sebentar. Dia sedar dua yang lain adalah kumpulan Erdogan. Nampak sangat Hadi nak guna program ini untuk nyahkan orang-orang program. Macam ada powerplay.
Dia berbisik ke telinga Haji Hadi.
"Tiga juta ringgit."
"Kenapa lagi banyak dari yang lain?" Hadi tanya.
"Letaklah jumlah yang lebih patut dan memadai."
Dr Aziz menjawap, "Tok Guru kasi saya 3 juta. Saya beri kamu sejuta. Sejuta saya ambil. Kemudian yang sejuta lagi tu, kita kasi Nizar. Biar dia saja pergi ke Marikh."
Barcelona Take Their Place Among The All-Time Greats.
Posted: 28 May 2011 11:58 PM PDT
Pep Guardiola may deny all comparisons with the past but the breathtaking display of his Barcelona prodigies in the Champions League final has confirmed the elevation of his team into the football stratosphere.
Their 3-1 demolition of English Premier League champions Manchester United at Wembley, of all places, was a masterful demonstration of football played at the most sublime level.
Barcelona coach Guardiola, collecting his second Champions League crown in three years, has produced a team of talents who can now stand comparison with those wonder sides of the past — Real Madrid, Ajax Amsterdam and AC Milan.
In United, Barcelona had opponents who are hardly nobodies. This was their third Champions League final in four years, they have just won the Premier League by nine points and they boast in Wayne Rooney one of the best players in the world.
Yet United, in a Wembley stadium with 'home' fans far outnumbering Catalan followers, could manage just 37 percent possession, muster only one shot on goal and not earn a single corner, so much did they fall under the spell of Lionel Messi, Xavi, Andres Iniesta and their supporting cast.
It was the most comprehensively magical display in a European final since AC Milan trounced Barcelona 4-0 17 years ago in Athens.
When Barca play the way they did on Saturday it is hard to imagine any team surviving their onslaught. The close control in tight situations, swift inter-passing movement and clever working of spaces to create chances are simply devastating.
They force opposition fans to look on with jaws dropped in admiration of football played at a level of skill and sophistication one would not even dare dream about.
Beaten Manchester United manager Alex Ferguson acknowledged their pre-eminence. "In my time as manager I'd say they are the best team I've faced." he said. "Nobody's given us a hiding like that but they deserve it because they play the right way and they enjoy their football."
Barcelona certainly play with a joy which echoes the truly great teams of the past.
Similar verve
The Real Madrid side which won the first five editions of the European Cup between 1956 and 1960, culminating in a 7-3 thrashing of Eintracht Frankfurt in the 1960 final, played with similar verve.
Ferenc Puskas scored four and Alfredo Di Stefano three that day in a display of attacking flair which set a benchmark for European club football.
Ajax, with Johan Cruyff in his pomp and Johan Neeskens in close support, were the next great team to enchant neutral fans with three consecutive European titles in the early 1970s.
Their "Total Football", which saw players constantly switching position and mesmerising opponents, was a spectacular tactical innovation which changed the game forever.
The AC Milan side which won the European Cup in 1989 and 1990 is probably the only team since to inspire the same kind of awe. That side, built around the Dutch trio of Marco Van Basten, Ruud Gullit and Frank Rijkaard, matched skill and athleticism to produce classic entertainment.
Barcelona have still to amass the titles of these illustrious predecessors. Competition is undoubtedly tougher these days and it is notable that no team has ever won the Champions League twice in succession since it was introduced in the 1992-93 season.
But Barca have now won two of the last three European titles and three in six seasons and it would be rash to think that Messi, at just 23, will have stopped inspiring his team to collect ever more trophies.
Courtesy of Reuters
MELAYU CELUP MENGHAMBAKAN MELAYU JATI
Posted: 28 May 2011 11:14 PM PDT
ANI: TNB GOT A RAW DEAL. WHEN THE GOVERNMENT DECIDED TO APPROVE THE REQUEST FROM TENAGA NASIONAL BHD (TNB) TO RAISE ELECTRICITY TARIFFS, THE PLIGHT OF THE NATIONAL UTILITY TOOK CENTRE-STAGE. NATURALLY, THE KNEE-JERK REACTION AMONG CONSUMERS WAS NOT FAVOURABLE. THE 12% RISE IN TARIFFS APPEARS TO HAVE RE-IGNITED THE DEBATE ON HOW GOOD THE GOING IS FOR INDEPENDENT POWER PRODUCERS (IPPS) AT THE COST OF THE NATIONAL UTILITY'S CASHFLOW. THE IMBALANCE BETWEEN THE GENERATION SIDE OF THE BUSINESS AND THAT OF TRANSMISSION AND DISTRIBUTION HAS PUT A STRAIN ON TNB. TO UNDERSTAND THE PRIVATISATION OF THE POWER GENERATION SECTOR, ONE NEEDS TO TAKE A LOOK BACK IN HISTORY TO UNDERSTAND THAT THE COUNTRY'S IPPS CAME ABOUT AS A RESULT OF THE GOVERNMENT'S EFFORT TO ADDRESS THE ISSUE OF STABLE POWER SUPPLY AFTER THE LANDMARK 1992 BLACKOUT. LENDING A HISTORICAL PERSPECTIVE TO THE ISSUE OF IPPS IS FORMER TNB EXECUTIVE CHAIRMAN TAN SRI ANI AROPE, WHO HEADED THE NATIONAL UTILITY FROM 1990 TO 1996. IT WAS DURING HIS TENURE THAT THE FIRST GENERATION IPPS WERE CREATED. STARBIZ DEPUTY NEWS EDITOR JAGDEV SINGH SIDHU HAS THE STORY.
STARBIZ: WHAT HAPPENED AFTER THE FIRST MAJOR BLACKOUT IN 1992?
ANI: TNB HAD PLANS IN PLACE TO PUMP OUT MORE ENERGY BY BUILDING PLANTS IN PASIR GUDANG AND PAKA. FINANCING WAS NO PROBLEM AND OUR CREDIT STANDING WAS VERY HIGH. WE HAD THE LAND ACQUIRED AND WERE READY TO MOVE IN AND PLANT UP.BUT WE WERE TOLD BY THE ECONOMIC PLANNING UNIT (EPU) THAT IT HAD ITS OWN PLANS. WE CAUTIONED EPU THAT IF THOSE PLANTS, WHICH WOULD TAKE TWO YEARS TO COMPLETE, WERE NOT BUILT, MALAYSIA WOULD GET ANOTHER MAJOR BLACKOUT. WHEN YOU HAVE A PLACE WITH 250 ENGINEERS, IT DOES NOT MAKE SENSE TO SAY (THE BLACKOUT) IS BECAUSE OF POOR PLANNING. BUT THE EPU SAID IT HAD ITS OWN PLANS AND WE WERE TOLD TO SURRENDER THE LAND.THEN IT SURFACED THAT IT WANTED TO PRIVATISE THE POWER PLANTS. I AM NOT ANTI-IPPS PER SE. IT IS GOOD TO HAVE OTHER PLAYERS BUT IT HAS TO BE DONE FAIRLY. IT HAS TO BE FAIR TO THE CONSUMERS, NOT JUST TNB, WHICH IS A CONDUIT. TNB, BECAUSE OF THE ELECTRICITY HIKE, HAS BEEN TREATED AS THE WHIPPING BOY. THE FOCUS SHOULD BE ON THE CONSUMERS WHEN THE GENEROUS TERMS WERE GIVEN TO THE IPPS, ALL MY OTHER PEERS AROUND THE WORLD ASKED WHAT WAS HAPPENING. THEY SAID THEY WOULD LIKE TO HAVE A SHARE IN THE IPPS. THEY SAID (THE CONTRACTS TO IPPS) WERE "TOO DARN GENEROUS." (THE TERMS) WERE GROSSLY ONE SIDED.HOW WAS THE MALAYSIAN MODEL OF IPPS CREATED? ASK OUR PREVIOUS PRIME MINISTER.HOW WAS THE PROCESS OF NEGOTIATIONS WITH IPPS CONDUCTED?READMOREHTTP://MELAYUKINI786.WORDPRESS.COM/2011/05/29/MELAYU-CELUP-MENGHAMBAKAN-MELAYU-JATI/
Berlusconi Bonkers watch the 'WTF' body language of Obama
Posted: 28 May 2011 09:39 PM PDT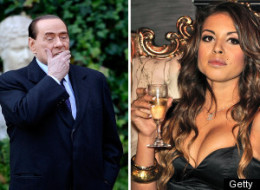 Intimate details of the alleged 
sex scandal
involving Italian Prime 
Minister
 Silvio Berlusconi and a Moroccan teen dancer are beginning to find their way into the international press.
Newly released is a list of 24 uber-extravagant presents — to the 
tune
 of a cool $322,648 — that the Italian premier is said to have given to Karima El-Mahroug, better known as "Ruby the Heartbreaker" and believed to be just 17 years old at the time of the alleged affair.
As the 
Telegraph
 is
 reporting
, among the spectacular goodies are two Rolex watches, a pair of Versace heels, a diamond necklace worth $20,495 and a red fox fur stole worth $24,594. In addition to the glamorous cache, Berlusconi is said to have 
promised 
Ruby a sporty Audi R8, but ultimately never delivered.
Check out just some of the many gifts Berlusconi is alleged to have given Ruby below:
Ruby is said to have received two Rolex watches, one of which was worth $68,306.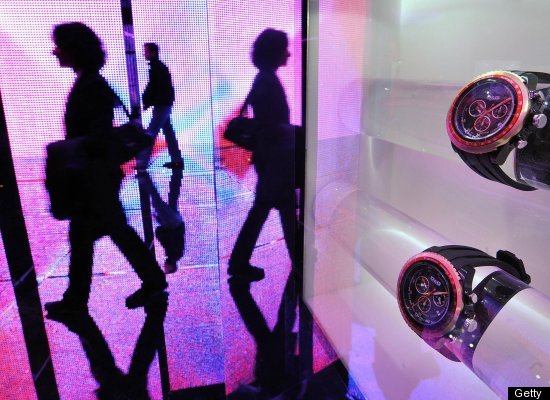 Though Berlusconi had already given her two Rolexes, Ruby allegedly claims she was also given a Dolce & Gabbana Swarovski crystal designer watch "because I told him that I didn't like the Rolex watches."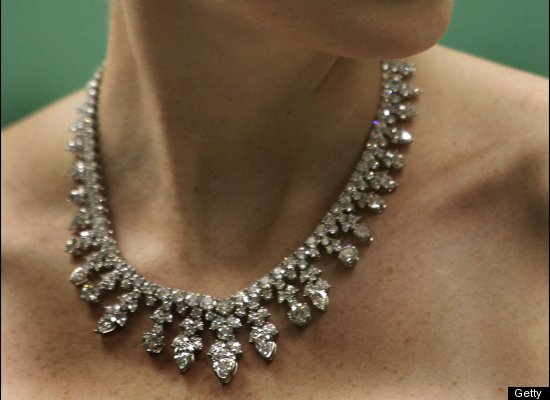 Ruby also allegedly picked a $20,495 diamond necklace made by Recarlo, a Valenza-based design jeweller which provided rings that Berlusconi gave to 24 women MPs and 13 Senators at Christmas.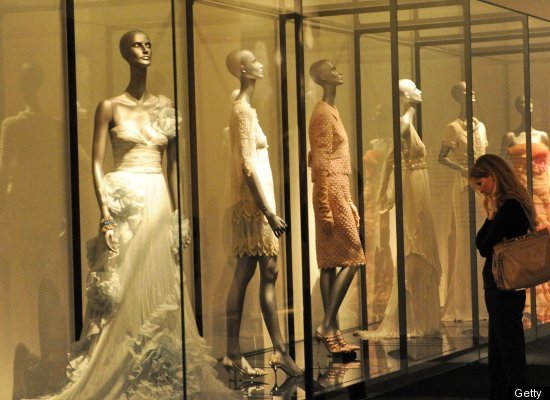 For Valentine's Day, Berlusconi allegedly gave Ruby a Valentino dress encrusted with Swarovski pearls in honor of their first meeting.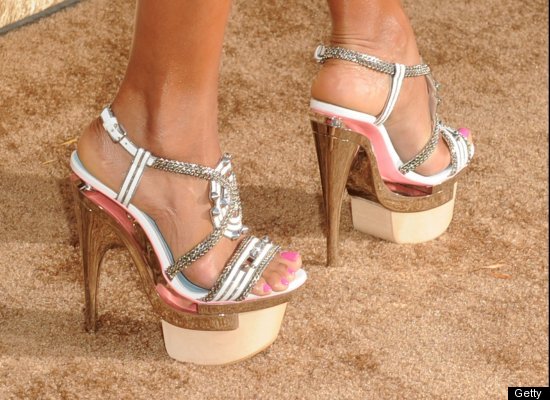 Versace designer heels are just one of the gifts listed
.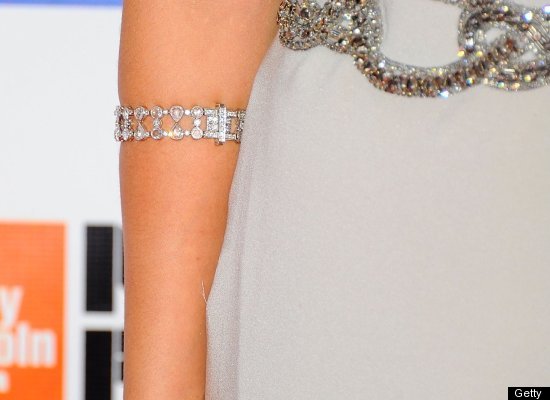 One of the Tiffany diamond bracelets bought by Berlusconi was even allegedly engraved with the initials of her nickname, R.R. for Ruby Rubacuori, or "Ruby the Heartbreaker."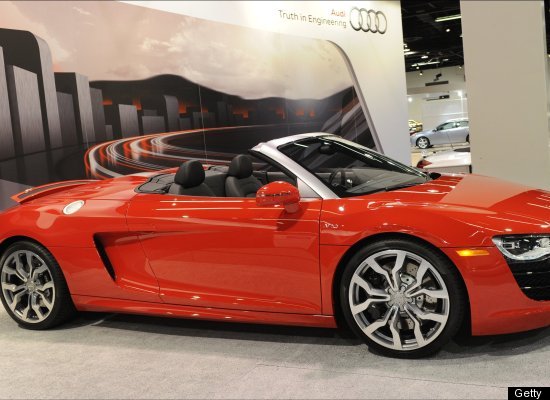 Though Ruby had allegedly been promised an Audi R8, it was never delivered.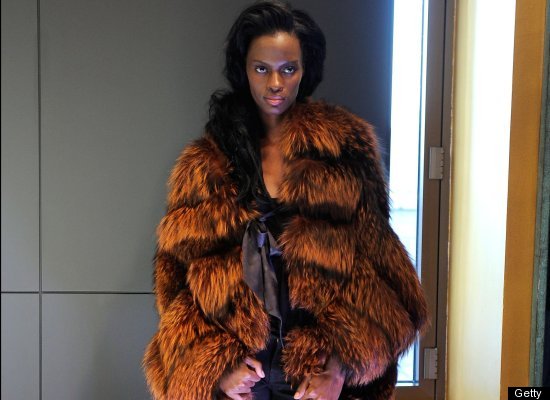 According to the 
Telegraph
, Ruby visited a Helen Yarmak store to determine how much a red fox fur stole the Italian premier had given her was worth. "I knew after taking myself to the store in Via Torino that it cost [$24,594]," she told prosecutors.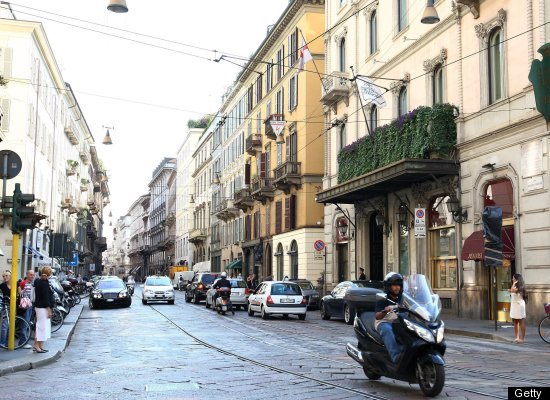 Ruby says Berlusconi also gave her an expensive "brooch" which was bought on Via Montenapoleone, Milan's premier shopping street. "In fact he told me I should not have a very low neckline, so the brooch helps to cover me up," she told the Telegraph.


Reuters: Silvio Berlusconi's latest international gaffe, when he complained to a bemused President Barack Obama about his problems with magistrates, was met with mockery, embarrassment and scorn at home on Friday.
Obama looked baffled when television cameras picked up the Italian prime minister buttonholing him at a Group of Eight meeting in France and treating him to one of his trade mark tirades about magistrates who have hauled him into court for four concurrent trials.
Microphones picked up Berlusconi telling Obama during a pause in the G8 meeting: "We have presented a justice reform that is fundamental to us. In Italy we have almost a dictatorship of leftist judges."
"The prime minister has clearly lost his head," said left-leaning La Repubblica newspaper in a front page editorial.
Pierluigi Bersani, leader of the largest opposition party, quipped that Berlusconi was probably asking Obama for NATO military action against the judges…..
(Berlusconi, 74, is currently on trial for having sex with an underage prostitute)
WHY ARE TODAY'S MEN LIKE MCA PRESIDENT CHUA SOI LEK HAVING AN AFFAIR AT THE BACK OF THEIR WIVES,
Posted: 28 May 2011 08:18 PM PDT
It looks like MCA president Chua Soi Lek has decided to play the role of the contrarian. Amid growing calls for Prime Minister Najib Razak to slash the subsidies granted to huge power producer firms controlled by tycoons such Francis Yeoh, Ananda Krishnan and Syed Mokhtar Albukhary, he has opted to stand on their side.
"The government is tied up in a lot of agreements, this cannot just be abolished like DAP says or Anwar says," Soi Lek told reporters on Wednesday. "Then Malaysia will be seen by the world as a government that does not honour its agreements. That's wrong."
Chua was immediately crucified by Pakatan Rakyat leaders who lambasted his "shallow excuses" and slammed him for his uncaring attitude towards the man in the street.
"The agreements that Chua is referring to were very lopsided. But I don't hear any mention of that. We don't hear him talk about the cost burden to the rakyat (populace)) at all," PKR strategy director Rafizi Ramli told Malaysia Chronicle. "
"Neither has he given any suggestion of how to revamp the agreements or offer a solution. Or is it Chua Soi Lek's intention that Malaysians pay through their noses for the next 10 or 20 years? Is he a leader for the people or is he the self-appointed spokesman for the IPPs?"
Subsidy or profit "foregone" by Petronas
Rafizi may have hit the nail on the head. Most of the agreements were negotiated during the time of former premier Mahathir Mohamad and contain complex price transfer mechanisms with national oil firm Petronas.
According to Chua, the Malaysian government should only step in when the agreements expire.
"Some are signed 15 years ago, some are 20 years ago," he said. "So when the time comes for the agreement to lapse, that's when the government starts negotiating," he said.
But to be fair with Chua, he is not the only BN minister on the defensive.
Energy minister Peter Chin Fah Kui even tried to deflect public anger by insisting that the RM19 billion subsidy bill came about because national oil firm Petronas had agreed to 'forego' its own profit and pass on the 'savings' to the Independent Power Producers and Tenaga Nasional Bhd.
"Peter Chin said the RM19 billion is profit forgone by Petronas annually for selling gas at RM10.70 per MMBtu, one quarter of the market price RM40 per MMBtu," DAP secretary-general Lim Guan Eng scolded in a statement released earlier in the day.
"BN's denial that the RM19 billion profits foregone by Petronas by selling gas below market price to IPPs and TNB is not a form of subsidy is another classic exercise of BN's self-delusion and mass deception."
Losing Malaysians' respect
Chua and MCA were recently in the spotlight over another scandal. Under pressure to stand up for the Chinese community, they had blamed the Public Services Department for not awarding government scholarships to topscorers based on results, but according to race.
Straightaway, Minister in the Prime Minister's Department Nazri Aziz defended the PSD as "excellent" and accused the MCA leaders of trying to be heroes to their community at the BN's expense.
As usual, after hurling a barrage of counter- accusations against Nazri, Soi Lek and his team faded into silence. This style of politicking has lost the MCA massive credibility with the Chinese, who now doubt party leaders have the political courage to stand up for the community.
Soi Lek's latest defence of the IPP tycoons and attempts to close any eye to the skewed agreements is likely to lose him even greater respect.
Earlier on Wednesday, Prime Minister Najib Razak deferred a slew of subsidy cuts that would have led to a rise in the prices of petrol, diesel and liquified natural gas. The move has bolstered speculation that he plans to call for snap general election within the next few months.
All Women's Action Society (Awam) notes with concern The Malay Mail's front page story yesterday on the alarming rate of sex crimes statistic saying that 10 women become victims of rape every day and that on average in every two-and-a-half-hours one woman gets raped, according to latest statistics released by Bukit Aman.
readmore and see more of MCA president Chua Soi Lek' girlfriends 
http://chuliastreettulukan.blogspot.com/2011/05/why-are-todays-men-like-mca-president.html