---
FOR SALE: YOUR FUTURE NAJIB'S VISION FOR THE FUTURE GENERATION OF HIS PEKAN VOTERS
Posted: 26 Apr 2011 01:55 PM PDT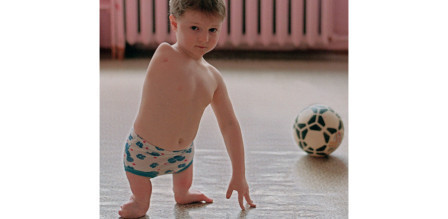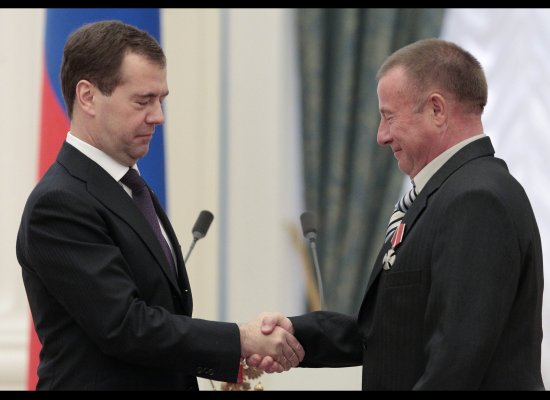 RUSSIA
Russian President Dmitry Medvedev (L) shakes hands with Yevgeniy Silayev, one of the Chernobyl nuclear disaster cleanup operation's veterans, during an awards ceremony in the Moscow Kremlin.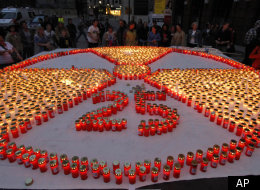 CHERNOBYL, Ukraine (Reuters) – Ukraine marked the 25th anniversary on Tuesday of the world's worst nuclear accident at its Chernobyl power plant as Japan pressed on with efforts to control the crisis at its Fukushima plant. (Scroll down for photos of Chernobyl anniversary events around the world).
On April 26 1986, the No. 4 reactor at the Chernobyl plant, then in the Soviet Union, exploded and caught fire after a safety test experiment went badly wrong.
The blast sent radiation billowing across Europe.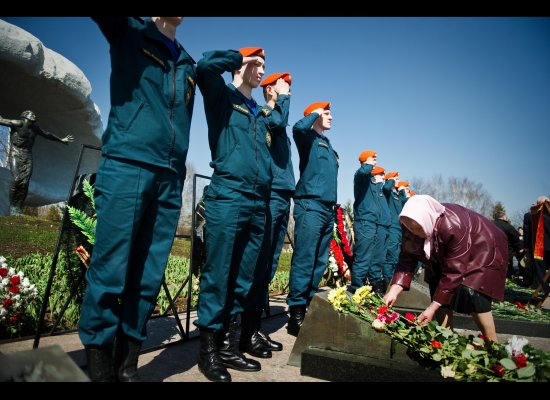 RUSSIA
Relatives visit a grave during a memorial service at the Chernobyl victims' monument in Moscow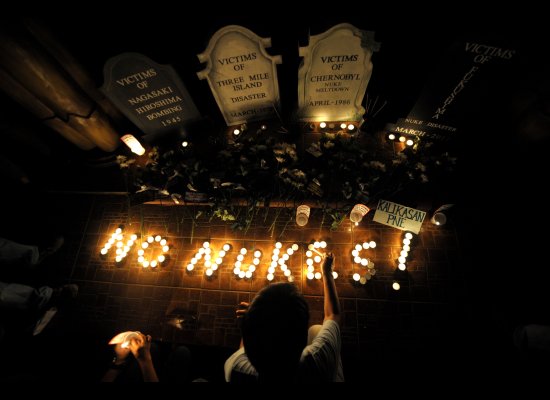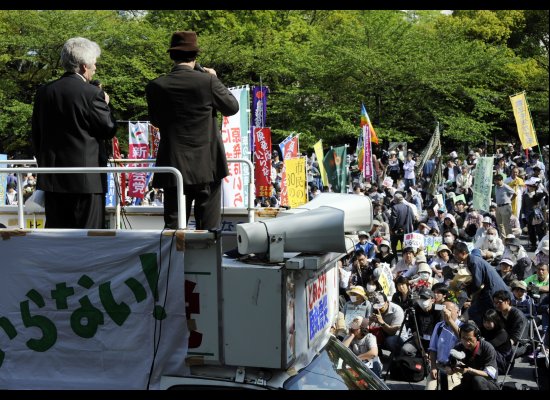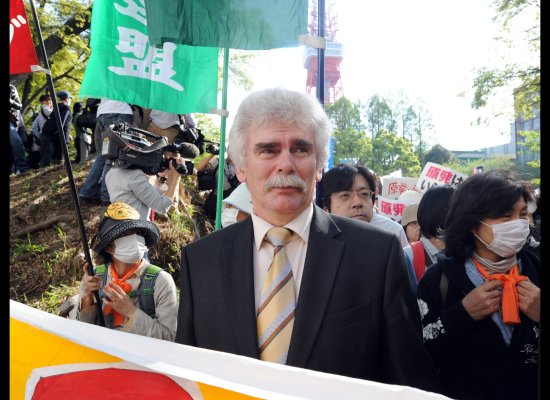 JAPAN
Pavel Vdovichenko (L), a 59-year-old survivor of the Chernobyl disaster, speaks during the anti-nuclear power protest rally in Tokyo.
dovichenko says people exposed to radiation from Japan's crippled nuclear plant will spend the rest of their lives fearing the "bombshell" of cancer and other dire illnesses.
.total of 31 people died immediately but many more died of radiation-related sicknesses such as cancer, many of them in what is today Belarus.
Tens of thousands were evacuated, never to return, from Prypyat, the town closest to the site which then had a population of 50,000.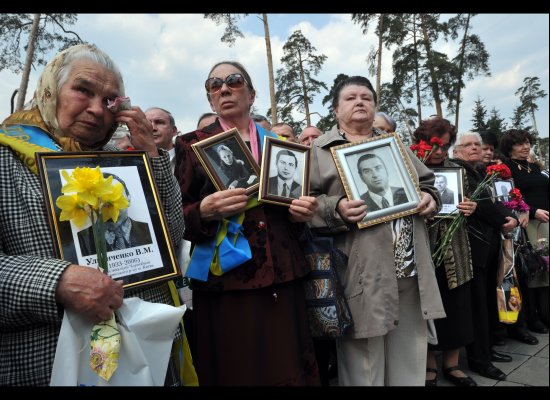 readmore
THE PROMISCUOUS INDIRA GANDHI' Nehru was no less a player in producing bastards.Sanjay Gandhi was not the son of Feroze the son of another Moslem gentleman, Mohammad Yunus
Posted: 26 Apr 2011 01:51 PM PDT
The death of Feroze in 1960 before he could consolidate his own political
forces, is itself a mystery. Feroze had even planned to remarry. Those who
try to keep tabs on our leaders in spite of all the suppressions and
deliberate misinformation, are aware of the fact that the second son of
Indira (Mrs. Feroze Khan) known as Sanjay Gandhi was not the son of Feroze.
He was the son of another Moslem gentleman, Mohammad Yunus. Here, in
passing, we might mention that the second son was originally named Sanjiv.
It rhymed with Rajiv, the elder brother's name. It was changed to Sanjay
when he was arrested by the British police in England and his passport
impounded, for having stolen a car. Krishna Menon was then India 's High
Commissioner in London . He offered to issue another passport to the felon
who changed his name to Sanjay. Incidentally, Sanjay's marriage with the
Sikh girl Menaka (for Indira Gandhi found the name of Lord Indra's court
dancer rather offensive!) took place quite surprisingly in Mohammad Yunus'
house in New Delhi . And the marriage with Menaka who was a model (she had
modelled for Bombay Dyeing wearing just a towel) was not so ordinary either.
Sanjay was notorious in getting unwed young women pregnant. Menaka too was!
rendered pregnant by Sanjay. It was then that her father, Colonel Anand,
threatened Sanjay with dire consequences if he did not marry her daughter.
And that did the trick. Sanjay married Menaka.
It was widely reported in Delhi at the time that Mohammad Yunus was unhappy
at the marriage of Sanjay with Menaka; apparently he had wanted to get him
married with a Muslim girl of his choice. It was Mohammad Yunus who cried
the most when Sanjay died in the plane accident. In Yunus' book,'Persons,
Passions & Politics' one discovers that baby Sanjay had been circumcised
following Islamic custom, although the reason stated was phimosis. It was
always believed that Sanjay used to blackmail Indira Gandhi and due to this
she used to turn a blind eye when Sanjay Gandhi started to run the country
as though it were his personal fiefdom. Was he black mailing her with the
secret of who his real father was? When the news of Sanjay's death reached
Indira Gandhi, the first thing she wanted to know was about the bunch of
keys which Sanjay had with him.
Nehru was no less a player in producing bastards. At least one case is very
graphically described by M. O. Mathai in his "Reminiscences of the Nehru
Age", page 206. Mathai writes: "In the autumn of 1948 ( India became free in
1947 and a great deal of work needed to be done) a young woman from Benares
arrived in New Delhi as a sanyasin named Shraddha Mata (an assumed and not a
real name). She was a Sanskrit scholar well versed in the ancient Indian
scriptures and mythology. People, including MPs, thronged to her to hear her
discourses. One day S. D. Upadhyaya, Nehru's old employee, brought a letter
in Hindi from Shraddha Mata. Nehru gave her an interview in the PM's house.
As she departed, I noticed (Mathai is speaking here) that she was young,
shapely and beautiful. Meetings with her became rather frequent, mostly
after Nehru finished his work at night. During one of Nehru's visits to
Lucknow, Shraddha Mata turned up there, and Upadhyaya brought a letter from
her as usual. Nehru sent her the reply; and she visited Nehru at midnight
…
"Suddenly Shraddha Mata disappeared. In November 1949 a convent in Bangalore
sent a decent looking person to Delhi with a bundle of letters. He said that
a young woman from northern India arrived at the convent a few months ago
and gave birth to a baby boy. She refused to divulge her name or give any
particulars about herself. She left the convent as soon as she was well
enough to move out but left the child behind. She however forgot to take
with her a small cloth bundle in which, among other things, several letters
in Hindi were found. The Mother Superior, who was a foreigner, had the
letters examined and was told they were from the Prime Minister. The person
who brought the letters surrendered them…
"I (Mathai) made discreet inquiries repeatedly about the boy but failed to
get a clue about his whereabouts. Convents in such matters are extremely
tightlipped and secretive. Had I succeeded in locating the boy, I would have
adopted him. He must have grown up as a Catholic Christian blissfully
ignorant of who his father was."
Coming back to Rajiv Gandhi, we all know now that he changed his so called
Parsi religion to become a Catholic to marry Sania Maino of Turin , Italy .
Rajiv became Roberto. His daughter's name is Bianca and son's name is Raul.
Quite cleverly the same names are presented to the people of India as
Priyanka and Rahul.! What is amazing is the extent of our people's ignorance
in such matters.
The press conference that Rajiv Gandhi gave in London after taking over as
prime minister of India was very informative. In this press conference,
Rajiv boasted that he was NOT a Hindu but a Parsi. Mind you, speaking of the
Parsi religion, he had no Parsi ancestor at all. His grandmother (father's
mother) had turned Muslim after having abandoned the Parsi religion to marry
Nawab Khan. It is the western press that waged a blitz of misinformation on
behalf of Rajiv. From the New York Times to the Los Angeles Times and the
Washington Post, the big guns raised Rajiv to heaven.
The children's encyclopedias recorded that Rajiv was a qualified Mechanical
Engineer from the revered University of Cambridge . No doubt US kids are
among the most misinformed in the world today! The reality is that in all
three years of his tenure at that University Rajiv had not passed a single
examination. He had therefore to leave Cambridge without a certificate.
Sonia too had the same benevolent treatment. She was stated to be a student
in Cambridge . Such a description is calculated to mislead Indians. She was
a student in Cambridge all right but not of the University of Cambridge but
of one of those fly by night language schools where foreign students
come to learn English. Sonia was working as an 'au pair' girl in Cambridge
and trying to learn English at the same time. And surprise of surprises,
Rajiv was even cremated as per vedic rites in full view of India 's public.
Besr Regards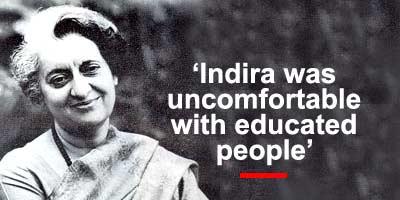 Few journalists interacted with Indira Gandhi the way Khushwant Singh, doyen of Indian journalism, did. As editor of the now defunct The Illustrated Weekly of India and later The Hindustan Times, he was witness to some of the most historic moments in Indira Gandhi's 16-year-long rule.
Now 90, Khushwant Singh's door has a warning: 'Do not ring the bell unless you are expected.' The years have not numbed his extremely sharp mind as he took a journey down memory lane with Deputy Managing Editor Amberish K Diwanji to recreate the life of Indira Gandhi.
The first of a series of interviews and features on rediff.com to mark Indira Gandhi's 20th death anniversary.
Twenty years later, how do you look back on Indira Gandhi?
There are two aspects to Indira Gandhi: one as the politician and the other as a human being.
As a politician, it is common knowledge about her but as a human being, very few know about her, such as her family and her staff. The rest is conjecture and make believe.
How did you get to know her?
I first met her when she was still unmarried and came to Lahore on her way to Kashmir, and she was staying with friends who had brought her over.
I have a photograph of her at our house. She was very shy and wouldn't talk much.
I next met her when she was president of the Congress. It was at a meeting over which she was presiding and I was speaking on Madam Cama, I think. Then when she became information and broadcasting minister in (Lal Bahadur) Shastri's government, I was asked to do an article for TheNew York Timeson the possibility of her becoming prime minister.
The article was an adverse account because I quoted people saying her leading the country was not possible. India has never been led by a woman. We might have had a Razia Sultan but that was it. I also said she was not qualified except for being Nehru's daughter and the fact that she had no political base except for having become Congress president by her father.
But she did become prime minister, with the second longest tenure till date?The fact is after Shastri, people did not want Gulzarilal Nanda or Morarji Desai, and so she became prime minister, selected by a bunch who thought they could control her. But this bunch had not reckoned with her innate political sense or that being prime minister has its own power.
She soon sidelined Morarji Desai and others like Kamaraj. She really ruled a bit like a dictator. People would say the Cabinet has only one man (Indira Gandhi) and that the rest are all hijras (eunuchs), but the fact is she reduced them to that level.
readmore THE PROMISCUOUS INDIRA GANDHI' Nehru was no less a player in producing bastards.Sanjay Gandhi was not the son of Feroze the son of another Moslem gentleman, Mohammad Yunus
LUB DE SEXY MIND

CLUB DE SEXY MINDA virtual
reading club
Let's talk about sex! with 500 current sex
related articles and daily updates
it will cost you less than 20cent a day
to read and watch the fullstory
join now is only rm50 per year
Why not 'Malaysia Bersatu' against DAP?
Posted: 26 Apr 2011 01:21 PM PDT
Who says Melayu should not 'bersatu'. Nothing's wrong with Melayu Bersatu as suggested by some critics, including few fellow bloggers in support of Utusan's deputy chief editor Zaini Hassan.
I personally would like to see my race be consolidated for good reasons - to uplift their economy, strengthening their political position and enhance their ability to compete healthily with others in all disciplines.
A united Malays would augur well in upholding their rights under the Constitution. But what will become of Umno should its merges with Pas and other Malay-based organisations. Will they agree to disband their respective movements and come under Umno or a new party? Going by the latter, it will lead to the demise of Umno.
It is good to go back to the spirit of 1946 when Umno was founded to oppose the Malayan Union proposed by the British Colonial Government. But then, the immigrants from China, India and other countries were not yet the citizens of the country. However, they are now.
The Malaysian Chinese and Indians are our citizens. They were born, brought up, studied and bred, and will die here. I dont know about any Malays who chose to die abroad apart from the Holy Land.
We have a bad history of racial turmoil when Malay chauvinists incited it in 1969. Everybody who had gone through it are those (witnesses and survivors who are still alive) who really understand the true meaning of social disharmony from the ugly episode. Undoubtedly, some of them are not.
There are Malays and Chinese who like playing heroes to their own community. The easy-going Malays of pre-Independence has long gone, and now comes a new generation trying to make a big turn back into the Malayan Union era, fighting for justice and rights.
The Chinese and Indians of pre-Independence and post-World War II were grateful people until some of them fought alongside the Koumintang and Communist Party of Malaya to ousted the British and take over the administration of Malaya. Yes, it is true that Chin Peng and Rashid Mydin were among invited guests to watch the Victory Parade in London after the Japanese surrendered in 1945 but when they went back to the jungle after Independence, they were no more 'heroes' (as described by some quarters).
Now, what is wrong with a united Chinese or a united Indians? Nothing is wrong if Umno and Pas are to merge as they used to be together before going separate ways. But is there anything wrong for MCA to merge with its 'once a splinter group' Gerakan and PAP-clone DAP?
To me, yes and no. Yes to MCA-Gerakan merger but no to MCA-Gerakan-DAP. Why? The Malays are represented only in Umno and Pas. PKR is not a Malay party, it is multi-races. But still, is it wrong to have a multi-races party?
DAP cannot become a part of China Bersatu. MCA and Gerakan (there are few Malays with it) adopt a more liberal political approach in the context of recognising the rights and interest of the Malays. Similarly, Umno too upholds the rights of the non-Malays in the country.
DAP is not. DAP plans to rule the country and turn it into another Singapore, just like PAP's Lee Kuan Yew. Two years within Malaysia in 1963-65, LKY and his Singaporean Chinese had plans to take over Malaysia' administration from the Perikatan (now Barisan Nasional) multi-racial pact.
Seeing the danger, Tunku Abdul Rahman asked LKY to take his men back to Singapore and set them 'free' on Sept 16, 1965, on LKY's birthday. Many Malays still accused Tunku of being so soft and shortsighted for letting go of the Republic but in fact it was a right and proper move at that time. Had he not taken such an action, Malaysia and Singapore would see racial bloodshed.
DAP doesnt like the Malays and Barisan Nasional. They dont consider the Malays as a part of their political manifesto. They treat the Malays just like how the British had during their colonialisation - not as second class citizen but third or fourth. They look down at the Malays as how PAP looks down at the Singaporean Malays.
So, it is the DAP that Malaysian peace-loving Malays, Chinese, Indians and other races should go against. It is the DAP that we must get rid off for being so Chinese-chauvinistic. But the proposed Melayu Bersatu has no intention of taking away what the non-Malays have achieved. Unless this is their main agenda, I think it will plunge the country into chaos.
I called up a Minister earlier yesterday and talked about it for 20 minutes. Instead of Melayu Bersatu, Cina Bersatu and India Bersatu, 'why not we form a Malaysia Bersatu' to run down DAP?
HIGH HEALTHCARE COSTS EATING INTO RETIREMENT FUNDS
Posted: 26 Apr 2011 10:01 AM PDT
If you have set aside some funds for medical contingencies not just for yourself and your children, but also for your elderly parents, give yourself a pat on the back. You are better prepared than probably 90% of your peers.
How many of us factor in our elderly parents when we save for our retirement years? What happens should some misfortune or mishap befall them and they end up in hospital or require expensive long-term healthcare? It's a sure bet they are not covered by insurance. The few insurance companies that offer coverage for the elderly charge ridiculously high premiums.
Whether it's hospital charges, doctor's fees, medical examinations, health supplements, etc, we end up paying on behalf of our aged parents. Who among us do not have parents in their 70s and 80s who require financial support?
What surprises me is that few retirement planning consultants advise their clients to allocate funds for parental maintenance. My mother's recent surgery and hospitalization plus her aftercare and medication cost a bomb. Fortunately the whole family rallied together and we split the costs.
My mom's prescribed drugs cost RM300+ a month.  
What about those who have no access to financial recourse? Healthcare costs whether for yourself or your family members can swallow up all your retirement savings and reduce all your carefully laid-out retirement plans to shreds. You can easily end up in debt or in the poor-house from paying for all these out-of-pocket expenses.
The Malaysian government has been discussing the idea of setting up a National Healthcare Financing Scheme (NHFS) to make healthcare accessible and affordable to all Malaysians. Now almost
twenty years
on, nothing's been finalized as yet.
So what's holding up the implementation of the NHFS? One reason given by Health Minister Datuk Seri Liow Tiong Lai - "It involves reviewing the
Medical Act 1972
(71?) and that takes time". 20 years to review a 44-page document?
Perhaps it's just as well that the NHFS is still on the drawing-board. There are too many questions about the scheme that need to be addressed.
For more about the NHFS, please click on the related links below:
Not all stakeholders are giving the thumbs up for the NHFS.
The
Malaysian Medical Association (MMA)
has
plenty of reservations
. (Click on the link for recommended reading.)

The above article in The Star 24 April raises some valid concerns about the proposed National Healthcare Financing Scheme '1Care for 1Malaysia'. The article first appeared in Malaysiakini 19 April.
 While the Malaysian government is dragging its feet over the NHFS, about a decade ago Singapore's Ministry of Health (MOH) introduced the Primary Care Partnership Scheme (PCPS)for elderly patients aged 65 and over, who come from homes with a per capita income of S$800 (RM2000) a month. Others who are eligible are the disabled from a similar income bracket, and those who are unable to work due to old age, illness or disability.
The PCPS allows them to see a general practitioner (GP) in a private clinic, but still pay subsidised polyclinic rates. Eligible patients pay S$5.20 for consultation at a polyclinic, and only 70 cents for a week's supply of each type of subsidised medicine.
(Graphics: Straits Times)
The scheme got off to a slow start as participating GPs complained about the paperwork involved in getting payment from the Health Ministry. They were also not happy about having to prescribe cheaper generic drugs to lower costs for their elderly or disabled patients.
But with rising healthcare costs, more Singaporeans are turning to the PCPS. Last year, 32,000 eligible patients made more than 70,000 visits under the scheme. There is now a call to extend the scheme to benefit all lower income groups irrespecive of age. This is evident of the success of the PCPS.
Can Malaysia's proposed NHFS emulate PCPS's success?

A Malaysian polyclinic

Don't blame Keadilan, Baru Bian tells Snap
Posted: 26 Apr 2011 08:29 AM PDT
From Malaysiakini     Written by Ang Ngan Toh
Sarawak PKR boss Baru Bian says there is no reason for its rival in the opposition, Sarawak National Party (Snap), to blame PKR for the latter's poor showing in the recently concluded state election.
"We had told them frankly that they did not have the support on the ground anymore because they had not been active," Baru told reporters today.
He said Snap, which had been inactive the last eight years while its case against the Registrar of Societies over its deregistration had been pending in court, had not been prepared for the state election.
"Our views about Snap have been consistent, and this has been proven by the party's poor performance in the election," he said.
Baru, who was elected state assemblyperson for Ba'Kelalan, said PKR had been aware of the feelings on the grounds, which Snap leaders had refused to acknowledge. 
"They insisted that they must contest in 27 areas, or even up to 40. So when the results were out, we proved ourselves to be correct," said Bian.

Snap finally contested in 26 seats, and only one of its candidates retained his election deposit.
Snap not realistic


Among Snap leaders who lost their deposits were party president Edwin Dundang (left) in Marudi, vice-president Anthony Liman in Krian and Youth chief Dayrell Walter Entrie in Bukit Saban.

"If Snap had been in agreement with us, we would have been prepared to give it three or four seats, and the party could have won. But one thing, when you lose so badly, you start blaming everybody except you yourself," he added.

Baru said PKR was not blaming anyone for not having won more seats, although it admitted to one cause being the rampant money politics used by the BN.

He said he had heard from PKR candidates and supporters of money politics being widely used by the BN.

"It is clear that there were many cases of vote buying, and that the BN cannot deny buying votes," he said.

Baru said he was informed that a woman came to the PKR office in Lawas asking for her RM200 balance promised by the BN.

"She is said to have received RM100, and that the BN must have told her to collect the balance after the voting," he said.
Will EC investigate vote buying?
Baru called on the Election Commission to start investigating reports on the widespread vote-buying practice in last Saturday's election, especially in the rural areas, adding that the EC should "assure us that money politics will be not tolerated in the coming parliamentary election".


The police should also start probing reports on breach of election laws.

"If money politics is allowed, then there is no democracy and no fair and just elections," he said, adding that the ordinary people would be duped into thinking that only those with money would win elections.

He said Pakatan Rakyat would be prepared for the BN's dirty tricks in the coming parliamentary election.

PKR, DAP and PAS would also study their weaknesses and ways to rectify them in their preparation for the GE.

"There is a possibility of an overnight change in the political scenario in Peninsular Malaysia in the coming general election," he said, adding that he expected Prime Minister Najib Abdul Razak to call for an election earlier than 2013.
Teoh Beng Hock - a cruel & unnecessary death
Posted: 26 Apr 2011 07:53 AM PDT
Today's editorial in The Malaysian Insider is titled
Blood on MACC's hands
, and the blood is that of the late Teoh Beng Hock.

Lim Kit Siang shares the same view - see The Malaysian Insider's
MACC must take full blame for Beng Hock's death, says Kit Siang
.

Their conclusion came about when the Royal Commission of Inquiry (RCI) into Teoh BH's death stated that the MACC failed to find evidence of corruption in Selangor (DAP) ADUN Ean Yong Hian Wah's financial managing of some minor projects. There was no evidence of Ean ever abusing State funds.

The AG and MACC had argued that Teoh committed suicide because he couldn't take the guilt of being involved his boss' (Ean's) corrupt practice nor the stress of covering those up. Thus the argument is that, if there was no evidence of corrupt practice, ipso facto, then there was no cause for Teoh to be so stressed that he committed suicide.

In other words his death could not be suicide, as the AG and MACC had attempted to prove.

And if it was not suicide, how then did Teoh meet his horrible death? How did he come to fall from the 14th floor of the MACC building?

Remember, he was ONLY a witness, not a suspect!

Remember, he was to marry on the day following his witness appearance and unexpected mysterious death. On the day he was to die, he had rang his best man to remind him of the wedding the next day.

Even more mysterious than Teoh's death, the MACC found a note in his handbag nearly ONE YEAR AFTER his death. The MACC attempted to present that as a suicide note.

There is a blogger whom I shall just call the 'Son of Han' because of his extreme Chinese chauvinistic views (politicised of course, like Chinese Malaysians should only vote for a Han Chinese Confucian-oriented party like MCA). His posts are unusually laced generously with abuses, vulgarisms and obscenities against DAP and PKR female MPs and ADUNs. 'Son of Han' also offered his pompous analysis of the co-called suicide note, where he alluded to Teoh's authorship. It's ironical that the 'Son of Han' is the clasical example of a running dog!

Now, when a government coronial inquest into Teoh BH's death gave an open verdict, we Malaysians know that in all likelihood, the coroner dared not say it was murder or manslaughter.

The following were gleaned from newspapers reports:

Recall, at the time of Teoh's death, the MACC building was mysteriously locked up for an hour.

Recall, after the death when DNA specimens of MACC staff were being taken, one staff (a senior bloke) was coincidentally not present. His DNA was not taken. This man was said to be fond of hoisting those unlucky to be interrogated up rudely by their clothing (belt?).

Recall, Teoh's belt was found to have snapped. Where and when did it snapped?

OK, at this stage, the RCI hasn't made any official finding to indicate Teoh's death was by murder or manslaughter. However, I'm a cynic who believes in the old sarcasm, that authorities don't hold RCI unless they know what the findings will be.

But it does all come together why the government was soOOOOooo reluctant to have a RCI in the first place, when by stark and shameful contrast, ministers have recently called for a RCI into a puerile case of a sex video. Even then when Najib agreed to the RCI, the initial terms of reference for it was f* pathetic, which was only to investigate into MACC procedures for interviewing/interrogations.

It was like extracting Najib's tooth just to get, goad and galvanise him into including in the RCI's terms of reference a probe into the case of Teoh's death, when this should have been the principal, commonsense and most obvious term of reference.

Why was there this unbelievable government (initial) reluctance to, firstly, have a RCI to look into Teoh's mysterious death while he was in the MACC's custody, and secondly, to have its (initial) terms of reference include an inquiry into the cause of death? No need to answer, as they were merely rhetorical questions.

But whatever the RCI's findings may be, we know there was no reason nor cause of stress for Teoh so much so that he committed suicide on the eve of his wedding.

We also know there was no justifiable cause for MACC to investigate Ean Yong by the overnight interrogation of his aide, Teoh Beng Hock. So by logical extension, we would be justified in arguing that it must have been a politically motivated case.

We know a lot because, hey, we only know too well the Malaysian MACC, Police, Election Commission, Public Service senior officers, judiciary, etc.

Most of all we know Teoh Beng Hock died a tragic death., and for what? That's why it's so tragic.

There's no flag large enough to cover the shame of killing innocent people (Howard Zinn) and if Najib still won't act to dispense true justice, I hope Allah swt will call those responsible for Teoh's death to account in the hereafter.
GMail, Hotmail, Yahoo Mail Atau 1Malaysia Email?
Posted: 26 Apr 2011 07:18 AM PDT
Kos 1Malaysia Email tidak lebih daripada RM0.50?

Katakan rakyat Malaysia mempunyai 27,565,821 orang penduduk (menurut Wikipedia)

30% daripada jumlah tersebut berdaftar dengan 1Malaysia Email... (8,269,746 orang)

Setiap kali kerajaan menghantar email maka ia akan caj RM0.50 per email.

Keuntungan = 8,269,746 X RM0.50?
= RM4,134,872


Siapa nak suruh aku hantar email? aku bagi discount 20%...

RM0.40 per email...

Siapa nak? Hubungi saya ;)


[ADS] Terima Email Dan Dapatkan $$$ Setiap Kali Membacanya !!!
[ADS] Malaysia Online Contest, Promotion & Earning Blog!!!





E-mel 1 Malaysia: Tricubes sasar 5.4j pelanggan, kos hantar sekitar 50 sen



KUALA LUMPUR, 26 April — Tricubes Berhad mengaku khidmat e-mel 1 Malaysia yang bakal disediakannya adalah hayat kewangan bagi syarikat itu, yang sebelum ini berhadapan dengan risiko dibatalkan penyenaraian di Bursa Malaysia.

Syarikat itu menyasarkan kira-kira 5.4 juta pelanggan meskipun tiada jaminan yang kerajaan akan menggunakan khidmat e-mel disediakan pihaknya.

Ketua Pegawai Eksekutif Tricubes, Khairun Zainal Mokhtar, juga berkata, syarikat itu akan mengumpulkan dana tambahan menerusi terbitan isu baru bagi projek RM50 juta yang dianugerahkan kerajaan 4 April lalu.

Beliau juga mengesahkan setiap penghantaran e-mel akan menelan kos tidak lebih 50 sen.

Tricubes sebelum ini berkata, ia akan membelanjakan RM5.3 juta terlebih dahulu dalam membangunkan projek e-mel 1 Malaysia tetapi akan menerokai inisiatif pemakluman skim pencen can cukai untuk terus menjaga pulangan operasi.

Perkhidmatan myemail.my dipercayai akan mengancam perkhidmatan Pos Malaysia Berhad yang digunakan oleh Kumpulan Wang Simpanan Pekerja (KWSP) dan Lembaga Hasil Dalam Negeri (LHDN).

KWSP mempunyai 12.72 juta anggota sehingga 31 Disember 2010 tetapi ahli yang aktif dianggarkan 6.04 juta.



http://www.themalaysianinsider.com/



Functions Of The 1Malaysia Email
Posted: 26 Apr 2011 08:09 AM PDT
There have been plenty of views against the whole idea of an official email system. But here is one reader's view on why the 1Malaysia email system SHOULD be implemented.
I usually can be persuaded to see reason, but this is not one of those times.
The reader's comment:
The updates of PM's official appointments will be in the email, opinion polls will be conducted via email. You'll also be invited to dine with the PM as his FB Friends have enjoyed. An email between PM, Government and The Prople.

What's so hard to understand it's functions? The entire government will pay a listening ear and update you on national matters. It's an effective means of communication with every individual rakyat. There will be times that you need to deal with a government agency, the email will help you because you'll have excess to the relevant department and get updates.
My response to the comment:
I don't deign to speak on behalf of anyone else but myself. So here is my two sen worth.
1. There is no way that I would want to dine with the PM. There is absolutely no need to. He is not a celebrity, but merely a civil servant who should be carrying out his official duties (which by the way, do not include wasting public funds).
2. If there is a facebook page for his fans, it would be redundant to have email to communicate with his non-fans, unless he is trying to win us over for political purposes. In that case, it is illegal to be using government funds for personal interests.
3. Opinion polls can be conducted on the PM's blog. Anyone wishing to give any feedback would be able to do so on the official site. Bear in mind, feedback can sometimes be negative (even though constructive) and most companies do this under conditions of anonymity. An email address would ensure only positive comments see the light of day.
4. As for its functions, updating us on national matters is what the newspapers should be doing, only they were not so biased. If an email account was necessary for a citizen to be updated, we would be doing those with no internet access a great disservice indeed.
5. "The entire government will pay a listening ear.." That statement nearly had me falling off my chair from laughing. For a moment, I thought the reader was being extremely sarcastic. Whatever this current government may be described as, it is not a "listening" government. Most governments around the world sit up and listen when its citizens take to the streets. This government tear-gasses them and sprays them with chemical-laced water.
6. As I have briefly mentioned earlier, access to relevant departments within the government is already available via the official website. All they need to do is to create a feedback form.
I appreciate that some readers are able to see the other side of the coin and perhaps play devil's advocate as well, but one must not be naive and gullible to the workings of the government.
The company that secured the project of developing the email system has even admitted that
this is a financial lifeline for it
.
KUALA LUMPUR, April 26 — Tricubes Bhd admitted today the 1 Malaysia email service is a financial lifeline for a company at risk of being delisted from Bursa Malaysia, adding it is targeting 5.4 million subscribers without a guarantee the government will use it.
When there are free webmails available like Gmail, Yahoo, Hotmail and so many others, spending millions of ringgit to develop email accounts is an utter waste of public funds.
It really is like trying to sell ice to an Eskimo, as one critic put it.
Has MACC finally admitted that TBH and Ean Yong Hian Wah are not guilty of corruption?
Posted: 26 Apr 2011 04:16 AM PDT



The Malaysian Anti-Corruption Commission (MACC) did not find any evidence of alleged irregularities in the disbursement of Selangor government funds by executive councillor Ean Yong Hian Wah.

Putrajaya MACC's senior acting superintendent, Ahmad Shafik Abdul Rahman @ Alwee, said he had taken over the case on Aug 27, 2009 from the Selangor office after the death of Ean Yong's political aide, Teoh Beng Hock.

Teoh's body was found on the fifth floor of Plaza Masalam, Shah Alam on July 16, 2009. He had been questioned overnight as a witness at the Selangor MACC office on Level 14 of the building.

The RCI is looking into Teoh's death and the MACC's interrogation procedures. It was formed after an 18-month inquest delivered an open verdict, ruling out suicide or homicide as the cause of death.

Testifying this morning, Ahmad S
hafik said that, from his investigations, there was "no evidence to prove that Ean Yong (right) had committed an offence under Section 18 of the MACC Act".
The provision deals with an agent's intention to deceive his or her principal.
It reads in full: 'A person commits an offence if he gives to an agent, or
being an agent he uses with intent to deceive his principal, any
receipt, account or other document in respect of which the principal
is interested, and which he has reason to believe contains any
statement which is false or erroneous or defective in any material
particular, and is intended to mislead the principal.'
In an immediate response, Ean Yong said on his Facebook page, "After almost two years of waiting, justice finally arrived."
Up to the time of Teoh's death, the probe had been handled by Mohd Anuar Ismail of Selangor MACC.
MACC officers had previously told the RCI that four companies paid through Ean Yong's Seri Kembangan constituency funds had not executed any work on the projects awarded.


They had also said that one basis of the probe was the discovery of four copies "incomplete" invoices found in Teoh's(left) laptop, and which were deemed "suspicious".

The companies were named as MKMN Enterprise, Syarikat Aris, Fizami Construction and MA Bina Melor Enterprise.

However, Ahmad Shafik said today that all projects had been completed and that there were no grounds to prove otherwise.
"I ordered my officers to investigate the vouchers (found in Teoh's laptop and the claims vouchers from the Petaling District and Land office) and we found that all projects were completed," he said.

The payments to DAP Malaysia and the party's Seri Aman branch amounted to reimbursement of cash advances.
Ahmad Shafik noted that all Selangor assemblypersons receive an annual allocation of RM500,000.

Executive councillors get an additional sum of RM100,000. The District and Land Office acts as custodian of the allocations.
Process explained

Conducting officer Awang Amardajaya Awang Mahmud then asked: "How did you ascertain that the projects were finished according to specifications?"


"It is from the statement recorded from Lee Wye Wing and receipts of the transactions that were given to us," said Ahmad Shafik(right).

Lee was among the contractors who had often executed projects and programmes in the Seri Kembangan constituency, as well as in Kuala Kubu Bharu, where Ean Yong serves as'Adun angkat'.

Since Kuala Kubu Bharu is under MCA - and therefore opposition - assemblyperson Wong Koon Mun, Ean Yong was entrusted with the constituency allocation of RM500,000.

Ahmad Shafik pointed out, however, that Lee had submitted more than 50 receipts and that the MACC was unable to ascertain which receipt was issued for which project.

"The bumiputera contractors involved had lent their business licences to Lee and he was the one who coordinated and managed all the projects and programmes in the Seri Kembangan and Kuala Kubu Bharu state constituencies," said Ahmad Shafik.

"Lee only communicated with Teoh, never with Ean Yong directly, and each meeting was face to face or via email. If the project was approved by (the state), Teoh would give Lee the green light. Upon completion, Ean Yong would issue the claims documents which were sent to the Land Office."


RCI chairperson James Foong then asked why the Selangor MACC had investigated the case.

Ahmad Shafik: I don't know why.

Foong: What were they looking for? What was the crime then?

Ahmad Shafik:(Selangor MACC) investigated this based on a complaint that claims were made for incomplete projects.

Commissioner T Selventhiranathan suggested that "investigation should have been done to determine the truth of the complaint", to which Ahmad Shafik agreed.

Responding to questions by Bar Council lawyer S Sivanendiren, Ahmad Shafik said that he sent the completed investigation papers to Hishamuddin Hashim, the deputy director of private sector investigation, who was previously in charge of the probe as Selangor MACC deputy director.

Ahmad Shafik was then told to get DAP's bank details and transaction vouchers to authenticate Lee's statement.

Before proceeding with the directive, Ahmad Shafik said he consulted MACC's deputy chief commissioner (operations) Mohd Shukri Abdull, who was then the investigations director.

Foong: Was it done?

Ahmad Shafik: For your information Your Honour, the circumstances in which I took over case were unusual - a witness had died, the other witnesses weren't cooperative, officers were threatened, etc.

"The orders from (Mohd) Shukri were that we don't need to probe further into DAP's bank account because it had no relevance to the case, which was being investigated under Section 18 (of the MACC Act)," he said.

Once he completed the investigation, he added, the papers were sent to the deputy public prosecutor - and he was ordered to stop looking further into the matter
Tricubes to charge 50 sen per email, confirms CEO
Posted: 26 Apr 2011 12:30 AM PDT
Tricubes Bhd has confirmed that it will charge government agencies about 50 sen for every email sent to Malaysians who are account-holders. At a press conference in Kuala Lumpur, Tricubes chief executive Khairun Zainal Mokhtar stressed that users of the email will not be charged. But they will be expected to pay an additional cost if they want their mails to be more "secure" and for encryption facilities, which are optional. Full story: www.malaysiakini.com

Time:

07:09

More in

News & Politics
Sai Baba has Indian Muslims as his followers? What kind of Muslims are these?
Posted: 26 Apr 2011 02:21 AM PDT
A picture speaks a thousand words they say and this photo here speaks volumes!
I have always wondered about the kind of Aqeedah these so called Indian Muslims in Puttaparthi, Andhra Pradesh, India have what with their praying to this and that shrine, auliya this, auliya that, this dargah and that dargah, hero worshiping any out of the ordinary fella who goes around conning the gullibles with their many tricks of the trade and schemes that would make even David Blaine go blushing with embarrassment?
To see these motley crowd of said to be Sai Baba devotees from amongst those who are seen here sporting skull caps identifying them as 'Muslims' is actually quite disturbing.
What do'a are these zalimuns praying for? These are the so called 'alims' who in actuality are 'zalims'!
What bloody hell kind of aqeedah do these fellows profess?
Which Islamic principle or guideline are these 'shirk' practicing clueless in Kerala or where the hell ever 'pseudo Muslims' adopting?
Truly deviated from the straight path of Al Islam are these chaps! They say that there are over 120 million 'Muslims' in India.
To me, if these are the kind that the majority of them are made up of, they might as well not be who they claim to be!
Really! There is no point in having these millions of uninformed, ignorant masses of people passing off as Muslims but ending up praying to and worshiping a creation of Allah Azza Wa Jalla as a 'god'?
What kind of 'Muslims' are these dimwits?
Na'uzubillahiminzalik!
Verily what Rasul Sallalahu Alaihi Wassallam foretold a thousand four hundred over years ago has come to manifest itself in the form of these ignorant masses who form a major part of the foam upon the ocean waves which the Blessed Prophet described the latter day Muslims to be as?
So many in numbers but the level of their Iman and Aqeedah is so suspect. 
So weak and totally deviated from the straight path of Islam that Allah Subhanahu Wa Ta'ala and Rasul Sallalahu Alaihi Wassallam has bequeathed upon us, the ummah of Muhammad al Mustafa in these Akhirul Zaman!
I sincerely hope that these dimwits wake the hell up and repent with all their hearts for if they fail to do so, will find themselves keeping company with the ones who face the Wrath of Rabbul Alamin for committing Shirk against Allah by worshiping one of His Makhluk!!!
Those of you who may be Muslims in India reading this article, please share this site with those whom you know are caught in this major sin of associating a makhluk with Rabbul Alamin!
Who knows?
You might still be able to save them from Narr al Jahannam!
Insya Allah.
The Time.com magazine sums it all up nicely here. 
'The Man who was 'God?' dies.
God dies???
Go figure!!!
Sometimes one can just go stir crazy looking at all these weirdos putting up a bloody drama of being Muslims this and that and yet being worse than attested Kaffirs!
There are many kinds of these pseudo Muslims in the world but I guess, India is where they have set up their headquarters. Remember Shirk Khan? :P
He could be their Chifusan. Really takes the cake!
Watch this.
Gone case bayya!!! 
Period.
To his diehard fans > Sai Baba (deceased) please check out what this site has to share?
You might just be 'enlightened'. :)
Posted: 25 Apr 2011 11:46 PM PDT
Antara Jauhari dan Manikam; Peribahasa yang Menggambarkan Realiti Dinihari.
'Kais pagi makan pagi, kais petang makan petang.'
Peribahasa ini semakin hari menjadi realiti rakyat terbanyak terutamanya golongan muda yang pada awalnya berbelanja besar di menara gading dengan penuh pengharapan untuk bekerja dan bergaji di masa hadapan, demi membina satu kehidupan dewasa yang selesa. Begitu juga pengharapan ibu dan ayah serta keluarga yang tidak sabar melihat kejayaan anak-anak di bumi Malaysia yang bertuah ini.
Belum sudah kita bangkit daripada kejutan Laporan Bank Dunia, yang menyatakan bahawa Negara akan menjadi sebuah Negara muda secara demografi tetapi miskin secara ekonomi, kita diheret lagi dengan hutang isirumah yang sudah mencecah lebih RM500 billion atau 77% KDNK Negara. Kepala semakin pusing apabila melihat defisit Negara pula yang sudah melebihi 50% daripada KDNK.
Realitinya, harga barang makin naik, peluang pekerjaan dan tangga gaji semakin membeku, dan membawa bersama masa depan 'ekonomi pengais'.
Oleh itu apakah penyelesaian yang ditawarkan oleh kerajaan agar ekonomi Negara dan nasib rakyat tidak terperangkap di dalam 'ekonomi pengais'?
Yang ditawarkan adalah Model Ekonomi Baru (MEB) atau NEM dengan ETP. Bagaimana pula  NTA dengan empat tiang 1Malaysia, GTP, ETP dan RMK ke10? NKRA? NKEA? Adakah program-program ini memadai? Adakah program-program ini akan berjaya?
'Indah khabar daripada rupa'
Peribahasa inilah yang semakin hari menggambarkan segala tawaran kerajaan yang diikat rapi dengan berbagai akronim;  hanya indah khabar tetapi hakikat pelaksanaan adalah sebaliknya.
Daripada Menara Warisan Merdeka kepada projek Maha Gergasi (yang diberi kepada gabungan konsortium (JV), tetapi anti konsortium (anti JV) bila masa ditender secara terbuka kepada syarikat-syarikat bumiputera lainnya) Mass Railway Transit dan yang terbaru emel 1Malaysia kesemuanya memiliki satu ciri utama yang sama, iaitu mendahulukan kroni dan membelakangkan rakyat.
Bukan saja ekonomi menjadi ekonomi pengais tetapi ekonomi juga menjadi 'ekonomi pengaut' untuk kroni di mana rakyat sebagai pengais bertungkus lumus tetapi sebaliknya kroni mengaut kekayaan negara.
Nampaknya ekonomi saksama tidak berjaya diwujudkan dan rakyat tidak dapat menikmati kesenangan atau kesusahan seperti maksud 'hati gajah sama dilapah, hati kuman sama dicecah' atau 'yang berat sama dipikul, yang ringan sama dijinjing'.
'Harapkan pagar, pagar makan padi.'
Impian Malaysia yang menjanjikan kemakmuran dan kesejahteraan semenjak merdeka sekarang hanya tinggal bayangan kerana ekonomi pengaut berbajukan akronim menjadi teras kerajaan kini. Harta kekayaan negara diratah sesama sendiri, rakyat hanya mampu melihat.
Ketika pilihanraya dikatakan perjuangan untuk rakyat tetapi apabila sudah menang dengan penipuan di peti undi, budaya 'seperti kacang lupakan kulit' mula menjalar.
Negara merdeka dahulu sudah menjadi Negara polis.. Polis kini bukan menjaga rakyat bahkan melawan rakyat.
Penggunaan Akta Darurat untuk mengekang kemaraan rakyat melakukan perubahan. Undang-undang darurat terus dikekalkan walaupun sudah dicadang agar dimansuhkan pada sidang parlimen yang lalu telah ditolak mentah-mentah oleh Kerajaan. Ini membuktikan dengan Akta Darurat, Kerajaan kini kekal berkuasa.
Tiada pilihanraya bebas dan adil lagi telus. Demokrasi di Malaysia Demokrasi Tempang.Dakwat Kekal tidak dibenarkan, Undi Pos sebagai talian hayat. Kiraan semula di pusat pengiraan undi yang dahulu dibenarkan ditukar di saat akhir; hingga kalahnya kerusi DUN Senadin kepada BN dengan majoriti 58 undi. Terkini, Sarawak menjadi saksi bagaimana kebobrokan nyata Demokrasi di Malaysia.
'Air setitik dilautkan, tanah seketul digunungkan'
Alangkah menyedihkan apabila perkara kecil dibesar-besarkan manakala perkara-perkara besar diketepikan.
Dua isu besar yang menenggelamkan Negara dan melemaskan rakyat iaitu Transformasi Ekonomi Negara kepada ekonomi pengais untuk rakyat dan ekonomi pengaut untuk kroni atau lanun ekonomi manakala Transformasi Politik Negara dari Negara merdeka berperlembagaan kepada Negara Polis yang diperintah lanun politik.
'Harapkan pagar, pagar makan padi'
Yang paling mengejutkan, kata-kata Perdana Menteri yang menyatakan penganugerahan projek emel 1 Malaysia tidak membabitkan sesenpun dana rakyat dicurigai pabila Pengarah Perkhidmatan Perniagaan NKEA menjawab bahawa agensi kerajan membayar syarikat yang dianugerah sebanyak 50 sen bagi setiap emel yang diterima.
Justeru, bagaimana mahu mengharapkan transformasi, bilamasa transformasi politik yang mengembalikan ketelusan tidak mahu dilaksanakan?
Tetapi semua isu-isu dan cabaran perdana melanda Negara tidak diberikan ruang dibahaskan atau dipikirkan kerana perhatian rakyat dikalihkan, dipesongkan dan ditenggelamkan dengan isu-isu remeh dan ada yang penuh fitnah.
Buat julung kalinya, orang-orang asli di perkampungan DUN Belaga dipersembahkan tayangan video lucah menjelang Pilihanraya Negeri. Bukankah satu kegilaan namanya?
Kehadiran agensi-agensi kerajaan pusat di banyak lokasi mengundi di Sarawak, seperti TEKUN, KEMAS, dan JASA menggamatkan lagi keadaan pabila agensi-agensi sedemikian hanya celik pada warna bendera parti politik yang dikibarkan, tetapi buta melihat rakyat yang memerlukan.
'Kalau tidak dipecahkan ruyung, manakan dapat sagunya'
Kalau rakyat tidak bersatu menuntut keadilan, kebenaran dan hak sudah tentu keadaan Negara bukan sahaja kekal sama tetapi akan makin merosot akibat globalisasi dan korupsi.
'Sesat di hujung jalan, balik ke pangkal'
Marilah rakyat sepakat untuk memulihkan demokrasi berpelembagaan melalui reformasi ibarat pulang ke pangkal dan bukan sekadar transformasi yang menyesatkan kita lagi.
Rakyat perlu sepakat menolak kerakusan pemimpin yang hanya mementingkan kroni dari rakyat. Reformasi Politik yang perlu dibawa bersama untuk kemakmuran dan kesejahteraan Negara.
Peribahasa Melayu ada nilainya. Jangan kita biarkan nilai tersebut hangus dalam kebejatan politik tanpa nilai.
Submissions end, decision on May 16
Posted: 25 Apr 2011 11:34 PM PDT
For the second day in a row, Kuala Lumpur High Court judge Mohamad Zabidin Mohd Diah hears the submission to the prosecution's case in the controversial Anwar Ibrahim sodomy trial. Solicitor-general II Mohd Yusof Zainal Abiden had yesterday attempted to join the dots to the prosecution's case in highlighting the compatibility of the DNA found from the semen in alleged complainant Mohd Saiful Bukhari Azlan's anus and the three items retrieve from Anwar's cell proves the opposition leader was the perpetrator. Full story: www.malaysiakini.com

Time:

04:15

More in

News & Politics
Submissions end, decision on May 16
Posted: 25 Apr 2011 11:31 PM PDT
Submissions end, decision on May 16
Posted: 25 Apr 2011 11:16 PM PDT
Pendakwaraya Tidak Nafi Saiful Berbohong. Anwar Tak Perlu Sumpah
Posted: 25 Apr 2011 10:57 PM PDT
Penggulungan Karpal semalam tidak dapat dijawab dan dipatahkan oleh Pendakwaraya.
Antara pembohongan Saiful adalah:
1.0 Beliau mendakwa beliau dipaksa oleh Anwar untuk diliwat. PAdahal beliau dituduh di bawah Seksyen 337b yang menunjukkan liwat berlaku dengan sukarela. Ini BERLAWANAN dengan dakwaan Saiful yang mengatakan beliau dipaksa.

2.0 Saiful mengaku beliau duduk minum kopi dan makan karipap selepas beliau diliwat. Ini bukan tanda-tanda orang yang dipaksa untuk diliwat. Ini tanda-tanda orang itu sukarela untuk diliwat kerana orang yang dipaksa untuk diliwat pasti menunjukkan kesan-kesan emosional dan tidak mungkin boleh duduk dan minum kopi. Lagi bukti Saiful berbohong.

3.0 Saiful mengaku beliau merapati "Anwar" apabila beliau dipanggil. Padahal pada waktu itu beliau boleh menjerit dan lari keluar dari bilik, sekiranya beliau dipaksa. Lagi bukti Saiful berbohong.

(Laporan kronologi boleh dibaca di sini).
Pendakwaraya pula tidak menjawab hujjah2 Karpal ini. Pendakwaraya tidak berjaya membuktikan bahwa Saiful
tidak
makan karipap dan minum kopi selepas diliwat.
Pendakwaraya tidak pula menjelaskan mengapa Saiful tidak lari dan menjerit apabila beliau dipanggil masuk ke dalam bilik.
Pendakwaraya semata-mata bergantung kepada tuduhan kononnya wujud air mani Anwar dalam jubur Saiful. Pada waktu yang sama, Pendakwaraya tidak dapat beritahu bagaimana air mani Anwar boleh masuk jubur Saiful sedangkan pakar-pakar membuktikan tiada "tembusan" berlaku ke atas lubang jubur Saiful Bukhari.
Namun, kita semua tahu air mani lelaki Y itu adalah sebenarnya air mani Saiful Bukhari sendiri.
Dengan kata lain, Pendakwaraya tidak mampu menafikan Saiful Bukhari seorang pembohong. Dan Pendakwaraya sendiri pembohong sebab kata air mani lelaki Y adalah air mani Anwar Ibrahim.
Akhir sekali, Allah SWT menunjukkan kepada kita sedikit demi sedikit bahawa seluruh kes ini adalah satu fitnah yang maha besar ke atas Anwar tajaan Najib dan UMNO.
Tulang Besi
A Challenge To The DPM — By David Martin.
Posted: 25 Apr 2011 10:42 PM PDT
Dear Tan Sri Muhyiddin,
I really don't want to exchange pleasantries with you but my parents brought me up to respect everyone, even those you can't stand. So here goes; I hope this letter reaches you in the best of health, both mind and body.
For yonks I've viewed politicians with a lot of disdain and an unhealthy degree of suspicion. Could you blame me for having such a perception? I've seen countless politicians with so many different personas to cater to their target audience that they'd put a chameleon to shame.
Just a little under a fortnight ago, you spent a lot of time in my home state of Sarawak trying to drum up support for your coalition in view of the impending state elections. You spoke yourself hoarse propagating the 1Malaysia plan that was mooted by your boss, the PM himself.
Now that the Sarawak elections are over, you've shed another one of your many skins and have gone on to support the 1Melayu 1Bumiputera concept mooted by Utusan Malaysia. You were reported to have said that the concept reflected the aspirations of Malays in the country.
"Is it good for Malaysians to not take into consideration the feelings of Malays, who are bumiputeras and the majority in the country? We cannot stop people from expressing their views although it does not make others happy … but some Chinese don't know the feelings of Malays… the Malays know the feelings of Chinese," you said.
You seem to speak as if the Malays are an oppressed lot amongst Malaysians. You speak as if the Chinese are the head honchos in the country. You speak as if you are 100% sure of the sentiments which you blurted out.
May I be so insolent as to ask you if Malaysia would be where it would be today if not for the contributions of the other races other than the majority race? Would Malaysia have prospered without the support of the other races? Heck, even the independence of Malaya was in no small parts due to the contributions of MCA and MIC.
The comparison may seem inappropriate, but I'll say it anyway. There are some parallels to the Nazis of the early 20th centuries who propagate superiority of the Aryan race over the others.
I have always thought that the PM, his deputy as well as the cabinet was voted into office for Malaysians, regardless of race, religion or political affiliations. And as such you owe allegiance to the people, to Malaysians and not to any particular race or religion.
But you came out with the infamous declaration that you were a Muslim first, a Malay second and a Malaysian last. And till today, you've resisted any requests or pressure to retract that statement.
Being a Catholic Chinese Malaysian, should my allegiance be to the Vatican as the Catholic state, China as my heritage roots and finally to Malaysia as the country of my birth, in that order?
Let's put an end to this hypocrisy shall we? Let's have an open debate, telecast live or otherwise. A debate between a seasoned politician cum minister cum the number two guy in the country and a regular man on the street. A man who never had the privileges that came with a bumiputera status.
Lets talk about anything and everything under the sun that matters to the average joe/jane that many a Malaysian are. You get to pick the time, the place, the moderator etc. And I'll make that date so we can speak our minds without fear to be judged by Malaysians.
And lest you hesitate, I'm not a member of any political party and nor do I intend to join any. I just feel that it's time that you be put in your place for your obviously skewed viewed where religion and race is concerned in total contradiction of your supposed support for the 1 Malaysia concept.
And yes, we can have it in Bahasa Malaysia if that tickles your fancy. After all, you are at the heart of all the hare brained schemes to abolish PPSMI and to put in place MBMMBI to replace it. I may not be a native speaker of the language but I have been told that I hold my own comfortably when I do speak it (or so my peers say).
I await your response without holding my breath lest I expire of asphyxiation. The ball is in your court. What say you?
Your Sincerely, A Malaysian 1st, 2nd & last... Always.
Language Barrier To Racial Interaction, Study Reveals - By Debra Chong.
Posted: 25 Apr 2011 10:22 PM PDT
A significant number of secondary school dropouts with Chinese primary vernacular education have little, or zero, command of English or the national language, according to a study.
Observers say this has created a group of Chinese who only interact within their own ethnic community and points to increasing racial polarisation in multicultural Malaysia.
Education ministry studies have shown that nearly one in four Chinese students has failed to complete secondary school education and their dropout rate is virtually the same as that for Malays and other races.
In the latest survey of 159 schools nationwide last year, the National Union of Teaching Profession (NUTP) found that one-third of students from those schools cannot understand either English or Bahasa Malaysia (BM) when they transfer to national secondary schools.
Another one-third was found to be able to understand only a little bit of English or BM, while the remaining one-third could comprehend fully.
NUTP secretary-general Lok Yim Pheng told The Malaysian Insider the survey was to find out the reasons for the high dropout rate among the Chinese students required to participate in the "remove class", a year-long programme to ease their transfer from Chinese primary school to Malay-medium government school.
"Some students are not interested in their studies and play around," she said, but deferred commenting on the significance of the survey.
Retired school principal Cheng Su Chean said there were Chinese students who were fluent in both BM and English and credited it to their wide exposure to different cultures outside school.
"Most of our Chinese children do not have this sort of environment. And nowadays, they do not mix around, not like our time," said the 68-year-old, who was formerly headmistress of SRJK (C) Pudu in the capital city.
"Their interaction is limited. Ninety-eight per cent keep to their Chinese friends and so speak Chinese every day," she added.
Senior fellow Socio-economic and Environmental Research Institute (Seri), Datuk Dr Toh Kin Woon, observed that "this is one of the contributory factors leading to racial polarisation".
"Because of the linguistic barrier, they are not able to interact with their peers in school," he said.
The Penang-based pundit also noted that many of those who came from a low economic class formed the bulk of the drop-outs, which created a vicious cycle as "education was no longer a vehicle for social advancement" due to the language barrier.
"They can't get into government-sanctioned training institutes, so they don't even have the basic skills [to get a job]," Toh said.
"Because of this, some might go overseas where they may end up as illegal workers... which could contribute to the black economy," he added.
Tan Yew Sing who heads the KL-Selangor Chinese Assembly Hall admitted that the problem was very serious and the association had set up a committee to look into the issue and arrest the problem.
He said the racial divide has become more pronounced in the last 10 years, starting with primary school education.
"The whole [education] system needs to be revamped... We need to find out how to build up an environment for interaction with people of difference races," Tan told The Malaysian Insider.
Courtesy of The Malaysian Insider

Tricubes Admits 1 Malaysia Email A Financial Lifeline - By Yow Hong Chieh.
Posted: 25 Apr 2011 10:03 PM PDT
Tricubes Bhd admitted today the 1 Malaysia email service is a financial lifeline for a company at risk of being delisted from Bursa Malaysia, adding it is targeting 5.4 million subscribers without a guarantee the government will use it.
Tricubes chief executive officer Khairun Zainal Mokhtar also said the company will raise additional funds through a rights issue for the RM50 million project that was awarded on April 4 by the Malaysia Administrative Modernisation and Management Planning Unit (Mampu) in the Prime Minister's Department.
He also confirmed that an email will cost no more than 50 sen to send for those using the service.
The company had said earlier it will spend RM5.3 million first for the 1 Malaysia email project but will embark on a pension and tax notification initiative to sustain the service that many say is unnecessary.
The myemail.my service will threaten Pos Malaysia Berhad's postal services for the Employees Provident Fund (EPF) and Internal Revenue Board. Credit card firms and online portals, such as myeg.com.my, already provide payment facilities for such services.
The EPF has a total of 12.72 million members as of December 31, 2010 but active and contributing members number at 6.04 million, the pension fund said in its website.
"I think a lot of marketing dollars will be spent in terms of promotional activities," Khairun told reporters at a media briefing here today.
He declined to disclose how many subscribers it would take to recoup Tricubes' initial RM5.3 million investment, but later told The Malaysian Insider it would take "much less" than 5.4 million users for the project to be commercially viable.
Khairun also said that although Tricubes had no customers as yet, the company was in talks with "quite a few" government agencies keen on using the service.
"We hope to secure a few customers before the end of the year," he said.
Prime Minister Datuk Seri Najib Razak has said that the 1 Malaysia e-mail project will have a gross national income (GNI) impact of RM39 million up to 2015 and will allow direct and secure communications between Malaysian citizens and the government.
But critics say the government should focus on infrastructure project such as providing clean water or broadband across the country rather than working on a free email service which is already available through Hotmail, Yahoo! and Google Inc.
Detractors also question why loss-making Tricubes, at risk of being delisted after its weak financial standing triggered Bursa Malaysia Securities' Guidance Note 3 (GN3) in October last year, was tapped to spearhead the project.
Tricubes has said it is collaborating with Hotmail service owner Microsoft Corp for the project but provided no details.
Courtesy of The Malaysian Insider

Pilih Timbalan Presiden yang Wala' Pada Mursyidul Am
Posted: 25 Apr 2011 09:37 PM PDT
Pokok pangkal perpecahan dalam PAS selepas pilihanraya 2008 adalah terdapat sebahagian kepimpinan PAS Pusat yang tidak wala' kepada keputusan Mursyidul Am PAS Pusat, Tok Guru Nik Aziz Nik Mat.
Setelah menolak mentah-mentah keputusan serta larangan Mursyidul Am, maka berlakulah perkara-perkara di bawah:
1.0 Perjumpaan dalam gelap dengan UMNO

2.0 Pembohongan kepada seluruh rakyat Malaysia yang dilakukan oleh kepimpina PAS Pusat untuk menutup berita perjumpaan dalam gelap ini.

3.0 Penolakan dan sabotaj projek September 16 sehingga membawa kepada kegagalannya

4.0 Penyebaran idea "Kerajaang Perpaduang" dan usaha-usaha ke arahnya

5.0 Penyebaran fitnah-fitnah yang meluas berkaitan Kerajaan Pakatan Rakyat selari dengan fitnah-fitnah yang ditaja UMNO i.e. Ahli2 Majlis yang Melayu sudah tinggal 30% sahaja.

6.0 Penyebaran pil wala' yang berleluasa kerana ada usaha memerangi mereka yang tidak wala' pada Mursyidul Am itu.

7.0 Berjalan usaha yang aktif dan tersusun untuk memfitnah pimpinan2 PAS seperti Husam Musa dan mereka2 yang menentang idea Perpaduang

8.0 Permusuhan PAS dengan Blogger2 yang akhirnya merugikan PAS bukannya merugikan para blogger.

9.0 Lahirnya blogger2 pondan seperti Ali Zaidan, Penembak Babi, BatuApi@Firestone, Songkok Putih dsbnya yang berperangai tidak jauh beza dari blogger2 UMNO

10.0 Berkuasanya puak2 Terengganu ke atas perjalanan dan pentadbiran PAS dengan membawa budaya kalah mereka untuk diterap di seluruh Malaysia.

11.0 Percubaan untuk menjatuhkan MB Selangor yang dipacu oleh Ketua Penerangan PAS Selangor dan melibatkan Setiausaha Politik Presiden.
Pokoknya, sekiranya arahan dan larangan Mursyidul Am didengari dan diikuti, nescaya perpecahan seperti yang kita lihat sebelum ini tidak akan berlaku.
Maka, demi mengelak perpecahan dan krisis dalam PAS, pilihlah Timbalan Presiden serta kepimpinan2 yang WALA' kepada Mursyidul Am PAS Pusat.
Tulang Besi