---
NAJIB: I Cheat, Therefore I Am (a Patriot) A Dramatic Story Three Little Pigs Retelling
Posted: 17 Mar 2011 11:20 AM PDT
Defeat is the distance between a bedtime story and a wake-up call. The former starts with 'Once upon a time…' and lulls the voter to sleep. The second is an energiser that addresses a fresh dawn.Three political parties have become victims of their own success: their narrative has run its course, and they have not been able to find a further chapter to their saga
.

The BJP story is the simplest: the fairies have abandoned its fairy tale. It began as the party of refugees from Pakistan. The robust economic and social resettlement of the dispossessed, evident by the 70s, paradoxically, liberated them from the party which helped them. After the high-drama blip of the Emergency and Janata Party phase, the BJP reinvented itself as a champion of a psychological rather than an economic need.The temple movement brought great rewards, culminating, albeit through a parabola enhanced by the charisma of Atal Bihari Vajpayee, in six years of power at the Centre. But within this time, the Indian mood turned. Economic aspirations took primacy over psychological needs, particularly since the temple movement was made irrelevant by the destruction of the mosque at Ayodhya. A functioning temple has come up on the site, a fact that seems to escape the attention of those writing the BJP manifesto, which keeps promising to build a temple.
Every political party has colluded in this change; even though self-proclaimed secular parties encourage Muslims to indulge in the self-delusion that a dispute exists. In truth, all that the BJP can offer is to build a bigger temple, which does not quite have the same emotive force as 'Mandir yahin banayenge!' The BJP's cousins, the Senas of Maharashtra, have regional chauvinism to fall back upon. If the BJP wants to reclaim national space, it will have to establish another horizon.
When socialism became passe, Mulayam Singh Yadav resurrected himself brilliantly as the anti-thesis of the BJP, blending it with a distinctive element of Lohia socialism, empowerment of the backward castes. However, when the thesis is faltering, the anti-thesis cannot be robust. That is the Samajwadi Party's problem vis-a-vis the Muslim vote. As for the Backwards: Mandal has been milked dry. Mandal has delivered for those whose prayers were answered in 1990. A new generation of Backwards needs solutions for the 21st century.
The last time the Left had anything original to say was more than three decades ago; and it had remarkable staying power in Bengal. But Bengali Muslims, critical to any democratic algebra, are now tired of the Left's soft secularism, a formula in which their lives were secure from communal violence but their livelihood was left to the wolves. The subalterns of Bengal, across the religious divide, have adopted an interesting strategy: they have become, to a great extent, a non-partisan opposition. Mamata Banerjee's Trinamool Congress is merely expanding its elasticity to contain voter anger to the extent it can.
There are no internal structures, nor is there any serious thinking being done by Mamata on how to fashion an alternative delivery system when she assumes power in the state. It is now a question of when the Left will be driven out, not whether. But in the current turmoil also lies an opportunity for 2016, if there is anyone left with the imagination to think ahead.
Mayawati survives in Uttar Pradesh, despite setbacks, because she is still waking up her support base. The Dalit deliverance is far from over; and her cross-ethnic alliances are still in infancy. Mayawati was out of her depth at the national level because she could not promise stability. In regional waters, she is still an Olympian. Her personality may be her biggest obstacle, but her agenda is intact.
The key to Mulayam Singh Yadav's future will lie in his ability to unlock the next dimension of Muslim demands, and spearhead it. There is a transparent anger, leavened by confusion, among Muslims which is provoking a drift to the most familiar port, the Congress. But the Congress has nothing new to offer.
What the Muslims of UP are looking for, but have been unable to articulate, is a defined political space within which they can find food-and-faith security. Given the passions that such a demand could arouse, this quest might surface obliquely rather than directly. On the table is Ajit Singh's dream of a Harit Desh in western UP. Such a state will have a substantive Muslim population, as well as a string of important Muslim educational institutions, from Aligarh to Deoband. It will become a natural socio-economic magnet for Muslims of the north. The idea is still in an embryonic stage. Whoever articulates it, will have rung a wake-up call.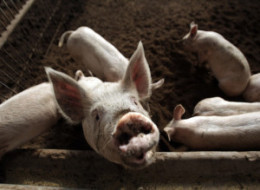 Remember when you first learned that the "
honey badger don't care
"? Us, too. It, shamefully, was not that long
ago
. But we were so taken by the entire
Randall's Wild Wild World Of Animals
series that we couldn't resist reaching out to Randall himself, and asking if would create some videos for us explaining other natural phenomena.
Posted: 17 Mar 2011 11:02 AM PDT
In this year's State of the Union address, President Barack Obama declared, "the Iraq war is coming to end"—at least for Americans, leaving "with their heads held high" because "our commitment has been kept."
For millions of Iraqis, however, the war is far from over—in fact, for a growing number of families in cities that were nearly destroyed during the years of insurgency and counter-insurgency, the crisis is only beginning.
"Whether the Americans take responsibility for our role in it will determine whether we can hold our heads high in foreign policy ever again," Obama said. As one Iraqi-American journo-friend of mine said: "Just because we don't pay attention, doesn't mean the rest of the world isn't paying attention."
According to studies and eyewitness accounts over the last few years, Fallujah, an Iraqi city that was practically obliterated by US heavy artillery in two major offensives in 2004, is experiencing a staggering rate of birth defects among its local population. The situation echoes similar reports from Basra that began to circulate after the first Gulf War in 1991.
The litany of horrors is gut-wrenching: babies born with two heads, one eye in the middle of the face, missing limbs, too many limbs, brain damage, cardiac defects, abnormally large heads, eyeless, missing genitalia, riddled with tumors.
Upon touring a clinic in Fallujah in March of last year, the BBC's John Simpson reported, "we were given details of dozens upon dozens of cases of children with serious birth defects … one photograph I saw showed a newborn baby with three heads."
Later, at the main US-funded hospital in the city, "a stream of parents arrived" with children who had limb defects, spinal conditions, and "other problems." Authorities in Fallujah reportedly warned women to hold off on having babies at all.
Dr. Ayman Qais, the director of Fallujah's general hospital, told The Guardian that he was seeing two affected babies a day, compared to two a fortnight in 2008. "Most [deformities] are in the head and spinal cord, but there are also many deficiencies in lower limbs," he said. "There is also a very marked increase in the number of cases of [children] less than two years with brain tumours. This is now a focus area of multiple tumours."
The pictures and video available with a quick Google search are simply shocking. Continue reading Children of War...
ENCOUNTERING AGE DISCRIMINATION AT THE BANK
Posted: 17 Mar 2011 10:47 AM PDT
My mother hasn't been discharged yet, but every few days, the hospital would contact me and request for a RM8000 top-up. So far, the cost of her 12-day hospitalization, angioplasty and hip surgery has exceeded RM31,000. She has at least another 4-5 days to go before she can go home. I dread to receive the final bill.
Yesterday I was at the bank on what I knew was a 'mission impossible' - to ask for a raise on my credit card limit so I could pay for each hospital top-up. No harm trying, I thought. Just as I had feared, the bank imposed conditions that I couldn't meet because of my age. It was all too familiar, as I was given the same conditions when I tried to apply for a second credit card last year.

What were the conditions? They wanted me to submit my latest income statement. Hello, I'm 63 and retired. I haven't been in full-time employment for years. They also asked for a copy of my FD accounts. The amounts I have in my FDs are embarrassing, and for my eyes only.
Doesn't it count that I have never been in credit card debt, or any debt, for that matter? I have a sparkling clean record, and an AAAA rating on my integrity. But I guess the banks are not impressed by such pristine track records. They can't impose a fee on me for late payment or charge me interest on bank loans or overdrafts. In short, I'm not considered a good customer.

The bill I received on 16 March - this is only a sub-total of page 1. Take a closer look at the most expensive items. (Click on image to enlarge.)
All this means I have to get a banker's cheque made out in favour of the hospital. The hospital does not accept personal cheques. And if the costs keep escalating, as they definitely will, I'll have to visit the bank 2-3 more times to get the cheques done. What a hassle!
And that's not the only case of age discrimination I encountered of late. More in the next blog post.
Related Post:
Credit Card Discrimination Against Retirees
Tijah: Seluruh pentadbiran Orang Asli sudah tercemar
Posted: 17 Mar 2011 05:32 AM PDT
Representatives of the Orang Asli community want Prime Minister Najib Abdul Razak to take a stand on the community's rights, following a damning statement by former premier Dr Mahathir Mohamad. Speaking to reporters at a joint press conference with the Bar Council, Peninsular Malaysia Orang Asli Network coordinator Tijah Yok Chopil called on Najib to put his foot down to prove that his 1Malaysia call is not empty propaganda. "I am demanding that the '1Malaysia prime minister' tells people like (Mahathir) to stop such behaviour, which will only drive wedges among us," she said. Full story: malaysiakini.com

Time:

06:52

More in

News & Politics
Kita leaders come to Zaid's defence
Posted: 17 Mar 2011 02:05 AM PDT
In defence of Parti Kita chief Zaid Ibrahim, his party leaders are rallying around him in the wake of stinging criticism following his comments on Sodomy II. Zaid had previously urged PKR de facto leader and opposition leader Anwar Ibrahim to provide his DNA samples to the court to prove his innocence once and for all, in the latter's ongoing sodomy trial. Full story here: www.malaysiakini.com

Time:

04:03

More in

News & Politics
Sempena Ulang Tahun ke -45 DAP
Posted: 17 Mar 2011 09:00 AM PDT
Dato' Seri Anwar Ibrahim Meraikan Majlis Makan Malam  Sempena  Ulang Tahun ke -45 DAP  18 Mac 2011 (Jumaat)  Masa : 7.30 – 11.00 Malam  Lokasi : SK Happy Restoran, Taman Seremban Jaya (Senawang), Negeri 9  Ucaptama Oleh:      1. YB Dato' Seri Anwar Ibrahim      2.  YAB Lim Guan Eng      3.  YB Lim Kit Siang      4.  YB Karpal Singh      5.  YB Chong Eng      6.  YB Loke Siew Fook      7.  YBhg Dr. Chen Man Hin      8    YB M. Kulasegaran
Bar Council : Justice Must Not Give Way To Speed
Posted: 17 Mar 2011 07:48 AM PDT
As reported in
Malaysiakini
, the Malaysian Bar Council is to meet with Chief Justice Zaki Azmi soon on the resolution its members passed during the weekend declaring "no confidence in the Key Performance Indicators" introduced by Zaki.
Newly-elected council chairperson Lim Chee Wee said he and the new office-bearers would meet with Zaki "very soon regarding the resolution passed by the Bar" at its 65
th
annual general meeting.
"We are hopeful for a productive and effective meeting," Lim said.
The Bar Council in its resolution called for the withdrawal of the KPI, saying it did not serve the interests of justice and litigants.
Calling for the immediate withdrawal of the KPI, the lawyers said the council would take appropriate stepts to protest if this was not done.
The motion was moved by the immediate past chairperson of the Bar Council, Ragunath Kesavan.
It noted that the KPI introduced by the judiciary two years ago had resulted in various problems and injustices as a result of strict observance of the KPI.
On Dec 12, 2009, the Bar Council resolved that justice must never give way to speed; qualitative justice must be the overall objective in any judicial initiative or reform; and that the judiciary should exercise its discretion fairly, sensibly and courageously in all instances.
The council is concerned with the quality of the decision-making process, as judges must read court files, listen to oral arguments and submissions, deliberate by considering the facts and the law as presented, and then make a decision, giving the grounds of their judgment.
The resolution also called for courts to sit from 9am to 5pm, and to extend hearing hours only with with consent of the parties involved. The lawyers also do not want cases to be struck off until the close of sitting for the day.
'Give advance notice'
Another major complaint is on the fixing of hearing dates for cases that are sometimes brought forward without the consent of the parties involved.
The lawyers want to be informed in writing at least one month in advance on any change in hearing dates, and for this to be done only with the consent of all parties.

In the resolution, the Bar also expressed its concern, and dissapointment, that notwithstanding consensus, some judges and judicial officers such as magistrates and sessions court presidents refused to observe the consensus reached between the Bar and the judiciary.

In doing so, the judicial officers were denying litigants their right to a full and fair hearing. Among the instances of judicial misbehaviour the lawyers listed includes:
Striking out of cases before the end of a sitting, or worse, before the hearing date;
Fixing of hearing dates without regard to availability of counsel;
Refusing to grant adjournments despite valid reasons given by counsel;
Making a decision without reading the court papers and submissions, and without adequate deliberation; and
Delivering decisions without giving the grounds of judgment.
There have been reports that lawyers, including senior counsel, may take to the streets if the KPI is not lifted, as what was done during the Walk for Justice in 2007.
Council member George Varughese said when contacted that though the resolution was passed during the weekend, no time limit or deadline was fixed on when the lawyers would protest.
Christians Say Will Not Collect Malay Bibles - By Debra Chong.
Posted: 17 Mar 2011 05:53 AM PDT
Nowhere in the Internal Security Act (ISA) is it stated that any form of words has to be endorsed on any copy of the Bible in Bahasa Malaysia.
The Christian community said today it is appalled by what it says is the Najib administration's desecration of 5,100 holy books shipped in from Indonesia and has flat out refused to collect the Port Klang shipment.
The Christian Federation of Malaysia (CFM), which represents over 90 per cent of churches in the country, insisted that Putrajaya immediately drop the conditions imposed for the release of two shipments of Malay Bibles totalling 35,000 copies seized from Port Klang and Kuching port.
Last night, the Bible Society of Malaysia (BSM) was told its shipment of 5,100 Alkitab — as the Malay Bibles are called — have been stamped with the Home Ministry's official seal, as per the conditions imposed for the release issued two days ago, without its prior permission.
The first requires the importers to directly stamp on the cover of each of the 35,000 copies the following words: "Peringatan: 'Al Kitab Berita Baik' ini untuk kegunaan penganut agama Kristian sahaja. Dengan perintah Menteri Dalam Negeri." [In English: "Reminder: This 'Al Kitab Berita Baik' is for the use of Christians only. By order of the Home Minister."]
The cover of the Alkitab would be stamped with the department's official seal and dated as well.
The second condition requires the importers to stamp a serial number on each copy as if to demarcate copies from the released shipment and to enable the book to be traced back to the port of import.
"This means that the Bahasa Malaysia Bible is now treated as a restricted item, and the Word of God has been made subject to the control of man. This is wholly offensive to Christians," CFM said in a strongly-worded statement today signed by its chairman Bishop Ng Moon Hing.
The umbrella body refuted government claims it had reached a compromise, saying it had never agreed that its holy books should be endorsed to say "it is only for Christians".
"Any person who respects the Holy Scriptures of any religion would be appalled by this action. We will never accede to any desecration of the Bible since the Word of God to us is sacred," it said.
Pointing to a 1982 order issued under the Internal Security Act (ISA), the CFM said nowhere in law was it stated that any form of words had to be endorsed on any copy of the Bible in Bahasa Malaysia.
"Given that copies may already have been endorsed, we will NOT take delivery of those endorsed copies," it added.
The CFM said it also wholly rejects the federal government's argument that the Bible in Bahasa Malaysia is "prejudicial to the national interest and security of Malaysia".
It condemned the government's treatment of its holy books as "subversive publication".
The CFM said Christian Malaysians have always acted in good faith and with great patience to reach a peaceful end to religious dispute that would not compromise their beliefs.
"But that good faith has not been reciprocated by the government," it said.
It further accused Putrajaya of having moved the "goal posts" over the years "through a systematic imposition of unreasonable conditions and restrictions".
"As Christians we wonder how our Holy Scriptures can become a national security threat where countless number of us find it helpful in bringing hope and healing to broken lives and homes which we can testify to," it said.
The CFM called on all Malaysians to rally together and reject all attempts to control the freedom of religion in the country.
It also advised all Christians to remain calm and pray for a dignified and respectful resolution to the ongoing Alkitab row and noted that Sunday will mark the second year the holy books have been detained at Port Klang.
Home Minister Datuk Seri Hishammuddin Hussein defended today his ministry's stamping of the 5,100 Malay-language bibles in Port Klang with its official seal, saying it was standard protocol and not done to "deface" the Alkitab.
The minister also said his men had no choice but to adhere to these procedures as the BSM had wanted the Bibles to be released quickly.
"We stamped the Bible based on amalan (practice) before... during Abdullah Badawi and even Tun Dr Mahathir's time," Hishammuddin told reporters today, referring to the two immediate past prime ministers.
Hishammuddin appeared to suggest that the Christian community's uproar over what they considered a violation of their holy book to be manufactured.
"They wanted it to be released quickly... if they want to find fault they can find fault... you can even say the Bibles are smelly after being kept for so long, if you want to find fault (with everything)," the minister claimed.
He said his officials had no intention to deface the Bibles, stressing that the Christian community should engage his ministry directly if it had issues or complaints over the measures taken.
However, he also voiced frustration over the inability to bridge the now-widening chasm with the community over the issue.
Courtesy of The Malaysian Insider

PKR destroying Pakatan in Sarawak
Posted: 17 Mar 2011 03:04 PM PDT
The Sarawak State Assembly has 71 representatives, and thus 71 state seats to be contested during a state election. In its 2006 state election, DAP, PKR, PAS and SNAP contested and respectively won the following number of seats:

DAP contested 12, won 6
PKR contested 25, won 1
SNAP contested 28, won 1
PAS contested 1, did not win any.

In the pending state election, PKR, without so much as a nod from its Pakatan allies, made a preemptive strike by unilaterally declaring it will contest 52 seats out of the 71 available. I'm surprised by its most generous nature that it didn't say it'll contest all 71 wakakaka.

But then that's the same old PKR in 2007 when it tried the same old dirty trick of attempting to cheat DAP by presenting the latter with (hopeful) fait accompli through its unilateral media releases even before the Pakatan 2008 seat allocation exercise was completed. It made the same (as the Sarawak) preemptive ambit claim for several seats traditionally contested (and even some already won) by DAP.

Anwar Ibrahim had originally agreed to some seats as DAP's traditional domain, but (I suspect, under the influence of a certain someone) reneged on his agreement when PKR through its sickening unilateral media releases staked claims on DAP's seats the latter had planned to contest (with Anwar's full knowledge), albeit temporarily before he came to his senses and got his party to back off from claiming, for example, Kula's seat in Ipoh Timor (or was it Barat?).

In this recent outrageous, preemptive, selfish, arrogant and unrealistic claim (through its usual unilateral media release) for 52 seats in Sarawak, leaving only 19 to be shared between DAP, PAS and SNAP, it either believes it is the 'boss' of Pakatan and the world revolves around it, or hopes to win 2 seats by doubling its 2006 efforts (25 got 1, maybe 52 will get 2?)

It even has the unmitigated arrogance to talk down on SNAP, stating it can only have 3 seats to contest (implying DAP and PAS have to share 16 seats). Who the F* did it think it was?

Sometimes PKR leaders have forgotten who has done well in the last State election, and what will be its likely chances in the land of Ibans-Dayaks?

What is far more annoying than its unrealistic greed and selfishness has been its overbearing arrogant presumption it can dictate terms to the others, DAP, PAS and especially SNAP. And the anwaristas naturally see no wrong in their leader's pseudo-imperious high-handedness, even chiding SNAP for not being (that UMNO word) 'grateful' and accepting the crumbs cast down by Azmin Ali the Great.

I do not see much future for Pakatan's likelihood of winning in the next general election with such an insolent overbearing group of PKR leaders like Azmin Ali. It's little wonder that Gobala and Zaid left, and I wouldn't be at all surprised when dissatisfied Chegubard, Mustaffa Kamal, Jonson Chong and various others, who are all fedup with the blue-eyed lil' Napoleon and his coterie, follow soon.

Thus I don't blame SNAP for just giving PKR the two fingers flick by declaring it will contest in at least 40 seats. SNAP made a point in stating its grievance is only with PKR and not DAP or PAS.

Much as I like peh-mor Taib and cronies to be chucked out by the forthcoming ballot box, I doubt very much that will happen, thanks to PKR unbelievable greed, selfishness, inability to cooperate, arrogance to its Pakatan mates and its unrealistic fantasy of winning more than its current 1-seat worth.

You can take some PKR members out of UMNO but you sure can't take UMNO out of them.
Bergantung kepada dubur untuk 'mileage' politik
Posted: 17 Mar 2011 06:03 AM PDT
Saya terpanggil untuk memberi komen pendek tentang isu DNA Anwar yang hangat diperkatakan terutamanya oleh penggiat politik dan pertubuhan yang berkait dengan politik. Anwar telah dihadapkan ke mahkamah dan apa juga yang diperkatakan oleh sesiapa di luar mahkamah adalah salah daripada segi undang-undangnya.
Biarkanlah mahkamah menyelesaikan isu itu dan lebih baik di sisi undang-undang dan di sisi etikanya agar pihak yang lain tidak masuk campur dalam menentukan Anwar menyerahkan DNA beliau atau tidak. Undang-undang ada untuk menyelesaikannya.
Berdemonstrasi di jalanan untuk memaksa Anwar menyerahkan DNAnya itu secara automatik akan dianggap sebagai tindakan politik. Takkanlah kita guna isu dubur untuk mendapatkan atau untuk mengekalkan kuasa? Elok kita tunggu dan biarkan pihak mahkamah untuk melakukan apa yang sepatutnya.
Kumpulan-kumpulan yang berkepentingan politik eloklah menggunakan isu lain untuk meraih sokongan dan janganlah kita menggunakan isu jelek ini untuk mendapatkan sokongan dan simpati orang ramai. Apa pun alasan yang diberikan oleh kumpulan yang mendesak ini ia tetap merupakan permainan politik yang tidak beretika.
Masakan kumpulan yang menjerit-jerit meminta Anwar menyerahkan DNA itu mengambil tindakan yang betul dengan menggunakan kesempatan ini untuk melakukan tindakan yang
desperado
ini.
Kumpulan-kumpulan ini seolah-olah tidak berkeyakinan kepada mahkamah atau mahukan mahkamah untuk memutuskan keadilan mengikut kehendak demonstrasi jalanan. Terlalu ramai penggiat politik sekarang ini mengingatkan dubur daripada mengingatkan perkara-perkara lain yang lebih berfaedah.
Carilah isu lain untuk dijadikan bahan politik. Janganlah tunjukkan sangat
desperado
kita di khalayak ramai.
Home Minister says Defacement of the Bible is Standard Practice!!
Posted: 17 Mar 2011 04:07 AM PDT
The home ministry has defended its decision to place a ministry stamp on copies of the Al-Kitab Bible that were impounded in Port Klang and in Kuching, saying that it was not "defacement" but standard practice. (taken from Malaysiakini)


"(They were stamped) based on amalan (the standard practice) before...(like) even during (former premiers) Dr Mahathir (Mohamad) and Pak Lah's (Abdullah Ahmad Badawi's) time.

"There was no intention to deface the Bible... we will not entertain this kind of talk," Home Minister Hishamuddin Hussein (left in photo) said at a press conference at the Parliament lobby today.

Hishammuddin also dismissed claims by the Bible Society of Malaysia (BSM), that stamping serial numbers on the holy book was a new practice.


"I am hearing all sorts of talk, about the size of the stamp, the colour of the ink... if they want to find fault they will find fault... you can even say the Bibles are smelly after being kept for so long

"It is not a real big issue to me... we have engaged (BSM) but you can only engage with people who want to engage, and resolve issues with people who want them to be resolved," he said.
OH! The arrogance of this UMNO man!!!
In a press statement earlier, Minister in the Prime Minister's Department Idris Jala said that the Bibles would be release in accordance with the 1982 gazette under the Internal Security Act, which allows for the import of the Bible in the Malay language for the use of Christians in Sabah and Sarawak.

However, Christian Federation of Malaysia chairperson Bishop Ng Moon Hing was not happy to this response.



He said, "This is Idris' way of handling things. (The government) wants it to look like it is the one giving in, when it should have followed the gazette in the first place. In fact, it is we who have lost so much ground," the bishop said.

Ng said the gazette was unsettling, since placing the Malay language Bible under the Internal Security Act meant the holy book was considered an issue of national security.

"CFM has always taken the position that the Bible is not a threat and contains nothing to threaten national security.

"All along, we Christians have never wanted to take a confrontational path, and have appealed against the (classification of the Bible under the ISA), but it has gone on for far too long," Ng added.
SO WHY IS THE BIBLE UNDER THE ISA?!?!
I DON'T WANT THIS KIND OF 1 MALAYSIA GOVT!!!
I prefer PAS!! At least they talk with moderation more than UMNO! Prove is here!
Perkasa 'finger licking good' appeal to Najib
Posted: 17 Mar 2011 02:55 AM PDT
Another tale from my uncles and their friends wakakaka, and it's a finger licking good story.

I sought my elders' views on KFC after reading The Malaysian Insider's news article
Perkasa wants KFC chain to stay in Malay hands
.

Malaysia's favourite ultra-bogeyman has urged the government to ensure the local franchise for the popular Kentucky Fried Chicken (KFC) fast food outlets remains in the hands of Malays, specifically a Malay company and not even a Malay individual.

Uniquely in Malaysia, KFC is probably the most popular western fast food chain, with 445 outlets throughout the country. When I first came to Australia I was shocked by the midget size of a typical KFC outlet in comparison to a typical Malaysian KFC restaurant. Then, in Oz's KFC, chillie sauce has to be purchased in small sachets, unlike Malaysia where (at least during my time) a bottle stands on every table.

KFC is so popular in Malaysia that it's a guaranteed big money earner for the franchise owner.

Today's news report on Perkasa does not offend me as I support Ibrahim Ali's appeal to the UMNO government to ensure the franchise ownership remains with a Malay company, Kulim, which oddly for its company name, is owned by Johor Corp, the investment arm of Johor State.

I presume many Malaysians would be like me, who do not want to see the magic 30% equity chipped once again by any individual through subsequent sale of the lucrative KFC franchise, nor for it to slip into non-Malay hands, thus providing reasons for perpetuating UMNO's 'Never Ending Policy' (NEP).

But you know, not many people are aware that KFC, before it became known as KFC, and under its original name of Kentucky Fried Chicken, was franchised to a Chinese who opened the first Malaysian outlet in 1973 at a location in Jalan Tunku Abdul Rahman (which I believe was originally called Batu Road).

How, what or why led to the change of the local franchise holder, from a Chinese businessman to a Malay one, is a bit blur even for my elders after 30 odd years.

But what they do remember was that the Chinese bloke kicked up a mighty big fuss when he realized he was losing it. The story went that he put up lots of theatrics to publicize his unhappy (and, according to him, most unfair) loss of the Kentucky Fried Chicken franchise, like employing people to wear Mickey Mouse masks and carrying balloons and streamers to stage protests at various strategic locations in Kuala Lumpur.

It would seem in those happier days (though obviously not for that particular Chinese businessman, but for us) the police were less politically inclined and more neutral. I doubt such privately organized shows of protest would have been allowed today, let alone tolerated.

Uncle also remembers his theme song, always played aloud at his staged demonstrations of protest, strangely or ironically one which ought to be 'owned' by Dr Mahathir, namely "I did it my way".

And now the end is near
So I face the final curtain

Indeed, he lost the Kentucky Fried Chicken franchise forever more.

Regrets, I've had a few
But then again, too few to mention

I doubt that, as he was protesting vigorously with gimmicks and theatrics. The fact was the Kentucky Fried Chicken franchise was far too profitable to lose gracefully, especially if the loss had been due to, according to his assertions, unfair means.

My uncles and their friends couldn't confirm the reason for the Chinese businessman losing the franchise but he sure reminded them of how he was not losing it without dramatic exhibitions of his anger and outrage at what he perceived to be unfair means to deprive him of that franchise. His constant use of the word 'unfair' was testament to his humongous dissatisfaction.

Another kaytee's unconfirmed story wakakaka.
Orang Asli tell Najib: Take stand against Mahathir
Posted: 17 Mar 2011 12:15 AM PDT
Representatives of the Orang Asli community want Prime Minister Najib Abdul Razak to take a stand on the community's rights, following a damning statement by former premier Dr Mahathir Mohamad. Speaking to reporters at a joint press conference with the Bar Council, Peninsular Malaysia Orang Asli Network coordinator Tijah Yok Chopil called on Najib to put his foot down to prove that his 1Malaysia call is not empty propaganda. Full story : malaysiakini.com

Time:

07:02

More in

News & Politics
Japanese discipline and resilient spirit in the face of disaster quite outstanding!
Posted: 17 Mar 2011 01:35 AM PDT
When I read the news and watch how the Japanese people as a nation remain disciplined and maintain their dignity in the face of such a major natural disaster, my heart goes out to them and I am simply in awe of their resoluteness! They were hit by a 9.0 magnitude earthquake, swamped by the resulting tsunami and now being overwhelmed by the falling snow!
Rescue workers brave the falling snow to search for victims of the tsunami
Japanese soldiers looking for tsunami victims buried under the sea of debris
The rising number of dead citizens being found by the rescue teams
My heartfelt salutations to the Japanese nation. You have proven yourselves worthy to be the nation that many other countries of the world try their level best to follow and emulate. Your Bushido spirit lives on!
Our 4th Prime Minister Tun Dr.Mahathir Mohamad Iskandar was right in adopting the 'Look East Policy' which saw this fledgling nation turn from being just an agriculture based former colony of the British become a developing nation during the span of 22 years under his administration.
Whether we like it or not, Mahathir's government was successful in turning Malaysia into what it is today and the advent of Japanese companies working in tandem with him brought about the birth of Proton Holdings Berhad, Malaysia's national car project!
Despite the presence of many who choose to nitpick and badmouth Proton and Mahathir, this joint venture between Mitsubishi Motors of Japan and Proton has been helping many Malaysians to afford having their own cars no matter that the standards aren't exactly up to par with more well established brands like BMW or Mercedes Benz, etc.
Japanese technology has helped this nation turn into one of the rising stars of Asia if not the world.
Yet, when disaster strikes Japan through earthquakes and the recent tsunami, there are those who have been stricken with the 'foot in mouth' disease! This ailment only affects those who choose to talk without thinking. They simply blurt out as they please not considering the impact that their words will have on others. Especially on the suffering Japanese! 
Here's an example:
Rosmah Mansor, wife of PM Najib erroneously passed out the comment blaming the Japanese for not being careful with their developments, climate change and green technology!
Being insensitive is one thing. Passing out unfounded comments like that only adds to Najib's burden and even if he or his ministry try to rectify the audacious misstatement here by his wife, it will not vanish into thin air.
Will Rosmah Mansor be willing to tell this grieving husband and father her theory as to what befell his now dead wife and kids?
Previous wives of Malaysian Prime Ministers were not known to be a liability to their husbands.
Tun Dr. Siti Hasmah was never a problem for Dr.Mahathir Mohamad as he helmed the country for a record 22 long years!
Sorry to say, Najib's spouse has been in the limelight for so many wrong reasons that she has earned herself a place in the nation's history as the one who has bit off more than she can chew, to put it mildly.
Commenters in the said You Tube weren't that forgiving and we can't blame them for their wrath!
Here we are witnessing one of the worst disasters to strike Japan within our times as a result of a natural calamity and Rosmah Mansor has the gall to lay blame on the Japanese's development, world climate change and green technology! Some people just don't know when to keep their mouth's shut!
Burnt out homes swamped with tsunami carried debris!
Devastated coastal townships
A house adrift in the Pacific Ocean after being swept out by the tsunami from its foundations
Moving away from this issue, I would like to express my heartfelt admiration for the way the Japanese have not resorted to running amok and looting the supermarkets and department stores as what we have witnessed even in developed nations such as the USA when calamity strikes.
Japanese survivors queuing in an orderly manner for provisions
Remember Hurricane Katrina in New Orleans?
Americans looted and plundered the stores and forced their National Guardsmen to arrest so many.
Here in Malaysia, we read in the newspapers and online media as to how some stupid unthinking lowlifes amongst the populace plundered and stole every coin that went flying all over the highway when a four wheel drive pickup carrying @ RM70,000.00 in coins crashed and overturned as a result of a traffic accident. They didn't give a hoot about the presence of traffic policemen who were there to control traffic!
Then we also heard and saw photos of Malaysians stealing rice which also went sprawling all over the highway when a rice trailer crashed and overturned, killing the lorry attendant, pinning him under the wreck!
Did those Malaysians care about the dead attendant and seriously injured trailer driver, crying for help and mercy?
No sirree!
They just plundered and stole the rice, brought it back to their homes and fed their unknowing families. What kind of people do we have amongst us here in this 'tidak apa' country?
The kind who don't care as to what happens to others and only know how to steal and rob from those who were unlucky enough to have such vermin as fellow citizens.
The Japanese have proven to the world today that despite what takes place in their country, they will as a people remain absolute, steadfast and principled no matter what!
For that we all ought to salute them and aid the Japanese as best as we can and to stop passing out illogical and downright stupid comments or so called statements!
They are now experiencing a food shortage and we need to help them. Supermarkets and department stores are running out of provisions and supplies as seen by the following photo:
Have a heart and express your sympathies in as best a manner as you can or just ..SHUT THE HELL UP!
May Allah save us all from what's coming next as this is the Akhirul Zaman foretold and prophesied by our Rasul Sallalahu Alaihi Wassallam.
Amin.
DAP: Hisham Must Apologise For 'Alkitab Defacement' - By Shazwan Mustafa Kamal.
Posted: 16 Mar 2011 11:56 PM PDT
The DAP today trained their guns on Home Minister Datuk Seri Hishammuddin Hussein, blaming him for the "
violation
" and "
defacement
" of the Malay-language bibles impounded by his ministry in Port Klang.
The Bible Society of Malaysia (BSM) was told yesterday that its shipment of 5,100 Malay bibles seized at Port Klang had already been stamped with the home ministry's official seal without the society's prior permission.
The BSM had earlier refused to collect its cargo of holy books that had been detained for the last two years after the Home Ministry imposed two conditions for their release.
"The action has been done without any consultation or agreement from the importer or the Church. We condemn the complete lack of sensitivity of the home minister, Datuk Seri Hishammuddin Hussein, in the actions taken by the ministry which had added salt to injury already suffered by the Christian community in Malaysia," said DAP's Tony Pua.
Today, the DAP national publicity chief demanded for Hishammuddin to immediately apologise to "all Malaysians" for insulting the faith of the Christian community, and provide an unconditional guarantee that such incidences, including the arbitrary confiscation of the Alkitab, would not see a repeat.
"In addition, the insistence on serial numbers to 'control' the circulation of these bibles are as if they are subversive documents which are a threat to national security," added Pua.
Courtesy of The Malaysian Insider

Dr M Admits Mistakes In Memoirs, Says 'People Forget' - By Yow Hong Chieh.
Posted: 16 Mar 2011 11:50 PM PDT
Former prime minister Tun Dr Mahathir Mohamad has admitted that some details may have slipped his mind when writing his recently-published memoirs, the Singapore Straits Times reported today.
The Singapore daily said readers had taken issue with Dr Mahathir's description of his first visit to the republic as prime minister in 1981, which he said in his book had left him feeling "sorely used".
Dr Mahathir wrote that he was not properly greeted at the Singaporean Prime Minister's Office during his trip and was not given a state dinner.
The trained doctor also said he met with then-president Dr Benjamin Sheares — his professor in medical college — and spoke for 20 minutes before an aide said Dr Sheares had another appointment.
Readers, however, pointed out that Dr Sheares had died in May 1981, seven months before Dr Mahathir's visit in December.
Malaysia's prime minister of 22 years clarified yesterday that he had met Dr Sheares at another meeting, before his official visit to Singapore.
"People do forget things, you know," Dr Mahathir told reporters in Cyberjaya yesterday.
Politicians from both sides of the divide have accused Dr Mahathir of lying in his memoirs, "A Doctor In The House: The Memoirs of Tun Dr Mahathir Mohamad", which took eight years to write.
Former rival Tengku Razaleigh Hamzah called Dr Mahathir a "political liar" for claiming in the book that the Kelantan prince had engaged in vote-buying during the 1987 Umno election.
Tengku Razaleigh, better known as Ku Li, had lead "Team B" in the fractious party polls which resulted in the High Court declaring Umno illegal.
Former deputy prime minister Datuk Seri Anwar Ibrahim similarly called Dr Mahathir a "blatant liar" with "selective amnesia" for claiming that the former had approach four women for sex while in office.
Dr Mahathir had also claimed that his former protégé had never denied accusations of sodomy, choosing only to focus on his alleged affairs with women.
Courtesy of The Malaysian Insider

A Selection Of History – The Malay Amazons
Posted: 17 Mar 2011 10:46 AM PDT
History is selective, Marina Mahathir of the Sisters of Islam probably wanted to say. It is the reason why we learn in school about the emancipist, Raden Ajeng Kartini (1879-1904) but nothing about the great Malay queens and warriors who predated her from centuries earlier and those who came after her, the Amazons. These are the Malay Shikandi or Sri Kandi of the Mahabharata, the character who had been a woman, Amba, who then attained manhood by prayers and fought alongside Arjuna and the Pandavas in the epic Battle of Kurushetra.
In Aceh they are simply the
Inong Balee
or widow warriors. They are widows who took over the helm following their husbands fall in battle, some becoming admirals, others guerilla leaders and tens of thousands more as soldiers and guerilla fighters.
But was it Hindu influence that had turned the Malay women into the Amazons we removed from our history books in school?
That isn't altogether clear. There's the Farsi (Persian) connection in the Malay genesis. There's also the possibility it was all in the Malay nature.
Malays have fallen since from being the only people in the world who had dared to insult Kublai Khan and then gave the great Khan a beating in East Jawa in 1292.
The great Mongol sent more than 12,000 soldiers to teach Kertanegara a lesson in the art of might he had himself to bitterly learn.
Kublai would have become blind if he were to see them now – a motley of
colonizeables
drowned in orthodox and patriarchal Islam making them all screwed up over deviant teachings, interfaith, beer and women liberation movements for the want of the right to polygamy and to marry a child of eight or nine because their 7th century Arab Messenger of God had done so, may peace be upon him.
To observe the Malays of Nusantara fall into a subsidence of such historical magnitude from the high watermark to become a people as
colonizable
as they are today is to touch a note of history of a corruptible, power-debauched and mentally captive society.
So we learn about Raden Ajeng Kartini and touch nothing about Laksamana Keumala Hayati, or of Cut Nyak Din or of Cut Meutia in Aceh, or of the Ratu-Ratu of Pattani, one of whom could have taken Ayuthia by force but turned back upon seeing the king of Siam under attack from Burma.
Because Kartini was "relevant" to our Occidental history, we and our children are taught about her in school.
She is one among the Indonesian national heroes. She is displayed on a denomination of the Rupiah.
Kartini (1879-1904) had been relieved of Dutch education half way in a Dutch colonial school and then, at age 24, was married to a man twice as old and as his fourth wife, a seasoning of women under Islam that she salted into her letters to Dutch friends in Holland and thus became an emancipist.
Backed by Dutch Liberalists the letters burned into Indonesian history and Kartini Day was born when the Indonesian state constitution declared the genders in Indonesia as equal. Kartini Day is April 21.
But that's merely a whiff about the historical roles of the Malay women in determining the destinies of their countries and of the region as a whole.
Presidents Aquino, Megawati Sukarnoputri and Arroyo Macapagal are recalls of this historical role.
Historical Distortion
History had become distorted by the selection of facts, leaving the bulk falling into disuse because the pages of time had been turned by the grand artifices of imperialism, Islamic and Western.
The natives must retrieve their own reality and rebuild it or the "truth" will be dead.
It is like this:
It was found after the dust had settled in many a battle during the War of Dipo Negoro (1825-1830), that among the corpses were women dressed in
silat
(martial) attire with their breasts fastened tightly to their chests.
It is documented history. But the Dutch did not want to awaken the fact and later many Islamist, fearing what those facts would do to the integrity of gender bias in Islamic Law, rejected them as well.
Dipo Negoro, as it is popularly known, traced his ancestry to Prophet Muhammad and so it was best to let the Malay women's role in the war rest in oblivion, ignorance in cases of this sort being a heavenly bliss.
The Malay had no sense of gender bias. Malays did not adopt Hinduism or Islam without tampering with the basics. They "brought" Mahameru, which is the Hindu Mountain of the Gods, to Sumatera and Jawa. These are the two Gunung Sumeru.
In a similar insistence of this sovereign cultural nativity, the Malays had and have their concept of Adam as in the several
Babab Jawa
, tracing from him the lineage of the Javanese Raja.
Among the Malay Rajas of the Peninsular and Andalas (Sumatra), this lineage is traced to Gayomart, the Persian Adam, which Wilkinson recorded in his
Malay Papers
.
The Malay heritage isn't a squared bundle of joy taken from the scripted prose of the Arabs and deposited into a round hole of history as a rude awakening to imperial reality that sprung from Hadramaut or Mecca.
While a sprinkle of Islamic laws were observed for a number of centuries, the Malays had never imposed the whole of the
Shariat
(Islamic Law) on their communities.
The 99 laws of Perak and of Pahang were not based on the
Shariat
. They were native Malay laws with a bit of mix-up.
Malays led their lives according to their own values, not along the rude demands of the Malay Arabic-educated intelligentsia, some mentally warped by the mesmeric trance-culture summed as rites and traditions into becoming an excessive appetite for power and for abuse.
When these flakes of the moribund are removed and Malay history is seen clearer, what rises above the historical scams is a sensational history of empires being built by men and women together, without the slightest nuance of gender bias.
President Obama, who lived as a child in school in Jakarta for some years, would have read about this, him a keen student of history too. He is someone close to us.
First Woman
The first woman known to have been an Admiral was Laksamana Keumala Hayati of 17th century Acheh. She had an armada of more than 400 ships and drove off, among others, Cornelis de Houtman.
She had built an efficient intelligence network and secured John Lancaster from a Dutch planned attack on his ship in Aceh harbor.
Keumala Hayati was succeeded by another woman. Her navy, of course, consisted of men and women.
And it had been the practice in Aceh from the time of Iskandar Muda to use women as the king's bodyguards, not unlike what Gadhafi introduced in Libya.
There were also the palace guards, more than 500 of an all-women commando unit which, on every Friday, would accompany the sultan and his elephants to the mosque in Banda Aceh for the weekly prayers.
We are talking about the 16th century and when Aceh was recognized as the leader of the eastern chapter of the Islamic world and a partner of the great Ottoman Empire in the face of Western expansion.
It was a time of Jihad to protect the territories of Islam.
Do you believe they, the members of the all-women Aceh commando palace guards, would have covered their faces or their hair? Would these Malay troopers have covered the
aurat
parts of their arms?
It could never be fitted into Islamic Law, surely. But in today's Malaysia is a mix-up of the tightening of Islamic law against military and police forces that have women jogging up sharp hills to keep fit, wearing short-sleeves and ass-tight pants, or flying faster than the speed of sound in a fighter jet we have yet to manufacture ourselves.
You'd need to somehow override the confusion, which means you will have to let the Malays enjoy the freedom of conscience and choose not to remain Muslims of the 7th century AD and somehow adjust to the new millennium.
Keumala Hayati was succeeded as the Admiral by a woman, whose deputy was also a woman.
When the Dutch finally captured Aceh and the national forces had to fight from the mountains, women took the leadership from their fallen husbands, as Cut Nyak Dien and Cut Meutia had done, two from thousands of liberation fighters.
Change
The Malay cultural scenario had begun to change drastically in the early 19th century, with the outbreak of the Padri Wars (1815-1830). Padris were Malay Wahabis.
It wasn't the Dutch or the English who were the main cultural contestants. It was the Padris.
They fought a war of attrition in Minangkabau to break the matriarchal stranglehold.
Pagaruyung, the tip of the Malay pantheon, was surrendered to the Dutch, the raja becoming the regent and settling himself in Batu Sangkar a few kilometers away.
Malay-Islam was never the same since. Even after their defeat in 1830 (by the Dutch) the Padris spread.
In Langkat, Sumatra, where the largest spiritual school in the region (
Tareqah Naqshabandiah
) was settled, the political struggles for power over the highly influential bodies of followers consequently became more observant of the Arab
Shariat
.
The contrasts between Arab and Malay Islam were reaching to a head. Malay religious teachers of the new breed never seized to attack Minangkabau traditions or the
Adat Pepateh
until Umno predominated and took the lead in the 70s under Tun Razak.
But the tenor had been set. The religious orthodoxy had made itself the custodian and arbiter of religion, the miniscule Vicegerents of God on the good earth.
These attacked Islamic religious minorities as they still do in a crystallization of the mental warp in heads bundled in towels in the tropical heat and humidity.
The brains can enjoy seminal splendor but are often unable to appreciate abstractions, making the word of the law overwhelming to the remains of the mind.
Who said Gadhafi has at all been a nuisance? When a Libyan had come to complain to me about Gadhafi's unorthodox Islam in 1976, I remember telling him that Gadhafi's Islam is very much like Malay Islam and I suspected, I said, he had learned something from the Malays.
The Libyan religious man never came back. He failed to see the light.
We are Malays and we have to be of our own nature and not ape into the heavens a tribal Arab spiritual awakening of the 7th century that has, to many of us, exhausted itself and fallen into sectarian distresses Pakistan and Iraq are displaying everyday since the War of Mr. Bush and of Dick Cheney.
We are Malays. We are a composite community that had never had any gender bias.
When Aceh was ruled by queens in a row, they were
not
called
sultanah
(feminine for sultan). They were in their own rights,
sultans
and were referred to as such.
The last of them was deposed on the
fatwa
(religious ruling) of the Sheriff of Mecca.
Quo Vadis
Melayu? Into bewilderment?---a. ghani ismail, 17 March, 2011
Posted: 16 Mar 2011 09:00 PM PDT
Famed Kuala Lumpur choreographer and art director Ravi Shanker speaks to Malaysiakini about his work, which also involves lecturing in public universities on Indian arts and classical dance. The indefatigable Ravi also runs two studios, providing lessons in classical, semi-classical and modern contemporary dances. A Video by Arvind Raj for Rentakini.TV

Time:

11:26

More in

People & Blogs
Memo to IGP on Illegal detention
Posted: 16 Mar 2011 07:48 AM PDT
A Sealed with a Kiss Poem for Najib intercepted by Romanis de Man'sora
Posted: 16 Mar 2011 09:30 PM PDT
بسم الله الرحمن الرحيم
Assalamu Alaikum,
A Sealed with a Kiss Poem for Najib intercepted by Romanis de Man'sora

My Secret Friend

—

I may never see you,

listen, talk, or love you.

Maybe someday you will look up,

and find the sky like an empty cup*.

—

You and I are nothing more,

than pieces on a chessboard;

Parts of a puzzle design,

made by the same Divine.

—

Talk, shout, or whisper, let me know,

break the barrier and let it flow.

Ask me your questions, tell me your secrets,

Trust my heart and we will talk until the sun sets.

—

Hold my hand and let us embrace,

no matter what it is we'll face,

no one ever said it would be so easy or hard,

Now come with me and let us go back to the start.
I hope who ever you are, you read this and somehow communicate to me.
*Cup–cup means a lot of things to me–or in general– empty cup=ignorance. Empty cup=opportunity to learn to 'fill' the cup. Philosophy and cup–everything is like a cup–the cup had a creator and an idea had an originator. etc. etc.
PART1 GHOST ALTANTUYA SAYS: " I'M BACK. THIS TAXIDRIVER PICK FRIGHTENED ZUL NOORDIN WHO TOLD THE WHOLE TRUTH TO THIS TAXIDRIVER
Neither Najib nor his chief of staff, Musa Safri, has been questioned nor summoned to testify despite the fact that Baginda, in a sworn statement in November 2006, said he had contacted Musa for help in dealing with Altantuya, his jilted lover who was demanding money. That statement raised suspicions that all sides in the court – prosecution, defense and judiciary – are struggling to keep the case under wraps. The trial has been subject to numerous delays for reasons that are unclear.
She had accompanied Baginda to France when he was involved in negotiating the purchase of two Scorpene submarines and a used Agosta submarine produced by the French government through a French-Spanish joint venture, Armaris, for the Malaysian defense ministry, which was headed by Najib as minister. The submarines were bought through a Kuala Lumpur-based company, Perimekar Sdn Bhd, which at the time was owned by yet another company, Ombak Laut, which was wholly owned by Abdul Razak Baginda.
The €1 billion (RM4.5 billion) contract to buy the submarines was non-competitive and netted Perimekar €114 million. Although Najib has sworn an oath to Allah that he had never met the woman, he was in France at the same time as Najib, one of his best friends, was there, dealing with matters over the submarine. A cousin of Altantuya's testified at the trial that she had seen a picture of Najib together with the dead woman, but she was quickly hushed up by both defense and prosecution lawyers about the matter and the picture has not been produced.
C4 Murder: Malaysian Police will be calling up Malaysia Today editor Raja Petra Kamaruddin to investigate allegations in his recent statutory declaration on purported facts related to the murder of Altantuya Shaariibuu. Inspector-General of Police Tan Sri Musa Hassan said the three individuals named in the document filed on June 18 would also be called up.
In an explosive statutory declaration to a Malaysian court, one of Malaysia's most prominent web journalists has alleged that the wife of Deputy Prime Minister Najib Tun Razak as well as a Malaysian Army officer and the officer's wife were directly involved in the murder of Mongolian translator Altantuya Shaariibuu on October 19, 2006, and that people at the very top of the Malaysian government are aware of the fact. Raja Petra Kamaruddin states
found fragments of bone, later verified as hers, in forested land near the Subang Dam in Puncak Alam, Shah Alam. Police investigation of her remains revealed that she was shot twice before C-4 explosives were used on her remains, although there has been later suggestion that the C-4 explosives may have killed her. When her remains were found their identity could only be confirmed with DNA testing. The provenance of the C-4
PART1 GHOST ALTANTUYA SAYS: " I'M BACK. THIS TAXIDRIVER PICK FRIGHTENED ZUL NOORDIN WHO TOLD THE WHOLE TRUTH TO THIS TAXIDRIVER
Neither Najib nor his chief of staff, Musa Safri, has been questioned nor summoned to testify despite the fact that Baginda, in a sworn statement in November 2006, said he had contacted Musa for help in dealing with Altantuya, his jilted lover who was demanding money. That statement raised suspicions that all sides in the court – prosecution, defense and judiciary – are struggling to keep the case under wraps. The trial has been subject to numerous delays for reasons that are unclear.
She had accompanied Baginda to France when he was involved in negotiating the purchase of two Scorpene submarines and a used Agosta submarine produced by the French government through a French-Spanish joint venture, Armaris, for the Malaysian defense ministry, which was headed by Najib as minister. The submarines were bought through a Kuala Lumpur-based company, Perimekar Sdn Bhd, which at the time was owned by yet another company, Ombak Laut, which was wholly owned by Abdul Razak Baginda.
The €1 billion (RM4.5 billion) contract to buy the submarines was non-competitive and netted Perimekar €114 million. Although Najib has sworn an oath to Allah that he had never met the woman, he was in France at the same time as Najib, one of his best friends, was there, dealing with matters over the submarine. A cousin of Altantuya's testified at the trial that she had seen a picture of Najib together with the dead woman, but she was quickly hushed up by both defense and prosecution lawyers about the matter and the picture has not been produced.
C4 Murder: Malaysian Police will be calling up Malaysia Today editor Raja Petra Kamaruddin to investigate allegations in his recent statutory declaration on purported facts related to the murder of Altantuya Shaariibuu. Inspector-General of Police Tan Sri Musa Hassan said the three individuals named in the document filed on June 18 would also be called up.
In an explosive statutory declaration to a Malaysian court, one of Malaysia's most prominent web journalists has alleged that the wife of Deputy Prime Minister Najib Tun Razak as well as a Malaysian Army officer and the officer's wife were directly involved in the murder of Mongolian translator Altantuya Shaariibuu on October 19, 2006, and that people at the very top of the Malaysian government are aware of the fact. Raja Petra Kamaruddin states:
found fragments of bone, later verified as hers, in forested land near the Subang Dam in Puncak Alam, Shah Alam. Police investigation of her remains revealed that she was shot twice before C-4 explosives were used on her remains, although there has been later suggestion that the C-4 explosives may have killed her. When her remains were found their identity could only be confirmed with DNA testing. The provenance of the C-4