---
UMNO BARISANISM Repertoires of Repression This Is Not a Facebook, Twitter or Wiki Revolution! When will the Unculture Minister Datuk Seri will burn himself
Posted: 03 Feb 2011 09:28 AM PST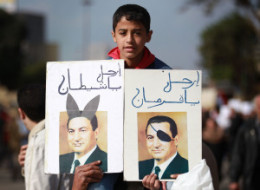 On a more serious note … Is anyone wondering what Obama and Mubarak talked about for a half an hour the night of his speech and before the Goons went in yesterday I don't think it's accurate to say that Murbarak's statement that he would leave in 7 months is a "halfway concession". In fact, that would basically defeat what the Egyptian people are asking for. They want a whole new government, with radically different sets of rules. Doing another election in seven months is just more of the same. His son would probably run for office and win a rigged election.

For all its polished public relations and glitzy tourism advertisements 
Malaysia
is far from the shining example of a multi-cultural harmonious and thriving democracy. Indeed scholars of Southeast Asian politics have for over two decades categorized Malaysia as an illiberal democracy, a semi-democracy or an example of electoral authoritarianism. Freedom House, the Washington D.C. based think-tank and advocacy group has consistently designated the country as 'partly free' in its annual 'Freedom in the World' reports.   Nowhere is this more apparent than in the country's print and television media where a combination of legislative checks, and the concentration of media ownership in a small number of companies that are linked to the state and/or the ruling National Front coalition, ensures that the media is at best shackled and at worst compliant.  By way of an indication the France-based advocacy group Reporters without Borders has consistently placed Malaysia among the worst performing 25-33 percent of countries in its press freedom index in the last decade. Furthermore whereas between 2002-2006 the trend was toward greater freedom, since 2007 there has been a notable reverse. In its most recent report for 2010 Malaysia was placed 141
st
out of 178 behind Russia and even its equally authoritarian neighbor Singapore!
The curious exception to this has been the country's online media, which has thrived, and matured into a vibrant alternative source of analysis, information, and comment.  The online newspaperMalaysiakini has become one of the most widely read and trusted sources of independent news both in the country and across the region while a veritable army of bloggers have emerged over the past five years themselves becoming widely influential. Indeed in the momentous 2008 general election which saw the ruling coalition lose its two-thirds majority in parliament for the first time since 1969, two of the country's most prominent bloggers were elected to parliament, while a further three were elected to state assemblies.
The reason for this seeming contradiction lies in the fact that in the 1990 former Prime Minister Dr. Mahathir Mohamad launched a much-vaunted mega-project called the Multimedia Super Corridor.  A quasi-industrial park with dedicated high-speed Internet access the MSC sought to attract foreign high-tech investment not just by offering tax breaks, but also by ensuring in its Bill of Guarantees that the government would not censor the Internet.  Much to the chagrin of the government the Internet blossomed in Malaysia from a cacophony of accusatory diatribes into a trusted source of information, and this was long before 
Facebook
and Twitter burst onto the scene. In the 1998 elections students were printing off articles and comments from Malaysiakini, The Free Anwar campaign (then led by Raja Petra Kamaruddin who would later become a prominent anti-government blogger), and various websites of opposition political parties, photocopying those articles and distributing them across the country when they would travel home to their families and friends in areas of the country where the internet had yet to penetrate. A decade latter and the impact would be even greater. Reading the official media in the election campaign of 2008 one would have hardly thought the opposition Pakatan Rakyat was a credible force so triumphant was the coverage of the successes of the government and so limited the coverage of opposition figures and their policies (relegated to extremely brief descriptive stories at best and stinging critique at worst). When early results indicated the scale of the opposition's success in 2008 the official media went largely silent not knowing how to respond resulting in hundreds of thousands flocking to Malaysiakini for information, overloading the site with traffic and forcing the organization to quickly launch multiple mirror sites.
Talk about a Fourth Estate feedback loop: Over the past few weeks, some journalists have skewered the Society of Professional Journalists for its decision to stop awarding a journalism award named after a controversial journalist.
On Jan. 14, SPJ — the nation's largest journalism organization with 8,000 members — decided to "retire" its Helen Thomas Lifetime Achievement Award. The decision came after the award's namesake, the famous former White House correspondent, said last Maythat Jews should "get the hell out of Palestine" and added in December, "Congress, the White House and Hollywood, Wall Street are owned by the Zionists. No question."
When AOL wrote about it on Jan. 19, it spawned 1,346 comments — with the very first one pointing out, "This is absurd! A society of journalists punishing one of their own for exercizing freedom of speech??? What a crock!!!!"
(Of course, three question marks, four exclamation points, and the misspelling ofexercising can also be considered a crock.)
Even a former SPJ president wrote in the Denver Post, "SPJ leaders have practically twisted themselves into pretzels to justify this shameful decision" and ominously warned, "Many are already mounting protests."
Meanwhile, SPJ leaders have managed their own news so feebly, they couldn't mount a pony. They've ignored all the lessons journalists (should) have learned from covering other people's controversies…
MISTAKE NO. 1: SAY NOTHING
Back in June, SPJ's board of directors received an email from an irate journalist, demanding Helen Thomas' name be removed from the award. How do I know this? I served on that board until last fall. So I emailed my peers and begged for debate. Their consensus was summed up by this plea from the SPJ president, who insisted it would be discussed later: "Let's please agree that we don't need to kick up a lot of dust on this issue before then."
Lesson: Deal with controversy quickly. You don't have to make a decision right away, but you need to acknowledge its existence and set a public schedule for getting to it.
MISTAKE NO. 2: THINK NOTHING
I urged SPJ to do something to get ahead of this story. At the very least, I wanted us to announce we'd never name another award after a living person. I also wanted to poll our 8,000 members and get them involved. Those ideas died in silence.
Lessons: In most controversies, there are uncontroversial things you can do to prevent the same thing from happening again. And seeking the opinions of others without declaring your own gives you time to ponder but still shows vigor.
MISTAKE NO. 3: DO NOTHING
SPJ's executive committee — basically, the top half-dozen board members — met last July. In an update to the board (but not to the membership) the president wrote, "After a very thoughtful and intellectual discussion by the exec committee, the decision was to make no decision. I hope that's clear to everyone now." Sure, crystal.
Lesson: "Deciding not to decide" doesn't look wise and impartial. It looks weak and evasive.
MISTAKE NO. 4: DIVULGE NOTHING
SPJ's leaders felt nothing else needed to be done. I privately fretted to some board members that because we resolved nothing, we solved nothing. When Thomas was quoted in December, I was already off the board. But as a regular ol' SPJ member paying his $72 annual dues, I didn't hear about the press release the board issued on Jan. 14: "SPJ board of directors votes to retire Helen Thomas Lifetime Achievement Award." Instead, irate SPJers contacted me. SPJ didn't tell its members until Jan. 26 — in an email newsletter with a dozen items. And it wasn't even the first item. It was a single paragraph under the headline, "Explanation of awards process." Can you say, "bury the lead"?
Lesson: If you let your opponents announce your own news, you've lost control of the message.
So from that first email in June 2010 till today, SPJ's leaders have never asked its 8,000 members what they think. And in this deadline-driven business, they waited two weeks to tell them what they'd already done.
You'd think journalists would instinctively grasp how to weather a media storm. After all, we cover (and occasionally create) enough of them. But sadly, it doesn't work that way. It reminds me of the doctors and nurses who huddle outside my local hospital, smoking cigarettes — if anyone should know better, it's them, right?
PROBLEM NO. 1: THINKING SMALL
SPJ's big problem is that it's run by small-town journalists. The board currently has a whopping 23 members, but only two work for a Top 50 newspaper: Sonny Albarado at theArkansas Democrat-Gazette and James Pilcher at the Cincinnati Enquirer.
There's no one from The New York Times, Washington Post, Wall Street Journal, or USA Today, much less the Los Angeles Times, Chicago Tribune or Dallas Morning News. There are no national network reporters or producers, nor any editors from national websites like Slate or The Huffington Post.
In fact, when SPJ was mangling its media image last year, SPJ's president was a "temporary assistant professor of journalism" at a Virginia college with 7,500 students. It's no great shock he didn't understand how journalism works in the real world and in real time.
Don't get me wrong, I'm no media snob. I've met morons at TIME magazine and geniuses at weeklies you've never heard of. And I know firsthand that the current SPJ board is dedicated. It's just not diverse. Imagine if the American Bar Association was led only by solo practitioners from rural states. Or if the NBA had no basketball teams from New York, Los Angeles, Chicago, and Miami.
PROBLEM NO. 2: THINKING OLD
SPJ doesn't get the internet. Its board and staff have no clue how quickly the web spreads news. In fact, they don't understand most web tech because they refuse to try any of it.
During my two-year board term, I was chastised for refusing to spend members' dues flying to meetings in Indianapolis (SPJ's headquarters) when the agenda was sparse enough that we could've deftly handled it via Skype or GoToMeeting.
But none of the SPJ leaders I lobbied had ever used either program. Several had never even heard of them. Which is weird, because SPJ touts new media training on an eCampussection of its website. Perhaps board members should be required to take some of that training — especially about social media, since that's how many pissed-off SPJers (on both sides of the issue) have commiserated about being cut out of the Thomas decision.
As for my opinion on the matter, I've purposefully sidestepped that. I plan to keep it that way — because I know how the blogosphere works, and I don't want my own message getting hijacked. I want the focus to stay lasered on how SPJ always does things, not just what it did in this single case.
Because this episode involved a famous name and charges of anti-Semitism, it's gotten a lot more play than the mundane decisions SPJ regularly makes with the same silliness. I believe it's one reason SPJ's membership is dropping. When I was still privy to those membership numbers, I learned that SPJ is adroit at recruiting new members, even during this newspaper-destroying recession. But many of those members refuse to renew — SPJ's "churn" is much higher than the other journalism organizations I belong to.
Part of the reason, I think, is the irony that a bunch of journalists can't run their own society with the same values they cover American society.
Information Communication and Culture Minister Datuk Seri Dr Rais Yatim (who ironically published a critique of executive power in Malaysia in 1995) was quoted by the state news agency Bernama saying "what is important is that bloggers or those who use the alternative media should remember that the laws remain in force no matter where they are… [t]hey are unscathed, as law enforcers did not go after them. But from now onwards if complaints are made, actions will be taken against them,"
Rais has denied that this means the government will censor the Internet but clearly it marks an orchestrated attempt by the Malaysian government to limit the one arena of media freedom the country enjoys.  What remains to be seen is whether once the genie has been let out of the lamp it can be effectively put back in again.
That's the sad truth. "­­­A­­­­­ll people in the world will never be truly free until they have FREEDOM from hunger and poverty which can only be obtained when the wealthy LOSE there grip on power or have the moral decency to SHARE more with their fellow citizens of the world.I won't hold my breath on that happening."
The guidelines on laws governing the dissemination of information through the media, including the Internet will be tabled at the Cabinet meeting soon.
Information Communication and Culture Minister Datuk Seri Dr Rais Yatim said the guidelines covered the Sedition Act 1948, the Malaysian Communications and Multimedia Act 1998 and the Printing Presses and Publications Act 1984.
It's oh so tempting for the mainstream media to give what's happening in Egypt a pithy label, and for a 
new media scholar
like myself, I would seem to have a vested interest as well, but if I have learned anything through my five years studying cyberactivism in Egypt, it is that revolutions don't happen in cyberspace, they happen in the streets.
Hundreds of thousands of people from all walks of life across wide swaths of the country of 80 million people have taken to the streets, demanding political change. Twitter, SMS, and Facebook were certainly crucial tools used by activists to mobilize and communicate, but they were not the cause of the protests or the raison d'être.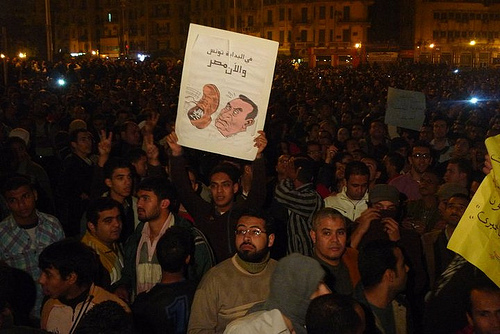 Picture courtesy of Al Jazeera via Creative Commons license
But I have to think it was the successful toppling of Tunisian president Ben Ali that inspired the downtrodden and economically beleaguered citizens of Egypt who don't have smart phones or Facebook accounts and took the protests from the digital realm to the reality of the street, where tear gas and rubber bullets make it a far more significant commitment to support the protests than clicking 'like' on a webpage.
In 2008 the 
April 6 movement
made an attempt to link digital activism to a broader public, but it largely fizzled because it did not enjoy broad public support because the valiant digital activists couldn't get their message to the street. Today was of course not the first time Egyptian have taken to the street demanding political change, but it is the largest in many years (bigger than 
Mahalla
, 
April 6
, the 
judges demos
or even the 
Iraq protests
). 56,000 people signed up for the Facebook page within the first 24 hours and the Twitter hashtags #jan25, #Egypt and #Mubarak were all worldwide trending topics today. As Egyptian blogger-activist 
Zeinobia
so aptly noted, "who said that people only revolt thanks to social networks !!? As far as I know there was no social network in 1919 or in 1977 !!??" But that's ok, because digital activists and especially those in the Middle East and other Western-supported authoritarian regimes, depend on the mainstream media to get interested and amplify their message, partially in order to put pressure on Western politicians back home (as I have 
written
about
before
).
Nonetheless, the government's decision to completely block the Internet and shut down 
mobile phone
services is a new development in the regime's repertoire of repression. Blogging, texting and social networking have been key tools for digital activists struggling for political change at least 
since 2005
, yet this is the first time Mubarak chose to completely strangle the telecommunications infrastructure (I remember when the internet went down in Egypt for a day 
in 2008
and everyone thought it was a plot but it just ended up being a problem with an underwater cable). 
According to one analyst
, Egyptian authorities blocked individual adopted "a very careful and well-planned method to screen off internet addresses at every level, from users inside the country trying to get out and from the rest of the world trying to get in," namely at the DNS and the ISP levels. Individual social media sites including Facebook, Gmail, Twitter, and others were also blocked, though many enterprising digital activists managed to circumvent the block by urging people to leave any working wifi connections unlocked and using good old landlines to get their information out.
Cyberactivist stalwarts Manal and Alaa 
put up a useful how-to
on Manalla.net for using landlines to connect to international ISPs through good old dial-up connections while the Tor network urged supporters around the world to join the 
virtual proxy cloud
. The authorities also 
pressured Vodaphone
to cut service, which the company did. Nice way to support freedom of expression, Vodaphone!
But despite all the government's attempts to restrict the power of digital and social media to organize, mobilize and galvanize, hundreds of thousands of people took to the streets. One needed only look out the window to see the streets of Alexandria, Cairo, Sharqiya, Suez and countless other cities in Egypt flooded with protesters who managed to push back police trucks, throw back tear gas containers, and in at least 5 cases trade their life for the hopes of their country. 
I personally had to follow the protests from afar, glued to Al Jazeera English on my iPhone and Twitter on my computer. I recommend following Alaa, Mina Zekry, Wael Abbas and Sarah Carr. If you don't read Arabic, here are a few good English-language blogs to follow (and you can also check out the blog rolls of Egyptian activists at my 
Arab Media
blog): 
egyptianchronicles.blogspot.com
, 
bikyamasr.com
,
baheyya.blogspot.com
/, 
www.arabawy.org/
. There are many others but that's a start. Because even if this isn't a revolution attributable to new media (or WikiLeaks, as some pundits attempted to label Tunisia's remarkable overthrow), it is one in which digital and social media are fundamentally shaping how the outside world sees it.
Increasingly however the patience of the Malaysian government has worn ever thinner. In September 2008 prominent blogger Raja Petra Kamaruddin was arrested under the controversial Internal Security Act that allows detention without trial and held for almost two months. In recent weeks the government announced that they were exploring whether to pass amendments to the Printing Presses and Publications Act which requires all publications to apply for an annual permit from the Home Ministry which can be refused, revoked or suspended at the minister's discretion without judicial review.  This news provoked an outcry from the country's bloggers, including several who are actual members of the United Malays National Organization that dominates the ruling coalition.  Instead the government has moved to issue new guidelines to the country's Sedition Act, which prohibits prompting disaffection with the administration of justice in Malaysia or of sensitive subjects such as special privileges for the dominant Malay ethnic group, the citizenship of non-Malays, the status of Islam as official religion etc. These new guidelines, which will be published in the next few days, will directly target bloggers.
He said the guidelines, which were prepared by the Attorney-General's Chambers, were endorsed by the Cabinet's Special Committee to Strengthen the Government's Communications Strategy chaired by Minister in the Prime Minister's Department Datuk Seri Mohamed Nazri Abdul Aziz Wednesday.
"It does not involve tabling in Parliament as the laws already existed and the A-G's Chambers has made the guidelines clearer," Rais told reporters after witnessing the renewal of Kumpulan Utusan Malaysia (M) Bhd's contract as the air time marketing agent of Radio Televisyen Malaysia here today.
He said the guidelines shed more light on the purpose of each act and actions that could be taken against those who violated it.
"For example, we were told what can be done by the Home Ministry if Section 3, 5 or 8 of the Printing Presses Act and Publications Act is violated as well as the seditious tendency under the Sedition Act," he added.
Rais said the guidelines should not be regarded as an Internet censorship and it also did not mean that anyone was at liberty to do anything on the Internet as actions could be taken on those who use it to spread false information.
"What is important is that bloggers or those who use the alternative media should remember that the laws remain in force no matter where they are.
"They are unscathed as law enforcers did not go after them. But from now onwards if complaints are made, actions will be taken against them," he said.
readmore UMNO BARISANISM Repertoires of Repression This Is Not a Facebook, Twitter or Wiki Revolution! When will the Unculture Minister Datuk Seri will burn himself
POLITICIANS BARRED FROM ENTERING SCHOOLS?
Posted: 03 Feb 2011 06:54 AM PST
Lembah Pantai MP Nurul Izzah Anwar's visit to Sekolah Rendah Agama Sri Pantai didn't turn out as expected as she was barred from entering the school at the eleventh hour following a directive seemingly from the Ministry of Education.
The school's principal Paridah Mat Zain initially invited Nurul to visit the school to hand over contributions to some 76 underprivileged students.
However, Nurul was informed about the cancellation of the invitation on the morning of her putative visit as the Ministry 'does not wish to see any politicians in school compounds', according to Nurul.
She was again prohibited when she attempted to conduct the handover ceremony at a bus station outside of the school.
At a press conference in her service centre later, Nurul revealed that the school authority sought her assistance last week to help the students who were forced to cease their studies due to outstanding school fees.
The arrears ranged from RM177 to RM187, which accumulated to some RM13,000 in total.
Nurul was surprised that the underprivileged students did not receive any help from the Federal Territory Islamic Affairs Department, which is supposed to look after the school.
"I am curious to know how the RM1.7 million Lembah Pantai constituency funds, which was disbursed by the Prime Minister's Department for social charity purposes, has been utilised."
"The students are not getting any allocations from there either," she said.
The newly-minted PKR vice president launched a flash donation last week to raise the funds for the students.
The students, in return, came to her service centre today to receive the contributions after she was barred from entering the school.
They were given a green packet and a school bag each
Leven Woon is a journalist that interested in social justice, community empowerment and democracy. He believes community is where home is laid and caring is shown.
Posted: 03 Feb 2011 05:51 AM PST
Posted: 03 Feb 2011 02:52 AM PST
It may be Chinese New Year celebration today, but a call to action waits for no particular time.
What came out of Tenang was majority Malays stayed with UMNO, and Chinese stayed with Pakatan. Why wasn't PAS/PKR message effective, nevermind the flooding? Do we just accept that rural electorates are stupid? Perhaps we should just accept that they are stupid and try to win them over from their stupidity instead of thinking that they are potentially smart.
What will you say to a stupid electorate? I think if you think along those lines, you'd stop harping on topics that are conceptual, high level, policy oriented, or otherwise ephemereal; and you start concentrating on base desires such as the need for food, shelter and love.
Did PAS talk enough about how looking into the future, UMNO is not feeding them enough because of inflation and removal of subsidy from those in need?
Did PAS talk enough about how UMNO loves the people by raising Ron97 10 sens right after Tenang win? Or how it loves Perakians by usurping elected assembly and state councillors by dubious means?
Did PAS talk about how embezzlement, corruption and cronyism continues to take away precious public funds that could provide more affordable homes?
More importantly, did PAS have a positive message for change, the change that inspires Malaysians of Tenang? What was PAS offering? Moral righteousness? What about the future of economic development? Was PAS out of tune with the aspirations of most Malaysians who do not wear their religion on their sleeves, yet remain pious to their God?
What PAS and by extension Pakatan is suffering is failure of effective message. There are so many things that it could say, that could nail UMNO down as a corrupt, unloving, uncaring party of the people.
What has happened? Was it because Zaid left and the common policy platform is unravelling?
Or worse, is it failure of leadership on Anwar's part?
Every bad thing that UMNO has ever done seem to be swept under the carpet, allowing UMNO to retool and rearm. The issues are clearly still out there, but Pakatan has failed to fully harness the same.
All I see in the news is a disparity of criticism that does not link back to a common theme.
Perhaps it's time for Pakatan to give an acronym to the disease that is BN, just like how DAP has retooled an effective message of governance through its CAT principles.
Otherwise, Pakatan will continue to slip.
And I worry, because ineffective message does not only result in rural electorates swinging back to BN, but it also afflicts the white collars. I know of one professional who thinks that the opposition is putting too much blame on the federal government for all the ills in the country.
I do not agree with him, but I can understand what an ordinary, peace loving Malaysian PREFERS to see. Such an individual, and perhaps many like him thinks in terms of solutions and not blame. In their mind, the society has as much to blame as the people in power to make things work.
I do not agree with him not because I think ONLY the federal government is responsible, but I disagree with him because I see the federal government as being extremely powerful and influential in Malaysia, and it can either do a lot of good, or a lot of damage. And that is why I believe that if there is blame, if one wants to find a cause to many of our socio-economic problems, the road always leads back the federal government of the day.
But it does not mean that the rest of Malaysians should just sit back and wait for that fateful day if some other coalition takes over the federal government. Malaysians should be mobilised. Pakatan should encourage Malaysians to mobilise. It should take all the good that the society can offer, to help it win the path to Putrajaya.
It's time not only for Pakatan to retool and rearm (in a completely non-violent sense), but also to reengage the civil society and reconsider some of its values and principles and be more inclusive. Otherwise, Putrajaya remains a distant pipe-dream.
I would only ask Malaysians of one thing. Yes, Sept 16 was a botched job on the part of Anwar. Justice loving Malaysians were euphoric after March 8. I can understand where he's coming from - why he tried to tap into the sentiment of that time. He could even be blamed for Perak takeover and eventually hopping of so many elected representatives. But we Malaysians are living in a nascent REAL democracy and it's all unprecedented, and a cauldron of experimentations. I say we forgive but not forget the lessons learnt, and stay focus on the big picture that is eradication of incompetence, corruption and lack of a common inspiring vision. Pakatan is not a perfect platform. But it is our only hope.
Islam Versi Dr. Mahathir: Beri Lesen Judi pada VInsetan
Posted: 02 Feb 2011 10:44 PM PST
Loya tekak saya membaca serangan Dr Mahathir pada TOk Guru Nik Aziz dalam isu Islam. Kononnya Dr Mahathir mendakwa:
Dalam tulisan blognya semalam, Dr Mahathir mendakwa Islam dibawa oleh Nik Aziz, yang juga Menteri Besar Kelantan, "lebih teruk dari Islam nasionalis" dan menjadi penyumbang kepada perpecahan orang Melayu Islam negara ini.

Justeru, kata bekas perdana menteri, Nik Aziz rela mempertahankan Lee Kuan Yew dengan menganggap cadangan bekas perdana menteri Singapura itu supaya orang Islam Singapura tidak terlalu kuat berpegang kepada ajaran Islam adalah tidak seburuk dari Islam nasionalis Melayu.
Hairan saya. Apakah Islam Dr. Mahathir itu benar? Bukankah Dr Mahathir meluluskan lesen judi bola pada Vinsetan beberapa bulan selepas beliau mengisytiharkan Malaysia sebagai negara Islam?
Apa hak Dr Mahathir mempersoalkan Tok Guru Nik Aziz dari segi Islam sedangkan Islam Dr Mahathir jelas terpesong?
Serangan kepada Tok Guru Nik Aziz adalah kerana Tok Guru menolak penyatuan PAS-UMNO. Ini kerana Tok Guru tidak mahu sebuah perpaduan dengan perompak, penyokong judi dan pendusta.
Adakah itu satu dosa?
Tulang Besi
Pre-CNY At Sham's Sanctuary Last Weekend
Posted: 03 Feb 2011 12:14 AM PST
Tiger Putera Colonel Mike Naser and His Merry Men again organized a wonderful weekend of camaraderie, food and drink at Ulu Langat last week (Friday 28th to Sunday 30th January). OP Syam and wife Annie were as usual, woderful hosts at Sham's Sanctuary. 
This time around there was a difference; Saturday (29th January) lunch was at the
Veg Fish Farm Thai Restaurant
(a couple of reviews here, and here) nearby and we were supposed to be joined by more than 20 other people.
The 18 year old restaurant was a surprise; I had not heard of it before even after having lived in the Ampang area for more than 20 years! It is definitely well-worth a re-visit. We ended up with almost 30 people for lunch that day including 3 Female Tigers; Liz Tan, Liew Suet Fun and Chris Cheng.
Photos of dishes at Veg Fish Farm Thai Restaurant courtesy of the stated bloggers:
Dr Mahathir bertukar wajah lagi
Posted: 03 Feb 2011 12:25 AM PST
Isu perkauman semakin hari semakin panas dan ianya dipanaskan lagi oleh pemimpin-pemimpin veteran kita dan yang terakhir ialah oleh Dr Mahathir sendiri. Akhir-akhir ini Dr Mahathir sering memberikan kenyataan yang agak keterlaluan dengan membangkitkan semangat perkauman seperti yang pernah beliau lakukan semasa beliau mengkritik Tunku Abd Rahman setelah beliau (Mahathir) kalah di tangan PAS pada tahun 1969 dahulu.
Semasa beliau kecewa kerana kekalahan beliau pada pilihanraya itu Dr Mahathir telah membangkitkan semangat orang Melayu dengan menuduh yang Bapa Kemerdekaan itu telah melalaikan orang Melayu dan terlalu pro Cina dan bangsa-bangsa bukan Melayu. Kekalahan beliau dalam plihanraya itu membuatkan beliau menuding jari kepada semua orang kecuali pada diri beliau sendiri dengan menyibarkan surat terbuka menghentam Tunku dan menuduh Tunku dengan berbagai-bagai tuduhan yang menyakitkan. Surat terbuka itu telah dihantar kepada semua rakyat semata-mata untuk mengajak rakyat menjatuhkan Tunku.
Sikap ultra beliau telah menjadikan beliau diikuti oleh orang Melayu khususnya ahli-ahli UMNO dan ini merupakan strategi politik beliau yang sangat berkesan baginya. Dr Mahathir mengkritik keras Tunku kerana mewujudkan Akta Keselamatan Dalam Negeri (ISA) dan menuduh Tunku sebagai pemimpin kuku besi dan tidak demokratik. Mahathir menentang ISA dengan kuatnya sehinggakan Tunku terpaksa memecat beliau dari keahlian UMNO. Tetapi Akta itu jugalah yang diperketatkan beliau setelah beliau mendapat kuasa dan ramai dikalangan ahli politik yang tidak sebulu dengannya ditahan dibawah ISA.
Beliau bertindak berdiri diatas pentas PAS semasa pilihanraya Kecil Kapar apabila ADUN Hamzah Alang meninggal dunia. Pada beliau UMNO tidak ada gunanya langsung dan menuduh Tunku meminda undang-undang seperti menukar seluar dalam sahaja. Dr Mahathir menzahirkan perasaan marahnya kepada bangsa Cina yang telah memihak kepada PAS didalam pilihanraya umum 1969 di Kawasan Kota Setar yang telah menyebabkan kekalahan beliau dengan majoriti melebihi seribu undi. Pemimpin PAS yang telah mengalahkan beliau tidak lain dari Mursyidul Am PAS semasa itu, Hj Yusuf Rawa.
Semasa beliau didalam pemecatan beliau adalah orang yang paling hampir dengan pergerakkan pelajar dan salah seorang darinya ialah Anwar Ibrahim dan Dr Mahathir menggunakan pelajar-pelajar untuk berdemonstrasi dan semasa itulah bermulanya budaya demonstrasi jalanan pelajar-pelajar dan Mahasiswa di pusat-pusat pengajian tinggi. Hubungan Anwar dengan Mahathir memang begitu baik dan Dr Mahathir merupakan orang yang menjadi ikutan Mahasiswa semasa itu.
Kegiatan Mahasiswa hanya dikekang dengan Akta Universiti dan Kolej yang diperkenalkan oleh Dr Mahathir sendiri setelah Tun Razak melantik beliau menjadi Menteri Pelajaran apabila beliau kembali kepangkuan UMNO pada tahun 1973 apabila beliau diterima sebagai ahli UMNO diRawang setelah permohonannya ditolak oleh semua cawangan UMNO diKedah.
Ramai diantara Mahasiswa yang berdemonstrasi diatas galakkan beliau dan membantu beliau dibalas dengan menyumbat mereka kedalam kem tahanan dikemunting, Perak.
Setelah mendapat mandat dan kuasa yang diberikan oleh parti dan kerajaan Dr Mahathir akhirnya menjadi Perdana Menteri dan imej pro Melayu beliau mulai pudar dan beliau sudah bertukar wajah menjadi seorang pemimpin yang liberal, malahan beliau merasa rimas dengan dasar mengutamakan Melayu sebagai yang diperuntukkan oleh Dasar Ekonomi Baru (DEB). Beliau tidak lagi selesa dengan dasar memberikan tongkat kepada orang Melayu dan beliau mahukan tongkat untuk orang Melayu dan Bumiputra itu dibuang.
Walaupun DEB belum selesai dilaksanakan kerajaan pimpinan beliau sudah mula menekankan kepada dasar pembangunan jangka panjang tanpa memberikan tumpuan kepada dasar 'social dan economic engineering' yang terkandung didalam DEB itu. Unit penyertaan Bumiputra didalam semua bank-bank dan Kementerian-kementerian serta Jabatan-jabatan kerajaan ditutup. Dr Mahathjir mahukan pembangunan 'express' yang telah menghasilkan banyak elemen negatif kepada negara dan rakyat.
Yang penting bagi beliau negara mesti dihiasi dengan bangunan yang tinggi-tinggi dan semuanya mesti ditunjukkan sebagai yang terpenjang dan tertinggi serta terbesar didalam dunia. Dengan pembangunan yang tidak terancang projek-projek 'express' yang mega-mega telah memaksa kita mengimport 'capital goods' yang terlalu banyak hinggakan kos pembinaan sesuatu projek itu telah melibatkan perbelanjaan yang dua atau tiga kali ganda dari harga yang sebenarnya.
Selain dari itu pengimportan 'capital goods' yang begitu 'massive' telah menyebabkan kejatuhan nilai mata-wang kita dan hasilnya matawang kita telah dirobek oleh spekulator matawang antarabangsa dan krisis kewangan pun melanda negara kita tanpa kawalan.
Oleh kerana pembangunan hendak dilakukan dengan cepat maka proses tender terbuka mula dilupakan dan digantikan dengan proses rundingan terus dan disinilah bermulanuya budaya rasuah yang keterlaluan dan pemimpin-pemimpin kita terlibat dengan penyalaha gunaan kuasa dan rasuah yang begitu besar. Ketirisan yang begitu jelas dalam jumlah yang ratusan billion berlaku dan rakyat sedang membayar segala kos ketirisan pada hari ini.
Subsidi-subsidi kepada rakyat yang memerlukan dihapuskan tetapi segelintiran orang-orang yang teristimewa telah mengambil kesempatan diatas segala pengorbanan rakyat yang ramai ini. Dengan keadaan ini maka timbul pula masalah yang baru; iaitu pengecilan kelas menengah rakyat yang dibina oleh DEB yang telah menampakkan kejayaan sebelum Dr Mahathir mengambil alih tampuk kuasa negara.
Banyak lagi yang boleh diulas tentang isu Dr Mahathir dengan dasar pembangunannya. Tetapi kali ini kita hendak memahami siapa Dr Mahathir yang sebenarnya. Persoalan ini timbul kerana penampilannya yang berbeza dengan keadaan dan masa. Disatu masa beliau seorang yang berjuamg untuk Melayu tetapi dalam masa yang berlainan beliau adalah penyekat kepada dasar-dasar yang membina kemajuan orang Melayu.
Beliau meminta supaya Melayu tidak pakai tongkat. Mungkin elok jika kita tidak menggunakan tongkat itu, tetapi tongkat itu jangan dibuang. Tongkat itu patut disimpan dahulu kerana mungkin tiba masanya kita memerlukan tongkat itu…semula...jadi janganlah dibuang.
Dalam zaman pesaraannya Dr Mahathir kini kembali memakai baju Ultra Melayu, baju yang beliau pernah pakai sebelum mendapat kuasa dahulu. Didalam ucapannya beru-baru ini beliau telah mengingatkan bangsa lain supaya tidak lagi mengingati negara dari mana datuk nenek mereka datang. Ucapan beliau ini membayangkan yang beliau begitu was-was dengan generasi baru ini jika masih mengingati dan menganggap mereka masih menganggap negara dari mana datuk nenek mereka datang dahulu sebagai tempat untuk menempatkan kesetiaan mereka.
Dr Mahathir tidak sepatutnya menyebut isu sensitif seperti itu kerana kita hendak mengelakkan dari generasi muda kaum Cina terutamanya untuk membalas dengan mengingati Dr Mahathir sendiri dengan negara dari mana datuk nenek beliau datang dahulu. Kita tidak mahu memanjangkan isu yang boleh memecahkan keharmonian rakyat negara ini.
Sebenarnya Dr Mahathir seorang yang amat bijak tetapi kebijaksanaan beliau itu tidak dapat dimunafaatkan oleh rakyat yang inginkan perpaduan dan kehidupan muhibbah dalam negara kosmopolitan ini.
Pregnant Women not spared as Home Minister does nothing!
Posted: 02 Feb 2011 07:22 PM PST
Even a pregnant women is not spared from the police as Home Minister Hishammuddin does nothing to improve the image of the police in this Country!
This morning, Segambut parliamentarian Lim Lip Eng received a distress call from 36-year-old Chow Soo Meng, who is eight months pregnant.

She told him the police had stolen about RM20,000 in cash and several other items.

"The police took several types of cigarettes, six bottles of hard liquor, mandarin oranges and three cartons of canned drinks," Chow (left) said in her report lodged at the Kepong police station.

She said the officers, from the Petaling Jaya Narcotics Department, also took 30 mobile SIM cards and removed the closed-circuit TV camera recorder from her shop.

None of the items have been returned.

She said when she asked for the return of the RM20,000, the officer who arrested her refused to do so and told her not to make an issue of it or risk being rearrested, Lim (right) told Malaysiakini when contacted.
The MP, who met with Chow this afternoon, said she had locked the grille door to her shop as she was alone from about 5pm on Monday, when about 10 men came about 6.30pm and demanded to be let in.

"When she refused to do so, they started yelling and cursing at her and they cut open the grille. They then handcuffed her and took her to the Damansara Utama police station," he said.

There, she was made to take a drug test before being taken to the Customs Department in Kelana Jaya and told that she had not paid the duties on the liquor and cigarettes.

"She was asked to return to the Customs Department office in Kelana Jaya on March 2," Lim added.
Chow said officers at the Kepong police station had also discouraged her from lodging her report, but relented when she insisted.
In her police report, Chow said the police had suspected that she was keeping narcotic drugs in her shop.
Investigations begin
Four officers from the Sungai Buloh station went to her shop this afternoon to begin investigations (top photo).
It is learnt that the matter has been passed to the Sungai Buloh station, since the incident took place in that police district.

Lim plans to visit the Damansara Utama police station on Friday morning to ask for Chow's complaint to be transferred to the Selangor contingent police headquarters.

He and Chow will also request that investigations be conducted by a team that is not from the Petaling Jaya police district, whose officers were allegedly responsible.
The investigating officer was not available for comment.
BABI! Your convincing lying capability does not work anymore on Malaysians!
Posted: 02 Feb 2011 05:43 PM PST
Had not for his abnormal sex life, Anwar's
plan was so meticulous, from day one, that he almost succeeded in turning Malaysia into another Arab state and he the first pseudo-Arab to be the head of state!
We must constantly thank Tun Mahathir for this!
A strong "futile" attempt was made by Brother Anwar Bin Ibrahim (BABI) and his cohort to claim CNN report on BABI's activity vis a vis with the Muslim Brotherhood was a made up story, well the truth of the matter is CNN got its info from the Saudi authority itself.
In his trade mark lying capability BABI once again tried to fool Malaysians that he was again maligned by the Malaysian government or in fact suddenly he wants Malaysians to believe the whole world has been bought over, including the CNN and the Saudi government, by Najib to lie for him (Najib)!.
Read Big Dog here..
and
Hantulaut here!
And scroll down
mybloghub.my
here!
And
Tony Yew's Can you see it!
Here!
As a Malay adage goes "pandai pandai tupai melompat......", or crudely translated "now matter how agile and adept the squirrel may be from jumping from one branch of the tree to another, ah, and surely one day it will slip and fall to the ground hard!!!", or something like that.
Now the whole world knows BABI is, and still is, a strong member of the Muslim Brotherhood, and a closet anti-American, anti-Jews, anti-Umno, anti-establishment, anti-monarchy, anti-Malay and possibly, deep inside his heart, an anti-female, as much as he is hoping Malaysia would turn the way of Tunisia, Egypt and other failed countries in the middle-east right now, unfortunately for him this is not going to happen! Why? Because Malaysia is far from being a failed society unlike Egypt, where millions are living way below the poverty line!!
Overheard a conversation at the Concorde Hotel coffee house : "Don't worry Anwar can say anything to the Malays they will believe him!" In reference to CNN and its reports of his involvement with terrorist group! BABI....I don't think so...not anymore!
Please read
Wishing AweMyfRiends wherever Thou Art...
Posted: 02 Feb 2011 05:17 PM PST
Be ye of Chinese ancestry/descendancy, or having buddies or jest one Chinoserie like Desi, let's
join the spirit of brotherhood/sisterhood
Be Merry, Yamm Singg
GreAtings to Awe my ER:

"Gong Xi Fa Cai, Wan Xi Ru Yi"
History of Chinese New Year ::
The Legend of Nian
Print
Fire CrackersChinese New Year (Nónglì Xinnián), also known as the Lunar New Year is the most important of the traditional Chinese holidays. It is celebrated on the first day of the first month of the Chinese calendar, i.e. the day of the second new moon after the day on which the winter solstice occurs, unless there is an intercalary eleventh or twelfth month in the lead-up to the New Year—in such a case, the New Year falls on the day of the third new moon after the solstice (the next time this occurs is in 2033). The Chinese New Year period also known as Spring Festival unofficially starts on on 23rd day or 24th day of the 12th month of the lunar calendar and ends with the Lantern Festival, on the fifteenth day of the First month of the New Year (which is a full moon).
The Orgin of New Years and the legend of Nian
The Chinese word Nian means ripe grains. The word dates back to oracle bone inscriptions dating back three thousand years ago. A good harvest or the process of a harvest was considered a year. The whole purpose, in history, of creating a calendar or keeping track of time was to facilitate agriculture. It was important to know when to till the soil and sow the seeds. You can say that the first calender in China was sort of put together for the benefit of agriculture production. In the Zhou Dynasty the year was formally called "nian" and the beginning of the year was called "suishou" . In 104 BC, Emperor Liu Che of the Western Han Dynasty presided over the formulation of the solar lunar calendar which is simular to the Hebrew Caledar.
Since the beginning of the Han Dynasty, New Years Day and Winter Solstice were the emperor's most important times. It was the responsibility of the emperor to keep track of the time, to perform traditional rituals before these dates, and tune and select the music so that heaven and earth were in harmony. Winter Solstice was the most important event because if an emperor blundered that day the kingdomn wouldn't know which day marked the coming of the new year. These two days are the only days that don't change on the lunar calendar.
The festival was a way of letting the people know what time it was and what to do. The lunar calendar had all sorts of important days that kept people in tune with their daily rituals and mother nature. Keep in mind that the emperors did not do everything by themselves and had experts or "officials" to help out, but they were responsible to keep the mandate. By insuring the accuracy of these dates, the state and the people new when to work and when to do what (the lunar calendar is like the farmers almanac).
LanternsBesides historical records, there are also many stories and legends worth mentioning.

The first and most enjoyable is the story of Nian

(Year "Nian" as in New Year –"Xin Nian"). There was a monstor in ancient times with a body of a bull and the head of lion. It was a ferocious animal that lived in the mountains and hunted for a living. Towards the end of winter when there was nothing to eat it would visit the villages and attack and eat whatever it could. The villagers would live in terror over the winter. Over time the villagers realized that the ferocious Nian was afraid of three things: the color scarlet, fire, and noise. The villagers came together and agreed that when it was time for Nian's annual visit towards the end of winter they would start a fire in front of every door, hang a board painted scarlet in front of every house, and not go to sleep but rather make noise.
So one night when Nian was spotted coming down the mountain they started the fires, put up the boards, and stayed up all night long making noises. The monster came down saw and heard the ruckess, freaked and ran into the mountain never to return. The next morning everyone got up congratualated eachother and had a big celebration. The next year they repeated the ritual and it has been passed down generation to generation and the custom of guonian was thus established.
Original Text Submitted by M. Scirocco from
thatsqingdao.com