---
Roughly 1440 Years Ago Today Evil Bared Its Teeth In A Smile
Posted: 15 Feb 2011 01:25 PM PST
Mohammed was born on this day (according to the Islamic calendar) roughly 1440 years ago. He died some 1380 years ago but it seems we're still dealing with his murdering self that he left in every single one of his followers.
In fact we are having to fight him more than people in his day did. I think the reason being that the people in his day either fought against him, knowing who he really was, and died like warriors or they joined him, knowing who he was, and killed like maniacs. We, on the other hand, can't seem to make up our minds.
Shame on us all (say: liberals/dhimmis) for we seem to have forgotten what our forefathers stood for and fought against.
Posted: 15 Feb 2011 12:48 PM PST
No this time it is
not about Jeannie but RPK
. Read the Malaysian Civil Liberties Movement (MCLM) manifesto that was unveiled yesterday. I believe Raja Petra devised it and it contains a mere 27 words. 27 words that will change the country!
"End the marginalisation of all human beings, by seizing federal power through the 13th general election and, through the 13th federal government, implement the Rakyat Reform Agenda".
3 hours with MCMC 'detectives'
Posted: 15 Feb 2011 09:33 AM PST
I was interviewed for 3 hours at the MCMC yesterday (3.30-6.30PM) over my Sunday's posting '
Rais, you got the most powerful special officer
'. I had to substantiate every para of the posting, in which I cooperated well.
The personnel in-charge was Mazlan Othman, MACC director of investigation. Nice, polite and tactful.
I believe the directive to call me up on a Public Holiday came from the top. However, it's okay for me. My ordeal in Baghdad in 1984 for taking a few photos in the street was the worst when the Iraqi police interrogated me for 9 hours! At the MCMC, I felt comfortable.
And so, I gave them the evidence which supported my story and it was confirmed that it came from 'inside'. Halfway, a MACC official called me for 'a date' to be fixed later.
I believe Datuk Seri Utama Dr Rais Yatim didnt know about his special officer's activities at the MCMC of late. I am also convince he didnt sign any of those letters produced by the officer to influence MCMC board members to award the 1Malaysia netbook distributorship to 6 companies, of his and his friends'.
Where would the report go? AG chamber, I suppose! Anyway, its their job.
I will pursue this case. As of now, I'm really worn out...
Posted: 15 Feb 2011 06:57 AM PST
As the world wakes up to Valentine's Day, this report was apparently filed at approximately 07:05 Moscow Time on 14 February 2011 …
Hosni Mubarak in coma?

Former Egyptian President Hosni Mubarak is in grave condition. Information about this appeared in several Egyptian and Arab media outlets. According to the newspaper "Al-Masri al-Yaum", Mubarak is in a coma. The publication refers to a well-informed source close to the ex-president.

In addition, some details regarding the preparation of Mubarak's last address to the nation have been leaked to the press, saying that the speech was repeatedly rewritten by his son Gamal and during the recording itself Mubarak lost consciousness several times.

Cairo has not provided any official information on the state of Mubarak's health.
Source of report is here.
Tagged:
hosni mubarak
Shah Rukh Khan ~ Another Asoka in India? Beware of this Murtad!
Posted: 15 Feb 2011 06:23 AM PST
For all the hullabaloo that Bollywood blasts out through the years in forming the opinions and general viewpoints of moviegoers worldwide that are generated through the endless dishing out of films with hidden and at times open messages about pluralism in human faiths, Muslims who treasure and value their Aqeedah ought to be aware of the disastrous consequences of hero worshipping Indian filmstars such as Shah Rukh Khan!
This world famous Indian actor is another Asoka in the making. In fact he lives with his Hindu wife and has children who worship the Hindu gods and have made an idol out of the Holy Quran as well as proven in the video above!!!
Surely Allah Subhanahu Wa Ta'ala has warned us about this here :

Transliteration
Waman yabtaghi ghayra al-islami deenan falan yuqbala minhu wahuwa fee al-akhirati minaal khasireen
And whoever desires other than Islam as religion - never will it be accepted from him, and he, in the Hereafter, will be among the losers.
In 
Surah Al Imran, Chapter 3 Verse 85
, Allah Azza Wa Jalla clearly tells us not to deviate from His Deen and to remain steadfast as Mukmins.
Shah Rukh Khan and most of the other Khans in Bollywood are prone to act as Hindus and often are depicted worshiping idols and going about their pluralistic ways as if its normal and acceptable in Islam.
Surely it is haram and his defiant manner of publicizing his choice to have a mixed faith marriage is an apparent show of arrogance and must be condemned by India's Muslim leaders.
The absence of a Khilafah adds to this sacrilege and this Bollywood actor has clearly committed Riddah @ Apostasy by his worshipping the Hindu idols and allowing his offspring to lead a pluralistic life.
Even his marriage is haram in the first place. Where does Islam allow such a marriage?
The fact that India is run by the Hindus has left the Muslims of India voiceless and powerless to act against this blasphemy! In fact the Hindus very much welcome his pluralism and glorify his choices as shown

here

. Anything goes!
The placing of the sacred Holy Al Quran al Karim on the same altar with the Hindu idols is a sacrilegious blasphemous thing to do and Shah Rukh Khan must not be allowed to get away with this!
What are the Muslims of India doing about this?
Even here in Malaysia we have dumbos as in the person of the former Prime Minister Abdullah Badawi who either out of his apparent ignorance about Islamic Sharia stupidly states that if Malaysian Muslims want to apostate, then there is none who can stop them!
Remember this statement?
No wonder that the Muslims of the world are getting confused day by day! They have weirdos leading them in the affairs of faith.
Like the classic blind leading other blinded ones. Chances are that all will go drop into the cesspits and burn in the Hellfire.
Who do we blame for this but ourselves for not standing up and reminding these ignorants of the pitfalls of following their nafs!
Well, I for one choose to speak out and do my part. After all, Islam is not for just you and me but for the entire humanity.
We can't just ignore all these khurafat practices and remain silent. No sirree!
We will become accomplices to these murtads at large and unwittingly end up together with them for shutting the hell up when they commit these mungkar!
What will you answer Allah when He asks you as to why you didn't try to save your fellow Muslims from falling into Kufr and Shirk?
Is Your Tax Dollars at Work:Wael Ghonim and the Saga of Democracy in Malaysia and Egypt
Posted: 15 Feb 2011 05:12 AM PST

Wael Ghonim, symbolic leader of the Egyptian revolution, gave an interview to 60 Minutes on Sunday night. His message is clear and compelling. Dictators of the world who oppress their people, you should be freaking out now. Watch here:
Minister in the Prime Minister's Department Mohd Nazri Abdul Aziz should be praised for wanting to ban former US ambassador to Malaysia John R Malott from entering the Malaysia. In fact, the Cabinet should rally round him and enforce an immediate ban.
Poor Nazri. Why does he like to operate as Najib's chief blunderbuss? Is he desperate for brownie points? He's trying so hard to please that it is painful to watch him.
Anyway, once the ban is in place we would all like to invite John Malott to Malaysia. We won't be sneaking him in. We will invite him to come by road, via the causeway from Singapore.
As we foresee that Nazri's men won't be at the ready, we will give Nazri a tip-off. That should allow enough time to locate his men.
We will invite the foreign press to accompany Malott in his convoy. The Hindraf and Human Rights Party convoy was stopped recently and people were arrested. But then we don't foresee a successful crossing of the causeway, so this should not affect us.
Another coach will be laid on for the television crews of Al-Jazeera, ABC, BBC, CNN and others.
On the Johore side of the causeway, a similar complement of local and foreign media will be waiting, just in case Malott gives Malaysian immigration the slip, or the ban is suddenly overturned. In either case, we will say Nazri's ban does not amount to much.
We have every confidence in Nazri's or the Home Minister Hishammuddin Hussein's men. These ministers do not like to be proven wrong and would like nothing better than to 'punish' these "foreign devils".
It was Nazri who called Malott a liar because in his opinion, Malott had "defamed our government through foreign newspaper".
Nazri asked, "How would he know the real situation if he did not reside in Malaysia?"
Is Nazri not aware that Malott was the US Ambassador in the late nineties?
Unlike Malaysian ministers whose jobs are to spread dissent and disinformation, the ambassadors of countries usually have a great deal of knowledge about foreign policy and a full grasp of the country in which they have been posted to.
Ambassadors are hand-picked by their nations in order to provide a good representation and to maintain solid relations with that country.
Nazri accused Malott of lying, but informed Malaysians are inclined to agree with the former US ambassador.
Malott may be staying in America but he is better informed and switched on about the disturbing trends in Malaysia, unlike Nazri, who like the rest of the Umno elite are stuck in their Ivory Tower.
There is no hope for a public discourse or debate between Nazri and Malott about the article which appeared in the Wall Street Journal.
Anyway, we wouldn't want it to happen – it would further damage Malaysia's credibility. It would be embarrassing for Malaysians to let the whole world know the true calibre of our ministers.
Many of our ministers are reluctant to enter a public platform to debate an issue. They do not know how to present logical arguments to persuade or convince. They can't tolerate differing views for a start. They only know how to threaten and intimidate.
We hope the cabinet approves the ban so we can invite Malott to Malaysia and assemble the foreign press. That will be the day when Malaysian racism and intolerance, will make headline news in the foreign papers.
The ban on Malott will give us the much needed worldwide publicity .
The whole world will get the message that Malaysia does not tolerate criticism and they will learn something of our racial and religious intolerance.
The world will also see how we treat people who do not toe the government line. Malott will be refused entry into the country but ordinary Malaysians will not be as lucky. They will be subject to detention without trial.
People who dare to speak the truth are subject to various laws to 
silence them
. Many have been picked up and suffer whilst in police custody or languish, for years, in prison.
We owe it to these brave people and inform the world, that this is the true face of Malaysia.
The false 
anxiety of
influence "This was a reign of terror, and  was a symbol of that reign of terror,It was intended to cause fear and to terrorize a population."
NEW YORK: Ousted 
Egyptian
President Hosni Mubarak has reportedly moved his family assets from European banks to institutions in Gulf region after 
Swiss
authorities took steps to freeze his foreign accounts. "We're aware of some urgent conversations within the Mubarak family about how to save these assets," a senior intelligence was quoted as saying by the state-run Iranian channel Press TV. "We think their financial advisers have moved some of the money around… If he had real money in Zurich, it may be gone by now," he said. According to channel, former president is believed to have transferred a fortune to friendly Arab states, including the United Arab Emirates and Saudi Arabia. The report comes after Swiss authorities have announced to freeze his bank accounts. Estimates of the former Egyptian President's fortune varies — there is a widespread rumour that it worth as much as $70 billion. However, US officials quote his family's wealth between $2 billion and 3 billion, New York Times said.Within hours of Mubarak's resignation on Friday, "Swiss officials ordered all banks in Switzerland to search for — and freeze — any asset of the former president, his family or close associates," it reported.After Mubarak's fall, there are growing calls for an accounting to begin and Egyptian opposition leaders have vowed to press for a full investigation into his finances."Now we open all the files," George Ishak, head of the National Association for Change, an opposition umbrella group, said. "We will research everything, all of them: the families of the ministers, the family of the president, everyone." According to the report, his family was "woven" into the Egyptian economy. However, tracing Mubarak's money will be difficult since business in Egypt is largely conducted in secret among a small group connected to him. Critics have said following the privatisation of Egypt's economy in 1990s, Mubarak's family and other elite families have held stakes in the sale of state assets and in new business ventures. The article stated after former President's younger son Gamal left his job at Bank of America in London in mid-1990s, he joined forces with Egypt's largest investment bank. Today, he has a significant stake in a private equity company with interests throughout the Egyptian economy, from oil to agriculture to tourism, corporate records and interviews show. "The corruption of the Mubarak family was not stealing from the budget, it was transforming political capital into private capital," Samer Soliman, a professor of political economy at American University in Cairo, said. It has also been rumoured that the family has vast real estate holdings. But the only property outside of Egypt that has emerged is the London townhouse at 28 Wilton Place in 
Knightsbridge
where Gamal lived when he was an investment banker there, the report added.I recommend to Americans the 
saga
of Wael Ghonim — the young Egyptian Google executive whose kidnapping by Egypt's dreaded secret police and subsequent emotional public testimonial ushered in a new dawn in Tahrir Square this week.
This posting includes an audio/video/photo media file: Download Now
They Cane Form 6 Girls At Penang Free School???
Posted: 15 Feb 2011 05:09 AM PST
Admin

Note:
The following email was sent to

The Scribe

by a student of

Penang Free School

.

The Scribe

finds that this email is of public interest as the writer of the email makes some very serious allegations against the schools Administrators and especially of one female Discipline Teacher

SAROJINI A/P KUTTI KRISHNAN

. The Scribe is aware that there is a clear cut guideline by the Ministry of Education that female students in secondary school are not supposed to be physically punished. What more if they are young women who have reached the age of consent. These are Form 6 students who are 18, 19 and 20 year old. The writer of the letter also claims that Form 6 male students are also caned by teachers including by

SAROJINI A/P KUTTI KRISHNAN

.
It is very frightening and disturbing that young men and women who have reached the age of consent are still caned in Malaysian schools such as Penang Free School. This young men and women are the future of our country. If they still need to be physically punished by teachers at such a mature age, then Malaysia has no future at all.
If these allegations are true, than

SAROJINI A/P KUTTI KRISHNAN

, the Principal

Mr. Ramli Bin Din

(pic above) and the schools Disciplinary Board ought to be sacked for condoning and carrying such punishments which goes against the Guidelines of the Ministry of Education.

The Scribe

calls on the students who are victims of the PFS sadistic teachers to lodge Police Reports and for the Ministry of Education to make a thorough investigation.

The Scribe

hopes that the Penang Free School authorities will come out and refute this very serious allegation.

MarGeeMar

will publish the PFS side of the story.
The following is the Letter from a

Penang Free School

student:
Dear Sir, I am a Penang Free School student. I want to complain and let the world know that this school canes Form Six girls. Thy also cane Form 6 boys. We know we are adults and yet we are caned by the teachers in this school. We feel humiliated to be slapped and caned by these teachers especially our discipline teacher

PUAN SAROJINI A/P KUTTI KRISHNAN

. She is not fit to be a teacher.
We know that it is against the law to hit Form Six student whether Male or Female but this school still does it. We are sick of being treated as kids. The male teachers even threaten to use the cane on the Form Six girls like hitting the cane hard on the desk where we sit. We hope someone out there will do something to help get our dignity back.
A Very Sad PFS 6th Former
Posted: 15 Feb 2011 04:31 AM PST
Oleh

Anak Mami
Negara negara Islam mula bangkit, negara Islam dituip angin revolusi menentang kerajaan, kenapa kah ini semangat ini berlaku serentak ?
Selepas kejatuhan rejim Mubarak, Tunisia , rakyat rakyat yang beragama Islam ini sedar bahawa mereka ingin nenutut hak, kebebasan dan demokrasi sebenar. mereka inginkan perut kenyang, hidup tanpa tertekan dan mereka inginkan pekerjaan, mereka tidak suka pengangguran, mereka sedar memang pun corak pemerintahan Islam penuh dengan kezaliminan, penuh dengan tipu helah, korupsi .
Mereka juga sedar bahawa agenda mufti jabatan islam telah disalah gunakan, mereka sedar mereka diperhambakan dan dpebodohkan sekian lama oleh mufti mufti. Mereka lekau kan pemberontakkan menentang kerajaan adalah menuntut keadilan, kebebasan dan ingin bersaing dalam alam globalisasi. Mereka muat jadi hamba tungangan segelintir elit.
Di Yemen :
Rakyat menuntut President Ali Abdullah Saleh letak jawatan.
Di Algeria
Algerian Foreign Minister Mourad Medelci announced this morning that the state would repeal its 19-year-old state of emergency "within days."
Bahrain
Mula lah pancut air, tear gas untuk menghalau rakyat demonstrasi .
Iran
Rakyat menyedar bahawa kebebasan dan penindasan oleh pihak pemerintah, golongan anti kerajaan amat muak terhadap mufti mufti Islam yang menggunakan islam untuk memperbodohkan rakyat, rakyat Iran cukup benci corak pemerintahan kerajaan.
Hingga kini, globalisasi telah menghanyutkan corak pemerintahan Islam di negara negara Arab, Corak pemerintahan negara Islam tidak lah pratikal malang penuh dengan kekecohan, korupsi, nepotsma, globalisasi membangkitkan rakyat negara Islam supaya menuntut persaingan di global. menyedarkan bahawa diri mereka diperbodohkan, globalisasi menekankan rakyat dinegara Islam bangkit menuntut keadilan dan kebebasan, tanpa dikongkong lagi. Apa gunanya negara Islam, kalau Islam tidak menjamin perut rakyat sering lapar kebuluran? Apa gunanya Islam kalau hilangnya hak rakyat sendiri? Apa gunanya Islam, kalau rakyat diperbdohkan dan hasil negara dirompak oleh golongan tertentu?
Rallying for Khilafah in Tunisia! What the Western Media doesn't show you!
Posted: 15 Feb 2011 05:29 AM PST
Assalamualaikum Warahmatullahi Wabarakatuh!
Ya Ayyuhal Muslimun! The Black Flags of the Khilafah are fluttering in Tunisia!
The Muslims of the Middle East are waking up to overthrow the puppet regimes and dictators who have been suppressing the Ummah over the ages in the Lands of the Prophets!
On the eve of this year's Maulidur Rasul, I wish each and every Muslim on Earth worth his or her namesake to honor The Greatest Messenger of Almighty Allah Subhanahu Wa Ta'ala by praising and glorifying 
Muhammad ibni Abdullah, 
Sallalahu Alaihi Wassallam, Khataman Nabiyyi, Al Mustafa, Rahmatulil Alamin by offering your Salawats upon our Beloved Prophet!
The first video shows the Muslims in Tunisia rallying for the return of the Khilafah in Tunisia! 
In the second much more longer video we are witnessing the British Muslims rallying outside the Tunisian Embassy calling upon the officials in the Tunisian Embassy to uphold the Sharia of Allah Subhanahu Wa Ta'ala!
Truly the Muslims living in the UK are much more passionate about working towards the reformation of the Khilafah compared to many other Muslims living in many other parts of the world.
Why is this so?
Well, sometimes, those who are true Muslims living amongst the Kuffar come to realize the rationality of Islamic values and principles as they witness a large majority of the Westerners who fall prey to the ravages of following their nafs and losing any sense of righteous living due to their straying away from even their own faiths and inherited beliefs of their forefathers.
Drugs and alcoholism are the major contributors to social problems arising in the UK. The British are infamous for binge drinking and neighboring countries such as France and Spain suffer so much when the British come holidaying in the summer.
Verily, the Western society today is reeling from the gradual loss of any curtailing of the baser instincts of giving in to their lusts and falling prey to their nafs.
All kinds of sins are committed amongst them these days without regrets, remorse of shame. The adulterous ones are celebrated and heralded in their media and given standing ovations in their hedonistic events.
Couples live together and produce illegitimate offsprings who in turn repeat the process and aren't afraid to state as to their true identities as the son or daughter of this and that person who isn't married to their mothers.
These are the signs of the coming of the Last Days which the blessed Prophet Muhammad Sallalahu Alaihi Wassallam told us about in his numerous hadiths.
One hadith indicates that the absence of the shame of prostitution is a sign of the Last Day.
"There will be prevalence of open illegal sexual intercourse."
(Sahih Al Bukhari)
The Prophet Muhammad Sallalahu Alaihi Wassallam says that the spread of extra-marital sexual relationships in society is a sign:
"The Hour will come when adultery becomes widespread."
(Al-Haythami, Kitab al-Fitan)
The weakening of moral values and a sense of shame is described in these words:
The Last Hour will not be established until they (wicked people) commit adultery on theroads (public ways).
(Ibn Hibban and Bazzar)
It is interesting to note that, recently, scenes of prostitution captured by hidden cameras have been broadcast on television channels. 
Prostitutes have sexual intercourse with their customers in open view in the middle of the street. 
This is another sign of the Last Day revealed in a hadith; millions of people have witnessed this sign. 
These hadiths show that tolerating homosexuality as a normal way of life is an important sign of the period before the Last Day.
"Men will imitate women; and women will imitate men."
(Allama Jalaluddin Suyuti, Durre-Mansoor)
"People will indulge in homosexuality and lesbianism."
(Al-Muttaqi Al-Hindi, Muntakhab Kanzul Ummaal)
There are today many amongst the people even here in Malaysia who condone the homosexuals open declaration of their sinful tendencies and going against the order of nature by indulging in 'gay' activities.
When I wrote my article condemning these homosexuals, many

of those who are sick in their minds and deviant from the true teachings of Islam took offense and spun a tale saying that it is I calling for the death of these wrongdoers.
The Syariah Law pertaining to such a capital punishment for the execution of these openly defiant ones against Allah's Prohibition is not from Zainol Abideen the Blogger.
Rather it is from Almighty Allah Subhanahu Wa Ta'ala himself Who lays down the Laws!
Muhammad Sallalahu Alaihi Wassallam would not pass any rules or laws without him getting the guidance and revelations from Allah Subhanahu Wa Ta'ala.
Thus true Muslims who are the Ummah of Muhammad Sallalahu Alaihi Wassallam must not waver from following the enjoinments of the Blessed Messenger to the letter.
Here are a couple of Hadiths from Rasul Al Karim pertaining to the laws with regard to the appropriate punishments for those who commit adultery:
Sahih Muslim, Book 17, Chapter 6: Stoning to Death of Jews and Other Dhimmis In Cases of Adultery, Number 4216: 
Jabir b.'Abdullah reported that Allah's Apostle stoned (to death) a person from Banu Aslam, and a Jew and his wife.[12]
Sahih Bukhari, Volume 2, Book 23: Funerals, Number 413: 
Narrated 'Abdullah bin 'Umar: The Jew brought to the Prophet a man and a woman from amongst them who have committed (adultery) illegal sexual intercourse. He ordered both of them to be stoned (to death), near the place of offering the funeral prayers beside the mosque." [13]
Sahih Bukhari, Volume 3, Book 50: Conditions, Number 885: 
Narrated Abu Huraira and Zaid bin Khalid Al-Juhani: 
A bedouin came to Allah's Apostle and said, "O Allah's apostle! I ask you by Allah to judge My case according to Allah's Laws." His opponent, who was more learned than he, said, "Yes, judge between us according to Allah's Laws, and allow me to speak." 
Allah's Apostle said, "Speak." 
He (i .e. the bedouin or the other man) said, "My son was working as a laborer for this (man) and he committed illegal sexual intercourse with his wife. The people told me that it was obligatory that my son should be stoned to death, so in lieu of that I ransomed my son by paying one hundred sheep and a slave girl. Then I asked the religious scholars about it, and they informed me that my son must be lashed one hundred lashes, and be exiled for one year, and the wife of this (man) must be stoned to death." 
Allah's Apostle said, "

By Him in Whose Hands my soul is, I will judge between you according to Allah's Laws.

The slave-girl and the sheep are to be returned to you, your son is to receive a hundred lashes and be exiled for one year. You, Unais, go to the wife of this (man) and if she confesses her guilt, stone her to death." 
Unais went to that woman next morning and she confessed. Allah's Apostle ordered that she be stoned to death.[14]
Sadaqa Rasulullah Sallalahu Alaihi Wassallam!
Dear brothers and sisters in Islam,
The recent spate of events in Egypt which has seen the departure of its dictator Husni Mubarak is being repeated in the many other Arab nations of the Middle East.
Dictators who suppressed Islamic laws and were the partners of the Imperialist Kuffar governments such as the UK, USA and European Union are now being hounded out of office by the people of their countries.
This was prophesied by Muhammad Sallalahu Alaihi Wassallam, almost a thousand four hundred over years ago.
Its now happening.
The overthrow of the regimes that were cruel and harsh to their own people. The 2nd coming of the Islamic Khilafah is inevitable!
Those who are elected to lead the Muslims must learn from the mistakes of the last Khilafah that was overthrown by the Turkish infidel Mustafa Kamal Attaturk with the help and guidance of the British and Americans who deviously handed over Palestine on a golden platter to the Zionist Jews.
Disunity amongst the so called Arab Muslims led to the dividing of Arab nations and the sub-sequential oppression of the ummah for generations.
Now, the time has come for the Black Flags of the Islamic Khilafah to flutter once again over the sacred holy lands of the Anbiyya iwal Mursalin.
Let there be no mistake.
The Khilafah is coming!
Allahu Akbar! Allahu Akbar! Allahu Akbar!
Ambassador John Malott responds to NST, Utusan Malaysia and others
Posted: 15 Feb 2011 04:21 AM PST
Ambassador John R. Malott (pic above) Responds: This is why I can sue the NST, Utusan Malaysia for Libel – and some other people, too
Washington DC
I don't really know who Rachel Motte is, or why she suddenly has become an expert on Malaysia in the past year. But I do know that she wrote an article about me recently, saying that I am "a pet" of Anwar Ibrahim, who – according to her – has "direct connections to terrorist organizations" and a long history of being an anti-Semite.
I also know that – to her credit – when I contacted Rachel on February 12 and told her that I believed that her article was inaccurate and potentially libelous, she immediately took it down for review. It no longer is on her website, and I thank her for that.
But I also know that Utusan Malaysia has reported her article verbatim – and even went to the trouble of translating it into Malay. And thanks to Dato Din Merican, now I know that the NST has chosen to print it as well.
Motte's Article: Why Libelous
Here are the problems with the article, and why I believe that I would be well within my rights to sue the NST, Utusan Malaysia, and others for libel. As someone who has been in public life for over 40 years, I know very well that anything I do, say, or write is open to examination. So that is why I am always very careful to have documentation for everything I say. We can disagree on the analysis, but not on the facts.
Motte's Article: Anwar's "Pet"? I am Nobody's Pet
When I took a look at Rachel's article, I had two major areas of concern. First, Rachel characterized my relationship with Anwar as being his "pet." This is offensive to me, as I served my nation for over 30 years as an Ambassador, Deputy Assistant Secretary of State, and Consul General under seven Presidents. It would be like me calling Dato Johan Jaffar the lapdog of UMNO. I am Nobody's pet.
Second, there were many statements that to my mind are libelous: (a) that I am defending "a man with direct ties to terrorist organizations, and a man whose anti-Semitic comments and conspiracy theories are too long to discuss;"
(b) that "rational thinking men and women are able to discern the difference between good and bad individuals, people you should support, versus those you should distance yourself from," implying that I am not a rational thinking person; and
(c) that I am "blinded by [my] support of an anti-Semite with clear and undeniable ties to an organization that supports terrorism."
As a former Ambassador to Malaysia, I had access to intelligence reports, and I can say categorically that Anwar does not have ties to any terrorist organizations.

Furthermore, Anwar continues to be a friend of former Vice President Al Gore, former Secretary of Defense William "Bill" Cohen, and former Deputy Secretary of Defense Paul Wolfowitz.
None of these gentlemen would continue their relationship with Anwar if he had ties to terrorists. Furthermore, Anwar would not be admitted to the US if he had such a connection (and he was here last week). Furthermore, Paul Wolfowitz (who is Jewish) would not be Anwar's friend if Anwar were anti-Semitic.
In a libel case, the burden of proof will be on NST and the others to prove that Anwar has terrorist ties and that he has a long history of anti-Semitic comments. By publishing Rachel's article, after she removed it from her website, the NST has asserted something that it cannot prove. It has claimed that I am defending a terrorist and an anti-Semite.
These former senior USG officials would support and defend me, based on their knowledge and access to official USG records. The only "evidence" that Rachel and the NST will have will be blog postings that have circulated over the past few years, as part of a campaign to smear Anwar and discredit his reputation and standing in the United States.
For example, the efforts of Jack Abramoff and others to smear Anwar – a multi-million campaign funded by the Malaysian Government — were well-documented in US Senate hearings conducted by Senator John McCain. We also know, according to The Washington Post newspaper, that APCO was engaged in a similar effort last year, paid for by the Malaysian Government, according to APCO's official filings.
Rachel says that Anwar's connections to terrorist organizations are because he was a founder of the International Institute of Islamic Thought (IIIT), which is based in Virginia. Like many other Islamic/Muslim groups, the IIIT was raided by the FBI after 9/11 and was investigated thoroughly. The US Government never filed any charges against IIIT. The US Government has never listed it as a terrorist organization, and the US Government has never closed it down. Yet the charges of an IIIT connection to the Muslim Brotherhood continue to circulate, without evidence, on various right-wing blogs. What do these bloggers know that the US Government does not?

Does the NST take the word of unknown bloggers over the US Government? What evidence can the NST present in court in a libel case?
Anwar's so-called long record of anti-Semitism!
Rachel's other claim was what she called Anwar's long record of anti-Semitism. She said that I am supporting an anti-Semite. The reality is, there is no long list of anti-Semitic comments by Anwar Ibrahim. Indeed, throughout his political career, Anwar often has been accused of being close to Jews. For example, Ian Buruma recounts two stories in his New Yorker article on Anwar.

(http://www.newyorker.com/reporting/2009/05/18/090518fa_fact_buruma)
The first is that when Anwar was kicked out of the Cabinet in 1998, Mahathir – who had accused George Soros and the Jews of causing the 1997 Asian financial crisis – briefed the Cabinet on Anwar's Jewish connections, pointing out that his friends were people like Robert (Bob) Rubin, Bill Cohen, James (Jim) Wolfensohn, Paul Wolfowitz, and so on. All American Jews. The second Buruma story is Mahathir's famous comment that Anwar would make a "good Prime Minister of Israel."
Rachel wrote an article, "The Reversal of Anwar Ibrahim," claiming that Anwar had become an anti-Semite, in the New Ledger blog on April 29, 2010.

But two months later Deputy Prime Minister Muhyiddin Yassin undercut her thesis and his own Government's efforts to portray Anwar as anti-Semitic when he said on July 1, "We know for a fact his ties with pro-Zionist groups."
(http://www.bernama.com/bernama/v5/newsindex.php?id=510092)
According to The Washington Post, the Malaysian Embassy and APCO worked hard last year to publicize Anwar's comments on "Zionist aggression," after the May 31 Israeli action against the relief ship Mavi Marmara.

But for reasons that are very understandable, the Malaysian Government did not want to call attention to Najib's own remarks, which were even stronger, accusing the Israelis of terrorism. Najib called the Israeli actions a "blatant act of aggression and terrorism" committed by the "Zionist regime." He also referred to "Zionist atrocities." His remarks are on the official website of the Prime Minister's office, at

http://www.kln.gov.my/web/guest/home/-/journal_content/56/10136/691222?refererPlid=10139
Najib also said that, "The Israeli commandos shot the activists point blank and even from the back, and this is an act of a coward which cannot be forgiven. These blatant acts occurred because the world gangsters, Israel, feel they are protected by a world power." The latter reference, of course, is to the United States.

(http://www.straitstimes.com/BreakingNews/SEAsia/Story/STIStory_536698.html)
Anwar's comments last year caused a lot of problems, but to say that he has a long history of anti-Semitism, and that I therefore am linked to an anti-Semite, is wrong. I know that the NST has been running op-eds attacking me everyday. But they need to be careful about crossing the line into libel.

–

John R. Malott
Mainstream Media and UMNO Bloggers:Was Prostututing Rachel Motte hired by UMNO-BARISAN'S APCO to Demonis Former US Ambassador to Malaysia John R. Malott
Posted: 15 Feb 2011 02:53 AM PST

Fear of any religious (i.e. Muslim) involvement in Egypt's future government seems to be exercising the imagination of many a commentator and politician these days, and the "Brotherhood as bogeyman" theme has become common, in the US media in particular.
This article
in 
USA Today
is especially notable; leading with an interview with a Muslim Brotherhood spokesman, the article moves swiftly to raise the usual fears about Islamic law, and then slams the point home with this blatant imagery:
As he spoke late Saturday, the "thump thump" of a cleaver could be heard just outside the unadorned office. A man was hacking up a calf on a wood stump, arranging the meat on a plastic sheet on the patio floor. A bright puddle of blood ran into the street…
The article also manages to introduce Reuel Marc Gerecht, senior fellow at the Foundation for Defense of Democracies, as the moderate voice in the conversation, itself an unusual situation
Personal Attacks on John R. Malott
article is missing from her blog
There is no way that Ambassador Malott and former senior United States Government Officials like  Vice President Al Gore, William Cohen, Paul Wolfowitz will maintain their friendship with Anwar Ibrahim if he is someone who has links to any terrorist organisation. Anyway who is Rachel Motte? An expert on Malaysian politics? According to my sources, it is more likely that she is a right wing religious blogger.–Din Merican
www.nst.com.my
Bloopers Time ~ Watch what you say or how you express yourself!
Posted: 15 Feb 2011 02:49 AM PST
This article is first posted at fellow blogger WSY. Republishing it here with his kind permission. It made me laugh again and again and I think it deserves to be shared for the humor it contains. This is definitely meant for those with a well developed sense of broadmindedness and not meant to offend anyone. So please bear this in mind before reading. Only suitable for matured minds. :)
FIRST TESTIMONY
I walked into a hair salon with my husband and three kids in tow and asked loudly, "How much do you charge for a shampoo and a blow job?" Hearing myself, I turned right around and walked back out and never went back. My husband didn't say a word ... he knew better. :P
SECOND TESTIMONY
I was at the golf store comparing different kinds of golf balls. I was unhappy with the women's type that I had been using. After browsing for several minutes, I was approached by one of the good-looking gentlemen who work at the store. He asked if he could help me. Without thinking, I looked at him and said, "I think I like playing with men's balls."
THIRD TESTIMONY
My sister and I were at the mall and passed by a store that sold a variety of candy and nuts. As we were looking at the display case, the boy behind the counter asked if we needed any help. I replied, "No, I'm just looking at your nuts." My sister started to laugh hysterically. The boy grinned, and turned beet-red and walked away. To this day, my sister has never let me forget.
FOURTH TESTIMONY
While in line at the bank one afternoon, my toddler decided to release some pent-up energy and run amok. I was finally able to grab hold of her after receiving looks of disgust and annoyance from other patrons. I told her that if she did not start behaving "right now" she would be punished. To my horror, she looked me in the eye and said loudly in a voice just as threatening, "If you don't let me go right now, I will tell Grandma that I saw you kissing Daddy's pee-pee last night!" The silence was deafening after this enlightening exchange.
Even the tellers stopped what they were doing. I mustered up the last of my dignity and walked out of the bank with my daughter in tow. The last thing I heard when the door closed behind me, were screams of laughter.
FIFTH TESTIMONY
Have you ever asked your child a question too many times? My

three year old son

had a lot of problems with potty training and I was on him constantly. One day we stopped at Taco Bell for a quick lunch in between errands. It was very busy, with a full dining room. 
While enjoying my taco, I smelled something funny, so of course I checked my seven month old daughter, and she was clean. Then I realized that Danny had not asked to go potty in a while, so I asked him if he needed to go, and he said "No". 
I kept thinking "Oh Lord, that child has had an accident, and I don't have any clothes with me.". Then I said, "Danny, are you SURE you didn't have an accident?" "No," he replied. 
I just KNEW that he must have had an accident, because the smell was getting worse. So, I asked one more time, "Danny, did you have an accident?" This time he jumped up, yanked down his pants, bent over and spread his cheeks and yelled "SEE MOM, IT'S JUST FARTS!!"
While 30 people nearly choked to death on their tacos laughing, he calmly pulled up his pants and sat down. An old couple made me feel better by thanking me for the best laugh they'd ever had!
LAST TESTIMONY
This had most of the state of Michigan laughing for 2 days and a very embarrassed female news anchor who will, in the future, likely think before she speaks. What happens when you predict snow but don't get any...? Here's a true story:
We had a female news anchor that, the day after it was supposed to have snowed and didn't, turned to the weatherman and asked "So Bob, where's that 8 inches you promised me last night?"
Not only did HE have to leave the set, but half the crew did, too - they were laughing so hard!
Well now, y'all, didn't that feel good?
Haris Ibrahim's MCLM candidates - a threat to Azmin Ali?
Posted: 15 Feb 2011 02:23 AM PST
Why is MCLM offering its de-frog-itized candidates to only PKR but not DAP or PAS, or for that matter, the BN?

It's not just a matter of minimising the froggie tendency of recent (and perhaps among existing) PKR politicians, but also of ensuring the credentials and competency of the PKR candidates for the next general election are up to speed.

Haris Ibrahim, conceptualizer and prime mover of MCLM's current program to vet and offer PKR a list of 30 de-frog-itized and highly qualified candidates for PKR, has often voiced his utter amazement at PKR (in fact more Anwar Ibrahim's personal) choice of candidates in the last election.

The prime example Haris had raised was Loh Gwo Burne, a person 'renowned' for his fame of "14 minutes from (video) photographer to parliamentarian" – for more of this '14 minutes' see my post
Bahasa Mělayu - a letter to Yang Běrhormat
wakakaka.

Anwar Ibrahim 'invited' him at the eleventh hour to stand in the Kelana Jaya federal seat. Haris challenged PKR to justify Loh's nomination (though wakakaka, very successful election as the federal representative for Kelana Jaya) – see Haris'
PKR, why, why, why?


To be fair to Loh, he has remained faithful to PKR despite jibes and jeers that he would leapfrog over to BN. Loh also redeemed himself somewhat (though not to the anwaristas wakakaka) when he wrote a letter to Malaysiakini lambasting Azmin Ali during the party's recent poll. Incidentally, Loh also was punched in the face by one of Anwar's faithfuls during an argument on what I remember (vaguely) to be a squatter issue, so perhaps he might have shown some passion in his duties as a federal MP to earn the wrath (and fist) of his party colleague ;-).

We all know, and PKR members themselves do too, that the party is the weakest link in Pakatan Rakyat, with its problems mainly self-induced. A significant part of these problems has been due to its inability to sever itself completely from its UMNO past, practices and proclivities.

Haris obviously has an interest in seeing PKR develop into a party that is not a mere clone of UMNO, as it currently is (with a small appendix formerly called PRM, thanks to Dr Syed Husin's misguided belief in Anwar Ibrahim's reformasi).

This has been why, as reported by The Malaysian Insider in its
Toe party line to get our seats, says PKR
:

"MCLM said that its candidates will decide on issues based on their conscience rather than the coalition's consensus"

.

However, I wonder why MCLM refers to the "coalition's consensus" when it has been PKR it is worried about. Surely if the coalition, namely Pakatan, has reached a consensus, what then would be the issues which would so concern MCLM that its 30 candidates would vote on their conscience?

I can understand MCLM's concerns with PKR, but what possible common grounds that DAP, PAS and PKR might have that could possibly worry MCLM? Can anyone help shed some light on Haris's thoughts on this?

Meanwhile, Rafizi Ramli, PKR chief strategist, voiced his wariness of accepting MCLM-offered candidates because it wanted to avoid making the same

"mistake" of 2008 where it had picked candidates who could not withstand the pressure and challenges of being a lawmaker"

.

But that's precisely why MCLM is offering PKR 30 good and vetted candidates, because the reality is PKR is just incapable of selecting good candidates - a proven fact!

I've not an iota of doubt each and every MCLM-offered candidates will definitely be far superior in all respects to those erstwhile PKR MPs and members who defected to the BN, people like Zahrain. Tell me Rafizi, how far worse can MCLM's candidate be compared to those your party had? When you're at rock bottom, the only way has to be up! So, stop giving poor excuses.

Rafizi then went on to shoot his foot by stating: "While we are open to suggestions, the candidates must subscribe to our struggle. We are a political party with structure and rules. We have already gone through a painful experience with the 'frogs' where in the past we took people who were less experienced and they jumped at the first given opportunity. What was missing was the appreciation of the party struggle."

This was precisely the reason some PKR leaders (those in the Anwar-Azmin camp) gave in supporting Azmin Ali as the preferred deputy presidential candidate over Zaid Ibrahim – essentially a 'no' to parachutist but 101% to those who 'came though the reformasi struggle'.

But alas, not unlike our amazing judiciary, where on one day, white is right while on the next, black is correct, PKR has shown its double-standard cakap ta'serupa bikin in the Gobalakrishnan versus Surendran case. Nothing against innocent Surendran, but wouldn't Gobalakrishnan be the one who had subscribed faithfully to the party struggle for the last 15 years? For more, see my posts
The Poison within PKR - Part III
and
Gobalakrishnan leaves the poison behind
.

So, Rafizi, what do you have to say? Your words have been totally inconsistent to the way your party has ill treated Gobalakrishnan.

But why is there this hypocritical UMNO-like bullsh*tting double-standard inconsistency?

Simple – because poor Gobala didn't support Azmin Ali. He was in Zaid Ibrahim's camp. And refusal to support Azmin Ali is not an acceptable status in PKR. Recall the furore over its party's recent polling process, where there were 162 complaints about polling irregularities in the party race for the deputy president's position, but there was nary a twitch from the JPP PKR, the party body which is supposed to manage the party polls but which surrendered that management to ..... you can work that out!

Worse, and the absolute pits, there was the shameful silence of its President Dr Wan Azizah to Jonson Chong's immaculate letter of appeal – see
Dr Wan Azizah ignores Jonson Chong's plea?


Haris Ibrahim praised Jonson for his constructive approach but alas, not so Dr Wan as she ignored him completely - yes, we would like to know whether Dr Wan had even replied to Jonson?

Why did a party president ignore a constructive proposal from a sensible, fair and balanced gentleman like Jonson Chong which would have put to rest all complaints if the polls had been conducted fairly, unless of course she …..

Since that day, my once-respect for the lady plummeted to zilch. Yes, she may be a nice and kind lady but she is not fit to be the president of a political party.

So it's hardly surprising Azmin Ali and Rafizi Ramli (no doubt supported by Anwar Ibrahim) have worriedly brought out 'loyalty' re the MCLM-offered candidates, meaning they don't want them because they might not be (gasp gawd omigosh) loyal to Azmin Ali.

Speculative footnote: For Loh Gwo Burne who's no doubt in Azmin Ali's black book, I suspect his future candidacy for Kelana Jaya (or any other post – perhaps Pekan, wakakaka)) may well depend on the size of his dad's contribution to PKR funds (which incidentally is NOT illegal). But in all likelihood, he will be what I said in my earlier post
Loh Gwo Burne & Gobala - one-term MPs?
Posted: 15 Feb 2011 01:44 AM PST
Posted: 15 Feb 2011 12:37 AM PST
Seems we asks yesterday in our article,"Who is behind this…??" Sarawak opposition parties members were very quiet and remained tightlipped. Even The Information Chief of PKR See Chee How said," Not that I know off. We organise various gatherings especially so, more against BN Sarawak Head Taib Mahmud. This is news to me…hmmm"
A check with a JPUNS member and he said ,"You have to asks Affendi Jeman himself" Something is not right as he seems to have smelled that we detected something. We said did you receive the notes of planned demonstrations in Padang Merdeka. We pressed further "kawan you musts have as there was many flying smses yesterday."
Now it seems that we have uncovered something where the promoters thinks its timely. All is unveiled and revealed as an internet portal has this,"JPUNS has been entrusted to get the crowd that would stage an anti-Taib demonstration." 
WOW.!
SOMETHINGS

COOKING…….

It's worth keeping an open mind on this as one can view for themselves at this blog .

However we still maintain as we mentioned yesterday in our article.
Parents please double-check out your children and their whereabouts especially so this Sunday the 20th of February……
TERAJU - Apa yang diterajuinya?
Posted: 14 Feb 2011 11:32 PM PST
Pelancaran Unit Peneraju Agenda Bumiputra (TERAJU) baru-baru ini mendapat reaksi yang tidak memuaskan setengah pihak dan Najib dianggap oleh pihak-pihak ini sebagai pemimpin yang flip-flop kerana berubah haluan dari pendirian yang telah dibuatnya sebelum ini.
'Kuala Lumpur and Selangor Assembly Hall' (KLSCAH) memberikan reaksi yang negatif dan menganggap keputusan mewujudkan TERAJU sebagai tindakkan yang menyimpang jauh dari NEM yang diumumkannya tahun lepas. Pada pihak ini Najib belum lagi membuktikan yang beliau benar-benar mengumumkan sesuatu yang belum tentu mahu dilksanakannya.
Penyakit mengubah haluan sebelum melaksanakan perancangan yang telah diumumkan memang menjadi perkara yang sangat lazim bagi Najib. Tidak tahu pula kenapa beliau tidak dianggap sebagai seorang flip-flop sebagai yang dilabelkan terhadap Abdullah Badawi dahulu. Sekarang baru kita jelas bahawa flip-flop itu hanya diperuntukkan untuk Abdullah Badawi sahaja.
Jika pihak lain flip-flop ianya tidak menjadi isu. Dr Mahathir telah flip-flop dari Ulta Melayu menjadi Melayu Liberal semasa menjadi PM sekarang kembali menjadi Ultra sesudah bersara itu tidak flip-flop. Itu perjuangan namanya. Jika zaman Dr Mahathir UMNO itu parti yang baik tetapi setelah beliau bersara UMNO itu adalah parti 'contract' dan parti 'AP'.
Puluhan ribu AP yang dikeluarkan oleh MITI dan ratusan kontrak-kontak mega yang dirunding terus dengan kontaktor-kontraktor yang besar-besar semasa beliau menjadi PM dahulu itu tidak ditakrifkan sebagai 'UMNO parti AP dan contract'. Itu dinamakan sebagai usaha pembangunan. Dr Mahathir seperti Kamal Attartuk mempunyai sikap 'don't do what I do; just do what I ask you to do'.
Tahun lepas Najib telah memngumumkan pemansuhan dasar 30 peratus penyertaan Bumiputra untuk mengelakkan negara terjebak dalam kononya 'middle-income trap' dan ianya bermakna tidak ada lagi keistimewaan dan semangat NEP yang telah banyak membantu usaha untuk penyertaan yang 'equitable' dikalangan berbilang kaum dinegara ini.
Sekarang ini wujud pula TERAJU yang belum pun dinyatakan segala pelan yang sedang difikirkan oleh TERAJU untuk Bumiputra, kita sudah menghadapi reaksi negatif dari banyak pihak. Orang Melayu ini nampaknya seolah-olah satu bangsa yang terlalu malang kerana sentiasa tersepit dalam semua keadaan.
Bermacam-macam perancangan yang diumumkan untuk orang Melayu ini tetapi perancangan itu kadangkala dibatalkan kadangkala timbul kembali. Teringat pula saya kepada 'TV Commercial' biskut chocfudge; kadangkala ada kadangkala tak ada. Hanya yang kita berharap segala af'al tuhan ini akan membawa hikmah kepada bangsa kita ini pada masa-masa yang akan datang.
Sebagai seorang Melayu saya nampak situasi begini; orang Melayu bukan sahaja disaingi oleh bangsa-bangsa lain tetapi disaingi oleh kerajaan yang dipimpin Melayu ini. Kerajaan yang menyaingi orang Melayu dan apabila Melayu gagal pemimpin kita menyalahkan orang Melayu pula.
Semua agensi kerajaan menyaingi Bumiputra. Semua 'public companies by guarantee' yang sekarang dinamakan GLCs menyaingi orang Melayu dan Bumiputra dalam banyak peluang perniagaan dalam negara kita. GLC setakat ini hanya mampu menaikkan ego beberapa individu sahaja. Ketua-ketua eksekutif GLC merupakan kumpulan elit yang kecil yang tegulung kedalam kumpulan 'the rich and the famous' hasil dari kedudukan mereka didalam syarikat kepunyaan rakyat itu.
Tugas dan fungsi mereka untuk memajukan syarikat-syarikat tersebut tetap tidak tercapai dan dasar untuk memindahkan pegangan-pegangan pemilikan itu kepada Bumiputra tetap belum diselesaikan. Walaupu telah diumumkan yang beberapa syarikat akan disenaraikan diPasaran Saham tetapi belum lagi sehingga kehari ini kerajaan membayangkan bagaimana caranya untuk mengekalkan pegangan itu ditangan Bumiputra.
Pembahagian harta kekayaan negara tidak selesai dengan hanya menyenaraikan saham-saham syarikat yang terbesar secara 'direct' kerana pencapaian pegangan Bumiputra dikatakan hanya 18.7 peratus sahaja. Pertamanya orang Melayu masih lagi tidak berkemampuan untuk membeli saham-saham yang diperuntukkan melalui Kementerian Perdagangan dan Perindustrian dengan pengkalan pegangan jangka masa yang panjang.
Itulah sebabnya saya selalu mengatakan yang usaha yang serius dan yang mempunyai 'consequence' yang besar ialah pentadbiran 'pre-Mahathir' sahaja. Pegangan Bumiputra yang hanya sebanyak 2.7 peratus telah berkembang kepada 18.4 peratus pada tahun 1984 dahulu. Tetapi apabila ekonomi negara dipacu oleh Daim Zainuddin yang dilantik oleh Mahathir pada Jun 1984 dahulu tidak berdaya untuk meningkatkan pegangan hak milik oleh Bumiputra dan dari 1984 sehingga ke hari ini kerajaan pimpinan Mahathir dan seterusnya hanya mampu untuk menambah 0.3 peratus sahaja. Bagaimana hndak kita katakan yang Mahathir dan pimpinan seterusnya berjaya untuk mencapai matlamat unggul DEB dahulu iaitu untuk mencapai keharmonian kaum yang 'ultimate'.
Yang berjaya hanyalah segelintiran rakan-rakan pemimpin yang istimewa yang dibantu oleh pimpinan kita sehinggakan mereka menjadi orang-orang yang terkaya tanpa usaha yang gigih. Usaha gigih puak-puak ini hanyalah untuk menjaga pucuk pimpinan yang berpengaruh dan jika budaya ini masih berterusan maka kita akan mempunyai penduduk yang kaya bertambah kaya dan yang miskin bertambah miskin.
Yang pasti hasil dari pengabaian dasar yang telah terbukti membawa faedah kepada rakyat itu maka jurang pendapatan diantara kaum dan sesama kaum terutamanya dikalangan orang Melayu bertambah melebar dan tidaklah menjadi satu perkara yang mengejutkan jika rasa tidak puas hati di kalagan rakyat itu bertambah meruncing dari masa kemasa.
Kejayaan dasar yang baik ini tentulah memerlukan pengorbanan. Apakah pengorbanan itu? Jawapannya ialah pemimpin dan perlaksana tidak mempunyai kepentingan dalam projek pembagunan negara. Tetapi oleh kerana masing-masing mahukan kekayaan yang luar biasa maka mereka terpaksa mencuri di sana sini dan seterusnya menggagalkan semua perancangan walau secantik mana pun perancangan itu di atas kertas.
Tidak akan membawa kejayaan apa-apa dasar pun jika dasar itu dikotori dengan rasuah yang mementingkan saku dan kantung pemimpin-pemimpin kita sahaja. Ratusan billion ringgit wang yang didapati dengan menyalahgunakan kuasa telah masuk kedalam bank-bank luar negara dan pengaliran wang negara dan rakyat keluar negara itu jugalah penyumbang terbesar kepada masalah kewangan negara yang tidak baik pada hari ini.
Kalau segala perancangan yang diumumkan oleh Perdana Menteri bulan-bulan dan tahun-tahun yang lepas tidak berjaya maka kita tidak boleh yakinkan diri kita yang kali ini penubuhan TERAJU yang diumumkan beliau minggu lepas akan berjaya. Pengumunan itu tidak lebih dari 'window-dressing' untuk pilihanraya umum yang akan datang dan tidak lebih dari itu.
Tetapi rakyat tidak boleh bersuara dengan lantang kerana kumpulan pembodek dan pengampu kepada mereka yang berkuasa bertambah dari masa ke masa dan dari hari ke hari, bulan dan tahun-tahun yang akan datang.
Mereka mungkin kekal selagi mereka didokong oleh mereka yang berkepentingan dan menghalalkan segara cara untuk mendapatkan keuntungan peribadi semata-mata.
Lepas TERAJU ini apa pula yang akan diumumkan? Wallahu alam.
MUHYIDDIN HIT A RAW NERVE SO MUCH FOR CIVILITY MIC & INDIANS DON'T MIND TO BE CALLED "PARIAH" IN UMNOBN SPIRIT
Posted: 14 Feb 2011 09:18 PM PST

MIC & Indians don't mind to be called "Pariah" in the so-called BN spirit Melaka Chief Minister Datuk Seri Mohd Ali Rustam, Home Minister Datuk Seri Hishammuddin Hussein, Health Minister Datuk Seri Liow Tiong Lai and Human Resources Minister Datuk Dr S. Subramaniam.
If I remember correctly, MIC had demanded the withdrawal of the book. That action should mirror the feelings of the Indian sentiments. majority Indians don't support the Interlock issue. And still it is a security matter. You say you understand the problem. But you will never understand the problem. Only the Indians can understand the Indian problem. Since this affects the Indian community the decision must be from Indians. Please do understand, MIC never agreed to Interlock.
Muhyiddin is of the opinion that Indians agree with the facts stated in Interlok. He is very wrong. Most Indians fear to openly support HRP/HINDRAF, after all those bad experiences they had with the policesince Nov 2007. Only the very brave ones will openly support HRP because HRP guys are brave & have strong guts. These people fight justice without fear. Those videos in M'kini shows it all
And Muhyiddin must by now understand that there is something very wrong with the book. If this book is good for racial integrity, why should there be so many Malaysians disagreeing with the Govt's view? Are all these people idiots? Is it that difficult for a person to read & understand this book? Anybody who had read the Interlok will notice there is hatred in the writer thoughts while writing this book. The writer had clearly shown that he has hatred towards Indians.
President Barack Obama? Weak, a socialist and a liar. Liberals? Monsters and a cancer. Former Vice President Dick Cheney? Called a war 
criminal
, "murdering scum" and a draft dodger – by people in his own party.
Just a month after the Arizona shooting rampage led to bipartisan calls for toned-down political discourse, incivility suffused the year's largest gathering of conservatives. Just like at most partisan get-togethers on either end of the ideological spectrum. The brief political time out is over – if it ever really existed.
Wayne Rooney's Bicycle Kick and his Girl Irina Shayk with her perfect lips and hers boobs Goal Is Greatest Of His Career
Posted: 14 Feb 2011 07:44 PM PST

LONDON (AP) — Wayne Rooney said it was the best goal he's scored and Manchester United manager Alex Ferguson called it the greatest strike he's seen in 25 years at Old Trafford.
Manchester City goalkeeper Joe Hart didn't even move.
Rooney used a spectacular bicycle kick with his back to the goal for the 2-1 win over rival Man City.The United and England striker leaped to meet a right-wing cross with an overhead strike that flew into the top corner after 77 minutes."I saw it coming over and I thought why not? Nine times out of 10 they go into the stand," Rooney told Sky Sports.
Manchester United defender Rio Ferdinand, who sat out the game with an injury, posted his reaction on Twitter."Wow….what a goal by ROOOOOOONEY!!! What a way to win the derby!!" he tweeted, before adding: "That bicycle kick was one dirty strike…POW…what a strike what a goal what a netbuster!!"Even golfers Lee Westwood and Rory McIlroy, playing in the Dubai Desert Classic, commented. McIlroy simply tweeted; "BOOM!!!!!!!!"Ferguson said the quality of the strike reminded him of United great Denis Law, who scored 171 goals in his stellar career at the club."It was stunning," Ferguson said. "We've had some fantastic goals here but in terms of execution … you'll never see that."Nani had given United a first-half lead with a neat control and finish, before City equalized with a deflected effort in the 64th."(Nani's goal) was an unbelievable goal, but nobody in their right sense will even talk about it," Ferguson said. "All the talk will be about that winning goal — unbelievable."
disappointing World Cup in June, he'd scored only four league goals until Saturday.
In October, the 25-year-old former Everton player threatened to leave Manchester United because he was not given the assurances he wanted about the club's future.
Two days later, he changed his mind and signed a new five-year contract, with reports suggesting it could be worth up to $400,000 a week.His form slowly picked up, and he has been overshadowed by Bulgarian striker Dimitar Berbatov. He has a league-leading 19 goals this season, including a stunning overhead kick of his own in a hat trick against Liverpool at Old Trafford.
Ferguson took a risk by leaving Berbatov on the bench against City. He gave Rooney a lone striker role and it paid off.But the United manager still wants more offense.
"I hope that is Wayne back to his best," he said. "I have to say, what I need to get out of Wayne and Berbatov are performances away from home that are as good as they are at home."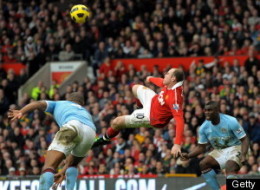 Wayne Rooney's Bicycle Kickhis and his Girl Irina Shayk with her perfect lips and hers boobs Goal Is Greatest Of His Career
Posted: 14 Feb 2011 07:14 PM PST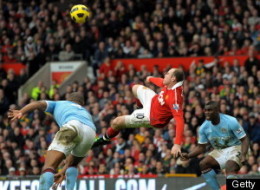 LONDON (AP) — Wayne Rooney said it was the best goal he's scored and Manchester United manager Alex Ferguson called it the greatest strike he's seen in 25 years at Old Trafford.
Manchester City goalkeeper Joe Hart didn't even move.
Rooney used a spectacular bicycle kick with his back to the goal for the 2-1 win over rival Man City.
The United and England striker leaped to meet a right-wing cross with an overhead strike that flew into the top corner after 77 minutes.
"I saw it coming over and I thought why not? Nine times out of 10 they go into the stand," Rooney told Sky Sports.
Manchester United defender Rio Ferdinand, who sat out the game with an injury, posted his reaction on Twitter.
"Wow….what a goal by ROOOOOOONEY!!! What a way to win the derby!!" he tweeted, before adding: "That bicycle kick was one dirty strike…POW…what a strike what a goal what a netbuster!!"
Even golfers Lee Westwood and Rory McIlroy, playing in the Dubai Desert Classic, commented. McIlroy simply tweeted; "BOOM!!!!!!!!"
Ferguson said the quality of the strike reminded him of United great Denis Law, who scored 171 goals in his stellar career at the club.
"It was stunning," Ferguson said. "We've had some fantastic goals here but in terms of execution … you'll never see that."
Nani had given United a first-half lead with a neat control and finish, before City equalized with a deflected effort in the 64th.
"(Nani's goal) was an unbelievable goal, but nobody in their right sense will even talk about it," Ferguson said. "All the talk will be about that winning goal — unbelievable."
The goal was all the more surprising given Rooney's indifferent season so far. Coming off a disappointing World Cup in June, he'd scored only four league goals until Saturday.
In October, the 25-year-old former Everton player threatened to leave Manchester United because he was not given the assurances he wanted about the club's future.
Two days later, he changed his mind and signed a new five-year contract, with reports suggesting it could be worth up to $400,000 a week.
His form slowly picked up, and he has been overshadowed by Bulgarian striker Dimitar Berbatov. He has a league-leading 19 goals this season, including a stunning overhead kick of his own in a hat trick against Liverpool at Old Trafford.
Ferguson took a risk by leaving Berbatov on the bench against City. He gave Rooney a lone striker role and it paid off.
But the United manager still wants more offense.
"I hope that is Wayne back to his best," he said. "I have to say, what I need to get out of Wayne and Berbatov are performances away from home that are as good as they are at home."
CEven though it's not technically going to be announced until tonight at midnight on the "Late Show With David Letterman," this year's Sports Illustrated Swimsuit Editioncover girl is Russian beauty Irina Shayk.
Here's the photo Rana Wardlaw took of the billboard outside her office and then tweeted. "I saw it from my office window," Wardlaw says. "I work at a media agency called Starcom Worldwide. They unveiled the billboard for a few minutes to tape it for the Letterman Show and then covered it back up. I guess they didn't cover it fast enough!"
*SCROLL DOWN FOR VIDEO AND MANY MORE PHOTOS*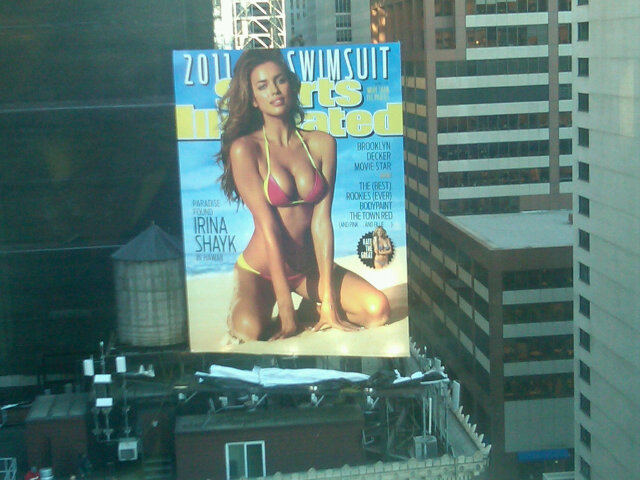 This posting includes an audio/video/photo media file: Download Now
Maulid of Rasul Sallalahu Alaihi Wassallam. Celebrating his Legacy of Al Islam.
Posted: 14 Feb 2011 07:09 PM PST
Assalamualaikum Warahmatullahi Wabarakatuh.
May Peace, Mercy and Blessings of Almighty Allah be upon those of you who believe in Him, The Most Compassionate, Most Benevolent God of us all.
Ameen.
Today, marks the 1441th anniversary of the birth of Allah's Greatest Messenger to the entire universes, the Blessed Prophet Muhammad ibni Abdullah, Sallalahu Alaihi Wassallam.
His enduring Message of Peace and Salvation remains as a permanent guide and shining beacon to those whose hearts and minds are alighted with the burning desire to seek the Truth and claim their birthrights to be true worshipers of The Only Absolute Supreme Creator of us all.
Islam is the only God given faith that was taught to our Father, the blessed Prophet Adam Alaihis Salam and from him to our Mother Sayyidatuna Hawwa Radhiallahu Anha.
From the union of our blessed parents came forth the multitudes of tribes and people who through the passage of Time, spread throughout the world and established the nations and countries which are so diverse and evolved various cultures and civilizations that mark the Greatness of Ar Rahman Who allows us the freedom of choice yet never left us without a warner, a guide to lead us back to His Salvation.
Islam stands forth as a shining beacon to all who seek God's Mercy through the ages and by all the signs and prophecies of Muhammad Sallalahu Alaihi Wassallam, it is obvious that we are today living in the Last Ages.
The period of Time which has been promised to us where mankind will come to a stage where being religious will be considered strange and at times even offensive!
People nowadays would not bat an eye at those who adopt the most perverse traits of behavior and mannerisms which are void of all earlier norms and decencies and accept such uncouthness as part and parcel of so called modern ways of life but would frown and scowl at those who choose to be religious and return to the ways that are enjoined in all forms of faith and beliefs.
This is the sad reality of our present life.
On the authority of Abu Hurayrah (may Allah be pleased with him) that the Prophet Muhammad Sallalahu Alaihi Wassallam (peace be upon him) said:

"Islam began as something strange and will return as something strange as it began, so give glad tidings to the strangers."



This Hadith is Sahih and was reported from the Messenger of Allah Rahmatulil Alamin (Mercy to the Universes).

A group of Hadith scholars added in another narration: It was asked: O Messenger of Allah! Who are the strangers? 
He replied:

"Those who perform good deeds while others make mischief."




In another wording: "

Those who correct what the people have corrupted of my Sunnah"

(whatever is reported from the example of the Prophet). 
And in another wording:

"They are the strangers among their tribes."

In another wording:

"They are the righteous few among the evil masses."



What is meant here is that the

"Ghuraba"

 (strangers)" are the people of integrity and that Jannah (Paradise) and happiness are for those strangers who will rectify what others have corrupted. 
When the conditions change, matters become unclear, and the righteous people are few, they adhere steadfastly to the truth and to the religion of Allah. 
They sincerely worship Allah Alone, perform Salah (prayer), pay Zakah (obligatory charity), observe Sawm (fast), perform Hajj (pilgrimage), and all other acts of worship.

Reference: www.qsep.com
In

Surah Al Fussilat

Chapter 40 Verse 30 in the Blessed Al Quran Al Karim, Allah Subhanahu Wa Ta'ala reveals:

Transliteration
Inna allatheena qaloo rabbunaAllahu thumma istaqamoo tatanazzalu AAalayhimualmala-ikatu alla takhafoo wala tahzanoowaabshiroo biljannati allatee kuntum tooAAadoon
Indeed, those who have said, "Our Lord is Allah " and then remained on a right course - the angels will descend upon them, [saying], "Do not fear and do not grieve but receive good tidings of Paradise, which you were promised.

Transliteration
Nahnu awliyaokum fee alhayatiaddunya wafee al-akhirati walakum feehama tashtahee anfusukum walakum feeha mataddaAAoon
We [angels] were your allies in worldly life and [are so] in the Hereafter. And you will have therein whatever your souls desire, and you will have therein whatever you request [or wish]

Transliteration
Nuzulan min ghafoorin raheem
As accommodation from a [Lord who is] Forgiving and Merciful."
and Allahu Rabbul Alamin praises those who strive in His Way:

Transliteration
Waman ahsanu qawlan mimman daAAaila Allahi waAAamila salihan waqalainnanee mina almuslimeen
And who is better in speech than one who invites to Allah and does righteousness and says,
"Indeed, I am of the Muslims."
Islam appeared as something strange in Makkah al Mukarramah where only a few of the pagan Arabs accepted the faith while most showed enmity towards it and rejected the Noble Prophet Muhammad Sallalahu Alaihi Wassallam (peace be upon him) whom they harmed along with his Sahabah (Companions of the Prophet) who embraced Islam. 
Then it reached Madinah al Munawwarah the city that those Companions who had the ability migrated to. It continued to be regarded as something strange until the number of Muslims increased in Madinah and other cities. 
People then embraced Islam in crowds after Allah made it possible for His Prophet (peace be upon him) to conquer Makkah. 
Islam was viewed as strange by people at a time when most were heathens associating others with Allah. They worshiped idols, prophets, saints, trees, stones, and the like.
Allah Azza Wa Jalla guided whom He pleased through His Final Messenger Muhammad Sallalahu Alaihi Wassallam (peace be upon him) and through his Companions. Thus, they entered Islam, worshipped Allah sincerely abandoning their idols, prophets, and saints. 
They did not offer prayer, prostrate, or call upon anyone except Allah. They only sought assistance or cure from Him (may He be Exalted and Glorified).
They did not supplicate or seek help from the dead, idols, trees, stones, planets, Jinn (creatures created from fire), or angels. Instead, they worshipped Allahu Rabbul Alamin (Lord of the Worlds) alone. Such are the

Ghuraba

(strangers).
When a vast number of people shed their inhibitions and adopt a lifestyle of lewdness and uncultured lifestyles, real Muslims remain modest and stay true to the dictates of Almighty Allah and the enjoinments of His Final Messenger.
Some Arab tourists coming to Malaysia forget that Allahu Rabbul Jalil is All Seeing and All Aware of what they do no matter that they have traveled away from the borders of the Lands of the Anbiya Iwal Mursalin.
They change into Western attire and shed their hijabs going about in KL's shopping malls like the Kuffars. I have had many experiences of asking such folks as to why they do so and the usual run of the mill replies would be that 'It's okay in Malaysia!'
Really???
I would then ask," You mean to tell me that Allah can't see you here?"
and that would send them scurrying away from this troublesome fellow Muslim who only means well and just wishes to remind them that Ar Rahman is All Seeing, Al Aware no matter that one is in the most exclusive 5 or 6 star hotels or luxurious resorts anywhere in the world!!!
End Times Muslims practicing Al Islam are referred to as the Ghuraba. Strangers adopting a Way of Life that sets us apart from the crazy, hedonistic masses embroiled in a destructive lifestyle that leaves many devastated and destroyed both physically and spiritually in the true sense of the word!
Let's listen to Sheikh Khalid Yasin talk about this subject of being 'Ghuraba~ Strangers':
Towards the End of Time there will be those who hold fast to the religion of Allah while others fall by the wayside. No matter what comes their way!
I recall a nasyeed by Nagore Al Haj EM Haniffa, the famous Indian Muslim singer where among the meanings of the lyrics of one of his songs~'Iraivan Mel Annai' (

Verily before God

) were: "Itiyyin munayyil nirittiyye pothum, Iman ilekke maatom!" @ Even if we are pressed by the tips of the (kuffars) spears, we will not shed our faith!" 
Everytime I listen to this song, my eyes well up with my tears and the hairs on my hands stand up, conjuring up that image of devout Muslims who remain steadfast holding on to their Iman no matter that the Kaffirs held them captive, with deadly sharpened steel piercing their chests in order for them to abandon their faith in Allah!
I have read of such instances taking place in Gujerat, India when the Hindus ran riot and massacred the Indian Muslims there. Also in Bosnia Herzegovina, Chechnya, Kashmir, etc.
Such are the true believers of Allah the Almighty God of the entire worlds.
When disbelief, disobedience, and evil increase, these devout strangers will remain obedient to Allah and His religion. They will be granted Paradise and Happiness with a goodly reward in this life and the Hereafter.
Its not something that most humans nowadays would be inclined to do. To remain conservative and hold firm to the tenets of the Islamic principles whilst the majority of the human society is steeped in all kinds of hedonistic pursuits.
The Muslims of Malaysia are today besieged by all kinds of challenges both to their faith and their ancestral heritage or customs. Many go about oblivious of what the true Islamic teachings are?
If we are to go check as to the knowledge of Islam that most of today's so called Muslims here possess, we will be dismayed to see the shallow grasp of the fundamentals of Islamic theology that most of the wayward ones know of or put to practice in their daily lives?
There are also a growing number of pseudo intellectuals amongst the Malaysian Muslims who preach pluralistic views of the man-made faiths and false beliefs putting Islam on par with the kuffars misguidance.
These are the viruses amongst us who ought to be eliminated before they corrupt and ruin the misguided masses. It doesn't help in having cowardly ministers who would rather go with the hedonistic flow instead of standing firm when it comes to the matter of upholding the true principles of Islamic Syaria and help educate the nation.
How can they do so when at home their own wife and kids do not adhere to the basic rules and regulations of Al Islam? The condescending ones often preach what they themselves do not put to practice! All they can do is fall back onto the time tested excuse that this here is a plural society. 
A true Muslim leader will lead all others to acknowledging Allahu Rabbul Alamin and guide all mankind to the Truth of Islam. Not let the kuffars remain in their ignorance and damn themselves to an eternal suffering in the Hellfires.
Dakwah al Islamiyyah is only given lip service. I often witness the spectacle of these insincere heads of departments and ministries put up a show of religiousness when in actuality they dare not go against the superiors who remain steeped in all kinds of vices and corruption.
To expect the alternative lineup of Islam labelled group of wannabe rulers to walk their talk is just another series of heart wrenching frustration waiting to happen for they too lack the tenacity to go the Way of Rasulullah Sallalahu Alaihi Wassallam. 
At times, one shudders watching the ferocity of their verbal venom spew forth castigating every other person but themselves and we wonder as to the state of their mental health and anxiously await their coming to their senses? Even then if they will be man or woman enough to do just that at all?
To those of us who are Muslims and want to be better Believers in Allah and His Messenger, please get ourselves affirmed in our Iman and upgrade our Amals.
Let's study our Faith and help spread the Message of Rasulullah Sallalahu Alaihi Wassallam with a renewed vigor and strength of purpose.
Rectify our erroneous ways and return to our Fitrah being proper servants of Almighty Allah.
We live a temporal life here on Earth. Let's not be caught unawares in the paths leading to Jahannam but rather let's work towards seeking Allah's Mercy and His Forgiveness.
Do you remember 'The Final Khutba of The Last Prophet'?
Well, just to refresh your memory, here is a reading by Sheikh Yusuf Islam, the former popstar Cat Stevens, who is so articulate in his speech and such an illustrious Caller to Islam:
In the spirit of celebrating the Maulid of Rasulullah Khataman Nabiyyi, Muhammad Sallalahu Alaihi Wassallam, let's offer our Salawats upon the Blessed Messenger of Allah and praise him with our hearts and minds as best as we possibly can!
Sallallahu Ala Muhammad! Sallallahu Alaihi Wassallam! Sallallahu Ala Muhammad! Sallallahu Alaihi Wassallam!