---
The Great Islamic Awakening where Good Triumphs over Evil
Posted: 24 Feb 2011 10:23 AM PST
NARENDRA MODI VS A-G GANI PATAIL THE NEFARIOUS HIDDEN HANDS OF THE AXIS OF EVIL
Posted: 24 Feb 2011 09:44 AM PST
VS
I did not believe in 2002 that there was an organised conspiracy that  led to the Godhra train burning and nine years later in 2011 my belief remains the same. Notwithstanding the judgment delivered by the trial court.
Well, it was always not like this. For the first month after the February 27, 2002, carnage, I believed like most others that coach S6 of Sabarmati Express had been deliberately put on fire. But at that time I had not visited Godhra. I went to Godhra at the end of March 2002 and ran into the deputy superintendent of 
police
Bava, who was investigating the case and his boss inspector general of police Agja. Both were at the police post adjacent to the platform of Godhra station when we ran into them. (I say we because with me was our then bureau chief in Vadodara and now editor of Chandigarh edition, Raja Bose). I asked the duo how far they had proceeded in unravelling the conspiracy. The cops said that if there was a conspiracy they were yet to come across any evidence. I could not believe what they were saying but managed to keep a straight face. "If there was no evidence how did the coach get burnt?" I asked. Mr Agja said that he was not sure but added that at any time there were 20-30 vendors on the platform hawking their wares like tea. Most of them carried small-sized gas cylinders with burners with them. In the midst of a fracas that had broken out between the kar sevaks and these vendors things could have turned ugly with some vendors throwing in burning rags inside the train. This could have caused a fire, Agja concluded but emphasized that this was a possibility but not his definitive account of what had happened. I asked the inspector general whether he could be quoted by name on what he had said: "Yes," he said and became emotional and said that he had merely a year and a half of service and at this stage he cared for nothing other than the truth. He looked at Bava and said: "He has only a month left, why should he bothered either?"
Before running the story I checked Agja's story with many top police officers. They agreed with the argument and said that the belief in the top police echelon was also this. Curiously when the story was front-paged in TOI, in all its editions, the reaction was muted. Late in the afternoon, a distressed Agja called me and said: "Nag sahib, yeh kya kar diya apney?"  I said I had checked with him and asked him to cool down. Later in the evening an apologetic public relations officer of the police department called me. "Everyone knows what you wrote is correct, but yet Mr Agja wants us to issue a clarification. You are free to do whatever you want to. When the clarification arrived I found it wishy-washy and threw it into the dustbin. Later I came to know that Narendra Modi had summoned Agja who told him that he had not said anything. This was recounted to me by none other than Mr Modi and when I told him that in fact Agja had said so, the Gujarat chief
minister
kept quiet. A little later Agja was transferred.READMORE 
Narendra Modi vs A-G Gani Patail The Nefarious Hidden Hands of The Axis of Evil
Anwar : No Incompatibility Between Islam and Democracy
Posted: 24 Feb 2011 07:45 AM PST
By the Administrator
 Last Sunday afternoon, Dato Seri Anwar Ibrahim, the de facto Leader of Keadilan, spoke to 200 over party activists and community leaders in Penang.
He hit out at the proposition that Islam and democracy are incompatible as suggested by some Western scholars. He also quoted at length the political experience of the people of the Middle East, in particular, Epypt, in their noble fight for both Islamic justice and democracy, though not so much the Weberian form.
Anwar also said that in 2004 Keadilan only won one parliamentary seat, and in 2008 it became the largest opposition party. On that basis, he was confident that giving a bit of push in the coming general election, Pakatan Rakyat could take over the helm of the federal Government, and that was precisely the fear of BN and Company which has made them trying to put him to go through hell with all sorts of humiliation and accusations hurled at him unceasingly.
Dato Mansor, the Keadilan leader in Penang, and many of his state Committee members also present at the meeting.
Posted: 24 Feb 2011 07:57 AM PST
According to this dude Rafizi Ramli, any MCLM candidate wanting to contest in the upcoming elections will
have to become a member
of the party first.
The reason: He doesn't want a repeat of Zulkifli Noordin, who "acted according to his own instincts".
It may have escaped his attention that Zulkifli Noordin was a PKR member to start with. Just as Wee Choo Keong also was.
Party membership did not stop them from acting out of their own accord.
The whole intention of having MCLM-selected candidates is to put up for elections those with integrity and a heart for the people. PKR evidently did not do a good job of weeding out their own frogs.
So if there are obligatory excuses for not fielding MCLM candidates, can we at least skip the lame ones?
Umi Hafilda membongkar kisah silam 13 tahun yang lalu ~ Video panas....
Posted: 24 Feb 2011 03:27 PM PST
Nampaknya Tuan Penasihat Partai Keadilan 'Rakyat' masih diburu oleh Umi Hafilda adik kepada Azmin Ali, orang kanan Anwar Ibrahim dan semakin panas pendedahan demi pendedahan yang sudah pasti mencetuskan kembali hal hal yang tetap menjadi perbualan masyarakat negara kita.
Umi Hafilda Ali kini sudah mula aktif berceramah kesana sini selepas menyepikan dirinya dari media massa setelah terlibat didalam kes melibatkan Anwar Ibrahim 13 tahun lalu.
Surat dari Umi kepada Perdana Menteri ketika itu (kini Tun) Dato Seri Dr Mahathir Mohamad merupakan 'turning point' yang membawa kepada pemecatan Timbalan Perdana Menteri Dato Seri Anwar Ibrahim dari segala jawatan jawatannya dan diburu pihak polis sehingga ditangkap dikediamannya di Bukit Damansara pada tahun 1998.
Kini macam ada semangat baru bagi blogger bergelar Srikandi7 untuk kembali menggugat karier politik bekas Timbalan Perdana Menteri Anwar Ibrahim!
Umi Hafilda Ali bersumpah akan terus melepaskan peluru peluru berpandu berisi kisah kisah lampau Penasihat Pakatan Pembangkang untuk menamatkan riwayat perjuangan politik Anwar, Azmin dan Azizah!
Kita hanya mampu berserah kepada Allahu Ta'ala akan kedudukan sebenar perkara perkara yang dibongkar Umi Hafilda?
Namun Umi Hafilda begitu berani siap menunjukkan slip slip deposit bank, sijil saham dan mencabar 3A ~ Anwar, Azmin dan Azizah untuk menyaman dirinya sekiranya apa yang ia dedahkan adalah fitnah semata mata!
Memang membuatkan kita berfikir sejenak.
Apa kesudahan cerita yang semakin panas ini?
Wallahu'alam bissawab.
* Video ini dirakam Minaq Jinggo, fotoblogger # 1 Malaysia.
Anti-lnterlok Rally application rejected
Posted: 24 Feb 2011 12:10 AM PST
Police from the Dang Wangi district headquarters today visited the HRP office in Bangsar Utama delivering a letter of rejection for the anti-Interlok rally planed for Sunday February 27 at the landmark Kuala Lumpur City Centre. HRP through its KL chief SW Sambulingam had applied for a permit on February 11 to hold the rally. The party has 24 hours to submit an appeal. Protem secretary-general P Uthayakumar said that the rejection was proof that Home Minister Hishammuddin Hussein and the Inspector General of Police had lied when they claimed that there was no application to hold the rally. Video courtesy of Human Rights Party.

Time:

03:50

More in

News & Politics
Nibong Tebal MP Tan Tee Beng joins Kita
Posted: 23 Feb 2011 10:34 PM PST
Parti Kesejahteraan Insan Tanah Air (Kita) president Zaid Ibrahim today announced the admission of Nibong Tebal parliamentarian Tan Tee Beng, into the ranks of his fledgling party. "I am proud to announce that barely a week after the party's name-change and a new constitution was approved, we have managed to attract a young MP like Tan into our fold," said a beaming Zaid during a press conference at Tropicana, Petalling Jaya. He praised Tan's decision as a "brave" move, adding that it will further strenghten and galvanise the newly-refrocked party.

Time:

02:45

More in

News & Politics
KOMAS launch Freedom Film Fest 2011
Posted: 23 Feb 2011 06:53 PM PST
The eight annual KOMAS Freedom Film Fest 2011 launch its campaign to promote and highlight human rights documentary film making. FreedomFilmFest, a human rights film festival was developed by KOMAS in 2003 to advocate human rights awareness and issues through the use of the film medium. More stories : komunitikini.com

Time:

09:35

More in

News & Politics
Posted: 24 Feb 2011 09:43 AM PST
Saya mendapat berita tentang pemergian Hajjah Illani Ishak buat selama-lamanya melalui SMS dari beberapa orang sahabat sebaik sahaja saya membuka talipon bimbit saya pada jam 7.30 pagi tadi akibah penyakit barah. Saya terkejut di atas pemergian beliau yang saya kenali sejak beliau masih bersekolah di Tuanku Kurshiah College (TKC) Seremban, Negeri Sembilan. Saya semasa itu bersekolah di Anglo Chinese School (ACS) Seremban.
Saya mengucapkan takziah kepada Suami beliau, Adam serta seluruh ahli keluarga dan menerimanya sebagai takdir yang telah dijanjikan oleh Allah swt. Tidak ada siapa yang boleh mengalih dan menganjak waktu ajal kita yang hanya didalam pengetahuan Tuhan maha esa.
Saya bersama-sama dengan rakan-rakan yang lain akan sentiasa mengingati Hajjah Illani sebagai seorang yang sangat giat di dalam bidang belia dan politik sebaik sahaja beliau keluar dari menara gading dengan ijazah dalam bidang undang-undang.
Illani pernah menjadi Exco Pergerakkan Wanita UMNO Malaysia beberapa tahun sebelum perpecahan UMNO pada tahu 1988 dahulu. Beliau seterusnya menyambung kegiatan politik beliau dan telah berjaya memenagi kerusi Parlimen Kota Bharu selama dua penggal sejak 1990 di atas tiket Parti Melayu Semangat 46.
Beliau selepas itu telah bergiat di dalam banyak pertubuhan NGO dan sentiasa aktif melakukan kegiatan-kegiatan sosial dan tidak pernah berhenti dari melakukan ubudiah kepada masyarakat di negara ini.
Marilah kita berdoa agar rohnya di tempatkan di kalangan roh-roh orang yang beriman dan sentiasa mendapat cucuran rahmat Allah sentiasa.
Al-fatihah.
The Uncomfortable Circle: the Minister of Information is Misinformed.Your time has come step down
Posted: 24 Feb 2011 03:53 AM PST
Unsatisfied with their financial situation and buoyed by the middle-class uprisings in the Middle East, the American middle class organized massive protests in New York and Washington D.C"Listen, I want change as much as the next guy, but I really needed to catch up on . "Middle-class frustrations have resulted in broad grassroots movements like the Tea Party movement, which began as town hall meetings. Middle-class wages have stagnated for the last 20 years whereas the earnings of the wealthy have climbed steadily. From 1988 to present day
Anwar says he has a direct line to the country's leading politicians.
JAYA, Feb 23 — Datuk Seri Anwar Ibrahim scoffed at Datuk Seri Najib Razak's current visit to Turkey today, claiming the Prime Minister would not succeed in undercutting his support from the Muslim nation's government.
The Opposition Leader told a press conference at PKR's headquarters this evening that despite Najib's presence in Turkey, the country's top politicians still sent him personal messages, proving that his relationship with the government was still intact.
"I just received a message … so there is no problem at all," he said.
Anwar was responding to speculation that Najib was attempting to poach his international support during his ongoing three-day visit to Turkey.
The prime minister, accompanied by his wife Datin Seri Rosmah Mansor, Foreign Minister Datuk Seri Anifah Aman, Home Minister Datuk Seri Hishammuddin Hussein and other senior ministers, touched down in Istanbul yesterday for an official visit to enhance existing bilateral relations between Malaysia and Turkey.
"If their intention is to forge better relations, I am very supportive but I maintain extremely close relations.
"Personal messages continue to be received from the Turkish leadership and I do not have that problem … and I am very pleased with the meetings the leaders have had and the messages given to our leaders. You understand what I mean?" a smiling Anwar told the press conference.
When asked if he was still confident of support from Turkey's Prime Minister Recep Tayyip Erdoğan, who is known to be his close ally, Anwar nodded and pointed out that the leader was not a "Mr 10 per cent".
He was referring to a term often used to describe corrupt individuals who seek commissions or incentives when negotiating for a contract.
"The Turkey PM is not a Mr 10 per cent. Neither is his wife Emine Erdogan who is a dear friend of (my wife Datin Seri Dr Wan) Azizah (Wan Ismail) … (so) is Suzanne Mubarak (wife of ousted Egyptian president Hosni Mubarak) or Leila Ben Ali (wife of ousted Tunisian president Zine El Abidine Ben Ali).
"So I think we should give them (Turkey) the credit … they were the first or initially the first important Muslim country, they came up strongly and forcefully in defence, in support of the Egyptian people to reject the tyrannical regime of Hosni Mubarak.
"You cannot compare this to Umno leaders," he said.
The Permatang Pauh MP also made an indirect jibe at Najib for once saying that Malaysia bore no similarities to Egypt, pointing out that these were the same words used by Hosni to describe Tunisia when its ousted president fled the country.
"And then (Libyan leader) Muammar Gaddafi said that Libya is an exception, that it is not Egypt … Now Najib is saying that Malaysia is not Egypt," he pointed out.
The overthrow of Tunisia's Zine al-Abidine later inspired Egyptians to rise up against strongman Hosni, sending him packing on February 11.
The multiple-nation revolt has today spread to Libya as violent clashes broke out across the north African nation in an uprising against Gaddafi.
Anwar added that he had often warned Najib and the Barisan Nasional (BN) leadership not to cheat and to uphold democracy in Malaysia through free and fair elections.
"In my speeches, I have given strong reminders and warnings to Najib and the leadership — do not cheat. Make sure that the elections are free and fair. Learn from the experience of other countries.
"You can always say that Malaysia is not Egypt … precisely what Mubarak said when Ben Ali fled Tunisia — Eqypt is not Tunisia.
"But notwithstanding what has been said, it is important to ensure free and fair elections. You cannot have free and fair elections if the Election Commission (EC) is not perceived to be free and fair and the media is not free and all instruments of government are being utilitsed and used to frustrate the campaign efforts by the Pakatan Rakyat," he said.
Anwar added that PR had received information that BN has been registering foreigners as Malaysian citizens in an apparent bid to shore up support ahead of the coming general election.
"We have some evidence to this effect but we have to adduce this. We have also alerted the Bersih leadership but we need evidence to expose the dirty machinations of Umno.
"Why are they making it so difficult in the meantime for Malaysians to register?" he said.
Anwar said that the fact that political parties and civil society groups had to undertake the task of registering voters showed that the EC had failed in its duties.
"We hope that Najib will use the opportunity of his Turkey trip to learn from them what is free media, rule of law and a country that follows the process of democracy," he said.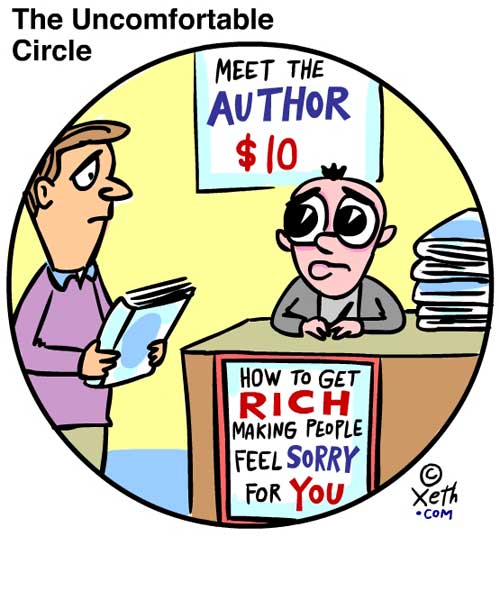 Najib Razak
Information Communication and Culture Minister Rais Yatim has just told Malaysians that we should ignore Opposition propaganda to hold protests like those in Arab countries.
Rais, the Minister of Information is misinformed.
As far as I am aware, neither Opposition Leader Anwar Ibrahim or Pakatan Rakyat has ever asked the people to hold protests and take to the streets. The Opposition has always wanted to hold dialogues. Prime minister Najib Abdul Razak has refused to have a public debate.
The Opposition has however warned Rias and his ruling party, BN, that it should take heed of what is happening in the middle-eastern countries and to start to embrace reforms.
Perhaps Rais is alarmed by the events in the middle-east so he issues statements which imply the Opposition is fomenting dissent.
Does not he read the papers? Is he not the Minister for Information and Communication? All of the events in the middle-east were not started by Opposition parties. Egypt, for instance, does not have a credible Opposition – most of their members are in jail.
The rebellion in Egypt was a spontaneous movement started by the young who were mainly students. They galvanised the people using the power of the internet – Google, Facebook and Twitter.
The trouble in Tunisia started because of one young unemployed graduate who immolated himself because the police prevented him from earning a living the only way he thought was possible – by selling vegetables.
Rais said '…the political systems in those countries differed from Malaysia's, and as such, there was no reason for any party to ask Malaysians to follow in their footsteps…'
Poor Rais. He cannot see the wood for the trees. But what do you expect from a man who is afraid and who lacks integrity.
He knows that if there was a similar "people power" movement in Malaysia, the Cabinet members will be hauled up, for the various crimes they have allegedly committed against the state and against various individuals. In addition to that, many ministers will find it hard to explain how they amassed a fortune with a minister's meager salary.
Can the obtuse Rais not comprehend that the people in north Africa and the middle-east rebelled because its government refused to listen to them? Does Rais not read the newspaper reports and also the circulars from our High Commissions in these countries?
BEWARE OF WHAT YOU SAY TO THE TAXIDRIVER CrimewatchIt began in a taxi cab
Posted: 24 Feb 2011 02:51 AM PST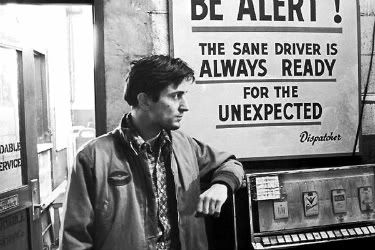 He was charged under Section 457 of the Penal Code and sentenced to four years' jail and three strokes of the cane by a magistrate's court after he pleaded guilty to theft.

There must be something wrong with the judiciary of our country if the life of a little girl has little value, if at all.

Her rapist escapes with a sentence which is similar to giving him a rap on the knuckles. He will be let off after two years' jail, possibly earlier, with good behaviour. He can pick up the pieces of his life. He will also continue to be a danger to society.

And what about the illegitimate child? He or she has to live with the knowledge that its father was a rapist.

Why do our courts treat the victims worse than they do the perpetrators? Instead of being helped, the victims undergo more humiliation and punishment.

Whatever sentence that is passed down to the rapist can never be sufficient and will not undo all the damage to his child. She is the one to bear the mental and physical scars for life. Her parents will bear some guilt for what has happened to her child.

Most child sexual abuses are never disclosed, but if this is the sort of punishment that is meted out by the courts, it is no wonder that families of the children and the victims themselves, would rather suffer in silence.

When will the courts act to protect the victims of child sexual abuses?

It is also time we had more severe punishments which will act as deterrents. Our courts are flawed.

Although Bint claims, "If I could go back 25 years and start again I would," his

interview

hits some unrepentant notes as well. "What I've done is turned a lot of my dreams into reality," He told the 

Daily Mail

. "I've gone that extra step. Instead of fantasizing what it would be like to own a Ferrari I went out and got one." 

Dealbreaker

hypothesizes about which is the most plausible Bint lie 

here.

)

So, now that Bint's (second) jail term is behind him, will he play by the rules? "…I can't say never again. Let's be honest, nobody would believe me if I said was going straight," he told the Daily Mail.

Many more details of his outrageous lies and manipulations can be found 

here

For everything that gives us comfort and pleasure, obviously shifting from a lot to a little would be tougher than shifting from none to a few. So, if for a while we simulate a situation that denies us the stimulant completely, the shift changes perspective.
Take a child who craves chocolates all day through. Try and decrease her supply from five to one and she will not accept it, so used is she to five. Stop her supply for a few days, telling her clearly the denial is just for a limited period so as to win her cooperation. And then when the time comes, give her one a day. Comparing this to the total denial, she may be able to happily accept the new situation!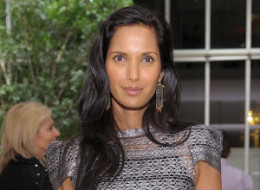 ZarinaAn-Julie, 21, as anyone who's fond of Malaysian soap knows, is the lead of the drama Anak Pontianak. She has already apologized to her fans for these sex pictures, insisting that those were taken when she wasn't yet a celebrity, and that (in words that echo those of Gillian Chung's) she was just being naive, like any silly teenaged girl but that is after she lied by saying the photos were superimposed. The hot and scandalous Zarina An-Julie sex pictures were taken for private use but it seems that her boyfriend wanted to share the photos with his friends and they share it with the world. Below are some pictures that have been circulating on the Internet of a hot Malaysian TV3 actress being a slut for her man's camera. Zarina An-Julie, a.k.a. Anju plays Mia on Anak Pontianak and she has many nude pics circulating on the internet. Below she is naked and having friend with her boyfriend and showing off her 21 year old boobs. Here are her skanky swimsuit pictures that were posted last week. Please send me more naked pictures of this girl at submit@GutterUncensored.com, I want to post them all. Click on pictures to enlarge.

Source: www.GutterUncensored.com

Zarina Ann Julie of the Anak Pontianak movie fame is embroiled in a sex scandal in Malaysia. The alleged photos of her in uncompromising position with her boy friend has recently been circulated on the internet. Zarina Ann Julie vehemently denies that the pictures are hers or her boyfriend. She claims that the photos are 'doctored' or 'superimposed'.
Although Bint claims, "If I could go back 25 years and start again I would," his interview hits some unrepentant notes as well. "What I've done is turned a lot of my dreams into reality," He told the 
Daily Mail
. "I've gone that extra step. Instead of fantasizing what it would be like to own a Ferrari I went out and got one." 
Dealbreaker
hypothesizes about which is the most plausible Bint lie 
here.
)
So, now that Bint's (second) jail term is behind him, will he play by the rules? "…I can't say never again. Let's be honest, nobody would believe me if I said was going straight," he told the Daily Mail.
Many more details of his outrageous lies and manipulations can be found 
here
BBC's Crimewatch
has put together an ingenious renactment of Bint's downfall. It began in a taxi cab.

"All my life needed was a sense of someplace to go. I don't believe that one should devote his life to morbid self-attention, I believe that one should become a person like other people."
Thursday night, the Berlin Film Festival held the world premiere of the 4K restoration of Martin Scorsese's 1976 classic, Taxi Driver. Not surprisingly, and after many viewings throughout my life, the movie, all red light and red blood and red anger, is still lingering in my mind. And Bickle's above proclamation, "morbid self-attention" is more relevant today. So much of the picture feels frighteningly prescient. Like The King of Comedy, it seems to speak of an entire oncoming generation — Travis Bickle's and Rupert Pupkin's, primping (inadvertently or on purpose) for their 15 minutes of fame and glory. 15 minutes and more. From Bernard Goetz to Reality TV to TMZ to YouTube to Twitter, we love to celebrate or watch or laugh at our misfits, our train-wrecks, our crackheads and… ourselves, ready for their (our) close-ups on … anything. We're not the Me Decade/Generation, we're the Look at Me Generation.
Screenwriter Paul Schrader and supervisor of restoration, Grover Crisp, were there to present — Crisp going over the technical details; Schrader to briefly tell us what inspired his screenplay, a screenplay he wrote at a mere 24 years old while he was living in his car. Schrader admitted to feeling like Travis Bickle, and even owning a gun. That he, at one point, realized he hadn't talked to a single person in a month, and was so alienated by the city, that he felt he was dying a young death in his auto-coffin. He may as well have been a night shift taxi driver. Schrader said that "he had to do something about it." Much like Bickle attempting to gain advice from the Wizard (and the Wizard's advice is awful), because he felt like he was going to 
do
something… he just didn't know what, and that he was worried about it (a moment in which we feel terrible for Bickle, reaching out, receiving nothing), Schrader was worried too. He was going to 
do
something. 
He took that anxiety and anger and did do something — he wrote Taxi Driver.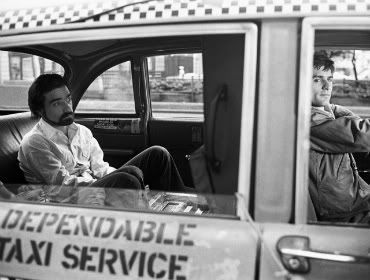 Here's the back-story of the restoration via the 
Berlinale
:
In order to restore the film in spring 2010, the original 35mm negative was first read by a high resolution 4K scanner. The film was also re-graded and digitally restored in 4K: the media files were restored by Sony Pictures in California under the supervision of Grover Crisp; Scorsese's cinematographer Michael Chapman supervised Scott Ostrowsky as he created a colour matched version that was approved by Scorsese. The 4K files were subsequently given a digital clean up by MTI film in Los Angeles. This involved removing scratches, stains and tread marks from the archived negative. Some scratches proved especially difficult to remove without altering the underlying imagery, particularly the faces of characters. The restoration of the sound was equally extensive and involved the production of a new multi-track stereo soundtrack from the film's original recordings. The final version of the restored film was approved by Martin Scorsese in January 2011.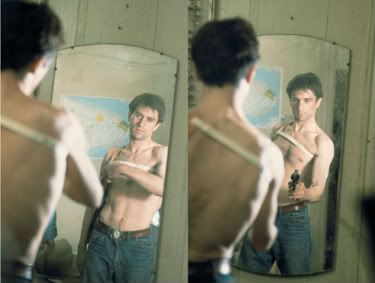 To see the film on the big screen (which I hadn't viewed, writ large, since 
college
), was a revelation. There's been much debate about the restoration of the picture — that it might take away the grit of Travis Bickle's New York City — a city that he discusses in terms of filth and scum (which made me wonder, while Bickle was telling his surprise cab fare Senator Palantine the needed changes to the city, if this had been Mayor Giuliani's favorite movie). But watching the movie, I believe the right balance was achieved. Never once did you feel like you weren't in NYC 1975, never once did you think the vibrant reds took away from the dirty streets, the garbage, in fact, they only seemed to highlight them more. I always though that even Betsy's dresses, often red striped or pure white, were an interesting counterpoint to the junkies and lowlifes (who were also, incredibly vibrant, even before restoration) — she is, of course, an "angel," as Travis proclaims her. But soon, to him, like all the rest of them.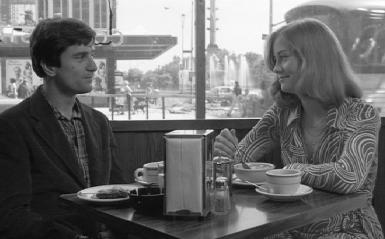 And the film, as gritty as it is, was always beautiful. Just the shot of the cab in the mist… like something from a dream. Or Matthew (Sports) slow-dancing with Iris, a sick moment of pimp manipulation set to the romantic Bernard Herrmann score (on their phonograph), that manages to be creepy/gross and lovely all at once. And there with that bright red — Matthew's red polished fingernail clutching Iris's hair.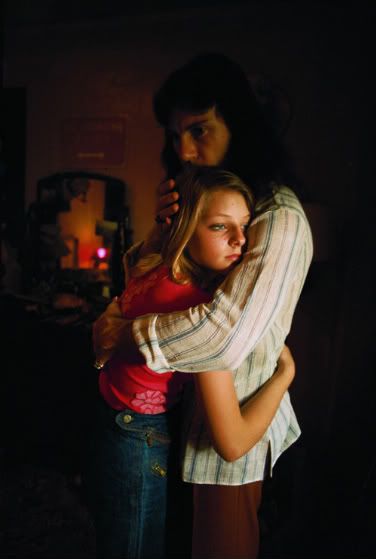 So many 
moments
of the movie you notice even more on the big screen, and in such crisp detail. Bickle's clear racism is more apparent and disturbing. And even the humor, which does exist in 
Taxi Driver
, is funnier. And not just in the Albert Brooks moments. There's something about Travis not understanding "The Pilgrim" by Kris Kristofferson ("I'm no pusher… ") that's amusing (this beautiful woman is giving him a supreme compliment and he can't see it). And yet, he buys the record, a 
lonely
, heartbreaking moment. He doesn't even bother to listen to it. (Also interesting that Schrader was raised in the tradition of the Pilgrims — Calvinist — this 
can't
be a coincidence).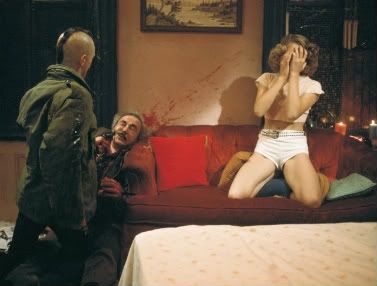 And yes, the final messy shoot-out is gloriously, horrifyingly gory, and hasn't been scrubbed to death to save our stomachs (or worsen them). It still combines a kind of grindhouse blood (so red… but in some cases, a repulsive brownish red), among the cheap plaid suits and Iris's hot pants, and remains so recklessly real and beautifully composed all at once.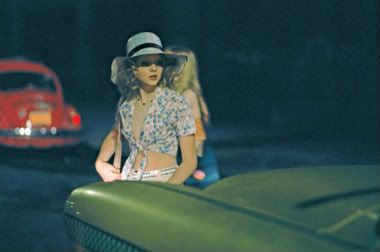 And finally, putting aside the restoration — there's the story. The fall and rise of Travis Bickle. "God's lonely man." Critics and viewers often discuss the golden age of 70s filmmaking — and Taxi Driver is certainly one of the era's highest achievements. But it goes so far beyond that. It's so incendiary, that I don't think it could be made today. And not only because of the advent of the blockbuster or the uber popularity of 3D or the idea that "real" characters have been wiped out of popular cinema, but because the movie, like some of the greatest art, feels so potently combustible. Oddly, not once did I think of John Hinckley during the movie  — I thought of the world and I thought of myself.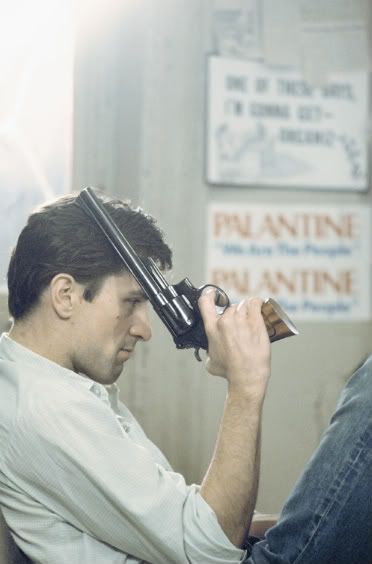 Taxi Driver makes you ponder the world we live in, beyond New York City and now, and then, as a perfect character study, it makes you ponder yourself. Your soul searching, fucked-up, boot clad Cowboy and your soul searching, fucked-up, mohawked Indian. Because, truth be told, it's tough to not relate to Travis Bickle — shy and disturbed, angry and self-hating, valiant and violent, and, in brief moments, with that weirdly winning grin, charming — just trying to get organezized.
"Taxi Driver" (1976). Directed by Martin Scorsese. Written by Paul Schrader. Starring: Robert De Niro, Jodie Foster, Harvey Keitel, Cybill Shepherd, Albert Brooks and Peter Boyle.
Sultry beauty Kashmera Shah has joined the Bollywood bandwagon of dare-bare hotties, as she's posed topless for an exclusive calendar, to be launched in the first week of March.

20 Aug, 2009
Confirming the news, Kashmera said, "Yes, I have gone topless in one of the pictures for the calendar named Kashessentu." Here's a picture from her to-be-launched calendar.

22 Feb, 2011
According to Kashmera, her topless act 'will now be a benchmark for anyone who thinks of doing a calendar'!
Posted: 24 Feb 2011 01:25 AM PST
To Leong PN of the
Malaysia Instinct
- thank you for your 'encouraging hi-lite' about my posting on Info Minister's special officer NA whom I 'accused' of getting a big chunk of MCMC 1Malaysia netbook contract.
Your comment
Bujai Just Read: The real McCoy or what
has at least added me with more readership (I owe you one). However, let me clarify a few things.
First, I dont know this NA guy, never met him and never 'used' him in whatsoever manner to lucre financially or politically. As a journo for almost 30 years, I wont write anything which I am not able to substantiate, and frankly I dont like being sued for nothing.
Secondly, (yes) the fact came from somebody inside the MCMC. Only after some checking did I posted it on my blog. If you go to the companies URL (the six specially mentioned), a few share the same website. What does that imply?
And thirdly, during my 210 minutes 'interview' at the MCMC in Cyberjaya on Tuesday Feb 15 (a public holiday), I was also told (at the sideline of it) that what written was true. I cant go further as the MCMC and MACC investigation teams are pursuing the matter (maybe we can meet up over coffee or tea).
Another thing. There is no vendetta, bro. In fact, I wasnt hitting at Datuk Rais. He has been battered badly by other bloggers, during which I didnt take part. It was an 'unfortunate coincidence' that this NA works for him. Even if he serves PM Najib, I will also write about the 'scam'.
Just Read is not as popular as Rocky's Bru, The Scribe, Big Dog and others. Compared with your esteemed Malaysia Instinct, mine is nothing. I dont care if nobody reads my blog at all as I only enjoy writing what I think is right and not abusive like some silly bloggers do.
And bro, I may be close to some ministers and VVIPs but I had never asked anything from them. I dont have a company either. I dont kow how to do business. I am happy earning a living by contributing to a few magazines, journals and newspapers. Some are good paymasters, some are cheats.
Finally, I am not a whistle-blower. Otherwise, other blogs would have supported my stories or linked it, at least. Unlike the case when Rocky's Bru and Big Dog shot Rais' knees last year. I am just what I am - another blogger.
Cant write more la pal. Let MACC and MCMC investigate.
Thanks again.
Posted: 23 Feb 2011 10:29 PM PST
GEMPAR!
Ketua Unit Paterniti, Bahagian Forensik, Jabatan Kimia, Nor Aidora berkata profil DNA Y ada coincidental match 1:52 quintillion dengan DNA Chinese, 1:1.470 quintilion dengan DNA Melayu dan 1:1.210 quintilon dengan DNA kaum India!
Ini bermakna lelaki DNA Y paling menyerupai kaum India.
He he he
... itu orang banyak sangat putar alam dan bohong.
LIVE LIFE, LOVE LIFE, FOR WHO CAN TELL WHEN OUR TIME IS UP
Posted: 23 Feb 2011 06:59 PM PST
I know it sounds morbid, but ever since the first of my high school mates passed away, I've taken to scanning the obituary columns in the papers. Death still seemed distant then. My sister's sudden demise in 2006 from cardiac arrest brought death literally to my doorstep. She was just two months shy of her 56th birthday. Two years ago, my cousin suffered a heart attack in Seoul where he was based. He was a young 42.
Yesterday I read in the papers of the passing of an old friend. It was another reminder that we are all mere mortals. Who knows when our number will be called. Even as we remember those who have departed, we should give thanks that we can wake up each morning to greet a new day and breathe the breath of life.
Too often we take people and things for granted. Only when they are taken away from us, do we realize we should have appreciated them more. But rather than waste time on regrets, let us spend it with the people we love, doing the things we enjoy, and helping others in whatever way we can. Isn't that what life is about?
A cousin sent me this video which is a reminder that we should live life to the fullest. If we have dreams, we should pursue them. Life is to be lived, not wasted.
The video is in Chinese, but the message is loud and clear, and transcends language.
Halal Haram Kehidupan ~ Bila rakyat Malaysia sudah tak ambil peduli!
Posted: 23 Feb 2011 06:48 PM PST
Gambar
Kosmo Online
menunjukkan rakyat Malaysia bernafsu rakus mencuri beras dari lori kemalangan
Sikap segelintir rakyat negara ini yang sudah tidak ambil peduli tentang halal haram sumber kehidupan mereka di Akhir Zaman ini amat saya kesali. 
Tanpa mengambil kira perbatasan kaum, bangsa dan kefahaman agama, saya amat dukacita melihat kerakusan nafsu manusia yang boleh semberono sahaja merampas dan mencuri hasil usaha orang lain tanpa berasa malu atau segan dengan jenayah mereka itu.
Tempoh hari ada kes kereta pacuan 4 roda terbalik yang membawa siling berjumlah puluhan ribuan ringgit menjadi mangsa para pencuri yang terdiri dari rakyat negara ini yang mencuri didepan anggota polis yang tak dapat membuat apa apa kerana bilangan para pencuri terlalu ramai.
Berita kerakusan rakyat Malaysia yang mencuri beras ini dilaporkan disini oleh akhbar Kosmo. Para pencuri bertuhankan nafsu ini boleh membiarkan mayat kelindan lori yang terlibat didalam kemalangan ini terperosok dibawah lori beras yang terbalik dan mereka terus menimba hasil curian mereka itu untuk membawa balik beri makan kepada keluarga mereka!
Pemandu lori yang malang kesal dengan sikap rakyat Malaysia yang tak pedulikannya serta mayat rakan sekerjanya yang dibiar terperosok dibawah lori.
Gambar Kosmo

.
Bangsat sekali para pencuri berhati kejam ini. Saya amat sakit hati melihat semua ini. Saya hairan dengan sikap orang zaman sekarang yang sudah tidak ada sedikit pun rasa kasihan, belas dan ikhsan terhadap nasib malang yang menimpa orang lain!
Manusia semakin kejam di Akhir Zaman ini. Ini semua berpunca dari kelemahan pihak pemerintah Kerajaan Malaysia dan Kesultanan Melayu yang masih terus menjadi hamba pihak Kolonial British yang merangkakan Perlembagaan Persekutuan mengikut acuan mereka sehingga Hukum Syarak dan Syariah Allah hanya sekadar menjadi perhiasan semata mata di Mamluk al Malaisie ini.
Hukum hudud patut dilaksanakan terhadap para penjenayah seperti ini. Malangnya kita mempunyai Menteri Dalam Negeri yang hanya tahu memberi amaran demi amaran,
demi amaran,
demi amaran dengan tak sudah sudahnya sehingga ramai yang sudah naik tocang dengan kedayusan menteri ini!
Dato Seri Najib Tun Razak selaku Perdana Menteri Malaysia silap besar melantik sepupu beliau untuk menerajui Kementerian Dalam Negeri ini. 
Sepatutnya PM melantik menteri yang berani kerana benar dan tidak terhegeh hegeh tersengih sengih tak sudah bagaikan kerang mati!
Macamanalah puak Hindraf tak berani mengadakan protes itu ini saban waktu? Menteri KDN ternyata hanya mampu bagi amaran tak sudah sudah! 
Tony Pua juga sudah berani mempertikaikan hal ehwal sulit Angkatan Tentera Malaysia sehingga membuka ruang untuk musuh musuh negara tumpang sekaki mengintip maklumat rahsia sistem pertahanan negara kita.
Andainya Kerajaan Malaysia pimpinan Dato Seri Najib Tun Razak tidak memperkemaskan jentera keselamatan dan penguatkuasaan undang undang negara kita dengan menukar Menteri Keselamatan Dalam Negeri dengan kadar segera, maka jangan terkejut nanti jika ada puak yang mahu mencuri, merompak, merogol, membunuh sesuka hati mereka!
Iyalah! Pencuri dan perompak serta peragut sudah bermaharajalela sekarang ini sebab Dato Menterinya macam kena sampok dengan Sindrom SiLuncai! 
Dok asyik biarkan biarkan!
Menteri KDN patutnya orang yang tegas dan sentiasa menegakkan undang undang tanpa mengira siapa pesalahnya!
Macamanalah pihak pihak yang berkenaan tak mengambil peluang menghuru harakan negara ini?
Halal haram mereka sudah tak ambil peduli!
Perginya seorang wanita gigih...
Posted: 23 Feb 2011 06:18 PM PST
Datuk Ilyani Ishak, pengerusi jawatankuasa persefahaman antara agama kebangsaan dan bekas Ahli Parlimen Kota Baru, meninggal dunia di Hospital Universiti Kebangsaan Malaysia (HUKM) jam 6.05 pagi tadi.
Allahyarhamah yang sepatutnya berusia 58 tahun bulan depan, adalah wanita gigih yang saya kenali walaupun sebagai wakil rakyat Semangat 46 selama dua penggal (1990-99). Beliau meninggal kerana barah payudara yang dihidapinya sejak beberapa tahun lalu.
Jenazahnya akan dibawa ke rumahnya di Pinggir Taman Tun Dr Ismail tengah hari ini sebelum disembahyangkan di masjid berhampiran untuk pengkebumian.
Bagi pihak Dewan Perniagaan Islam Malaysia (DPIM) cawangan Kuala Lumpur, saya ingin merakamkan ucapan takziah kepada keluarga Allahyarhamah.
Semoga rohnya dicucuri rahmat dan diangkat di kalangan mereka yang akan menghuni Jannah-Nya... amin!
Al-Fatihah!