---
Anwar Tidak Bersumpah kerana Dilarang Para Alim Ulama
Posted: 22 Feb 2011 03:00 PM PST
Perbuatan Saiful bersumpah dalam kes yang berkaitan dengan Jinayah Islam adalah Bidaaah yang sangat sesat. Teringat kepada hadeeth Nabi SAW yang bermaksud:
"Semua Bidaah adalah sesat. Semua kesesatan adalah di dalam neraka".
Perbuatan Saiful itu TIDAK PERNAH dibuat orang dalam sejarah 1400 tahun sistem jinayah Islam. Saiful mencipta "syariat" sendiri dan bersumpah tidak kena pada tempat.
Adapun Anwar Ibrahim telah dilarang oleh para alim ulama terutamanya Sheikh Yusuf Al Qardhawi supaya JANGAN bersumpah dalam kes liwat beliau.
Ini kerana mereka tidak mahu Anwar Ibrahim terlibat dalam kancah bidaah yang bakal membawa beliau ke dalam neraka.
Contoh yang paling mudah adalah seperti Saiful ini menambah rakaat solat Maghrib dari tiga kepada empat. Itulah perumpaan sumpah Saiful itu. Yakni menambah-nambah perkara baru dalam agama.
Bagi orang UMNO, mereka tak heran pasal bidaah. Kalau judi dan arak mereka boleh halakan, apatah lagi bidaah.
Yang haram bagi UMNO hanya makan babi. Jual babi tak haram.
Tulang Besi.
KEPUTUSAN PRO-MAHASISWA DI PRK 2010/11 DI SELURUH MALAYSIA YANG MENJALANKAN PENGUNDIAN PADA 21/2/2011
Posted: 22 Feb 2011 12:29 PM PST
NOTA EDITOR: Apabila siswazah berdemonstrasi memprotes pengundian elektronik, maka keputusan sebenar terserlah.
Selama ini rupanya kumpulan PRO UMNO menang tipu. Keputusan pengundian elektronik di"ubah" oleh tangan-tangan kotor yang akhirnya memenangkan calon UMNO. Di UPM, satu-satunya kampus yang pengundian elektronik masih diteruskan, kumpulan PRO UMNO menang besar.
Siswazah2 perlu keluar ke jalan-jalan raya untuk memprotes AUKU yang merugikan masa depan Siswazah2 Malaysia.
Sudah tiba masanya kita campak ke longkang peninggalan Dr Mahathir Muhammad Iskandar Kutty (aka Dajal mengikut Tunku Abdul Rahman) yang bernama AUKU.
Dr Mahathir telah menggunakan pelajar2 UM untuk menjatuhkan Tunku Abdul Rahman, maka apabila Mahatir menjadi PM, beliau sekat kebebasan pelajar pula.
TAKBEER!!!

KEPUTUSAN PRO-MAHASISWA DI PRK 2010/11 DI SELURUH MALAYSIA YANG MENJALANKAN PENGUNDIAN PADA 21/2/2011


UM : MENANG [Menang 23 dari 41 kerusi]
UKM : MENANG [Menang 25 dari 37 kerusi]
UMK : MENANG [Menang 8 dari 12]
UPSI: MENANG [Menang 11 dari 18 kerusi]
USIM: MENANG [Menang bersih]
UMS : MENANG
UPM : KALAH [Menang 11 dari 43 kerusi]
UTM: KALAH [Menang 11 dari 57 kerusi]
USM Kubang Kerian: MENANG [Menang semua kerusi]
UMSKAL : MENANG [Menang 3 dari 6 kerusi]
USM Penang : KALAH [15 seat dari 39 kerusi]

Pro-M telah berjaya memenangi semua 9 kerusi umum,14 kerusi fakulti di UM.PENGGERAK MAHASISWA hanya berjaya mendapat 16 kerusi fakulti.Manakala calon bebas menang dua kerusi fakulti.

PRO-M menyapu bersih kedua-dua kerusi fakulti yang dipertandingkan di Akademik Pengajian Melayu, Akademik Pengajian Islam dan Fakulti Ekonomi&Pentadbiran.
NAJIB IS TALKING THROUGH HIS SMELLY BLACKHOLE, SAYS PKR'S TIAN CHUA WISCONSIN PROTESTS DRAW THOUSANDS OF WORKERS FIGHTING FOR KEY UNION RIGHTS
Posted: 22 Feb 2011 09:02 AM PST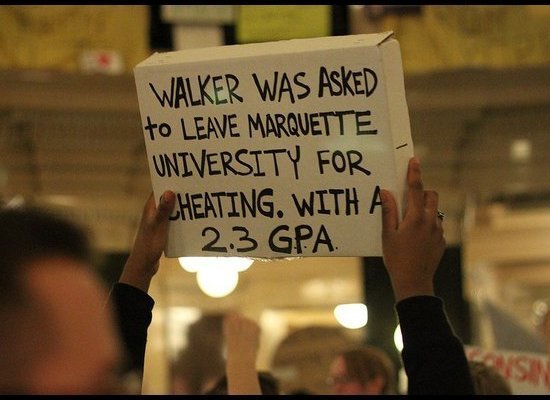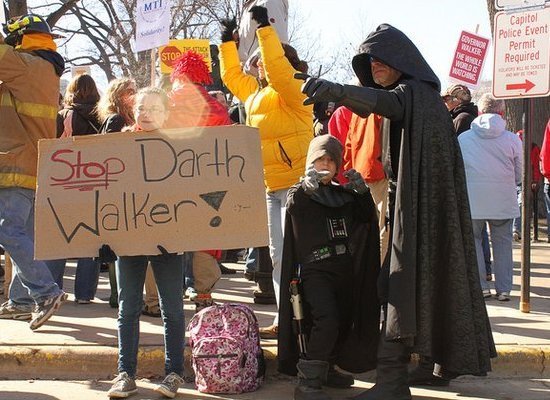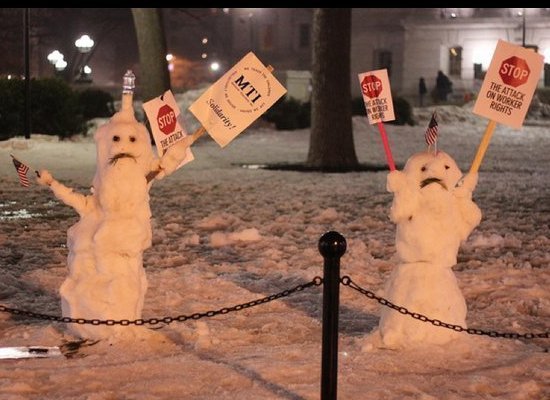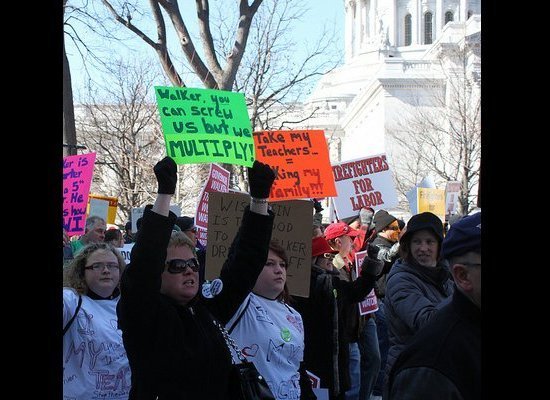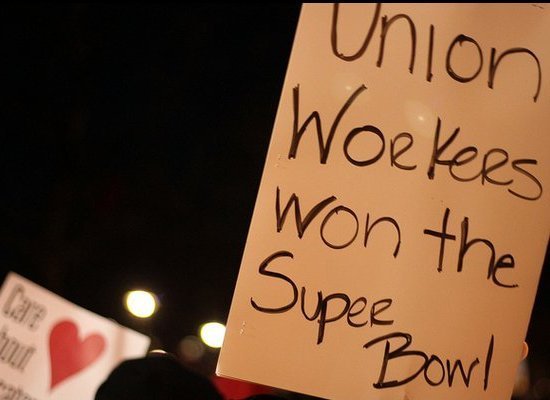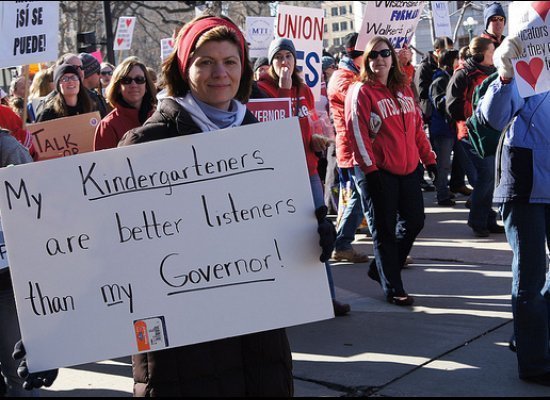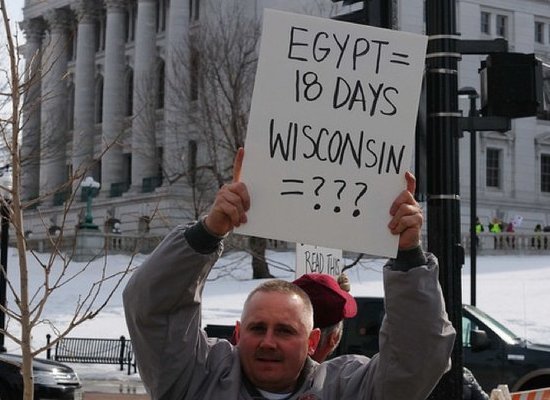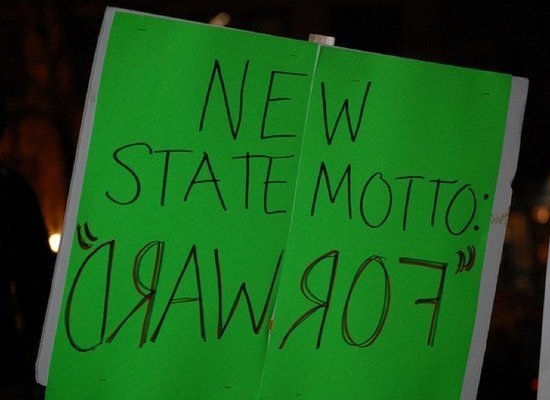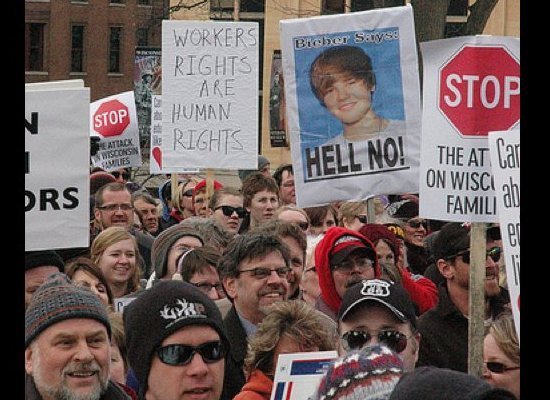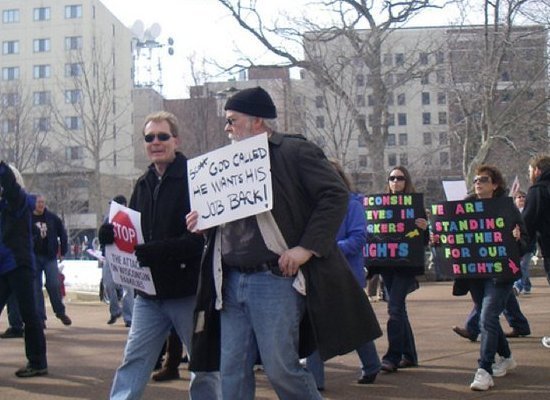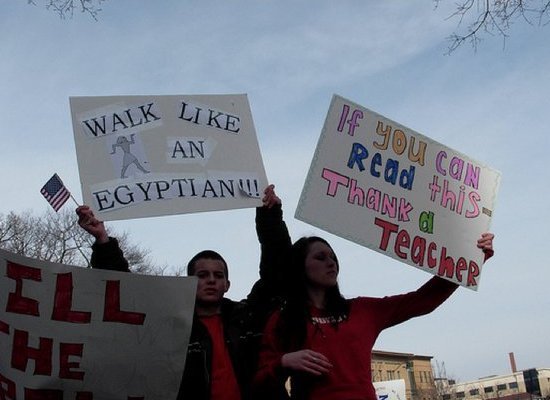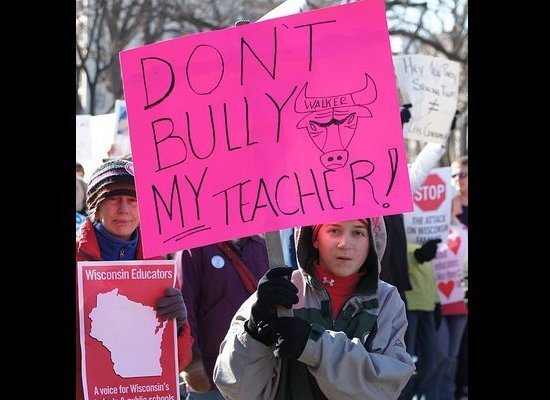 PKR 
vice president
Tian Chua ticked off 
Prime
Minister
Najib Razak for ignorance and for trying to mislead the public when he recently challenged the Pakatan Rakyat to form a shadow Cabinet.
"This is one 
guy
who doesn't know what he is talking about, he is simply shooting his mouth off. A shadow Cabinet such as those practised in the advanced democracies like U.K. are formalized structures recognized by the ruling coalition," Tian, who is also the Batu MP, told 
Malaysia Chronicle.
"When a certain Bill is due to be debated, the relevant shadow ministry is invited to give its views and expected to challenge or support the Bill in Parliament. In other words, a two-party system is recognized as a norm. Can Najib look Malaysians in the eye and say that he and BN recognise a two-party system here?"
Treated like enemies, not fellow citizens
But shallow though the PM's arguments may have been and despite his usual refusal to take into 
account
important facts that did not favour him, his Cabinet colleagues and several pro-Umno bloggers rushed to cheer him on.
Over the weekend, Najib had actually hailed the advantages a shadow Cabinet could reap for the country. "In Malaysia we only have a government Cabinet. The opposition is incapable of forming one and does not know how to distribute portfolios to the right figures among its ranks," Bernama reported him as saying.
But according to Tian, Najib omitted to tell the crowd that his BN coalition treated opposition MPs as enemies, rather than as fellow citizens working for the betterment of the country.
The Najib 
administration
has even banned extending any form of financial allocation to the opposition. So extreme has the BN government been that Sungai Siput MP Michael Jeyaraj Devakumar filed a lawsuit to compel it to provide financing for essential repairs and development projects at constituencies that did not cote for them
Recently, in a move condemned by foreign parliamentarians, Najib even hammered through resolutions suspending Opposition Leader Anwar Ibrahim, Karpal Singh, Azmin Ali and Sivarasa Rasiah. The four men had persisted on asking him to reveal details of a shadowy public relations and strategic communications contract he signed with APCO, a New York based firm whose top management has links to the Israeli secret service including Shin Bet.
"This is the reality of the existing Malaysian parliamentary system.  To hide these facts just to attack Pakatan shows smalless and desperation. Malaysia's deserves a prime 
minister
with greater intellectual and spiritual depth, a man who doesn't lie but confronts the truth and works out solutions," said Tian.
Tian also said Pakatan Rakyat took a shadow Cabinet very seriously.
"It is actually a promise to the people. Say for example, if we were to 
make
Tony Pua the 
Finance
minister and Tony wins his seat, then we should honor it because that is what we told the people. Not like now when the BN makes a mockery of the entire system. Have you ever seen in any of their manifesto who would form the team to lead Malaysia if they won? What happens now is BN only chooses after the elections are over and then it's completely up to Umno. There is a huge amount of horse trading involved and in the end the people never get to see their dream team," he said.
While it has not been able to run a proper shadow Cabinet, Pakatan has actually already established a committee of shadow portfolios. At least one lawmaker from each of the three Pakatan parties DAP, PAS and PKR sit in each portfolio.
They track various national issues and developments as well as proposed 
Bills
. For example, when the Defence ministry recently proposed buying six patrol warships for an exorbitant RM6billion, representatives of the Pakatan defense group issued press statements to alert the public of what they perceived to be gross overpricing.
Posted: 22 Feb 2011 08:49 AM PST
The problem with having all these draconian laws that suppress freedom of speech is that those on the mightier side of the political divide have no clue on how to deal with succinct points.
Hence, every other politician and his running dog are getting a shameful trouncing in the hands of John Malott.
I did wonder what Johan Jaafar had done to be indirectly called the
lapdog of UMNO
.
Now I know :-)
Author denies new Mahathir book a PR exercise
Posted: 22 Feb 2011 05:31 AM PST
The author of the latest book on former premier Dr Mahathir Mohamad today insisted that his book is not a public relations exercise as some have suggested. Tom Plate (left), author of 'Doctor M: Operation Malaysia; Conversations with Mahathir Mohamad' defended the book as an attempt to understand Mahathir's psyche rather than to judge his decisions. "This is not a whitewash. Not a public relations exercise," said Plate during the book launch today. "I wrote a book that I wanted to write. It's an appreciation, not a nomination; it's a critical appreciation.

Time:

04:35

More in

News & Politics
Tian Chua: Batu estate workers marginalised
Posted: 22 Feb 2011 12:10 AM PST
PKR Sarawak election readiness
Posted: 21 Feb 2011 11:53 PM PST
PKR says today that it is ready for the impending Sarawak state-wide election ...

Time:

03:01

More in

News & Politics
S'gor demands action on fake state newsletter
Posted: 21 Feb 2011 10:42 PM PST
The Selangor government has urged the police to expedite its probe on a newsletter called Selangor Terkini which published the state coat of arms without approval. Faekah Husin, political secretary to Menteri Besar Khalid Ibrahim, said this is akin to "treason" as the tabloid also displays a photograph of Selangor's Sultan Sharaffudin Idris Shah on the front page.

Time:

04:03

More in

News & Politics
PKR denies intention to drop seven MPs
Posted: 21 Feb 2011 10:38 PM PST
PKR has conceded the existence of an internal audit committee that evaluates problematic election seats and representatives, but has denied recommending dropping seven of its parliamentarians for non-performance. Online news portal Free Malaysia Today (FMT) had yesterday reported that the seven, including party deputy president Azmin Ali, as having been found wanting. www.malaysiakini.com

Time:

02:30

More in

News & Politics
TODAY WE KNOW WHY SENIOR ASSISTANT COMMISSIONER (SAC) II MOHD RODWAN MOHD YUSOF MET MOHD SAIFUL BUKHARI AZLAN IN ROOM 619 OF THE CONCORDE HOTEL IN KUALA LUMPUR
Posted: 22 Feb 2011 07:20 AM PST

Why do we send monkeys to Washington to convince them that we are not monkeys? Come on, the law of the 
jungle
does not work in Washington. Obviously to save the Malaysian reputation after some obvious 
dumb
answers given by Nazri, the sponsor have to turn it into off the record to save face for Malaysia. The other 2 were so scare to face Washingtonians that they hide away from the seminar to let dumb Nazri be the fall guy.
I have said it before and I am saying it again: With this 
sodomy
part II Najib will surely be the last PM of Malaysia from UMNO. The people will be the judge, not some hand-picked corrupted judges answerable only to the BN govt. Nazri being Nazri is a gifted but stupid clown. That's why the other two smart clowns pulled out at the last minute. Enough said!
Why do we send monkeys to Washington to convince them that we are not monkeys? Come on, the law of the jungle does not work in Washington. Obviously to save the Malaysian reputation after some obvious dumb answers given by Nazri, the sponsor have to turn it into off the record to save face for Malaysia. The other 2 were so scare to face Washingtonians that they hide away from the seminar to let dumb Nazri be the fall guy.
Seminar participant and former US envoy to Malaysia John R Malott told Malaysiakini that the seminar was the "strangest" that he had attended in Washington DC.
He said that the prosecution is required by law to give the defence team whatever evidence necessary for the accused to mount a defence but prosecutors are doing the exact opposite.
your honour,
also your honour,
"due to overwhelming public pressure" and 50 Australian MPs, the charges against Anwar for sodomy 2 to be discharged and marked NFA.
No further questions, your honour !!!
Who is Rodwan, other than the fact that he works for the IGP and is known as the police chief's bagman and go-between with the organised crime syndicate that controls all the drugs, prostitution, loan-sharking and gambling rackets?
THE CORRIDORS OF POWER
Raja Petra Kamarudin
At 2.30pm on Wednesday, 25 June 2008, Senior Assistant Commissioner (SAC) II Mohd Rodwan Mohd Yusof met Mohd Saiful Bukhari Azlan in room 619 of the Concorde Hotel in Kuala Lumpur. Prior to this secret meeting, Rodwan and Saiful spoke on the phone at least eight (8) times.Three days later, at 2.00pm on 28 June 2008, Saiful went to see Dr Mohamed Osman Abdul Hamid of the Hospital Pusrawi to 'complain' that he had been sodomised by 'a very important person' and that he wished to lodge a police report. The doctor, however, found no traces or evidence that he had been sodomised and suggested, for purposes of the police report, that Saiful go to a government hospital. 
Who is Rodwan, other than the fact that he works for the IGP and is known as the police chief's bagman and go-between with the organised crime syndicate that controls all the drugs, prostitution, loan-sharking and gambling rackets? Well, read the following archived reports to get a better understanding of this scumbag and slime-ball named Rodwan. Maybe then you can understand why he met Saiful in a hotel room three days before the sodomy allegation against Anwar Ibrahim exploded.
*************************************************
Berita Harian
Rabu, 30 Disember 1998
Seorang pakar forensik Hospital Kuala Lumpur (HKL) memberitahu Mahkamah Tinggi di sini hari ini bahawa contoh darah Datuk Seri Anwar Ibrahim tidak boleh digunakan untuk ujian DNA kerana ia diambil dan disediakan bagi ujian HIV, Hepatitis B dan VD (penyakit kelamin).
Dr Zahari Noor berkata, oleh kerana itu beliau menolak permintaan polis sebanyak dua kali supaya contoh darah itu digunakan untuk ujian DNA. Menurutnya, ketika di Ibu Pejabat Polis Bukit Aman pada 28 September lalu bagi mengambil darah Anwar, beliau ditanya oleh Asisten Mohd Rodwan Mohd Yusof sama ada ujian DNA boleh dilakukan terhadap Anwar. Katanya, beliau menasihatkan polis supaya tidak mengambil darah Anwar untuk ujian DNA kerana Anwar hanya memberi persetujuan supaya darahnya digunakan bagi ujian HIV, Hepatitis B dan VD.
"Pada 15 Oktober lalu, Mohd Rodwan dan SAC I (Senior Asisten Komisioner) Musa Hassan datang ke HKL dan bertanya sama ada mereka boleh mengambil contoh darah Anwar untuk analisis DNA," katanya.
Dr Zahari: Kami memberikan empat sebab kepada polis mengapa ujian DNA tidak boleh dilakukan terhadap darah Anwar:
* contoh itu tidak disediakan untuk analisis DNA,
* ia tidak sesuai untuk ujian DNA,
* pendapat kami ialah keputusan ujian DNA itu tidak boleh dipercayai.
* ia boleh membawa keputusan yang mengelirukan kerana kami menyimpan contoh darah itu di dalam bekas biasa tanpa pengawet atau EDTA.
Katanya, mereka kemudian mencadangkan kepada polis bahawa mereka bersedia pada bila-bila masa untuk mengambil contoh darah Anwar di penjara Sungai Buloh untuk ujian DNA jika tertuduh membenarkannya.
************************************************
"In 1998-1999 trials, Anwar experienced the phenomenon of fabrication of DNA evidence. We had SAC Rodwan illegally removing DNA samples from forensic custody. In cross-examination of the prosecution's witnesses it was exposed that DNA taken from blood samples was planted on the infamous mattress," said Sivarasa.
"When confronted with this fact the prosecution amended its charge and persuaded the judge, Augustine Paul, to expunge the entire DNA evidence from the record, preventing Anwar's lawyers from responding."
*************************************************
Police have never dilly-dallied in investigating the alleged sodomy against Datuk Seri Anwar Ibrahim since the case was reported to police on June 28, said Deputy Inspector-General of Police Tan Sri Ismail Omar. He said the police, instead, had been relentlessly seeking relevant and the latest information, besides giving the case priority, as it was a high-profile case.
"We want to solve this case as soon as possible. The investigating officer is constantly looking for new leads. We are doing our best and we need the cooperation of all quarters concerned," he told Bernama when contacted here Tuesday.
Ismail was asked to comment on Home Minister Datuk Seri Syed Hamid Albar's statement on Monday, asking for police to speed up the investigations into the sodomy allegation against the Parti Keadilan Rakyat advisor.
He said since the police investigations began, some quarters had been making speculations and statements that could interfere with the investigations.
"I wish to warn everyone, including bloggers, not to disturb police investigations by disseminating material or information that is inaccurate or false.
"Action will be taken against those who deliberately try to interfere with the investigations. Let the police do a meticulous job," he added.
*************************************************
Sources told The Malaysian Insider that investigators are "crossing the t's and dotting the i's" and will be relying on Anwar's DNA (deoxyribonucleic acid) samples from 1998 when he faced similar charges which cost him the chance to be prime minister.
"Nobody wants a repeat of 1998 when the prosecution had to amend the charges. Anwar has alleged that he had an alibi for the 24 hours on the day the offence took place. So the authorities have to check everything out," said an official who is familiar with the investigations.
"We understand that there is an attempt to quash credibility of the case even before the matter goes to court. The police cannot say too much because then they will be accused of trial by media and ministers cannot say much because they will be accused to interference.
"This case is built on strong scientific evidence," the official added.
*************************************************
This was posted on Susan Loone's blog:
Susan, 
I would like to write the following statement in the name of GOD whom I believe.
I am a government doctor in the rank of consultant working in Hospital Kuala Lumpur (HKL). I know personally the doctors who examined Saiful on that day – 28 June 2008.
The so-called medical report mentioned in the NST is a fabrication or imagination by the UMNO paper. There is no such medical report submitted to the polis yet.
When examining Saiful, the specialist could not find any signs of Saiful being sodomised. Saiful was very cheerful, unlike real sodomised patients who will usually be very sad and disturbed.
Saiful was subsequently admitted to the ward and observed for a day. He was completely well in the ward and not emotionally disturbed.readmore
ENEMIES OF TRUTH AND JUSTICE! THE MONSTERS ARE DUE ON JUSTICE STREET PUTRA JAYA
Posted: 22 Feb 2011 07:18 AM PST
WATCH:

The power has gone out in a typical American town. Wait — it's not just the electricity. The phones don't work, either. Portable radios are dead. Cars won't start.
But then lawn mowers and cars and lights inexplicably start and stop on their own. What's going on? A meteor? Sunspots? Or are there, as Tommy's comic book suggests, aliens among us, preparing for a takeover? Suspicion poisons the air. Neighbor turns on neighbor. A scapegoat is blamed. A shot is fired. Panic, madness, riot.
And while the humans behave monstrously, the real monsters watch from a nearby hilltop, working a little gizmo that messes with the power on Maple Street, and marveling how easy it is to manipulate these earthlings into destroying themselves.
In what is arguably the best 
Twilight Zone
episode ever, "
The Monsters Are Due on Maple Street
," Rod Serling wrote a suburban 
Lord of the Flies
, a parable about the fragility of civilization, paranoia and the susceptibility of nice folks to manipulation.
Watching it when it first aired, in the depths of the nuclear arms race, people thought it was meant to ward off a witch-hunt for Reds under the bed. Today, watching what's been going on in Madison, Wisconsin, as well as in Washington, D.C., I can't help thinking that the real monsters are chortling at their success in pitting neighbor against neighbor, and I can't help marveling at their genius for distraction and unaccountability.
The monsters aren't Wisconsin's public employees whose right to collective bargaining has helped their families lead middle-class lives, and who have repeatedly 
declared
their willingness to return to the table and negotiate a shared sacrifice. The monsters are on Wall Street, where state pension funds were sunk into toxic sub-prime mortgage-backed securities. The monsters are on K Street, where lobbyists are fighting financial industry oversight. The monsters are the politicians who are using Wisconsin's deficit as a pretext to 
demonize
public employees and bust their unions.
If you look at the budget that House Republicans just passed, if you listen to the "
so be it
" language of their leadership, you'd think that the federal deficit is caused by the very people who who've been suffering the most in this recession.
But the monsters aren't low-income 
pregnant women and mothers
who can't afford adequate nutrition for their families; or sick Americans who can't find 
health
insurance to cover them; or 
blue-collar
workers who want to retire at an age when there's still some life left in their bodies; or students who can't afford college without 
Pell Grants
; or people who think their government's job includes preventing their air and water from 
poisoning
them.
Sitting on the hilltop, watching Americans turn one another into bogeymen, evading scrutiny and responsibility, are the real sources of our distress.
They're the bankers who've extorted trillions of public treasure, blowing up the deficit while awarding themselves inconceivably fat bonuses.
They're the 
billionaires
who've benefited from a massive transfer of wealth from the middle to the top, and whose political puppets protect them from paying their fair share of taxes.
They're the corporations whose cash has convinced Congress to deregulate industry after industry, despite all evidence that it is the enforcement of rules — not the magic of the marketplace — that protects the public's rights.
They're the defense contractors and pork appropriators who've used the cover of "national security" to shield the Pentagon's budget and its procurement process from the cuts and reforms that even Republicans like the Secretary of Defense are advocating.
They're the front groups and propagandists, like FreedomWorks and Fox, who use class warfare and culture wars in order to turn Americans against their own economic interests.
They're the Supreme Court justices whose 
Citizens United
decision, overthrowing a century of settled law, has made our campaign finance system an open sewer, and whose indifference to 
conflicts of interest
in a 
coming case
promises to throw sick people back onto the tender mercies of insurers and to destroy our best hope to curb Medicare costs – further ballooning the deficit and providing cover for even more draconian cuts.
The game in Washington is to use the deficit as camouflage for destroying government's capacity to promote the general welfare. The game in Wisconsin and other states whose new Republican governors and legislative majorities are feeling their oats is to shelter the income of the wealthiest, and to balance the budget on the backs of the middle class.
At the end of the episode, Rod Serling says this: "The tools of conquest do not necessarily come with bombs and explosions and fallout. There are weapons that are simply thoughts, attitudes, prejudices to be found only in the minds of men. For the record: Prejudices can kill, and suspicion can destroy, and a thoughtless frightened search for a scapegoat has a fallout all of its own — for the children, and the children yet unborn. And the pity of it is that these things cannot be confined to the twilight zone."
Sometimes it's hard to watch the news and not think that things are surreal. The other day, when what's been happening in Madison reminded me of what happened on "Maple Street," I suddenly realized the theme music that goes with it.
Abdul Gani Patail, the slimiest Attorney-General Malaysia has had to endure.
Look at these faces closely, folks. Some you already know, only too well – like the infamous asshole pictured right, pretending piety while lying and oozing semen through every orifice…
A few you wouldn't recognize even if they were sitting next to you on the train. If investigating officer DSP Jude Blacious Pereira (below, left) wasn't in uniform, would you recognize him on the street?
They all have one thing in common: their involvement in the obscene plot to put Anwar Ibrahim back behind bars over a nonsensical charge of sodomy – in the hope that with Anwar locked away, the opposition coalition called Pakatan Rakyat will lose its impetus to replace Barisan Najis as the government of the day in Malaysia.
The statutes against anal and oral sex are a relic of Victorian era colonial rule. Whereas in Britain these statutes have long fallen into disuse and died a natural death, in Malaysia they have been dusted off and abused, twice, to persecute one particular individual – a charismatic political figure named Anwar Ibrahim, whose greatest crime was to challenge the extended dictatorial reign of Mahathir Mohamad, who became prime minister in 1981 and only stepped down on 31 October 2003 under pressure from his political party, Umno.
Anwar Ibrahim has the dubious distinction of being the only Malaysian to be publicly humiliated by accusations of pederasty, and forced to endure tortuous and twisted mock trials presided over by kangaroo judges – like the late unlamented Augustine Paul and the gormless Zabidin Mohd Diah (pictured left).
Anwar was also imprisoned for 6 years and an insidious attempt made on his life while serving out his sentence through gradual arsenic poisoning. All this occurred under Mahathir Mohamad's watch – and the same old shit is happening again to Anwar Ibrahim under Najib Razak's insufferable crime ministership.
Dr Seah Lay Hong, government forensic chemist, seems less concerned with the truth than keeping her job…
And we the public seem capable of only watching this perverse abuse of the law and shaking our heads in utter disbelief.
We owe it to ourselves – and our own posterity – to stop this gross mockery of rule of law and massive insult to our intelligence. In approximately one month, the mock trial of Anwar Ibrahim (Phase Two) will grind to an inevitable conclusion. Solicitor-General II Yusof Zainal Abidin (above, right), leads the prosecution with an inquisitorial fervor totally inappropriate to the frivolity of the alleged offence, and the grotesquely shady circumstances surrounding it.
After all, Saiful the Accuser stated in open court that he visited the then deputy prime minister, Najib Razak, and his power-hungry wife Rosmah Mansor, at their private residence a couple of days before lodging a police report against Anwar. Najib himself was forced to admit as much during a press conference on 3 July 2008. This fact alone is enough to cast an opague shadow of serious doubt over the entire political charade.
If we allow this great son of Malaysia, Anwar Ibrahim, to be imprisoned again for a completely anachronistic "crime" – and it's absolutely irrelevant whether or not the accusation leveled against him has any basis whatsoever – then we as citizens of this nation fully deserve to be mentally shackled, morally deformed, and condemned to neverending BN misrule unto forever.
The Role and Contribution of Islam ???
Posted: 22 Feb 2011 03:02 AM PST
Contributed by

Anak Mami



The worst thing in relation to this point is the disgraceful Muslim
failure to respond effectively to this strategy. In the process of
hegemonic globalization of the Western culture, Muslims have become so
intellectually impoverished that they can no longer question the
premises of the global intellectual argument. We either lack the
knowledge or the courage to respond to such manipulative interpretation
maybe for fear of being stereotyped as, for example, intellectual
terrorists.

Third, the dilemma of an /Ummah/ living in a global village tightly
framed in confused, uncertain and paranoid postmodern epistemology and
interacting as a mere object with a might that is often militant and
aggressive but worse still a might that enjoys eloquence abilities that
always turn the victim to look like the criminal and the criminal to
look like the victim

Fourth, and the worst factor that makes the theme difficult is the state
of Muslim *internal* crisis of the loss of /adab /(discipline) amongst
themselves a situation that has already produced a chronic state of
psychological emotionalism, intellectual literalism and social over
reactionism generated through ages of injustices inflicted upon the
Muslim populace both externally and internally mostly by the Muslim
governments themselves.

In our crises, the blame should be first laid on the Muslims themselves.
There has always been a form of Islamic Machiavellian politics led by
Muslim totalitarian governments who to rest in power would create tribal
and religious tensions and indoctrinate their peoples into a high degree
of emotionalism.
Islam broke world records of genocide, slavery, religiously sanctioned
rape, abuse of human rights, and prohibition of scientific inquiry. It
forbids Muslim emigration to the lands of the infidels because a
Muslim minority cannot enslave the infidel majority. Despite this
prohibition Muslims emigrate to the West, not as migrants, but as
conquerors. They live in sharia mini-states and expand these mini-
states by terrorizing infidel neighbors and driving them out.

We will never surrender to Islam. We will fight on the beaches, we
will fight on the landing grounds, we will fight in the fields and in
the streets, we will fight in the hills; we will never surrender.

"I have been made victorious with terror." - Muhammad (according to
Sahih Bukhari)

"Islam is not the religion, it's the Ideology, and this ideology has
our destruction as its main goal... Let's face the truth: we hide the
head in the sand and tell each other the stories about how "moderate"
the majority of Muslims is because we shiver at the idea of having to
physically annihilate tens of thousands of people." - "Cherson"
Feedjit Live Blog Stats
Interlok: Chock Full of Insults Against Chinese Too
Posted: 22 Feb 2011 02:56 AM PST
Okay at first I was of the opinion that both sides of the Interlok debate were being stubborn.
On one side, just strike out the word pariah and use one of many synonyms instead of arguing how vital it is to use that exact word. Or use another book – there are plenty other local offerings.
On the other side, the p-word isn't being used specifically in reference to social castes. Just accept that it's a common usage word in today's world.
Now my opinion has been totally changed.
Spotted at Malaysia Today, from Hartal MSM's coverage of the book, here's some excerpts of what you find in Interlok's unabridged version:
If you thought 'pariah' was the worst insult there is in the novel 'Interlok', you're mistaken.

It is filled with every conceivable racial stereotype of Indians and Chinese that you can think of, applied hodge-podge but in over-abundance to the main characters.

Page 151: Kim Lock is tempted by the bad guy Paman Kok Leng to sell Cing Huat. Because Cing Huat is a boy, the father has qualms. However, he would consider the proposition if the child was a girl.

Cing Huat, now a father himself, is portrayed by Abdullah as someone who is in turn prepared to trade his daughters (for boys) without second thought.

'Interlok' is filled with the same characterizations of Chinese — prostitutes, womanisers, gamblers, cheats, scumbags, opium addicts, and more.

Page 119: Kita minta sedekah. Kita curi. Kita tak punya anak perempuan. Kalau ada anak perempuan kita boleh jual."

Page 177: Dia hanya fikirkan bagaimana dia dapat mencari wang dan menjadi kaya lekas.

Kim Lock's mistress Mei Hua has been selling her body since young. – the Chinese characters are indeed portrayed in the most unedifying terms by Abdullah Hussain.
Ah, but not all of it is negative portrayal of Chinese. To be fair, see what negative Interlok has to say about Malays:
Huan na (Malays). Malas, tak tahu cari duit. Gua tak mau lu jadi macam mereka
Oops, actually that's another jab at the Chinese who are so bigoted that they stereotype Malays as lazy. Darn those uppity Chinese! Darn them I say! With hardcore racist like these Chinks infesting the nation, how can UMNO bring about 1 Malaysia harmony? /sarc
Scanned pages at Hartal MSM, which promises more revelations to come.
Okay, so it's a fictional story reflecting past times that's trying to be gritty and realistic, sure. But as per my usual methodology of "Why don't you try it the other way around and see if you still find it so acceptable", what if school students were to read a storybook where the majority of Malay characters were portrayed as lazy, stupid, violent and incestuous? Think Ridhuan Tee would be defending the book then?
Innocent young students not yet acquainted with the racism being spewed everyday by certain parties would read Interlok, and come away with the ingrained perception that Chinese are generally greedy, sexist, ethicless and (hypocritically coming from this book!) prejudiced to boot.
In other words, they'll be filled with all the worst stereotypes of Chinese people.
Heck, impressionable Chinese kids might start to think of their race and culture that way too! All the better for the stealth-protelyzing in schools to make them into a new generation of Ridhuan Tees, yes?
Or as Hartal MSM puts it:
The BTN subtext to indoctrinate

What are the impressions to be drawn from Abdullah's storytelling above?

That the Chinese are a nasty, cheating race whom anyone decent would shudder to have as his neighbour.

The Chinese characters are most unsympathetic and scarcely have any redeeming graces. They have no loyalty to the country (we'll cover the 'unpatriotic' aspect another time).

This book is a less-than-subtle vehicle to knock into the heads of young students (who have to study this novel for their exam) that the Chinese pendatang — referred to repeatedly in the book as "bangsa asing" — must be grateful for the opportunities given by Malaya. It parallels the 'pariah' theme with regard to the Indian characters.
What if they remove all the objectionable material? But then again, why even pick such an unsuitable book in the first place when there are so many other candidates? It's akin to choosing 28 Days Later and editing out the scary, gory and mature themed parts so that it becomes suitable for kindergarten cartoon time – wouldn't picking The Care Bears Movie have been more sensible?
And remember, they wouldn't even deem to change the word pariah:
Federation of National Writers Association (Gapena) executive secretary Abdul Aziz Mohd Ali said the body supported the ministry's decision to use Interlok as a textbook.

He said the only acceptable change that could be made to the novel was to add a glossary for the word "pariah" to better explain it.
So good luck changing anything that would affect the story about disgusting, reprehensible Chinamen:
"I believe we have enough time to make the detailed amendments so that there will not be any more disputes over the novel." Muhyiddin said the decision was made after taking into account the views of various parties that Interlok was a good novel to nurture and strengthen unity among the multireligious and multicultural population in Malaysia.

"As such, the decision to retain the novel with amendments is the best solution. We will ensure that any amendments made will not affect the storyline of the novel and the noble message that the author wants to convey."
Either the people in charge of choosing suitable books did a lousy job of vetting, or (IMHO much more likely) they intentionally chose this piece of garbage that fits their own bigoted, narrow-minded, condescending views and were likely giggling to themselves over their insidious/seditious prank on Malaysian students.
Posted: 22 Feb 2011 02:58 AM PST
Oleh

Anak Mami



Di Malaysia terdapat ramai perjuang Islam. Mereka mengagung agungkan Perjuang Islam Antarabangsa yang mulia ini akan menjatuhkan Isreal, mereka berharap Negara Islam akan kukuh dan menghukum kafir laknat Yahudi, sehingga peta Isreal hilang di bumi ini.

Perjuang Islam Moammar Gadhafi memang mempunyai hubungan rapat dengan Al Qeada, Kupulan pengganas Islam ini lah pernah jadi baruah dan pernaung Libya untuk menhasut negara negara barat. Selepas Moammar Gadhafi dapat huungan diploamatic dengan negara barat , puak pengganas Al Qeada diabaikan sebegini sahaja, tetapi kini ini Moammar Gadhafi benar benar menghadapi kencaman dan tendangan dari kaum Muslim sendiri. Khasnya rakyat negara Libya yang ingin meruntuhkan diktaktor Islam ini。

Bagi sebuah negara Islam sosialist, Islam digunakan sebagai senjata untuk membodohkan rakyatnya, tidak kurang Islam digunakan sebagai senjata untk menakut nakutkan rakyatnya supaya takut pada pemerintah, Secara kebutaan rakyat selama 41 tahun, kini rakyat mula bangkit dan lawan pihak pemerintah.

Ini lah pemerintah Islam dan corak pemerintahannya tidak berlainan, selagi rakyat takut , selagi rakyat getar selagi rakyat tunduk , maka segala gala undang undang akan diperkenakan untuk menyekat kebebasan rakyat. ini lah corak pemerintahan negara Islam. Bila rakyat menolak dan tidak berpuashati keatas kerajaan, turun ke jalan raya untuk berdemostrasi maka perluru getah, water canon polis lah mula berkuasa meyeksa rakyat. dianggarkan 200 rakyat telah di masukkan kedalam hospital untuk dapatkan rawatan akibat serangan polis.

menurut sumber dari Libya , menyatakan


I can't believe what's happening in Libya. Gaddafi is a mass murderer out right. He has to be tried at the Hague very very soon. Reports are saying death toll could have reached 500. Hospitals are uncapable of handling the injuries especially in Beighazi & Musrata. Gaddafi is committing a genocide of his OWN people.
"I am your brother from Libya. I live in the US. I've been calling my family. They said there's a massacre, in Benghazi there's a massacre, a massacre, worse than Sabra and Shatila. Gaddafi the dog is killing the Libyan people. He's using missiles to kill citizens. He's using anti-aircraft missiles to kill citizens. Gaddafi is massacring Benghazi."
Libyan security forces killed at least 15 mourners and injured dozens of others at a Saturday funeral, according to hospital officials. New York-based Human Rights Watch previously reported that Libyan security forces killed 84 people in a harsh crackdown on three days of protests.
More Foreign mercenaries have just landed in Benina airport in Libya. I am sorry but I have to say this: If this genocide & massacre was happening in a country that is an "enemy" to the world leaders, how would their response have been?

Tanya lah diri sendiri, sejauhmanakah anda boleh percaya Islam tidak menindas Islam Pada hal corak pemerintahan Islam lah amat gagal dan tidak perikemanusiaan sekali, Bila kaum Islam mendapat kuasa apa pun disingkirkan , tapi bila cakap hal tentang Islam, memangramai perjuang Islam menghafal quran ayat ayat suci hingga mulut berbuih buih. sebaliknya rahsuah , penindasan, diskriminasi keatas kaum minority ,perkauman ...... hingga bangkitkan islampobia menyebar seluruh dunia, Ini pun negara negara Arab yang menaku nakutkan dunia tentang kezaliman Islam, Apatah lagi kalau di Malaysia tiada siapa berani jamin kalau UMNO hilang kuasa dalam pilihan raya, Khasnya Melayu Islam yang gila kuasa bila menghadapi kencaman rakyat, entah berapa orang manusia akan mati ditembak dijalanraya.
Feedjit Live Blog Stats
The Sin Theory of Evolution – Reconciling Evolution, Creationism and Intelligent Design
Posted: 22 Feb 2011 01:35 AM PST
"I cannot persuade myself that a beneficent and omnipotent God would have designedly created the Ichneumonidae with the express intention of their feeding within the living bodies of Caterpillars, or that a cat should play with mice." - Charles Darwin
The above quote from the hero of evolutionists himself points out one conundrum faced by creationists and Intelligent Design proponents alike: If the multitudes of life forms on this Earth are created or designed by a just and loving God, then how could He create creatures with such cruel features as parasite-depositing stings, or razor claws coupled to a (let's face it, fellow cat lovers) horrifically sadistic mind?
I believe I may have a suitable answer.
Here's an interesting theory fleshed out by myself, one that reconciles Evolution, Creationism and Intelligent Design. Impossible? Believe it or not, I think it makes sense.
(If you're lazy to read, summary of my theory at bottom of this post.)
This post first assumes the following:
1) God as portrayed in the Bible is real.
2) God created all life on Earth as Creationism holds.
3) Evolution is an existing process that affects the descent of life as the theory of evolution holds.
4) Life is too complex to be formed by purely random chance, especially complex organs such as the eye or the stinger, as Intelligent Design holds.
Now watch as I reconcile these disparate assumptions, beginnign with some basic introduction to those topics
————————
THE THEORY OF EVOLUTION
The theory of Evolution holds that life was first formed from inorganic matter. This simple life then gradually, randomly changed as it multiplied and spread. The better changes resulted in the organism surviving better, thus being able to have more offspring which in turn survived and multiplied.
Over millions of years, these bit-by-bit adaptations have resulted in the varied forms of life we see today. From bacteria to apple trees to ants to whales and humans, all are descended from the same ancestor, with the poorer features weeded out by death – a process called natural selection.
And throughout this gradual evolution, there was no guiding force behind it all – only random chance and natural forces of selection.
Pro-evolution scientists and supporters claim that there is ample evidence that supports the theory of evolution, such as how some fossils seem to show halfway-formed appendages and how life forms seem to share common links.
More confrontational supporters also like to taunt Christians by pointing out creatures like sharks and parasitic wasps, asking: "How can a loving God create such vicious and horrible creatures?"
————————
THE BIBLICAL ACOUNT OF CREATION
According to the Bible, God created all life on this Earth, wilfully and intelligently. His ultimate creation was man. God made everything perfect, but man sinned and spoiled this perfect creation.
But because of the corrupting influence of sin, death entered into the world. Man and animal turned violent, with the first recorded murder being perpetrated by Cain against Abel. Creation had been tainted and spoiled, twisted into a nightmarish parody of Eden.
In the Bible (namely, Genesis 1 and Genesis 2) it is made clear that God was directly responsible for all life on Earth. In fact, He was responsible for all creation. But how exactly he made life appear (Creation: How?), and how long he took (literally 6 days, or is that just a figurative description?) are not stated.
Pro-creation supporters claim that there is no solid evidence of evolution, such as fossils that clearly show the small steps between forms of life that evolution requires.
On the contrary, they cite many shortcomings of the theory, such as how there seems to be no possible method by which complex organs could have evolved gradually, when even the tiniest missing part would render ther whole organ completely useless. (X-Men: An Example of Intelligent Design)
Which is the basis of Intelligent Design theory.
————————
INTELLIGENT DESIGN THEORY
The theory can be explained like this: If you came across an extremely complex design feature, one with hundreds of interlinked parts, would you immediately think it was randomly formed… Or intentionally and carefully designed?
Let's say 10,000 years in the future, an alien explorer discovers the ruins of post-apocalyptic Earth. The first thing they notice is all the 'four-appendaged fossils' of the 'predominant life form' in the ruined cities – cars.
They begin studying the cars, and notice that they have similar traits but with significant variation. Some as smaller, some are bigger. Some are two-doored, others have retractable roofs. They also notice that the cars seem closely related to trucks, vans and the two-wheeled motorcycles.
Then one of them discoveres a three-wheeler, a vehicle with three wheels (Benz Patent Motorwagen). This is hailed as an amazing discovery, proof that four-wheeled life forms were descended from two-wheeled life forms – with the three-wheeled life forms as an intermediate species!
The alien scientists soon build an entire tree of evolution, showing how trucks diverged early from the car line to evolve different engines. Unusual vehicles like tanks are touted as proof of specialization, a modification to deal with the attacks of predatory vehicles – perhaps those large ones with massive jaws that we call bulldozers.
Sounds like a strange and improbable scenario? That's what seems to be happening with the theory of evolution today, says supporters of Intelligent Design.
Look at a car, see how well designed it is – every part working together with some other part, to result in a fully functional whole vehicle. What are the chances that such a complex machine could have been put together by completely random forces – such as a hurricane passing through a junkyard?
Or does the intricate design of the car logically point to a designer who is highly intelligent – in this case, human engineers?
Now look at biological life – at the eye, at the neuron, at the bombardier beetle's explosive chemical blast that repels atatckers yet doesn't kill itself. What are the chances that all this DNA and proteins and organic matter formed from random forces – such as lightning striking toxic organic elements such as cyanide?
Or does the incredible complexity of biological life, far more advanced than what humans can design (like the echolocation of bats that trumps our best sonar), point to a designer who is supremely intelligent?
And that's Intelligent Design briefly explained.
————————
THE SIN THEORY OF EVOLUTION
Now here is what I've thought up. In the Bible, it is written that before the introduction of sin to mar God's perfect creation, there was no death or killing. Animals ate grass and lived peacefully with one another.
Then God said, "I give you every seed-bearing plant on the face of the whole earth and every tree that has fruit with seed in it. They will be yours for food. And to all the beasts of the earth and all the birds of the air and all the creatures that move on the ground—everything that has the breath of life in it—I give every green plant for food." And it was so. – Genesis 1 : 29-30
Now if creation was already perfect, then of course there would be no need for evolution. There was no danger or competition to adapt to. There was no death to escape. Everything was going along swimmingly.
According to the theory of evolution, why did lions evolve huge fangs? So that they could more effectively hunt and kill their meaty prey to eat. Why did gazelles evolve fast sprinting? To better escape hungry lions.
But if the lion and the gazelle were originally able to live in peace with each other, they would never have to evolve to survive. There was no death to avoid, and therefore no natural selection to weed out 'unfit' genes. In fact, if creation was perfect, then there wasn't such a thing as less-than-perfect genes either!
Evolution happens due to natural selection, the fittest surviving. Before sin and death came, there WAS NO natural selection – every animal survived. There is simply no need for evolution when life is already forever unchanging at its pinnacle.
Therefore, in a perfect and sinless creation, evolution has no place at all. Who would need to mess with God's perfect handiwork, after all?
(See also the 'animals living in peace' promise of Isaiah 11:6-9, which I go into towards the end of this post.)
————————
SIN IS THE MOST POWERFUL MUTAGEN
Now picture the entry of sin into the world, with a single act of arrogant disobedience by Adam and Eve.
Let me first say that sin is the most powerful mutation-causing agent in existence. It singlehandedly caused humans who were supposed to live forever to age and die. It corrupted our minds and hearts to turn to society-destroying evil. And after it accomplished that, it went on to shorten the days of man from centuries to mere decades.
And the LORD God commanded the man, "You are free to eat from any tree in the garden; but you must not eat from the tree of the knowledge of good and evil, for when you eat of it you will surely die."  - Genesis 2 :16-17
…Sin entered the world through one man, and death through sin, and in this way death came to all men, because all sinned… - Romans 5:12
So imagine as sin spreads its corrupting influence… All of a sudden, the grass-eating lions start to crave for meals of flesh and blood. The lions turn on the lambs (and gazelles), ripping them to shreds for their warm, bloody chops.
As time passes, sin mutates the predators to become completely dependant on meat for food. In order to catch this meat, the lions evolve/mutate to be even more fatally endowed, with throat-ripping fangs and razor-sharp claws.
And those that do not have such weapons? They soon die from starvation and competition, removing their un-modified genes from the next generation's pool. There's your natural selection for you.
Meanwhile, in order to survive in this new and brutal world, the other creatures must adapt. Those that are weaker are hunted down and eaten, leaving only the fittest to pass down their genes. They even have to adapt and compete among themselves as food grows scarce.
Further evidence of the deterioration of creation can be seen in this:
To the woman he said,
"I will greatly increase your pains in childbearing;
with pain you will give birth to children.
Your desire will be for your husband,
and he will rule over you."
To Adam he said, "Because you listened to your wife and ate from the tree about which I commanded you, 'You must not eat of it,'
"Cursed is the ground because of you;
through painful toil you will eat of it
all the days of your life.
It will produce thorns and thistles for you,
and you will eat the plants of the field. - Genesis 3:16-18
From almost painless childbirth, something changed (i.e. mutated) so that childbearing became much more painful.
From being defenceless, plants began producing physical defences to protect themselves from being eaten (whereas God originally willed them to be eaten by all animals).
So again, the Bible records how sin acted as a mtuagen, a catalyst to spur the evolution of life forms so that they could fight to live in a hostile, cruel fallen world.
And that is the Sin Theory of Evolution in a  nutshell. It is the horrible effects of sin that turns a perfect and peaceful life form into a vicious killer, or a frightened prey animal.
Evolution is not life getting better and better… It is merely life trying not to die as the entire of creation deteriorates!
Evolution away from God's original and perfect design, quite frankly, looks totally evil!
If this is true, then any intelligence behind evolution must be the Devil himself!
————————
EVOLUTION IS THE DEVIL!
Heh, I can just imagine Adam sandler's Mama Boucher in The Waterboy saying that! Anyway…
Remember how I said that confrontational evolution supporters like to taunt Christians with examples of mean, spiteful and wicked-seeming life forms? Such as horrible parasitic worms that burrow out of your legs (Dracunculiasis). Freaks me out, totally!
Now, the evolutionists will spit in your face and claim that a loving Creator could never design such horrible creatures. See that quote by Darwin at the top of this post again.
So as the atheist-evolutionist argument goes, either God is not loving to design such monsters, or He is not perfect or all-powerful since He couldn't stop such monsters from arising, or there is simply no Creator God at all!
This is not a problem for non-theistic Intelligent Design proponents, as all that they require is an Intelligence to design life… It does not necessarily have to be a moral and kind Intelligence.
But it does pose a problem for Intelligent Design proponents who are also Christians. Because if they use an example of some extremely complex, not likely to be randomly evolved biological feature – such as the famous bombardier beetle's hydrogen peroxide explosive reaction – the atheist can counter that these designs are inherently violent (explosive death) and often obscenely cruel (corrosive chemicals), which are contrary to the idea of a just and caring Christian God.
Now according to the Sin Theory of Evolution, the correct responce would be: God did NOT directly create such frightening creatures. His original creation was perfect and peaceful, and very agreeable indeed.
What happened is that sin caused horrible mutations to appear, mutations that simultaneously aided in the survival of a species… But at the cost of other life forms.
And just as humans are subceptible to the whispered temptations of the Deceiver, so too I believe, the Devil has a certain amount of influence on the path of evolution.
I mean, think about it: A tiny worm that invades your brain (Trichinosis), heart (Heartworm) or lungs (Ascariasis) and multiplies until you die in writhing, helpless, despairing agony.
Is this more fittingly found in Heaven, or in Hell? (Where 'the worm does not die'; but see my exegesis of the doctrine of hell.)
More like the work of a loving God who gave His own Son for our sins, or a jealous and rebellious corruptor who enjoys twisting all that is good to become evil?
So let me say it out straight: In the Sin Theory of Evolution, Satan is the Intelligent but Malevolent Designer behind all complex evolution that leads to destructive biological features!
He has been toying with God's perfect work, trying to make it 'better' (i.e. more vicious and destructive) according to his own corrupted ideals.
God made a flying insect with a long ovipositor to lay eggs deep in the ground where it's moist and cool? Corrupt it with sin, evolve it over generations to have a sharp stinger to lay eggs inside caterpillars! There's your unbenevolent Ichneumon wasp, Darwin. NOT God's fault.
So it is with all other nonbenevolent, too complex to randomly evolve biological adaptations… All (or most) of them are examples of Satan taking God's original design template, and messing with it to produce horrible and twisted versions. It's like an ill-behaved child trying to 'fix' a clock by removing all the gears, then sticking them back in however he feels fit.
Evolution, if it exists, is merely the tool or the result of his dastardly meddling in and muddying of the gene pool. And if he can make the necessary changes within a few generations, then that explains the lack of 'transitional' fossils as well.
————————
SO HAS GOD LEFT US TO ROT IN OUR DETRIMENTAL SIN MUTATIONS?
No way! For God is faithful, just and true… A God of love and mercy!
God in His wisdom and love provides a way out. Through faith in Jesus' redeeming sacrifice on the cross, sin will be erased and creation made perfect once more:
The wolf will live with the lamb,
the leopard will lie down with the goat,
the calf and the lion and the yearling together;
and a little child will lead them.
The cow will feed with the bear,
their young will lie down together,
and the lion will eat straw like the ox.
The infant will play near the hole of the cobra,
and the young child put his hand into the viper's nest.
They will neither harm nor destroy
on all my holy mountain,
for the earth will be full of the knowledge of the LORD
as the waters cover the sea. – Isaiah 11:6-9
Not only so, but we ourselves, who have the firstfruits of the Spirit, groan inwardly as we wait eagerly for our adoption as sons, the redemption of our bodies. – Romans 8:23
Dear friends, now we are children of God, and what we will be has not yet been made known. But we know that when He (Jesus) appears, we shall be like Him (i.e. perfect), for we shall see Him as He is. – 1 John 3:2
————————
SUMMARY OF THE SIN THEORY OF EVOLUTION
So here is a summary of what I have conjectured in the Sin Theory of Evolution.
God created all life perfect. How He did it exactly is not ascertained – it could be by instantaneous creation or gradual evolution.
Inherent within life were intelligently designed features, such as the very mitochondria providing energy to our cells.
Then the fall of man introduced sin as a corrupting agent, a mutagen if you will. Not in any way a good thing.
Some life forms turned carnivorous, and over time those better suited to killing prey had more offspring – the process of natural selection.
The prey which were better suited to survival too had more offspring, continuing the genetic arms race.
Simultaneously, sin gave the Devil power over Earth and all its life. The Devil started using his own (evil) intelligence modifying life's designs into destructive features, in order to elevate himself and to spite God – accelerating the genetic arms race.
Over time, and with more and more natural selection and Devilish meddling, the basic peaceful forms of life 'evolved' into today's myriad species with their fangs, claws, poisons and parasitism.
Therefore,  sin = cause of evolution.
And also,  cruel Intelligently Designed biological features = caused by the Devil.
But of course, I have no hard physical evidence to support this theory… It is merely logical and theological conjecture.
And there you have it: The Sin Theory of Evolution, that reconciles Evolution, Creationism and Intelligent Design. By Scott Thong.
Hope you've enjoyed the little science and theology session.
PS. See also this blog post on how bacteria 'evolve' resistance to antibiotics. No new genetic information is ever 'randomly created'. Everything that is needed is already coded in there (including in the 'junk' DNA). This fits my Sin Theory of Evolution well.
Ultimate Quicksilver & Scarlet Witch: Incest is The Next Liberal Sexual Revolution
Posted: 22 Feb 2011 01:07 AM PST
From the pages of The Ultimates, the Sex, Lies, & DVD story arc:
Well, why not?
After all, traditional (i.e. Judeo-Christian) norms of sexuality are being rapidly eroded… From sex outside marriage, to free sex, to group sex, to homosexuality.
So why not incest?
After all, as I have pointed out before, there is no basis for genetic or health objections to incest.
So why is it still considered wrong or yucky? Especially by atheists and humanists. At least the religious kooks can say that their Ancient Book 'o' Rules doesn't permit it, what excuse do you guys have? Some sort of twisting of your anything-goes relative morality?
So it looks like there's no stopping the soon-to-come multiculturally tolerant acceptance of hot brother-sister incest action!
And once that unjustified taboo is out of the way, I guess only interspecies sex (read: zoophilia and bestiality) is left on the list of sexual rights facing prejudice and bias.
In fact, methinks America is waaaaay behind in the liberal sexual preferences equality movement. Europe has already taken the lead in this.
Go Democrat Party! Go Liberals! Legalize incest, bestiality and sex with cyborg alien children!
PS. Once again, the liberal forums are luvin my post!
UPDATE: Switzerland debates legalizing incest! So why are US liberals being such anti-love bigots when it comes to private decisions between two consenting adults behind closed doors?
CAN OUR BILLIONAIRES SPARE A THOUGHT FOR OUR NEGLECTED ELDERLY?
Posted: 21 Feb 2011 11:41 PM PST
Malaysia's superrich. Source: NST
There were few surprises in the recently-released list of
Malaysia's top 20 billionaires
. The same faces are there in the annual list. It used to be millionaires topping the list. Obviously these former millionaires have raised not only their net worth, but a few have also made the leap to
Forbes' Top 100 billionaires list.
They are Robert Kuok, 86, ranked 33 with a personal fortune of USD14.5 and Ananda Krishnan, 71, ranked 89 with a net worth of USD7.6.
What do billionaires do with all that wealth? Through the foundations they have set up, they have helped to provide scholarships to the needy, and donated funds to aid the poor. The main focus is always education, and the target group are the young.
What about the old?
Do companies view the old and elderly as not worth investing in as they are past their prime? Are they poor investment risks? Does it always have to be about ROI?

Source: NST
Old folks are usually remembered at festive seasons, when companies will try and outdo each other to fulfil their CSR agenda. They organize visits to old folk homes and inform the media so they can be assured of publicity for their good works.
What about the rest of the year?
The overwhelming majority of the super-rich on the list are in their 70s or 80s. One would expect them to channel some of their spare change into providing financial aid and healthcare for the less fortunate who are in the same age group as they.
If the old won't help their own, it's even less likely that the young would do so.
One organization that would welcome some seed money to kickstart their programs is the
Foundation for Sustainable Retirement
. It hasn't been able to achieve much since its launch in August 2010 because of financial constraints. Another is
AUTORR
. Its launch has been delayed indefinitely due to insufficient funds to continue with their building plans.

The centrepiece of AUTORR in Ampang.
A generous cheque from any of our billionaires would enable these organizations to turn their vision into reality for the benefit of the elderly in our society.
The Malaysian chapter of the international Make a Wish charity for children was launched recently. Now if someone would donate just 0.00001% of his billions to Seniorsaloud, we could set up a Make a Wish Foundation for the elderly.
I know of some people in their 80s who would love to visit the village in China or India where they were born. They just don't have the funds to make the trip. There are others who want nothing more than a wheelchair to move around in. Some only want to enjoy an all-expense paid day out with their peers.
Their wishes are not out of the ordinary. Just simple wishes that, if granted, would bring much joy to these seniors living out their final years.


5,000 Pemuda UMNO bantu jentera parti
Posted: 21 Feb 2011 11:00 PM PST
KUANTAN: 22 Feb – Pergerakan Pemuda UMNO Pahang akan menggerakkan lebih 5,000 ahlinya dari seluruh negeri bagi membantu jentera Barisan Nasional (BN) mengekalkan kerusi Dewan Undangan Negeri (DUN) Kerdau pada pilihan raya kecil kawasan itu.
Ketuanya, Abu Jimi Samat, berkata segala persiapan sudah diatur bagi memastikan jentera Pemuda UMNO dalam keadaan terbaik dan bersedia menghadapi pilihan raya berkenaan.
"Saya sudah mendapat taklimat mengenai persediaan yang perlu dilakukan Pemuda UMNO untuk membantu jentera parti selepas menghadiri mesyuarat Perhubungan UMNO negeri, minggu lalu.
"Kita juga sudah mengadakan mesyuarat dengan semua Ketua Pemuda UMNO bahagian, malam tadi (semalam) bagi membincangkan persediaan menghadapi pilihan raya kecil DUN Kerdau," katanya ketika dihubungi di sini, semalam.
Abu Jimi yang juga Ketua Pemuda UMNO Bahagian Lipis berkata, secara umumnya segala persiapan sudah dibuat dan menunggu masa untuk digerakkan sebaik menerima arahan pucuk pimpinan parti.
Sementara itu, Ketua Pergerakan Pemuda UMNO Bahagian Kuala Krau, Rodzuan Zaaba berkata, Pemuda UMNO bahagian itu juga sudah mengenal pasti isu dan permasalahan yang akan dibangkitkan pengundi di DUN Kerdau.
"Kita sudah membuat persiapan menghadapi sebarang isu yang dijangka dibangkitkan pembangkang, terutama berkaitan generasi kedua FELDA dan kampung tradisional, selain isu tanah membabitkan masyarakat Orang Asli," katanya.
Kerusi DUN Kerdau kosong berikutan kematian Datuk Zaharuddin Abu Kassim, 63, akibat penyakit jantung pada 12 Februari lalu. Pada pilihan raya umum 2008, Zaharuddin memperoleh 1,615 undi menewaskan calon PAS, Hassanuddin Salim.
Nik Aziz salahkan manipulasi media
Posted: 21 Feb 2011 10:51 PM PST
KUALA LUMPUR: 22 Feb – Pas mendakwa penurunan undi kaum Melayu terhadap parti itu sejak beberapa pilihan raya kecil (PRK) yang lalu berpunca daripada manipulasi dan laporan berat sebelah media yang dikuasai UMNO-Barisan Nasional (BN).
Mursyidul Am Pas, Datuk Nik Abdul Aziz Nik Mat berkata, pembangkang di negara ini tidak mendapat tempat untuk menjelaskan sesuatu isu di media arus perdana, sekali gus menyebabkan rakyat tidak memperoleh maklumat yang tepat.
Menurutnya, sekatan tersebut menyebabkan Pas terjejas kerana konon-kononnya media terbabit mempengaruhi minda orang Melayu dengan menonjolkan berita bahawa kuasa politik Melayu terhakis jika menyokong Pakatan Rakyat (PR).
Katanya, ia adalah tidak adil kepada PR kerana sebagai sebuah negara yang mengamalkan dasar demokrasi, kerajaan BN seharusnya tidak menyalahgunakan media perdana, sebaliknya memberi peluang kepada pembangkang menjelaskan isu-isu tertentu.
"Pas menyeru orang Melayu, sokonglah PR tidak kira calon dari PKR atau DAP kerana dalam PR itu ada Pas, ada Islam.
"Pada zaman Nabi Muhammad SAW, baginda membawa agama kepada seluruh umat manusia, baginda bukan bawa ideologi kebangsaan," katanya pada sidang media, di sini, kelmarin.
Selain itu, Nik Aziz turut menegur sebuah akhbar bahasa Melayu semalam yang menunjukkan laporan muka depan bertajuk 'Nik Aziz Ubah Nada' yang didakwa sebagai satu usaha menjejaskan kredibilitinya.
"Saya tidak pernah ubah nada saya, ini adalah bohong. Apa yang saya cuba sampaikan adalah orang Melayu perlu diutamakan dalam agenda Pas kerana Melayu adalah kaum pertama di Tanah Melayu yang memeluk Islam.
"Kalau Pas mahu memperjuangkan Islam, siapa yang perlu diutamakan jika tidak orang Melayu yang juga kaum majoriti di negara ini," katanya.
Mengulas mengenai dakwaan yang mengatakan Pas sekarang sudah mula mengutamakan perjuangan Melayu berbanding Islam, Nik Aziz menegaskan bahawa Pas akan tetap melebihkan Islam daripada perkara lain.
"Tugas menjaga orang Melayu memang perlu bukan sahaja kepada UMNO, tetapi kepada Pas dan semua parti lain di negara ini," katanya.
Nik Abdul Aziz yang juga Menteri Besar Kelantan turut menegur Ahli Parlimen Kulim Bandar Baharu (Bebas), Zulkifli Nordin yang meminta beliau kembali kepada ajaran Rasulullah SAW dalam mengutamakan orang Islam.
"Zulkifli orang yang sudah tidak siuman. Beliau mengkhianati pengundi di kawasannya dan sekarang beliau mengkhianati saya pula," katanya.
Dalam blognya, Zulkifli menceritakan bagaimana Rasulullah SAW dalam Surah 'Abasa ditegur Allah SWT kerana berpaling muka dan bermasam muka terhadap orang Muslim lain.
Posted: 21 Feb 2011 10:49 PM PST
JASIN: 22 Feb – Ketua Menteri, Datuk Seri Mohd Ali Rustam semalam membidas PAS kerana membuat pelbagai tuduhan tidak berasas kepada kerajaan negeri semata-mata kerana ingin memancing undi pada pilihan raya kecil Dewan Undangan Negeri (DUN) Merlimau, 6 Mac ini.
Beliau berkata, dakwaan pihak terbabit kononnya kerajaan negeri membazirkan wang rakyat bagi melaksanakan projek mega di negeri ini sebagai isu lapuk yang diungkit semula bagi memesongkan pemikiran masyarakat khususnya pengundi di kawasan berkenaan.
Antara tuduhan dilemparkan adalah membabitkan pembinaan litar go-kart di Durian Tunggal, pembesaran Lapangan Terbang Antarabangsa Melaka (MIA) yang dianggap sebagai `gajah putih' dan penarikan balik Eye On Malaysia atau roda gergasi oleh pemiliknya dari Belgium.
Selain itu, pembinaan Sekolah dan Rumah Harapan yang kononnya menggalakkan maksiat di kalangan remaja, masalah kekurangan pasar raya besar di Jasin termasuk DUN Merlimau dan pembabitan beliau dalam politik wang.
"Semua tuduhan ini tidak berasas dan boleh menimbulkan keresahan masyarakat, selain menjejaskan imej kerajaan negeri serta Barisan Nasional (BN) yang selama ini membela nasib rakyat," katanya pada majlis ramah mesra bersama media di Restoran Ikan Bakar Laxmana Umbai di sini, malam kelmarin.
Turut hadir, Timbalan Menteri di Jabatan Perdana Menteri, Datuk Ahmad Maslan; Ahli Parlimen Jasin, Datuk Wira Ahmad Hamzah; Ahli Dewan Undangan Negeri (ADUN) Sungai Rambai, Datuk Hasan Abd Rahman dan Yang Dipertua Kelab Media Massa Melaka (KEMM), Mohd Raffi Bachik.
Menjelaskan isu itu satu persatu, Mohd Ali berkata sebuah syarikat yang beribu pejabat di Selangor diberi tanggungjawab mengendalikan litar go-kart berkenaan dan kerajaan negeri menerusi Perbadanan Kemajuan Negeri Melaka (PKNM) mengenakan bayaran sewa RM20,000 sebulan.
"Kita dapati syarikat ini tidak membayar sewa selama tiga bulan dan apabila PKNM mahu mengambil alih semula litar terbabit, mereka tidak mahu beri dan terpaksa mengambil tindakan mahkamah. Akhirnya litar itu disita oleh mahkamah.
"Tuduhan pembangkang bahawa pembinaan MIA sebagai gajah putih juga tidak berasas kerana sebuah syarikat penerbangan dari Indonesia melakukan penerbangan tiga kali seminggu ke lapangan terbang itu dan operasinya lebih baik berbanding di Pulau Pinang dan Kelantan," katanya.
Beliau berkata, bagi Eye On Malaysia pula, kerajaan negeri sebenarnya menyewa daripada sebuah syarikat di Kuala Lumpur, tetapi malangnya mereka tidak bertanggungjawab kerana tidak membayar sewa kepada pemilik asal roda gergasi itu dari Belgium.
Bagaimanapun, katanya kini kerajaan negeri menempah roda gergasi baru dari China dikenali sebagai Melaka Eye