---
Aurat Pengantin ~ Kenapa Melayu Muslim seMalaysia masih jahil tentangnya?
Posted: 17 Oct 2010 01:10 PM PDT
Baru baru ini saya menerima jemputan ke majlis kenduri perkahwinan. Majlis perkahwinan anak orang berada. Makanya majlis itu di adakan dengan penuh gilang gemilang, siap dengan khemah khemah istimewa dan di sediakan para pelayan katering serta siaran juruhebohnya.
Aa..aa..juruheboh! Heboh sepersekitaran taman perumahan itu disebuah kawasan elit didalam negeri Selangor.
Menurut hadis Rasulullah Sallalahu Alaihi Wassallam, sekiranya kita menerima perundangan walimatul urus makanya wajib kita penuhi undangan tersebut. Saya tak ada masaalah dengan itu.
Apa yang saya kesalkan adalah kemuncak majlis itu yang dipersandingkan kedua pengantin dikhalayak ramai?
Bayangkan, sekian lama kita kenali pengantin itu yang merupakan anak perempuan kepada saudara sebelah orang rumah, tak adalah berpakaian menjolok mata sepanjang kita kenal akan dirinya?
Tetapi pada hari yang paling penting sekali didalam kehidupannya,

ia mendedahkan perhiasan dirinya

untuk ditatap ribuan orang baik dari ahli kedua keluarga sendiri mahupun bukan mahram yang menjadi tamu jemputan ke majlis perkahwinan nya itu?
Perhiasan diri yang saya maksudkan adalah belahan dadanya terdedah tanpa dilitupi apa apa pun untuk tatapan semua hadirin!!! 
Contoh keadaan memalukan ini dipaparkan di laman ini. Maaf, saya tak sanggup hendak meletakkan gambar begitu dilaman saya ini.
Sungguh sakit hati saya menyaksikan keadaan itu bilamana ibubapanya yang boleh dikatakan adalah orang orang terpelajar dari segi duniawi dan berkedudukan besar didalam jawatan masing masing boleh jahil muqarrab tentang tuntutan Allah Subhanahu Wa Ta'ala didalam Surah An Nur ayat ke 31 berkenaan aurat wanita!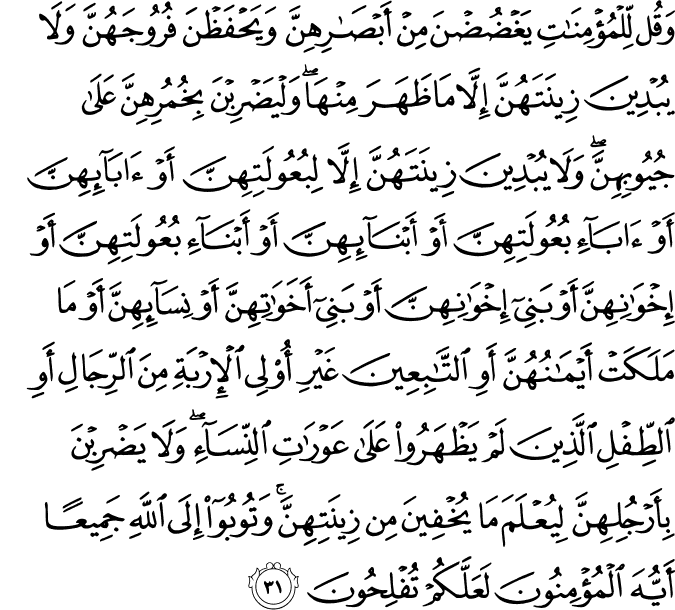 Waqul lilmu/minati yaghdudnamin absarihinna wayahfathnafuroojahunna wala yubdeena zeenatahunna illa mathahara minha walyadribnabikhumurihinna AAala juyoobihinna wala yubdeenazeenatahunna illa libuAAoolatihinna aw aba-ihinnaaw aba-i buAAoolatihinna aw abna-ihinna awabna-i buAAoolatihinna aw ikhwanihinna aw baneeikhwanihinna aw banee akhawatihinna aw nisa-ihinnaaw ma malakat aymanuhunna awi attabiAAeenaghayri olee al-irbati mina arrijali awi attifliallatheena lam yathharoo AAala AAawratiannisa-i wala yadribnabi-arjulihinna liyuAAlama ma yukhfeena min zeenatihinnawatooboo ila Allahi jameeAAan ayyuhaalmu/minoona laAAallakum tuflihoon
Dan katakanlah kepada perempuan-perempuan yang beriman supaya menyekat pandangan mereka (daripada memandang yang haram), dan memelihara kehormatan mereka; dan
janganlah mereka memperlihatkan perhiasan tubuh mereka kecuali yang zahir daripadanya; dan
hendaklah mereka menutup belahan leher bajunya dengan tudung kepala mereka
; dan janganlah mereka memperlihatkan perhiasan tubuh mereka melainkan kepada suami mereka
, atau bapa mereka atau bapa mertua mereka atau anak-anak mereka, atau anak-anak tiri mereka, atau saudara-saudara mereka, atau anak bagi saudara-saudara mereka yang lelaki, atau anak bagi saudara-saudara mereka yang perempuan, atau perempuan-perempuan Islam, atau hamba-hamba mereka, atau orang gaji dari orang-orang lelaki yang telah tua dan tidak berkeinginan kepada perempuan, atau kanak-kanak yang belum mengerti lagi tentang
aurat perempuan
; dan janganlah mereka menghentakkan kaki untuk diketahui orang akan apa yang tersembunyi dari perhiasan mereka; dan bertaubatlah kamu sekalian kepada Allah, wahai orang-orang yang beriman, supaya kamu berjaya.
Apa yang susah sangat nak difahamkan tentang aurat wanita disini? 
Bertahun tahun membesar didalam apa yang dikatakan sebagai Agama Islam tetapi pada hakikatnya masyarakat Melayu Muslim di Malaysia ini boleh dikatakan sebagai kebanyakan mereka jahil muqarrab tentang hukum hakam Ad Deenullah ini.
Islam hanya pada istilah sahaja
. Hanya Islam pada MyKad dan tidak didalam ertikata sebenarnya pada amalan didalam kehidupan seharian apatah lagi pada majlis majlis keraian dimana bercampur baur kaum lelaki dan perempuan didalam konteks kehidupan di Akhirul Zaman ini?
Ini baru majlis orang kebanyakan. Belum lagi kita ambil kira akan kemaksiatan yang mengambil tempat didalam majlis majlis 'kayangan' seperti yang berlangsung baru baru ini dimana turut di undang golongan kerabat di raja Melayu dan berlangsung didalam suasana dimana orang orang miskin dan susah tidak langsung kelihatan didalam siaran secara langsung oleh stesen televisyen swasta menelan belanja berjutaan ringgit untuk meraikan pasangan pengantin yang ditaja pihak pihak tertentu baik dari kerajaan mahupun korporat.
Aurat pengantin terutamanya yang perempuan terdedah kepada pandangan mereka yang kebanyakannya bukan muhrim baginya. Sedangkan kita yang ada pertalian persaudaraan dengan nya melalui perkahwinan dengan ibu saudaranya memang dilarang melihat auratnya yang terdedah ; inikan pula mereka yang tak ada hubungan persaudaraan dengannya secara langsung?
Nak buat macamana dengan mereka ini? Maksud saya tentang saudara mara kita ini yang semberono sahaja mendedahkan belahan dada mereka kepada sekelian para tetamu jemputan ke majlis perkahwinan mereka? Kita nak salahkan siapa?
Nenek dia? Ibubapa dia? Suami dia? Diri dia sendiri? Mak Andam? Sanak saudara kaum kerabat rapat? Saudara mara? Pengaturcara?
Siapa?
Saya berpendapat bahawa yang paling pertama sekali adalah diri si pengantin perempuan itu sendiri, kemudian di ikuti dengan suami dia yang secara tidak langsung
menjadi seorang dayus
bilamana sahaja ia selesai
ijab kabul
selamat menikahi isterinya, maka ia terus bertanggung jawab keatas diri isteri ia.
Aurat isteri nya yang terdedah itu jatuh hukum berdosa akan sang suami kerana membiarkan aurat isteri terdedah kepada khalayak umum. Duduk pula kat meja utama majlis perkahwinan menghidangkan pemandangan akan aurat isterinya itu untuk tatapan ribuan hadirin. '
Free show brader
!'
Aurat sang isteri yang terjaga rapi sekian lama ini dengan perasaan malu akhirnya terdedah kepada ribuan pasangan mata mereka yang tidak berhak melihat akan ia pada majlis yang terpenting didalam kehidupan mereka sebagai suami isteri.
Kemudian saya persalahkan kedua ibubapa dan juga orang orang tua didalam keluarga kedua pengantin. 
Ibubapa sendiri dan kedua mertua turut berdosa membiarkan anak merekaq yang belum tentu cukup pengetahuan tentang hukum hakam agama membiarkan aurat anak perempuan / menantu mereka didedahkan untuk tatapan umum di dalam majlis sambutan kedua pengantin tersebut.
Mereka pun mendapat saham percuma untuk di azab oleh Allah Subhanahu Wa Ta'ala di Yaum al Akhirat nanti.
Kemudian, manusia yang paling banyak menyumbang kemaksiatan ini tidak lain tidak bukan adalah mereka yang mencari makan dengan melakukan kerja kerja menyolek dan mengandam sang pengantin.
Golongan tukang solek dan tukang hias Akhirul Zaman ini. Mereka akan berusaha sedaya mungkin untuk menonjolkan payudara pengantin perempuan untuk tatapan umum. Jika si Mak Andam ini orang yang ada asas asas agama ; tak mungkin akan ia dedahkan aurat sang pengantin pada majlis majlis keraian yang penting didalam kehidupan mereka?
Maka bermulalah kehidupan kedua pengantin dengan dosa dosa percuma akibat kejahilan mereka tentang aurat dan adab memulakan kehidupan berkahwin.
Cuba lihat pula apa pandangan golongan wanita zaman sekarang tentang aurat:
Terbabas gila babi kata budak budak sekarang jika hendak di tafsir akan maksud tersurat dan tersirat akan isi kandungan video tersebut? 
Cuba pula kita melihat pandangan Mursyidul Am PAS Dato Nik Abdul Aziz Nik Mat dengan gaya beliau tersendiri mengupas tentang bab aurat ini ?
Para pemimpin kerajaan terutamanya mereka yang wanita memang kebanyakan dari mereka boleh dikatakan jahil tentang cara menutup aurat dengan sempurna. 
Jika mereka hadir didalam majlis majlis keraian, maka aurat mereka terdedah tetapi setakat ini cuma dengan jambul terdedah dan selendang mereka tidak menutup kawasan dada mereka. Contoh contohnya boleh tuan tuan dan puan puan lihat
disini
. 
Nasib baik belum ada lagi menteri atau timbalan menteri memakai pakaian mendedahkan belahan dada mereka dikhalayak umum. 
Berdosa sudah tentu tetapi masih tak sampai ke tahap jahilnya sang pengantin perempuan yang berbangsa Melayu berlabel Muslim seperti yang kita terpaksa tengok selalu didalam majlis majlis keraian pasangan pengantin kini yang memang ternyata kurang kefahaman tentang hukum hakam agama kita.
Saya ingin menyeru pihak majlis majlis Agama Islam yang menjalankan kursus kursus perkahwinan diseluruh negara untuk menekankan wajibnya menjaga aurat pengantin bilamana mengadakan majlis walimatul urus nanti?
Sia sia lah beriya pergi menjalani kursus perkahwinan begitu begini tetapi pada majlis perkahwinan masing masing berlaku bagaikan orang jahiliyyah menayangkan belahan dada masing masing untuk tatapan umum!!!
Saya ingin menasihatkan kepada tuan puan yang membaca luahan hati saya ini supaya bertindak menasihati pasangan masing masing agar jangan terjatuh kedalam golongan jahil muqarrab ini.
Jika anda ibubapa kepada mereka yang hendak melangsungkan perkahwinan didalam waktu waktu terdekat ini, tolong lah awasi perkara ini supaya anda sekelurga tidak mendapat dosa dosa percuma menghidangkan aurat anak anak anda kepada tatapan para jemputan?
Apatah lagi jika anda orang kenamaan yang akan menyiarkan upacara majlis perkahwinan anak anak anda ke seluruh negara dan rantau Asia atau melalui Facebook atau You Tube ke seantero pelusuk dunia ini?
Kasihanilah mereka yang jahil tentang bab ini dengan membantu menasihati mereka untuk menutup aurat si pengantin perempuan pada majlis perkahwinan mereka.
Saya rasa tak ada gunanya untuk meminta para Mak Andam untuk tidak berusaha memaksiatkan majlis perkahwinan para pelanggan mereka kerna dari apa yang saya sudah melihat, memang
seperti mencurah air ke daun keladi
. Tak mungkin kan berbekas. Ini hakikat dunia sekarang. 
Terpulang kepada para pengantin sendiri untuk sedar diri tentang hukum hakam bertabarruj di khalayak umum dan batas batas kesopanan dan kesusilaan yang wajib mereka patuhi pada majlis majlis sedemikian bilamana ribuan atau jutaan tetamu menatap akan keadaan mereka nanti?
Saya juga seperti tidak percaya akan cara berpakaian beberapa orang tetamu jemputan ke majlis perkahwinan itu yang memang tepat mencerminkan apa yang diperkatakan Rasulullah Sallalahu Alaihi Wassallam bahawa di Akhirul Zaman akan ada segolongan
wanita yang berpakaian tetapi telanjang!!!
Sila ke
laman ini
untuk membaca luahan seorang blogger wanita tentang kejahilan ini. Sama sahaja akan apa yang ingin saya nyatakan?
Bawa bawa bertaubatlah sekelian yang berkenaan? Hidup matinya kita ini diantara 5 waktu. 
Sang suami yang hendak memulakan kehidupan rumahtangga bersama isteri tercinta jagalah aurat isteri kamu dari saat kamu menerima nikah ia semasa berijab kabul lagi!
Jangan mulakan rekod perkahwinan kamu dengan dosa menjadi seorang suami yang dayus pada mukadimah majlis perkahwinan kamu sendiri.
Tak 'gentleman' lah bro jika aurat isteri kamu;  kamu rela didedahkan pada khalayak umum dan dirakam gambarfoto serta video mereka yang sudah tentu akan menyiarkan pula akan ia pada semua didalam You Tube dan Facebook masing masing!
Bayangkan lah nanti bilamana anda akan ada anak anak yang kelak mempersoalkan kedayusan anda pada hari majlis perkahwinan anda itu dibelakang hari?
Nak sorok muka kat mana beb?
This posting includes an audio/video/photo media file: Download Now
100 Storey Tallest Building in Malaysia
Posted: 17 Oct 2010 12:22 PM PDT
(illustration only and not the actual design)
There has been quite a buzz going around of the new 100 storey super skyscraper known as the Warisan Merdeka development since the announcement in PM Najib Razak budget speech last friday.
Many has described the project as wasteful and frivolous with the Member of Parliament, Charles Santiago calling it a Ridculous project.
The popular internet site of The People's Parliament is conducting a poll and the last check showed 95 % of respondent voting against the project.
(HERE)
Another popular blog, masterwordsmith had a good account raising highly relevant questions on the proposed project describing shock and awe on the news of such a wasteful developmen.
(HERE)
The proposed development is expected to commenced construction by early next year and to be completed by 2015 at an estimated cost of RM 5 billion. The site of the proposed tallest building will be at the old Stadium Merdeka and Stadium Negara location. The Warisan Merdeka development will incorporate the preservation of the two stadium as a heritage site as depicted in the architectural model below.
(Design study model of the Warisan Merdeka.)
Note the Stadium Negara which is an indoor stadium of dome shape structure and the Stadium Merdeka an open stadium of oval shape in center of photo. The glass like model structure are the new buildings including the 100 storey skyscraper.
Posted: 17 Oct 2010 04:17 AM PDT
Warm, COLD, COLD
warm, cold, cold
warm, cold, cold
feels the heART
about to stop beating
winter cometh early for Homo sapiens
caught in the darkness of his/her/its bowels
of E vil
sleeeping with the D evil
Art thou Ib A?
Art thy name Mei Li?
My name is Desi
Dare to si
either with my eyes open
or shut
Or si liau-liau
If liau is thy name cometh to take YL
away
one lust time
PS:
This blogger will go MIA for some time/dime to BUM around abit/byte, C U at the I C U2? ~~ Desi, knottyaSsusual
7.17pm Sundae Oct 17, 2010
Don't Fall For BN/Umno's 'Good Guy, Bad Guy' Routine!
Posted: 17 Oct 2010 03:17 AM PDT
By

Admin



Recently we have been seeing what appears to be 'healthy democracy' being practiced by BN leaders and pro-BN Blogs. Some of us have been taken in by this deception by the BN/Umno Regime to hoodwink us into believing that BN/Umno has changed and reformed itself.

We hear of BN Minsters like Nazri Aziz breaking ranks to criticize the Government and fellow Ministers. We are now hearing that Minister Rais Yatim lodging police reports against pro-BN Bloggers like

Rocky Bru

and

BigDogCom

.

The BN controlled MSM has lost it's grip on the minds of the People. People don't believe the MSM anymore. The BN Regime is fighting a losing battle against the New Media. The BN Regime is now 'spring cleaning' the BN Spin Doctors such as

Rocky Bru

and

BigDotCom

to make them look credible in the eyes of the People. This whole episode about the Utusan Malaysia - Nazri Aziz war of attrition and the Rais Yatim - Pro Umno Bloggers episode is nothing but a 'Sandiwara' by the regime to shore us support for BN/ Umno. We must not fall for BN/Umno's deception. Already, Utusan Malaysia's circulation has dropped drastically. The only way the BN/Umno Regime can deceive the People to buy their lies is to make their Bloggers look credible and balanced so that the People will believe what they are spinning.
Posted: 17 Oct 2010 02:32 AM PDT
By

Pakac Luteb



When I wrote "Our future depends on our choice NOW" I expected some
readers would object to my proposal of allowing the evildoers to get
away with their squandered millions and billions.

Some readers have raised such objection and this letter is to inform
them and everyone else what I was thinking when I made what might
appear prima facie to be an outrageous proposal.

What alternatives are there to my proposal?

The method of China, which is a bullet in the head, would make UMNO BN
even more fearful of ceding power to the opposition. UMNO BN would
certainly fight back and Malaysia would be devastated by what is
oxymoronically termed "civil war". War is never civil.

Hire accountants to chase after the money? The tangled money trail
would take years to trace and go through the courts and would cost a
lot. Who would pay the accountants and lawyers? Malaysia might become
bankrupted.

Better to spend the time and money on developing a better Malaysia,
everyone agreeing to move forward to a better future, through
forgiveness, reconciliation, cooperation and determination.

We are at a major simpang, let's take the road to our success as a
peaceful prosperous nation.

ALL of us will benefit, you, myself, your children, my children.

The evildoers will also benefit, hopefully they will have some pangs
of guilt and give back some of the money they stole.

Even if they never give back any of the money Malaysia must still move
forward socially, economically and politically.

Please join me on the road to national success.
Our future depends on our choice NOW
Posted: 17 Oct 2010 02:27 AM PDT
By

Pakac Luteb



More than 2 years ago I wrote a letter titled "The Way Forward?". My
earlier letter on the topic appears below, in quote marks.

It is now a good time to remind of that letter, for the government's
Sodomy 2 case against Anwar Ibrahim is falling apart.

Malaysia has to move quickly forward and overcome it's past or it will
sink much lower than it already has sunk.

Race relations have declined, the economy has declined, crime has
increased, the justice system has become a tool for oppression, the
country is fast achieving pariah status amongst nations.

UMNO and the BN must cede power to the opposition.

What comes next?

Malaysia can take a lesson from what Nelson Mandela did with South Africa.

In South Africa, many were fearful that there would be blood shed in
retribution against the years of oppression of the blacks by the
whites.

Mandela wanted to avoid that, he wanted South Africa to quickly move forward.

He decided that there had to be peace in South Africa, there must be
equality of all races and there must be forgiveness of the past.

South Africans remember apartheid, but have decided to not fight over
it or dwell over it, just work together for the good of the nation,
the blacks working together with the whites who had oppressed them.

I suggest that as a model for Malaysia, I suggest forgiveness and
reconciliation in Malaysia as Mandela accomplished in South Africa.

What I suggest is that people put aside their instinct for revenge and
instead channel their energies towards building a strong, modern,
energetic Malaysia that is prosperous, fair and just in how it treats
everyone, citizens and foreigners alike.

I ask Malaysians what Mandela asked of South Africans, move forward,
don't look back.

Malaysia has vast resources, especially it's people.

I appeal for ALL Malaysians, the Datuks, Tan Sri's, Tuns, towkay,
kerani, etc., ALL Malaysians, rich, poor, middle class, educated or
illiterate, to decide that moving forward REQUIRES forgiveness and
reconciliation regarding past misdeeds of repression, squandering,
etc.

It is a BIG request I ask of Malaysians, many of whom have personally
felt the oppression by the UMNO BN government, but it is a request I
must make, because Malaysia is at a simpang in it's history.

There are now 2 choices, EVERYONE, whether they support the opposition
or BN UMNO can work together to make Malaysia truly great, or they can
all continue fighting.

If they choose to fight it will be a disaster and lead to ruin, if
they work together Malaysia has a good chance of being well on the way
to being a prosperous and developed nation by 2020. Malaysia would
also achieve kudos from the world as South Africa has.

I want to work for a better Malaysia, hand in hand with everyone else,
whether they are UMNO, BN, PKR or otherwise, whether they are having
the title of Tun, Agong, etc. or if they have no title, perhaps they
just clean toilets.

I have a dream, that Malaysia will become a nation that the world
takes note of, for all the right reasons.

Please join me in making that dream become reality for ALL, those
alive now and for future generations.

Thank you.

Pakac Luteb

"The way forward in Malaysia?:

Malaysia may take a lesson from South Africa. South Sfrica peacefully
transformed itself from a repressive society into a democracy.


http://news-info.wustl.edu/tips/page/normal/824.html
http://www.infoplease.com/ipa/A0107983.html


If malaysia does what south africa did, there is chance for peaceful
transition of government and transformation of society.

Following the south african model would mean giving up the ability to
punish/exact retribution/revenge against those state officials who
oppressed society.

Not following the south african model could plunge malaysia into an
era of conflict and perhaps bloodshed, as the government, fearing
retribution, tries to hang onto power by any means it can.

If the south african model can be implemented in malaysia, anwar may
become known as the "mandela of malaysia", leading malaysia to peace,
prosperity, equality and justice for all malaysians.

It is something to consider, what future do we want for our beloved
country and how do we ensure achieving that future?"
Posted: 17 Oct 2010 02:18 AM PDT
By

Pakac Luteb



A few days ago I wrote a letter titled "A Closer Look". Read here
http://margeemar.blogspot.com/2010/10/sodomy-ii-closer-look.html#links


In that letter, I described how antibody testing of Saiful's blood
could clearly show if Saiful was speaking truthfully or lying when
when he testified that Anwar Ibrahim had sodomised him multiple times
over a period of months, without a condom.

It seems many of you had doubts about what I wrote in "A Closer Look",
many of you thought it was some crazy idea of mine.

All you sceptics, have a read of this:


http://www.ncbi.nlm.nih.gov/pmc/articles/PMC1194431/pdf/genitmed00043-0011.pdf


It's a study by the National Institutes of Health in the USA.

The study describes what i said about antibodies being produced when
semen and sperm are deposited in the rectum.

Do you have any doubt NOW?
This posting includes an audio/video/photo media file: Download Now
DAP Sarawak Inroads Even to Housing Estates Post Boxes"
Posted: 17 Oct 2010 01:46 AM PDT
An urban voter ,"DAP is really working hard and they are making their intentions known. Will it be a little too late for BN.? The DAP supporters and members are making use of their Headquarters Publication and are now going into Housing Estates and putting them in post boxes"
This leaflet distribution by DAP is continous and it will take a 'Brilliant or an Ingenious BN Propaganda" to change the mindset of the people.
What will it Be? Does anyone have any idea?
Does BN need to pay "SOME"  substantial amount for it?
Does BN have the answers?
Will last minute propaganda do it?
 Has the viral attack reached the rural areas?
Many questions and little answers especially if it concerns the rakyats voting trend. There is no more the
SURE SAFE SEAT

for any BN coalition unlike 20 years ago. If the BN propaganda machine still loves to a have a

SIESTA

they are in for a good

SHOCK

.

 A senior Pakatan member said,"There are only 20% of the voters left stuck in the rural areas. Only the elderly and the very young are left in the rural areas. If the BN thinks they are still safe especially in the rural areas in Sarawak they will know when the ballot boxes open. Cyber warfare is the main weapon now."

After Housing area the DAP distribution network leaflets will reach even the interior villages and longhouses.
It's real and you have been Warned….. 
Posted: 17 Oct 2010 01:37 AM PDT
Budget 2011 is out. The most glaring point in this budget is that we are back to the so called infrastructure play. Billions will be spent on infrastructure. While this will help to push for economic growth, I have a feeling of deja vu, and a sense not unlike seeing 'Back to the Future Past'.
This sort of spending will ensure many big companies getting billions worth  of projects, and many of the not-so-big companies getting millions worth  of subcontracts, and many of the small companies getting the crumbs.. We also need hundreds of thousands of foreign workers, since Malaysians have generally shunned being  construction workers.
In the process of awarding contracts and subcontracts and subsubcontracts, everyone will probably be happy since there will be plenty to go round, like what happened in the 90s before the Asian financial crisis. Stock market plays based on rumours of getting contracts will be back again, and again many people will be happy.
However, the budget has not addressed the problems of preparing the nation and society for innovative change nor dealt with any structural changes.
While the MRT projects are necessary, even though I have certain reservations of the costs, the 100 storey building is totally irrelevant to propel the country towards a high income nation. To think that by building tall  high rise, we can become a high income country is like thinking that a student can be a straight As one  by just shifting the marking curve.
One lady minister was quoted as saying that since other cities are building  the world tallest buildings, we should also do this. This is like after seeing people wear big hats, we also want to wear big hats, not knowing that our head may be too small for those big hats, and in the end, the big hat may even cover our eyes, making us losing our vision.
Furthermore, we already had the Petronas Twin towers , which is already among the tallest buildings in the world. We have already proven to the world that we can build high rise, why the need to do it again?
The 5 billions could have been used to build more schools and libraries , and improve on the quality of our teaching faculties in our universities, so that we can produce world class students, not graduates that cannot even write simple English letters.( I know of a 30plus dentist  from a  local U who cannot even write nor speak proper english; cannot even write a legible meeting minute).
The perennial problems of the biggest portion of the budget  going towards the operating expenses have persisted, no thanks to our bloated civil service, and too many ministries/ministers and departments. Imagine, for every dollar government spends, 75% goes to just operating expenses, and only 25% can be used for development. It is like a company spending too much on its overheads, and too little on expanding its businesses or on R & D. This type of companies will slowly lose their competitive edge.
The 6% service tax on paid tvs means that middle class in the cities will be squeezed again. Those who subscribe the complete Astro package is now paying over a hundred dollars per month, and with the tax, they will have to fork out an additional 10 dollars at least.  The 1% increase in service tax will be mainly borne by the urban folks too. It is not wrong to say tht life is really getting tougher living in the cities.
A young graduate living in urban areas now  now needs to pay for ever increasing costs of living , plus to pay for handphones bills, plus internet service, and now, even eating out or having a drink with friends will be getting more expensive, not to mention the rise in petrol bills, the need to pay extra 50 dollars just to have a credit card…. The salary for a fresh graduates has however remained stagnant at around 1500-1600. Even if they do not eat out, and just eat bread  and water at home, these 2 (bread and water) have become  more expensive now than a decade or 2 ago.
The million dollar question in the whole ETP is this: How to get the private sector to invest, given that many companies have preferred to expand overseas.. With the decrease in FDI, and the lack of confidence of the private sector, the whole picture painted by the government  is just  too rosy..
Khalid's decision not to contest: Selangor rakyat comes first
Posted: 16 Oct 2010 11:37 PM PDT
While we wait on a hopefully upcoming website for the MB, I thought I would help share a press statement released today
THE SELANGOR RAKYAT COMES FIRST
I would like to thank all those who supported my candidacy for the post of Deputy President in the coming Parti Keadilan Rakyat elections. Their trust, confidence and willingness to always put the interests of the rakyat first remain an enduring source of inspiration for me.
I would also like to express my gratitude to the special consultation committee – Saudara Tian Chua, Puan Irene Fernandez, Tuan Syed Shahir and Dr Muhammad Nur Manuty – who spent much of their valuable time meeting various leaders in the past week.
My interest in contesting the party elections was informed by a desire to strengthen party unity and promote a commitment to a healthy political culture and principles above all else. I continue to harbour these aspirations for the good of the party and for all Malaysia. After careful and considered discussion with the special committee members, my political secretary Faekah Husin and key Reformasi activist leaders, I am convinced I can advance these goals best by not contesting any of the top party posts in these elections.
The Pakatan Rakyat led Selangor state government is in many ways a blueprint for a Pakatan Rakyat led federal government. In view of the upcoming general elections, I feel my highest duty is to demonstrate the kind of dynamic, principled and rakyat-centric governance that will inspire confidence in Malaysians throughout the country and help spread the Reformasi spirit all the way to Putrajaya.
I also see it as my duty and goal to retain the stronghold that is the Selangor state government. With our continued commitment to the welfare of the rakyat through the Merakyatkan Ekonomi Selangor agenda, we can safely aim to surpass a two thirds majority in the next state elections, retain the current parliamentary seats and deliver the remaining five BN-held seats towards the effort of forming the federal government
The massive focus that has been channeled into the Klang Valley in the recently announced federal budget has also been a factor in my decision. The Greater Kuala Lumpur plan involves projects worth billions of ringgit and it is crucial for the Selangor government to play a major role in ensuring that these projects are managed efficiently and transparently.
To safeguard the interests of the rakyat, the Selangor Government will monitor and scrutinise these developments. We will be paying special attention to the tender process for all projects, especially those involving the construction of commuter and LRT routes (possibly too specific for a statement of this nature and subject), to ensure that the contracts awarded do not profit crony companies at the expense of the rakyat.
In conclusion, I would like to note again that I am confident in the abilities of all the candidates I have seen nominated for top party positions, and am optimistic about their potential to rejunevate the spirit of Reformasi for the party while we in the Selangor state government remain focused in our efforts to realise a genuinely rakyat-centric government. I call on all candidates to maintain the highest standards of a healthy political culture throughout the campaign, and hope they will set an example worthy of aspirants to the federal government.
I look forward to a campaign that will feature sophisticated discourse with regards to the ideals and direction of our party, and a comprehensive roadmap to success in the next general elections. I wish all candidates and members the very best – may these historic elections pave the way for a better Malaysia.
TAN SRI DATO' SERI ABDUL KHALID IBRAHIM
DATO MENTERI BESAR SELANGOR
*
RAKYAT SELANGOR DIUTAMAKAN
Saya ingin merakamkan setinggi-tinggi terima kasih kepada semua yang menyokong pencalonan saya sebagai Timbalan Presiden pada Pemilihan PKR 2010. Kepercayaan dan komitmen mereka kepada kebajikan rakyat merupakan satu inspirasi yang berterusan kepada saya.
Saya juga ingin mengucapkan terima kasih kepada jawatankuasa khas – Saudara Tian Chua, Puan Irene Fernandez, Tuan Syed Shahir dan Dr Muhammad Nur Manuty – yang telah menyumbang masa untuk bertemu dengan pemimpin dan akar umbi parti minggu lepas ini.
Minat saya untuk bertanding adalah berdasarkan keinginan untuk menguatkan muafakat parti dan mempromosikan budaya politik yang sihat serta komitmen yang tidak berbelah bagi kepada prinsip-prinsip murni.
Aspirasi saya adalah untuk menyuburkan pendirian ini demi parti dan demi seluruh Malaysia. Setelah perbincangan yang mendalam dengan jawatankuasa khas, setiausaha politik saya Faekah Husin dan beberapa pemimpin Reformasi, saya yakin saya boleh lebih merealisasikan objektif-objektif ini tanpa bertanding untuk mana-mana jawatan tertinggi parti dalam pemilihan tahun ini.
Kerajaan negeri Selangor yang diterajui Pakatan Rakyat boleh dikatakan sebagai contoh sebuah Kerajaan Persekutuan yang bakal dipimpin oleh Pakatan Rakyat. Memandangkan pilihan raya umum yang akan datang, tugas pertama saya adalah untuk menjadikan kerajaan Pakatan Rakyat sebagai contoh kerajaan dinamik, berprinsip dan berpaksikan kebajikan rakyat di peringkat negeri mahupun di peringkat Perseketuan. Dengan membina keyakinan ini dalam minda rakyat, kita akan lebih dekat kepada hasrat kita untuk menyebarkan semangat Reformasi sehingga ke Putrajaya.
Tugas saya juga adalah untuk memastikan bahawa Selangor dikekalkan sebagai kubu kuat Pakatan Rakyat. Dengan komitmen berterusan kami kepada kebajikan rakyat melalui agenda Merakyatkan Ekonomi Selangor, kami berkeyakinan untuk mensasarkan kemenangan majoriti dua pertiga pada pilihan raya akan datang, mengekalkan kerusi-kerusi parlimen dan memenangi lima lagi kerusi BN sebagai sumbangan terhadap membentuk kerajaan Persekutuan pada pilihan raya umum.
Satu lagi faktor terhadap keputusan saya adalah fokus besar terhadap Lembah Klang dalam belanjawan yang baru diumumkan. Projek "Greater Kuala Lumpur" melibatkan projek berbilion-bilion ringgit, dan kerajaan Selangor mesti memainkan peranan yang besar dalam memastikan projek-projek ini dikendalikan dengan cekap dan telus.
Demi menjamin kepentingan rakyat, kerajaan Selangor akan memantau dan meneliti semua projek ini. Khususnya, kami akan memerhati proses tender, terutamanya dalam pembinaan infrastruktur pengangkutan awam untuk memastikan kontrak-kontrak yang dianugerahkan tidak hanya memanfaatkan syarikat kroni dan merugikan rakyat.
Saya cukup yakin dengan kebolehan setiap calon yang telah menerima pencalonan untuk bertanding dalam pemilihan PKR, dan mengalu-alukan potensi mereka untuk menyegarkan semangat Reformasi dalam parti; pada masa yang sama, kami di kerajaan negeri Selangor terus fokus terhadap menyempurnakan agenda kerajaan berpaksikan rakyat.
Saya berharap semua calon akan mengamalkan kempen yang berasaskan budaya politik sihat yang wajar bagi bakal pemimpin negara.
Semoga pemilihan PKR penuh dengan perbincangan mendalam mengenai prinsip-prinsip asas serta halatuju parti kita serta rancangan mantap untuk mencapai kejayaan pada pilihan raya umum akan datang. Saya mengucapkan selamat bertanding dan selamat mengundi kepada setiap calon dan ahli parti – kita harapkan pemilihan ini akan jadi langkah pertama bagi merealisasikan harapan baru untuk Malaysia.
TAN SRI DATO' SERI ABDUL KHALID IBRAHIM
DATO MENTERI BESAR SELANGOR
Budget boosts bloated bureacracy
Posted: 16 Oct 2010 11:54 PM PDT
I only wish to make three comments on Najib's new RM221 billion budget, which incidentally is the biggest for Malaysia since 31 August 1957.

No 1 and the most troubling – 75% of the humongous allocation goes to operating expenditure, which means we have a bloody bloated bureaucracy. Looks like the Malaysian Civil Service is just another system for dispensing out the monthly dole, signifying our welfare state status for the last thirty years, since Ops Isi Penuh in 1981.

More worrying is there's only a wee portion left for major infrastructural development, which leads us to comment No 2.

No 2 and I have to ask, why we are into the largest, longest and laughable nonsense again. Why are we wasting precious funds (of only 25% of budget) on more white elephants, like the RM5 billion 100-storey building?

Yet the government has a nerve to tell the public to tighten their belts, warn them of more reduction and eventual removal of subsidies, which incidentally I support but which becomes untenable to justify when we waste money on useless projects.

The PM and his ministers and advisors should snap out of their standard mentality and stop treating the country like their own houses, requiring awe-inspiring decorative pieces or attempting to keep up with the Joneses.

What the public need is a major infusion of public-function infrastructures like mass transit system (to reduce public over-dependence on petrol-thirsty motor vehicles), toll-free highways, safe bridges and walkways for the remote kampungs, safe and modern bicycle paths from urban centres to schools and public facilities (to promote health, reduce road traffic and to save on petrol), a modern system of water reserves including massive underground reservoirs (for a very arid future when water becomes more valuable than gold), schools, health facilities, etc.

No 3 – finally I couldn't but help notice that the lion's share of the budgeted development goes to the Klang Valley region. The government must be thinking Malaysia is only Selangor and only Selangor is Malaysia, congesting the majority of its budgeted projects in Selangor (including KL).

It's f* time it allows Selangor (& KL) to consolidate on their (many half-past six type) projects and considers instead greater regional development in, for example, Seremban, Malacca, Ipoh, the Teluk Intan-Sitiawan stretch, Penang Island, the Bukit Mertajam-Sungai Petani-Baling-Gerik region, Alor Setar, KB, Kuala Terengganu , Kuantan, Termeloh etc. I would love to see more settlements (inclusive of industries) in the beautiful green region along the East-West Highway.

Then there's the equally beautiful KK–Kota Belud stretch, the coastal region from Sandakan-Sempurna-Tawau and all the interior regions in Sabah and the vast distances of Sarawak as well.

Finally, it should begin trimming off the excessive fat on the public service very obese body.
Islam - A False Religion of Lies, Hate and Violence
Posted: 16 Oct 2010 09:47 PM PDT
by A. Sayer
Most people would prefer to blindly assume that Islam is a valid "religion of peace and love", without really looking at what it (and the Quran) says. The remaining few would dare to actually read it for themselves. This is for the latter of the two.
The Quran is only about 450 pages long, yet terms like "retribution" appear an astounding 369 times. By the time you add in the many other calls for killing and violence, not a page goes by without at least one call for Muslim brutality or revenge or murder.
Even the Ahadith, which Muslims place on EQUAL authority with the Quran, has numerous calls for violence. In it, there are even a number of calls for violence IN their own Mosques! Yes, in several instances, if someone so much as passes in front of another Muslim during worship in a Mosque, a devout Muslim is expected to commit a bodily ASSAULT on that man!
So, for those who want to know, let's look at just some of the violent nature of Islam from the Quran.
The Quran: Violent From the Very Beginning
When you start to read the Quran, you can not make it past the 7th verse before Muhammad's seething hatred (of Jews, Christians and all who refuse to accept Islam) starts to show through. And, you can not make it past the 14th verse without hitting the first "retribution". By the time you get to the 17th verse [Sura 2:10], you have already been hit with the second "retribution". It quickly becomes apparent that the Quran is a book of vengeful intentions, and is biased against anyone who is not a Muslim.
The Quran is also a book of argument; a feeble attempt to refute other religions, particularly Christianity and Judaism. This starts to become evident by the 15th verse. By the 17th verse, the Quran is already calling all who choose not to become Muslim, "diseased", and says they are "lying":
[2:10] In their minds there is a disease. Consequently, GOD augments their disease. They have incurred a painful RETRIBUTION for their lying.
Remember, this is only 17 verses into the Quran - it gets much worse from there (the first "chapter" is only 7 verses long). By the time you get only 25 (total) verses into the Quran, it becomes very evident that it is a concentrated tirade against all other religions. By the time you get only 30 verses into the Quran, it is already describing "hell" and attempting to employ scare tactics to get people to become Muslim.
So, when I hear people assuming that Islam is a "peaceful and loving" religion, I know immediately that they have never made even the slightest effort to understand Islam by reading any of the Quran. Such is the "religious" nature of humanity; most don't even know the tenets of their own religion, much less those of other religions. It has been proven that the same even applies to Muslims themselves regarding their understanding of Islam; most don't know very much about Islam, the Quran or Muhammad. All they know is that it's a good excuse to show their truly violent nature.
Fighting in the "Cause of God"

"Cause of God" = used 44 times
[2:154] Do not say of those who are KILLED in the CAUSE OF GOD, "They are dead." They are alive at their Lord, but you do not perceive. *
"Striving"; "strive" for the "Cause of God": used 9 times
"Spend"; "spending" in the "Cause of God": used 10 times
"Strive w/money & life" in the "Cause of God": used 4 times
"killed" in the "Cause of God": used 4 times
"Fight" in the "Cause of God": used 10 times
"Mobilize" (for war) in the "Cause of God": used 6 times
"Strike" in the "Cause of God": used 1 time
"Mobilize" = used 26 times
[9:38-39] O you who believe, when you are told, "MOBILIZE in the cause of GOD," why do you become heavily attached to the ground? Have you chosen this worldly life in place of the Hereafter? The materials of this world, compared to the Hereafter, are nil. Unless you MOBILIZE, He will commit you to painful retribution and substitute other people in your place; you can never hurt Him in the least. GOD is Omnipotent.
The intent is clear - Muslim "Mobilization" is FOR war:
[9:83] If GOD returns you to a situation where they ask your permission to mobilize with you, you shall say, "You will never again mobilize with me, nor will you ever fight with me against any enemy. For you have chosen to be with the sedentary in the first place. Therefore, you must stay with the sedentary."
[8:60] You shall prepare for them all the power you can muster, and all the equipment * you can mobilize, that you may frighten the enemies of GOD, your enemies, as well as others who are not known to you; GOD knows them. Whatever you spend in the cause of GOD will be repaid to you generously, without the least injustice.
[4:71] O you who believe, you shall remain alert, and mobilize as individuals, or mobilize all together.
* For a Christian, the only "equipment" they need is true faith (in a real God) and the Scriptures, but for Muslims, this means real war equipment, real fighting and real dying. There is no way to get "killed in the cause of God", or "strive with your money and your life" unless this is absolutely literal. These do not speak of kindly religious "ideals" - they speak of very real violent intents.

A conspiracy to bring down Rais? You must be kidding!
Posted: 16 Oct 2010 09:34 PM PDT
I had supper with some politicians (including 2 MPs) and bloggers last night, chatting about many things - from Budget 2011 to Galas and Batu Sapi and Rais Yatim. Of course, the Rais-Rockybru issue took center stage. What drew my attention was the sum-up about a 'conspiracy theory' to bring down Rais.
Was there a conspiracy? I didnt find any logic in it but here are their points:
1. Prime Minister Najib Tun Razak is said to be announcing a minor Cabinet reshuffle after tabling Budget 2011 at the Parliament. Najib has had enough of Rais and a few ministers. However, not able to find a good reason to remove Rais, they used Rocky's Bru and a few bloggers to launch political assassination on Rais.
2. That Rocky received a supreme instruction to do so by manipulating Rais' Mexican trip. Some info were already leaked out to him and a few bloggers.
3. That the 'over RM1 billion' high-speed broadband deal was the best ammo, especially when CEOs of all Telcos followed him to Mexico where a deal for Rais' son was chartered. Back home, no papers were found of the deal but the AG chamber was 'used' to provide evidence.
4. That someone persuaded Rais to lodge a police report (he fell into the trap) against Rocky's Bru, knowing that it would make the minister the subject of criticism from many parties. And for him to withdraw the report would be an act of contempt, thus his credibility as a minister, a senior politician and a seasoned lawyer will be at stake.
5. Rocky was advised not to bow out to calls for a handshake with Rais as this will inject the latter with a new lifeline. To 'kill' him, nobody should entertain any effort to solve the 2R confrontation. Even the top leadership 'didnt want that to happen'.
Sounds more like a CIA and KGB plot. I dont find all of it making any sense (except No.4) but I am impressed at how this people drew up such a conspiracy theory.
But who are actually the bad guys here?
Posted: 16 Oct 2010 06:55 PM PDT
----->
蔡細歷於紀念冊上簽名。左:馬華甲州婦女組主席江雪霞、野新區會主席許金漢,右:甲馬華聯委會主席顏天祿、馮鎮安。(圖:光明日報)
(馬六甲16日訊)馬華總會長拿督斯里蔡細歷認為,政府應該公開興建100層摩天樓工程詳情,以便這座摩天樓不會成為一個大白象計劃。
蔡細歷週六下午出席馬六甲馬華"選戰幹訊營"時在記者會上說,政府應該公開更詳細的內容,讓各界更加瞭解這座耗資50億令吉的摩天樓大計。
此外,他在提及最低工資時認為,最低工資應以區域及行業領域定下最低工資標准。
"巴生谷一帶的最低工資,應該與玻璃市、吉打、吉蘭丹或登嘉樓有別。"
他指出,具有發展潛能的領域如園坵業、製造業及服務業,應該實行最低工資。
"我們不同意最低工資的做法將導致加重資方的負擔,導致大馬無法競爭的說法。"
蔡細歷舉例,在新加坡、香港、台灣的工資,比大馬更高出多倍,但是,這些國家和地方同樣能夠保持競爭力。
"競爭力可從提高技能、科技及生產力,我們不能一方面要進步,一方面卻停留在低工資、低生產力、低科技的腳步。"
他說,目前是時侯實行最低工資的時機。
光明日報‧2010.10.16
Dr Asri : PAS Banyak Berubah Agar Kekal Relevan Banding Umno
Posted: 16 Oct 2010 06:51 PM PDT
"Umno tidak boleh jadi (parti membawa sentimen) perkauman, sebaliknya Umno perlu lebih matang dalam membuat keputusan. Jangan membuat perkara yang boleh membahayakan diri sendiri," katanya...

Malaysian Insider

Bekas mufti Perlis Dr Mohd Asri Zainul Abidin muncul pada forum anjuran Umno malam tadi sambil berkata, PAS seolah-olah memperlihatkan ia banyak berubah berbanding dengan parti dominan Barisan Nasional (BN) itu sepanjang dua dekad yang lalu.

Kata beliau (gambar) perubahan mengikut peredaran masa itu dapat dilihat dengan ketara khususnya sejak selepas pilihan raya umum ke-12.

Sehubungan itu menurut beliau, Umno yang ada sekarang dilihat tidak lagi menjaga dan mengangkat hal-hal berkaitan agama Islam.

Malah kata beliau, Umno tidak boleh jadi parti yang membawa sentimen perkauman, sebaliknya perlu menjadi lebih matang dalam membuat keputusan.

"Umno tidak boleh jadi (parti membawa sentimen) perkauman, sebaliknya Umno perlu lebih matang dalam membuat keputusan. Jangan membuat perkara yang boleh membahayakan diri sendiri," katanya.

"Kalau dulu Umno boleh dikatakan mendahului dalam banyak perkara termasuk dalam hal-hal agama.

"Tetapi sejak kebelakangan ini selepas pilihan raya umum ke-12, saya lihat isu yang dibawa Umno gagal mengangkat Umno di peringkat global.

"Isu yang dibawa Umno hanya setempat, saya tidak tahu macam mana Umno menyusun ulama-ulama mereka," katanya.

Sebagai contoh kata beliau, dalam isu bukan Islam masuk masjid, doa untuk bukan Islam dalam khutbah dan juga isu wang ihsan, ia tidak menunjukkan identiti Umno yang sebenarnya.

"Saya dukacita dengan apa yang berlaku dalam isu-isu tersebut, apabila pemimpin-pemimpin Umno (kata) tidak boleh sedangkan banyak bukti mengatakan sebaliknya," katanya.

Beliau berkata demikian pada forum Kursus Kepimpinan Kelab Umno Luar Negara di bawah tajuk "Menjana Modal Insan Ulul-Albab di Peringkat Global" di sini malam malam tadi.

Beberapa jam sebelum pandangan Asri itu, Perdana Menteri Datuk Seri Najib Razak mengusulkan kemungkinan diwujudkan Model Politik Baru bagi memastikan kelangsungan Umno sebagai parti yang menerajui pemerintahan negara.

"Bukan sahaja kita perlu Model Ekonomi Baru, kita mungkin perlu Model Politik Baru," katanya ketika berucap pada majlis pelancaran Kelab Umno Pesara Kakitangan Kerajaan di Seri Perdana.

Najib, yang juga Presiden Umno berkata strategi seperti "politik pembangunan" tidak lagi berkesan jika digunakan sekarang.

"Saya kira mengapa orang menolak parti-parti yang banyak berjasa dahulu kerana parti itu tidak berubah. Parti itu dilihat sebagai kaku dan tidak dinamik. Mereka tidak berubah mengikut masa.

"Tetapi sebaliknya kalau kita berubah dan kita dilihat sebagai parti yang dinamik dan segar, Insya-Allah sokongan rakyat pada kita akan berterusan pada masa-masa akan datang," katanya.

Asri juga menegaskan PAS yang dulu begitu menitikberatkan soal agama sudah berubah mengikut peredaran zaman, tetapi Umno dilihat kembali ke masa lalu.

"Kita lihat sekarang PAS sudah berubah dan banyak melakukan kelonggaran dalam beberapa isu tapi nampaknya Umno menjadi seperti PAS semasa tahun 80-an dulu.

"Umno tidak boleh jadi perkauman, sebaliknya Umno perlu lebih matang dalam membuat keputusan. Jangan membuat perkara yang boleh membahayakan diri sendiri," kata beliau yang pernah disebut-sebut akan menyertai Umno tetapi telah menegaskan tidak akan menjadi ahli mana-mana parti buat masa sekarang.

Asri juga mendakwa sikap pemimpin Umno yang ada sekarang merupakan punca rakyat terutamanya orang Melayu sudah bosan dan tidak lagi menyokong parti Melayu itu.

Beliau berkata pemimpin Umno dilihat lebih menjaga kepentingan peribadi masing-masing sehingga mengabaikan tanggungjawab terhadap rakyat.

"Apa yang berlaku sekarang kita lihat Umno sudah mula hilang sokongan kerana sikap peribadi pemimpin-pemimpin mereka iaitu sikap sombong dan cara pengurusan negara yang menyebabkan rakyat mula tolak Umno.

[ADS] Terima Email Dan Dapatkan $$$ Setiap Kali Membacanya !!!
[ADS] Malaysia Online Contest, Promotion & Earning Blog!!!

"Rakyat terutamanya orang Melayu tidak membenci Umno atau formula yang digunakan Umno selama memajukan negara ini tetapi adalah kerana sikap pemimpin mereka.

"Umno perlu betulkan semua ini, jika tidak mereka akan kehilangan sokongan orang bukan Melayu dan juga orang Melayu," katanya

Dalam ucapannya itu, Asri juga menegaskan parti-parti politik di negara ini perlu melahirkan lebih ramai individu yang berpengetahuan luas ataupun Ulul-Albab.

"Ulul-Albab adalah golongan yang mempunyai pengetahuan yang matang di mana mereka bersedia mendengar dan kemudian pilihan yang terbaik cuma selama ini ia tidak diangkat oleh kepimpinan negara.

"Justeru, parti politik yang bertanggungjawab adalah parti yang menjadikan rakyat sebagai bangsa Ulul-Albab iaitu rakyat yang berpengetahuan.

"Bukan pemimpin yang hanya menyuruh rakyat mengikut telunjuk mereka walaupun apa yang diikut itu sememangnya salah," katanya.

Kursus selama dua hari itu disertai kira-kira 200 perwakilan pelajar luar negara dan juga pemerhati.

Turut hadir anggota Majlis Tertinggi Umno Datuk Seri Shahidan Kassim yang bertindak sebagai moderator, Mufti Perlis Dr Juanda Jaya dan Timbalan Pengarah Majlis Amanah Rakyat (Mara) Ibrahim Ahmad.

Adopted from http://www.themalaysianinsider.com/bahasa/article/asri-pas-banyak-berubah-agar-kekal-relevan-banding-umno/


20101016_Part_of_my_day.avi.w.mp4
Posted: 16 Oct 2010 03:54 AM PDT
Posted: 16 Oct 2010 03:30 AM PDT
Budget 2011 views from the Parliament lobby - Part II
Posted: 16 Oct 2010 03:22 AM PDT
Budget 2011 is not an election budget, says Muhyiddin Joseph Sipalan Deputy Prime Minister Muhyiddin Yassin today swatted aside talk of Budget 2011 being an 'election budget', saying it is a sincere effort to deliver on the people's wishes. "I don't know if you could call it a by-election budget, considering the announcement of two by-elections before this... but (from) the announcements made by the Prime Minister, the people from all levels of society know they will benefit," he said at a press conference in the parliament lobby after premier Najib Abdul Razak tabled the budget. "There is no other reason behind the budget other than to give the people development and comfort."

Time:

13:44

More in

News & Politics
Budget 2011 views from the Parliament lobby
Posted: 16 Oct 2010 03:08 AM PDT
Soon after the Prime Minister's presentation of his budget 2011, there's a rush for views from both opposition and BN politicians. Not unexpected, it was thumbs up from BN and thumbs down from PR. Opposition leader Anwar Ibrahim criticised the budget as a naked appeal for votes that failed to deal with the deficit, which will shrink only slightly. "It is clearly not a responsible budget," Anwar told AFP. "The focus on mega-projects will only benefit his cronies," he said of the premier. Malaysia recently announced ambitious plans to double private investment over the next 10 years, and to propel annual growth to an average of 6 percent to meet its goal of achieving developed-nation status by 2020.

Time:

14:49

More in

News & Politics
3-cornered fight as Khalid, Nurul pull out
Posted: 16 Oct 2010 03:05 AM PDT
The race for PKR No 2 will be a three-cornered fight among party vice-president Azmin Ali, Federal Territory chief Zaid Ibrahim and Perak chief Mustaffa Kamil Ayub. Full story here: www.malaysiakini.com

Time:

07:25

More in

News & Politics