---
Perkasa to rob from poor Malay to give to rich Malay
Posted: 22 Sep 2010 10:30 AM PDT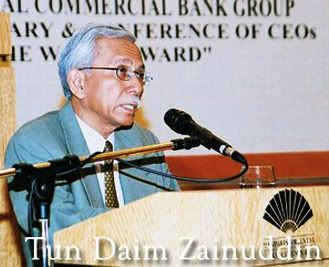 Quote "…. Daim Zainuddin , the Mr Moneybags of UMNO, can easily become the richest man in Malaysia if his wealth is OPENLY declared. Mahathir and Daim were intimate friends from the same village in Alor Setar. Daim was so influential during Mahathir's administration that Musa Hitam, Deputy Prime Minister, couldn't get Mahathir's attention when Musa commented about Daim's dealings in awarding HUGE projects to his cronies such as Tajuddin Ramli, Halim Saad, Wan Azmi, Samsuddin Hassan, Rashid Hussain, Amin Shah and others. As Finance Minister, Daim practically ordered banks to lend money to any companies he desired. Daim and his cronies also profited tremendously from shares allocated from company listing (IPO) on the Kuala Lumpur Stock Exchange. As the Finance Minister, Daim persuaded Mahathir for absolute power in running the Economic Planning Unit and the nation's Treasury. Projects were awarded directly to "preferred" companies aka cronies. Daim was so influential politically and monetary that he can influence the ups and downs of the local stock exchange. His boss, former PM Mahathir was speechless when confronted by not only Chairman of Japan's banks but also former Britain's Prime Minister Margaret Thatcher that Daim Zainuddin's demand on the quantum of commissions was simply outrages. Eventually Mahathir the PM had to relieve Daim Zainuddin of his position (as Finance Minister) lest the PM wish the whole world to know about the irregularities. Of course Daim Zainuddin was linked to many scandals over his journey in wealth accumulation…."
The Return of Daim Zainuddin's Monopoly Game by "financetwitter" If there's an award for the best dressed wolf in sheep's skin, you can be sure of only one winner – Tun Daim Zainuddin. The former finance minister is perhaps the politician former Prime Minister Mahathir least has to worry simply because Daim was not an ambitious politician. Daim loves money and young women more than anything else and this includes power that comes with the position as Finance Minister. And Mahathir was freaking comfortable with such person. Furthermore Mahathir and Daim were intimate friends from the same village in Alor Setar. Daim was so influential during Mahathir's administration that Musa Hitam, Deputy Prime Minister, couldn't get Mahathir's attention when Musa commented about Daim's dealings in awarding huge projects to his cronies such as Tajuddin Ramli, Halim Saad, Wan Azmi, Samsuddin Hassan, Rashid Hussain, Amin Shah and others. Daim, the Mr Moneybags of UMNO, can easily become the richest man in Malaysia if his wealth is openly declared. During his day as the Finance Minister, Daim persuaded Mahathir for absolute power in running the Economic Planning Unit and the nation's Treasury. In short projects were awarded directly to "preferred" companies aka cronies. As Finance Minister, Daim practically ordered banks to lend money to any companies he desired. Daim and his cronies also profited tremendously from shares allocated from company listing (IPO) on the Kuala Lumpur Stock Exchange. At one time Daim Zainuddin was so powerful (and greedy) that his boss, Mahathir, was speechless when confronted by not only Chairman of Japan's banks but also former Britain's Prime Minister Margaret Thatcher that Daim Zainuddin's demand on the quantum of commissions was simply outrages. Daim was so influential politically and monetary that he can influence the ups and downs of the local stock exchange. Eventually Mahathir had to relieve Daim Zainuddin of his position lest the PM wish the whole world to know about the irregularities. Godfather Daim's Financial Scandals
Of course Daim Zainuddin was linked to many scandals over his journey in wealth accumulation.
Daim was allegedly illegally acquired 40.7% of UMBC in 1984 while he was already Finance Minister.
He also owned substantial stake via nominees in previously Development & Commercial Bank,

Rashid Hussain

Berhad, Bank of Commerce, United Asian Bank, Southern Bank, and Ban Hin Lee Bank before their mergers in the 1990s when he was still Finance Minister.
Daim's name is also linked in the RM8 billion controversial electrified double-tracking railway project spanning from Gemas to Johor Baru. It seems CREC (China Railways Engineering Corp.), a Chinese company that has Daim Zainuddin's finger-prints and was awarded the Letter of Intent, is fighting tooth and nail with Najib's administration because the PM wanted the project to be awarded to another company.

Najib's crony and golf buddy Tan Kay Hock

was allegedly asking RM500 million commission of which RM200 million was for Najib's family.
One of his cronies,

Tajuddin Ramli

,

recently created havoc when he exposed that it was former prime minister Dr. Mahathir Mohamad and former finance minister Tun Daim Zainuddin who instructed him to buy shares in Malaysia Airline System (KLSE: MAS, stock-code 3786) to help Bank Negara (Central Bank) recover from foreign exchange losses in 1994.
And now

another (Daim) crony tycoon Halim Saad

who was bailed out in the 1997/1998 Asia financial crisis is making headlines in the local stock market. Halim Saad controlled now defunct Renong Group which in turns owned PLUS and UEM Group Berhad. Both PLUS and UEM are now owned by Khazanah. It was reported that Halim and Daim are the man behind Asas Serba, a company which proposed to tale over 25 toll expressways in the Peninsular Malaysia. Asas Serba has offered 20% cut in toll rates in its RM50 billion bid for the acquisition as a carrot to lure the ruling government to accept the proposal. Politically this is attractive since the government could cheer the voters while the government could save RM114 billion (from 2010 until 2038) in a lopsided agreement that allows the concessionaires to raise toll rates every 3-years. The contender was from

Syed Mokhtar Albukhary, one of Najib's many cronies

, who is offering RM45 billion to take over all assets of highway concessions with a 10% toll reduction across the board. The proposal also includes a promise not to increase toll rates in the remaining years of the concession. The whispers on the street were that Syed Mokhtar is already monopolize the nation's sugar (

that's right, Robert Kuok no longer the Sugar King

) and rice industry so should the same person be crowned the Highway King as well?
However out of all the concessions, the biggest is PLUS Expressway Berhad (KLSE: PLUS: stock-code 5052) which is also the only toll operator owned by the government. But there're more questions than the excitements about the PLUS possible acquisitions:
Why is the government rushing to cash-out their "cash-cow"? Does the de-facto ruling government somehow know they would lose in the next general election?

Isn't RM50 billion too costly a price to pay, not to mention difficulty in finding that amount of funds?

Will other highway operators willing to sell their respective cash-cows?

Is RM50 billion sufficient to acquire all the 25 expressways considering the bidders need to pay attractive premiums in order for the concessionaires (especially PLUS and Litrak) to let go of their goose that is laying golden eggs?

If history were to repeat itself, will Santa Claus Halim Saad (or Syed Mokhtar) need another bailout at a later stage considering they do not have expertise in highway maintenance?

If Asas Serba can offer 20% cut in toll rate and still able to make profit, why can't the ruling government do the same?
A low-profile Daim Zainuddin who is known to be a great tactician does not seems to be bother about funding. After all he owns Swiss-based ICB (International Commercial Bank) Group via Daim Limited's 61.3% stake and if he desires he just need to pull his political connection strings to secure the funds. Daim plans his moves silently and with great care. Nobody should be surprise if he has the backing of Mahathir to return to the corporate scene. And does the return of Daim Zainuddin from overseas means the alleged RM3 billion cash in RM500 and RM1000 notes siphoned out to Indonesia has been successfully brought back and converted into "usable money" ready to be used
?
Posted: 22 Sep 2010 08:38 AM PDT
-----> 蔡细历(中)与甲州各领袖交流,左起许金汉、颜天禄;右起薛亚朝及古乃光。
(马六甲21日讯)马华总会长拿督斯里蔡细历医生指出,从该党所进行的各种民调显示,尚有逾40%的华裔在来届大选的动向未明,这些都可能会是马华的支持者。
因此,他说,马华必须积极推动登记选民运动,做好"促销工作",而登记选民对党与选民之间来说是一个好的开始,它让党与选民之间有个联系与互动,进而可建立起联络网,也让选民感受马华关心他们,而非只注重内斗问题。
蔡细历昨晚在马六甲,与马华武吉卡迪区会各级领袖共进晚餐时,发表谈话。在场者包括该区会主席拿督古乃光、甲州联委会主席拿督颜天禄、冬牙峇株区会主席拿督薛亚朝、马日丹那区会主席拿督陈干韬、野新区会主席许金汉等。
蔡细历表示,以甲州马华6个区会,有2国8州议员,应当登记至少5000个选民,一名议员、或者"准议员"至少要登记500个人为选民。
"不要说你们(议员)做不到,如果你们连500个人都找不到,(下届大选)怎能会胜?"
除此,蔡细历也说,马华也必须有良好的宣传策略,像行动党什么都不做,却可以获得那么多支持,马华应自我检讨问题出在哪里。
"看水沟、看后巷,你们(市、县议员)最厉害,填表格协助弱势群体申请福利部援助金也做了,为什么依然不获支持?马华的领袖要自我检讨,不可以一成不变,抱着旧有的态度,否则人们也用一样的态度对待我们,就是不支持我们。"
他认为,马华党员要改变态度,尽管目前局势不利该党,党员还是得纠正态度以得民心。
他强调,选民的很多事情,马华都通过内部解决,一些也在处理中,只是还没有宣传,因为宣传一定要有技巧,马华的资源比很多政党多,做事不会输其他政党,但是做事方式要精。
蔡细历表示,他本身估计大选会在明年举行,此时此刻马华"应该做还未做的事",不可以再出现内斗,消耗党内资源。
光华电子新闻 (21-09-2010)
The Mid Autumn Festival - The Equinox
Posted: 22 Sep 2010 08:30 AM PDT
The Mid-Autumn Festival is celebrated on the 15th day of the eight lunar month of the chinese calendar which this year falls on the 22 September 2010 today. The 15th day of the lunar month is a time when the moon is at its fullest and coincides with the autumn equinox of the solar calendar. The fullest and brightest moon is expected at about 3.10 am after midnight the 23 Sept 2009 thats when it will be at its equinox.
An equinox is a time when the earth's axis is equal or center and that is when the time of the night and day are at an equal length of time. There are two equinox and two solstices in a year, the first one is the spring equinox that occurred in 20th March.
Historically the mid-autumn festival has been traced back to the time of the Zhou dynasty some 3000 years ago and many believed that the festival could have started even much earlier as far back as the time of the mythical emperors of more than 5000 years back when agriculture and farming was the mainstay.
Traditionally the mid autumn is the completion of the summer harvest, its a celebration of a bountiful harvest and a time of holiday making after the hard work all through the year from spring to summer. The date of 15th day of the eight month was a date that were fixed thousand of years ago that coincides with the autumn equinox as the ancients of old were great scientist and had studied the heavens and were long aware of the workings of the universe and were already able to calculate all the precise timing as evident from the chinese solstice and equinox celebration.
The mid-autumn festival has evolved through thousands of years which started as a harvest festival that falls on the equinox when the moon is to be the roundest and the fullest time and thus the celebration was synonymous with moon worship which is actually an act of respect and admiration of the way of nature, of the sun and the moon and of the universe. The ancients had back than in all their deeds tried to emulate the way of nature and to be working with nature and not against it. Maybe this 2000 years old proverb will help;
"Nature is complete because it does not serve itself,
the sage places himself after and finds himself before,
ignores his desires and find himself content.
He is complete because he does not serve himself."
(An evening gala celebrating the Mid-Autumn in Hong Kong on 19 Sept 2010)
And so today the festival is also a celebration of nature as represented by the beautiful autumn moon, at a time of its brightest and fullest, a time of beauty of all of mankind and of nature. The mid-autumn festival is probably one of the oldest festival and is today a major celebrations after the chinese lunar new year and is a public holiday in china, taiwan,vietnam and south korea. It is a weeklong celebration leading to the actual day.
This festival is also a representation of revolution as it was said that during the Yuan dynasty (Kublai Khan), the people of china had rebelled against the declining mongol rule and had used the mooncake to transmit messages of dissension and rebellion that lead to the overthrow of the Yuan dynasty and in the new Ming dynasty in 1368 AD. So the mooncake was probably the early SMS (short message service) of the old days carrying messages of dissension. Ever since than in the Ming dynasty the Mooncake has taken a central theme in the festival.
The mid-autumn festival being one of the oldest festival continuously celebrated has through thousands of years pick up mythical stories of romance and fairy tales and was greatly celebrated during the Tang dynasty of 618 to 907 AD which was regarded as an era of prosperity and the flourish of civilisation in china and the golden age of chinese history from the Tang era the mid-autumn began to take on a romantic atmosphere with lanterns and fireworks and other events like dragon and lion dance in an atmosphere of great romantic celebrations.
(Mid Autumn Festival at the Shanghai Expo 2010)

Have a Happy and Romantic Mid-Autumn Festival!
You can read more of other mid-autumn folklore and stories in wikipedia
HERE
Jualan Surat Akhbar Utusan Dan Berita Harian Jatuh Mendadak Sejak Tahun 2004
Posted: 22 Sep 2010 06:17 AM PDT
Menurut Blogger uppercaise, jualan Utusan dan Berita Harian telah jatuh mendadak bermula dari tahun 2004 sehingga sekarang dan kini tempatnya telah diambil alih oleh Metro dan Kosmo...

Menurut Blogger uppercaise, jualan Utusan dan Berita Harian telah jatuh mendadak bermula dari tahun 2004 sehingga sekarang dan kini tempatnya telah diambil alih oleh Metro dan Kosmo.

Metro adalah surat akhbra yang dilancarkan pada bulan March 1991. Pada tahun 2004, jualan Metro telah melebihi jumlah gabungan jualan surat akhbar Utusan dan Berita Harian dan terus menambah.

Manakala Kosmo yang dilancarkan pada tahun 2004 juga mengambil alih tempat Utusan dan Berita Harian pada tahun 2009.

[ADS] Terima Email Dan Dapatkan $$$ Setiap Kali Membacanya !!!
[ADS] Malaysia Online Contest, Promotion & Earning Blog!!!

Maklumat ini diperolehi dari http://uppercaise.wordpress.com/2010/09/20/tabloids-overtake-bm-papers/
Posted: 22 Sep 2010 05:54 AM PDT
The launching of the book,"Crown Jewel of the North" at the Sarawak Club this afternoon was very well attended by many friends and politicians as they came to say thanks to the former Deputy Chief Minister James Wong.
The Minister (Special Advisor in the Chief Minister"s Office)  in his speech said,"Limbang is all about James Wong and James Wong is Limbang. Whenever anyone thinks of Limbang they think of him first before anything else. Adenan also said that similar books of this nature should be published for Sibu,Kapit,Kanowit,Mukah and the rests of the cities and towns.
Adenan reiterated that  publishing such books would create a sense of belonging among the younger generation and would serve as documentation purpose as well.
In his usual jovial and humorous self when approached by the reporters on the election date he was not to be outwitted by the press and media and he said.Its in July 2011. At least he is being truthful.
DON'T YOU THINK SO…???
You know too that the Sarawak State elections must be called before June 2011.This is

wittiness

but not

sarcasm

of the highest order.Many younger politicians needs to learn more from an experience hand like Adenan.
Don't insult the deputy president, Azmin tells Zaid
Posted: 22 Sep 2010 05:17 AM PDT
PKR vice-president Azmin Ali today demanded that Zaid Ibrahim retract his statement published in an online news portal, where he called outgoing deputy president Syed Husin Ali nyanyuk or senile. Azmin who is expected to face-off with Zaid (right) in a two-man race for the deputy presidency, slammed the latter for his outburst, saying it is "shameful" to the party members and leadership. Full story here: www.malaysiakini.com

Time:

02:51

More in

News & Politics
Ong Tee Keat on MCA auto plates
Posted: 22 Sep 2010 04:42 AM PDT
BN dan PR diNS - ibarat Touch N Go
Posted: 22 Sep 2010 04:02 AM PDT
Sehari dua ini saya memberikan tumpuan untuk politik diNS kerana dinegeri ini kedudukkan dan kekuatan parti yang sedang memerintah dan yang cuba mengambil alih mempunyai peluang yang agak 'even'. Kalau benar-benar demokrasi dilaksanakan dengan berimbang tidak mustahil kerajaan pimpinan BN sekarang akan menjadi pembangkang seperti yang berlaku diKelantan, Kedah, P Pinang dan Selangor.
Pada pandangan hakikatnya Perak memanglah kepunyai PR. Hanya permainan politik yang terlalu kotor menjadikan pihak yang sepatutnya membangkang menjadi yang memerintah.
NS merupakan pertaruhan yang sangat besar bagi kedua-dua belah pihak, BN dan PR. DiNS tidak ada rekod sejarah yang pembangkang pernah mengambil alih kuasa sejak merdekanya negara kita. Setakat ini hanya Kuala Pilah yang tidak ada sekali atau satu kawasan DUN yang terlepas ketangan pembangkang walau dalam keadaan politik semacam mana pun. Dikawasan yang lain semua telah merasakan kehaziran wakil pembangkang yang ada didalam Dewan Undangan Negeri Sembilan.
Kuala Pilah merupakan kubu BN dan setakat ini pembangkang masih lagi belum berjaya mendapatkan kerusi dalam mana-mana diantara 5 kerusi DUN dalam kawasan Parlimen ini. Perlu diingat kelima-lima kerusi DUN dalam parlimen ini diwakili oleh UMNO.
Didalam sejarah pilihanraya Kuala Pilah hanya Dato Idris Mat Sil yang hampir tumpas ketangan pembangkang bila beliau hanya memenangi majority 6 undi pada tahun 1969 dulu.
Pendeknya UMNO itu Kuala Pilah, dan Kuala Pilah itu adalah UMNO. UMNO dan Kuala Pilah itu adalah sinonim selama ini. Dulu-dulunya diKuala Pilahlah yang kita mendengar kata-kata 'calun UMNO tidak payah berkempen. Hantarkan cermin mata atau pun songkok calun pun boleh menang'. Tetapi sekarang keadaan itu tidak lagi wujud. UMNO tidak boleh lagi berkata-kata dengan kata-kata yang takbur seperti dulu.
Seorang sahabat lama saya diKuala Pilah berkata kepada saya baru-baru ini yang UMNO tidak seperti dulu lagi. Dengan berseloroh dia berkata,"lain hulu lain parang, lain dahulu lain sekarang. Dulu lebat bulu, tapi sekarang dah jarang-jarang".
Kalau ada satu kerusi UMNO akan kalah dimana-mana kawasan DUN diKuala Pilah, itu merupakan indikasi yang UMNO sudah hampir sangat keakhir kalam. Kalau satu kerusi DUN diKuala Pilah jatu ketangan pembangkang maka puluhan kerusi dikawasan Parlimen yang lain akan kecundang. Jangan dinafi-nafikan hakikat ini.
Dinegeri Sembilan keseluruhannya PR memang telah menembusi banyak kubu-kubu BN dan telah pun berjaya menafikan kemenangan 2/3 BN. Dalam keadaan sekarang BN tidak mungkin dapat melakukan apa-apa pindaan didalam DUN jika kelulusan pindaan itu memerlukan sokongan 2/3 ahli Dewan Undangan Negeri. Bagi setengah pandangan penganalisis politik jika PR telah bersedia untuk menamakan siapa yang akan menjadi MB NS jika PR diberikan mandate maka PR sepatutnya telah menjadi kerajaan diNS selepas pilihanraya umum yang lalu.
Jika kali ini PR serius untuk mengambil alih pimpinan kerajaan NS, seperkara yang mutlak dilakukan oleh kepimpinan PR ialah untuk menamakan seorang yang benar-benar diyakini peribadinya oleh rakyat dan pengundi NS. Jika pihak PR berjaya melakukan ini maka BN terpaksa melakukan 'mind conditioning' untuk mereka yang menang duduk dikerusi pembangkang.
Dipihak BN sekarang ini tidak lagi muncul nama yang dianggap bersih untuk dinamakan sebagai MB kerana yang ada sekarang ini semuanya menghadapi masalah yang nyata. Kekalutan 'intra-politic' dalam UMNO terlalu meluas dan kegiatan tikam menikam diantara pemimpin dalam UMNO boleh dikatakan mustahil untuk dihentikan.
Sementalahan pula kegiatan mendekati rakyat oleh UMNO sudah tidak wujud lagi seperti dahulu. Pemegang jawatan dalam parti disetiap peringkat tidak melakukan kegiatan sosial yang boleh mendekati rakyat pengundi. Semuanya sudah berakhir dan menjadi nostalgia politik semata-mata.
UMNO dan BN akan hanya mampu untuk memenangi pilihanraya yang akan datang dengan kemenangan 'marginal' jika satu atau kedua-dua keadaan yang berikut berlaku;
Pertamanya jika PR tidak menurunkan calun yang 'averagely' mempunyai sisek-sisek politik didalam diri mereka. Diantara pemimpin PR mesti berani berkorban untuk menggantikan calun-calun yang tidak ada caliber dengan mereka yang boleh dibawa ketengah. Elok dipilih dari mereka yang sudah dikenali kerana itu akan memudahkan usaha menonjolkan mereka untuk ditatapi rakyat yang akan memili dan mengundi.
Faktor kedua yang memunghkin UMNO dan BN boleh memenangi pilihanraya dengan kemengan 'marginal' tadi ialah dengan menunjukkan kepada rakyat yang UMNO/BN itu serius dalam usaha melakukan transformasi seperti yang dilaung-laungkan oleh pucuk pimpinan UMNO.
Caranya ialah dengan menggugurkan ramai diantara mereka yang ada sekarang ini dan digantikan dengan muka-muka yang lain yang belum ada rekod rasuah dan salah guna kuasa. Jika boleh diambil dikalangan mereka yang belum pernah merasakan kedudukkan kerana dengan cara itu nama mereka mudah untuk ditonjolkan kepada rakyat yang sekarang sangat berhati-hati untuk memilih. Jika diturunkan lagi calun-calun yang tidak mampu menyelesaikan isu air untuk penduduk kawasan mereka maka jangan disalahkan rakyat lagi jika mereka menolak BN.
Masalahnya sekarang ini, pemimpin-pemimpin UMNO hanya menumpukan usaha untuk mengubah pandangan dan persepsi buruk rakyat terhadapnya, tetapi tidak mempunyai kudrat untuk berusaha mengubah dan membetulkan kekurangan dan keburukkan mereka sendiri. Sebenarnya rakyat bersedia untuk membetulkan persepsi mereka terhadap UMNO tetapi UMNO tidak mahu berubah kepada sikap yang baik.
Maka diNS kebarangkalian BN untuk terus memerintah dan PR untuk mengambil alih itu adalah seperti 'touch N go'. Mana-mana pihak yang sanggup untuk berkorban dengan hanya menumpukan untuk meletakkan calun-calu yang diterima rakat, pihak itulah yang akan menjadi kerajaan diNS.
Jika kedua-dua pihak masih ingin menonjolkan diri sendiri sebagai calun yang baik tanpa bertanya kepada rakyat dahulu maka tidak mungkin kehendak parti-parti yang bertanding mampu untuk membuat telahan awal tentang siapa yang akan mentadbir negeri adat ini dapat dilakukan.
Yang sangat penting untuk kita akui sekarang ini, UMNO dan BN tidak boleh walaupun sedikit, menunjukkan sikap takbur seperti yang lazim dilakukan oleh mereka selama ini. Sebaleknya mereka mesti sanggup untuk berkorban semata-mata untuk kepentingan dan kemenangan parti.
Langit tidak terus-terusan cerah. Awam mendung kadangkala menyelubungi kehidupan kita. Seperti yang kita alami sekarang; kita dulu menyangka panas hingga kepetang, rupanya hujan ditengah hari.
Posted: 22 Sep 2010 02:37 AM PDT
Posted: 22 Sep 2010 02:55 AM PDT
Bollywood ~ Its open agenda against Islam. When will Muslims realize this?
Posted: 22 Sep 2010 05:55 AM PDT
A straight to the Muslim face video!
Everyday, billions of Muslims all over the so called Islamic nations stretching from masyrik to maghrib waste precious time and money on watching what Bollywood churns out incessantly.
Even in the Arabian peninsular, hundreds of millions of so called Muslims are engrossed in watching what the Kuffars churn out as movies and even in the said to be under Taliban ruled Afghanistan, Bollywood movies are traded clandestinely by those who hate the strict Islamic Syariah which safeguards against the eventual breakdown of social structures and protection against the fahsya and mungkar that the creeping Bollywoodism brings to the average individual suffering financially, spiritually and morally in trying to escape into the world of make believe?
I know that in the video here are exhortations to break your video or DVD player by the singer but that is only a certain part of his message that needs to be taken generally.
It is we who decide what we watch and what we take to be the truth or plain fiction?
Yet we must wake up to the reality that the Bollywood film industry really has an open agenda in distracting the Muslims who are now apparently ones who have swallowed their proverbial hook, line and sinker as far as being addicted to the world of fallacy and mirage of glamor and fantasy that Bollywood icons such as Shah Rukh Khan, Ameer Khan, Salman Khan, Kareena Kapoor, Hrithik Roshan and their lot prance about on the silver screen mesmerizing the legions of agaped Muslims!
Those brainwashed Muslims who despite being mostly poor and suffering from such states of poverty yet do scrounge and strive to make enough just to go and watch such distracting movies in cinemas and theatres all over the Indian, Pakistani and Bangladeshi nations spreading over to Afghanistan, Iran, Iraq and other countries in the Arabian peninsular.
If you happened to notice, the underlying message in movies of Shah Rukh Khan, this so called Muslim attempts to show his millions of awe struck fans that its okay for a Muslim to be married to a Hindu and have children who are caught in the proverbial 'pendulum' of being either a Muslim or a Hindu? 
Maybe its accepted in India to live such a life where anything goes but for those of us who value the purity of our creed and strive our best to live within the Syariah of Allah, that kind of a mixed marriage between the Halal and the Haram is obviously forbidden and we need to stop it right here in our mindsets before we subconsciously allow our kith and kin to think that its okay in Islam???
That's what this video is about?
Although the singer may come off as being rigidly extreme in wanting us to go smash our vcd or dvd players and shut ourselves off from such harami influences, I ask that each of us who are Muslims to think about the warnings being given here in this advisory video as to the state of affairs concerning the Bollywood open agenda in deviating the Muslim ummah from our true bedrock of Islamic Aqeedah.
You who are learned in Islam ought to take heed of such destructive elements of the day to day life we are living and the negative effects of being exposed to such mind bending subtle anti Islam propaganda that such Bollywood movies contain from being viewed in our homes before our beloved families.
I'm not saying that each and every Bollywood movie is like that. No!
There are those which are universal in their storylines and can be watched but those which mix and match religious values as what Shah Rukh Khan, Salman Khan and all other Bollywood actor Khans out there have been dishing out to the world ought to be not supported for these fellas have long traded off their aqeedah for a clutch of rupees in the truest sense of the word.
You are what you watch, read or eat?
If you start to think that its okay to let your religion be sidelined in favor of your nafs, then just be ready to suffer the consequences?
This is the reality of our lives here in these Akhirul Zaman and by Allah, we will each be hauled up to face Him and answer Allahu Ta'ala when He questions us as to why we let those under our watch go astray?
See then if you can wisecrack your way out before The Malikul Mulk, Dzul Jalali Wal Ikram?
His name is Khan...and he is obviously a 'Good Golly Mister Bollywood' Muslim.
You really sure you wanna be like him?
This posting includes an audio/video/photo media file: Download Now
Kenyataan Akhbar Siasatan Polis Berkait Artikel 153 Nurul Izzah
Posted: 22 Sep 2010 01:18 AM PDT
Kenyataan Akhbar Siasatan Polis Berkait Artikel 153
Nurul Izzah Anwar
22 September 2010
Siasatan Polis
Saya disiasat pihak polis setelah menulis artikel bertajuk "Debat Agung Malaysia: Wacana bersama Perkasa untuk permulaan baru Malaysia: Malaysia atau Malaysaja?," yang didakwa mengandungi kenyataan berunsur hasutan berkait dengan Artikel 153 Perlembagaan Persekutuan Malaysia.
Saya menegaskan pendirian saya yang menyokong penuh Perlembagaan negara –termasuk Artikel 153, institusi DiRaja, agama Islam selaku agama rasmi, dan Bahasa Melayu sebagai bahasa kebangsaan.
Saya menegaskan bahawa saya tidak pernah meminta supaya mana-mana Artikel dalam Perlembagaan Persekutuan negara dirubah ataupun dimansuhkan.
Sebaliknya, saya mencari ruang berwacana dengan Perkasa demi merungkai isu-isu utama yang berkait dengan halatuju pembangunan serta masa depan negara.
Tumpuan terhadap Pelaksanaan Dasar Afirmatif
Saya telah meminta supaya tumpuan diberikan kepada bagaimana dasar afirmatif yang hanya bertindak membantu sekelompok kecil orang Melayu dilaksanakan; yang saya percaya sehaluan dengan tuntutan yang dibuat oleh Perkasa sendiri.
Justeru, saya menjemput semua rakyat Malaysia, terutamanya orang Melayu termasuklah Perkasa untuk menyokong rancangan-rancangan seperti berikut, yang telah saya senaraikan dalam artikel kedua saya (selepas terbitan artikel pertama yang menjadi sebab musabab siasatan hari ini) dilaksanakan:
1.   Pendidikan
Saya cadangkan supaya 30 peratus daripada keuntungan tahunan Petronas wajib disalurkan kepada satu dana pendidikan untuk membiayai biasiswa anak-anak kita.
Semua pinjaman Perbadanan Tabung Pendidikan Tinggi Nasional (PTPTN) ditukarkan kepada biasiswa penuh.
2.  Pengagihan Semula Ekuiti
Pelaksanaan satu dasar 'Pengagihan Semula secara Adil Kekayaan Ekuiti Bumiputera' sediada didalam syarikat-syarikat tersenarai dan bukan tersenarai yang memperolehi projek kerajaan dan pengswastaan dari kerajaan, konsesi lebuhraya dan penjanaan elektrik, dan syarikat berkait dengan kerajaan (GLC) untuk dijualkan 30 peratus daripada saham milik individu atau syarikat bumiputera dengan menggunakan nilai saham 'par-value' yang menjadi metodologi penilaian saham rasmi kerajaan kepada seramai mana orang Melayu dimana 25 peratus saham tadi dimasukkan kedalam Tabung Biasiswa Pendidikan dan selebih 5 peratus kepada koperasi pekerja syarikat penyumbang tadi. Dan baki 70 peratus pegangan asal masih didalam tangan pemilik individu dan syarikat bumiputera tadi.
Saya juga telah mencadangkan kita mulakan pelaksanaan dasar baru ini dengan syarikat-syarikat Kenchana Petroleum, Scomi, CIMB, Perimekar, APCO dan sebuah syarikat pembinaan Jambatan di Pasir Mas untuk menguji keberkesanannya. 
3.   Pemerkasaan
Dalam hasrat memenuhi apa yang dipinta oleh Perdana Menteri –agar kontrak sosial jangan dibincangkan, saya mencadangkan agar kita berbincang tentang kontrak politik yang bertujuan memperkasa orang Melayu dan rakyat Malaysia secara keseluruhannya untuk berdikari dan memastikan segala bentuk dasar afirmatif dalam Model Ekonomi Baru berjaya dengan memansuhkan segala undang-undang yang tidak demokratik, membuang barah rasuah, menghentikan penyalahgunaan institusi-institusi dalam negara, mengembalikan pilihanraya kerajaan tempatan, mereformasikan sistem pilihanraya dan mewujudkan persekitaran yang dapat melahirkan media yang bebas.
Mengikut Jejak Hasutan Peninggalan Perdana Menteri- Perdana Menteri Terdahulu?
Perihal Dasar Ekonomi Baru (DEB), Allahyarham Tun Abdul Razak secara jelas memastikan dasar tersebut bersifat sementara dengan mewujudkan tempoh masa pelaksanaan selama 20 tahun.
Bukankah had masa ini bercanggah dengan pendirian Perkasa yang menyatakan DEB wujud selama-lamanya?
Perdana Menteri terkini, Datuk Seri Najib memahami semangat serta khazanah peninggalan ayahandanya dengan memperkenalkan dasar afirmatif yang berdasarkan keperluan dalam Model Ekonomi Baru yang juga melibatkan liberalisasi beberapa subsektor ekonomi.
Bukankah langkah ini bercanggah dengan argumen Perkasa yang menggunakan Artikel 153 sebagai penghenti mana-mana liberalisasi ekonomi?
Kita juga tahu bahawa Tun Dr. Mahathir telah menyedari kebaikan meritokrasi apabila beliau menukar sistem kuota kemasukan pelajar ke universiti kerajaan. Pada April tahun ini pula, beliau menyatakan bahawa DEB merupakan 'bantuan sementara' (temporary crutch) untuk orang Melayu.
Bukankah langkah sebegini boleh dikatakan mempersoalkan maksud Artikel 153?
Tambahan lagi, Allahyarham Tun Dr Ismail telah mengatakan kedudukan orang Melayu ini akan ditentukan oleh orang Melayu sendiri. Beliau juga meramalkan dengan semakin ramai Melayu yang berpendidikan dan mendapat keyakinan diri, mereka sendiri akan menghapuskan kedudukan istimewa ini. Kedudukan istimewa ini katanya lagi, dilihat sebagai penghinaan kepada kebolehan orang Melayu.
Bukankah kata-kata beliau boleh dilihat sebagai menghina objektif Artikel 153 seperti yang diimpikan oleh Perkasa? 
Kalau kita menerima piawaian hasutan yang ditetapkan oleh Perkasa, bukankah semua pemimpin negara di atas bersalah seperti saya?
Secara khusus, saya sekadar memohon penjelasan, manakala pimpinan-pimpinan di atas telah merubah dan meminda dasar ekonomi baru, yang menjadi intipati kepada Artikel 153.
Saya akhiri dengan penegasan pendirian saya seperti yang tertulis dalam artikel "Malaysia atau Malaysaja" dan meminta agar rakyat Malaysia mengadili saya di dalam hal ini.
Terima kasih.
Nurul Izzah Anwar
MP Lembah Pantai, Kuala Lumpur
22 September 2010
Nurul Izzah being probed for sedition
Posted: 22 Sep 2010 01:16 AM PDT
Lembah Pantai PKR parliamentarian Nurul Izzah Anwar is being investigated under the Sedition Act following a police report lodged by Pertubuhan Pribumi Perkasa (Perkasa) accusing her of questioning the constitution. Full story here: www.malaysiakini.com

Time:

05:56

More in

News & Politics
Iran Prez Ahmadinejad Sez: "There Are No Homosexuals in Iran" (And Why There Ain't Any)
Posted: 22 Sep 2010 01:42 AM PDT
President of Iran Mahmoud Ahmadinejad was in Columbia University on Monday. Furthermore, he has stated his intetion to visit Ground Zero – the site of the 9-11 World Trade Center attacks.
The controversial leader naturally caused a strong reaction among those Americans who contend that he is a self-avowed enemy of America.
Ahmadinejad was asked various questions during his appearance on stage at Columbia, but get this snippet…
—Asked about widely documented government abuse of women and homosexuals in his country, Ahmadinejad said, "We don't have homosexuals" in Iran. "I don't know who told you we had it," he said.—
And this is why not, as aptly put by Cox and Forkum:
Photos of Ahmadinejad's 'humane methods of establishing peace':
Yes, that is a real gay person 'hanging out' in the American Democratic-Liberal's utopian free-love paradise of Iran.
But don't worry, heteros… The wonderful wonderland of Iran executes you if you're raped by the opposite gender, and also executes if you resist rape by the opposite gender. You really can have it both ways!
And if you're caught performing adultery, the feminist nirvana of Iran will execute the woman (mothers of trhee kids included) while just whipping the man! Progressive!
'Tis truly strange how American liberals who doggedly fight for gay rights, women's rights, non-racism, separation of church and state, and religious freedom (including the right to be atheist) show so much support and solidarity with theocratic nations where homosexuals and apostates are summarily executed, women live in the shadows of society and Jews are routinely demonized by the nation's leaders.
I simply cannot get this Liberalogic.
Cannot. Get. It. Utterly mind-boggling.
Via The Jawa Report:
————————–
For more updates regarding Mr. Iran's visit, speech and interview:
Video of that gem of a moment - "We have no homosexuals in Iran."
Michelle Malkin's updates with tons of links and snippets. More updates on Ahmadijenad's UN appearance, timing of release of Iran-held activists, and irony/hypocrisy of allowing Ahmadinejad to speak on the grounds of 'freedom of speech'. Responses to the moonbat responses to the unfriendly response to Mad Jenad.
Shiri Negari condemns you, Ahmadinejad and Columbia U.
Sweetness & Light with video embed of Ahmadijenad's remark about non-existence of Iranian homosexuals and pics showing why.
Ann Coulter weighs in on how free Columbia and other universities' idea of 'free speech' is.
Classical Values has some videos of the non-existant Iranian homosexuals.
Scott Adams, writer of Dilbert, has a short summary of and gives his opinions about Ahmadijenad's points.
Red State Update: Ahmadinejad Hearts NY gives us a video take on the redneck Right-wing reaction to Jenad's NY visit.
Ahmadinejad: Has Anybody Seen His Gays?, a musical 'tribute' to Mad Dijenad.
CNN's report on Ahmadinejad's speech and interview.
Full transcript of Ahmadinejad's speech (no interview).
Right Truth: Columbia University's ransom to Iran – UPDATED. Did Columbia University invite Ahmadijenad over to speak freely in order to persuade Iran to release a Columbia U alumnus being held in Iranian prison? Ironically/hypocritically, the alumnus was being held because Iran's authorities didn't like his 'free speech'.
The Jawa Report embedding a video that shows a series of still photos of Iranian compassion, mercy and progressiveness (opposite of).
———————-
Transcript of Ahmadenijad plus the Q & A session, where this transpires:
QUESTION: Mr. President, the question isn't about criminal and drug smugglers. The question was about sexual preference and women.
AHMADINEJAD (THROUGH TRANSLATOR): In Iran, we do not have this phenomenon. I don't know who's told you that we have it.
Go to the link and search (CTRL + F) for 'homosexuals' to get to that part.
——————
And now for the editorial cartoons.
An interesting pic below. Can you spot the hidden message?
Go to Cox and Forkum to find out what it is and the story behind its creation. Very interesting read, lots of examples of editorial cartoons.
From Gary Varvel:
From Michael Ramirez:
From Larry Wright:
From Mike Lester:
Two from Red Planet Cartoons:
From Freedom's Watch:
From The Peoples Cube, come listen and learn with Ahmadinejad's version of the hit song 'New York, New York':
And ending with something more serious: Via Moonbattery on Ahmadinejad's credentials.
Correlate at Wikipedia article and comparison with a newly discovered picture at www.danielpipes.org:
And another uncovered pic from Gateway Pundit:
———————
See also my old post UN-Enforceeeeeers for some cartoons on the long-standing, continually cartooned issue regarding Iran's nuclear ambitions. Honestly, there are too many on this subject to hunt down and collect!
This posting includes an audio/video/photo media file: Download Now
PDRM ~ Kenapa Kalimah Allah & Muhammad dihapuskan dari logo pasukan?
Posted: 22 Sep 2010 12:31 AM PDT
Saya telah menerima emel dan mesej Facebook 
sejak seminggu sudah 
dari seorang rakan di Miri, Sarawak yang mempersoalkan kenapa kalimah suci Allah dan Muhammad dihapuskan dari logo rasmi Polis Di Raja Malaysia?
Oleh kerana saya didalam tempoh berkabung diatas kematian saudara saya tempohari, saya meminta rakan saya itu memberi tempoh pada saya sebelum memberi tindakbalas terhadap aduannya itu.
Saya meminta beliau mengambil gambar bukti akan usaha penghapusan kalimah suci Allah dan Muhammad di balai polis yang beliau maksudkan dan emelkan pada saya.
Baru sebentar tadi emel yang berlampirkan bukti usaha menghapuskan kalimah Allah dan Muhammad telah saya terima.
Ini dia buktinya :
Sila klik pada gambarfoto diatas untuk paparan lebih besar dan jelas.
Tuan tuan dan puan puan warga Malaysia yang saya hormati,
Ini ada lah satu usaha keji menghilangkan mercutanda logo pasukan Polis Di Raja Malaysia sebagai sebuah pasukan keselamatan negara yang menjunjung Syariah Allah Subhanahu Wa Ta'ala dan Sunnah Rasul Sallalahu Alaihi Wassallam sekian lama ini.
Pasukan Polis Di Raja Malaysia adalah pasukan paling terkemuka didalam sistem pertahanan negara dan kalimah suci Allah dan Muhammad itu bukan sekadar hiasan semata mata!
Setiap anggota polis wajib sedar bahawasanya dirinya bertugas menjaga keselamatan negara dan ia tertakluk dibawah Syariah Allahu Ta'ala dan Sunnah
Rasul Sallalahu Alaihi Wassallam.
Kalimah kalimah suci tersebut adalah lambang bahawa pasukan polis bertugas menurut suruhan Allah dan anjuran Rasul.
Dengan usaha jahat menghilangkan kedua kalimah tersebut adalah merupakan satu cubaan menghapuskan kesedaran taat kepada Allah Tuhan Rabbul Alamin dan PesuruhNya Nabi Muhammad Sallalahu Alaihi Wassallam!!!
Apa alasan PDRM berkenaan perkara ini???
Kenapakah kalimah suci 'Allah' dan 'Muhammad' dihapuskan dari lambang logo Balai Polis Trafik Miri seperti dipaparkan gambar bukti di atas???
Apakah pasukan PDRM di Balai Polis Trafik Miri terkecuali dari menjunjung perintah Allah dan Sunnah Rasul?
Ada dua sistem ke didalam PDRM?
Syed Husin: Only time can test a leader
Posted: 21 Sep 2010 11:26 PM PDT
EXCLUSIVE It marked an end of an era for Parti Keadilan Rakyat when its long-serving deputy president Syed Husin Ali announced he will not defend his post, in order to make way for younger blood. But even before he announced his intention at a press conference last Tuesday, many eyes were fixed on who his successor will be out of the closely-watched race between vice-president Azmin Ali and supreme council member Zaid Ibrahim. Full story here: www.malaysiakini.com

Time:

06:28

More in

News & Politics
Posted: 21 Sep 2010 01:32 PM PDT
From Justice Lover, via e-mail

I woke up on a gloomy morning on Sept 16 and saw the Prime Minister's on TV, describing the importance of celebrating 1Malaysia and its unique diverse cultures.

It also happened that my family just returned from Seremban and Johor Baru after a four-day Raya holiday. Actually none of us was in the mood to celebrate Malaysia Day or whatever you call it, or even to be so excited about Raya.

The reason was obvious: Our house was broken into, and robbed in broad daylight by two men with 'parangs' a day before Raya. Who in a sane mind would be in a mood to celebrate anything after such a traumatising experience?

Crime rates in this country have increased alarmingly the past decade. Some say it is because of the ever worsening economic condition and sky-rocketing unemployment (despite the arrogant refusal of the government-controlled media to admit it), and the ever-widening gap between the rich and the poor.

These issues are debatable, but one thing is for sure; the police force is the first to be pointed at when the crime rate is out of control. A country's internal security largely depends on the efficiency of its police institution.

If the policemen are busy with bribes and spend so much time in protecting political interests, the victims are none other than we, the people.

Forget about the gruesome robberies and murders you read daily in the newspapers. Those stories may seem irrelevant to you. What is happening in my very own neighbourhood is enough to portray how dangerous and unsafe Malaysia has become, and to what extent the police have failed in maintaining basic security.

My house was robbed a day before Raya and that happened at 2.30pm. The next-door neighbour experienced attempted robberies twice. An Indian woman living right in front of my house was once hit by a 'parang' (also in broad daylight) after refusing to give money to a robber.

Another neighbour in the next block was murdered after fighting back a robber. And all these events happened within the space of several months. This shows just how vulnerable we the Malaysians are in our sovereign land.

Criminals seem to have gotten the green light to do whatever they want. They rob and murder without fear because they get away easily and are rarely caught or punished.

Nowadays, it is not the criminals who live in fear of being chased, rather it is us the ordinary people who feel insecure all the time because of their presence and because of the apathy of those who are supposed to protect us.

What added to my frustration on that unforgettable day was how the policemen reacted. Right after the robbers left, we called the police and despite the very short distance, it took them a long time to come.

Upon arrival, the policemen shocked me by giving me the impression that they were not interested in what I was saying. I described everything in detail, and none of them (there were three of them) looked serious or interested.

Nor did they even write anything down. I even gave them part of the motorbike plate number which my brother managed to remember, but they just nodded nonchalantly.

Feeling confused, I told them to write it down and only then one of the policemen asked if I had a piece of paper! I do not know what experience other people have with the police force, but on that very day I realised the pitiable condition of the police force and how much reform and training they needed!

To those reading this, I would like to warn you: Be very careful and take all the precautions day and night. You might be just the next victim, as unfortunate events often happen when you least expect it. And when they do, you may not be able to rely much on the police.

I used to weep for Palestine when reading news on the Zionists' aggression. And I used to weep for Iraq and Afghanistan seeing how innocent women and children are being killed by the Western troops.

But today I realise that given the unsafe and fearful condition in which we Malaysians are living, the difference is only in degree. That is why today I weep for Malaysia.
Knee-jerk reaction to 'violent' Indian movies
Posted: 21 Sep 2010 01:30 PM PDT
From Sugu, via e-mail

Reference is made to the 'banning of Indian movies with excessive violence'. It is good to see Rais Yatim bringing up this matter to the cabinet with such zeal and 'urgency'.
I'm also surprised by the recent views and suggestions expressed by Pekida and others about the Bar Council and about elements of gangsterism in our country.

In my opinion all this has spilled out now due to just one sensational murder case that has recently struck our nation (amongst probably 50 or more other sensational murder cases that have occurred in the country in past years).

I too sympathise with the families of the victims but would reactions be different if the victims were merely average, unknown people ekeing a living day to day, just like me maybe, not a millionaire and not a personality? Would it have been noticed in the same light?

The sad reality is, nothing much is usually mentioned about other 'day to day' murder cases, although the perpetrators could have been Indian youths. Rais Yatim did not even think of raising Indian movies with elements of violence to the cabinet much earlier.

I feel a lot of parties are making this whole 'murder case' very racial. All of a sudden, there's this need to curb 'elements of gangsterism' amongst indian youths. The point is, murder cases such as the recent Sosilawati case occur because of so many other factors.

Except for the fact of the victim's race, was Aminulrasyid shot because he was a Malay Muslim? No! Was Canny Ong or Norita murdered because of their race? No! The fact is, senseless crimes will always remain senseless irrespective of whether the perpetrators are Indians, Chinese or Malays.

Also, due to one sensational murder case, all lawyers seem to be labelled as 'bad' or at least that's what it looks like to me. All of a sudden, the Bar Council is now to be held responsible.

Prior to this, it seems Pekida was not aware that there have always been numerous errant lawyers in the country who frequently face disciplinary action whilst leaving their clients to bear huge lossess.

Why didn't Pekida react the way it is now? The Bar Council has openly stated that it has assisted the police in numerous other cases involving lawyers. Reports too, have been made but have the police done their jobs....thoroughly?

If you think violence in Indian movies influences Indian youths in the country to behave that way, go ahead and ban those movies. BUT at the same time, make sure movies like Rempit, Impak Masima, KL Drift and the likes are similarly restricted as these movies too show a lot gangsterism and portrays and promotes illegal racing as a 'very cool activity for youths'.

We all know mat rempit activities colour the streets of KL on various nights, taunting and provoking the patience of other road users. What has actually been done about this? Aren't these also elements of gangsterism in the nation that need to be curbed?

Indian movies do not portray or show mat rempits in action. Indian movies hardly show 'the fast and furious like high speed chases but illegal racers still take to the streets of KL every other night!

Therefore, the move to ban violent Indian movies is really futile. If the police can rid themselves off their often lackadaisical approach towards reported crimes, the nation would be a much safer place.

In any event, violent movies be it an Indian or an American movie is always available online for movie buffs to view.

Hence, my stand on banning Indian movies with elements of violence would remain futile as long as the government cannot control negative elements in other movies coming in from the US, UK and France, or any other country.

The government should be mindful that gangsterism in Malaysia is rampant amongst all races and not just amongst the indians.

On the 'elements of violence', I hope they don't take away muay thai or the UFC off our screens as well.

Read:

'Ban Tamil movies depicting excessive violence'

Nazri deserves support of all of us
Posted: 21 Sep 2010 01:29 PM PDT
From Robert Phang, via e-mail

Minister Nazri Abdul Nazri has openly challenged detractors questioning his identity and priorities as a citizen and said: "And yes, I am a Malaysian first and Malay next.  Does any bigot have a problem with that?"

In this respect, Minister in the Prime Minister's Department Nazri must be praised for his clear stand and support for Najib's 1Malaysia. Whether Nazri is anti-Dr Mahathir (former premier Tun Dr Mahathir Mohamad) is another matter.

For the general good and well-being of Malaysia, we must support Nazri on the issue, giving undivided support to Najib's 1Malaysia. Nazri is now being unfairly attacked by an Utusan Malaysia columnist who writes under the pen name Awang Selamat.

All Malaysians should give Prime Minister Najib Abdul Razak the time and chance to fully implement his 1Malaysia concept or policy. Truly forging a 1 Malaysia is the only way forward for our multi-racial nation.

1Malaysia will create conducive environment for a united and peaceful country and therefore help Malaysians face the ever growing global economic challenges and competitiveness.  Such an environment will also help promote local and foreign investors by boosting confidence.

We should appreciate Nazri's consistent defence of the government against the critics of 1Malaysia that include Mahathir who is Perkasa adviser. At least Nazri has been consistent and forthright in his statements supporting Najib and the government.

Nazri said he would continue to defend the government, just as he did in the past when Mahathir and Abdullah Ahmad Badawi were the prime minister. He has done no wrong and neither has he said anything wrong.

Nazri has rightly demanded Awang Selamat to come clean on where his loyalty lies, with Mahathir or Najib. Nazri also said he wondered whether Awang knew who his boss was because he was undermining the 1Malaysia policy of Najib by promoting the narrow racism of Perkasa Chief Ibrahim Ali.

On this issue, Nazri therefore deserves the support of all Malaysians, irrespective of race or religion, for his clear stand and vision for a bright and prosperous future of Malaysia.

It's time for the rest of ministers/MPs and politicians to follow Nazri's clear cut declaration.

Robert Phang is the chairman of Social Care Foundation.

Dr M's blog: Malware warning on computer rectified
Posted: 21 Sep 2010 01:28 PM PDT
From Adrian Wong, via e-mail

I refer to the article, Dr M's blog 'may harm your computer'. To be fair to Mahathir, that problem is being caused by issues with ads from Innity's (an advertising company) Indonesian servers.
We have managed to rectify the issue of our ad server displaying a malware warning.
In summary, a portion of our domain; innity.net, which operates as a content delivery network focused on delivering static banner files to our end user, was affected in Indonesia and this led to Google classifying our domain as being infected by malware.
While we have quickly resolved the issue and are now back to normal operations, Google's aggressive malware prevention policy may result in users continuing to see warnings until Google completes its re-review process.
As a result, the entire innity.net domain has been blacklisted. Websites that are embedded with the Innity tag have been affected by this problem and this has caused a warning message to be displayed when a user visits the websites when they are using either Google Chrome or Firefox.
We have excluded the affected delivery network from our advertising network until the service provider rectifies the issue from their side. We have also initiated the Google review process, and requested Google to recheck the site and declassify it as malware.
The process could take up to 48 hours as the situation is complicated due to the fact that there is no detailed report as to why Google has classified us as a malware distributor.
We have also taken short-term steps to lock down our domain in Indonesia completely while we determine the true technical root cause of the initial malicious files.
We take the integrity of our infrastructure extremely seriously, and will post a detailed follow-up as the investigation completes.
We sincerely apologise for any inconvenience caused, and you have our assurance that part of the investigation also includes reviewing our early-detection mechanism for this type of glitch specifically.
Most likely their servers were hacked and the actual ads replaced with malicious codes.
Read:

Dr M's blog 'may harm your computer'