---
Home Ministry panel remains mum on revealing IGSO
Posted: 12 Jun 2010 01:35 PM PDT
The Home Ministry's special panel on the fatal shooting of teenager Aminulrasyid Amzah is still keeping mum as to whether the Inspector-General's Standing Orders (IGSO) will be made public. "We will decide when the entire study is completed. At the moment, it is not practical," was panel chairperson and Deputy Home Minister Abu Seman Yusop's answer when quizzed on the matter at a press conference in Putrajaya today. Among others, the IGSO provides for the use of firearms by the police force, which has been raised as a matter of grave concern following the Aminulrasyid's death on April 28. Drafted in 2003, the IGSO is classified as an "official secret".

Time:

05:00

More in

News & Politics
Posted: 12 Jun 2010 10:17 AM PDT
You think you have lived
But you think wrong
It's not living, bullying your workers
It's not living, shouting your slogans of good intentions
When you lower another's self esteem
You have taken a sliver of life from him
You too lost a piece of yours
Man, you think you have lived
Driving that limousine bulit of the blood of
demeaned human beings
You sliced away someone's life
You too died a little
Man, thou art despicable.
Posted: 12 Jun 2010 08:03 AM PDT
(東甲12日訊)馬華總會長兼柔州聯委會主席拿督斯里蔡細歷說,過去的"最后一分鐘才找候選人"的做法是不對的,所以,馬華會儘早低調處理鑑定候選人事項,但不是在最近。
他認為,應該給候選人心理準備,讓他有充分足夠時間,進行準備競選工作及面對大選。
"甄選候選人不會只針對一位,會鑑定2或3人,而且以在大選中勝算比較高的候選人為目標。"
他說,黨不會公開宣布甄選者名單,被鑑定或被甄選者也未必知道。
蔡細歷昨晚為禮讓馬華區會代表大會開幕時,這樣指出。
針對提早鑑定候選人是否擔心引起競爭,他說,這須應用智慧,以不高調方式處理。
提及針對第10大馬計劃提出許多評論,是不是要帶出馬華是敢怒敢言的形象,蔡細歷否認這個說法,並認為,應做的就去做,甚至自嘲以前也有一位很多敢怒敢言的領袖。
他說,馬華除了反映大課題,也不能忽略地方上的民聲發展和撥款,下星期馬華會檢討選民登記及區會黨員非選民的問題。
(麻坡12日訊)馬華總會長拿督斯里蔡細歷披露,黨重選后要如何做到"我最棒",是他最大的挑戰!
他指出,本身無時無刻都在自我提醒,要提高敏感度,以善用總會長的權力,確保黨的團結和穩定。
他提到,目前最重要的工作是要挽回黨的勢氣,確保得到華社支持及信任。
"另外,黨也必須很快在找到方向,讓黨員有信心。"
他昨晚為麻坡區會代表大會主持開幕時,如是指出。出席者有麻坡區主席兼柔州聯委會秘書鄭貝川、署理主席何乃贊、財政林向、秘書顏棋豐、婦女組主席王連春、區團團長黃奕明,及區團秘書謝清雄等。
蔡細歷也是柔州聯委會主席。他再三強調,如果馬華要繼續向前邁進,黨的團結和穩定是非常重要,尤其是要面對來屆大選。
他認為,要把黨整合起來這項工作,需要廣大基層合作,與此同時,確保自己採取非常包容的態度和作風來委任黨職,即從州聯委會至中央,皆接受和容納不同的聲音和派系。
他指出,將以身作則來證明他要整合黨的誠意,並坦承,上任總會長后,黨已達致穩定,惟不敢說已達致團結的目標。
讓他欣慰的是,許多聯委會和區會已開始活躍,黨領導層也覺醒合作的重要。
他鼓勵各州聯委會及區會善用中央資源,以鼓勵黨員進行更多有利活動。
他也強調,廣大基層的黨員對黨的愛、效忠和團結精神,才是最有價值和寶貴的黨產。只要黨員團結一致,馬華一定會有更美好明天。
中国报 12-06-2010
Soi Lek: MCA to continue speaking out
Posted: 12 Jun 2010 07:52 AM PDT
ALOR SETAR: MCA will continue to speak out on sensitive issues affecting the people without fanning racial sentiments, party president Datuk Seri Dr Chua Soi Lek said.
Citing Chinese primary schools as an example, he said allocations for them should be based on a need basis and handing out allocations on an ad hoc basis, like during the general election or a by-election, was not the way to do it.
"You must not simply take paracetamol for headaches. You must find out the cause of the headache (and find a cure)," he said at the Jerlun MCA parents' day celebrations here on Thursday night.
Dr Chua said the Barisan Nasional and MCA might not be perfect but changing the Government was not the solution either.
On the Opposition, he said the people must question them on the pledges they made in the general election.
THE STAR [NATION 12-Jun-2010]
JAngan Terperangkap Mitos Undi Melayu pada PAS Jatuh
Posted: 12 Jun 2010 06:47 AM PDT
Nota Editor: Saya mengikuti perjalanan pilihanraya Malaysia sejak 1986 lagi. Secara umumnya, purata sokongan Melayu kepada PAS kalau berbanding 1986 naik berlipat kali ganda.
Contoh paling mudah adalah bilangan calon PAS yang hilang deposit. Sejak 3 pilihanraya yang lepas, TIADA calon PAS yang hilang wang deposit. Kali terakhir calon PAS hilang wang deposit adalah pada pilihanraya 1995. Waktu itu ada calon PAS di Selangor yang hilang wang deposit.
Contoh ini sudah cukup untuk membuktikan semenjak 1986, purata sokongan orang Melayu kepada PAS meningkat. PAS jangan terperangkap dengan propaganda BN sebegitu mudah. Cumanya, PAS perlu mengatasi beberapa fitnah yang sedang disebarkan UMNO di kalangan Melayu ISlam seluruh MAlaysia.
Khalid Samad: Undi PAS naik 3 ganda dalam 10 tahun
Oleh G. Manimaran
June 12, 2010
KOTA BARU, 12 Jun — Ahli Parlimen Shah Alam Khalid Samad menolak tanggapan mendakwa PAS sudah mula kehilangan sokongan pengundi-pengundi Melayu hanya kerana menjalin kerjasama dengan komponen Pakatan Rakyat dalam pilihan raya umum lalu.

Ketika beberapa perwakilan menimbulkan kebimbangan bahawa PAS kemungkinan akan kemerosotan sokongan pengundi Melayu Islam disebabkan kerjasama dengan Pakatan Rakyat dan pembentukan Dewan Himpunan Penyokong PAS, Khalid berkata, hakikatnya undi diterima parti itu terus mengalami peningkatan.

"Ketika kita hendak menggantikan Umno... tanggapan undi Melayu lari daripada PAS kerana bersama Pakatan Rakyat, itu (saya rasa) tanggapan yang meleset," kata beliau ketika membahaskan usul persediaan menghadapi pilihan raya umum ke-13 pada Muktamar Tahunan PAS Ke-56 di sini petang ini.

Sambil memetik hasil kajian badan pemikir Insap, Khalid berkata, maklumat menunjukkan jumlah undi yang diterima oleh PAS sepanjang tiga pilihan raya umum yang lalu terus meningkat.

Kata beliau, hasil kajian itu mendapati PAS menerima 367,000 undi pada pilihan raya umum 1999 dan ia meningkat kepada 1.1 juta undi dua tahun yang lalu.

"Bermakna undi kepada PAS meningkat tiga kali ganda," kata beliau yang juga Yang Dipertua PAS Shah Alam.

Khalid juga berkata, "kita sibuk kata orang Melayu berkata tak perlu sokong PAS sebab Umno memerintah."

"(Sebenarnya) orang Melayu tak sokong, yang sokong ialah orang Melayu Islam yang mendukung nilai-nilai pentadbiran Islam yang dibawa oleh PAS.

"Jangan makan propaganda Umno-BN," katanya.

Selain merujuk kepada hasil kajian badan pemikir itu tambah Khalid, kejayaan PAS menembusi Johor menunjukkan sokongan kepada parti itu meningkat kebelakangan ini.

"Kita pernah tanding di Johor tetapi sampai hilang deposit. Tetapi sekarang benda itu sudah tidak berlaku.

"Apa yang berlaku ialah anjakan dalam di mana orang-orang Melayu bergerak kepada PAS kerana kita amalkan dasar politik yang baru... yang memenuhi keperluan masyarakat majmuk dan ia boleh dilakukan dan kita sudah mampu dilakukan, di negeri-negeri yang Pakatan perintah sekarang," katanya lagi.

Pada pilihan raya umum lalu PAS menang di kerusi Dewan Undangan Negeri Sungai Abong dan Maharani.

"Kalau dengan semangat kebangkitan yang sama, dengan kerjasama PAS dalam Pakatan Rakyat, kita boleh menggantikan dengan Umno.

"Kaedah Islam adalah kaedah yang diinginkan oleh kita.

"Jadi dalam menghadapi pilihan raya umum ke-13, kita jangan pandang kiri, jangan pandang kanan... kita ada landasan yang betul," kata Khalid.

Usul itu dibawa oleh kawasan Kubang Kerian, Pokok Sena, Kubang Pasu,

Jerantut dan Bandar Tun Razak mahu PAS pusat memenangi seberapa banyak kerusi Parlimen bagi menggantikan kedudukan Umno sebagai teras utama politik negara dengn membongkor kepalsuan perjuangan Umno khususnya kepada pengundi Melayu di pedalaman dan merangka strategi gerak kerja pilihan raya dari sudut daftar pemilih, kewangan, latihan kepimpinan jentera pilihan raya secara profesional.

Selain itu usul tersebut juga meminta PAS pusat mencadangkan kepada Majlis Pimpinan Pusat Pakatan Rakyat mewujudkan polisi pemilihan calon yang ketat, munasabah dan relevan bagi mengelakkan gejala lompat parti dan sekali gus mempamerkan wibawa serta keupayaan calon pada pandangan pengundi.

Dalam pada Taib Ahmad (gambar), perwakilan daripada Kubang Pasu berkata, PAS akan kehilangan kerusi-kerusi yang dimenangninya jika terperangkap dengan idea kerajaan perpaduan.

"PAS kini berada di landasan yang betul dan perlu memantapkan kerjasama dalam Pakatan Rakyat.

"Jika PAS terperangkap dengan kerajaan perpaduan, yang sedang cuba dibawa oleh sesetengah pihak, kita akan kalah di keseluruhan kawasan yang kita menang," katanya.

"Kita kena yakin dengan kedudukan bersama Pakatan Rakyat dan perlu memantapkan terus Pakatan Rakyat supaya matlamat ," kata Taib beliau sambil berkata usaha untuk "pecah dan perintah" masih berterusan.
Balqis of Sg Geliga Besar, Kemaman, Terengganu
Posted: 12 Jun 2010 01:49 AM PDT
I met Balqis quite unintentionally when we went holidaying to the East Coast recently. I was taking photos of this roadside traditional East Coast delicacies selling store along the Sg Geliga Besar road in Kemaman, Terengganu when there came this cute little lass with her charming demeanor and bright beautiful smile.
When I trained my Nikon D5000 lens at her, she stopped right there and then and posed for me quite naturally. She was just a very willing sporting model and here are the results :
Just look at the way she came? Like a miniature adult, so confident and sure of herself. That's what made me turn and snap her photos.
Her charming smile captivated me and made me just go on shooting these images of her.
Her natural smile can defeat many of the professional models out there.
May Allah bless her with a productive life and turn her into a good Muslimah.
"PM Najib BOLA K.O. by Best Friend…??"
Posted: 12 Jun 2010 12:47 AM PDT
It seems that the saying,"Your best friend Knows bests.He will always be the person to bring you down.Nothing is too small to escape him"PM Najib now has his hands full. What can he not do not to issue the football licence to Berjaya Corporation.? However, whichever he has to betray his closest ally or else he will go the same way as previous top man in History.
Simple PM Najib Remember Ceasar….??
A PM if he is too nice he will suffer the consequences. "THE DOWNFALL….. This way even the English Premier Leagu(EPL) cannot save Berjaya. If PM Najib needs to say no he can say

,"What happened to Cardiff City..? Didn't they promise you PM Najib..??

That's all PM and we are all on your side and if you do that you will be still in power after

GE13.
This report is very damaging PM to your Credibility..
Mega-conglomerate Berjaya Corporation has attempted to stitch the lips of its critics, insisting that it has approval from the government to conduct legalised sports betting.
In a statement issued to Bursa Malaysia yesterday, the company stood behind its May 12 announcement to the bourse containing their proposal to take over 70 percent of Ascot Sports Sdn Bhd – the company that holds the gambling licence – worth RM525 million in stakes.
"We note that there had been many conflicting discussions about the actual status of the approval given to Ascot to operate sports betting in the country.
"In compliance with the directive from Bursa, we wish to reiterate certain parts of the (May 12) announcement…
"'It was stated inter-alia that 'the Minister of Finance has given its approval for the re-issuance to Ascot of the licence to carry out sports betting operations upon certain terms and conditions.
"'In paragraph 8 which listed out the Approvals Required, sub-paragraph (d) stated, 'The Minister of Finance for the re-issuance of the sports betting licence and the changes in shareholders and directors in Ascot, if required.'"
"As such it is evident from the above statements that Ascot has approval from the finance minister to conduct sports betting operations and that the formal licence – which was first issued in 1987 – is pending re-issuance," said the one-page statement.
I
ncidentally, the 70 percent stake in Ascot Sports belongs to Berjaya Corp chairperson Vincent Tan.
Yesterday's statement breaks a week-long silence on the part of both the government and Berjaya over the issue.
Government officials stonewalling questions on the controversy, along with the sudden cancellation of a press conference yesterday by Minister in charge of Islamic Affairs Jamil Khir Baharom, stirred up speculation that Prime Minister Najib Razak had issued a gag order to his cabinet not to discuss the matter in public.
At the same time, Berjaya officials have also been tight-lipped about the details of the approval, although it is understood that the government had issued the company a 'letter of approval' in January.
Ball back in government's court
The latest move by Berjaya is seen as volleying the ball back into the government's court, which has appeared to backtrack on its decision to award the licence in the wake of strident public opposition.
The announcement is also seen as quelling investors fears sparked by speculation over whether Berjaya had misled Bursa and the public in its initial announcement.
Industry insiders have, however, said it was highly unlikely that Berjaya would have done so, especially after Tan himself – a battle-hardened business tycoon – gave a rare press conference last Saturday to announce that he would donate the money from his stakes to his Better Malaysia Foundation.
The issue ignited a new round of controversy on Monday when Najib, who is also finance minister, said in a written reply to Batu MP Tian Chua in Parliament that the government had yet to issue the licence to Ascot Sports pending "feedback from the public".
Ascot Sports was initially granted the licence in 1987, but it proved to be an unprofitable venture before the advent of satellite TV and the Internet in Malaysia.
It was revoked in 2004 under then premier Abdullah Ahmad Badawi, but it is now "pending re-issuance" as stated by Berjaya.
If issued, sports-betting will come alive in 220 selected Sports Toto – also part of Berjaya's group of companies – outlets in West Malaysia come September in time for the highly popular English Premier League.
Berjaya also has in its sight plans to offer the service through the telephone, which they had estimated will make up 70 percent of total revenue, with betting on other popular sports apart from football.
The Pakatan Rakyat governments of Penang, Selangor and Kedah have thrown a spanner in the works for Berjaya by banning sports betting in their respective states.
"ITS IN YOUR HANDS PM NAJIB"
Candu Wala' Dimain Lagi Dalam Muktamar PAS. Budaya PAS Terengganu Masuk Dalam Ucapan Dasar
Posted: 12 Jun 2010 12:20 AM PDT
Ianya disentuh dalam Ucapan Dasar Presiden. Presiden dilaporkan berkata:
Presiden PAS Datuk Seri Abdul Hadi Awang hari ini mahu semua anggotanya memberikan ketaatan dan wala' (kesetiaan) kepada parti dan pemimpinnya yang "menjalankan tugas sepanjang masa, bukannya bermusim".

Katanya, kesemua pemimpin tersebut - yang terdiri daripada pelbagai latarbelakang termasuk ulama dan profesional - dipilih sendiri oleh ahli-ahli dalam muktamarnya tahun lalu.

"Adunan ini jugalah yang memperkasakan PAS untuk memimpin negara, dengan menolak jahiliyah sekularisma yang meminggirkan Islam dan memisahkan urusan dunia daripada Islam," katanya.


Malahan perwakilan dari Kedah, Ahmad Izzat Shauqi dilaporkan berkata:


Sambil menekankan sudah wujudnya elemen-elemen mempertikaikan pendirian kepimpinan Hadi khususnya pandangan menerusi blog, Ahmad Izzat Shauki berkata, beliau memberikan peringatan ini sebelum keadaan menjadi serius nanti.
"Ada yang menyerang presiden menggunakan blog-blog... kita kena wala'," katanya lagi.


Soalan saya pula, apabila para perwakilan PAS telah menolak Ucapan Dasar YDP Agung PAS, Dato Asri Haji Muda pada Muktamar PAS 1978, adakah itu satu petanda yang perwakilan PAS tidak wala'?

Bukankah Presiden PAS yang ada sekarang ini antara yang terlibat mahu menjatuhkan Dato Asri sebelum peristiwa 1978 bersama-sama Nakhaie, Mustafa Ali dsbnya?
Bukankah tindakan Mustafa Ali memimpin segerombolan perwakilan mem boo Dato Asri satu masa dahulu satu bentuk tindakan yang tidak wala'?

Dari kenyataan di atas, jelas baik Ucapan Dasar mahupun ucapan Ahmad Izzat Shauqi, mahu meletakkan taraf "maksum" pada Presiden dan kepimpinan parti.

Soalan saya yang lagi satu adalah, sebelum pilihanraya 2004, semua di dalam PAS telah wala' kepada Presiden PAS dan tidak menentang Presiden melalui blog-blog. Mengapa PAS kalah begitu teruk sekali dalam Pilihanraya 2004?

Mungkin perwakilan Kedah, Ahmad Izzat Shauqi boleh memberi jawapan. Mungkinkah Ahmad Izzat Shauqi boleh bercakap terus dengan Allah SWT dan mengetahui dengan jitu betapa Allah SWT akan menurunkan kemenangan sekiranya kita wala' pada kepimpinan. Oleh sebab itu, seharusnya kita telah menang pilihanraya 2004 kerana kita telah wala' sepenuhnya pada kepimpinan dan menyokong keluarkan "Dokumen Negara Islam".

Bukankah dahulu pernah cakap Mursyidul Am melarang berjumpa UMNO dalam gelap telah tidak dilayan. Bukankah itu juga satu tindakan tidak wala' kepada pimpinan juga?

Bagi saya, kita kembali pada aqidah islamiyyah yakni tiada siapa yang maksum kecuali Nabi SAW. Lain dari Nabi, mereka tidak maksum. Sesiapa sahaja boleh menegur, tidak kira dia ahli biasa atau kepimpinan

Bagi saya, cakap-cakap dari Ahmad Izzat Shauqi ini mengandungi unsur-unsur syirk kerana dalam akidah Ahlus Sunnah, hanya Nabi SAW sahaja yang maksum. Lain dari Nabi SAW boleh ditegur dan boleh diperbetulkan.

Bukankah Imam Malik sendiri pernah berkata:


Pendapat aku dan pendapat sesiapa sahaja boleh sahaja betul atau boleh sahaja salah kecuali yang datang dari tuan kubur ini (sambil Imam Malik menunding kepada kubur Nabi SAW)


Adakah Ahmad Izzat Shauqi mahu mengatakan kepimpinan PAS sekarang ini lebih hebat dari Imam Malik?

Kita wala' kepada pimpinan selagi pimpinan berada di jalan yang betul. Apabila pimpinan tersesat, wajib kita tegur pimpinan. Kalau tidak, hasilnya yang akan menanggung bala dan kesusahan adalah jemaah sendiri.

Budaya PAS Terengganu hendak diterap dalam PAS dan platform Ucapan Dasar digunakan untuk membawa budaya PAS Terengganu yang telah menggagalkan PAS Terengganu selama ini.

Tulang Besi

ps. Masa Suyuti guna akhbar Siasah untuk memfitnah Husam Musa, tiada siapa pun yang bercakap pasal Wala'. Malahan, Suyuti tetap dibayar gaji dengan menggunakan duit PAS.
Ini semua candu yang sedang diberi kepada perwakilan PAS supaya perwakilan PAS jadi mamai dan tidak berani menegur segala kesilapan dan kemungkaran yang dilakukan oleh kepimpinan PAS.

Memang inilah sebenarnya budaya PAS Terengganu. Atas sebab inilah mereka terus menerus menghadapi kekalahan.



Team Fortress 2: Mac Update Comic
Posted: 11 Jun 2010 07:07 PM PDT
Majlis Pecah Tanah 'Little India' Pinggirkan Ahli Parlimen Lembah Pantai
Posted: 11 Jun 2010 09:08 PM PDT
Oleh Frederick Luccas
Suara Keadilan
KUALA LUMPUR 12 Jun – Tindakan Menteri Wilayah Persekutuan dan Kesejahteraan Bandar, Datuk Raja Nong Chik Raja Zainal Abidin tidak menjemput Ahli Parlimen Lembah Pantai, Nurul Izzah Anwar semasa upacara pecah tanah Projek 'Little India' 9 Jun lalu dilihat sebagai satu tindakan yang tidak profesional dan hanya memperlihatkan sikap dendam Umno-Barisan Nasional yang kalah kerusi tersebut pada pilihan raya umum 2008 lalu.
Menurut Nurul Izzah, jika kerajaan Umno-BN ikhlas berpegang kepada slogan 1Malaysia yang dibanggakan oleh Perdana Menteri, Datuk Seri Najib Razak, maka mereka perlulah menjemput ahli parlimen tanpa mengira parti sebagai mencerminkan semangat bersatu-padu.
Tambah beliau, projek ini diberikan secara perundingan terus kepada MRCB Bhd, dan upacara pecah tanah Rabu lalu telah diadakan di Brickfields yang dihadiri oleh Menteri dan Timbalan Menteri Wilayah dan Kesejahteraan Bandar tanpa Ahli Parlimen kawasan itu.
"Seperti biasa, saya sebagai Ahli Parlimen Lembah Pantai mahupun Ahli Parlimen Seputeh, Teresa Kok yang berjiran juga tidak dipanggil untuk upacara tersebut," kata Nurul Izzah lagi.
"Walau bagaimanapun, saya mendesak Nong Chik supaya pastikan projek ini dihabiskan dan jangan meninggalkan projek ini terbengkalai separuh jalan. Adakan dialog dengan penduduk setempat dan terapkan dalam proses pembangunan," desak Nurul Izzah lagi.
Beliau menekankan agar kerajaan mengambil serius kebajikan Orang Kurang Upaya (OKU) yang tinggal dan bekerja di kawasan Brickfields.
"Kepadatan OKU di Brickfields adalah lebih tinggi dibandingkan dengan kawasan lain dan saya mendesak kerajaan Umno-BN untuk pastikan projek ini menitikberatkan kebajikan dan keselamatan OKU yang tinggal dan bekerja di sini.
"Satu lagi perkara yang saya ingin tekankan ialah bilangan premis yang menjual arak di Brickfields. Kerajaan Umno-BN perlu membuat sesuatu, samada memberikan tempat lain yang jauh daripada 'Little India' atau menutup kedai berkenaan kerana tempat ini bakal menjadi tempat tumpuan remaja dan kita tidak mahu remaja dan belia Brickfields terjebak dengan amalan buruk ini. Kesan sosial dan kemasyarakatan projek ini mesti diambil kira dan dinilai sewajarnya.
"Saya mengalu-alukan niat baik Kementerian Wilayah dan Kesejahteraan Bandar untuk memajukan Brickfields, tetapi sehingga kini, masyarakat Brickfields tidak dimaklumkan langsung butiran projek ini dan apa kesannya terhadap kehidupan seharian mereka disini. Mereka diletakkan dalam keadaan pasif, tanpa memberikan ruang untuk memberi pendapat dan maklumbalas.
"Saya mendesak kementerian untuk mendengar dan menerima maklumbalas dariapda masyarakat Brickfields kerana ini melibatkan kehidupan mereka. Kementerian perlu memberitahu kawasan mana yang akan dibangunkan, kawasan mana pula akan dinaiktaraf dan sebagainya," tegas Nurul Izzah.
Stick to the plan: The RM35 million Little India project in Brickfields should follow schedule, says Pantai Dalam MP
Posted: 11 Jun 2010 08:59 PM PDT
by Meena L. Ramadas
The Sun Daily
CONSISTENCY is vital for the successful implementation of the Little India development project in Brickfields, which is slated for completion by year end.
MP for Pantai Dalam Nurul Izzah Anwar said on Saturday the Little India development project's success hinges on the proper execution of the plans.
"The Little India project must be fully completed as planned in the displayed blueprint so as to not be another failed project by the government," she said at a press conference.
The ambitious RM35 million project, which is set to transform the bustling Brickfields area, involves the construction of designated buildings and lots for the hawkers to conduct their businesses, a multi-storey car park near the KL City Hall sports complex, and the widening of major roads.
Nurul Izzah pointed out that Federal Territories and Urban Well-Being Minister Datuk Raja Nong Chik Raja Zainal Abidin's decision on Friday to allow the 17 hawkers on Jalan Thamby Abdullah to stay put instead of relocating to Chan Ah Tong field as provided for in the blueprint creates complications.
"According to the plan, an information centre was to be placed at the site where the hawkers are situated now, "But, now that the Minister had said the hawkers can stay there, where is the information counter going to be?" she said.
The MP also said the development project must also ensure that buildings and public facilities built are disabled-friendly.
Meanwhile, the 17 hawkers on Jalan Thamby Abdullah are expected to receive their business licences from Kuala Lumpur City Hall (DBKL) by the end of this week.
One of the hawkers, Asah Ibrahim, 54, said: "This place should be upgraded instead of shifting us to the field."
Meanwhile, the three-month impasse over the proposed traffic dispersal system is finally over after the government agreed last Friday to turn Jalan Tun Sambanthan into a one-way street while Jalan Sultan Abdul Samad would remain open to two-way traffic.
DBKL Buat Kerja Seperti Melepaskan Batuk Ditangga
Posted: 11 Jun 2010 08:46 PM PDT
Oleh Frederick Luccas
Suara Keadilan
KUALA LUMPUR 12 Jun – Ahli Parlimen Lembah Pantai, Nurul Izzah Anwar mendesak Dewan Bandaraya Kuala Lumpur membuat perancangan pembaikan jalanraya yang lebih teratur dan untuk jangkamasa panjang dan bukannya sekadar menampalan jalan setiap kali ada aduan daripada orang ramai.
Bercakap kepada media semasa melawat Jalan Maarof semalam, beliau menyatakan DBKL perlu lebih efisyen dalam menangani masalah setempat, terutamanya berkaitan aduan daripada masyarakat.
"DBKL merugikan sumber yang ada dengan membuat tampalan ke atas jalan yang perlu diturap dan tampalan ini akan rosak dan terkeluar setelah beberapa hari digunakan," tambah beliau lagi.
Jalan Maarof merupakan antara jalan besar yang sibuk dan digunakan oleh beribu kenderaan setiap hari dan keadaan jalan yang berlubang dan merekah di hampir setiap simpang menyebabkan pengguna jalan ini terpaksa menghadapi keadaan trafik yang perlahan setiap hari.
Situasi ini sudah tentunya bukanlah sesuatu yang ideal terutamanya di kawasan yang mempunyai nilai ekonomi yang tinggi seperti Bangsar.
"Saya berpuashati dengan portal e-Aduan yang dibangunkan oleh DBKL, di mana hampir 80 peratus aduan telahpun diselesaikan oleh DBKL. Berkenaan Jalan Maarof, kita mendapat pengesahan daripada DBKL bahawa kerja pembaikan telah dimulakan, tetapi apa yang kita lihat ialah hanya tampalan jalan yang sudah tentu tidak akan tahan lama.
"Kerja sebegini akan menyebabkan pengguna mengadu kembali setelah beberapa ketika dan kitaran ini akan berterusan tanpa satu penyelesaian yang kukuh. Saya meminta DBKL untuk menilai semula kualiti bahan dan proses kerja agar pembaikan yang dibuat adalah untuk jangka panjang, bukan tampalan sementara yang hanya merugikan DBKL dan pengguna jalanraya yang lain," tegas Nurul Izzah.
Tambah beliau, DBKL perlulah peka terhadap isu sebegini dan bukan menunggu sehingga aduan diterima sebelum membuat kerja pembaikan.
"Tugas kita sebagai Ahli Parlimen adalah untuk mendengar keluhan rakyat dan membuat program untuk rakyat, tetapi apa yang saya dapat lihat di sini ialah saya terpaksa campurtangan dalam hal yang sepatutnya dalam pantauan DBKL. DBKL patut sedar isu masyarakat di dalam kawasannya dan mengambil inisiatif, bukannya menunggu sehingga disuruh.
"Harapan saya agar DBKL dapat menerima kritikan ini sebagai satu maklumbalas yang positif dan mengambil langkah sewajarnya," kata beliau lagi.
Polis Sibuk Pantau Ceramah Politik, Peragut Berleluasa Di Kawasan Bandar
Posted: 11 Jun 2010 08:41 PM PDT
Oleh Frederick Luccas
Suara Keadilan
KUALA LUMPUR 12 Jun – Lawatan Ahli Parlimen Lembah Pantai, Nurul Izzah Anwar ke Jalan Maarof, Bangsar semalam bukan sahaja menjadi tumpuan penguna jalanraya tetapi juga telah menarik minat peragut yang menjadikan kumpulan wartawan yang membuat liputan berita sebagai mangsa.
Jurukamera akhbar berbahasa Cina, Nan Yang Siang Pau, Khor Meng Siang, yang sedang berjalan lebih kurang 100 meter di belakang Nurul Izzah dan wartawan lain sambil mengambil gambar Jalan Maarof diragut oleh dua penyamun yang menunggang motosikal.
Menh Siang yang cedera di bahagian lutut juga kehilangan kameranya yang dianggarkan bernilai RM20,000.
"Ini satu kejadian yang serius, di mana jurukamera diragut semasa bertugas dengan kehadiran sama seorang ahli parlimen. Saya amat terkejut dan hampa dengan pihak polis atas kejadian ini kerana apabila kita mengadakan ceramah, banyak pula anggota polis yang hadir," kata Nurul Izzah berhubung kes ragut tersebut.
Tambah beliau lagi, ini jelas menunjukkan betapa lemahnya perondaan polis di kawasan Bangsar, yang merupakan pusat perniagaan yang sentiasa sibuk dengan kepadatan penduduk yang tinggi.
"Polis patut meronda kawasan ini lebih kerap memandangkan kepentingan ekonominya, tetapi peristiwa malang ini hanya membuktikan kawasan ini tidak dipantau sepenuhnya hinggakan peragut ini berani bertindak di tengah bandar, tambah lagi di siang hari.
"Polis sentiasa meronda dan menghantar ramai anggotanya untuk menghadiri ceramah yang dianjurkan oleh kita, yang jelas satu pembaziran sumber sedangkan apa yang kita perlukan ialah lebih banyak anggota ditugaskan di lapangan membantu dan dalam masa yang sama mengembalikan keyakinan rakyat.
"Isu ini hanya berbalik kepada pemantauan tugasan polis kerana saya percaya apabila adanya satu badan untuk memantau institusi kepolisan, polis berpeluang membaiki diri dengan menerima kritikan positif dan secara langsung memberikan perkhidmatan yang lebih baik," kata beliau lagi.
Nurul Izzah menegaskan, kejadian sebegini mengukuhkan lagi desakan mewujudkan Suruhanjaya Bebas Aduan dan Salahlaku Polis (IPCMC) yang dapat membendung polis daripada menjalankan tugasan yang berunsurkan politik dan menggalakkan perkhidmatan yang mengutamakan rakyat.
"Saya sedih dengan kejadian ini, malah kini saya sendiri tidak berasa selamat untuk berada di luar. Jika peragut semakin berani hinggakan meragut jurukamera yang mengikuti saya, apa jaminan saya sebagai seorang Ahli Parlimen tidak diragut selepas ini? Bagaimana saya hendak mempercayai kenyataan badan kepolisan dan statistik yang dibentangkan di Parlimen menyatakan kadar jenayah telah berkurangan?" soal Nurul Izzah.
Solicitor-General II Mohamed Yusof Zainal Abidin, when Musa Hassan man come calling that it was the discretion of the Attorney-General, as to charge any person under any section.
Posted: 11 Jun 2010 08:31 PM PDT
The US supreme court Justice Sonia Sotomayor was recently among the leading liberal dissenters who said the landmark June 1, 2010, 5-4 ruling that now requires suspects in the US to clearly state to the police that they don't want to talk to the police and not barely remain silent when caught "bodes poorly for the fundamental principles" protected by a suspect's "Miranda rights'', which the court laid out in a famous 1966 decision.
This guy (appears to be) a mole planted by UMNO. He was with Najib 3 months before GE12 & yet Anwar took him in as his aide & he was campaigning for PKR. What was Anwar & the PKR team smoking when they made those decisions? This kind of carelessness is not excusable.
The rights, when read out, went like this: "You have the right to remain silent. Anything you say can and will be used against you in a court of law. You have the right to an attorney. If you cannot afford an attorney, one will be appointed to you. Do you understand these rights as they have been read to you?" Until last month, the suspect often waived his right against self-incrimination by signing a form to that effect and it was for the government to show that the suspect had understood that warning. The suspect now has to "unambiguously" invoke his right to remain silent in the US. Let's look at what a suspect in India faces. It's the knock at the door that nobody wants to hear. But when the police come calling to effect an arrest it might be useful to bear in mind the following points. Criminals or suspects getting arrested is a daily phenomenon. But even the accused have rights, said the Supreme Court of India when it laid down the guidelines in December 1996 in the landmark case of DK Basu versus State of West Bengal.
Further to that, Malaysians will be told about the relationship between Najib's Special Officer, Khairul Anas, and Saiful —
What the SC says:
* Police carrying out arrests should have visible, clear name tags with their designations. Particulars of all such policemen should be recorded in a register as well.
* An arrest memo must be prepared and attested by at least one witness, who should be either a member of family or a respectable person from the locality.
* The memo should be countersigned by the arrested person.
* The friend or relative of the arrested should be informed about the time and place of arrest and the location of the police station through the legal aid organisation of the district via telegram, within 12 hours of arrest, if friend of the arrested person lives outside the town.
* The arrested person may be examined for any injuries if he requests and a signed memo maintained.
readmoreThe malaysian governtment did the unthinkable, Augustine PauL Federal Court judge GOT THIS POSITION TRU corruption
* The arrested should be taken for medical examination every 48 hours.
* The arrested person should be permitted to have his or her lawyer present for a while during police interrogation.
* The police control room should be provided information regarding the arrest and the names of the arrested persons be displayed outside the control rooms.
The SC guidelines are sometimes seen displayed at police stations even though implementation is often left wanting, say lawyers.
Solicitor-General II Mohamed Yusof Zainal Abidin, who led the prosecution team, replied that it was the discretion of the Attorney-General, as the prosecutor, to charge any person under any section.
The 'normal' human nature is that no one likes being ridiculed, least of all a community, considered to be a proud, Muslim race which seemed to be doing so well till Mahathir and IbrahimKATAK in the country. Or a community, which has faced genocides and near annihilation MAHATHIR rule when there was a price on every MALAY head,
So, why do they still laugh at themselves? Maybe, they do so, because they have realized that feeling sensitive about minor things such as ridicule, in such a fickle life is not worth the effort! But, then, here's another reason, and mind you, I am letting you into a deep secret, told to me by a well-meaning community elder, long, long ago! MALAY probably learnt to laugh at themselves, so that they, being a community, could appear harmless and continue to do well socially and economically without any fear of competition or persecution. After all, who would like to compete with someone who is supposed to have a brain which boils over at 12 noon!
The Rule Book Says:
Even the criminal procedure code, the rule book that binds police action, makes clear provisions to ensure that grounds for arrest and full particulars of offence must be given to the arrested person.
Advocate Shrikant Bhat notes that if customs and excise officers can issue a memo after an arrest it is time the city police too should do so for arrests made under the penal code.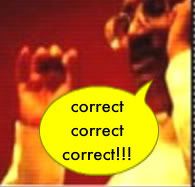 CAN A THIEF PLEAD AS DEFENCE THAT SO
Justice may be delayed, but it can never be denied.MAHARTIR THE COURT IS WAITING!Corrupt political leadership does not attractive men of outstanding integrity; neither can it be expected to enact effective laws to maintain high integrity in government. That truism has practically reduced our options to only one – a change of political leadership. That is, if we are still serious about restoring the rule of law and the pursuit of excellence for the country.read this exclusive article
* An arrested person should know that he or she needs to be taken to a magistrate within 24 hours of the arrest.
Handcuffs
* The apex court in 1980 said that handcuffs should be used only in exceptional cases and a diary entry be made that the accused is a dangerous criminal or is prone to violence or a maniac.
Right to a counsel:
* The arrested person should know that he has a right to be represented by a lawyer. The state has to provide for legal aid if needed. RELATED ARTICLE Prosecutor has deceptively merely manufacturing evidences against Anwar
Meanwhile, enjoy these reruns:
Indigence should never be a ground for denying fair trial or equal justice, the SC said. The US apex court pointed out in 1962 the correlation between the standards of criminal law enforcement and level of civilisation thus: "The methods we employ in the enforcement of our criminal law have been aptly called the measures by which the quality of our civilisation may be judged."
RPK SIHRG Q and A – Fighting for my Right to Justice
SEE VIDEO ON YOUTUBE HERE http://www.youtube.com/watch?v=EJ3mIQGb300
SEE VIDEO ON YOUTUBE HERE http://www.youtube.com/watch?v=dDnQhrDFyDQ
RPK SIHRG Q and A – The Sibu Results
SEE VIDEO ON YOUTUBE HERE http://www.youtube.com/watch?v=bXzLxB0Hqv4
Legalising a wrong does not make it right!
Posted: 11 Jun 2010 08:16 PM PDT
Many people have spoken for and against sports betting. I have not wanted to comment on it since so much have been said. yesterday, even PPP have come out and supported the move to have sports betting. So maybe it is time for me to say something and for you all commentator there to comment.
We know that sports betting can bring in a lot of money. It may be good for the treasury. That is the argument that the government and pro betting lobby is using.
But the issue here should be whether betting or gambling is good. Even a primary student can tell you that gambling is bad, betting is bad. A teacher, who may be heavily involved in gambling, will never tell his students that gambling is good.. He knows it is wrong even though he himself may be deep into gambling. obsessive gambling is actually a pathological state and requires therapy.
Take an analogy. We now that we can gain materially from conning people. But does that justify us going around conning people? No, because it is morally wrong and whatever gain from this morally wrong activity will be ill gotten gain. We should not do it because if we do it and everyone in society does it, there will be no more morality left in the world.
Similarly, we know that betting is bad. To encourage betting just because it may bring in lots of money is like encouraging people to con and cheat since conning and cheating can be quite lucrative business too.  It is like encouraging ladies to sell their bodies just because it is lucrative and government can make a pile on it. Once the flood gate is open, there will be no end in sight….
We know that even if we do not legalize betting, there will be die hard gamblers betting illegally. This is up to the enforcement and the police to tackle, and should not be used as a reason to justify legalizing something which is morally wrong. To eventually get rid of this problem of betting, we must start from young, and must start from our education, both in schools and at home.
We have heard stories about people committed suicide, how happy families became bankrupt and broken after some members of the families indulged heavily in betting. These are real stories. If we encouraging betting by legalising it, maybe in future, it could be our own grandchildren  that will commit suicide, that will have a broken families because of betting.
It is wrong to legalise a wrong and even by doing so, a wrong is still a wrong and cannot be righted!
Posted: 11 Jun 2010 08:15 PM PDT
Oleh

Anak Mami



Bangsa semakin mundur, pihak pemerintah rasa segar
Bangsa Melayu semakin lemah, pihak pemerintah semakin angkuh
Bangsa Melayu semakin bodoh, pihak pemerintah lagi senang memerintah
Bangsa Melayu semakin takut, Itu lah kuasa Pemerintah semakin gagah.

Melayu ini pandai apa ???
orang menjerit dia menjerit
orang kutuk dia dia kata kita peluk tubuh
depan mata tertutup pandangan
ini lah sikap melayu... boikot teloq !!

Bangsa melayu di msia ni masih ramai yg berotak belacan! Tapi gaya hidup pura2 sudah maju...asyik nak tunjuk diri yang mendekati syurga, bermimpi naik syurga, itu lah pihak pemerintah rasa gembira. Ugama dijadikan senjata memperbodohkan melayu, ini lah cara pihak pemerintah mengawal otak pemikiran melayu.

Kalau boleh 0.1% saja nk digunakan otak utk befikir! Balance 99.9% lagi utk berangan2....
berangan angan apa??? kaya cepat beb, kahwin 4 bini, kereta besar, bangalow besar...itu lah melayu paling minat politik, politik lah jalan yang paling singkat untuk keya cepat.

Tak perlu zionis di palestin utk menjajah bangsa melayu islam di msia! Memadai dijajah 'pemerintah taraf dungu' negara sendiri, sudah longlai semangat pemikiran, belum disuruh bangkit berjuang utk rakyat palestin....

Setiap hari rakyat msia diajar bekerja 'mcm kerbau' utk mencari sesuap nasi dan berjuang dlm serba kekurangan demi kelangsungan hidup! Diterap budaya 'jangan banyak soal'.. Yang membuncit PARA PEMERINTAH!

Rakyat hanya cukup dibelai dan dilimpahi dengan 'ucapan & slogan retorik' meloyakan tekak yg perit!
Posted: 11 Jun 2010 08:13 PM PDT
"An excellent writer and a piece of Malaysian history . . .and its "politics" since "Independence"
and a great Biographie . . ."

University of Qatar
author's CV
http://www.qu.edu.qa/doc/business/
DR. MOHAMED ZAIN MOHAMED.pdf
Contributed by

Krishna Singh



Books have been written about Tun Daim Zainuddin (pic above), but not many people know who the real Daim is. He is famous for being taciturn. Everyone knows that Daim is the silent type; so silent, in fact, that the victims of his scheming and conniving have fallen like ten pins without ever knowing what hit them. He has, on the quiet, made a career of shooting poison darts, laying booby traps. and knifing friend or foe in the back. His hand is never seen, but his mark is everywhere. Truth to tell, he has been at the root of many national crises, but his name has never been smudged, thanks to the wealth he wields and his bond of friendship with Dr. Mahathir.

Most members of Umno's new generation are aware that Daim is an acquisitive millionaire and a macho man with a taste of young women, but they concede him these weaknesses because they see in him a clean and competent Economic Adviser to the Government. But the generation of Harun Idris, Musa Hitam and Manan Othman to name just a few of the old hands - they are the ones to ask in order to discover who the real Daim is. It was Datuk Harun who plucked Daim up from the depths of failure in the salt business. Daim's wife, Mahani and Harun's wife, Salmah were good friends and an influential pair in the early 1970s. It was wife power that moved Harun to give Daim 160 acres of prime Kampung Pandan land. And thus Syarikat Maluri was born.

There is no use speculating over how much Daim paid Harun. After all, the two were fast friends. For the gory details, just ask Low Kiok Bow or Thamby Chik. They can relate how Daim cheated a land broker and greased Selangor state executive councillor and Mahathir's brother-in-law, Ahmad Razali for that piece of land.

Of course, Daim still had to pay for the land. In those days, it was not easy to borrow from a bank. Hence, he was forced to corrupt Bank Bumiputra. Lorraine Osman and Rais Saniman know how much he spent. Manan Othman can no doubt confirm the figure, he was so close to Daim that they tried to share a girl friend, with Manan often borrowing the bedroom at Daim's office in Taman Maluri.

Daim's elevation as Senator and, subsequently, Minister of Finance, was part of Mahathir's strategic plan. Mahathir's choice should surprise no one, after all the two were intimate friends from the same kampung in Seberang Perak, Alor Setar. Upon becoming Prime Minister on 16 July, 1981, the first thing on Mahathir's mind was how to sideline his archenemy, Tengku Razaleigh Hamzah. Daim told everyone he had no interest in politics, but all the while he was confident of getting the Finance Minister's job after a stint with the Senate. A few months after joining the Senate, Daim became Chairman of Fleet, which owned the New Straits Times. In 1984, he finally got his dream job and became the third most important man in the Federal Cabinet, after the Prime Minister and his deputy.

Musa Hitam, the Deputy Prime Minister, was at first oblivious of the closet ties between Mahathir and Daim. Innocently, he expressed to Mahathir his disquiet over Daim's wheeling and dealing, particularly his award of projects and contracts to his own associates and cronies. It must have baffled him when his complaints fell on deaf ears although he was Deputy Prime Minister, he has no say when it came to economic matters, particularly privatisation and the assignment (to supporters) of economic projects. How disappointed Musa must have been to find that Daim could not care less about his effort to help his supporters secure some projects or contracts. Daim succeeded in making millionaires of such cronies of Wan Azmi, Halim Saad, Tajuddin Ramli,
Samsuddin Hassan, Razali Rahman and Tan Sri Basir, but Musa in the end was cast off as a poor ex-DPM. Musa once complained to Mahathir that Daim had stolen a number of supporters' project proposals, but again Mahathir ignored him. These were the first acts in the eventual breakup of the Mahathir-Musa partnership. As the interests of Mahathir and Razaleigh bloated, Musa got squeezed out.

Many Umno members assume that Razaleigh is Musa's number one enemy. In fact, the reason for the 1986 split in Umno must fall on Daim. It was he who drove Musa to the edge until he had no choice but to resign. Again, Daim's man of few words demeanour to his advantage. Few knew of his behind-the-scenes role in that Umno rupture not many more know it today. One really should not wonder why Musa called a truce Razaleigh and the two decided to collaborate in the 1987 fight, the one that eventually caused Umno to be outlawed. At that time, Daim was almost invincible, what support coming from such strongmen as Sanusi Junid and Anwar Ibrahim. The comradeship of the three was rock solid, and the Musa-Razaleigh camp could do nothing except to make a joke of it by giving them the nicknames AIDS.

The formation of the new Umno, Daim and Mahathir had first to get rid of the Lord President, Tun Salleh Abas. Again, Daim was the chief plotter in the sacking of the pious and respected Tun Salleh, and his replacement with Tun Hamid Omar, a playboy and chronic gambler, but Mahathir's and Daim's schoolmate. The appointment of Tun Hamid Omar triggered the collapse of the integrity and the independence of the judiciary.

Finance Minister, Daim persuaded Mahathir to give the Economic Planning Unit and Treasury full power in implementing the privatisation policy. Hence, it was no longer necessary to call for tenders for government projects. Instead, the projects were awarded directly to favoured companies. And so began the era of wealth accumulation by him and his cohorts. The United Engineers Company, bought for RM2, changed into a multi-million- ringgit corporation. As Finance Minister, Daim practically ordered banks to lend to companies that he himself owned. And no Daim crony every complained of difficulty in securing bank credit. Indeed, bankers lived in fear of Daim. Having appointed Wan Azmi and Basir to head Malayan Banking and Bank Bumiputra, he would give any project to any of his cronies because funding was not an issue.
If those physical projects were not enough, Daim also took every opportunity to take wealth from the share market as well. Every time the Treasury approved a company for listing on the stock exchange, Daim cronies received their lion's shares. That was how Southern Bank, Resort World, Sports Toto, Berjaya, Tanjong and scores of other blue chip firms landed with Daim and Company. Once, when share values were high, Daim boasted among friends that his visible wealth alone totalled RM65 billion. To shut the mouth of Barisan Nasional leaders, Daim gave lucrative projects to Samy Vellu and Ling Liong Sik so that their children could be big-shots in batches.

Daim managed to fool Umno members into believing that Mahathir would not let him go although he had asked to be relieved of his Cabinet post on a number of occasions. With Musa and Razaleigh out of the picture, Daim could grab as much wealth as he wanted without even Mahathir stopping him. Besides, he was Umno's treasurer and he could make it look as if the companies he controlled were those in which the party had a stake.

Daim's avarice damaged not only his own image as finance minister, but also Mahathir's and Malaysia 's reputation with the international community. It is said that he used to demand exorbitant fees for himself in negotiating contracts involving foreign suppliers. The chairmen of Japan 's two biggest banks - the Bank of Tokyo and Sanwa Bank - once complained to Mahathir that his Finance Minister demanded commissions that were too high when negotiating yen loans. Margaret Thatcher, too, has complained about Daim's role as a commissioned agent. He had - or still has - accounts in Zurich , London , Hong Kong, Tokyo , Singapore , Caymen Island , Channel Island and Virgin Island . Indeed, instead of keeping his billions in Malaysia , he has stashed them overseas.
With his immense wealth and far-reaching influence, Daim eventually became a burden that Mahathir could no longer bear. In every deal he made, there was something in it for himself. It was not beneath him even to conspire with Lee Kuan Yew to snatch KTM land in Singapore . The Malaysian Cabinet had no knowledge of this. But this issue of Malaysia being cheated by Lee Kuan Yew and Daim is far from over.

Mahathir eventually realised that he had to end Daim's lordship over the Finance Ministry. And so he told him to quit.

Mahathir worried that if Daim continued as Finance Minister, complaints would come not only from Vincent Tan, Ananda Krishnan, Arumugam and other members of the Malaysian business elite, but also from foreign leaders. Signs of a Daim-related scandal were ominous and it could break anytime in Japan or Britain , therefore, Daim had to go.

Daim's resignation was planned such that it would not appear as if he had been sacked. Indeed, it does not make sense why a powerful Finance Minister, rich and in control of so many public companies, would suddenly quit simply because he had lost interest in the job. The truth is that he was ordered to resign. Observers will recall that Mahathir's first comment on the so-called reaction was, 'He has asked several times for permission to resign, and I have finally allowed it. I hope Daim would not leave the country after resigning'. That statement was pregnant with meaning. Mahathir knew Daim was sulking. So did Anwar and Sanusi. Mahathir retained Daim as Umno Treasurer for a good reason, he wanted to ensure the safety of Umno money, a lot of which was under Daim's control.

But Daim who holds so many of Mahathir's secrets, is only a sly one. After resigning, he ran off to live in his San Francisco residence. He told the Malaysian public he wanted to study at Harvard, but in fact he wanted to leave Malaysia . Mahathir, who was familiar with Daim's antics, pleaded with him to come back, saying he need him to advise on economic matters. Daim returned and announced that Mahathir had named him Economic Adviser to the Government. Rafidah asked Mahathir to confirm this, but all she got was silence. Daim was never formally appointed as Economic Adviser, a post which Tun Raj a Mohar once held. The appointment is the prerogative of the Public Services Department. Daim gave himself the job. To keep Daim happy, Mahathir allowed him to open an office at the Economic Planning Unit, and this strengthened the public perception that he was still in control as far as economic affairs were concerned.

When he was to told to resign as Finance Minister, Daim asked Mahathir to appoint Anwar Ibrahim to the job. Obviously, he thought this would help to ensure that his skeletons would remain closeted. He warned Mahathir of the peril that Rafidah would be to both of them: the secrets they shared would be uncovered. Daim also persuaded Mahathir to appoint Mustapha Mohammad as Anwar's deputy because these two could be depended on to fill up the holes he had left gaping. Anwar is nobody's fool, but he sacrificed his idealism to protect his towkay.

As far as we know, no Finance Minster in this world has retired a billionaire, except Daim. In the book Daim yang Diam: Sebuah Biographi (Daim the Silent: A Biography), Daim explains his retirement: 'I am happy in retirement. It was too heavy a responsibility. In truth, I love the business world. Business is in my blood. I love to make money. I know how to do it. I can do it just by sitting in this chair. On a lucky day, I can make millions.'




Friend of Soros



According to an internal bank analysis, collaborated by the corporate community, and from Daim crony Amin Shah, Daim's wealth, in ringgit and foreign currencies kept overseas currently amounts to RM20 billion. With so much money at his disposal, Daim can manipulate the Kuala Lumpur Stock Exchange. He showed his hand in 1991, just to prove how much influence he wielded. After selling off his stocks, he made a statement to the effect that the market would crash. And crash it did. As we can all recall, even Mahathir could not help but make a wry remark when Daim boasted that he invested in KLSE only for pocket money. But to his good friend, Daim said he could turn in profit on RM90 million a day when the market was up. When the market plummeted in October 1991 Daim bought back his share on the cheap. When the market turned bullish again 1995 and 1996, Daim made billions of ringgit from it. This, then, is what the work of an economic adviser amounts to.

So it turns out that Soros is not the only big time market manipulator and currency dealer. Daim met Soros twice in London when the ringgit was being hotly traded. Anyway, when the ringgit fell below RM4 to the US dollar, Mahathir asked Daim for help and, according to a source in Singapore, he lost RM1 billion trying to prop up the Malaysian currency. To lose that much in currency trading, imagine how much money he had at his disposal.

The falls in currency and share values put Mahathir in a feverish panic. He knew his policies and his own belligerent attitude were partly to blame. Seeing Mahathir in such a frenzied state, Daim recommended that he declare a state of emergency to enable him to restore the economy and at the same time, bury the corpses that were beginning to stink. We hail the Chief Secretary to the Government and the Solicitor-General for opposing the move.. If Daim's plan had been followed, Mahathir would turn dictator and the Malaysian economy would be utterly ruined. Having failed to declare an emergency, Mahathir set up the National Economic Action Council, headed by Daim, with the Economic Planning Unit as its Secretariat. The original plan was to give the NEAC complete autonomy, but the Cabinet ministers opposed this for fear that they would lose any vestige of power they had left. Eventually, the council became merely an advisory body, with the Cabinet having final say on its recommendations.

The establishment of the council was a wedge between Anwar and Daim. Thus, two old friends who had together stood behind Mahathir against Musa were now turned against each other. All of the council's recommendations were rejected by the Cabinet and Bank Negara. Daim openly assailed Bank Negara for dismissing his proposals, such as those relating to interest rates and credit control. We salute the Bank Negara Governor for maintaining a prudent monetary policy in the face of Daim's bullying and insults. Unlike Daim and his cohorts, Bank Negara's officials are not self-serving. Daim's appointment to the NEAC was a major national mistake.

Going by press reports of its deliberations so far, the NEAC's sole preoccupation is with saving mega corporations from bankruptcy. No doubt, these are Daim-related companies. Daim has yet to show any concern over the rise in the price of chillies, or the leaps in fish prices or how the price of rice has boiled over. Neither has he talked about small businesses in their death throes. Class F contractors going bankrupt or kampung road projects being abandoned. In his dictionary, there are no entries for the small man's worries, nothing about low-cost houses, water cuts or study funds for the children of poor Malays. In fact, it contains only billion size figures. While the Malaysian economy is close to ruin, Daim remains a billionaire, living a life of glamour, jet setting with his new wife Naimah and the attractive Josephine , an Indian lass who helps him run one of his firms, the International Malaysian Bank.

We have merely given a sketch of who the real Daim is. A thorough account will soon be available in book form. We recommend the book to Umno members, especially those with big ambitions, because they will learn much from its fantastic but true tales of economic and political intrigues. We denounce the likes of Vincent Tan and Tan Phek Khiing for land-grabbing, but perhaps we should ask the Menteri Besar of Johor and the Menteri Besar of Kedah how much land Daim has taken. Ask Sanusi how much Daim paid to the Kedah government for 12,000 acres in Sungai Petani and how much profit he made from them. For 12,000 acres, Osman Arof had to be sacrificed. The true story of the Daim-Sanusi conspiracy in Kedah will be exposed in the book.

Umno is at a crossroads and has to decide wisely where it is going. One road heads to glory, where stability and democratic practice will abide. The other leads to division, autocracy and ultimately, utter destruction. The call for reform, which used to be made only in whispers at small, secretive gatherings, is becoming louder. Umno members, showing that they can no longer contain their restiveness and frustration, have begun to openly debate the need for change, even at party conventions. Can there be a clearer indication that they have reached their tether's end, that they can no longer stomach the leadership's undemocratic attitude and the prevalence - whether in the party or the government - of favouritism, cronyism, nepotism, graft and other misdeeds? Malay nationalism is dead and materialism and egoism are running amok.

We cannot depend on the Umno Supreme Council to initiate reform because few of the members have the guts to speak up. In fact, the council has lately been transformed into a monologue theatre. But of course even a monologue can flop without good supporting players - fools, clowns, jesters, attendants and the oh-so- important flatterers. As far as these bit players are concerned, Umno's ideals and principles are not as important as their jobs. This keep-your-mouth- shut syndrome serves only to embolden the party leadership in its conceit, arrogance and haughtiness. A president has become a dictator. Woe are the Malays and Umno. What is to become of them? That is a question only Umno members can answer.

Professor Mohamed Zain
Professor of Technology & Strategic Management
College of Business & Economics
University of Qatar
Posted: 11 Jun 2010 08:06 PM PDT
Contributed by

Krishna Singh



By

Hussein Hamid



If I am called a traitor for denouncing UMNO as failing to defend the special rights of the Malays and the Monarchy, then let me stand beside Anwar and BE A TRAITOR

UMNO defending the rights of the Monarchy?

Was it not your (UMNO) President Mahathir who stripped away the legal privileges of the Sultans - the hereditary and cultural symbols of the Malays? The Sultans to whom we all go for protection against political and administrative excesses?

And then you all have the audacity to put yourself on the same level as we had once had placed the Sultans on - but this time giving the Malays no access to protection from the excesses you have indulged in and now continue to indulge at the expense of the Malays?

I did NOT hear of any Sultan taking Ringgit $500 million for services rendered.
I did NOT hear of Sultans using the Police to impose their will upon the Malays.
I did NOT hear of Sultans blowing up foreign nationals.
I did NOT hear of Sultans willing to allow the Malays to suffer economically as they do in KELANTAN, just because the people in that state choose to have, as their government, a party that is not UMNO.
........ And you call us traitors to the Malay cause? Are the people in Kelantan not Malays?

1. If they question Anwar's sincerity for not raising the matter when he was in power, then I too am not sincere because I was once one of those that look upon UMNO as our savior and never did denounce UMNO until now.

2. If what I say now shows disrespect to the Malays, then I rather do this, than to sit quietly while our Malay leaders enrich themselves through greed and corruption - as they continue to do today.

3. If I am guilty of showing disrespect to these Malay leaders - so be it , I plead guilty as charged.

I am sick to my stomach of UMNO leaders and their cronies taking, taking and taking for themselves what is rightfully for the Malays that they say they have been championing.. I now stand up and point my finger at them and say to myself:

If anything, I have been guilty of keeping quiet...because I, like Anwar, have had hopes that the aspirations of the Malay would have taken precedence over the greed of our leaders, UMNO is greed. UMNO is deceit. UMNO is dishonor.

You Muhyiddin, You Najib, you Khir Toyo, you Mahathir, You Daim, ...and so many other UMNO cohorts have brought dishonor to UMNO and shame to us Malays..

You dare call Anwar a traitor. Then call ME one too....


There was a time when we had to expose the goings on in the award of tenders, privatization deals, projects failure...to make the people understand your misdeed while in power - NOT ANYMORE - that UMNO has become a bloated, corrupt and sleazy organization is a given fact - a fait accompli - a fact realized or accomplished - a decided fact - now days we can say that in your face and your leaders and past Presidents have accepted it as FACTS.

Let me say it again - it is a GIVEN fact that UMNO is corrupt. Whether Anwar and me are traitors is still to be decided!!

Our worry is this.

Now that you know that you will lose the next General Election - what will you do to win it? Or should the question be what will you NOT do to win the next General Election.

1. Murder most foul. You have done it.
2. Giving Ringgit 500 million for 'services rendered' to your running dog?
You have done it.
3. Using the ISA indiscriminately separating our leaders from their loves
one? You have done it.
4. I can name any evil under the sun and you have done it.
5. UMNO through its leaders, have done it...and you dare to call Anwar and
traitors for speaking up?


I can only shake my head in disbelief when trying to work out what is that you will NOT do?

But this we pledge...whatever you do, do NOT think that you will be able to make us go away.... NEVER.

WE WILL be your worst nightmare - not money, not your might, not your threats not your gifts will deter us from doing the right thing...

We will keep our anger until the next General Election..
Posted: 11 Jun 2010 07:54 PM PDT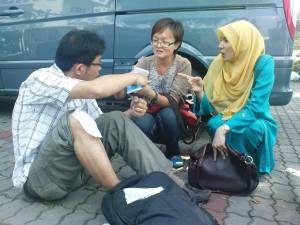 Semasa saya membuat lawatan di Jalan Maarof semalam, Jurukamera akhbar berbahasa Cina, Nan Yang Siang Pau, Khor Meng Siang, yang sedang berjalan di belakang saya diragut!
Meng Siang yang cedera di bahagian lutut juga kehilangan kameranya dianggarkan bernilai RM20,000 oleh dua penyamun yang menunggang motosikal.
Dia dibawa ke balai polis yang berdekatan untuk membuat laporan yang dibantu oleh wakil Pejabat Ahli Parlimen M.Partiban. Khor Meng Siang ke Hospitai Universiti tidak lama selepas itu. Saya mendoakan agar dia cepat sembuh dan kuat semangat!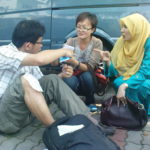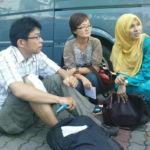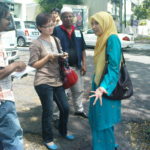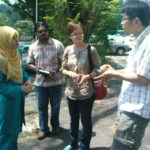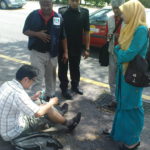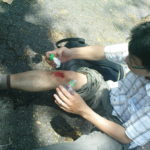 Baca berita selanjutnya di Suara KeADILan di sini
In His Father's Punches - By Melody Goh.
Posted: 11 Jun 2010 07:34 PM PDT
Ip Chun (right) with Dennis To who plays the legendary Ip Man in 'The Legend is Born: Ip Man'
Kungfu master Ip Chun tells
Melody Goh
how growing up under his father, the legendary Ip Man, the portrayals on film and the growth of the Wing Chun art of kungfu.
If you've been going to the cinema lately, you would have heard about (and most probably watched) Ip Man on the big screen. And if you are a Wing Chun kungfu practitioner, chances are you have heard of Great Grandmaster Ip Chun.

Born in Foshan of China, Ip Chun is the eldest son of Ip Man. Having learnt Wing Chun from his father since young, Ip Chun has carried on his late father's legacy well. Decked in a navy sports jacket and khaki trousers, Ip Chun's simple attire belies the great man who wears them. At 86 years old, the kungfu master can easily put any youth to shame with his mental sharpness and agility.
During a light lunch at 1 Utama in Petaling Jaya, he says: "I remember our days of poverty. Back then we had a difficult life during the Japanese invasion in World War 2. My father forced me to stop schooling. I was very dissatisfied. I asked him 'Why can't I study like other people?' It was only later in life that I realised the reason was poverty. My father refused to work for the Japanese, which resulted in a difficult life for us. Through his example, my father taught me that one should never betray one's beliefs for the sake of money."

Of late, there has been a number of portrayals of his father on the big screen. What does he think of them?
"In Ip Man 1 and Ip Man 2 (starring Donnie Yen), my father was portrayed as the patriotic and heroic Ip Man and a man of integrity. This was also the image that most people remembered him by. However, the third movie (The Legend Is Born: Ip Man) presented him in a different light — that of his creativity and innovation against traditional rules and I felt that the director had successfully portrayed that aspect of him," he said.

He added: "You see, the popularity of Wing Chun now is due to that aspect of creativity in my father. Wing Chun used to be a rich man's hobby. Those days, the teaching methods focused on one-to-one, so only a few students could be taught at any one time. Besides, the tuition fees were very expensive and it greatly impeded the development of Wing Chun kungfu. But my father used a new teaching method. He allowed senior students to spar with the junior students. The effects were twofold — the students had the opportunity to learn from one another and my father was able to teach more students. And in a few decades, we could see the growing popularity of Wing Chun in the world."
"There were many traditional masters (sifu) at that time and they liked to use very technical jargon when teaching. For example, instead of using complicated words, father explained the Five Methods very simply as '180 degrees turn of the body'. He sought to adapt the lessons to the students' level of understanding, so the students found it easy to learn. Moreover, there were foreign students who were keen to learn Wing Chun as well. What my father had done can be summarised in a single Chinese proverb — po gau lap san — which means that you break the traditions of old and merge the old and new together."

"Nevertheless, that did not mean he had no respect for his teachers and the old traditions. In fact, my father upheld the Chinese proverb, juen see zhong dou, which means that you respect your seniors and give them due recognition and importance. My father did just that, and more, for he merged the old and new together".

The One Inch Punch was made famous by the late Bruce Lee, one of Grandmaster Ip Man's most famous students. But what exactly is the One Inch Punch?
"It is a punch which focuses on maximum impact at close distance. You see, Wing Chun is all about taking on bigger forces than yourself by maximising impact. For example, how can a 50kg force take on a 100kg force? You can, by maximising impact from a close distance." And with that, he demonstrated the infamous One Inch Punch by punching my palm. It was "full of impact", to say the least.
Much has been said about Wing Chun's continued rise in popularity in the world but what about the new generation of practitioners? Has an appreciation for the art of Wing Chun rubbed off on them and what does the Great Grandmaster himself think of that?

He replied: "Wing Chun has supported my family for years. Now it all depends on the next generation. I wish I could take Wing Chun to greater heights but I am an old man now. So I have created the World Wing Chun Union and it is being spearheaded by the younger generation. These are loyal students of Wing Chun who have a common desire to develop it as well as to carry on my hope for Wing Chun. With the Union and competitions, it is my wish that all Wing Chun members can be assembled under one roof and for Wing Chun to continue to develop."

The Legend Is Born: Ip Man is scheduled to open in cinemas nationwide on June 24. Apart from Ip Chun himself, the film stars big names in the world of martial art films such as Sammo Hung, Yuan Biao and Dennis To as Ip Man.

Courtesy of the New Straits Times