---
State of the Indians - stroke of the pen?
Posted: 10 Apr 2010 09:09 AM PDT
It's been just over two years since the March 08 general election that saw the opposition capturing the states of Kedah, Penang, Selangor and retaining Kelantan. The opposition loose coalition calling themselves Pakatan Rakyat which comprises of PKR, DAP and PAS also swept to victory in the state of Perak, but leter defections by three of their state representatives saw them lose the state to the Barisan Nasional. In our attempts to look into the state of Indian affairs two years after the Pakatan victories we talk to community leaders for their assessment of the PR performance because it was on the back of Indian anti-BN sentiments and votes that resulted in the opposition victories. In this segment we talk to K Arumugam who is MPSJ counsillor and human rights activist and P Uthayakumar who, with his brother Waythamoorthy led the November 25 2007 Hindraf rally that saw 30000 (some say) ethnic Indians gather at the KLCC to demand their rights as citizens of the country.

Time:

09:59

More in

News & Politics
Round 2 of 10: Israelgate, Malaysia's Watergate
Posted: 10 Apr 2010 09:07 AM PDT
One thing the Minister said that was not recorded in the Minutes of the Meeting is that this Israeli link fiasco would become Malaysia's Watergate if not properly handled. Therefore they must make sure that this matter is kept highly confidential and no one is supposed to know about it. I would call it Israelgate rather than Malaysia's Watergate.
THE CORRIDORS OF POWER
Raja Petra Kamarudin
IGP: No infiltration by any Israelis
No Israeli was ever involved in the upgrading of the police force's information and communication system as alleged by Opposition Leader Datuk Seri Anwar Ibrahim.
Inspector-General of Police Tan Sri Musa Hassan said this was because Master Plan Consulting (MPC) Sdn Bhd, the company awarded the job to carry out the upgrading work, terminated Asiasoft Sdn Bhd's contract.
The termination was carried out when it was revealed that Asiasoft's Singapore partner had two former Israeli intelligence officers on their payroll.
"The Home Ministry had awarded the upgrading work to MPC in 2005. MPC then engaged a local bumiputra company called Asiasoft Sdn Bhd to carry out the work for them.
"In 2007, Asiasoft sold 30% of the shares to Asiasoft Pte Ltd Singapore. When we conducted a due diligence check on their Singaporean partner, we discovered the presence of the Israelis in the company," he said.
MPC immediately terminated Asiasoft's contract.
Musa said police then conducted a thorough investigation into the matter and found there was no infiltration by any Israelis.
He said
they were investigating who leaked out classified police investigations (Editor's Note: this is the key issue for the PDRM)
and what motivated Anwar to make such "serious and damaging" allegations in Parliament. --
The Star
*************************************************
In the first episode in this series of articles (
Round 1 of 10: Hishammuddin's bullshit revealed
) the Minutes of the Meeting between the Minister and the Royal Malaysian Police (PDRM) was revealed.
Basically, the focus of the meeting was to discuss how the leak about the Israeli connection managed to surface and for how long this leak has been going on. The meeting was more about damage control than about the security of the nation. They wanted to see what they could do to protect the image of the government and the PDRM.
One thing that must be noted here is the following:
On 27 June 2008,
Malaysia Today
revealed that Israeli intelligence had penetrated Bukit Aman.
Malaysia Today
said, Izhak David Nakar served in the Israel Air Force and developed the intelligence system for the Israeli Defense Force. Ido Schechter is a captain in the Israeli Air Force. They are both behind PDRM's computerisation program. (Read more here:
http://www.malaysia-today.net/index.php?option=com_content&view=article&id=31036:bukit-amans-israeli-connection&catid=22:the-corridors-of-power&Itemid=100085
)
On 11 September 2008, I was detained under the Internal Security Act for the 'crime' of slandering the Deputy Prime Minister's wife and for insulting Islam.
On 7 November 2008, the Shah Alam High Court ruled that my detention was illegal and subsequently ordered my release.
On 23 November 2008, a meeting was held between the Minister and the Police to discuss how
Malaysia Today
managed to get the information about the PDRM-Israeli connection and how they could do damage control to protect the image of the government and the Royal Malaysian Police. (Read more here:
http://www.malaysia-today.net/index.php?option=com_content&view=article&id=31092:round-1-hishammuddins-bullshit-revealed&catid=22:the-corridors-of-power&Itemid=100085
)
A new ISA Detention Order was then prepared but my detention was held back because the government had already filed an appeal against the Shah Alam High Court's decision in ordering my release (the hearing which was still ongoing).
In February 2009, halfway through the appeal hearing, the government suddenly retreated after they decided it was taking too long and after three months I was still walking free. The government felt that it would be better to abandon the appeal (which they did) and instead detain me under a fresh Detention Order.
Two days before they came for me I received word from my Deep Throats in Bukit Aman that they are coming for me and that I should go underground if I do not wish to spend the rest of my life under detention without trial.
On the insistence of my Deep Throats in Bukit Aman I went underground and the police went to my home and found an empty house. This was confirmed by the security guards who said that the police came to my house and camped outside my house for several days before giving up and going home.
One thing the Minister said that was not recorded in the Minutes of the Meeting is that this Israeli link fiasco would become Malaysia's Watergate if not properly handled. Therefore they must make sure that this matter is kept highly confidential and no one is supposed to know about it. I would call it Israelgate rather than Malaysia's Watergate.
The problem they faced, though, is that
Malaysia Today
has Deep Throats in Bukit Aman who are feeding us 'sensitive information'. Therefore, they must neutralise
Malaysia Today
by sending me back to Kamunting and then
korek, korek, korek
from me who my Deep Throats in Bukit Aman are.
My Deep Throats in Bukit Aman were understandably very worried. They knew that if the Special Branch got me then it would be a matter of time before names begin to surface. And that would mean my Deep Throats in Bukit Aman would be at risk.
Around midnight, 36 hours before I went underground, some 'visitors' came to my house. There was a heated argument when I said I was adamant to stay and would go to Kamunting if it comes to that. The 'visitors' felt that I was being rash and that it is not about me going to Kamunting but about what will happen to the Deep Throats in Bukit Aman once the Special Branch works on me. Even hardcore Communist Terrorists eventually break, even if it takes many years, they told me. You are not as tough to withstand what they can do to you and will definitely break and put everyone at risk, they argued.
From the point of view of my Deep Throats in Bukit Aman, the issue is not about my articles on Altantuya or about my Statutory Declaration. It is not even about me allegedly insulting Islam. Those are all just smokescreens. It is about the damage I am doing to the IGP with the many revelations that
Malaysia Today
has made over the last few years.
Who are all these people behind the companies involved in the computerisation work for the Royal Malaysian Police? Who are the people behind
Web Power
? Yes, a good question indeed. And we shall provide the answers in the next episodes in these series of articles. So stay tuned.
In the meantime, read this letter from the IGP to the Prime Minister dated 3 November 2006. Clearly, the IGP was the main thrust behind this project.
Remember, in November 2006 the government already knew about the Israeli link. Only when this information became public knowledge in June 2008 did they attempt to do damage control by terminating the sub-contractor and then use front companies to cover their tracks.
'You're a dictator': Karpal repeats outside Parliament
Posted: 10 Apr 2010 08:56 AM PDT
Senior MP Karpal Singh, ejected from the Dewan Rakyat this week, has again termed the Speaker, Pandikar Amin Mulia, a "dictator" who has been getting on his nerves. This time he said it outside Parliament, without parliamentary immunity.
He also challenged Pandikar, a Sabahan who is not an elected MP, to step down from his post gracefully and seek election, possibily in the coming Sibu by-election, before re-assuming his post.
Karpal, MP for Bukit Gelugor, said he was prepared to face Pandikar in court if the Speaker wished to sue him for defamation. Indeed, he hoped Pandikar would sue him so that "I can put him on the stand and give him hell".
He said: "I am again repeating outside Parliament without immunity that the Speaker is a dictator, who has been abusing his position. He had always acted against Pakatan Rakyat MPs.
"A Speaker should be a man of the House — neutral and independent, and should talk less and listen more.
"But Pandikar has always acted like a Barisan Nasional representative joining the onslaught on opposition MPs.
"He has got on my nerves and I am not going tolerate his nonsense any more," said Karpal, who is DAP national chairman, at a press conference in Air Itam here today.
'Backdoor' member
He criticised Pandikar for going overboard by acting like a "headmaster lecturing schoolchildren" during Dewan Rakyat sessions, although he was a "back door" member of the house.
"He is not even an elected MP, unlike his two deputies — Wan Junaidi Tuanku Jaafar and Ronald Kiandee.
"It's an insult to elected MPs for having to listen to orders of an unelected-MP Speaker," he said.
Karpal suggested that Pandikar restore credibility, integrity and honour to the Speaker's chair by stepping down immediately and returning to Parliament only as an elected MP.
"He can contest the coming Sibu by-election if he wishes to re-enter the Dewan Rakyat and reclaim his position as Speaker.
"Only then a Speaker can gain respect from MPs," said Karpal, a seven-term MP.
Pandikar suspended Karpal from the House on April 7 after Karpal said the Speaker was a "dictator", after Pandikar rejected an emergency motion by Tian Chua (PKR-Batu) to debate the termination of a controversial government contract to publicity and lobbying agents Apco Worldwide.  Pandikar held that the matter had been explained.
Karpal interjected and argued that Pandikar himself had set a precedent by allowing a request by BN deputy chief whip Nazri Abdul Aziz under Standing Orders for the House to debate the possibility of Anwar facing the Rights and Privileges Committee.
Karpal, a senior lawyer, insisted that Pandikar, also a lawyer by profession, cannot overrule his own precedent. Karpal labelled Pandikar "a dictator" when the Speaker warned him of stern action if he refused to cooperate. The Speaker then ejected Karpal from the house, suspending him until April 17.
Karpal promised to be back with a vengeance.
by FMT
Posted: 10 Apr 2010 08:51 AM PDT
By Shanon Shah
shanonshah@thenutgraph.com shanonshah at thenutgraph dot com
Dr Ahmad Farouk Musa

(Background image source: Wiki commons)
CAN Muslims and non-Muslims question or critique Islamic laws? Are Islamic laws inherently unjust? Should Malaysia be an Islamic state? Does one need to be an Islamic "authority" in order to figure these issues out?
Islamic Renaissance Front
founder and chairperson
Dr Ahmad Farouk Musa
shares some of his ideas with
The Nut Graph
, in the second and final part of this 5 Apr 2010 exclusive interview in Kuala Lumpur.
TNG:

Many non-governmental organisations (NGOs) and state leaders have repeatedly stressed that Islamic law and opinion cannot be questioned in Malaysia. Let's take the example of forbidding the use of "Allah" by non-Muslims — would you consider it fair for something like this to be criticised or questioned by the public?
Dr Ahmad Farouk Musa:
For the record, it was very commendable of (Opposition Leader) Datuk Seri
Anwar Ibrahim
to invite the various Islamic NGOs to a meeting at his residence on the "Allah" issue. It was well attended and we had lengthy discussions, and we heard various opinions.
A verse in the Quran says, "And if you ask them who created the heavens and the earth, they will certainly say: Allah" (
Surah Luqman
, verse 25). Now PAS and Parti Keadilan Rakyat look at this and agree that "Allah" can be used by
non-Muslims
. So they can use the kalimah of "Allah", as long as it is not abused.
Perhaps that is an easier thing to discuss, because that is a matter of theological opinion. What about public criticisms or questions on Islamic laws?
The reason why we have the kind of Islamic laws we have [in Malaysia] is because we are kind of trapped in one mindset, that we must follow only the
Shafie school of jurisprudence
. But this stand doesn't seem to apply when we discuss the Islamic economic system. In Malaysia, we allow ideas from any mazhab (school of jurisprudence) to be applied in this system. But when it comes to hudud, we want to be strict in applying only Shafie jurisprudence. Why can't we be open in this area as well?
Do you believe that non-Muslims, then, also have the right to question or critique Islamic laws?
Yes, they do. After all, their lives are affected, too, in this state, whether directly or indirectly, by the application of these laws.
They must understand, though, that syariah and fiqh are two different things. Syariah is divine, while fiqh is not. Fiqh is merely an extrapolation of syariah by human interpretive faculties. And "syariah laws" as we know them actually fall under fiqh.
But on one end of the spectrum, there will also be those who say that it is Islam that is inherently unjust and cruel. What would you say to them?
I think they should differentiate between the divine and [human constructions]. This is not just a problem among non-Muslims, this is also a problem with many Muslims: they accept codified Islamic laws as being divine. But these laws were established by human ijtihad, or independent reasoning.
If we dissect this claim, perhaps it is based on the fact that across many Muslim societies, their codified Islamic laws largely violate international human rights standards.
Yes, well, across the Muslim world you have people trying to portray themselves as more "Islamic" than their opponents. This is part of current politics in Malaysia and other countries, too.
By introducing more "Islamic" legislation, these leaders think they can gain popularity. But the more important thing is really to ensure that society is just. We want a society that upholds equitable rights, and in which freedom of religion and expression, and the right to association, and a vibrant democracy are all intact. We tend to forget these prerequisites to a just society and just impose more "Islamic" laws on people — and then many of these laws end up going against the spirit of the Quran itself.
I recall a provision in Sabah's Syariah Criminal Offences Enactment, which criminalises non-performance of the five daily obligatory prayers. It seems as though the law conflates non-performance of a personal, religious obligation with a crime against the state. Is this what you are talking about?
Yes, they are infringing upon Allah's hak (rights) versus the people's hak. There are certain things that should just be left as is; for example, your conviction or observations of your religious duties. What's more important is that we respect the rights that are due to Allah, and defend the individual's rights in society; for example, to be free from slander.
The Nut Graph has been asking Members of Parliament from both the Barisan Nasional and Pakatan Rakyat if they think Malaysia should be a secular or Islamic state. Their responses have been quite diverse, and so we thought it would be interesting to ask what you think about this issue.
We have to understand that the term "daulah", or state, in the sense of "political power", cannot be found in the Quran. The closest term is "dulah", which means "economic power".
I think the only reason many Islamists believe they need to set up an Islamic state is because of some of the obligations God has prescribed, such as the need for a cavalry in times of war. How are you going to have a cavalry if you don't have a state? That sort of thing. So they extrapolate on these verses to justify setting up an Islamic state.
But the Quran is actually silent on the form of state that is needed [for a just society]. It is clear on two things: one, the sovereignty of Allah, and two, that justice and ihsan need to be upheld.
Muhammad Asad
believes that in terms of principles of governance, the Quranic exhortation to syura (consultation) can actually be interpreted as an endorsement of democracy.
It seems as though whether Islamists or secularists, the hot-button issues [some use] to evaluate a person's "Islamic" position are on apostasy, tudung and gays. In other words, to be a real Muslim by whosever's definition, you have to want to punish apostates, impose the tudung on women, and kill homosexuals. What do you think?
I think I've answered two out of three of these issues (
laughs
). Look, let's just take one example. I said before that the Quran is timeless, not time-bound. And so, for example, on the issue of hijab or tudung, the Quran laid down some basic guidelines.
What's more important is the principle of modesty. The verse in the Quran (
Surah An-Nur
, verse 31) that calls for women to cover up says "except for the parts [of your body] which are apparent". The majority of ulama have interpreted this as meaning only the hands and the face of the woman.
The Quran is actually silent on what is the definition of "apparent". But the same verse is explicit about the need to cover the cleavage or the bosom. And so, while the Quran is silent on the extent to which we define what is "apparent", it is clear that a woman's bosom is non-negotiable.
And so, standards of modesty can be and are determined by every society. What if a woman surgeon needs to, as part of her practice, wash her arms up to her elbows? Doesn't that fall under what is "apparent"? What about women padi farmers who need to roll up their sarongs up to their knees? Aren't their calves or shins part of what is "apparent"?
(Pic by Hayat Alyaqout / sxc.hu)
You are a medical doctor, and yet you also lead an Islamic organisation. What would you say to critics who claim that you are not qualified to do this, since you are not a traditionally trained alim?
I really have no hang-ups or insecurities about this. If you look at the verse, "Those of His servants only who are possessed of knowledge fear Allah" (
Surah Fatir, verse 28
), you will see that the verses preceding this describe the heavens, the earth, the rivers and mountains, saying that these also contain signs for humankind.
And so, according to the Quran, God speaks to us in two ways: one is through the Book, or the Quran, and other is through the book of the universe. If we are knowledgeable in anatomy, or biology, or chemistry, or physics, we, too, will understand the workings of God.
courtesy of Nut Graph
Mat Taib or bust for Hulu Selangor voters
Posted: 10 Apr 2010 08:38 AM PDT
If there is an absolute about the coming Hulu Selangor by-election, it is this: Barisan Nasional (BN) will cruise to victory if Tan Sri Muhammad Muhammad Taib is fielded as a candidate.
The ruling federal coalition lost the seat by a mere 198 votes despite winning all three state wards in Election 2008, prompting local leaders to pitch for the popular ex-Selangor mentri besar as the candidate to claw it back from incumbent PKR.
Some quarters claim PKR is praying that this would not happen, believing it would completely strip them of their chances to secure a crucial win on the April 25 polling day, after losing five federal lawmakers, one of which has caused this by-election.
However, this is an unlikely scenario as BN chairman Datuk Seri Najib Razak had already discounted the possibility, when he announced recently that the parliamentary seat would stay with the MIC.
In fact, contest will likely see MIC deputy president, Datuk G. Palanivel, who was the constituency's former MP, fielded once again as a candidate.
The four-term MP had failed in his bid to retain his seat during the tsunami of Election 2008 and lost to PKR's Datuk Zainal Abidin Ahmad.
A banner calling for Muhammad's candidacy in Hulu Selangor. — Pictures by Choo Choy May
Interviews with the locals across the constituency the size of Malacca over two days, however, showed two glaringly significant trends: that voters on both camps, BN and Pakatan Rakyat, want Muhammad —or "Mat Taib" — as their MP, and that BN may face defeat if they put up Palanivel again.
While hardcore BN supporters are willing to cast a grudging vote for Palanivel if he remains their candidate, others feel their vote would certainly then go to the PKR candidate, who is expected to be Malay.
It is doubtless Mat Taib, who was once the state assemblyman for Batang Kali, one of the state seats in Hulu Selangor, had left a lasting impression on the semi-urban constituents during his tenure.
The faces of villagers lit up with smiles at the mere mention of his name, and Mat Taib's popularity did not just end with the Malay community or the older generation of voters.
In fact, it is also clear that when it comes to Mat Taib, or "Mike Tyson" as he is also known in Umno for his rugged good looks, no one cared which symbol he represented — whether it be BN's or any other party's.
Hamzah Ali Bakat, 45, from Kampung Sungai Masin, who is short of hearing in one ear, said that it was Mat Taib who had helped him gain access to facilities for the underprivileged.
"It was under his rule also that I managed to get my four children to school for free," he said.
Mat Taib, he added, was not just a leader, but a rakyat just like everyone else.
"He was so popular with everyone, everyone knew him, everyone liked him. He worked for us and that's what we admired," said Hamzah.
Sapuan says that even the Chinese and the Indians in Hulu Selangor love Mat Taib.
Another trader, Roshidah Mohamad, 46, agreed, saying that no problem was too small or too dirty for Mat Taib to handle.
"The PKR government, they have taken over for two years now but I see no changes. The village of Kampung Sungai Masin floods every single time during a heavy downpour and they have done nothing. They come in their vehicles to look around but they never get down to see what is happening," she said.
Cyber-cafe operator, Rozairi Mohd Zain, 31, said that he would look at the "skin colour" of the candidate before casting his vote in the coming by-election.
"In fact, I will look at the skin colour of the candidate, not the symbol. If they field Palanivel, I believe he will lose. If it is Mat Taib, the BN does not even need to campaign at all — he will win without question," he said.
Rozairi, who resides in Rasa, admitted that the PR government had done well for the people in its two years of rule but insisted that it was Mat Taib who had truly contributed to Hulu Selangor.
"He brought so much development to the constituency — the factories mushroomed, the industries came here, the Perodua factory was built here... and the spill over effect is good. For business people like us, this is what we want to see — development," he said.
He pointed out that the only reason why Palanivel had lost in the last election was because of "protest voters", who were angry with the MIC man and BN, and wanted change.
"It may likely happen again. Do not forget, people these days are not so stupid anymore, they will not buy into money politics or allow themselves to be convinced to vote for someone just because the person offered them rewards," he said.
The peaceful town of Rasa has not yet been hit by the election fever but already constituents are calling for former MB Mat Taib to contest.
Rozairi agreed that the Malaysia needed a stronger opposition voice in Parliament in order to spur the "complacent" BN politicians into action.
"We want a stronger opposition in Parliament — it cannot just always be DAP's Lim Kit Siang yelling.
With a stronger opposition, the BN government has to work harder to maintain their places.
"Look at how Najib is trying to bring reform to the people now," he said, referring to the prime minister.
Fellow cafe operator, Azlan Hassan, 31, from Kampung Sungai Kamin, said that Palanivel had caused voters like him and Rozairi to look at the candidate's skin colour before voting.
"He (Palanivel) and the MIC did nothing here. They held on to the seat for four terms; it is too long. What have they contributed?" he said.
Meanwhile, in the BN stronghold of Sungai Tengi, more objections were also heard against Palanivel's possible candidacy.
Sungai Tengi Umno branch chairman, Sapuan Bohari, said that the general ground sentiment, especially among the Malays, of Hulu Selangor, was the same — Palanivel had to go.
"We respect whatever decision the BN leadership makes but it is true that Palanivel has lost support.
However, most of us would be willing to cast our votes based on the symbol the candidate represents and not who the candidate is.
"However, if Mat Taib is fielded, that is a different story. Even those in the opposition love him. And I am talking about even the Chinese and the Indians. When he comes for functions, they all rush out to greet him," he said.
Branch committee member, Zainol Abidin Asngari, said that it would be a great disappointment to BN supporters and the Malay community at large if the BN leadership were to field Palanivel.
"We respect [their decision] and we will vote but we will not be happy. But if it is Mat Taib... even the fence sitters will jump off the fence for him. He is truly well-liked because he has proven himself before.
"And Sapuan is correct, it is not just the Malays who love him. The Chinese, especially the elderly ones, are all very fond of him. After all, he is a local boy," he said.
Kampung Chuang Rasa penghulu Lim Kem Seng says that no candidate from PKR could beat Mat Taib in the election.
True enough, interviews with several Chinese locals at the town of Rasa, just outside of Kuala Kubu Baru, a state seat held by the MCA, proved that Mat Taib's popularity indeed transcended racial boundaries.
An elderly Chinese man in his 70s who would only identify himself as Kau went to great lengths to explain just how much the people adored Mat Taib in the area.
"He was not just any politician — he really respected us and he listened to us. He helped us all and brought so much development to the area," said Kau.
He related a personal experience when he once approached Mat Taib for help in the latter's mentri besar's office.
"He saw me and called me to come in and tell him every single detail of the problem I was facing. And then he asked me — why aren't all the other Chinese asking me for help, too?
"He said to tell my friends not to be afraid of him for he was a fair man to all the races, and he was right. And I told everyone about it, too," said Kau.
Ironically, Kau, a retired soldier, was formerly a DAP loyalist.
"But Mat Taib is good," he insisted, despite knowing the party that Mat Taib represented.
Kau explained that during his tenure as MP, Palanivel had hardly worked for his constituents.
"What did he do? I hardly saw him here," he said.
Kau continued, saying that he had lost faith in local politics now and had become a fence-sitter, waiting for either side to offer him rewards if he voted for them.
The Chinese community of Rasa in Hulu Selangor still favours Muhammad.
Kampung Chuang Rasa penghulu Lim Kem Seng, whom the PR government had appointed to the Village Development and Security committee , was also quick to admit that no PKR candidate would stand a chance against a Mat Taib candidacy.
"He was the mentri besar here before and he did a lot of hard work for the constituency. There is hardly any doubt that he would win if he were fielded.
"It does not matter if the PKR fields a big, strong candidate — Mat Taib will win. But if it is Palanivel, then I think the opposition stands a chance," he said.
Deputy Prime Minister Tan Sri Muhyiddin Yassin is expected to announce BN's pick for Hulu Selangor on April 15 while the PKR will announce their choice two days before that.
There are 64,500 registered voters in Hulu Selangor, with 63,701 regular voters and 799 postal voters.
Of the total, the Malays make up the majority with 34,020 voters or 52.7 per cent. The next largest group is the Chinese with 16,964 voters (26.3 per cent) following by the Indians at 12,453 voters or 19.3 per cent.
courtesy of Malaysian Insider
HRP calling for Royal Commission after the emotional send-off for Taiping duo who were shot by Police on Thursday
Posted: 10 Apr 2010 08:29 AM PDT
The Human Rights Party (HRP) has asked Opposition Leader Anwar Ibrahim to table a motion in Parliament calling for a royal commission to probe whether the double shooting of two brothers in Taiping on Thursday was a police's shoot-to-kill operation.


Party pro-tem secretary-general P Uthayakumar told a press conference in Taiping this afternoon that the opposition should also move a no-confidence motion in Parliament against the police chief.

Uthayakumar said letters have been sent yesterday to Prime Minister Najib Abdul Razak and Home Minister Hishammuddin Husein demanding a royal panel to probe the incident.

However, the press conference was abruptly cut short by Taiping district police chief Yusuf Mohd Diah, who ordered the journalists to disperse as they were hindering traffic flow along the road where the event was held.

According to Perak CID chief Mohd D'Zuraidi Ibrahim, the two brothers - who were wanted for armed robberies in various states - were killed in a shoot-out with the police.

Police also recovered a .22 pistol, a samurai sword, two parangs and three mobile phones from the car of the two suspects.

The dead are R Satchithantham, 28, and R Logeswaran, 35, from Taiping and both are sons of MIC Taman Sri Kota branch chief V Rethinam.

Rethinam had stated his intention to seek legal redress over the death of his two sons.


Earlier, there were a stream of MIC national and state leaders, including party state chief S Veerasingam, who came to pay their last respects to the deceased at their home.

The two coffins were later carried by HRP supporters and the funeral procession through Taman Pertama in Taiping was lead by Uthayakumar.

Funeral procession stopped

The coffins were later loaded into a lorry which carried a banner, 'We want a royal commission of inquiry on police shoot-to-kill policy'.


Also photocopies depicting the two dead suspects were given to supporters to distribute to the public on their way to the cemetery, with a planned stopover at the Taiping police headquarters.

However, before they could detoured to the police headquarters, the group was stopped by a team of police personnel and Federal Reserve Unit stationed at Jalan Taming Sari.

A heated argument between the emotionally charged HRP members and the police ensued.

Taiping police chief Yusuf had a hard time trying to ensure that the funeral procession did not get out of hand.


The HRP nevertheless got wide public attention from the residents in the town with their loud Indian music as the group finally headed directly to the Hindu cemetery in Tupai Road.

Yusuf told Malaysiakini that there was no need for such a show of protest over the deaths.

"They can file a police complaint on the incident and we will investigate the matter," he said.
courtesy of Malaysiakini
Posted: 10 Apr 2010 06:12 AM PDT
Joey of audie61 received an sms from her ex-colleague."Your CM has already fired the First Salvo" 
CM Taib BN Sarawak Chairman has already launched the first attack at the opposition even before the Election Commission (EC) receives the notification of an official notice of MP 212 Lau's death.The dates for nomination and polling will be fixed by the EC.
CM Taib said,"We are ready for the by-election," and he said the former MP had contributed immensely to the people of Sibu and its development, state and country. Sounding confident Taib said that the BN will retain the Parliamentary seat in the by election.
This will also be a litmus tests for the State BN Government as it needs to face the rakyat for a fresh mandate before June 2011. What will the response from the opposition be..???
What you can do for the Hulu Selangor by-election
Posted: 10 Apr 2010 03:20 AM PDT
Remember, in the last General Election on 8 March 2008, the late Member of Parliament for Hulu Selangor won that seat with less than 200 votes. Therefore, every vote counts. The 30% outstation voters could determine the winner in this coming by-election. So work hard in helping them to go home to Hulu Selangor to vote.
NO HOLDS BARRED
Raja Petra Kamarudin
It is said the coming by-election in Hulu Selangor will be the litmus test for Prime Minister Najib Tun Razak's
1Malaysia
and NEM. How the people vote on 25th April 2010 will reflect whether Najib has the support of Malaysians and whether they believe in his
1Malaysia
and NEM.
Basically, the Hulu Selangor by-election would be a vote of confidence or no confidence on Najib. That is why Barisan Nasional needs to win this by-election at all costs.
30% of the Hulu Selangor voters do not live/work in that constituency. Due to employment reasons they are spread out all over Malaysia. Our biggest task, therefore, would be to get these people to return to Hulu Selangor on Polling Day to cast their votes.
Many of you probably want to help in the by-election effort but may not know what type of assistance you can offer. So can I suggest the following?
Set up hotline centres.
Civil society movements, political activists, societies/associations, Bloggers, and even private citizens, can get together to organise the setting up of hotline centres. These hotline centres can be manned 24-7 or during 'office hours' only (say 8.00am to 10.00pm).
The purpose of these hotline centres is to organise transportation and to assist voters who do not have transportation but wish to return to Hulu Selangor to vote on Polling Day.
The hotline centre phone numbers can be broadcasted through the Internet and via SMS/e-mail so that voters will know where/who they can phone about their location in Malaysia (or Singapore). The hotline centres can then maintain a database of outstation voters who need transportation to return to Hulu Selangor to vote.
Those who are offering transportation to ferry the voters back to Hulu Selangor can, in turn, also phone the hotline centres to indicate which part of Malaysia (or Singapore) they are located and how many voters they are able to ferry.
Malaysians living in Penang, Kedah, Kelantan, Terennganu, Pahang, Perak, Johor, Singapore, etc., who wish to assist in the by-election effort by offering transportation services for voters who wish to return to Hulu Selangor on Polling Day will also be entered into the database. They will then be matched with the voters in their area.
If you own a car and are able to drive three or four voters home to Hulu Selangor that would be good enough. 100 cars each from Penang, Alor Setar, Taiping, Ipoh, Johor Bharu, Kota Bharu, Kuala Terengganu, Kuantan, Singapore, etc., could mean an additional 1,000 voters.
Those who do not own cars or are not able to drive to Hulu Selangor on Polling Day can arrange chartered buses to ferry these voters. Ten or twenty buses from each major town North and South of Hulu Selangor, added to the private cars, can easily ferry the 30% voters living and working outside Hulu Selangor.
You can get together with a few other friends and share the cost of the chartered buses. You then phone the hotline centres and tell them that you have a bus available, what time it is leaving on Polling Day (for example 6.00am, Komtar Penang), etc. The hotline centres will then phone the voters in their database who live around that area to inform them of the availability of these buses.
Can we start by getting a few volunteers who are prepared to help set up and man these hotline centres?
Once that is done, send us your phone numbers so that they can be broadcasted far and wide.
Next, those who are offering transportation can also contact these hotline centres with the necessary details.
Basically, these hotline centres will offer a 'matchmaking service'. Those who need transportation to go home to Hulu Selangor on Polling Day will be matched with those who are offering transportation.
Remember, in the last General Election on 8 March 2008, the late Member of Parliament for Hulu Selangor won that seat with less than 200 votes. Therefore, every vote counts. The 30% outstation voters could determine the winner in this coming by-election. So work hard in helping them to go home to Hulu Selangor to vote.
In the meantime, read the following piece by Ernest Z. Bower, the senior adviser and director of the Southeast Asia Program at the Center for Strategic and International Studies in Washington, D.C.
*************************************************
Malaysia's Hulu Selangor By-election and Harbingers of Reform
Malaysian prime minister Najib Razak is clearly gaining momentum in areas he can control, such as economic reform and international relations. His biggest challenge, however, will likely be reform of the political culture of his ruling party, the United Malays National Organisation (UMNO), and the coalition it leads, Barisan Nasional (BN). The party and coalition will be tested later this month in the Hulu Selangor by-election.
In truth, the stakes are not as high as with earlier by-elections. Najib has taken control of his government and has made significant headway toward economic revival with his National Economic Model (NEM), pursuing big fish in his push for greater transparency (the Malaysian Anticorruption Commission is questioning a minister in his cabinet, sending a clear message). And relations with major partners such as the United States (he is confirmed for a meeting with U.S. president Barack Obama in about a week's time) and China are on the upswing. However, the political culture in Malaysia will be a tough challenge for the prime minister.
Despite what must be a clear understanding among thoughtful UMNO leaders and strategists, there are party members that continue to try to persecute opposition leaders such as Anwar Ibrahim and others. This effort seems to be politically counterproductive as it highlights UMNO's weakest link—the defensive status quo faction of the party.
Najib has proven that he has ideas—good ones—and that he has the political will to bring them to fruition.
Why not take on the opposition in a competition of good ideas and initiatives rather than using parliamentary procedures and the courts? Wouldn't the country be better served by political competition for ideas that would win hearts and minds? It would be refreshing to see the fight for Hulu Selangor dominated by such initiatives rather than the arcane politics of past generations.
Ernest Z. Bower is a senior adviser and director of the Southeast Asia Program at the Center for Strategic and International Studies in Washington, D.C.
Commentaries are produced by the Center for Strategic and International Studies (CSIS), a private, tax-exempt institution focusing on international public policy issues. Its research is nonpartisan and nonproprietary. CSIS does not take specific policy positions. Accordingly, all views, positions, and conclusions expressed in this publication should be understood to be solely those of the author(s).© 2010 by the Center for Strategic and International Studies. All rights reserved.
courtesy of malaysia-today.net
Matthias Chang: Martyr Without A Cause? (Part 1)
Posted: 10 Apr 2010 03:08 AM PDT
By
NH Chan
A deliberation on whether Matthias Chang was a victim of judicial oppression through an examination of the law of contempt; from its coming to being to its evolution to what it is today and how it applies to Matthias Chang's unruly behaviour in court – in 2 parts.
In the Sun newspaper of Friday April 2 2010 I came across this story:
Dr. M's ex-aide starts jail term for contempt

 KUALA LUMPUR: Matthias Chang, former political secretary of ex-premier Tun Dr. Mahathir Mohamad, was sent to prison after he refused to pay a RM20,000 fine for contempt of court.
Chang was served the committal order by the High Court before he was taken to Kajang prison.
The lawyer was cited for contempt of court on March 25 when he failed to apologise to the court during cross-examination in his defamation suit against American Express (Malaysia).
The committal order stated: "At about 2.30pm to day (March 25) … when the court refused your request to address the court as a witness, you lost your cool and walked out of the witness box and thereafter left the court during the proceedings. Your conduct is a contempt in the face of the court by virtue of Order 52 (1A) of the Rules of the High Court."
Judge Noor Azian Shaari had ordered Chang to pay a fine of RM20,000 within seven days, in default [to serve a] month's jail sentence.
The judge says that Chang had committed contempt in the face of the court.
I will first tell about how the law of contempt came into being. Then I will tell about how it had evolved into what it has become in modern times. But before that you may wish to know,
What is contempt in the face of the court?
If you have read my book
How to Judge the Judges
, 2nd edition, Sweet & Maxwell Asia, you will come across this passage on page 61:
Contempt in the face of the Court
If you attack the character or conduct of a judge it could be termed a contempt by scandalizing the judiciary. If you make the same attack in court or if you disrupt proceedings in court it is called contempt in the face of the court.
This was what the judge Noor Azian Shaari meant when she told Matthias Chang "Your conduct is a contempt in the face of the court." Chang had disrupted court proceedings as a witness when he walkout in a huff.
The difference between contempt by scandalising the judiciary and contempt in the face of the court is that the latter is dealt with summarily, that is to say, done or made immediately and without following the normal procedures – this is the dictionary meaning. And this is how Lee Hun Hoe CJ (Borneo) put it in
Cheah Cheng Hoc v Public Prosecutor
[1986] 1 MLJ 299 (SC), at p 301:
The power of summary punishment is a necessary power to maintain the dignity and authority of the Judge and to ensure a fair trial. It should be exercised with scrupulous care and only when the case is clear and beyond reasonable doubt. As Lord Denning, MR said in
Balogh v Crown Court
[1974] 3 All ER 283, at 288:
"It is to be exercised by the judge of his own motion only when it is urgent and imperative to act immediately – so as to maintain the authority of the court – to prevent disorder- to enable witnesses to be free from fear – and jurors being improperly influenced – and the like …"
This power must be used sparingly but fearlessly when necessary to prevent obstruction of justice. We feel that we must leave the exercise of this awesome power to the good sense of our judge. We will interfere when this power is misused.
Now that we know what is contempt in the face of the court better than any other uninstructed person, we should not listen to a non-lawyer, like Che Det, giving pompous legal advice and telling-off the judge that "no one should be the prosecutor, the judge and the executioner." Doesn't our former prime minister know that summary decisions are part of living in a civilized society? The umpire in a badminton match does it all the time, so does the referee in a soccer match and other sporting activities, but most of all, and he should know as he was a parliamentarian, the speaker of the House of Representatives or Legislative Assembly does it all the time at every sitting; they are all, to use his own words, "prosecutor, judge and executioner."
Contempt in the face of the court means "the power of summary punishment to be exercised by the judge of his own motion only when it is urgent and imperative to act immediately" so as to prevent – as in the case of Matthias Chang – disruption of the court proceedings. This is a necessary power to be exercised only in the most pressing cases so as to deal with the circumstances or situations stated by Lord Denning
in Balogh v Crown Office
.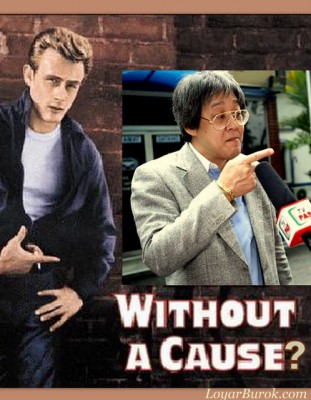 Inset: Matthias Chang, source:minaq-jinggo.fotopages.com
The history of this awesome power of the judges
But first let me relate the historical evolution of this awesome power of a judge at common law. I won't say it is a draconian power because nowadays, that is, ever since 1936- since
Ambard v A-G for Trinidad & Tobago
, a more tolerant attitude is taken by the common law towards critics of the judiciary.
On how the law of contempt came into being
At the beginning, before 1936, it was an excessively harsh power – one could say it was a draconian power. But why was it so? Because during the time of despotic kings of England, the king's judges were lions under the throne of the king, and they were wielding the power of the king in the administration of the king?s notion of justice – do remember that the common law of England is entwined in the history of England. This was how Mr. Justice Wilmot (in an opinion which was not delivered because the prosecution was dropped) explained the purpose of this law in R v Almon 97 ER 94, 100 (1765):
The arraignment of the justice of the Judges is arraigning the King's justice; it is an impeachment of his wisdom and goodness in the choice of his Judges, and excites in the minds of the people a general dissatisfaction with all judicial determinations and indisposes their minds to obey them; and whenever men's allegiance to the laws is so fundamentally shaken, it is the most fatal and most dangerous obstruction of justice, and, in my opinion, calls out for a more rapid and immediate redress than any other obstruction whatsoever; not for the sake of the Judges, as private individuals, but because they are the channels by which the King's justice is conveyed to the people.
In 1788 in the case of R v Watson 2 Term Reports (Durnford and East) 199, 205 (1788) Mr. Justice Buller expressed similar sentiments:
Nothing can be of greater importance to the welfare of the public than to put a stop to the animadversions and censures which are so frequently made on courts of justice in this country. They can be of no service, and may be attended with the most mischievous consequences. … When a person has recourse … by publications in print, or by any other means, to calumniate the proceedings of a Court of justice, the obvious tendency of it is to weaken the administration of justice, and in consequence to sap the very foundation of the Constitution itself.
And how from such beginnings the law of contempt had evolved to what it is today
Despite the demise of the reign of despotic kings where it ended with the flight of King James II from the realm – James II was the last of the Stuart Kings of England (1603-1714) – "the grandiloquent fear that criticism of the courts may endanger civilization" had continued right up to the early twentieth century. "The branch of contempt of court known as 'scandalising the judiciary' served to inhibit criticism of the courts by laymen. To a limited extent it remains a fetter on freedom of expression about judicial performance." – see Pannick, Judges, page 109.
In R v Gray [1900] 2 QB 36, 40, Lord Russell of Killowen CJ laid down the law of contempt in this way:
"Any act done or writing published calculated to bring a Court or a judge of the Court into contempt, or to lower his authority, is a contempt of court."
This is nicely summed up by David Pannick in his book Judges, at page 110:
"The grandiloquent fear that criticism of the courts may endanger civilization has, in the twentieth century, continued to lead to the punishment of persons who have insulted members of the judiciary or impugned their impartiality."
The book then goes on to say, pp 110-112:
English law remained unwilling to leave it to public opinion to assess whether criticism of the judiciary had any basis.
Mr. Justice Darling was the presiding judge at the Birmingham Spring Assizes in 1900. Before the start of a trial for obscene libel, he warned the press that they should not publish indecent accounts of the evidence. After the conviction and sentence of the defendant in the criminal case, Mr Gray wrote and published in the Birmingham Daily Argus, of which he was the Editor, an article [in which he described] how Mr. Justice Darling,
" … filled in a pleasant five minutes yesterday. … Mr. Justice Darling … [warned] the Press against the printing of indecent evidence. His diminutive Lordship positively glowed with judicial self-consciousness. … He felt himself bearing on his shoulders the whole fabric of public decency. … There is not a journalist in Birmingham who has anything to learn from the impudent little man in horsehair, a microcosm of conceit and empty-headedness. … One of Mr. Justice Darling's biographers states that 'an eccentric relative left him much money.' That misguided testator spoiled a successful bus conductor."
This splendid piece of invective effectively punctured the vain pretensions of Mr. Justice Darling whose injudicious behaviour on the Bench was frequently a disgrace. …
Mr. Gray's prose was not appreciated by the courts. He was brought before the Queen's Bench Division charged with contempt of court. He swore a groveling affidavit of apology, no doubt on sensible legal advice that otherwise there would be even more serious consequences for him. …
Lord Russell, the Lord Chief Justice, … gave a solemn judgment, noting that it was "an article of scurrilous abuse of a judge in his character of judge – scurrilous abuse in reference to the conduct of a judge while sitting under the Queen's Commission, and scurrilous abuse published in a newspaper in the town in which he was still sitting under the Queen's Commission." He concluded that there was no doubt that the article amounted to a contempt of court. … he was fined 100 pounds and ordered to pay the costs.
The above case was reported in the Law Reports series as R v Gray [1900] 2 QB 36, 39-42. This is the case where Lord Russell of Killowen had laid down the draconian law of contempt which had stifled criticisms of the judiciary in the early part of the twentieth century until the judgment of Lord Atkin in Ambard v A-G for Trinidad & Tobago ended it in 1936.
Here are a couple of examples of those pre-1936 cases:
i) In R v Vidal, The Times 14 Oct. 1922 a dissatisfied litigant who believed that the President of the Probate, Divorce and Admiralty Division of the High Court was a party to a conspiracy against him walked up and down outside the Law Courts with a placard accusing the judge of being "a traitor to his duty." He was sentenced to four months' imprisonment.
ii) In R v Freeman, The Times 18 Nov 1925 another dissatisfied litigant sent a letter to Mr. Justice Roche, who had decided a case against him, accusing the judge of being "a liar, a coward, a perjurer." He was held of being in contempt of court.
Editorial Note:
In Part 2 tomorrow - How does the law of contempt in the face of the court apply toMatthias Chang?
courtesy of Loyarburok
Round 1 of 10: Hishammuddin's bullshit revealed
Posted: 10 Apr 2010 02:58 AM PDT
We are publishing this series of ten revelations to demonstrate Hishammuddin's bullshit. Our Honourable (Yang Berhormat) Minister is pretending that he needs to investigate this matter further. Actually, it has already been investigated and he has already been briefed about the matter. Maybe he has forgotten so
Malaysia Today
will help jog his memory by publishing the Minutes of the Meeting as the first revelation in this series. In the next series we shall offer more documents to help the government get to the bottom of the matter.
THE CORRIDORS OF POWER
Raja Petra Kamarudin
Four bodies to probe Anwar's claim that Israeli agents infiltrated Bukit Aman 
(The Star) - PUTRAJAYA: Four independent bodies will investigate Opposition leader Datuk Seri Anwar Ibrahim's claim that Israeli intelligence agents infiltrated Bukit Aman, said Home Minister Datuk Seri Hishammuddin Tun Hussein.
Hishammuddin said he had asked his parliamentary secretary Datuk Markiman Kobiran to lodge a police report over the allegation by the PKR leader so that police could investigate the matter.
The National Security Council has also been asked to investigate the claim and look at possible breach of security, he said, adding that a report has also been lodged with the Malaysian Anti-Corruption Commission.
"I will also call for the matter to be investigated by a parliamentary select committee," he told a press conference after chairing his ministry's weekly post cabinet meeting here Friday.
Anwar had raised the issue in parliament on Tuesday and then on Thursday, claimed he had copies of letters sent to the inistry's legal adviser in 2009 and the director-general in 2008 over the alleged involvement of Israeli intelligence agents in the project to upgrade the police force's information and communication system.
Hishammuddin said he decided to have the matter investigated by four separate parties to avoid questions being raised on the findings of investigations of any one party.
Umno division rejects Palanivel, wants Mugilan
Posted: 10 Apr 2010 02:43 AM PDT
The Hulu Selangor Umno division is apparently adamant that Barisan Nasional does not field MIC deputy president G Palanivel for the upcoming by-election.
According to an MIC source, attempts by several MIC leaders to coax the Umno division have not been successful.
"They refuse to listen. Now that (Prime Minister) Najib (Tun Razak) has announced that the Hulu Selangor seat is for MIC, they have backed down on their call to take the seat.
"But they will not compromise on Palanivel," he said.
The source said the Umno division wants V Mugilan, the Hulu Selangor MIC Youth chief, to contest the seat come April 25.
Confirming this, an Umno division leader said Mugilan who was born in Ladang Kerling is well liked by the locals, including the Malays.
"He started from down the ranks. He is friendly and helpful to everyone at the grassroots level. He is very close to the Malay youths here as well," he added.
'What has to happen will happen'
Contacted later, Mugilan refused to comment on the Hulu Selangor Umno division's proposal to field him.
As for the possibility of being nominated as the BN candidate, he said: "What has to happen will happen."
"I am not asking to be nominated. It is not something I am focused on. No matter who the candidate is, BN must win. We in Hulu Selangor are ready to battle and win," he said.
Mugilan also dismissed speculations that there is friction between Palanivel and him over the candidacy issue.
"Palanivel is my mentor and I will be very happy if he is nominated," he added.
S
amy thinks he'll be an Umno pawn
Meanwhile, the MIC source said party president S Samy Vellu is not keen on fielding Mugilan, fearing that he would be an Umno pawn.
The veteran politician is also livid that Umno is interfering in the choice of candidate for the by-election.
"He (Samy Vellu) refuses to consider Mugilan. He feels that since Umno likes him it would be easy for it to manipulate Mugilan," the source said.
He added that Samy Vellu's second choice is MIC information chief P Kamalanathan, but the latter is not a local-born.
The Hulu Selangor seat fell vacant following the death of PKR MP Zainal Abidin Ahmad on March 25. In the 2008 general election, Zainal defeated Palanivel, a four-term Hulu Selangor MP, by a slim majority of 198 votes.
The Malay-majority seat also has a significant number of Chinese and Indian voters.
by FMT
No clear advantage for either side
Posted: 10 Apr 2010 02:39 AM PDT
Both the Barisan Nasional and Pakatan Rakyat are entering the Hulu Selangor electoral fray with a fair share of trouble between them.
For the BN, it will be an uphill battle to wrest back the seat it lost in 2008, given the simmering discontent over the choice of candidate.
Things are also not looking too good for Pakatan in its bid to retain its prize, especially since all the three state seats in the constituency are held by BN – Kalumpang and Ulu Bernam (Umno) and Kuala Kubu Baru (MCA).
This time around, Pakatan cannot expect another "political tsunami". It has ruled Selangor for two years and its performance so far has not been impressive. It has yet to get down to the real business of governing the state.
Many of its promises and pledges made during the March 2008 general election have yet to be fulfilled. Then there were other troubles: the "sex scandal" involving its Bukit Lancang representative Elizabeth Wong, the temple problem in Shah Alam, and the PAS-DAP quarrel over the sale of alcoholic drinks in 24-hour outlets in Malay-majority areas.
BN's position is not healthy either. The coalition is wobbling with internal squabbles, with Umno members sulking because the seat is going to the MIC. The Hulu Selangor Umno division wants the seat to be contested by an Umno candidate, given that Malays are in the majority (52.7 percent of the 64,500 voters) in the constituency. The Chinese constitute 26.3 percent, Indians 19 percent and others 1.7 percent.
Internal conflicts
To show their displeasure, Umno division members had even put up banners for their candidate, former Menteri Besar Muhammad Muhammad Taib.
However, Prime Minister and BN chairman Najib Tun Razak did not budge from his stand that the ticket should go to MIC in the spirit of BN.
Over at the MCA, the situation is not encouraging either. Although the party has a new leader in Dr Chua Soi Lek after a bruising party election, it is still struggling to regain the confidence of the Chinese community. Thus, it may not be strong enough to make an impact on the Hulu Selangor battleground.
The MIC may be carrying the BN flag but it too is ridden with internal conflicts, which may jeopardise its chances of bringing back the lost trophy.
Party president S Samy Vellu is still at loggerheads with his former deputy S Subramaniam and this old rivalry may spill over into Hulu Selangor and douse the flame of optimism in the MIC camp.
With the emergence of Hindraf, an aggressive non-governmental organisation dedicated to defending the rights of the Indian community, the MIC may well see its influence further corroded among the Indian voters.
To win, the MIC needs the solid backing of Umno and MCA and for that to happen, it must choose a candidate acceptable to its partners. For now, the favourite war horse appears to be G Palanivel but he does not seem to enjoy the trust of the BN team and the voters.
Nomination is around the corner but both warring parties – BN and Pakatan – will be entering the arena with neither one able to boast it has a distinct advantage over the other.
by FMT
Posted: 10 Apr 2010 02:32 AM PDT
Sarawak Chief Minister Tan Sri Abdul Taib Mahmud today said the Sarawak Barisan Nasional (BN) was ready for the Sibu Parliamentary by-election, following the death of Deputy Transport Minister Datuk Robert Lau Hoi Chew, yesterday.
Abdul Taib who is also Sarawak BN chairman said since the seat belonged to BN, it would be retained during the by-election.
"We are ready for the by-election," said Abdul Taib after launching the My Constitution campaign here today.
He said Lau, who was a five-term MP in Sibu since 1990, had contributed immensely to the people of Sibu and its development, state and country.
"On behalf of the state, I wish to offer my condolence to the family of Lau. His death is a big loss to his family, the state of Sarawak and the country," he said.
The Election Commission (EC) is expected to receive an official notice of Lau's death before announcing the dates for nomination and polling.
Lau died at 11.10am yesterday after a long battle with liver cancer.
In the last general election, Lau retained the mostly-urban Bandar Sibu parliamentary seat with a 3,235-vote majority in a three-cornered fight with Lim Chin Chuang (PKR) and Sarawak DAP Chairman Wong Ho Leng. — Bernama
PKR might skip Sibu vote, giving a chance to DAP to name its candidate
Posted: 10 Apr 2010 02:27 AM PDT
PKR is likely to cede to the DAP in the impending Sibu by-election, to ensure a straight fight with Barisan Nasional (BN).
"There will be no more three-cornered fight; that is the understanding, it is still too early for us to talk about the by-election, but nobody wants to upset the formula," said PKR vice-president, Azmin Ali.
PKR lost badly in the seat during Election 2008, pulling in fewer votes than even BN's 3,325 majority.
The party's election director, Fuziah Salleh, said the Pakatan Rakyat (PR) leadership council will make a decision on the matter.
"Pakatan leaders will decide and all parties will have to accept the decision," said Fuziah without elaborating.
Both parties contested Sibu in the last general election, after seat allocation negotiations between Sarawak DAP and PKR collapsed due to the central leaderships' failure to intervene.
The refusal of local leaders to work together resulted in PKR and DAP jostling each other while also facing BN in the federal constituencies of Stampin and Sibu.
Both were won by the ruling coalition.
Sibu will soon be declared vacant, after BN MP Datuk Robert Lau died yesterday, and will trigger the country's 11th by-election since 2008.
Lau, from Sarawak BN party SUPP, beat state DAP chief Wong Ho Leng and PKR's Lim Chin Chuang in a three-cornered fight to win his fifth term as Sibu MP.
The deputy transport minister won by a majority of 3,235 votes. He garnered 19,138 votes against Wong's 15,903 and Lim's 812.
The Malaysian Insider
understands that PKR will choose to stay away from the Sibu polls due to its weak showing the last time out.
It also intends to build a stronger case to demand for more state seats, and to retain the seats it had contested previously, in the upcoming Sarawak state election, due no later than the middle of next year.
However, PKR and DAP are still unable to come to an agreement on the distribution of five seats where they are assured of victory.
The Malaysian Insider
understands the disputed seats include Padungan, the only state constituency represented by PKR in the 71-member Sarawak assembly.
In 2006, PKR's Dominique Ng defeated SUPP candidate Yong Lee Lee to win the Chinese constituency situated in the state capital.
State leaders from the two PR parties will head to the negotiation table for another round of talks on seat allocations next week.
Wong, when contacted, refused to say if the two parties will discuss the PR candidate for Sibu then.
"The body is still warm, let me pay my last respects first," said Wong.
courtesy of Malaysian Insider
MIC No 2 Palanivel pleads for another chance in Hulu Selangor
Posted: 10 Apr 2010 02:24 AM PDT
Datuk G. Palanivel last night pleaded for another chance to serve the Hulu Selangor voters, despite talk that his candidacy looks to be increasingly in jeopardy ahead of the April 17 nomination.
"Give a second chance, try again," the former four-term Hulu Selangor MP said during his fourth stop at the semi-rural constituency in northern Selangor.
"If not satisfied, dump in the next election in 2012," the MIC deputy president continued when opening a women's programme in Bukit Beruntung last night.
Palanivel went on to call for support for Prime Minister Datuk Seri Najib Razak's government, even as he was pleading his own case to the voters.
"For a strong government, a strong Parliament, the Chinese votes are vital... we need the support of the Chinese community.
"The Chinese must support MIC, MIC will support candidates from MCA and Gerakan. I ask that, this time, the Chinese voters will back the MIC candidate," he said.
Both Barisan Nasional (BN), which has said it will put up an MIC candidate, and ruling state coalition Pakatan Rakyat (PR) have yet to announce their candidates for the April 25 by-election.
A banner with Ugadi greetings from Palanivel is seen in Hulu Selangor. — Picture by Jack Ooi
"I lost in 2008 by a difference of 0.04 per cent, not even half a per cent. So I hope I can count on your support," Palanivel continued.
In Election 2008, Palanivel fell to PKR's Datuk Dr Zainal Abidin Ahmad by the slimmest of margins — 198 votes.
Prior to his Bukit Beruntung stop-over, Palanivel had spoken to roughly 50 Chinese voters at the Kuen Yin Kerk Temple in Kampung Assam Kumbang, Kuala Kubu Baru. There, he asked for Najib to be given a chance by the Chinese community.
The prime minister has just completed his first year in office, and had marked the event in Hulu Selangor.
"One chance, give him one chance," said Palanivel.
The MIC man, who held Hulu Selangor from 1990 till his defeat in 2008, was not "campaigning" as the official candidate, and was instead donning the hat of Hulu Selangor parliamentary co-ordinator.
He had been appointed to the post in October last year.
With that capacity, said Palanivel, he could address the problems and needs of the locals, including securing financial allocations.
To prove his case, he then handed over partially the allocations residents had requested in January.
The meet-the-people sessions yesterday were kicked off with the handing over of three cheques, valued at RM300,000, to two Chinese associations in Kuala Kubu Baru.
This was followed by a meet-and-greet event with the Orang Asli community at Changkat Bintang, close to Slim River, and the Kampung Serigala Orang Asli settlement. The session in Bukit Beruntung was held after that.
Both Orang Asli settlements, which contribute roughly 120 votes, were considered Barisan Nasional strongholds two years ago.
However, BN also completely failed to capture the Chinese votes in Kuala Kubu Baru then.
At 10pm, Palanivel continued on to Hulu Rening, near Genting Highlands, to meet with the Malay voters there, in a day that saw him cover nearly 200km to curry favour.
There has been no official word of his candidacy, although his has been the sole name touted to the BN Supreme Council.
The leadership from both MIC and BN have declined to confirm if other names have been presented to Najib, who is also the BN chaiman.
Palanivel (left) hands over cheques worth RM300,000 to representatives of two Chinese associations.
The Malaysian Insider
trailed Palanivel throughout his entire run yesterday, and watched him display commitment to the cause even as rumours swirl that he may not, ultimately, contest.
His assistants were seen hard at work with the preparations, updating his profile to show his achievements since first becoming a lawmaker some two decades ago.
Several of his aides also claimed Palanivel was merely fulfilling his duties as the constituency's co-ordinator, and paid no heed to talks that efforts were underway to block his potential candidacy.
Hulu Selangor Umno also continued to press for their man to contest the seat, in blatant disregard of Najib's statement that seat remains under MIC's banner.
The groundwork is being done as Palanivel does not want to be caught ill-prepared in the event he is nominated.
Aside from the MIC No. 2, the party's information chief, P. Kalamanathan, and deputy youth leader, V. Mugilan, have also been mentioned as being under consideration.
Both were also in Hulu Selangor yesterday to meet with voters.
During his speech in Kampung Serigala, Palanivel said: "This seat is extremely important to BN".
The multipurpose hall where he delivered his speech was adorned with miniature BN flags and a portrait of Palanivel, with the words "Candidate for the Hulu Selangor Parliamentary constituency" displayed.
The Malaysian Insider
understands the portrait has been there since Election 2008. Beside that was also another of former mentri besar, Datuk Seri Dr Mohd Khir Toyo.
courtesy of Malaysian Insider
WILL Barack Obama cracked open secret of NAJIB'S link in the bizarre murder trial of Mongolian beauty Altantuya Shaaribuu ?
Posted: 09 Apr 2010 11:04 PM PDT






should read this
Barack Obama
An unbelievable spectacle took place in the bizarre murder trial of Mongolian beauty Altantuya Shaaribuu on June 29. the combined forces of the prosecution and defense blocking the line of questioning.
Lim had proposed for the launch of the caucus to be pushed back. — file pic
By Syed Jaymal Zahiid
KUALA LUMPUR, April 10 — Datuk Seri Najib Razak's decision to exclude Pakatan Rakyat (PR) MPs from the Malaysia-US Congressional Caucus "is utter bunkum", DAP stalwart Lim Kit Siang said today.
Lim argued that the prime minister had an obligation to balance Malaysia's representation there, saying Najib's failure had discredited his 1 Malaysia concept.
"Why did the prime minister spurn the PR MPs and place himself in the untenable position of discrediting his 1 Malaysia concept and exposing himself to the serious charge that he is not acting for all Malaysians when he goes abroad?" the veteran politician asked in a statement.
"If the PM launches the Malaysia-United States (Congressional) Caucus without Pakatan Rakyat Members of Parliament representation, he is telling the whole world that his 1 Malaysia concept is utter bunkum," lamented the Ipoh Timur MP.
Lim also blasted Minister in the PM's Department, Datuk Seri Nazri Aziz, for what he dubbed a shoddy excuse for the exclusion of PR MPs from the Washington trip.
Nazri had said the decision to take two independent MPs was to ensure that Barisan Nasional (BN) would be consistently armed with a majority in Parliament for voting.
He said that it was a policy to not have MPs and Cabinet members overseas when Parliament sits, and blamed Lim for the move, saying it was prompted by the DAP's continual demands for bloc voting.
Lim rejected Nazri's rationale, calling it "perverted" and would make Najib "the instant laughing stock in Washington cocktail circuit".
"PR MPs would have fully co-operated with Najib to make the Malaysia-US (Congressional) Caucus a bipartisan success in helping to upgrade Malaysia-US relations," he said.
"This is in fact an international test whether Najib is his own man as PM who dares to overrule his subordinates by putting national interests above party and individual interests," added Lim, referring to claims that BN officials were against inviting PR representatives to the caucus' launch.
The DAP veteran had proposed that the launch of the caucus be deferred to a later date to include PR MPs, claiming this would save Najib from humiliation.
The two independent MPs in the caucus and accompanying Najib are Bayan Baru and Kulim Bandar Baharu MPs, Datuk Seri Zahrain Hashim and Zulkifli Noordin.
Zahrain walked out of PKR after a fallout with the party leadership, which later expelled Zulkifli for indiscipline.
A US flag flies in front of a UBS building in New York Nov 17, 2009. — Reuters pic
ZURICH, April 10 — After the collapse of Lehman Brothers in September 2008, Switzerland's largest bank was teetering. UBS, which was more than three times bigger than Lehman in terms of assets, had to write down some US$50 billion (RM165 billion) during that tumultuous period.
Investors the world over breathed a sigh of relief on Oct 16 when the Swiss government rescued UBS. But unbeknownst to them at the time, the bank faced a potentially devastating crisis on a very different front.
One day after the bailout, top executives from UBS and Swiss regulators were summoned to a closed-door meeting in New York by US officials who were conducting a wide-ranging tax fraud investigation that centred on the bank.
The UBS delegation, led by newly-appointed Group General Counsel Markus Diethelm, arrived armed with the results of an internal report highlighting instances of tax fraud within the bank, insiders told Reuters. The plan was simple: admit guilt, settle the case quickly and move on.
But Kevin Downing, the US Department of Justice Tax Division Attorney who had been investigating UBS since the middle of 2008, chose that meeting to drop a bombshell: he wanted the bank to disclose names of US tax evaders as a condition for a settlement.
That put UBS in the nightmarish position of either breaching nearly a century of Swiss bank secrecy or risking indictment in the United States.
"UBS was already in a position of weakness from the credit crisis," said one person who attended the meeting and spoke to Reuters on condition of anonymity. "It became crystal clear at that meeting that without addressing the issue of client names, no settlement could be found."
Interviews with insiders and a review of documents reveal previously undisclosed details about how the sprawling tax case was resolved — at several points in the process, for example, Secretary of State Hillary Clinton was involved.
The confrontation also pushed UBS closer to the brink than is commonly realised. And while the bank ultimately defused the situation by coughing up US$780 million and agreeing to hand over some client names, the damage to its huge and increasingly important wealth management operation still weighs heavily on the Swiss banking flagship.
In the months ahead, UBS's new management team will try to stabilise its battered wealth management division, whose advisers have been bolting and taking clients with them.
All of this in turn has forced the bank to confront a broader, more existential question: what exactly is UBS today? An asset-gathering megabank or a leaner player, more attentive to its wealthy clients' needs.
SWISS SECRETS
For UBS and other Swiss banks, the implications of the New York meeting on Oct 17, 2008 were hardly trivial.
Sharing bank client data would have been against UBS's core principles: confidence, security and discretion, symbolised by the three keys of its 70-year-old logo. Doing so might also shatter wealthy clients' trust in the bank — and in the whole Swiss financial centre.
Under scrutiny by the DOJ was the so-called US cross-border business of UBS. This consisted of wealth management services offered to American residents outside the United States. It operated out of Switzerland and was separate from UBS's New York-based Americas wealth management business.
In documents relating to the UBS case, the DOJ said the bank helped some 52,000 Americans hide billions of dollars of untaxed assets in secret Swiss accounts between 2000 and 2007. According to settlement documents, UBS sometimes used shell financial entities to hide the money, depriving the Internal Revenue Service of hundreds of millions of dollars of tax revenues.
The business was referred to by some UBS executives as "toxic waste" due to the risks it carried under US law. But UBS bankers, seemingly unaware of the legal consequences, made 3,800 trips to the United States to visit these clients in 2004 alone.
The cross-border accounts were hardly a big part of the bank's business. They added up to almost US$20 billion, or less than 1 per cent of UBS's total invested assets of about US$2 trillion at the end of 2008.
The business was so small it was initially below the radar screen of Swiss financial regulator FINMA, at the time known as the Federal Banking Commission. The agency's main concern back then was the systemic risks posed by UBS's increasingly wobbly fixed-income division.
Passing on some UBS client data to the United States was possible under certain strict conditions under an existing US-Swiss tax agreement. US authorities put in a request for the client data to Berne, but the process was cumbersome and slow and the Department of Justice grew increasingly impatient.
The investigation was launched by the US Securities Exchange Commission, which suspected that UBS had breached US securities law. But when the Department of Justice became involved, raising the prospect of criminal prosecutions, Swiss regulators became alarmed.
Their concerns grew in April, 2008, when US authorities briefly detained Martin Liechti, the Zurich-based head of UBS's US cross-border business, while he was visiting Miami. Then in May, Bradley Birkenfeld, a former UBS financial adviser who famously admitted smuggling a diamond in a toothpaste tube on behalf of a client, was arrested. He began a 40-month sentence in January.
Those cases got the Swiss Federal Banking Commission's attention. As the summer wore on, the agency started pressuring UBS to speed things up. But the bank, still in the throes of the financial crisis, was preoccupied with its own survival.
UBS had recently removed its all-powerful chairman, Marcel Ospel, who had blessed UBS's big expansion into the United States a decade earlier and fostered the risky US investments that eventually brought UBS to its knees. Peter Kurer, a well-known Swiss lawyer who had joined the bank in 2001 as its general counsel, replaced Ospel as chairman in April 2008.
Kurer took months to appoint Diethelm as UBS's top lawyer. That lengthy process did not help the bank's dealings with US authorities.
Diethelm, an ambitious former chief legal officer at Swiss Re, had made his name in the legal community by negotiating a multi-billion-dollar settlement between a group of insurers and a developer of the World Trade Centre.
But within weeks of taking on the job he found himself working for a nearly crippled lender that was facing indictment in the United States.
Hoping to come to the rescue in what was clearly becoming an untenable situation for UBS, the Swiss Finance Ministry sent a letter to its US counterparts to make clear that Berne was willing to find a solution to the UBS case despite the obvious legal constraints.
That did not sit well with US officials, who saw the letter as political interference, insiders say. The Swiss never got an official response. Instead, the next time US officials contacted the bank, on Nov 12, it was to inform UBS that Raoul Weil, its global head of wealth management, was being indicted.
"That was a clear message," said a high-level Swiss source. "One can imagine that without the letter they would have at least delayed the indictment of Weil."
Executives inside the bank feared that Chief Executive Marcel Rohner and Chairman Peter Kurer would be next, although neither had been named in court documents, these insiders say.
The indictment of Weil, who immediately stepped down from the executive board and has denied all wrongdoing despite remaining a fugitive in Switzerland, jump-started the negotiations.
In November, the Department of Justice asked UBS to submit a collateral consequences study, normally one of the last steps before an indictment of a company. "They said: we have now the authority from the highest level of government to proceed with an indictment," the UBS source said.
Inside the Federal Reserve Bank of New York, officials were also alarmed. They feared the indictment of UBS could panic already jittery financial markets. But the NY Fed could not interfere in the DOJ's affairs.
"UBS has to find a way to disclose the taxpayer names to DOJ in order to avoid the potentially catastrophic consequences of an indictment," Thomas Baxter, the New York Fed's general counsel, told a Swiss interlocutor, according to another person familiar with the discussions.
In December, UBS held an intense board meeting at which top executives examined alternatives and assessed risks. Kurer, who had recused himself because of pending UBS litigation, could not take part.
At the meeting, directors discussed the possibility of "Notrecht" — German for emergency law, which the government could use to bypass bank secrecy rules and rescue UBS.
But the board decided that the bank should act within the parameters of existing Swiss law. "UBS had to go back to the drawing board," said one insider.
Was the Department of Justice really going to pull the trigger? Would it risk pushing over the cliff a bank with three times more employees than Lehman Brothers, about 27,000 of whom were based in the United States?
No one knew for sure, but the Swiss decided not to take the risk. On a cold night on Feb 18, the Swiss government convened an emergency late evening cabinet meeting in Berne and gave its blessing to a hefty US$780 million criminal settlement.
More painful than the money, though, was an agreement by UBS to deliver about 280 names of serious US tax avoiders. The government had essentially traded nearly a century of Swiss bank secrecy for UBS's survival.
This was done with the blessing of Swiss regulators, who had to draft an emergency regulation to bypass the court system to save UBS from the risk of failure.
A day after the settlement, the US Internal Revenue Service shocked the Swiss government by demanding that UBS disclose the names of 52,000 possible US tax evaders. The Swiss had clearly failed to take both the criminal and civil investigation into UBS off the table, and pressure on their treasured bank secrecy laws continued.
THE JOHN DOE SUMMONS
Finding someone to take on the job of steadying the UBS ship amid financial turmoil and a US criminal investigation was not easy. "No-one wanted to talk to us because of this thing," said a senior UBS source.
In the weeks running up to the February 18 criminal settlement Kurer interviewed three candidates. One of them was German-born Oswald Gruebel, a former Chief Executive of Credit Suisse credited with turning around the second largest Swiss bank at a difficult time. Gruebel had retired with a bitter taste in this mouth after losing a battle to become chairman of the bank he had spent 22 years with.
On Feb 26, 2009, barely a week after the settlement of the criminal side of the UBS case, Gruebel agreed to take on the challenge. He immediately signalled a change of tune by announcing sharp cost cuts in an interview with local media. He said it would take him two to three years to rebuild the bank.
Kurer reluctantly left the bank and was replaced by former Swiss finance minister Kaspar Villiger. UBS was counting on Villiger's political ties to help it settle the remaining leg of the US tax case, known as the John Doe summons.
A former trader of humble origins and no formal university education, Gruebel is an outsider in what remains a close-knit hierarchical world of Swiss banking. Born in East Germany in 1943, he fled through the Iron Curtain as a 10-year-old orphan and learned the ropes of the business on Deutsche Bank's bond trading floor in the 1960s.
A straight-talking banker with a dry sense of humour, he is described as "cold" and "tough" by close aides and tends to avoid the limelight. Yet Gruebel is admired by peers as a fighter who possesses deep knowledge of investment banking, wealth management and commercial banking at a time when most banking executives tend to be specialized.
UPHILL STRUGGLE
When Gruebel took the job of chief executive in February, the bank had just been stabilized thanks in part to a loan from the Swiss state. It was also safe from US criminal charges after its February settlement.
But UBS was by no means out of the woods. It still faced a civil tax litigation that threatened the confidentiality of thousands of US clients and led to an exodus of clients and financial advisers. And the bank remained far from profitable, losing over 21 billion Swiss francs in 2008, the biggest annual loss in Swiss corporate history.
The John Doe summons represented a real legal headache for UBS. While it had been possible to stretch Swiss law to settle charges of tax fraud, the summons breached new ground by targeting tax evasion, an area in which the Swiss do not offer international cooperation.
Insiders say that by early March, it was clear that without Swiss government intervention, UBS would face another damaging legal clash that threatened Switzerland's relationship with the United States.
While UBS continued talks with the Internal Revenue Service and the Department of Justice, the Swiss foreign ministry got in on the act, sending officials to visit the US State Department in late March. The following month, Swiss Finance Minister Hans-Rudolf Merz, who at the time also held the rotating post of Swiss President, met with US Treasury Secretary Tim Geithner in Washington.
By their own reckoning, the Swiss were in a weak negotiating position: on April 2, the Group of 20 nations had put them on a list of tax havens and the US administration was pressing ahead with legislation against illicit tax gains in offshore centres.
But they had a few things going for them. The US State Department was grateful for the nation's diplomatic support — such as representing US interests in places like Cuba and Iran and helping to broker a deal that normalized relations between Turkey and Armenia. The pact was signed in Switzerland last October.
This, insiders said, helped create what they called a "certain atmosphere" that made it possible for Swiss Foreign Minister Micheline Calmy Rey to have numerous phone calls with US Secretary of State Hillary Clinton and to meet her face to face three times in the run-up to the August deal.
In the end, at a crucial July 31, 2009 meeting, Clinton and Calmy Rey were able to agree a deal in principle to avert a damaging court case against UBS.
The Swiss, constrained by their red tape, could not guarantee the timing of the delivery of any client names. But the IRS was satisfied with reassurances that Swiss authorities would eventually do so.
A US State Department official said the United States welcomed the deal "and the continued efforts by the Swiss government to ensure that its obligations under the UBS Agreement are met." The State Department declined further comment for this story.
UBS and the United States settled the civil leg of the case on August 19. There was no fine involved this time around, but a promise to hand over another 4,450 names within a year.
Two months later Gruebel played his ace: after weeks of secret contacts, he hired Robert McCann, a former head of wealth management at archrival Merrill Lynch, to be the new face of UBS's battered American franchise.
Within three months of starting, McCann installed a brand new team of mostly ex-Merrill executives — known within the bank as the Wealth Management Americas Renewal Team.
STOPPING THE ROT
It has taken Gruebel less than a year to show investors and clients that the bank has regained its financial footing. This involved some tough choices. Gruebel shrunk the bank's workforce by 11,000, to 65,000. He also sold a crown jewel — Brazil's wealth management unit Pactual — for US$2.5 billion just three years after buying it.
But the Swiss giant is still losing client money and withdrawals at its wealth management franchise accelerated in the fourth quarter of 2009. And investors balked when Gruebel said he saw no immediate recovery in inflows and predicted more withdrawals over the next few quarters.
Since the middle of 2008, a total of 225 billion Swiss francs have left the bank, according to calculations from Keefe, Bruyette and Wood's analyst Matthew Clark. That is more than 11 per cent of the bank's combined wealth management assets of 2 trillion Swiss francs at the end of March 2008.
At the current rate, Morgan Stanley analyst Huw van Steenis reckons that rival Credit Suisse will surpass UBS in terms of wealth management assets by next year. "Credit Suisse Private Banking momentum means it could become larger than UBS in Swiss private banking going into 2011," said Steenis, who expects UBS to lose a further 37 billion Swiss francs this year.
Gruebel recognised early on that the loss of credibility among wealth management clients was the single biggest issue he had to deal with. At first, clients were withdrawing their money strictly because of the credit crisis. But the breach of trust that followed the tax fraud scandal in the United States only made the matter worse.
He is expected to face a tough shareholder meeting on April 14. Activist investors like the investment fund Ethos plan to challenge the bank's sizable 2009 bonuses and to vote against the discharge of UBS board members from any responsibility stemming from the credit crisis.
"Having done a fantastic job in building a global brand they were seriously damaged by the fact they went almost bust and did some serious missteps in public relations in the US tax affair," said Michael Malinski, a specialist wealth management consultant who has 22 years of practical experience in the business. "If you are a potential client, unless there was a compelling reason to go with UBS, you would choose someone else."
Even though UBS suffered the bulk of its client outflows outside America, Former Paine Webber President Joseph Grano, who ran the post-merger UBS PaineWebber wealth management business in the United States before leaving in 2004, said he believes the Swiss bank's brand name in the country is beyond repair.
Gruebel's top priority is to stop the exodus of private client money. Some of the outflows are the result of clients choosing to remain with UBS financial advisers who have bolted the bank for greener pastures.
Ultimately, he must figure out what to do with the bank's US wealth management business — the old Paine Webber franchise that it bought for US$12 billion in 2000 and which has been unprofitable ever since.
UBS tried to sell it repeatedly during the crisis, but could only attract low-ball offers.
With McCann on board, UBS believes it has a chance to make the business work. "If he can achieve that, keeping the unit or selling it will be a purely financial choice," said Ray Soudah, founder of Millennium Associates, a Swiss-based M&A consultancy with a focus on wealth management.
More importantly, UBS has another tough decision to make. Given the current political and regulatory pressures in Switzerland, the bank cannot continue playing a big role in both investment banking and wealth management.
Swiss National Bank Chairman Philipp Hildebrand is drafting a proposal that would make it impossible for UBS or Credit Suisse to drag the economy down should another crisis hit the banking sector. And some Swiss political parties, including the radical ultra-nationalist SVP, the country's biggest political force, have called in the past for forcing UBS to sell its investment banking business.
Gruebel, who helped shape the universal banking model in Switzerland, is not expected to give up on investment banking so easily. Nor will Credit Suisse.
But he may be forced to curb investment banking activities, which, unlike the wealth management business, are capital intensive. And in the current financial environment, capital remains an important commodity.
ANGRY GERMANS
Ongoing heavy pressure on Switzerland by cash-strapped Western nations seeking to recoup taxpayers' undeclared cash is also not helping UBS. In the wake of its painful 2009 US tax settlement, all Swiss-based private banks are attempting to kick suspected US tax cheats out. But European governments are not sitting still waiting for this to happen.
Germany, whose citizens own a quarter of an estimated 726 billion Swiss francs of undeclared EU assets stashed in Switzerland according to Helvea analyst Peter Thorne, has been particularly virulent. On March 19, German prosecutors launched an investigation of Credit Suisse for allegedly aiding German clients to dodge taxes.
UBS is also the subject of a German inquiry, launched in February, that focuses on suspected fraud and tax evasion in that nation. None of this is helping the Swiss bank rebuild client trust at a time when Berne is trying to negotiate a sensitive new tax treaty with its German neighbours.
The Swiss giant is reacting to the international attacks on bank secrecy and offshore banking by narrowing its focus to the super-rich and to high-growth markets like Asia, a region where the Swiss wealth manager remains a leader. "In the US, UBS is just a shadow of itself. In Asia they are still the strongest. In Europe they are somewhat in between," a former UBS executive said.
Even though the bank still offers private banking services to clients, it has quietly adopted a strategy of making it less attractive for small undeclared European accounts to stick with UBS, insiders say. Banking on a strictly-confidential basis is more costly for clients, who must now travel to Switzerland, at risk of being noticed by custom police, if they want to see how their investments are doing.
The bank has also adopted a new code of business conduct and ethics clearly stating that "UBS does not provide assistance to clients in acts aimed at breaching their fiscal obligations."
And there are indications that unwanted client defections may be slowing. "Outflows persisted in the fourth quarter of 2009 but are well below the peak," said analyst Matthew Clark. "Despite everything that happened to UBS, cumulative outflows only correspond to 16 per cent of the wealth management business (ex-US)," he said.
"This is not a lot and this is a very resilient business," he added. "Considering everything that has happened to UBS, its wealth management business has proven remarkably resilient and there is scope to see the glass half full."
All Swiss banks appear to be counting on the government to find a solution to the "Schwarzgeld" or black money, as the untaxed money belonging to Westerners is commonly known in Switzerland.
But the stakes remain exceptionally high. In February, Gruebel said UBS alone holds about 140 billion francs of potentially undeclared assets of Western European origins. Rival Credit Suisse said for it the amount was 100 billion Swiss francs.
Even so, the highest end of the market appears safe for UBS and other Swiss banks. That is because the super wealthy use lawyers to minimize the tax impact through sophisticated watertight tax avoidance structures rather than stashing cash in a secret bank account, or they come from emerging countries that are less sensitive about tax evasion issues.
"Tax evasion is not a problem of the big guys," said one seasoned Swiss banker. — Reuters
The disease of 'sehelai kain pelekat & RM100'
Posted: 09 Apr 2010 10:25 PM PDT
He was acquitted by an Australian State district court of currency regulation breaches involving more than 1.3 million Australian dollars, to wit, knowingly making a false currency report when entering Australia on 16 Dec 1996, and another of failing to declare currency when leaving six days later.

But a superior court subsequently ruled that the trial judge had made legal errors in directing a jury which acquitted him, which was not reported by Malaysian newspapers (and why should we be surprised by our mainstream media's omission?)

Luckily for him Australian law is such a person cannot be tried again on a charge of which he has been acquitted.

We're of course talking about Muhammad Muhammad Taib (Mat Taib) who's better known as Mike Tyson.

In an article in The Malaysian Insider today titled

Mat Taib or bust for Hulu Selangor voters

sweetie Clara Chooi wrote (relevant extracts only):

Barisan Nasional (BN) will cruise to victory if Tan Sri Muhammad Muhammad Taib is fielded as a candidate.

Interviews with the locals across the constituency the size of Malacca over two days, however, showed two glaringly significant trends: that voters on both camps, BN and Pakatan Rakyat, want Muhammad —or "Mat Taib" — as their MP, and that BN may face defeat if they put up Palanivel again.

Putting aside the views of cyber-cafe operator, Rozairi Mohd Zain, who said that he would look at the 'skin colour' of the candidate before casting his vote in the coming by-election, we even have a Chinese former DAP supporter (stress on 'former') who declared that Mat Taib is an ace.

So what do we have?

(a) a man who got away with false currency declaration in a foreign country by claiming he couldn't speak or understand English, but subsequently found by a superior court that his acquittal was incorrect, and got away again by the legal technicality of 'no double jeopardy' (cannot trial a man twice for the same crime even if he is guilty)

(b) a man who needs to explain (if not to the Tax Office or the ACA/MACC, at least to us) how he came by those millions, ...

... yet is a man who is, according to sweetie Clara Chooi's article, adored by all and sundry in Hulu Selangor, and would be a surefire walkaway victor if he stands in the coming by-election.

What does that tell you?

Again leaving aside people like Rozairi Mohd Zain who see the world through coloured lens, Malaysians in general, especially those of the earlier generations, don't give a sh*t about corruption or corrupt pollies, or such stuff as accountability and transparency so long as they get some benefits, namely the sehelai kain pelekat and RM100 (allowing for inflation).

This has been why BN and in particular UMNO have been getting away with blatant corrupt practices for the past 52 years (and expect more years of such to come) as manifested in the overtly obscene ostentatious Bali Palace and the Satay Palace in Klang, ...
... and how 600 Janome sewing machines and even the arrogant boast of how 10 years of public works was compressed into one month won the day in the Ijok by-election in 2007.

Conclusion? Momentary syiok-ness followed by decades of marginalization are acceptable for some people - in fact they want more!

Will such an appallingly abysmal attitude prevail in the future, say in 2013?
Chiew Mei Fun letak semua Jawatan- Tindakkan Terpuji
Posted: 09 Apr 2010 09:52 PM PDT
Chew Mei Fun akhirnya meletakkan jawatan beliau dalam parti dan kerajaan semata-mata untuk mengotakan kata-kata dan janji beliau untuk berhenti jika Chua Soi Lek menang dalam pemilihan pemimpin semasa EGM MCA 28hb yang lepas.
Sekarang beliau tidak lagi seorang Ahli Dewan Negara, Timbalan Menteri dan Ketua Wanita MCA. Beliau hanya sekadar menjadi ahli biasa untuk membuktikan kepada dunia beliau akan lakukan apa yang beliau katak dan janjikan.
Tindakkan berani beliau memang jarang kita dapati dalam kepimpinan mana-mana parti serta kerajaan zaman sekarang, dan pastinya beliau dilihat sebagai seorang yang sanggup berkorban semata-mata untuk membawa pulang satu 'point' ia itu tunaikan janji wlaupun mengorbankan kepentingan diri.
Sesungguhnya perbilangan kita ada menyebut, 'kalau kerbau kita pegang talinya, kalau manusia kita pegang janjinya'.
Dengan tidak berdolak dalik Chew meletakkan semua jawatan dan sebelum itu beliau telah menolak perlantikkan untuk mendudukki Majlis Presiden oleh Chua Soi Lek.
Soi Lek menawarkan Chew untuk mendudukki Majlis Presiden untuk menunaikan janjinya untuk mencari perpaduan dalam parti, dan Chew Mei Fun pula membuktikan janjinya dengan menolak tawaran itu dan seterusnya meletakkan semua jawatan dalam parti dan kerajaan.
Sesungguhnya itulah dia semangat demokrasi yang tulin yang diamalkan oleh bekas Ketua Wanita MCA itu dan bagi saya beliau wajar mendapatkan penghormatan tinggi dari setiap ahli MCA dan orang ramai amnya.
Kita wajar belajar dari tindakkan Chew Mei Fun ini kerana disisnilah letaknya natijah demokrasi yang sebenarnya.
Tindakkan Chew untuk meletak jawatan jika kemenangan berpihak kepada Chua Soi Lek merupakan manifestasi jelas Chew tidak bersetuju dengan kepimpinan Chua.
Dalam semangat demokrasi Chew telah menunjukkan sikap tidak meyakini Dr Chua dan jika kemenagan berpihak kepada Chua maka adalah tugasan moral bagi Chew untuk meletakkan jawatan.
Tindakkan Chew melepaskan jawatan itu merupakan satu tindakkan yang mesti dilakukannya kerana perwakilan tidak bersetuju untuk tidak menyokong Dr Chua.
Oleh kerana perwakilan tidak memberikan mandate untuk Chew bagi mengenepikan Chua maka meletakkan jawatan adalah jalan yang paling baik untuk Chew lakukan.
Tetapi jika pada suatu waktu nanti Chua masih memilih Chew untuk mendudukki apa-apa jawatan penting dalam parti, masa itulah Chew boleh menimbangkan semula tawaran-tawaran dari Chua. Buat sementara Chew telah mengambil tindakkan yang betul dengan meletakkan jawatan.
Didalam UMNO sikap ini sudah lama tidak dilihat dan diamalkan. Setakat yang saya ingat hanya 3 atau 4 insiden dalam mana pemimpin meletakkan jawatan kerana tidak bersesuaian dengan pucuk pimpinan.
Tun Dr Ismail telah meletakkan jawatan sebagai Ahli Jemaah Kabinet Persekutuan semasa YTM Tunku Abdul Rahman menjadi Perdana Menteri kerana isu memisahkan Singapura dari Persekutuan Malaysia pada tahun 1965 dahulu.
Syed Jaafar Albar pernah meletakkan jawatan dri kerajaan kerana tidak bersetuju dengan Perdana Menteri dalam beberapa isu pentadbiran Negara.
Tun Dr Ismail walaupun mempunyai beberapa isu terhadap Tunku beliau tetap menjadi Ahli Parlimen dan Ahli Majlis Tertinggi sehingga Tunku meletakkan jawatan pada Thun 1970.
Semasa negara ditadbir oleh Majlis Gerakkan Negara (MAGERAN) Tun Dr Ismail menjadi orang yang sangat penting membantu Tun A Razak untuk memulihkan keadaan politik dan keselamatan negara.
Tun Ismail dilantik oleh Tun Razak terus menjadi Timbalan Perdana Menteri selepas pilihanraya 1974 walaupun beliau hanyalah ahli Majlis Tertinggi biasa semasa politik dan Parlimen digantung semasa pentadbiran MAGERAN.
Selepas itu hanya Tengku Razaleigh Hamzah meletakkan jawatan beberapa hari sebelum beliau menawarkan jawatan Presiden kerana tidak bersetuju cara dan kaedah mentadbir nagara dan ekonomi pada tahun 1987 yang lalu.
Dalam isu–isu perletakkan jawatan ini kita perlu dan harus sedar, jika kita tidak bersetuju dengan pucuk pimpinan maka jalan yang paling baik ialah meletakkan jawatan kerana menunjukkan sikap tidak bersetuju itu merupakan undi tidak percaya dalam erti kata sebenarnya.
Tindakkan Chew Mei Fun ini bukanlah satu tindakkan yang luar biasa, kerana itu merupakan amalan semangat demokrasi tulin dan jika ini menjadi amalan sesiapa yang mengaku sebagai individu demokratik.
Perletakkan jawatan Chiew Mei Fun ini bukan bermakna beliau akan berakhir segala pontensi masa depan politk beliau kerana politik bukan satu perkara yang static.
Bermacam-macam kemungkin akan berlaku dalam mana beliau diperlukan oleh keadaan semasa seperti Tun Dr Ismail yang menjadi contoh nyata kepada keadaan ini.
Yang penting bagi Chew ialah beliau telah mengotakan janji beliau. Itu yang sangat penting untuk menguji dan menilai kewibawaan kata-kata seorang pemimpin…dan itulah semangat demokrasi yang tulin.
Kita jangan lakukan seperti seorang pemimpin yang pernah berjanji untuk meletakkan jawatan jika ada walaupun sedikit desakkan rakyat untuk berbuat demikian dalam perhimpunan agung UMNO pada tahun 1981 dahulu.
Pemimpin itu tidak menunaikan janji beliau walaupun beliau tahu ramai rakyat yang tidak mahu beliau menerajui negara lagi.
Malah beliau telah merosakkan segala institusi-institusi penting negara semata-mata untuk kekal menjadi pemimpin dalam jangka masa yang terlalu lama.
Hasil dari tindakkan pemimpin itu sedang kita alami sekarang, tetapi kesalahan itu dialihkan kepada seorang pemimpin lemah yang dinamakan Pak Lah. Pak Lah pula tidak langsung cuba untuk berbuat sesuatu untuk membersihkan imejnya kerana beliau sentiasa mengantuk dan nyenyak tidur dimana-mana beliau pergi.
Semua kesalahan diletakkan kebahu Pak Lah dan pemimpin sebelumnya bersih dan terlepas dari tuduhan orang ramai berhubung dengan isu-isu kotor yang menyelubungi negara, walau pun semuanya sudah begitu jelas dilakukan oleh pemimpin sebelum Pak Lah itu.
Itulah cara politik dinegara kita. Pengakhir kata saya mengucapkan tahniah kepada Datin Paduka Chiew Mei Fun yang telah mengambil tindakkan yang terpuji itu.
Sekian………………………………………Aspan Alias
Dr Mohd Khir Toyo conceded zaid has an edge in by-election, if BN fielded an Umno candidate risk losing NAJIB,how to blame it on SAMY VELLU
Posted: 09 Apr 2010 08:59 PM PDT
Posted by muslimmalaysia786 on April 10, 2010
Khir Toyo Falsely Accused MP Teresa Kok With the Aim of Creating Racial and Religious Hatred Against DAP and the Chinese Community

We Say,

Former Selangor Menter Besar Khir Toyo implicated Selangor Senior Exco member Teresa Kok on the "azan" issue as part of his concerted effort to incite racial and religious hatred by the Malays/Muslims against the Chinese community in Selangor.

The Editor-in-Chief of Utusan Malaysia did not check the facts prior to publication of the false allegation made by Khir Toyo, instead Utusan Malaysia raised the tone of the allegations to a more dangerous level.

Both Khir Toyo and Editor-in-Chief of Utusan Malaysia had malicious design in falsely accusing Teresa Kok. It is apparent that both of them aimed to achieve a wider objective of fanning racial and religious discontent and hatred by Malay/Muslims against the Chinese community, which in our view, seriously endangers our national security.

Khir Toyo and the Editor-in-Chief of Utusan Malaysia must be arrested and brought to justice for falsely accusing Teresa Kok on the "azan" issue.

If Syed Hamid Albar wants to use the ISA, he should instead go out and arrest the 189 residents who had politely written a letter to UMNO State Assemblyman Mohamad Satim Diman to talk to the mosque officials to help resolve their concerns about lowering the loudspeakers at the mosque during the long hours of the religious sermons.

The residents' petition was made BEFORE the March 8 election when Khir Toyo was the Menteri Besar and when UMNO was ruling the state.
: Fomer Selangor menteri besar Dr Mohd Khir Toyo today conceded that PKR has an edge in the coming Hulu Selangor parliamentary by-election.
The Umno leader said this is because the party has played the Zionist APCO issue, especially to attract Malay voters who form the majority of the 64,500-strong electorate.
Apart from this, he said a sizeable chunk of the 16,964 Chinese voters (26.3% of the electorate) who backed PKR in the last election, have not returned to Barisan Nasional.
Khir took a swipe at PKR for pressing Barisan Nasional to field a Malay candidate as opposed to someone from MIC for the seat. "The PKR provoked Umno to field its candidate because PKR will nominate a Malay candidate.
"Many Umno supporters have fallen for this bait and there is a strong possibility that they will vote for PKR's Malay candidate," he said.
Khir said if BN fielded an Umno candidate, then it would risk NOT losing the position of the prime minister
as we know we are going to loose anyway. we can blame it on SAMY VELLU
Yesterday, BN chairman Najib Tun Razak confirmed that an MIC candidate would be chosen, but had stopped short of endorsing the party's nominee G Palanivel. This has further fuelled speculation that the MIC deputy president may be dropped, and BN will field a younger candidate.
'Chinese will be kingmakers'
Previously, there was speculation that Umno was pushing for another former Selangor menteri besar, Muhammad Muhammad Taib, to be given the chance to take a crack at the seat.
However, Khir claimed that this was another act of provocation by PKR to split the Malay votes.
"Umno cannot contest there as it is MIC's traditional seat. If Umno fields its candidate, the people (non-Malays) will lose faith in the BN," he added.
There were also reports claiming that Khir was perturbed by the possibility of Muhammad contesting, since the duo are said to be embroiled in a tussle.
Meanwhile, Khir said of the 32,000 Malay voters, 17,000 were Umno supporters while 15,000 backed PAS.
"I believe that it is the Chinese voters who will be the kingmakers in this by-election," added the Sungai Panjang state assemblyman.
Khir also pointed out that with Selangor now under the control of Pakatan Rakyat, the state government would mobilise all its machinery to ensure a victory for the PKR candidate.
He said that Selangor Menteri Besar Khalid Ibrahim has opened an office in Hulu Selangor in preparation for the polls. "He (Khalid) never visited Hulu Selangor before, but now because there is a by-election, I understand that he has approved millions of ringgit for the people there.
"Khalid is already making many promises in Hulu Selangor," he added.
Nominations for the parliamentary seat are on April 17 and the by-election on April 25. The seat fell vacant following the death of PKR's Zainal Abidin Ahmad. In 2008 Zainal defeated Palanivel by a razor-thin majority of 198 votes.
This time around, PKR is expected to field former law minister Zaid Ibrahim.
Middle Malaysia will have its say later this month when the electors of Hulu Selangor cast their collective decison at the ballot box.
Not the Middle Malaysia of political punditry, but the everyday middle Malaysia of real life, the one experienced by everyday folk seeking a path through the fog of confusion conjured up by the powerful and those seeking power.
This week the Pakatan Rakyat coalition will have another opportunity to make its case for leadership of this community when PKR announces its candidate for the parliamentary by-election on April 25.
PKR's unexpected narrow victory in this constituency in 2008 was clearly the result of internal tensions within the local Barisan Nasional parties riding on the national wave of general discontent.
In its choice of candidate this week, with the well-respected Zaid Ibrahim widely expected to be named, PKR can provide clarity and a renewed focus on the one major issue at hand: that the tired old ways are not the way to the future, and that middle Malaysia can steer a course between the rocks of racism and the shoals of plutocratic plunder.
Hulu Selangor at mid-term is an advantageous redoubt to seize, its population mix a reflection of society at large, its way of life poised between the plantations of old and the teeming metropolis next door, in the easy-going ways of small towns surrounded by farms and small industry.
There is fertile ground for political strategists to slice and dice the demographic data, seeking the many ways in which to capitalise on narrow sectional interests and thus build an electoral victory. So many Malay votes, so many Chinese votes, so many Indian votes, so many Orang Asli. This much in agriculture, this much in trade and commerce, this much of the underclass.
PKR is not immune to this kind of approach, at which the Barisan Nasional has long excelled, and knows that it ignores such strategy to its peril. Yet the BN has already immersed itself again in the well of communal and parochial concerns from which it has drunk long and deep.
The BN's touted candidate, MIC deputy president G Palanivel, carries baggage of the past from the internal feuding in his party, his own ambitions, general discontent with the ways of party leader S Samy Vellu and his family, and the long-ignored problems of the Indian underclass which were exploited so effectively by Hindraf, now sadly a spent force.
Selangor Umno, on the other hand, has sought a retreat into the old ways of race champions, by hauling out the discredited old warhorse former menteri besar Muhammad "Mat Tyson" Muhammad Taib back into the ring and presumably recapture the banners of race supremacy now being waved by Ibrahim Ali and Perkasa.
On the sidelines, a clapped-out MCA under its newly-elected leader Dr Chua Soi Lek must try to persuade the community that its soiled past has been cast aside and that a new future awaits. Much scepticism remains after the party's long-drawn-out power struggle, with another election due just over the horizon.
It is testimony to the BN's travails that party chairman and Umno president Najib Tun Razak, wearing his prime ministerial hat, took to the hustings with another much-ballyhooed walkabout, in the streets of Kuala Kubu Baru. Scripted shouts of "I-ker" from a rent-a-crowd of college students are not likely to sway many votes from a community that has yet to see tangible results in a nebulous 1Malaysia.
Najib's personal touch in early campaigning, which seems to have escaped the attention of the Election Commission, and the absence of the BN deputy chairman, traditionally the BN director of elections, only highlights the divisions that exist in his own party and his 1Malaysia's lack of traction.
It is these divisions that Pakatan Rakyat and PKR can seek to exploit, through a candidate with broad appeal, able to acknowledge the real narrow and sectional concerns of society yet able to rise above them.
A candidate for whom a seat in Parliament is not a waystation on the road to personal riches or glory, but an opportunity to shape a common future.
Philosophical questions are not likely to be in the forefront when the electors of Hulu Selangor cast their ballots. But there is a common thread behind the real issues of daily life in middle Malaysia, of seeking a decent living, of a decent education and a decent future for their children. It is what links Altantuya to Kugan to Teoh Beng Hock to Port Klang Free Zone to healthcare to motor insurance to Petronas to Proton… and to Putrajaya.
This common thread is the notion that everyone is entitled to a fair stake in securing the daily necessities of life.
Come April 25, electors of Hulu Selangor will have an opportunity to show if indeed there is a middle way, a middle path, built on common decency, on which Malaysians can come together. But that choice will be shaped by the choice of candidate: whether it is one able to look to the future, or one mired in the past.
Before I elaborate, let me first confess of my excitement when Pak Lah first announced integrity as the cornerstone of his administration a few years back. I thought this is what the country sorely needs. However unfortunately, after much fanfare and millions of ringgit gone astray, all we have today is the Institute of Integrity and very little else. Maybe, "Integrity in Governance" is not included within APCO's terms of reference, perhaps that's why? Ex-Malasian Leader Says He Paid Abramoff
Former Prime Minister Mahathir Mohamad said Monday that disgraced lobbyist Jack Abramoff was paid $1.2 million to organize his 2002 meeting with President Bush, but denied the money came from the Malaysian government.
Mahathir told reporters he was aware a payment was made to Abramoff, but he didn't know who made it. He said he had been persuaded by the U.S. think tank Heritage Foundation to meet with Bush at the time.
"It is true that somebody paid but it was not the (Malaysian) government," Mahathir said. "I understood some people paid a sum of money to lobbyists in America but I do not know who these people were and it was not the Malaysian government."
Mahathir said the Heritage Foundation believed he could help "influence (Bush) in some way regarding U.S. policies."
Mahathir visited the White House at a time when this Southeast Asian country had emerged as a key U.S. ally in the war on terror, following Mahathir's crackdown on suspected Islamic militants although he had been consistently critical of Bush's foreign policies.
Abramoff, once among Washington's top lobbyists, pleaded guilty last month to charges that he and a former partner concocted a fake wire transfer to make it appear they were putting a sizable stake of their own money into a 2000 purchase of casinos.
Abramoff also has pleaded guilty to charges stemming from an investigation into his ties to members of Congress and to the Bush administration.
Interesting remarks on APCO's appointment in Malaysia to make Najib and pals look good by Ben Bland in theHartal MSMblog. Hartal says Bland is a freelance journalist based in Singapore, reporting for publications such as The Daily Telegraph, The Economist, the FT weekend magazine, Monocle, Asia Sentinel and the British Medical Journal. He was a stock market reporter at The Daily Telegraph and Dow Jones Newswires in London, before leaving the City to Southeast Asia.)
You have to wonder what sort of internal debate went on in APCO before they decided to take on the job. Here'sUnspun's totally fictitious and facetious account of what might have been:
APCO Dove: I don't think we should take the job as there's nothing we can do to change them, and if we can't change them then there's no way to make them look good.
APCO Hawk: Of course we should take it. The money is good and it will give a big boost to our reputation in that part of the world where we haven't been able to make as much headway as in the US.It may even make people forget that we're closing down…I mean scaling down…in Indonesia.
Dove: Yes, but what sort of a reputation will we have if we take this job? Najib and his goons are just in plain denial. No amount of spin we put into this will be effective unless we convince them to change their ways.
Hawk: It doesn't matter. Think of the money we'll get. And the opportunities it will create for us. We'll be plugged in to all the important people in Malaysia from No.1 down. And by the time they realize that the PR is ineffective, we'll have made our money anyway.
Dove: I'm still uneasy about all this. I'm worried our own reputation would suffer if we take them on….
Hawk: Dove, Dove have courage son. We're like lawyers who take the view that even the worst criminal deserves a good defense. We're here merely to tell their story in a good light.
Dove: But there is nothing to tell. There are not good stories to tell because Najib and his boys are morally and intellectually bankrupt…
Hawk: You are too pessimistic. At the end of the day the fees will go toward our bonuses and nobody will remember our sins. Look at Burson Marsteller for instance, until that bitch Rachel Maddow tagged them with the"When Evil needs public relations, Evil has Burson-Marsteller on speed-dial" soundbite everyone had already forgotten all the hopeless causes they championed…and got away with. people never learn from history. That's our saving grace.TOTALLY agree with Zaid that the Cabinet has no bloody business to deliberate and decide that Anwar must be referred to the Rights and Privileges Committee. The whole mess was created ENTIRELY due to the inefficiency and 'ignorance' of the concerned Speaker with regards to the Standing Orders. Syabas Zaid for pointing out this very FLAWED descision by the Speaker !What you have been describing regarding the independence, integrity and separation of powers vested in our democratic institutions and leaders long been destroyed and compromised by Mahathir during his 22 years in office. RELATED ARTICLE The story of Mukhayriq, a Rabbi from Medina "He was the best of the Jews"but MAHATHIR worst of the muslims
What is left is just a facade and even then not a very good one. Everything is done on whims and fancy of some one, to please some body or for political expediency. Beneath the thin veneer of a seemingly successful and vibrant democratic country the rot underneath is deep and serious; corruption, cronyism, farcical judiciary, police brutality, racism, religious bigotry, abuse and misuse of laws and powers, etc.RELATED ARTICLENurul Izzah Anwar; The sad reality is that these myths are being perpetuated by Umno and Barisan Nasional for their own gain. The fact is that Umno wants to keep the Malay community under its suzerainty forever
What is needed is a change of govt bend on restoring independence and integrity of our democratic institutions with leaders who are held responsible for their actions or inaction by the rakyat. In the good old days, judges were prepared for the sack but remained steadfast and true to their principles and convictions. A certain central bank governor opted to resign rather than suffer the humiliation of having to take orders from politicians. Well friends, those days are long gone and it looks like as if persons of integrity may never hold the reign at any of our state institutions again.
Today if you like to remain in the helm you would have to play politics and do as what the political masters tell you to do, no complications please — integrity seems to be the hardest word.
---
Possibly related posts: (automatically generated)
Posted: 09 Apr 2010 08:33 PM PDT
RPK wrote a very good article titled:  judaism, Israel and Zionism.
He has written what I wanted to write but more eloquently and more forcefully, something I can never hope to achieve.
When you are against Nazism, you do not label all German people as bad. In fact there were so many Germans who were opposed to Hitler and some plotted to assassinate/overthrow him, only to be executed themselves when their plots were exposed or failed. (National Geography aired a show called 46 ways to kill Hitler soemtimes ago, and there were all based on true stories).
As with RPK, I am against Zionism but I dont hate Jews. I am against the principles of communism but I don't hate the Russians or the Chinese Chinese. In fact, in the case of China, if they did not go through the years under absolute communist rules , they will not be as progressive now(I know that China is officially still under communist rule but the economic policies now are very much that of a market economy). Sometimes you need to go through certain experience in order to achieve aims that are contrary to those experiences. In fact, although I am against communist principles, I do not dislike communist leaders. I admire Mao, Chou En Lai and Deng, even though they were all communists and just because I am against communist principles,  it does not mean that I must dislike these leaders of communism.
Let us pretend that we are living  in the 30s and 40s.  If we hated Nazism , we should by right support those Germans inside Germany plotting to overthrow Hitler, not by denying them help and condemning them. If we see a black crow, we must not assume that all crows are black; in fact science has proven that white crows do exist and i have posted a link somewhere in this blog, just use my search engine to find the link.
But we Malaysians are too partisan. Just because we are opposed to Zionism, we condemn all the Jews, the good and the bad.  There is no middle ground anymore..
We also almost always practice double standard. We like to set rules but rules are meant for others only, not for those who set them.  This applies to all aspects of our lives. The government, the opposition, the civil service, the car and truck drivers, businessmen and so on.
Not all Jews are bad. Not all Chinese are bad and not all Indians are bad. Not all Malays are bad. In fact most Jews, Chinese , Indians and Malays are good people… Just talk to those on the grounds earning a decent living by working hard, and you will find most of them are simple folks and they are good people. There are of course some within the groups that are bad, but just because a few are bad, you should not condemn the whole group, especially those whitin the group trying to effect change to bring good to the group.
I look forward to a day when we are no longer so partisan, but that day seems so far away and I may not even see that day during my life time.