---
Posted: 11 Mar 2010 05:10 AM PST
Aliran Monthly 30: 1 editor's note
Posted: 12 Mar 2010 03:37 AM PST
T'is the season of betrayal. In our cover story, P Ramakrishnan says forces are at work to subvert the voters' choice in the last general election while fringe groups are playing up emotive issues of race and religion for political ends.
Hishamuddin Yahaya says racial sloganeering could become irrelevant if a new government takes over that is better able to promote democracy and socio-economic and cultural justice.
No wisdom in our judiciary - not even common sense
Posted: 12 Mar 2010 12:41 AM PST
The Federal Court's ruling on 25 February 2010 that it had no jurisdiction to review its own decision is utter nonsense. The three judges who came to this conclusion on Rule 137 of the Federal Court Rule -  Zulkefli Ahmad Makinuddin, Mohd Ghazali Mohd Yusoff and Heliliah Mohd Yusof - were referred to by the former Court of Appeal judge,  N H Chan, as "incompetent judges – perhaps they were clowns as their statements were laughable."
Posted: 12 Mar 2010 08:58 AM PST
翁诗杰也引用一名前马华部长的谈话,指党选是块照妖镜,特别是回看当前的环境后,更让他有所感慨。 有人说,最近好像多了很多游牧民族中国人则说,朝三暮四及朝秦暮楚。这些人今天效忠这,另一天又站在那边。 www.malaysiakini.com

Time:

04:20

More in

News & Politics
Pindaan enakmen Islam S'gor siap bulan depan
Posted: 12 Mar 2010 07:31 AM PST
Pindaan enakmen Islam S'gor siap bulan depan Ahli parlimen Shah Alam Khalid Samad akan mempersembahkan kepada Sultan Selangor bulan depan, cadangan pindaan terhadap enakmen agama Islam Selangor yang pada masa ini, melarang penggunaan kalimah Allah di kalangan bukan Islam. LAGI

Time:

10:00

More in

News & Politics
Minister of Tourism Dato Sri Ng Yen Yen you have proofed to UMNO that you are a prostitute
Posted: 12 Mar 2010 10:42 AM PST
This is a true story regarding our Minister of Tourism Dato Sri Ng Yen Yen (NYY).
The Ministry of Tourism Malaysia have a budget for "Media Campaign" to promote Malaysia on tourism. This budget is called in the Ministry as Media Global Fund. The previous Minister of Tourism Dato Azalina which set up a company that was given a contract to handle the Minister of Tourism's advertising for her own benefit. The same tactic is now use by NYY. She joint venture with one company called Sen Media Sdn. Bhd. and instruct other media to join this company to get contract.
The Managing Director of this company is Ruzi bin Ahmad who is also NYY's son good friend. NYY's son met media owners like BBC, STARTV, CNBC, ESPN, National Geographic, Phoenix HK, and Discovery Channel to negotiate and asked for 30% commission. The total budget for this campaign is RM 33 Million, and NYY's son seeks a total commission around RM 10 Million from them.
Dato Mirza can confirm with this dealing, as the Ministry of Tourism Malaysia suppose to meet on 3rd April to start the media campaign and conclude by end of April, but NYY need to push this deal fast. NYY pressured Dato Mirza to carry forward the meeting to 9th March and starts the program by 15th March.
Due to the current situation, especially in MCA's situation, NYY need to use the money for personal gain during the MCA's current turmoil. For readers' pondering, why should NYY need to move forward the campaign to 15th March 2010 and instruct her office to award the contract urgently so hasty? Why not evaluate other companies and follow the process?
Ruzi the Managing Director from Sen Media Sdn. Bhd. has made the first payment to NYY with a sum of RM 2 Million thru NYY's son, which the money was received in Mont Kiara coffee shop. Authorities (MACC) can check with the media owner in Singapore who they paid the money to, and MACC are able to trace the money from Malaysia local company and their dealing partners in Singapore. This information is genuine as Dato Mirza has full knowledge on this, also because Ruzi have warned Dato Mirza to follow his every instruction. If Dato Mirza fails to comply with Ruzi's order, Ruzi will punish Dato Mirza as he is a very good friend and partner of NYY's son to the extent of sending him to jail.
With the information gathered by various brave individuals, it clearly show that NYY already misused her power in the ministry by giving contract to her son's company and taken bribe sum of RM 2 Million. We can only hope the MACC is able to check on this matter and start eradicating corrupted leaders of our MALAYSIA.
Filed under: Uncategorized — taxi2driver @ 3:42 am Edit This
THE MCA GURKAS,Transport Minister Ong Tee Keat,, Datuk Liow Tiong Lai ex-minister SAMY VAL WAS ASK TO CLOSE ONE EYE THIS IS HOW THEY RIP OFF THE N ATION' whem DIAM proposed it at $2 today,how did the prime land in sentul west and in brickflields enith YTL AND MRRCB?S,
Sime Darby is suffering. Iam just helping my brother is it crime? Mohd Najib's way of helping to prop up the (new) Sime Darby, which is essentially the product of his brother's market-making? help our sibling Mohd Najib's way of helping to prop up the (new) Sime Darby.
The true cynic sees two possibilities in life: One is that the glass is half empty of piss; the other is that the glass is half full of piss.
PRIVATISATION IS THE LICENSE FOR ELITE MALAYS TO THE EAT the POOR MALAYS, THE MCA GURKA Datuk Liow Tiong Lai WAS ASK TO CLOSE ONE EYE THIS IS HOW THEY RIP OFF THE N ATION'S WEALTH. THIS IS MAHARTIRISM. The postponement comes just a day after Najib revealed that the green light had been given to Sime Darby to acquire a majority stake. The Umno elite appear to be out of touch not only with the masses but also with their They are very impatient before the power take over, why the over confidence? ? Because someone somewhere needs to generate more money in their pockets Will there be another government hand out to Nazir's ideas -not that they are really despicably bad his ideas- but just that we had been told by Najib himself of more transparent transplant of less corruptive values in negotiating government jobs, had we not just recently? Will the Government be building a another new IJN once this IJN is sold off? Where? How many? What is price tag on IJN are we talking about here?Who is funding the take over? As Finance Minister and the chief "fatal" backdoor takeover of Golden Hope and Guthrie Corporation by Sime Darby via Synergy Drive, which was the creation of his brother, Mohd Nazir.Sime Darby was once a diversified and highly regarded company. Today, thanks to the merger and its sudden dependence on palm oil, Sime Darby is suffering. Iam just helping my brother is it crime in our country To help our siblings Could the proposed sale of IJN to Sime Darby be Mohd Najib's way of helping to prop up the (new) Sime Darby, which is essentially the product of his brother's market-making? I beg Mohd Najib to start thinking seriously about the welfare of the masses like his late father did instead of pushing the country towards exclusivity for the sake of profits and short-term gains . Take for example Prince Court Medical Centre (PCMC)which costed Petronas RM770 million in total was built in the view that this is a social obligation by Petronas to serve the public at large. But how many people actually go to PCMC? To be honest, I don't know where PCMC is heading in the healthcare business. I have some specialist friends who are being paid in excess of RM50k a month to do visitation in PCMC and yet come back complaining about lack of patients and procedures to be performed. Well, if you want to have a corporate social responsibility, might as well build a hospital in Sudan, Chad or Somalia. suffer from their actions.there more people can we are poor . THE SUDDENESS with which the news that the National Heart Institute (IJN) may be privatised to Sime Darby appeared in the media suggests that conspiracy of sorts is at work.a promise as "guaranteeing low fees for the poor" is made by no less then the Deputy Prime Minister and Minister of Finance, Mohd Najib Abdul Razak, himself. How they rip off KTMB RICH LANDBANKand let it bleed to slow death if only could they allow the likes tonny and hisgang to take over whem DIAM proposed it at $2 today We would have the best rail service in Asia butexminister SAMY VAL..HOW ? YOU ALL KNOW ABOUT PERWAJA, ASK PKR's Dato Seri Anwar Ibrahim BANK BUMIPUTRA, PKFZ issue was first raised by PKR's Dato Seri Anwar Ibrahim. The public waited patiently for full disclosure. It was slow in coming. But now that Pricewaterhouse Coopers has completed and submitted its report, Transport Minister Ong Tee Keat should come clean and put the matter to rest. PKFZ issue was first raised by PKR's Dato Seri Anwar Ibrahim. The public waited patiently for full disclosure. It was slow in coming. But now that Pricewaterhouse Coopers has completed and submitted its report, Transport Minister Ong Tee Keat should come clean and put the matter to rest.
International Relations department public lecture RELIGION AND PLURALISM IN A DIVIDED WORLD Speaker: Anwar Ibrahim
Posted: 12 Mar 2010 08:35 AM PST

Date: Friday 19th March 2010
Time: 18:00-21:00
Location: Hogg Lecture Theater, University of Westminster
35 Marylebone Road, London NW1 5LS
Contact: 0207 911 5807 (University Venue Manager)
Coordinators: Hiu Woong-Sin @ 0792 010 5078
: Julailey Jamadi @ 0788 912 5195
: Francis Kheng @ 0753 300 0583
*All Malaysians are welcome on a "first come" basis due to limited seats.
Page contents > Podcasts | Twitter
International Relations department public lecture
Date: Thursday 18 March 2010 Time: 5-6pm Venue: Sheikh Zayed Theatre, New Academic Building Speaker: Anwar Ibrahim Chair:Professor John Sidel

Anwar Ibrahim is a former Deputy Prime Minister (1993-1998) and Finance Minister (1991-1998) of Malaysia. He was dismissed from office in 1998 and imprisoned after a trial condemned by many critics as a "sham" orchestrated by the government led by Dr Mahathir Mohamed. After serving six years in prison, Anwar was released after the Malaysian courts overturned his conviction. Anwar taught and lectured at Oxford University, Johns Hopkins School of Advanced International Studies and Georgetown University, lecturing extensively on issues of governance, democracy and contemporary politics in Southeast Asia. In the 12th Malaysian General Elections in March 2008, Anwar forged a political coalition called the Pakatan Rakyat, encompassing the People's Justice Party (PKR), the Pan-Malaysian Islamic Party (PAS), and the Democratic Action Party (DAP). This coalition won a sizeable minority of seats in the national parliament and gained control of six of Malaysia's fourteen states and territories. A by-election held in August 2008 gave Anwar the opportunity to recapture the parliamentary seat which he had held for 18 years until his imprisonment in 1998. He is currently the leader of the Opposition in the Malaysian Parliament.

This event is free and open to all with no ticket required. Entry is on a first come, first served basis. For more information, emailevents@lse.ac.uk or call 020 7955 6043.

Media queries: please contact the Press Office if you would like to reserve a press seat or have a media query about this event, email pressoffice@lse.ac.uk
Religion and Pluralism in a Divided World
RELIGION AND PLURALISM IN A DIVIDED WORLDPage contents > Podcasts | Twitter
International Relations department public lecture
Date: Thursday 18 March 2010 Time: 5-6pm Venue: Sheikh Zayed Theatre, New Academic BuildingSpeaker: Anwar Ibrahim Chair: Professor John Sidel

Anwar Ibrahim is a former Deputy Prime Minister (1993-1998) and Finance Minister (1991-1998) of Malaysia. He was dismissed from office in 1998 and imprisoned after a trial condemned by many critics as a "sham" orchestrated by the government led by Dr Mahathir Mohamed. After serving six years in prison, Anwar was released after the Malaysian courts overturned his conviction. Anwar taught and lectured at Oxford University, Johns Hopkins School of Advanced International Studies and Georgetown University, lecturing extensively on issues of governance, democracy and contemporary politics in Southeast Asia. In the 12th Malaysian General Elections in March 2008, Anwar forged a political coalition called the Pakatan Rakyat, encompassing the People's Justice Party (PKR), the Pan-Malaysian Islamic Party (PAS), and the Democratic Action Party (DAP). This coalition won a sizeable minority of seats in the national parliament and gained control of six of Malaysia's fourteen states and territories. A by-election held in August 2008 gave Anwar the opportunity to recapture the parliamentary seat which he had held for 18 years until his imprisonment in 1998. He is currently the leader of the Opposition in the Malaysian Parliament.

This event is free and open to all with no ticket required. Entry is on a first come, first served basis. For more information, email events@lse.ac.uk or call 020 7955 6043.

Media queries: please contact the Press Office if you would like to reserve a press seat or have a media query about this event, email pressoffice@lse.ac.uk

Posted by taxi2driver on February 27, 2010

Posted by taxi2driver on March 11, 2010
Najib even worse than Pak Lah? Bapa Kezaliman?
Posted: 12 Mar 2010 08:11 AM PST
Got this article from
this site:
Malaysian should read this first before going for the next election!
Najib's Orwellian 1Malaysia
Datuk Seri Najib Razak was supposed to be a better Prime Minister than Tun Abdullah Badawi. But his charm offensive belies his failure to protect our democracy and our institutions. Najib replaced Pak Lah because of the Umno warlords protecting their own interests, rather than those of the country's; he is a Prime Minister beholden to Umno politicos, not the Malaysian voters.
The biggest problem people had with Pak Lah was that he was weak. He said nice things, but he didn't have the willpower to see them through. He was a career civil servant, not a politician. So we got Najib—a consummate politician.
But Pak Lah's weakness was a double-edged sword. He let a lot of people get away with saying nasty things—our nation's dirty laundry of corruption and racism was aired like never before during his time. But the Sarawak Tribune aside, the Abdullah administration also let people get away with a lot of productive debate. It was a breath of fresh air compared to the Tun Dr Mahathir Mohamad regime.
The Najib regime is a return to the era of Mahathir. One of the most pervasive and repulsive examples of this is the insidious 1Malaysia campaign. It's simply a tiruan ciplak of Bangsa Malaysia or Wawasan 2020—a pretence of vision for the country. Nowadays when I go to official events, the emcees greet us: "Assalamualaikum dan salam 1Malaysia." This is nothing more than Orwellian propaganda.
Now, I could tolerate propaganda if this amorphous 1Malaysia idea were actually productive. It seems that Datuk Idris Jala has been working his butt off to make it so. But as The Malaysian Insider has reported, Idris's attempts to redress racial injustices have been rejected by the Cabinet and replaced with vague, token promises of sweet nothings.
Other reform efforts, such as the amendment or abolition of the ISA and our other anti-democratic laws seem to have fallen by the wayside. Despite the fanciful KPIs flying around, the government still cannot convince the public that our law enforcement agencies truly work to uphold justice. In the public's eyes, the MACC is as tainted and politically biased as ever. The constant foot-dragging in the prosecutions for the death of A. Kugan and the multi-billion ringgit Port Klang Free Zone disaster only suggest that Najib has no intention of meaningfully upholding the rule of law.
Under the Constitution, the same laws apply to all Malaysians: if one Malaysian has the right to peacefully protest, then all Malaysians must have that same right. Only a few days ago, the police stopped a major Pakatan rally in Kuala Lumpur because it was supposedly disturbing the peace.
When a bunch of rabble-rousers held rallies outside mosques across the country in January then—rallies where some people had the gall to call for further torching of churches—that wasn't disturbing the peace? Apparently not: Najib's regime protects your democratic rights only when it is convenient.
Now, Najib's government is going further: it is confiscating books simply because it doesn't like them. Cartoonist Zunar's 1FunnyMalaysia is gone—I suppose because the title makes fun of 1Malaysia. Amir Muhammad's Politicians Say the Darndest Things, which was perfectly acceptable for public consumption a year ago, is now gone from the shelves. Nat Tan and I edited a book on police brutality and custodial deaths, such as Teoh Beng Hock's;
this book, Where is Justice, is now gone too
.
Again, forget the rule of law; these books are not officially banned. (Indeed, in some stores, the sales clerk will sell them to you from behind the counter.) What Najib has simply done is intimidate booksellers into taking these books off the shelves, so you do not even realise they exist. Again, the Orwellian parallels are frightening.
What I liked about Pak Lah is that as bumbling as he was, he was an accidental democrat. Under his still-authoritarian regime, we at least saw the beginnings of some productive and open debate. Heck, he even tried to reform the Anti-Corruption Agency and overhaul some of our draconian laws like the ISA before he stepped down. If Mahathir was Bapa Pemodenan, then I daresay Pak Lah could be Bapa Demokrasi.
Najib is set only on protecting himself and the cronies of his regime, democracy and the rule of law be damned. 1Malaysia does not do away with any of the serious injustices in our country; this is not a government for all Malaysians. This is a government for Umno. There is a chance, of course, for Najib to change course, and make 1Malaysia for all; he could, if he wanted to, be remembered as Bapa Reformasi. But unless he takes action, I fear we may well remember him as Bapa Kezaliman.
No End Yet To Indira Custody Fight - By Clara Chooi.
Posted: 12 Mar 2010 07:56 AM PST
Kindergarten teacher, M Indira Gandhi, who celebrated a short-lived victory yesterday when she won custody of her toddler, will have to return to the courts soon, as her Muslim-convert husband has refused to give up the child.
K Pathmanathan, now known as Mohd Ridzuan Abdullah, told The Malaysian Insider this morning that he had already filed a notice of appeal to the court and an application for a stay of execution of yesterday's High Court order for him to return 23-month-old Prasana Diksa to the mother.
"The court has already fixed the date to hear the stay of execution application on March 25," he said.
In the meantime, Mohd Ridzuan said he had no intention to give up Prasana, adding that he did not care if "they come and kill me".
"At this point, I do not care about anyone. All I want is for my children to be with me. I am only concerned about them," he said.
The couple have two other daughters — Tevi Darsiny, 13, and Karan Dinish, 12.
He refused to reveal details current whereabouts of Prasana but claimed that she was in the safe hands of school authorities in Kelantan, where he resides.
Mohd Ridzuan also rebutted claims that he was jobless, saying that he presently owned a bakery and was on the verge of opening a textile factory of his own.
"Look at Indira. All she is relying on right now is the charity of others. She believes that, as a single mother, she can get the sympathy of others. As a kindergarten teacher, she only makes a few hundred ringgit a month. How much longer can she bank on the charity of others to take care of our children?" he said.
Mohd Ridzuan also hit out at the public for using the religious element of his case to side with Indira.
"I embraced Islam because of my personal beliefs. I converted my children because I am their father. They can choose when they come of age in the future, whether or not to follow or reject the religion," he said.
Mohd Ridzuan had converted his three children on March last year without the knowledge of his estranged wife, with whom he had been having marital problems with.
Angry, Indira had battled her husband in the courts by applying for full custody of the children and attempting to quash their conversion to Islam.
The bitter custody battle almost seemed over yesterday when High Court Justice Wan Afrah Wan Ibrahim decided in chambers that the civil courts had the jurisdiction to hear the matter since, being a non-Muslim, Indira could not stand before the Syariah Court.
Justice Wan Afrah had then ordered for Prasana, who has been separated from her mother and two siblings for almost a year now, to be returned to Indira immediately. The judge also said that any party holding custody of the toddler must abide by the order.
According to Mohd Ridzuan's lawyer, Faizal Che Yusof, however, the fight between the two disputing parents was far from over.
He said that the hearing for the stay of execution would come up very soon and he would serve the notice to Indira's lawyers shortly.
"In the meantime, I appeal to both parties to be patient. The legal process is far from over. We respect the decision of the High Court but we still have the Court of Appeal and the Federal Court to hear this matter," he said.
He added that the case had actually reached a deadlock at this point for there were two similar orders, granted by two parallel courts: the civil High Court and the Syariah High Court.
The Syariah High Court had, on April 8 last year, granted custody of the couple's three children to Mohd Ridzuan.
"Both orders are in conflict with one another so the question here now is which ruling should prevail. I maintain that Article 121(a) of the Constitution should take precedence here for it states that no civil court can hear matters pertaining to Islam. However, we respect also the order granted yesterday by the High Court so my proposal to all parties here is to take it easy. After all, both parties want to execute both orders and this scenario could likely become worse," he said.
Faizal also suggested that both husband and wife turn to mediation instead of an adversarial approach to settle their dispute.
"Perhaps, as parents, they can sit together to discuss what is the best outcome for the good of their children. After all, at the end of the day, there is no argument that these three children are products of both mother and father," he said.
Meanwhile, Indira told The Malaysian Insider that she had no intention to allow her husband to steal her little victory from yesterday.
She is giving him until next week to return her child.
"If he fails to do so, we will have to enforce the court order. His actions are in contempt of court. I will also lodge a report against him and get the police to conduct a search for my child," she said.
The 35-year-old called her husband an arrogant man and said that, despite what he had said in newspaper reports yesterday about how he still loved her, she had no intention of going back to him.
"I have spoken to my other two children and they feel that what we have is enough. If he loves me, he would not have done what he did," she said.
She explained that not only had Mohd Ridzuan converted her children without her knowledge, he had also run off with another woman, thus triggering the couple's marital problems.
"There were so many other things. Too many that I do not want to get into. All I want is my children," she said.
Indira added that Prasana was turning two on April 8 next month and she wished to celebrate her daughter's birthday.
"I missed her first birthday because of this battle. I will not miss the next," she said.
Lawyers for Indira told The Malaysian Insider that they had already written to the Religious Departments of Perak and Kelantan on the matter, informing them that Prasana should be returned to the mother.
"
We suspect that the department is holding custody of the child at this point
," said M. Kulasegaran.
Courtesy of The Malaysian Insider
Defense Minister to Personally Monitor Projects
Posted: 12 Mar 2010 06:30 AM PST
Defence Minister Datuk Seri Dr Ahmad Zahid Hamidi will personally monitor development projects carried out by his ministry to ensure they were completed as scheduled and were of quality.
Datuk Seri Dr Ahmad Zahid Hamidi
He said this will be done with him chairing the ministry's development meetings each month and going to see the progress of projects implemented for the Malaysia Armed Forces (MAF).
"I will personally monitor each project especially for completion on time and rate of progres each month
"If there is a delay, I will ask the technical division for the reasons, whether it is the weather, labour problems or technical problems," he said.
Ahmad Zahid was speaking to reporters after visiting the Various Classes Family Homes project at the Sri Kinabatangan Camp here today.
He said what he was doing was not to punish but assist to solve problems and in the interest of MAF personnel.

He said it was a priority for him to look after the welfare of the officers and men of all three branches of the MAF.
"I do not want my charges to feel pressured and unmotivated due to welfare problems especially relating to housing and other amenities whose completion date had been delayed.
On his visit to the camp, Ahmad Zahid said there was progress by the contractors and consultants to set a new date for the completion of the project.
He said he directed them to take drastic steps to speed up the project involving 258 housing units at a cost of RM73.9 million.
He said the project is expected to be ready this December and he will visit again in 90 days to ensure it was on schedule.
courtesy of Malaysian Digest
Posted: 12 Mar 2010 06:26 AM PST
THE integrity of the judiciary has been badly mauled by a legal lion who does not mince his words no matter how high or mighty a judge thinks he is.

In recent comments in news portals, former Court of Appeal judge N H Chan has called certain members of the judiciary 'incompetent' and even 'an idiotic bunch!'

Chief Justice Zaki Azmi and the judges at the Palace of Justice have remained mum, mute and mumble amongst themselves as Chan methodically makes them out for who they really are and the mockery they have made of the law!


The respected, renowned and retired judge is very frustrated, fed-up and furious at how the judiciary which he had served so faithfully has been reduced to a farce run by those he called legal and intellectual frauds or 'imposters.'

With each passing compromised judgment Chan unhesitatingly hits out at judges with an increasingly sharper sting.

He leaves no stone unturned, no errant judge uncovered. They can 'no longer mask their hyperbole judgments with unintelligible garbage.'

Fools on the bench

Chan said in his latest scathing critique that the rakyat is "stunned by the ignorance of our judges of the highest court in the land."

This, he claimed, was seen in the recent Federal Court's decision not to review Anwar Ibrahim's application to review its previous decision dismissing his application for disclosure of documents for his second sodomy trial.

Chan said the Federal Court's approach to Rule 137 of the Rules of the Federal Court 1995 was 'inconsistent' and 'dishonest' and 'those ignoramuses' were talking 'utter nonsense.'

Calling the three-member panel of Zulkefli Ahmad Makinuddin, Mohd Ghazali Mohd Yusoff and Heliliah Mohd Yusof 'incompetent', he added: "Perhaps, they are clowns as their statements are laughable".

His searing criticism was that they "do not know justice from injustice" and that "such lowly individuals should never be allowed to sit on the seat of Justice…(and) to be judges at all.

"And yet there are so many of them in the judiciary today ever since the rot begun."

"The common citizenry can now uncover the impostors hiding beneath the mantle of the judicature.

"They have put themselves beyond the pale. Just like pariahs. Don't you think they should be despised?" he asked.
On the rejection by High Court judge Mohamad Zabidin Mohd Diah of Anwar's application to have the judge recuse himself from further hearing the sodomy trial, Chan said that the judge was talking "utter nonsense" and "knew next to nothing about judicial bias".

He added that the "moral of this unsavoury episode" is: if you appoint mediocre lawyers to the Bench you will get substandard judges.

The solution to this problem, he said, is simple. "Appoint judges from the cream of the legal profession and you will not find me assailing the judges for incompetence simply because I will not be able to do so."

Spares no judges

Chan had not spared the judges in the cases related to the Perak constitutional crisis of his very strong language when scrutinising their decisions (with the exception of Kuala Lumpur High Court Justice Abdul Aziz Abdul Rahim whom he had praised).

During the Perak debacle Chan had said that there are "many of our judges today, especially among those judges in the higher echelon of the judicial hierarchy, who do not seem to know the true meaning of separation of powers in constitutional law.

He called some of the judges of the cases of the Perak imbroglio:

Bad judges – "They seem to think that independence means that they can do what they like"

Recalcitrant judges – "They think that words can mean whatever they want them to mean"

Humpty Dumpty judges – "They also think that they are independent of the legislature".

Chan said the Perak crisis showed that the judges gave the impression that they were one-sided. "The perception of the people is that they sided with the Barisan Nasional government."

Reputation of the judiciary

The public shares his view. In their eyes the judiciary has allowed itself to be intimidated, its independence and impartiality interfered with, and its integrity reduced to ignominy.

In the light of Chan's severe criticism of the judiciary (which is quite unprecedented by a retired judge), surely the Chief Justice cannot stand idly, silently and stoically by – unless Zaki strenuously, staunchly and solemnly agrees with him!

Further if Zaki continues to remain silent the public will assume that he shares Chan's searing criticism of the judiciary. Logically he would have to resign for he has allowed the reputation of the judiciary to be sullied irreparably.

The judicial shenanigans who Chan has criticized and castigated should also resign for having shamelessly sacrificed justice on the altar of political expediency.

Chan's comments on members of the judiciary have no doubt been bold, blunt and blistering. He has accused judges of being blind, biased and being a bunch of 'idiots' and 'fools.'. He has thrown the gauntlet down.

If the CJ disagrees with Chan's criticisms he should haul the former Court of Appeal judge into court and demand that the latter shows cause for why he should not be cited for contempt! Will Zaki take up the gauntlet or will he prefer to allow the judicial circus to go on?

Chan has made no bones about it. His blitzkrieg on the judiciary will continue.

"Bad guys" beware! He will ensure that their names remain in infamy for generations to come unless they recant the wrongs that they have done!

He commented: "At the present time and judging by what we have experienced so far from the Perak takeover cases, the quality of most of our judges is suspect".
The views expressed are that of the writer Martin Jalleh and do not reflect the stand of the Malaysian Mirror.
'Ong Tee Keat commands high respect'
Posted: 12 Mar 2010 06:22 AM PST
A divisional chief of Sabah MCA says he would continue to support Ong Tee Keat as president of the party because he commands high respect and regard, not only of the Chinese community but also other communities in the country.
"They have high respect for him, that's why I will continue to support him as I have done so since he successfully campaigned for the national Youth chairman post in August 1999," says Paul Kong Sing Chu, chairman of Penampang MCA division.
Kong, who is a Member of the Senate, adds that since MCA is a political party, it must be able to secure support from the rakyat, if not all its candidates would lose in the next general election.
"If we lose, what's the party for? We would not be in the government then and there would be no representatives in Parliament or state legislative assembly," said Kong when asked to comment on the current party crisis.
He is one of the 19 members of the MCA Central Committee (CC) who have not resigned from their positions.
The only other CC member from Sabah, Edward Khoo Keok Hai, is known to have resigned with the group led by former vice-president Liow Tiong Lai.
Khoo, an assistant minister in the Chief Minister's Department, has been MCA's state liaison committee chairman since 1999.
No reason to resign

Kong said those elected were given a three-year mandate on Oct. 18, 2008. "We are only 18 months into the term and we have another 21 months to go."
He said that's why he does not see the purpose of resigning from the post.
When asked if he would stand for election in the coming EGM on March 28 during which new party officials would be elected, he said he would seek re-election as a member of the CC.
As for his view on the struggle for top party post, Kong said firmly, "I will urge Ong to defend the president's post and call on all who did not resign to seek re-election."
He said his stand is very clear, that he would continue to support Ong as he has done since 1999. He elaborated on the reason for this support.
"Presently, since he took over the presidency in October 2008, Ong Tee Keat has embarked on rejuvenating and reforming the party.
"By doing so, some (within the party) are not happy. Now it is half way and he needs to complete the agenda for the party.
"With the impending 13th general elections expected to be called early, we need a leader like Ong who commands high respect and regard not only of the Chinese community but also other communities.
"For this reason, I will continue to support him."
Leaders with respect

Kong called on central delegates to exercise their wisdom to choose leaders who can command respect from all sectors of society.
He said the delegates should especially support leaders who did not resign and who had remained faithful to the positions they were previously elected to.
To confirm that he is happy and willing to openly declare his stand, he said he had made his views known also through the Chinese media, particularly in the Nanyang Siang Pau and the Asia Times in the past week.
Another Sabah leader who feels strongly about the need to reform the MCA and to regain public support for the party is Chau Tet On, chairman of Kota Kinabalu Division.
"I am all for it," Chau told the Malaysian Mirror in an interview today.
He said after the March 2008 general elections, the party needed to change to regain the support of the general public, particularly the Chinese community.
"This has to be done so that we can win in the next election.
"Whether we succeed or not is a different matter, for it depends on various factors. But there must be reform and a change of image (for the party)," he stressed.
Adding, "You can't stay idle and follow the old way. Behind my idea of reform is also the need for attitudinal change."
Chau says that this change of attitude should also be at the grassroots level. He said the way the rank and file members look at the party should also change.
Another area of change, he points out, is the attitude of leaders at the national level towards divisions in the various states. According to him, that too should change.
"I support reform. This is to gain Sabah's respect and support, the whole issue of having a political party."
Chau was among former leaders of Parti Bersatu Sabah (PBS) who joined the MCA in 1994.
He was appointed the secretary of MCA's State Liaison Committee and helped increase the number of MCA divisions from seven to 18.
In 1998 he was the first local leader to take over as chairman of the party's State Liaison Committee.
When asked which side it is on, Chau replied, "This is not my style." On such matters, he usually does not make his stand known publicly.
He is also keeping his options open in as far as whether he would stand for any post in the coming party elections.
"Wait and see, the developments," was all that he said.
All have weaknesses

He, however, believes that this coming EGM would be one of the solutions for the present crisis, "on condition that the result of the fresh elections will be respected by all factions and the rank and file of the party."
Chau says that all along these key leaders (meaning Ong Tee Keat, Dr Chua Soi Lek and Liow Tiong Lai) have made mistakes in one way or another.
"They have their weak and strong points and Ong has openly apologized for his mistake, for hastily taking the reform or moved too fast.
"This supports my point that they all made mistakes.
"The reform after the 3/08 defeat was to change the image of the party. That reform plan met with resistance," Chau observed.
Even Prime Minister Najib Abdul Razak wants MCA to solve its problem as soon as possible, "to strengthen the Barisan Nasional".
"I want a solution. It doesn't really matter whether through elections or an understanding, as long as the MCA emerges a credible force to represent principally the Chinese community and Malaysians as a whole," he is reported to have said earlier this week in the nation's capital.
There are now 25 MCA divisions in Sabah with 331 branches.
Sabah has a total of 147 central delegates with voting powers at the coming EGM, out of the nation-wide total of 2,378 delegates.
courtesy of Malaysian Mirror

Malay business group wants Najib to continue doling out help
Posted: 12 Mar 2010 06:18 AM PST
One of the country's biggest and most influential Malay business groups wants the government to continue providing contracts and opportunities for Malay businessmen under the soon to unveiled New Economic Model (NEM).
The Selangor Malay Chambers of Commerce (DPMMS), which has the biggest number of Malay entrepreneurs in Malaysia, says continued government assistance was necessary for Malays to achieve more than 30 per cent equity in the country's economy.
DPMMS chairman Tan Sri Rozali Ismail said that while Malay businesses continued to need help, they were more than ready to compete in a more liberalised economy.
"Our understanding of the 1 Malaysia concept is that everyone must be given equal opportunity regardless of race.
"With this in mind, Malays must continue to be helped by the Government to compete against other communities.
"But we must give to Malay and entrepreneurs who can genuinely perform and not to Ali Baba businessmen who would sell off the contracts they get."
Rozali says it was this group of capable businessmen who would be able to gain more than 30 per cent equity in the economy on behalf of the Malay community.
"Liberalisation is not a problem. Malays can compete against anyone in any sector. But they need help," Rozali told reporters at a DPMMS event here to welcome new members.
Continued help and preferential treatment for Malay businesses has been a clarion call for Malay rights groups who recently demanded that the Datuk Seri Najib Abdul Razak (picture) administration extend such policies in the NEM.
Groups such as Perkasa have criticised the government for liberalising certain segments of the services sector which it did last year by abolishing Malay quotas. The groups claimed such moves would hamper Malay participation in those sectors.
Fearing that the NEM, which is to be announced by the end of this month, would further erase Malay quotas in other sectors, Perkasa is pressuring the Najib administration to protect Malay business interests in the new model.
The NEM is part of Najib's efforts to steer the country out of the middle-income trap.
DPMMS's Rozali was confident that the Government would continue to help Malay businesses through funding for small and medium enterprises and training for youths to enter business.
"We also hope that the Government focuses of infrastructure development to spur the construction and housing sectors," he said.
courtesy of Malaysian Insider

Police warn public against taking part in illegal rally
Posted: 12 Mar 2010 06:15 AM PST
Kuala Lumpur Police Chief Datuk Wira Muhammad Sabtu Othman today advised the public against taking part in any illegal rally when the Parliament session starts on Monday.
"I have received information that pamphlets were being distributed including through the Internet. So, I want such activities to stop," he told reporters here today.
"We have the freedom of speech but use it wisely and not in the wrong perspective...stop any activities that can disrupt public order."
Such gatherings would not only disrupt traffic flow but also pose a threat to national security, he said.
Police would not hesitate to take action against anyone who breached the law, he said.
The coordinator of the gathering, Dr Hatta Ramli was reported to have said that about 2,000 people would join the rally, including Pakatan Rakyat Members of Parliament, Human Rights organizations and opposition parties who opposed the Goods and Services Tax (GST) proposed by the government. — Bernama
Ibrahim Ali laughs off link to Vincent Tan
Posted: 12 Mar 2010 06:09 AM PST
Perkasa chief Ibrahim Ali today laughed off allegations questioning his integrity as a Malay activist because of his links with Chinese tycoon Vincent Tan.

The allegations surfaced on the internet four days after he hit out at Chinese corporate figures, including Tan, whom he called 'taukes' and that have "dominated" the economy and thus causing "political instability" and "social chaos".

Internet political pundits however are trying to call Ibrahim's bluff, by pointing out his links to one of Dunham-Bush Malaysia, a company once owned by Tan.


On a posting by fugitive blogger Raja Petra Kamaruddin on his website Malaysia-Today, a copy of the company's 2003 annual report was posted showing Ibrahim as one of its directors.

In a text message reply to questions posed by Malaysiakini, Ibrahim said there is nothing wrong in his business dealings with Tan because it does not dilute the fact that big Chinese businesses dominated the economy.

"There are other shareholders in Dunham Bush. It is an air conditioner company. So what? I was talking about macro economy and issues in a bigger picture. Even if I did business with lots of Chinese friends and have a Chinese partner. So what?"

"Is it wrong if I say Vincent Tan got a lot of benefits from government even if I'm his Group CEO. Ha ha," read his text message.


"I just want to prove, a lot of big company belonging to these groups who got monopoly business, subsidies and the rest. So don't say get rid with little brothers (protection for the Malays) and go ahead with brutal competition as said by Francis Yeoh."

Durham-Bush Malaysia is the Malaysian subset of Durham-Bush, a refrigeration specialist which deals in air-conditioners, industrial cooling units and environmentally sustainable technologies.

However, the company has since been sold to Dutch company Agromash Holdings B.V. in 2006.



courtesy of Malaysiakini



Posted: 12 Mar 2010 05:35 AM PST
Recently in Facebook I commented on a friend's posting about Ibrahim Ali stating he wasn't a racist – see Malaysiakini's

Ibrahim Ali: I'm not racist!



I was probably the only one who said that I believe him, but that would then make him a hypocrite to his Perkasa followers and supporters, and an opportunistic exploiter of politics to get him where he wanted to go, back into UMNO.

Remember Ibrahim Ali was the one who warned the Malays that the Chinese would take over running the country after the next election – see The Malaysian Insider's
Chinese will take over in the next election, warns Perkasa
.
Of course Ibrahim Ali's assertion on the surface appeared stupidly moronic but Ibrahim is not stupid – he was merely playing to the heartland's right wing gallery, scare-mongering to arouse their inherent prejudice and ire and of course win their support.
Alas, no matter how outrageous and preposterous his allegations against the Chinese might have been, there would always be a willing captive audience.

Whether Ibrahim Ali is acting on his own as Malaysia's Pauline Hanson wakakaka or on behalf of someone is the question many are wondering.

But Today Malaysiakini proved me correct by publishing
Ibrahim Ali laughs off link to Vincent Tan
where it reported our dear famous RPK revealing Ibrahim Ali sitting on the board of director in Dunham-Bush Malaysia, a company once owned by Tan.

As I said, Ibrahim Ali is just an opportunistic hypocrite, especially to his own followers and supporters.

Incidentally I blogged on this sort of politicians' behaviour before, on 23 September 2009, in
Malaysian prejudice
where I said:


You know, talking about pollies (that's 'politicians') I had written on what one of my uncles told me about a then-young Najib.

Once Unc overheard Najib making some sort of off-handed apology to his non-UMNO BN colleagues about the unavoidable necessity of him as Head of UMNO Youth using harsh and aggressive (meaning 'racist') remarks, particularly at a time when the Youth Wing was having its wing elections.

It reminded me of an old Chinese kungfu movie, where the forces of two warlords were engaged in a violent battle. While the warriors were fighting each other in mortal combat to the death, the two ar$eh*le$ warlords were partying together, dining, yamseng-ing, joking, laughing, and womanizing in a private cozy retreat.

Yes, they weren't unlike pollies.

Don't think for a moment that Najib and Anwar Ibrahim won't do what the two movie warlords did (okay, perhaps minus the yamseng-ing and womanizing) because that's politics, the art of the possible.

And believe it or not, that actually has happened, yes, Najib and Anwar had met, well at least the meeting minus the joviality, frolicking and feasting - wakakaka.


Pollies would not hesitate to bersandiwara (indulge in theatrics) if such sandiwara, even making racist comments, allows them to achieve their political objective.

Of course it's bloody unethical (and I don't condone it) but apart from not being able to do anything, I console myself that it's a political sandiwara, though of course should that get out of hand, alas, Malaysian blood would tragically flow.

But what worries me far far far more than pollies making (politically motivated) bigoted comments, would be a well-educated man, who supposedly isn't about to become a pollie, but who makes uninformed, unfair and unhelpful remarks about one ethnic group, probably right straight from his prejudiced heart – see my earlier post
Bakri Musa confused about Confucianism
.

Well, that's Ibrahim Ali, a man who once told all and sundry that
Old men still wanna have fun
and that "… there would be fewer marital problems and a lower divorce rate if Muslim women were taught to accept polygamy."
I had blogged on his 'preferences' in

Ibrahim Ali said 50-year old women no longer fun

– I just wonder whether he likes sub-50 Chinese women wakakaka!
MCA polls: No contest formula on table?
Posted: 12 Mar 2010 03:10 AM PST
Could potential candidates for the MCA fresh polls work out some sort of no-contest formula before the party nominations on March 22?
With 16 days to go before the delegates cast their votes, there is already talk that such option has been put on the table for the various factions in the party to try to work out an alliance which may eventullay lead to a situation where most of the key posts in the party are decided without the need for a contest.

With the party split three ways and no clear indication that any group can boast of majority support among the 2,380 central delegates, such proposal is among the options being bandied around to their respective leaders and supporters as they continue to explore their options.

In fact, one of the formulae or options forwarded by deputy president Datuk Seri Dr Chua Soi Lek's group is for all the positions to remain uncontested and the status quo maintained, except for the presidency where they have suggested that president Datuk Seri Ong Tee Keat make way and in return, be allowed to keep his minister's post at least until the next general election.

They also suggested that vice-president Datuk Seri Liow Tiong Lai take up the number two post while former secretary-general Datuk Seri Ong Ka Chuan be returned as secretary-general and all the leaders with cabinet positions also be retained.

Under this proposed deal, Liow is expected to take over in the next party polls, expected to be in October, 2011.

"One of the options is to ask Ong Tee Keat to make way, but all the others remained as status quo, based on the results of the last party election. The only thing is that we need to talk about who should be fielded for president," a source close to Chua said.

"Why not? It has happened before. Last time, we had nominations without contest. If they can reach consensus, why not? But this time around, I believe it would be a bit tough," added the source.

The MCA underwent party elections without contest for all party top posts in its parent body and Central Committee (CC) in 2002 under formula brokered by then prime minister Tun Dr Mahathir Mohamad to end the infamous "Team A-Team B" fight following the decision by the party to take over Nanyang Press Holdings Berhad.

Easier said than done

However, not all the leaders are agreeable to this formula and there is talk that Tee Keat's faction is also putting out a formula where most of the key positions are to remain uncontested and he be given the oppurtunity to lead the party at least until the party elections in October next year.

Former MCA secretary-general Datuk Seri Ong Ka Chuan also said that he was trying to suppress the "intensity" of the elections and minimise the damage that it can do to the party through certain formula but refused to reveal any except to say that "we need wisdom and patience to realise the formula"

However, MCA veteran Datuk Yap Pian Hon said a negotiated formula was very much easier said than done.

"Every delegate has the right to put in his nomination and contest the position he wants. How can we stop them from contesting. The only way that such things can happen is if everybody is really willing to give way," he said.

Yap said that during the Team A-Team B fight, such consensus could be worked out because the CC members had not resigned and both the then president, Tan Sri Ong Ka Ting, and his deputy, Tan Sri Chan Kong Choy, had total control of the CC.

"Now it is a different scenario. Even if they can reach an agreement on the party presidency, who would be the deputy president as many people want to contest the position," he added.

Yap said he had heard of such option being offered but he still felt it would not be easy as now everyone was fighting for position and some delegates were wary of interference from outside parties.

Solving the crisis

Sources from all the three factions contacted confirmed that several options, including the possibility of no-contest, were being put on the table but said it would not be easy to achieve as most of the leaders did not trust each other.

But Prime Minister and Barisan Nasional chairman Datuk Seri Najib Tun Razak wants a solution as soon as possible, whether through elections or an understanding, as long as the MCA emerges as a credible force to represent principally the Chinese community and Malaysians as a whole.

Whether it is through fresh polls or negotiated settlement, the party leaders should perhaps note the point raised by Tan Siok Choo, the granddaugther of MCA founding father Tun Tan Cheng Lock.

She said the past 17 months had already seen three tests for the top leadership - the first was the October 2008 party elections, second, the extraordinary general meeting (EGM) on Oct 10 last year and third, the March 28 party elections with nominations on March 22.

"While many analysts and top Umno leaders have lauded the resignations as a "good move" and the first step towards ending the crisis in the MCA, their comments overlook one salient fact - elections don't resolve crisis, people do.

"If two trials of strength have failed to settle the simmering differences among top party leaders, why would a third bout end the internecine infighting within the MCA, particularly if campaigning becomes cut throat and if there are three factions involved?," she wrote in a commentary published recently in a local daily.

- Bernama
AP for state reps: Miti sec-gen explains
Posted: 12 Mar 2010 02:32 AM PST
Explaining about recent government decision to grant Approved Permits (AP) to assemblypersons, Ministry of International Trade and Industry secretary-general Abdul Rahman Mamat denies widespread AP abuse by mps and vows action against any misuse. More in Malaysiakini.com

Time:

06:02

More in

News & Politics
Posted: 11 Mar 2010 08:01 PM PST
Former Commercial Crime Investigation Department (CCID) director Ramli Yusuff has been acquitted by the Kuala Lumpur Sessions Court of three counts of failing to declare his assets. malaysiakini.com

Time:

02:40

More in

News & Politics
Tengku Razaleigh Hamzah Why UMNO THE political party lost the plot A federation in name only
Posted: 12 Mar 2010 02:47 AM PST
Tengku Razaleigh Hamzah Why UMNO THE political party lost the plot A federation in name only
MJ Akbar,
Defeat is the distance between a bedtime story and a wake-up call. The former starts with 'Once upon a time…' and lulls the voter to sleep. The second is an energiser that addresses a fresh dawn.
Three political parties have become victims of their own success: their narrative has run its course, and they have not been able to find a further chapter to their saga.
The BJP story is the simplest: the fairies have abandoned its fairy tale. It began as the party of refugees from Pakistan. The robust economic and social resettlement of the dispossessed, evident by the 70s, paradoxically, liberated them from the party which helped them. After the high-drama blip of the Emergency and Janata Party phase, the BJP reinvented itself as a champion of a psychological rather than an economic need.
The temple movement brought great rewards, culminating, albeit through a parabola enhanced by the charisma of Atal Bihari Vajpayee, in six years of power at the Centre. But within this time, the Indian mood turned. Economic aspirations took primacy over psychological needs, particularly since the temple movement was made irrelevant by the destruction of the mosque at Ayodhya. A functioning temple has come up on the site, a fact that seems to escape the attention of those writing the BJP manifesto, which keeps promising to build a temple.
Every political party has colluded in this change; even though self-proclaimed secular parties encourage Muslims to indulge in the self-delusion that a dispute exists. In truth, all that the BJP can offer is to build a bigger temple, which does not quite have the same emotive force as 'Mandir yahin banayenge!' The BJP's cousins, the Senas of Maharashtra, have regional chauvinism to fall back upon. If the BJP wants to
reclaim national space, it will have to establish another horizon.
When socialism became passe, Mulayam Singh Yadav resurrected himself brilliantly as the anti-thesis of the BJP, blending it with a distinctive element of Lohia socialism, empowerment of the backward castes. However, when the thesis is faltering, the anti-thesis cannot be robust. That is the Samajwadi Party's problem vis-a-vis the Muslim vote. As for the Backwards: Mandal has been milked dry. Mandal has delivered for those whose prayers were answered in 1990. A new generation of Backwards needs solutions for the 21st century.
The last time the Left had anything original to say was more than three decades ago; and it had remarkable staying power in Bengal. But Bengali Muslims, critical to any democratic algebra, are now tired of the Left's soft secularism, a formula in which their lives were secure from communal violence but their livelihood was left to the wolves. The subalterns of Bengal, across the religious divide, have adopted an interesting strategy: they have become, to a great extent, a non-partisan opposition. Mamata Banerjee's Trinamool Congress is merely expanding its elasticity to contain voter anger to the extent it can.
There are no internal structures, nor is there any serious thinking being done by Mamata on how to fashion an alternative delivery system when she assumes power in the state. It is now a question of when the Left will be driven out, not whether. But in the current turmoil also lies an opportunity for 2016, if there is anyone left with the imagination to think ahead.
Mayawati survives in Uttar Pradesh, despite setbacks, because she is still waking up her support base. The Dalit deliverance is far from over; and her cross-ethnic alliances are still in infancy. Mayawati was out of her depth at the national level because she could not promise stability. In regional waters, she is still an Olympian. Her personality may be her biggest obstacle, but her agenda is intact.
The key to Mulayam Singh Yadav's future will lie in his ability to unlock the next dimension of Muslim demands, and spearhead it. There is a transparent anger, leavened by confusion, among Muslims which is provoking a drift to the most familiar port, the Congress. But the Congress has nothing new to offer.
What the Muslims of UP are looking for, but have been unable to articulate, is a defined political space within which they can find food-and-faith security. Given the passions that such a demand could arouse, this quest might surface obliquely rather than directly. On the table is Ajit Singh's dream of a Harit Desh in western UP. Such a state will have a substantive Muslim population, as well as a string of important Muslim educational institutions, from Aligarh to Deoband. It will become a natural socio-economic magnet for Muslims of the north. The idea is still in an embryonic stage. Whoever articulates it, will have rung a wake-up call.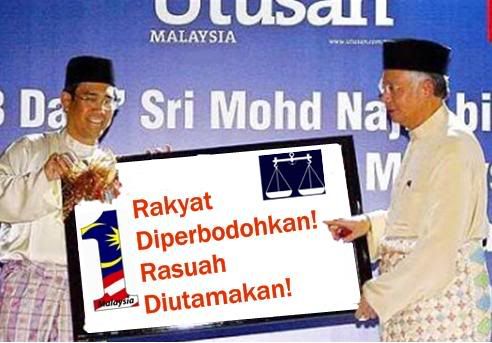 Malaysia was formed in 1963, when the eleven states of the previous Malayan Federation came together with Sabah, Sarawak and Singapore to create the Federation of Malaysia.
Federalism is a system of government in which legislative power is divided between a central or federal legislature and a number of state legislatures. Both levels of government derive their authority from a written Constitution.
Unlike in a unitary state, sovereignty in a federal state is decentralized. Thus the rights of citizens are secured at two levels, federal and state. In Malaysia, Federation was a way to accommodate the different histories and pre-existing sovereignty of the member states of the Federation.
Federalism is a way of dividing and sharing power. In the system envisaged in our Constitution, this division and sharing of power is part of a system of checks and balances meant to protect the rights and freedoms of our citizens. The separation of powers between the judiciary, the legislature and the executive are part of that complex interlocking system.
People often remark at how complex this country is, made up as we are of a patchwork of ethnicities and religions. But we are also complex in our political history. The nine sultanates of peninsular Malaysia, did not suddenly acquire their sovereignty upon the Federation Agreement of 1948. Instead it is by their voluntary coming together in that agreement that the federal authority was created. Federal sovereignty and authority, although wider than that of the member states, is derived from the prior sovereignty of the states. In the nine sultanates of the peninsula, for example, we had sovereign states before we had a federation, and before the various forms of colonial rule. The Federation derives it powers by the voluntary and binding agreement of the states, not the other way around. This conviction was well tested in the way the Malayan Union proposal was rejected.
Thus we had an auspicious start as a country, because our political arrangement guaranteed our rights within a system that reflected and protected our cultural and historical diversity. Federalism provides for the right measure of local autonomy. Decision-making, particularly about the allocation of resources, could be made in a way that more closely reflected the interests of people on the ground, that is to say, more efficiently.
This system did was not born overnight. The sovereignty of our member states is hundreds of years old. Our Constitution was established on an 800 year old tradition of constitutional law. These are solid foundations for constitutional democracy. If Malaya were not already a Federation, Sabah and Sarawak would not have come together with us to form Malaysia in 1963. Federation is the only political basis on which Malaysia is a viable political venture.
In present company these facts must seem so well-established that I hope you will forgive me if I come across as stating the obvious. Today we find ourselves in the position of having to state and re-state foundational truths about our country.
As a country we have come unmoored from our foundations in constitutionalism and federalism. We are now, for most intents and purposes, a federation in name only. The central government hands out allocations that belong by right to the states as if these were gifts from on high. State governments are starved of resources, particularly if they are governed by the Opposition. How has this happened?
We have undergone two and a half decades in which, while hard infrastructure has sprung up everywhere, the deep infrastructure of the constitution has suffered great damage. Our federal arrangements provide for a fine balance between state and federal powers which provide multiple levels of assurance for the rights of citizens. That balance has been removed as power has been concentrated in the federal government. Within the federal government that power has come to be centralized in the executive. In the executive, that power is concentrated in the hands of the Prime Minister
This forum addresses the question "should states be given more power?" , but really what needs to be done is to restore the constitutional rights of the states first.
The constitutional rights of the states are clearly violated in the way petroleum profits are being distributed and managed.
The federal government says Kelantan and Terengganu have no right to the "cash payments" agreed between the states and Petronas. These denials have been published in the newspapers and are repeated by official representatives of the government. The full implications of their denial are not trivial. The Federal government's authority over these resources, as in all other things, is an authority derived from the original sovereignty of the states. By the Federation Agreement of 1948, the states of the Malayan peninsula came voluntarily into a federation and created a common federal government. As part of that agreement, the Federal government had jurisdiction over waters beyond 3 nautical miles. The states had jurisdiction within 3 nautical miles. Oil had not been discovered in Malaya at the time. Had it been found, however, anything within 3 nautical miles would have belonged in its entirety to the state, and anything beyond that to the federal government. In 1974, we formed Petronas as a common trust between the federal and state governments for all petroleum found anywhere in Malaysia, onshore or offshore. We did this by persuading the states governments, one by one, to vest their entire rights and claims to petroleum, onshore or offshore, in perpetuity to Petronas. The federal government did the same. By design, this obliterated any considerations of whether the oil was found within or beyond 3 or 12 nautical miles. So long as Malaysia had any share in the oil, the profits would be divided between the federal government and the relevant state government according to a simple formula: five percent to each.
That series of vestings was secured through deeds signed according to the Petroleum Development Act. As the founding chairman of Petronas I signed these deeds with each chief minister and with the federal government.
The federal government's refusal to pay Kelantan, and it's arbitrary treatment of Terengganu's oil money – on and off according to whether the state was in Opposition hands—is in violation of a solemn contract, sealed in an Act of Parliament, between the State governments and Petronas. The federal government is reneging on a contract and in contempt of Parliament. Its attitude to these oil payments is transparently based on one criterion: those states whose legislatures are not controlled by Barisan Nasional are denied payment. This practice punishes citizens for their choice of state government. This is an attack on the right of the people to choose their own government within our system of parliamentary democracy. Oil payments are just one form of selective denial of funds to the states.
Putrajaya behaves as if we are a unitary state and not a federation. Ironically we have become in practice the Malayan Union which an earlier generation resisted and defeated. The autonomy of the states, their rights to development and to the husbandry of their own resources, and the proper role of the rulers and the way in which religion is governed in public life are displaced in favour of increasingly centralized and absolute power. This is unconstitutional and must be resisted with just as much vigour as we resisted the Malayan Union. Malaysia is not viable in the long run as a unitary state.
*Remarks made at
CONVERSATIONS ON THE CONSTITUTION:
"Federal–State Relations: Should states be given more power?"
sponsored by the Constitutional Law Committee, Bar Council of Malaysia.