---
India: Close the gap for Burmese refugees
Posted: 11 Dec 2009 04:22 AM PST
Like Burma's other neighbors, India hosts a large and growing refugee population, the majority of whom are Chin ethnic minorities. India generally tolerates the presence of Burmese refugees, but does not afford them any legal protection, leaving them vulnerable to harassment, discrimination, and deportation.
Aliran Monthly 29: 9 editor's note
Posted: 11 Dec 2009 04:47 AM PST
This special issue features our recent 32nd anniversary fund (and fun!)-raising dinner in Penang attended by close to 700 people. Enjoy the photos by Amiruddin Ahmad in the centre pages, featuring highlights of this celebration of the struggle for justice including the performances by Pete Teo and the Aliran Singers.

Our cover story features P Ramakrishnan's address at the dinner, urging Malaysians to take a stand on the side of truth and justice at all times so that we can have the future we want. There is no room for neutrality.
Review Perak ground-water extraction project
Posted: 13 Dec 2009 07:43 PM PST
Human rights for migrant domestic workers
Posted: 11 Dec 2009 04:11 AM PST
KUALA LUMPUR, 10 Dec 2009: As the world marks International Human Rights Day today, CARAM Asia launches an online petition campaign seeking crucial support and commitment from every employer of households to grant a weekly paid day off to their migrant domestic worker (MDW). From today onwards, the online campaign will be featured for 30 days on the major media online sites based in Malaysia, Singapore, Thailand, Hong Kong, and the Middle East:
MTUC should be fighting for all workers
Posted: 12 Dec 2009 12:02 AM PST
Anwar challenged BTN to release videos of other Umno leaders in the civics course BTN methods of cowards,"like killing pregnantAltantuya
Posted: 14 Dec 2009 11:03 AM PST
you are going to jail buddy
The opposition leaderDatuk Seri Anwar Ibrahim reiterate his populist economic philosophy that national wealth must be shared among the rakyat. "Malaysia is not mono-cultural"; as such, its economic growth and wealth must be understood and underscored by a wider meaning than is currently in practice.
"Wealth cannot revolve around the few, it should become the motivator to liberate society from oppression and tyranny. This is what we emphasise to be a human economy.
"An economy built on human principles of man as a moral being and not merely homo economicus who only prioritises one's self," he said in his Aidilfitri message today.
Drawing parallels to the story in the Quran which related how Prophet Muhammad engineered the opening of Mecca to Muslims through the Treaty of Hudaibiyyah, he pointed out that change did not happen overnight.
Anwar bid the rakyat to be patient for Pakatan Rakyat's manifesto for change to be realised.
"The success that was achieved certainly did not happen in the blink of an eye. Two years before the Opening of Mecca, a treaty known as Hudaibiyyah was sealed between Rasulullah S.A.W. and the Quraisy clan.
"None doubted the treatise. Yet clearly there were advantages behind the readiness and patience of Rasulullah S.A.W. in accepting the contract…As soon as the Treaty of Hudaibiyyah was sealed, Allah issued a commandment:
'Truly, for your struggle (O Muhammad) We have opened a path to victory that is clearly to be seen,'" Anwar highlighted.
"The change that we desire to implement is based on solid blocks of stones, a distant cry from the empty rhetoric based on hate and dispute," he said.
He added: "We must ensure that this country is not swallowed up by the fires of partisanship and sunk with reckless dogmatism. Remember 'who sows the wind will reap a hurricane'."
Datuk Seri Anwar Ibrahim stood by his views contained in a leaked video of the National Civics Bureau (BTN) which was made available in Umno-owned blogs, saying its courses have gotten worse now.
A video dated in the early 1990s, shows Anwar defending Malays' special privileges and saying these rights should not be questioned by non-Malays.
"In the historical context during our agreement in 1957, we gave citizenship to the immigrants (pendatang). Since we have given them (immigrants) citizenship, the question of the Malay's special privileges should not arise," he said in a video-taped BTN session.
The opposition leader and former deputy prime minister says he has nothing to hide and blames BTN for leaking the videos.
"I don't have any problems with that because I know (of it).
"I would anticipate that BTN in its crooked ways will not dare release all the videos of all the speeches. So what they would do is selective and will quote out of context and release," he told reporters in the Parliament lobby today.
"I will defend my position. That was the position then as I know as Umno vice-president or deputy-president, it has gotten worse since 98, this selective release is actually by BTN because they don't have the courage to deal and face (it) head on. So they leaked to Umno bloggers," he added.
Anwar also challenged BTN to release videos of other Umno leaders in the civics course.
"If they have the courage, they should release all of the speeches. I want to hear the speeches of all the leaders including mine. They would not do this because this is typical BTN methods of cowards," he added.
BTN has come under public scrutiny recently after Pakatan Rakyat-ruled Selangor prohibited state civil servants and students in state-owned institutions of higher education from attending its courses, claiming that they were indoctrination camps by the Barisan Nasional government — aimed at brainwashing Malaysians to hate opposition parties.
PR leaders and former participants have also claimed that the courses were racist and emphasised the idea of Malay supremacy.
KUALA LUMPUR, Dec 14 — Datuk Seri Anwar Ibrahim stood by his views contained in a leaked video of the National Civics Bureau (BTN) which was made available in Umno-owned blogs, saying its courses have gotten worse now.
A video dated in the early 1990s, shows Anwar (picture)defending Malays' special privileges and saying these rights should not be questioned by non-Malays.
"In the historical context during our agreement in 1957, we gave citizenship to the immigrants (pendatang). Since we have given them (immigrants) citizenship, the question of the Malay's special privileges should not arise," he said in a video-taped BTN session.
The opposition leader and former deputy prime minister says he has nothing to hide and blames BTN for leaking the videos.
"I don't have any problems with that because I know (of it).
"I would anticipate that BTN in its crooked ways will not dare release all the videos of all the speeches. So what they would do is selective and will quote out of context and release," he told reporters in the Parliament lobby today.
"I will defend my position. That was the position then as I know as Umno vice-president or deputy-president, it has gotten worse since 98, this selective release is actually by BTN because they don't have the courage to deal and face (it) head on. So they leaked to Umno bloggers," he added.
Anwar also challenged BTN to release videos of other Umno leaders in the civics course.
"If they have the courage, they should release all of the speeches. I want to hear the speeches of all the leaders including mine. They would not do this because this is typical BTN methods of cowards," he added.
BTN has come under public scrutiny recently after Pakatan Rakyat-ruled Selangor prohibited state civil servants and students in state-owned institutions of higher education from attending its courses, claiming that they were indoctrination camps by the Barisan Nasional government — aimed at brainwashing Malaysians to hate opposition parties.
PR leaders and former participants have also claimed that the courses were racist and emphasised the idea of Malay supremacy.
The point I'm trying to make here is that the present system of politics practiced by ALL members of BN, ie., UMNO, MCA, MIC, Gerakan, and others does not allow smart, fair, and capable politicians to rise to the top. Only those who are connected and have access to finances plundered from ordinary Malaysians somehow rise to positions of importance in present day Malaysia.
Anyway you look at it, the system is fucked!
I believe this is symptomatic of a bigger problem at large which allows incompetent politicians to rise to the top of the political hierarchy of our ruling elites. Either you can shout racist slogans well or you can bodek yourself close to the thieves and your career path is mapped out for you, never mind that you are an idiot!
(Image from bernardcometh.blogspot.com)
Is it any wonder if we have incompetent idiots within our ruling elites of the cabinet?
Is it any wonder if we have incompetent idiots within our ruling elites of the cabinet?
I'm referring to the presentation of KPIs to PM Najib today by the various ministries in his cabinet at the Sunway Pyramid Centre in PJ today.
The Malaysian Insider reports "10 ministers miss deadline, KPI one month late".
I do not know how many of the 25 ministries were required to submit their KPI's today but 10 of them missed the deadline!
Now imagine that if you are in the private sector and 10 of your 25 departments failed to meet your deadline? It would mean that your organization is in serious trouble because close to half your department heads failed to carry out the task you assigned them.
It would mean that either you as the boss set too ridiculous a time frame for the task to be completed, or that your department heads do not take seriously your instructions or worse still are too incompetent to do what was tasked!
Is it any wonder that our country is in trouble when 10 of 25 ministries failed to meet a simple deadline or a CEO who is out of touch with reality?
The more important question is what PM Najib would do about it? Does Najib understand that the "company" belongs to the shareholders and the shareholders are getting restless because of the declining stock value?
The shareholders are tired of the company being run by idiots! Simply put, sack or be SACKED!
POSTED BY THE TAXIDRIVER786 AT
Posted: 14 Dec 2009 09:03 AM PST
Last week, Malaysiakini went on a mission to track down the elusive Deepak, who is described as a dashing lad and said to be close to Rosmah. During a visit to his office in Jalan Chan Sow Lin 6 in Sungai Besi, an employee who identified herself as 'Miss Wong' said that her boss was not in and told the journalist to leave. The latter was then escorted out of the building. Following this, Malaysiakini went to Deepak's carpet shop along Jalan Tuanku Abdul Rahman and managed to meet the ...

Time:

04:50

More in

News & Politics
those to make an appearance.are great sinner's to islam Mahathir? holy ghost ulterior motifsnub Umno-flavored international Islamic conference
Posted: 14 Dec 2009 09:36 AM PST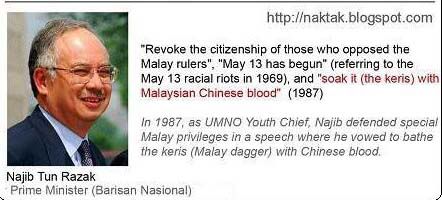 (Bernama) – Umno is truly an Islamic party, Prime Minister Datuk Seri Mohd Najib Tun Razak said, although it does not use the "Islamic label" in championing the cause of Islam and the country.
Mahathir and his political successors have what can only be described as the Reverse Midas Touch. Everything precious that they touch instantly turns to shit.
read this to understad the real sinner
Part1 The treachery of the invertebrate Tun Dr Mahathir: An Islamic administration must respect laws what about your administration for 22years?
As a student I knew of the horrors of the Holocaust and other human tragedies, but merely as a distant thunder: The violation of human rights and crimes against humanity were only an abstract notion.
That was all fated to change with my arrest under the draconian Internal Security Act (ISA) of Malaysia, which allows for indefinite detention without trial. My crime? I had known Anwar Ibrahim, the deputy prime minister and finance minister of Malaysia, as a close personal friend for many years. We shared and strove for a vision of life firmly rooted in human dignity. We struggled for building an intellectual and political milieu for free expression. Together, we subscribed to the idea of economic prosperity, gender and racial equality and a civil society.
Alas, the Malaysian dictator, Mahathir, under the growing burden of corruption and cronyism, conspired to halt the march of freedom. In order to build his fraudulent case against Anwar, Mahathir himself ordered my arrest.READ MORE A VULTURE, NAMED MAHATHIR WHAT KIND OF MUSLIM YOU ARE TO DO THIS TO YOUR MUSLIM BROTHER
A VULTURE, NAMED MAHATHIRAs a student I knew of the horrors of the Holocaust and other human tragedies, but merely as a distant thunder: The violation of human rights and crimes against humanity were only an abstract notion.That was all fated to change with my arrest under the draconian Internal Security Act (ISA) of Malaysia, which allows for indefinite detention without trial. My crime? I had known Anwar Ibrahim, the deputy prime minister and finance minister of Malaysia, as a close personal friend for many years. We shared and strove for a vision of life firmly rooted in human dignity. We struggled for building an intellectual and political milieu for free expression. Together, we subscribed to the idea of economic prosperity, gender and racial equality and a civil society.Alas, the Malaysian dictator, Mahathir, under the growing burden of corruption and cronyism, conspired to halt the march of freedom. In order to build his fraudulent case against Anwar, Mahathir himself ordered my arrest.My kidnapping and detention by the infamous Malaysian Special Branch taught me how it feels to be forcibly separated from one's wife and children. How it feels to be searched and seized, disallowed to make phone calls, handcuffed, blindfolded, stripped naked, driven in an animal cage, shaven bald, endlessly interrogated, humiliated, drugged, deprived of sleep, physically abused. What it's like to be threatened, blackmailed, tormented by police lawyers, brutalized to make a totally false confession, hospitalized for a consequent heart ailment, and treated as a psychiatric patient with symptoms of Stockholm syndrome.Barely surviving on a meager diet of rancid rice and chicken along with 12 medicines a day, I spent nearly four months handcuffed around the clock to my hospital bed, under the watchful eyes of the prison guards.Thereafter, my ability to speak, read and write took a considerable time to show signs of recovery. Short-term memory lapses were frequent. I existed in a fluid state in which suicidal tendencies, depression and despair were punctuated by fits of rage and indignation.Weekly visits of less than an hour by my wife, Nadia, with our young children — Aisha and Omran — were my only contact with the outside world and the only inspiration to live on.In collusion with the lawyer appointed on my behalf by the police, the Malaysian authorities refused the legal assistance of my choice, coercing me not to mount an appeal against the court verdict and threatening me with greater punishment under new charges if I didn't co-operate.Simultaneously, Nadia constantly endured police harassment, wiretapping and disruption of our e-mail and bank accounts. Some of our friends were met with the same fate and were compelled to abandon us when we needed them most.But, in attempting to scare off and alienate my friends, how terribly mistaken were Malaysian autocrats in aping gross Gestapo tactics. How they underestimated the temper of freedom in so many places around the world, above all among friends in the West.Floodgates of human compassion were opened when the futurist author Alvin Toffler, who Mahathir asked to advise him on a pet high-technology project, sent a message of protest to the Malaysian leader within 72 hours of my capture. In a major interview with the Western press, Mahathir even felt it necessary to make assurances — unfulfilled, of course — about my well being.With every passing day, the rising tide of concern for my plight seemed to personify the words of Elie Wiesel: "Take sides. Neutrality helps the oppressor. Never the victim. Never the tormented."Friends and strangers alike took a stand and support began to mushroom everywhere. Nadia related to me in the hospital how Amnesty International had declared me a "prisoner of conscience," and how Pen International adopted me as a "writer in prison." Against all odds, two prominent Malaysian lawyers, Manjeet Singh Dhillon and Balwant Singh Siddhu, offered their services unconditionally. To top it all, an international coalition — Friends of Dr. Anees — came into existence in defence of my rights. The core group of Naseer Ahmad, Baseer Hai, Safir Rammah, Jamal Mubarak, Anees Ahmad and Naeem Siddiqui mounted a media campaign with phenomenal success.What touched my heart was that the person, Kamal Mubarak, who set up the Web site had never met me in person. From the depths of my confinement, I could see the magic of human compassion had begun to defeat oppression.The pinnacle was reached after my release in the warm hug laced with watery eyes of an Amnesty friend in Toronto, Margaret John, who witnessed a pledge of solidarity between me and Devan Nair, the former president of Singapore, for we had come to share a similar fate.My victimization at the hands of Mahathir's "Asian values" has transformed me in another way. All my adult life, like so many in the Muslim world, I have suspected under every nook and cranny some conspiracy by the West to keep us down. Yet, in this seminal experience of my life, my friends in the West succeeded in saving me, while Mahathir, a Muslim, did everything to destroy me. And he is trying to do the same to Anwar again through his obliging courts on totally fabricated charges.Mahathir has demonstrated that, though a proclaimed Muslim, his heart is blind to compassion. Tyranny is the hallmark of his bankrupt concept of "Asian values."My tragedy, and that of my friend Anwar, ought to make our fellow Muslims think very hard when they ponder the West and its role in the world. As we set out to shape our collective destiny in the 21st century, will the values of Mahathir or Jefferson serve us best? Mahathir himself made that choice for me. Sic semper tyrannis.These are words of Dr. Munawar A. Anees
http://www.youtube.com/watch?v=WkqBXALzZ3o
read thisNAJIB PRAYERS AT the grandest Hindu shrine in Malaysia, IS UNFORGIVEABLE to the muslims The UMNO is on the verge of implosion says Deputy Prime Minister
I am sure the PM and his rosy porky will not be going to USA again anytime soon UNLESS it is an unofficial visit. This infamous couple was handed a 'mother of all' snubs when they met no leader and held no official talks. Of course nothing of this made it to Who would ever thought of coming if the organizer of this conference is the racist "Ketuanan UMNO"?
If they have been treating their own citizens of other races as "2nd class citizens", what about foreigners with different skin color than the "Ketuanan" skin color? I bet even worse!
It is better if the "Ketuanan" conducts this conference by having their own kind to give the lectures. Maybe they can use the BTN format to do that and change the title to "International Conference of Ketuanan Unity"!
And, they can also "syok sendiri" by harping during the conference that they are the most superior race in this world. . .! our MSM .
Famous names snub Umno-flavored international Islamic conference
Mon, Dec 14, 2009National
KUALA LUMPUR: Prime Minister Najib Abdul Razak (picture), whose ascent to the highest office in the land was marred by allegations of corruption and murder, is keynoting an international Islamic conference scheduled to take place in Kuala Lumpur this week.
The Second International Muslim Unity Conference is slated for tomorrow and Wednesday at the Putra World Trade Centre in Kuala Lumpur.
Also representing Malaysia at the conference is former Prime Minister Tun Dr Mahathir Mohamed. Deputy Prime Minister Muhyidduin Yassin is also expected to make an appearance.
The conference website has listed the names of prominent scholars as confirmed speakers. They include several world famous individuals who are in fact not coming.
It is learnt that Shaykh Dr. Tawfik Ramadan Al Bouti, senior lecturer at Damascus University, is not attending and neither is renowned Sunni scholar Habib Ali al-Jifri of Yemen, founder and Director of the Tabah Foundation.
Although neither could be reached for comment, individuals close Mahathir and his political successors have what can only be described as the Reverse Midas Touch. Everything precious that they touch instantly turns to shit.
I believed the Islamic is a very sacred wording. And someone or leaders who is alleged for murder, corrupted, destroy the country, cheated on the rakyat and what not are there for the conference? heaven? may hate their (mahathir)? holy ghost……… ulterior motif
to the scholars indicated concerns about the sponsorship and format of the event.
Perdana Leadership Foundation's close association with the conference, the high profile participation of senior Umno politicians and the venue itself suggest ulterior political motives at play.
The PWTC is widely known to be the headquarters of Umno and the location where the party's annual meetings are held. It has repeatedly witnessed heated racist rhetoric.
Noticeably absent from the programme are two of Malaysia's most well known and respected religious figures, Kelantan Mentri Tok Guru Nik Aziz Nik Mat and former Deputy Prime Minister and current opposition leader Anwar Ibrahim.
Both Nik Aziz and Anwar are listed among the world's 500 most influential Muslims in a recent publication by the Royal Islamic Strategic Studies Centre in Jordan.
Anwar has also been mentioned by Foreign Policy magazine as one of the world's most important thinkers in 2009. And last year Time magazine placed him in its Top 100 list.
The absence of these two prominent individuals from the Unity Conference's programme, which describes the intent of the conference as promoting unity and world peace, was raised as a question to conference organiser Muhammad Umar, a British national and Chairman of the Ramadhan Foundation.
A response was issued indicating that the "Ramadhan Foundation is an independent organisation that has a policy of not becoming involved in the internal politics of any country."
Overshadowing the conference's message of unity is the very public infighting among Umno leaders over the curriculum of the National Civics course, BTN, which the opposition parties have highlighted as an instrument for promoting ultra-Malay nationalism.
Keynote speaker Mahathir has come out publicly in support of the BTN courses and Minister Nazri Aziz has called him a racist for disagreeing to a revamp of the course module.
..in line with keeping them bodoh and in the dark!
Why Do Malays Need Alien To Speak For Them?
Posted: 14 Dec 2009 09:45 AM PST
That's right. I am asking all the
mentally deficient Malays
(Pendatang Mahathir said so in his "Malay Dilelmma", not me. I think Malays are being made to believe they are stupid, which they're actually not),
why do they need an alien pendatang like Mamak Tongkang to speak on their behalf?
Why can't they find a real Malay such as the one featured here (there are in fact many to choose from, the Malay is featured here out of convenience, not choosen per se)  to speak for them. Why do they need a pendadtang alien? Why?
Okay lah, I must admit they are aliens who are smart and worthy of consultation. So, really, it's not a crime to engage or consult a foreigner lah. But my question why do they let a fake Malay who obviously is not sincerely and in fact, fooled them by disguising himself as a Malay when he is not?
What more those alien pendadatng who 'cheated' the Malays and also 'steal and rob' the Malays?
Why do you need scum like that to speak for you?
Why? Why, Why, tell me why?
Why not me? At least I promised I won't steal and rob you, take me? Let me speak for you? Okay, I say
"Ketuanan Melayu, Tangkap Melayu Celup, Penjara Melayu Tipu, Hidup Melayu Tulin!"
Okay Tak?
Anyway, here is Rosiism 101.1.11.101 (A) :
Lock Madey Up or Kick  Rajib  Out

Details next.
This posting includes an audio/video/photo media file: Download Now
Making out a case of Sexual Exploitation- A call for further investigations by the Police
Posted: 14 Dec 2009 08:01 AM PST
By Zhang ML
A denial of rape allegations by a Penan woman made headlines in the Borneo Post on October 29. The article had a photo of an unidentified woman with her eyes blacked out and captioned "What? Me a Rape Victim?"
As I read the stories that have been unfolding since then, I cannot help concluding that this case falls within the range of the different types of sexual exploitation or exploitative relationships that girls and women find themselves caught in,.even if it is not rape.
For those of us who have been following the issue the past year or so in the mainstream and local Sarawak papers, it is safe to conclude that the woman who lodged a police report at the Long Lama police station is 'Bibi' (not her real name).
'Bibi' was interviewed at the Women's Aid Organisation (WAO) Shelter or Refuge in KL by four members of the task force set up in October 2008 by the Ministry of Women, Family and Community Development to investigate the allegations of sexual abuses affecting Penan girls and women.
The Report of the Taskforce was made public after one year of being kept under wraps. None other than the Director-General of Jabatan Pembangunan Wanita (Women's Development Department), Dr Noorul Ainur Mohd Nur was among the four team members who had interviewed 'Bibi' in KL before the task force came over to Sarawak.
The task force stated categorically in its findings that 'Bibi' had been raped twice by the same man. As a result, 'Bibi' bore two daughters.
While 'Bibi' was in KL in 2008, she filed a police report against the same man who goes by the name 'Ah Heng', and was called 'Johnny' in the task force report. According to 'Bibi', he has two other wives, one a Chinese, and the other a Penan woman as well.
Earlier reports in Borneo Post last October 2008 carried pictures of Ah Heng/Johnny being a responsible father and husband, weathering all odds to put food on the table for 'Bibi', his Penan 'wife' and family. One showed him crossing a swift flowing river at Long Item to reach the village. Another showed supplies purportedly provided by Ah Heng/Johnny in the kitchen of the place where Ah Heng and 'Bibi' stayed as a family, according to the Borneo Post.
In those earlier Borneo Post (BP) reports, he was called Ah Heng. Ah Heng was reported to have told BP reporters that he gives 'a couple of hundred' ringgit whenever she goes to town, and he sends monthly supplies to 'Bibi'.
As was pointed out by Malaysiakini, it is likely Bibi was threatened or intimidated to lodge the said Long Lama police report to deny that the rapes ever happened to her. This report was filed one year after 'Bibi's' trip to KL, staying with an unknown Malay family there.
Her self-proclaimed 'husband' Ah Heng/Johnny ( Photo Left ) was in Long Lama to accompany her to make the report, according to the BP. Of course he was!! He was there to make sure that she withdrew the initial police report that she had made in KL, so that the police would stop all investigations into the allegations of rape by 'Bibi' against him!
Baram district police chief DSP Jonathan Jalin confirmed receiving the report and said that the matter will be investigated further.
Earlier, the Sarawak Police Commissioner said that all four cases of Penan rapes by loggers in the task force report had been categorized at NFA "no further action'.
Contrast this with the instantaneous and wonderfully great speed that the Sarawak police got to work over the latest Long Lama report denying the rape allegations.
Since 'Bibi' has lodged this dubious Long Lama report, the Investigating Police Officer (presumably a lady officer from D11, otherwise known as the Sexual Crimes Unit) in charge of Bibi's first report in KL is now duty bound to reopen the file and follow up with further investigations into her case.
It will not be terribly hard to locate 'Bibi' as she must be at the logging camp, with her supposedly 'loving' husband still employed by Interhill.
The Investigating Officer is required to investigate Bibi's current and previous circumstances of living with this man Ah Heng/Johnny. She may be caught in an inescapable cycle of violence. This violence can take many forms, in a 'home' where violence is the order of the day, and of daily life.
This includes psychological and emotional violence, where the perpetrator exerts not physical force on his victim, but will subject her to threats of withdrawal of financial support, and deprivation of social contact with her family and others.
The aggressor may deprive her of basic needs such as food, and may hurl verbal abuse at her, aimed at bringing down the victim's self-esteem as a woman, and as a person.
Financial or economic violence is the deprivation of sources of income, so that the victim is totally dependent on the perpetrator. The perpetrator thus achieves maximum control over the victim.
Research has consistently shown that the purpose and intention of all forms of domestic violence is to achieve domination and wield control over the victim.
The definition of 'husband and wife' in the Domestic Violence Act 1994 also includes couples who live in a de facto relationship, as 'Bibi' and Ah Heng seem to be.
Civil society calls on the Investigating Officer to wake up! Pay attention, and look for signs of domestic violence and sexual exploitation suffered by Bibi. Do not be distracted by the police report that she had been 'conned' into going to KL to seek treatment for her daughter's sickness – this has no credibility at all.
Did Bibi know of the implications of making a false report? Or was she forced to make this latest report?
if indeed 'Bibi' had been duped to go to KL by an unidentified Penan man, this allegation never surfaced in the series of interviews conducted by Bukit Aman D11 officers while she was there. Were they so blind? Remember these officers are trained and experienced in their job!
As the respected activist Colin Nicholas, of the Center for Orang Asli Concerns (COAC) and the Penan Support Group, said to Malaysiakini, "Can the police have been so stupid?"
The findings of the ministerial taskforce indeed confirm the range of sexual exploitation happening in the Baram area. The cases documented include:
· molestation of school students by drivers of vehicles,
· rapes by logging company employees,
· short-term relationships, where cohabitation is only for a short period of the man's employment in that area, after which the woman is left abandoned, with children.
If the vulnerabilities are not quickly addressed the above range of abuses will continue to occur …with the blessings of the rich and powerful…
End
Posted in Human Right, legal, Native Customary Rights, penan, Politics Tagged: Anak Sarawak Bangsa Malaysia, indigenous people, Malaysia Politics, penan, penan women, Sarawak politics, Save Sarawak
POLITICAL LEADERS PROPONGED INFANTILE IMMATURITY
Posted: 14 Dec 2009 05:29 AM PST
In the early days when the New Economic Policy (NEP) was implemented the rumblings of the people not categories as Malays were a closed door affair. The prevailing issues relating to political inequality were in silence, closely examined by the ethnic Chinese and Indian business communities as well academics and the general populace of these communities.
At the outset of the introduction of the NEP the other communities did recognize that there did exist, some differentiation in the capability and the ability of the ethnic Malays. However, based on their central ethical tenets of philosophy, they consented to genuinely give the Malays a helping hand. The main aim was to reduce poverty and to raise their corporate ownership from 1.5% in 1969 to 30% by 1990
As time progressed there arose other impositions, such as, issues relating the use of language, religion, education, employment and racially concocted regulations being imposed on the way business was to be conducted. As the framers of the NEP assured the other ethnic community leaders that the policy was for a period of 20 years the other communities adopted the concept of: do unto others as you would have others do unto you, approach.
When 1990 came along the leaders of the United Malay National Organisation (UMNO) issued a different variant to the NEP. They termed the period between 1970 and 1990 was the "First Outline Perspective Plan" (OPP) and introduced a second OPP for 1991 to 2000 and subsequently a third OPP for 2001 to 2010.
The political oratory of the UMNO leaders can at best be described as a "semantic paradox." By this it means that "semantic" stands for language and "paradox" stands for ambiguity. So the political oratory became ambiguous. It smacked of gross discrimination of the ethic Chinese and Indians enshrined rights under the Federal Constitution.
Further apart from grossly violating the Federal Constitution, it was opened up to destructive analysis and experiential examination. This situation gave rise to the conflicting demands made by the purported minority against the ethnic Malays. The purported minority challenged their oppression.
What the ethnic Malays failed to realize was the fact that when the other community leaders who represented the non-Malays had consented to give a helping hand to the ethnic Malays, they had made concessions which were premised on their psychological perception.
They may have been able to utilize their experience in the field of human endeavour and recognize the ability for differentiation in the performance of different ethnic groups. After all this line of thought is the very base of logic and abstract thought.
Whatever may have been their thoughts, one thing is for certain, science has no knowledge of racism. It does not exist.  So it would also be in the field of social science.
Why would this be so?
Article 5 (1) of the Federal Constitution eloquently asserts that "No person shall be deprived of his life or personal liberty save in accordance with law" and Article 8 (1) states "All persons are equal before the law and entitled to the equal protection of the law."
As the Federal Constitution provides for the inalienable rights to liberty and equality, how and on what basis does privilege or affirmative action, arise. This must be pure nonsense.
Under our Constitution none of the citizens would be premised to be of an inferior status. There are,  lots of historical material that have covered the issues of class disenfranchisement, personal and social development, sociopolitical discrimination and the issue of the liberation movements.
There are also scientific studies that have established the aspects of human evolution. No doubt we as individuals based on our genetic stock and with our acquired knowledge would wrestle with such conclusions made in the field of science.
In this day and age of civility it is now becoming a hallmark of life that racism is not fashionable the world over. So much so that in England, Wales and Scotland since 1993 the football association has launched a campaign known as "Lets Kick Racism out of Football" (LKROOF).
If the British have gone that far ahead in life to kick of racism even in sports, it would be justified to state that the acts and conduct of the UMNO leaders clearly demonstrates that they are infected with a prolonged infantile immaturity syndrome.
The recommendation is that they enlist for an adult education course and endeavour to acquire and increase their knowledge of how to develop solidarity, tolerance and better understanding amongst the diverse groups of people in this nation of ours.
These UMNO leaders should dismantle all the existing unethical barriers they have set up over the last 40 years or more years and gain a better understanding of our different cultures, religions, social, ethical and educational backgrounds so as to develop their creative skills when representing the views of their communities.
Therefore, all politicians and the people of this nation should declare the word "RACE" to be defunct.
RIGHT TO REMAIN SILENT ON EXPLOSIVE REVELATION OF PI BALA
Posted: 13 Dec 2009 03:16 AM PST
There is a surfeit of writings on the unconscionable method that was adopted to neutralize Altantua in the year of 2006. The manner in which the acts were executed can at best be described by the use of the powers of our imagination as giving us an image of some form of cave man having had with the tacit approval of the Ministry of Defence secured C4 explosives and effectively used it as an experiment on an extremely vulnerable human being.
We claim to live in modern times. With the various types of new technologies being used by the people of this nation, it would appear that we live in an age of ongoing discovery.
Therefore by the way in which we live we have indeed come a long way from Charles Darwin's 1859 seminal work "On the Origin of Species". This was a new theory of evolution by natural selection put forward to a wide audience. This theory of evolution was overwhelmingly accepted by the scientist community.
The reader my wonder as to what is the relevance of the theory of evolution to the murder of Altantua.
The relevance is that the theory of evolution is premised on the study of the change in the "genetic material" of a population of organisms through successive generations. It is a study of biology.
Although the changes in a single generation are normally small, the accumulation of these differences over time can cause substantial changes in a population, a process that can result in the "emergence of new species."
The reader can easily recall Mahathir a pseudo- Malay who authored a book entitled " The Malay Dilemma" which postulated that the Malays are the definitive people of Malaysia. Being a medical doctor he argued that the Malays needed "affirmative action" to overcome the "deficiencies in their genetic stock."
So, since the great medical doctor Mahathir has himself penned it in his book, that the Malays have a deficiency in their genetic stock there must be some truth to the matter. So would it be wrong to conclude that the people implicated in the murder of Altantua have a "deficiency in their genetic stock" in this day and age of our modern living?
There answer should be in the positive.
Now, lets look at the chronology of events that led to the murder of Altantua which is clearly recorded in Sirul's cautioned statement to the police.
Here is the link to the statement made by Sirul.: http://www.asiasentinel.com/index.php?option=com_content&task=view&id=1779&Itemid=178RIGHT TO REMAIN SILENT
Having had read the cautioned statement, it would be appropriate to now deal with PI Bala's explosive revelations.  Whether or not there is some element of substance in what he has stated in the video recordings made in the presence of three Malaysian prominent lawyers, is an ethical choice that one has to make. This is in respect of why he made the second Statutory Declaration to withdraw the first Statutory Declaration.
Here is the link to part 1 of the video recording:
http://www.youtube.com/watch?v=uXX0l1V_Ms4
Now, having had read Sirul's cautioned statement to the police and then having had watched and listened to the video recording, one can draw a disconcerted conclusion.
It will be noticed that under Sirul's cautioned statement, one may implicitly infer that Najib has knowledge of the murder of Altantua. And based on  Bala's revelation in the video recording, read together with Sirul's cautioned statement, the disappearance of Bala from Malaysia, his claim that he was paid RM750,000.00 of the RM5 Million offered of which he claims that he can produce documentary evidence, why have the Inspector General of the Police(IGP) and the Attorney General(AG) not acted.
Apart from the above facts, Bala has implicated Najib, Rosmah, Nazrim, Deepak, Suresh and the lawyer Arunampalam. Not a single soul has rebutted the allegations made by Bala in his revelations to the three prominent lawyers about the falsity and the circumstances under which he was compelled to execute the second Statutory Declaration. Would it not mean that complete "silence" means, that the named people tacitly consent that the revelations of Bala are true.
The facts are clear. One of the Statutory Declaration is false. Section 191 of the Penal Code (Act 574) states:
"Whoever, being legally bound by an oath, or by any express provision of law to state the truth, or being bound by law to make a declaration upon any subject, makes any statement which is false, and which he either knows or believes to be false, or does not believe to be true, is said to give false evidence."
Why has there been no prosecution or charge preferred under Section 200 of the Penal Code(PC) (Act 574)?
Before we proceed to deliberate on Section 200 of the PC  let us first determine as to whether an offence has been committed.
Well, Bala was hired by Abdul Razak Baginda(ARB). ARB was charged for abetting in the murder and was acquitted and discharged without his defence being called. Bala has  some degree of  knowledge of what transpired before the actual murder.
Bala is an ex-special branch police officer. He is a man of modest means. Why did he have to leave the country immediately after making the 2nd. Statutory Declaration. He has taken his family with him, and they have been staying out of the country for over a year.
It is for all right minded people to draw an informed conclusion. So what is the evidence?
Based on the Rule of Evidence, it was generally developed over several centuries. To put it simply, the rule governs whether, when, how, and for what purpose, proof in a legal case is to be brought before a court for the facts to be considered.
So, when we consider Sirul;s cautioned statement to the police and take it together with the revelations of Bala, we would find that the facts fall squarely within the rules of evidence?
Any lawyer worth his salt, which includes the AG knows that generally "hearsay testimony" is inadmissible in a court of law. However, there are many exceptions to the hearsay rule.
But in the deafening silence of all the actors on  Bala's revelations,  the IGP and the AG
have ended in the refutation of the populace. These actors appear to be merely squalid and miserable addicts of power where any unschooled man with intelligence and taste would openly despise them.
Why would it be so?
The revelations of Sirul and Bala are not hearsay evidence. They are facts that exist as perceived by their senses. They are real facts based on the "best evidence rule."
If that is the reality of the situation, then why has the AG not acted even though a police report has been lodged on Bala's revelations of Nazim Razak and the other actors acts and conduct.
Since the AG may have a recent loss of memory, we would lend him our assistance.
Section 129 (1) (b) of the Criminal Procedure Code (Act 593) inter alia provides:
(1)   Except in case of complaints laid by the Public Prosecutor no Court shall take cognizance-
(b) of any offences punishable under section 193, 194, 195, 196, 199, 200, 205, 206, 207, 208, 209, 210, 211 or 228 of the Penal Code except with the previous sanction of the Public Prosecutor or when the offence is committed in or in relation to any proceeding in any Court on the complaint of such court.
The law is made for a purpose. It is to cure a mischief. We have the murder case of Altantua which is not going away any time soon. There are other actors who must be brought before a court of law. The power is in the hands of the AG and the IGP.
The longer the AG decides not to act we will give him a "gift" of loneliness as the AG does not seem to act in accordance with the rule of law that is well established in this nation of ours. The AG should understand that life would not progress if he allows the rule of law to be moribund.
Should the AG abrogate on his powers to act, then it is unfortunate that Reinhold Niebuhr's statement would come to fruition, that is:
"Evil is not to be traced back to the individual but to the collective behavior of humanity."
We hope that as all history is current we would not let it be recorded for the future where our future generations would pour scorn on our inability to right what was, unjust.
Rahim Noor on Peace Accord and Chin Peng - Part II
Posted: 14 Dec 2009 04:46 AM PST
Dec 2 marks the 20th year of the Hatyai Peace Accord. With the Accord, the communist insurgency, which was waged since 1948, ended. We speak with the person deeply involved in getting the parties to the negotiating table - former police chief Rahim Noor, who was at that time the head of the Special Branch. Reporting by S Pathmawathy here. Editor: Lydia Azizan Produced by: Shufiyan Shukur Additional archival videos courtesy of 21st Century Friendship Association of Malaysia.

Time:

09:56

More in

News & Politics
Racism, our constant companion
Posted: 14 Dec 2009 05:05 AM PST
Virtually every pollie is now talking about race and racism, whilst almost every journalist is not far behind them.

Is racism new to Malaysia or for that matter, Malaya?

We have had the tragedy of May 13, and some months after that, the Sentul racial attacks. While the Chinese managed to avoid another drastic experience (notwithstanding the Chinese school incident leading to Ops Lallang), with only Lee Kim Sai suffering his datukship being stripped off wakakaka (and I hope he had the dignity and pride to refuse its reinstatement), alas, the Indians experienced another just some years ago, also in KL.

But way before May 13, Penangites used to have what it joked as its 'annual' riots, ranging from minor skirmishes hardly worth reporting to a major one in 1953 during the coronation celebration for Queen Elizabeth II, then sovereign ruler of British crown colony Penang.
For the Island of 'annual' riots, it was strangely tranquil during the May 13 period.
Penangites like my mum, aunties and their pals have become experts at preparing the household needs for curfews (brought about by racial riots) - water, rice, matches, salt, salted fish, salted eggs, preserved/salted veg (Teochew specialities), oil, rock-hard biscuits, candles, kerosene, maybe some coffee, tea and sugar.

In 1950, Maria Bertha Hertogh, who was a Catholic Dutch girl brought up by a Malay Muslim family after her parents were imprisoned by the Japanese during the Occupation became the cause célèbre invoking a racial riot in Singapore, where 16 were killed with hundreds injured.
The story is so well known that I won't bother to repeat it here, other than to say the Malays were pissed off with the court decision favouring the Dutch parents. Court decisions seen to be biased have never been popular, even and especially today.

Talking about today, post March 2008, there are forces in UMNO who still believe racial polemics remain the best formula to both intimidate their non-Malay opponents and marshal the heartland (including even part of PAS and no doubt PKR) to its banner.

Amidst this, Indian leaders are so selfishly and self-centredly split up that one can only cry for the marginalized poverty-stricken Indians. Those so-called leaders have been leading them to nowhere. But it hasn't stopped (sadly enough) some of these Indian leaders from promoting the racist line.

As for the Chinese, the MCA is now in a similar position to MIC, and the Gerakan is nothing more than more than a zombie under the voodoo control of UMNO. The dead don't make very good racists, but no doubt would still try when the opportunity arises, unless of course it's against them like the recent resurrection of Ahmad Ismail of UMNO Penang. Poor Koh TK - it's like UMNO smacking him in his face.

DAP! ;-) They have been accused of being Chinese racists which must have deeply offended Karpal Singh and sons, Kula, Sivakumar and a host of Indian, Eurasian and even Malay leaders and members.
But nonetheless they need to keep one step ahead of the 'label' that UMNO has been desperately (and in some cases, successfully) attempting to pin on them. UMNO has been particular worried about the Malay support that DAP has slowly attracted, especially by Teresa Kok and Lim GE.

I won't say a word about PKR because surely you can read today's headlines yourselves.
Malay Supremancy Advocates Are Aliens!
Posted: 14 Dec 2009 07:30 AM PST
That's right, almost all those racist pookeemak who eat, sleep, masturbate Ketuanan Melayu are alien foreigners. 
The only reason why they are so concerned about this motherfcuking CULTISM that suggest Malay should lord around (Note: which
they are genetically NOT even Malay!
) is because they (the real smelly PENDATANG) stand to loose the most.
Why?
Simple. First,
they are actually not Malay
. Starting Father of All Racism, Mahathir 'Kutty' Mohamed  -- originally a Keralan from a little village where people still wipe their ass with banana leaf after they pooed all the way to the writer of the article below, a fake Malay whose ancestor is most likely a panhandler originally from Yemen. Make no mistake, Yemen is not Arab, Yemen is one of the poorest and most uncivilized nations on earth, not much different from Zimbabwe because people there actually make less than $1 a day. Do we need someone with such a background to tell us how to live our life here in Bolehlamd?
And if you continue to investigate, you will know most of them are either Mamak, Bedouin or Sakai of some sort. No, they are not even Malay, they are fake Malays like Mahathir, whose kind are always smarter because they are genetically
Mongrel
. No Malays should listen to them because
they are out to make use of you
to line their pocket only. Just look at Mahathir, how much has he 'stolen'? No one really know, all I can tell you it;s certainly more than enough to feed a typical Malay family for 1,000,000,000,000,000,000,000,000,000,000 x N generations. In another word, ever and forever.
The point is do you get anything out of the billions and billions he has 'stolen', wahai Melayu?

Even a small time fake 'Malay' like this Syed Hussein AL Attas bin Pewaris Puak Pengemis Yemen also have the privilege to take the generally stupid Malays (Mahathir said so, which I never once agree) for a good ride. See, he has real Malays working for him as apprentice, as coolie, as secretary ... even as writer to write this shit article for him. He does nothing simply because he is a fake Malay that shout "Ketuanan Melayu"! How do you like?
The real Malays actually have no worry whether there is Ketuanan or there is no Ketuanan, you know why? Because if it's true that you genetically inferior the way "Scamster" Mahathir put it, then you will receive assistance whether there is Ketuanan or not, what have you gotta loose? You can only gain more because if there is no 'thieve or looter' like Mahathir, all those billions and billions will be channeled back to you and the society, correct or not? And if you are not mentally or physically fucked up, why do you need help? Why can't you just live like everyone else? Tak malu kah? So, is it better to be stupid helping an alien foreigner Pendatang like Mamak Tokang to steal money just because he shouts "Ketuanan, May 13, sorry, May 16 (they just changed that)' or do without them (whereby you and your whole family get to live in a better environment)?
See the picture now? The only people who wants this kind fascist inhuman low class bullshit scam called Ketuanan Melayu maintained are the PENDATANG, pookeemak alien who just make a fool out of you just so they can live like a king. They can drink whiskey everyday, kongket ayam that eat pork everyday. After they have been exposed, caught or proven to have committed serious crime including murder, robbery, treason, nothing you can do to them, and they still can talk cock in the public, continue to fcuk you and your whole family, and even slash your ass if you are caught drinking a beer ... nothing you can do, How?
I say it's time for the real Malays to find their Hitler, do a ethnic cleaning!
Go get a Mohamed Hitler, tangkap all these fake Malays like Mamak Mahathir and all those who shout Ketuanan Melayu day in day out, send them to gas chamber along with the rats and roaches. Gas the pookeemak! Then life will be better .. because you can then stand tall and still get assistance! Nice.
Mampus Melayu Palsu (UMNOPutra),


Long Live Melayu Tulin (BukanUMNOPutra)!
DEC 14 — At the onset of the 100th day we had Datuk Seri Najib Razak as Malaysia's Prime Minister, I decided again to rethink the current fate and prospects of Malaysia and the Malays. I was looking for answers, the questions that's been brimming in my head are questions which I believe are looming in the minds of every human, regarding himself, who and for what reason he exists? I am baffled when I think about where our identities come from, how much are we shaped by our culture and environment.
"Each party rejoices in that which they possess" (Quran, Al-Mu'minoon)
But as a social and political commentator, I sometimes put such questions aside in order that I may think about the more immediate questions. Right now, the question that needs to be posed is about the Malays and Malaysia.
I decided to take a drive and have breakfast at the Heritage coffee shop in the Kuala Lumpur train Station. I had invited my son, Muhiyuddin Al-Attas and my secretary Zaharah Omar to join me. We have been working on this book for more than half a year now, Zaharah who has been my secretary for 28 years has by now knows the ways of my writing, and Muhiyuddin being my apprentice is also learning my art of writing.
I wanted to digest my thoughts before it comes down on paper and one of the best ways I found to do this is to first discuss and throw my ideas around, what is to ensue is the result of such a conversation.
If you have read the chapter on a Hadhral Mawti and Malay Supremacy, You will know by now that my origins are from the land of the Yemenis.
My forefathers were merchants who were also bearers and preachers of the religion of Islam, those whose minds and cultures were built and influenced by the Quran and the Sunnah. The Hadhral Mawti's were not conquerors who enslaved or tried to subdue other cultures, they were there on a mission of Da'wah, and many decided to settle in this blessed land which was called Tanah Melayu (the Malay land).
Over generations, our people have come to love this land, and by virtue of marriage gradually assimilated.
Some of the Sayyids who long for their past cultural identities still preserve their Yemeni culture and some even send their children to absorb the lifestyle of the Habaib in the lands of Tarim, Hadhra Mawti. My father always reminded me that love of a nation is part of one's faith.
I'm not a scholar of Hadith, but if the veracity is unknown, then I still take it that this reminder is a good word, that whichever community one finds oneself in, one must honor it, respect its culture and work together with the people to honor it.
I suppose also that is why right now, coming to 50 years of writing I still identify myself with the struggle to preserve the honorable aspect of Islam and the Malay culture. Today, whoever talks about the fate of the Malay culture and population is branded a racist or a Malay Ultra.
On the other hand the actual racists and the Malay Ultras are not giving the Malay people a good name either. Cries of return back to your country if you disagree with our decision is unbecoming and immoral, and the deliberate provocation and also painting the other races as 'the other' are also unjust and nonsensical.
Whereas some other quarters of the people dismiss this idea as being against the principles of Islam, that the Prophet Muhammad is against any notion of race. Being a person from the old school of thought and a stubborn and determined man, I refuse to let this struggle go without first thinking about the solution.
But first I must restate that the idea of a race does not run contrary to the dictates of religion. It is only when this idea is used at the peril and the discrimination of others that it becomes invariably wrong.
But what now for Malaysia with calls of Malaysia for Malaysians, or One Malaysia with the implied notion of no Malays, moving beyond toleration to the stages of acceptance? Which script then shall we use?
At the Heritage coffee shop, I thought about the KTM, or Keretapi Tanah Melayu, one of the few companies that still uses the word Melayu, aside from Kampung Melayu and Malay College Kuala Kangsar. Others have now adopted Malaysia truly Asia as the Motto instead old Melayu Nusantara.On the geographic sense, the Malays still inhabit the same land, but like the play 'Translations' by Brian Friel, where the cartographers were re-naming the roads and to anglicise them in Ireland, the Irish were losing their sense of identity and met it with resistance. It is like a fish we once owned but now have sold it to a public museum, which we can still visit, but no longer belonging to us.
The fear of losing the identities among the Malays have been ever present. After 1969 however the Malays have gradually accepted the idea of a shared land.
On the other hand however when one sees Singapore and the marginalisation of the Malays there, one can't help but ask is that the direction that Malaysia is heading towards? Will our royal institutions be replaced by a republic of Malaysia?
I'm not trying to be controversial for its own sake, but the Malays, being naturally timid and shy have always been victims of intolerance and imploding because they were afraid to voice out their minds. To the British, the Malays are regard as Nature's gentlemen.
So I'll spell out the question anyways: will the Malays be marginalised in a land they once called Tanah Melayu of the Sri Wijaya? Already, today, people are calling the Malays migrants. It also seems like the NEP will slowly be discarded when the Market is paved for greater meritocracy. The government is to be race-neutral, but I ask now, are the people race neutral?
Today also we hear the NEP has failed in its goal to increase the share of equity among the Malays. The Malay leaders have screwed their own people. What a shame. As a result, I don't know if Hang Tuah's assertion that Malays will not perish in this world will still hold any meaning. What is left of the Malays? Today, more dangerous than these conjured up 'enemies' whom they feel threaten their rights to exist is actually their behaviours themselves. Malays won't perish because of war or hunger, but they will perish now, because they no longer are a believer and a doer. Islam is adden.
For one, the assertion that a Malay is a Muslim is decreasing in real significance. Without Islam, will they still be Malays? I wrote 'Malay the Overseas American' in 1995 and today this trend is becoming more and more true. Look at the Malay youth today. When Khomeini initiated the revolution of Iran, what he strived for was not mere political autonomy, but what he looked for was cultural independence.
Today we are void of this cultural capital that once made our civilisation viable. Our language is being corrupted and our Culture is reduced to Farce entertainment which are imperfect copies of the western culture adapted in the Malay Language. So what now for the Malays who wants to preserve their identity in this cross-currents of change.
Clearly we can see the move in our society towards multi-culturalism and greater liberty. The progressives who have been western educated and familiar with the idea of the open society is convinced that this system of check and balance, of transparency and the rule of law with economic liberalisation and the protection of the private sphere is the best system that the history of humans has produced. The dissolution of race, greater equality of the sexes, the freedom of religion, speech and association is also part of this modern fabric of society.
This open society advocates a separation of religion and the state and coupled with its humanist convictions fights for humanity such that no man can be an island.If Malaysia is moving towards this direction, then the Malays should take the opportunity to be part of the
team
who writes the script for this path to be taken. — shalattas.com
From ONE MALAYSIA without Malays, published November 2009.
Kula lodges report against Utusan's 'seditious' article
Posted: 14 Dec 2009 02:34 AM PST
Member of parliament for Ipoh Barat M Kulasegaran today lodged a police report against Malay daily Utusan Malaysia over an article deemed to be seditious and irresponsible. malaysiakini.com

Time:

05:04

More in

News & Politics
Posted: 14 Dec 2009 02:11 AM PST
Hai Pak Ji .... sokong cukuplah. Talyah love love .... Baca
sini
.
Ante mahu bicara mahkamah syariah dan mahkamah sivil tapi Brader Anwar tak mahu dibicara langsung.
Takpa Ante mahu bicara mulalah. Ana sokong.
Kesan takda tapi DNA ada. Saksi ada. CCTV ada. macam-macam ada.
Ana menunggu 25 Januari dengan penuh berdebar ... hehehe.
Posted: 14 Dec 2009 01:35 AM PST
What is Rosism?

Rosism is the way of life for Rajib kind  .. The Power-That-Be.
It's
not a religion
because it has no God, it's halal because it doesn't dictate what one should eat or how Rajib should drink. It's basically a strategic guide for the power-that-be to rule supreme such as those in the warped planet of UMNO.
Unlike all the rest of God or heaven based holy books,
Rosism is not written
. It's
conveyed via the Internet by bits and bytes in no specific time, at no specific URL
. And even you mamanged to get hold of the message, it's usually ambiguous but in most cases, never encrypted.
I am one of the are ardent fans of Rosism, I'd try my best to decipher the holy message for the Power-That-Be and Power-That-Be Wannabes because I believe in sharing. However, I offer no guarantee that my interpretation will be 100% accurate because Rasism although circulated in digital format, it's essense can be hard to determined simply because it'd usually programmed in an relatively abstract format. Okay, I better stop now, it's getting technical ...
Dechipering Rosism ... Coming soon to an URL near you.
60:40 Percent Off Target in Sarawak
Posted: 13 Dec 2009 10:30 PM PST
Written by: Dr John Brian
Why did it happened?
When BN hold 2/3 majority in DUN Sarawak, their YB can do almost anything they like. Before March 2008 GElection, the BN in Parliament can do anything they like – like amending the constitution to suit their purpose. This has led to the watering down of power in the Sabah and Sarawak State and increased in power for the central government. This in turn led to the experience that we in Sarawak felt, being colonized by Malaya – UMNO/BN.
The Sarawak YBs received allocation for many things besides MRP. They even got certain projects like schools and clinics. These are all basic needs for a town. What has happened is that such projects are being diverted by powerful BN State keaders to their constituency. Examples are Kota Samarahan and Mukah now. Most of the Federal allocation and State funds are diverted to pilot constituency like Mukah leaving the next door constituency like Selangau well short of development and helpless.
Projects from Sri Aman are being diverted to Betong, at the expense of Sri Aman. Projects are carefully plan to meet the people need not as a separate project unit but a part of the holistic approach. When the project for Sri Aman is being cannabalized by another more powerful YB, then the overall effectiveness of the project is diluted.
The involvement of civil servants in siphoning development funds
MRP project are executed by District Offices. Most contractors participating in the contracts are bumiputera and especially those who supported BN. Not all bumipuetra contractors act as "front men" for Chinese businessman but many gave the contracts to Chinese businessmen and brokered by Government Servants at District Office levels. This is how the Civil Servant make their money, "kantau" they call it and why not? It is an easy opportunity as all the mechanism are within their control.
Material Price Hike
It is also not uncommon that the building material supply to longhouse would be hike up. Instead of $14 per zinc sheet it now cost $18-20 for reason of transportation cost. Transportant cost eventhough valid should not be exhorbitant and costed per sheet and not in total. From a possible 5 zinc sheet allocation a family would now receive 3 zinc sheets.
In other circumstances, the work of building village roads, whaft, jetty, riven retaining walls, civil work for new long house sites etc many hands would like a share of the pie. The small time Branch Chairman of BN party, Community leaders including Tuai Rumah, the District Office brokers, the contractor itself will end up taking 60% of the allocation for the projects. Then how do you get to explain that only 40% reach the final target.
Why are certain State government departments turning to corruption?
Corruption in this instance is defined as abuse of power to serve self benefit and also defined as an act of taking money as an inducement of approaving the contractor for the project. Fortunately only a limited number of Civil Servant engaged in such shameful practices. It is usually those who are aligned to BN political parties, a close friend or relatives of the YBs or a proxy designated by the YB to finance their political activities. Most are just paying back debt to busniessmen who has advance them money during the election.
Do these "corrupt" people knows the impact of their action?
Most that I know could not careless what are the impacts. This corrupted people see it as their rights to siphone out this money to buy new car, go overseas trip and those with a certain mentality will go to places of public entertainment and comfort. By going to such public places seemed to be a status symbol for certain people. They talked openly of the night exploits nad boast of quantity of drinks and women – foreign and local women are all criteria of they new found "status".
There is no conscience on their part of the taking away money for the purpose of developing this country. Nor they understand what "tax payer" money concept is all about as most do not reach the bracket of those that are required to pay personal income taxes.
Malaysia nad particularly Sarawak is now struggling with cash flow to run the development in the State. This corrupt people are the real enemy of the government and the people as they do injustice to our country. Their contribution to BN is minimal beside being boastful of their new found richest and their special position to help BN politician. They caused a lot of uneasiness among the community and also instill fear for those who did not work with them to rob our country.
We must standfast that TRUTH will prevail. Responsible citizen should continue to fight this weakness in our society. We must say NO to corruption and must avoid any link seen or unseen toward helping corruption.
This corrupted people really talk BIG!
These corrupted people are the mouth piece of the YB to supress people. They would label the Tuai Rumah who do not collaborated with them in their "scheme" as agent against development, should not be retain or promoted etc. They have a substantial power in cases where the YB is weak and the political organization is also weak at Branch Level.
They talk big so that they get more power and more corrupt "kantau".
To those good Civil Servant
Today I can only feel proud of a large section of the good civil servant who stay away from all these evil deeds. Those who do evil would sometime victimize those good one as they have a personal interest to remove those who are not with them. Please resist by reporting them to MACC.
Conclusion
When the government is powerful it can do many good things as well as evil things. In Sarawak we all bear witness to our development and also destruction. The choice is yours. The future lies in your hand come next election.
Posted: 13 Dec 2009 11:13 PM PST
"Kalau ada apa apa masaalah uncle panggil la nombor ni...100"
This morning I discovered that I cannot call 100 except from a TM landline! Which of course I don't have because they take
at least 9 working days to affect a change of address
. And I have yet had no call from the 'contractor' which would have marked the 1st day of the wait. So I am still in limbo as far as my phone line and Streamyx are concerned.

TM must be one of the most inefficient monopolies in Malaysia.
Some weeks ago when the other flers were doing their POTONG ads all over the place, TM came out with their defence. Remember that newspaper ad which showed some guy leaning out of his window with a gadget that looked incredibly like the Potong tool? The tagline in that TM ad was
Why go with the unknown?
My friend, Kurt came out with the perfect answer......
Can we make this a viral thing? Send this message to all your friends. Via blogs, facebook, sms, Tweeter, YouTube ..... anything.

NIAMAH!!!